Happy weekend friends!  We have been easing back into a routine ever so slowly around here.  My kids have still been out of school this week so we are enjoying a nice mix of hanging out and relaxing plus getting on top of housework.  Next week I will be ready to hit 2018 head on!  For now.. we remember the past. :)  I'm sharing a round-up of posts from 2017!  It was such a great year.  I hope you enjoy the walk down memory lane and click on any post you missed or want to re-read.  I didn't share every post, but I shared a lot of them so this round-up is LONG.  Grab a snack and enjoy!  I looked over some of the organizing posts again and they helped motivate me to tackle some new spaces!
If you have something you'd love to see me post about this year leave it in the comments and I'll try to include it!  Thanks again for all of your love and support this past year!  So looking forward to sharing more with you in 2018. :)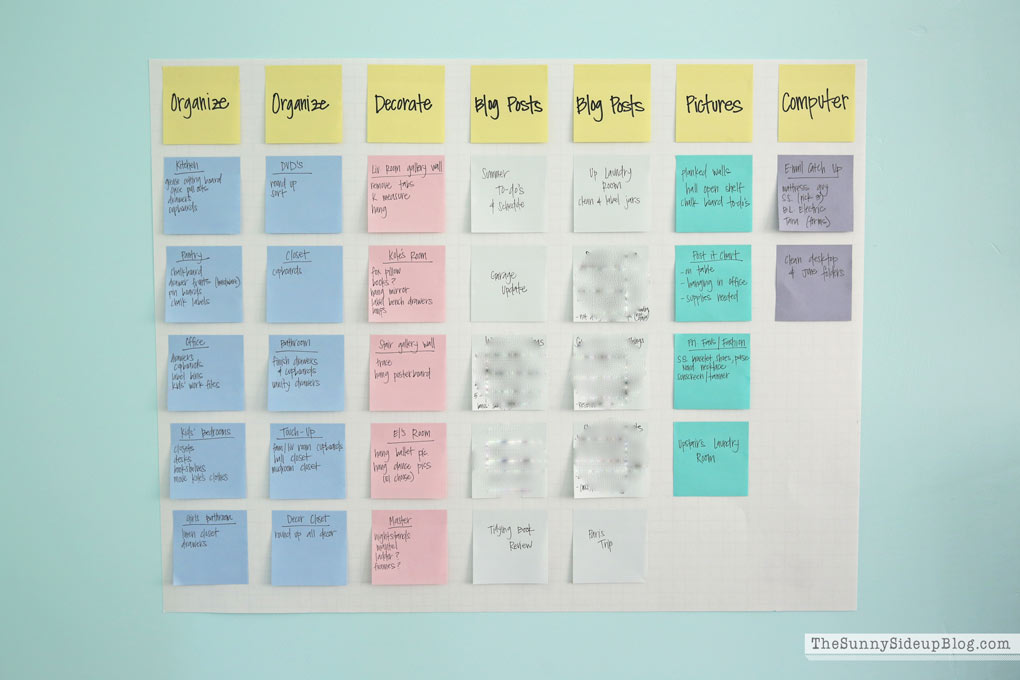 We kicked the year off with some organizing.. of course!  I shared FIVE FAVORITE THINGS THAT KEEP ME ORGANIZED.  Some of my tried and true favorites!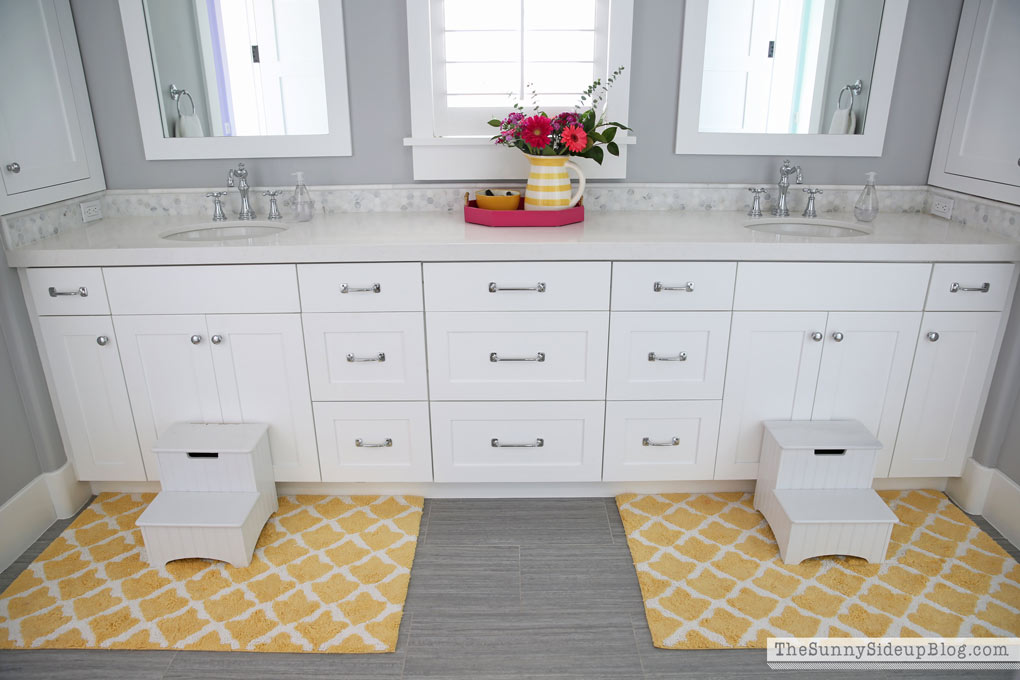 Then I helped my girls whip their bathroom drawers into shape.  GIRLS' BATHROOM – ORGANIZED DRAWERS.  I am having them do the same thing this weekend.  They have kept them much cleaner than before but bathroom drawers often need a little re-fresh!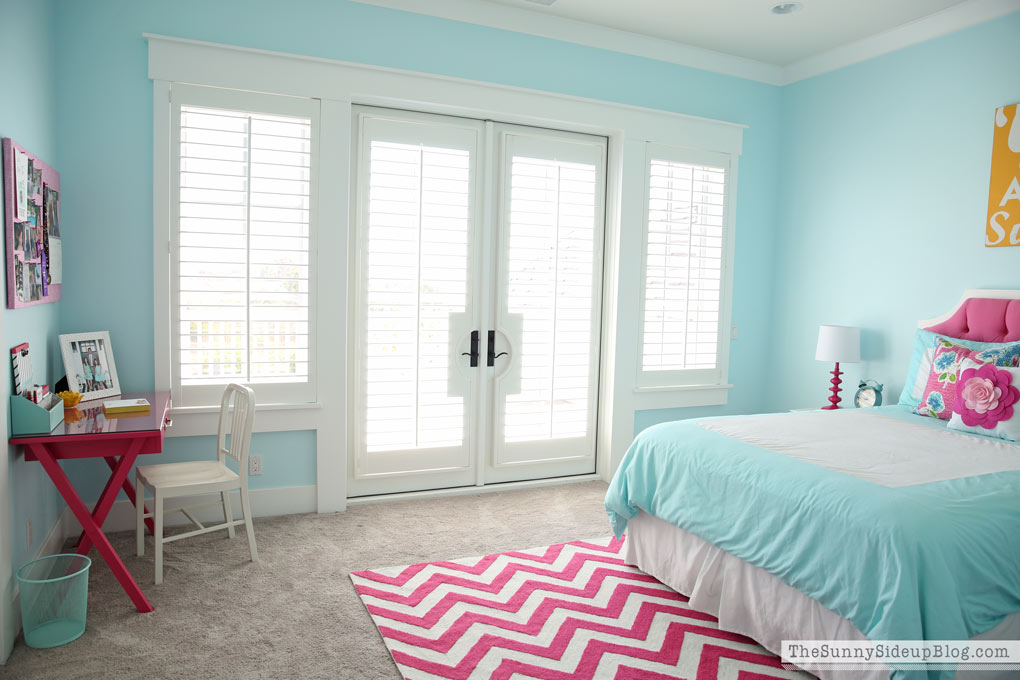 I shared Addison's PINK AND AQUA BLUE PRETEEN GIRL'S BEDROOM.  Then I totally spaced sharing El's bedroom.. ha!  Pics are still sitting in a folder so they are coming this year for sure. ;)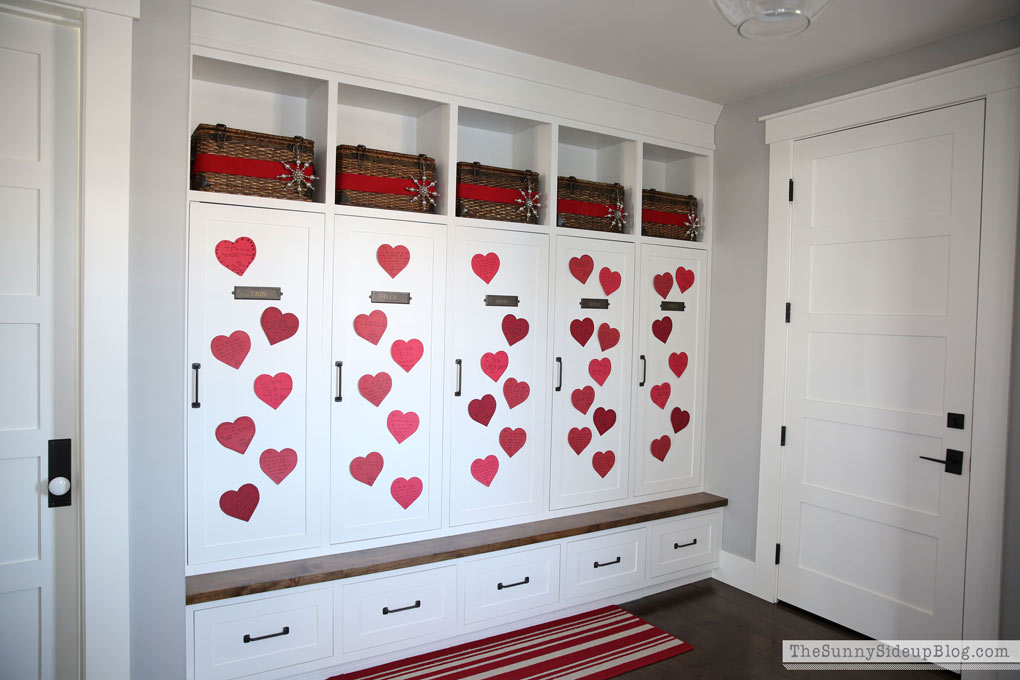 We got ready for February with some SIMPLE VALENTINE PARTY IDEAS.  I also shared a few other ways I've made Valentine's special for my family.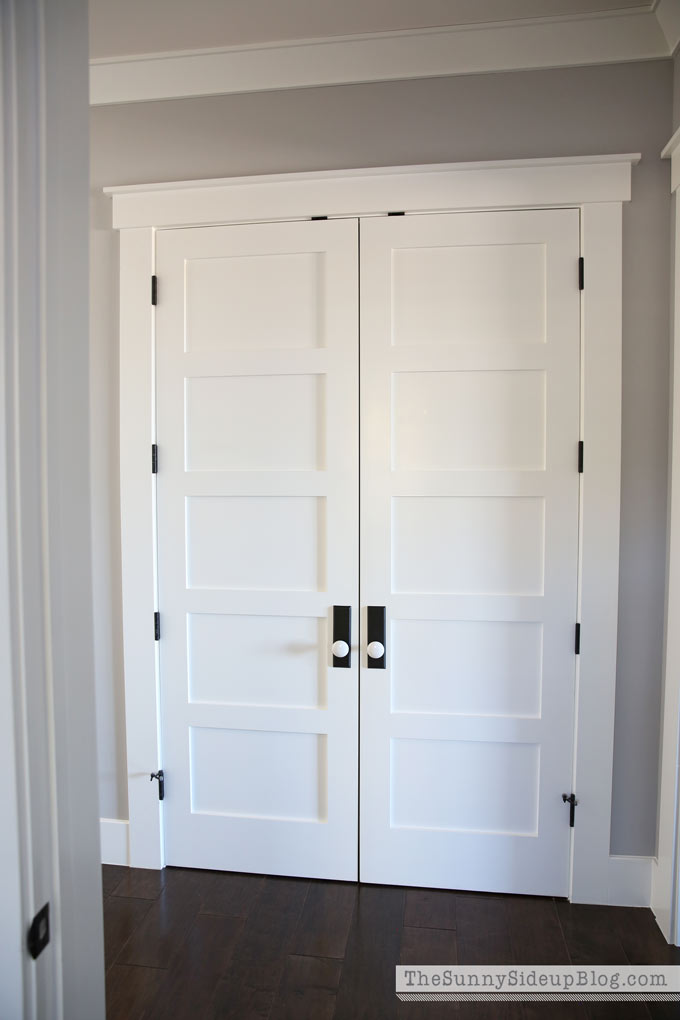 Then I shared my ORGANIZED DECOR CLOSET which felt so good to check off my list.  It was such a disaster!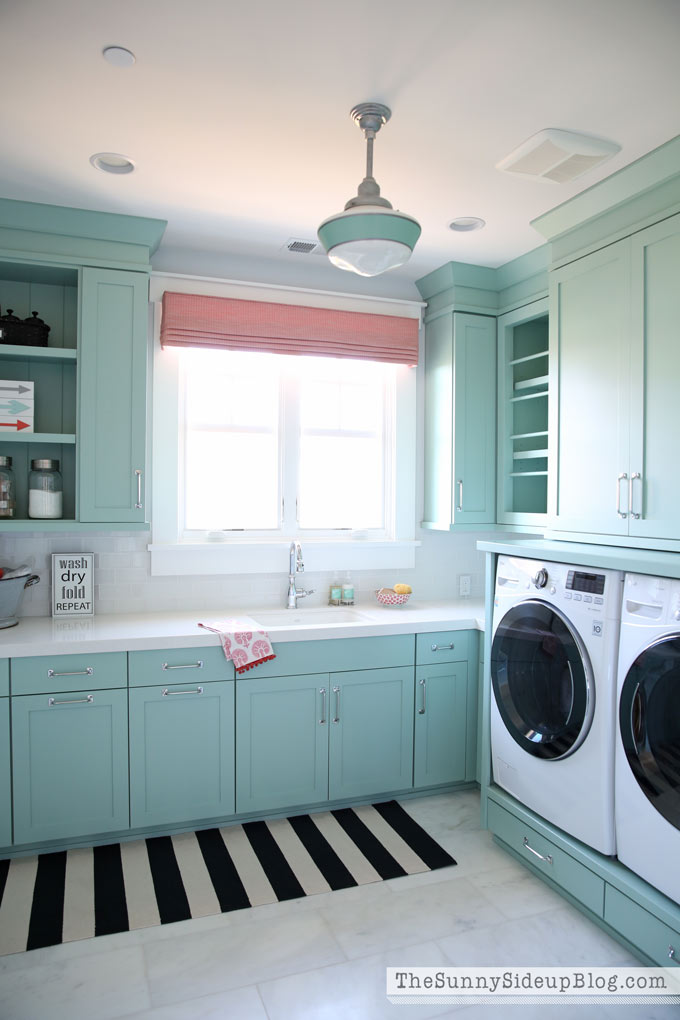 I kicked off February by sharing my DECORATED and ORGANIZED LAUNDRY ROOM (with COLOR!).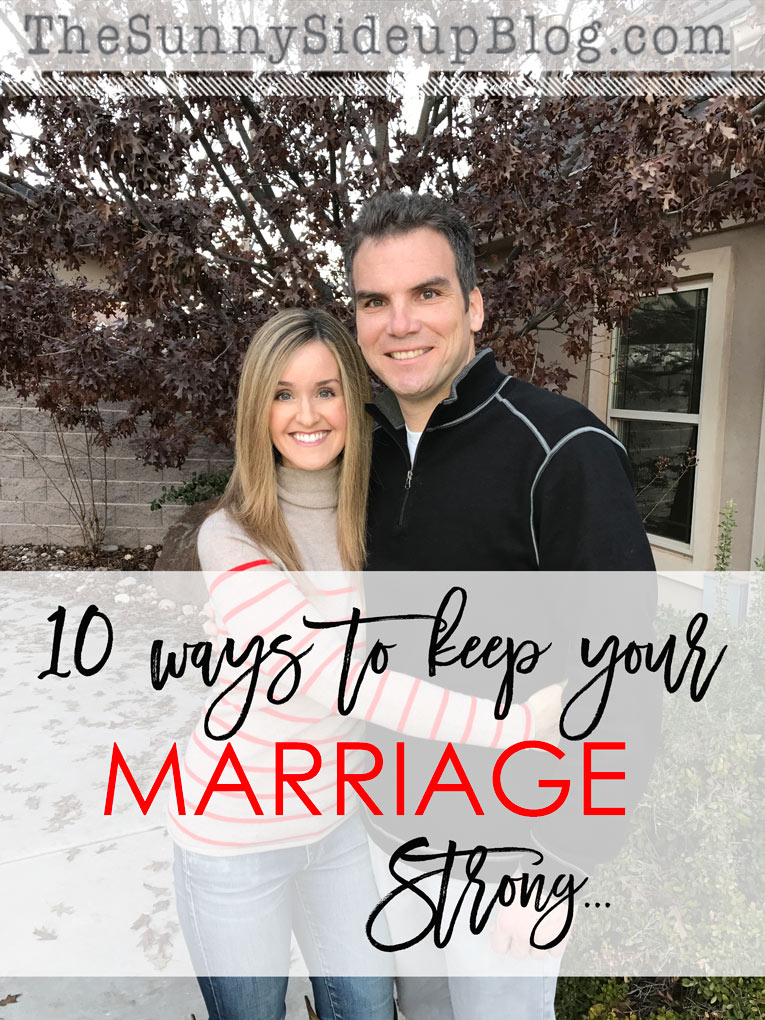 Then we got a little personal when I shared 10 WAYS TO KEEP YOUR MARRIAGE STRONG.  My husband and I are far from perfect, but after 20 years of marriage we've definitely learned what works for us!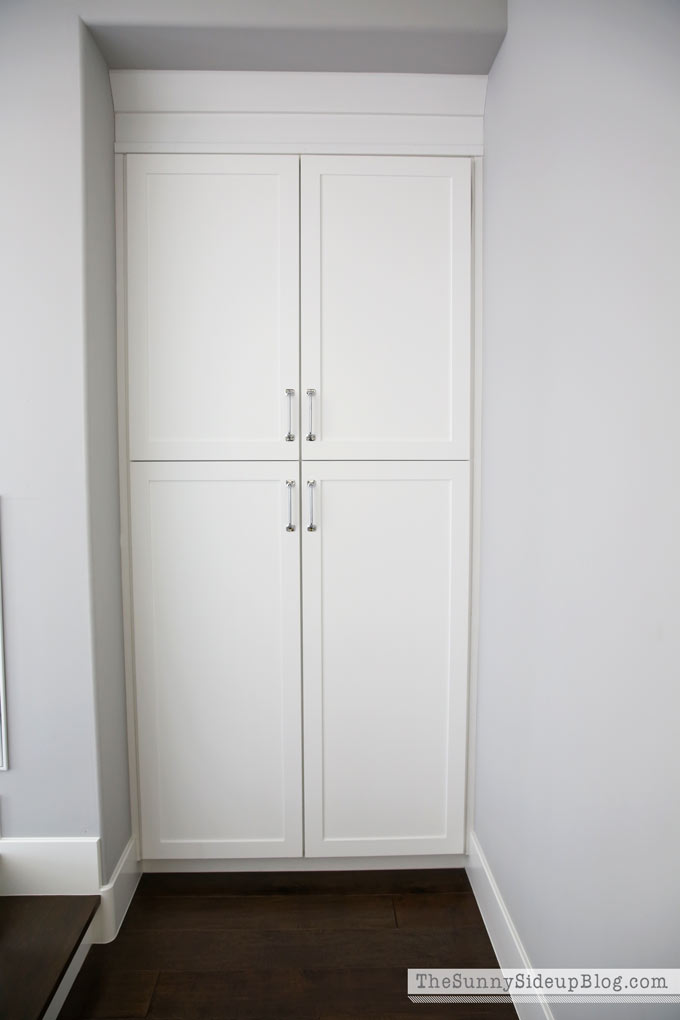 Clearly last year was the year of closets for me!  This post on my ORGANIZED BLANKETS AND TOWELS showed how I organized this hall linen closet and my girls' bathroom towel closet.  Happy to say those two closets are still looking good!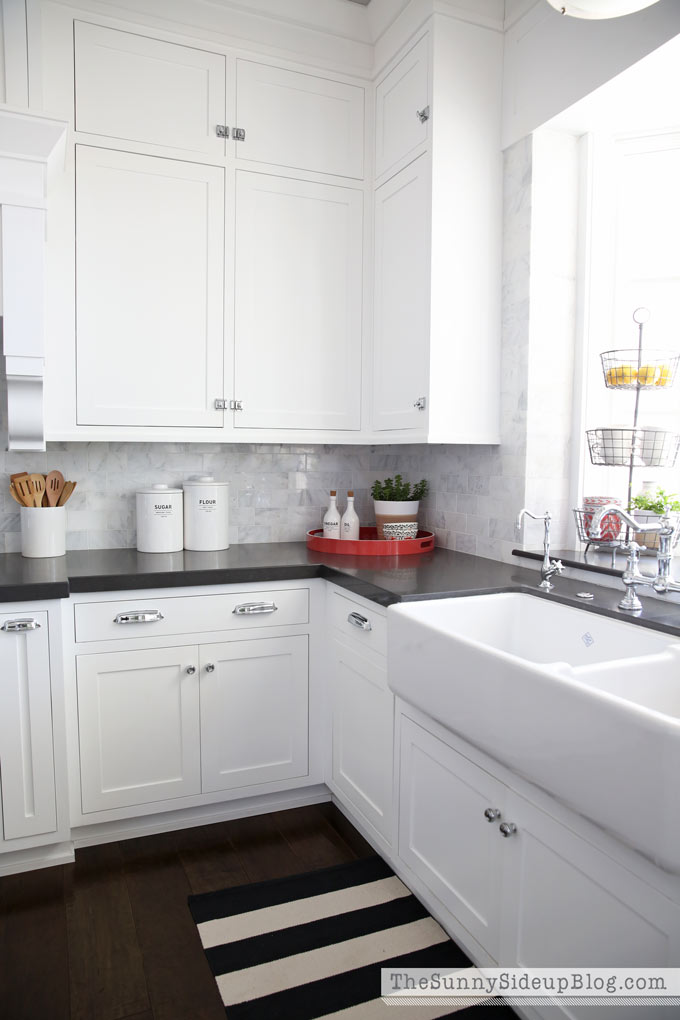 I shared a few KITCHEN DECOR IDEAS FOR SPRING!  I'm going to re-read that post because my kitchen is a blank slate right now just waiting for a few Spring touches. :)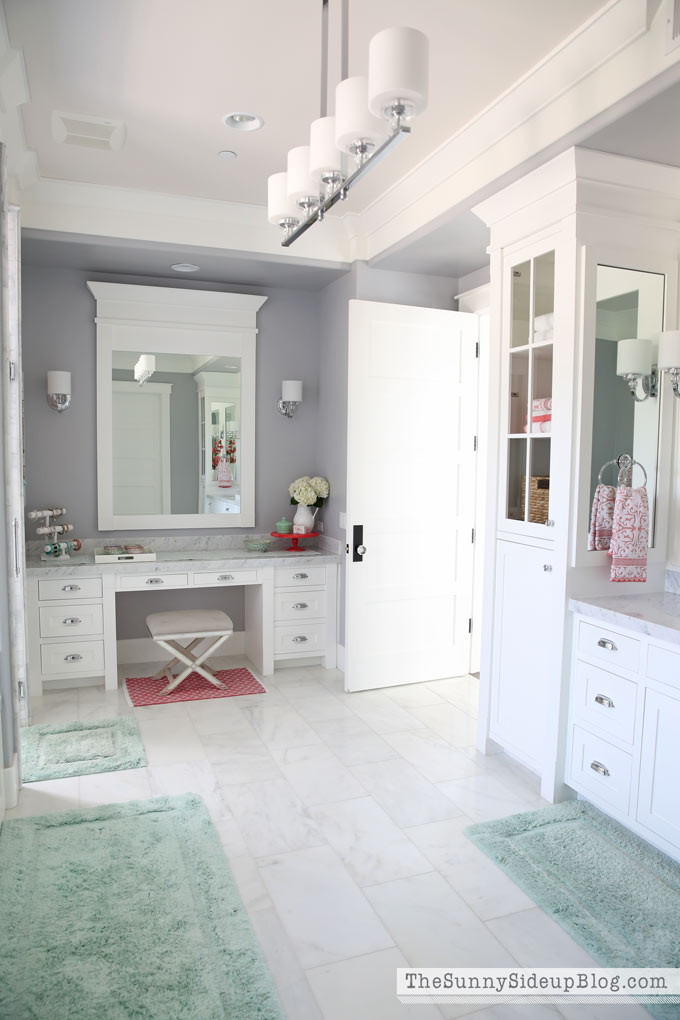 In March I joined some blog friends for a fun Spring tour and shared pictures of our WHITE MASTER BATHROOM (READY FOR SPRING!).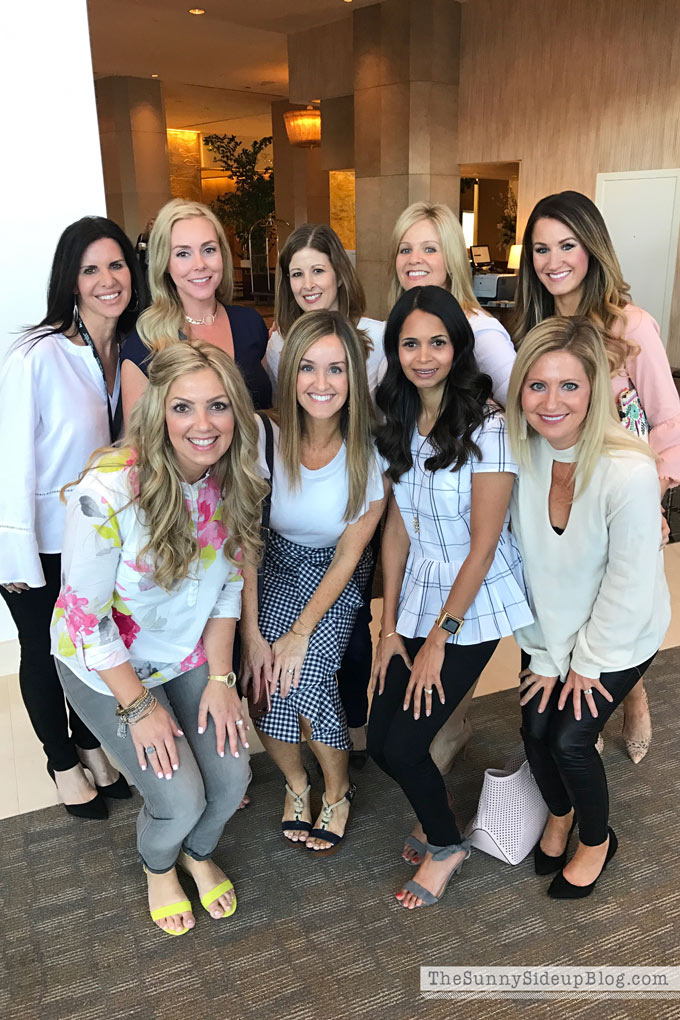 Then I took off to LA for a few days for such a memorable trip!  I had a blast with friends, won the award Best Design Blog for 2017 (did NOT see that one coming), and turned 40.  I shared all the detains in my post DESIGN BLOGGER CONFERENCE (WHAT I WORE) AND HELLO 40!  Thank you again to everyone who voted for me for that award btw.. it meant so much to me!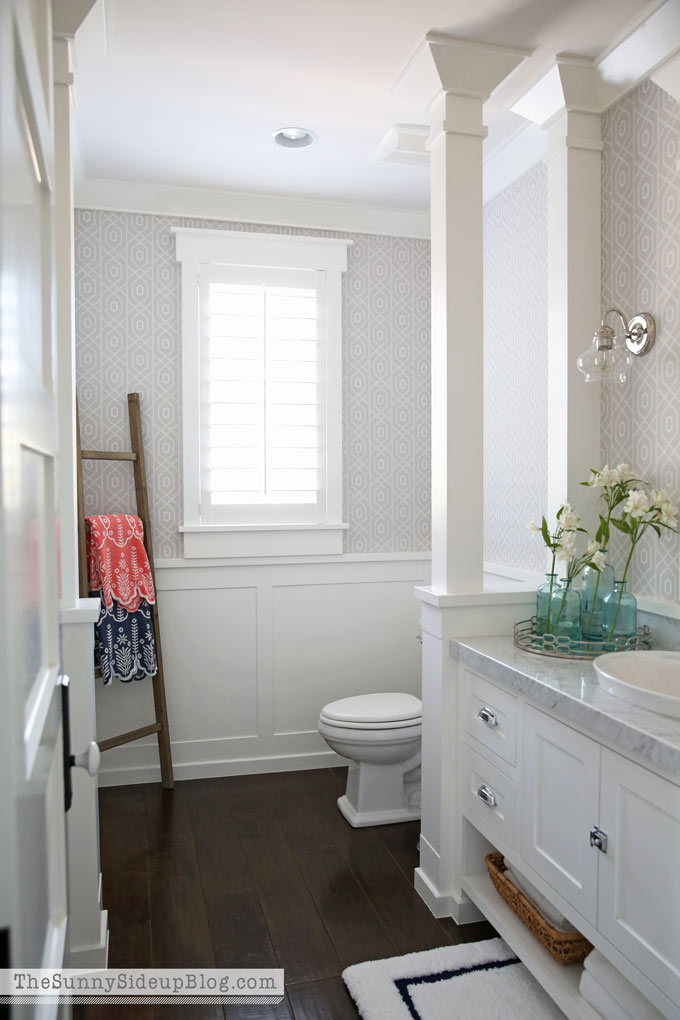 I shared my powder bathroom drawers and other fun Spring touches around my house.  Posts like this are often my favorite. :)  ORGANIZED BATHROOM DRAWERS AND SPRING DECOR.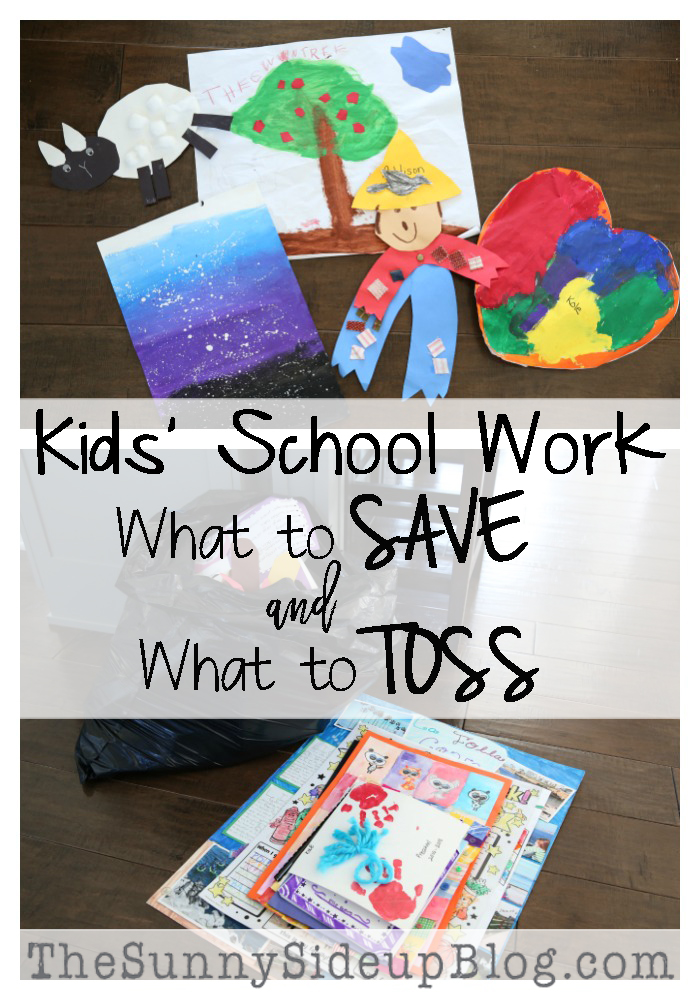 Then I shared my process for sorting through my kids' art/school work in the post KID'S SCHOOL WORK (WHAT TO SAVE AND WHAT TO TOSS).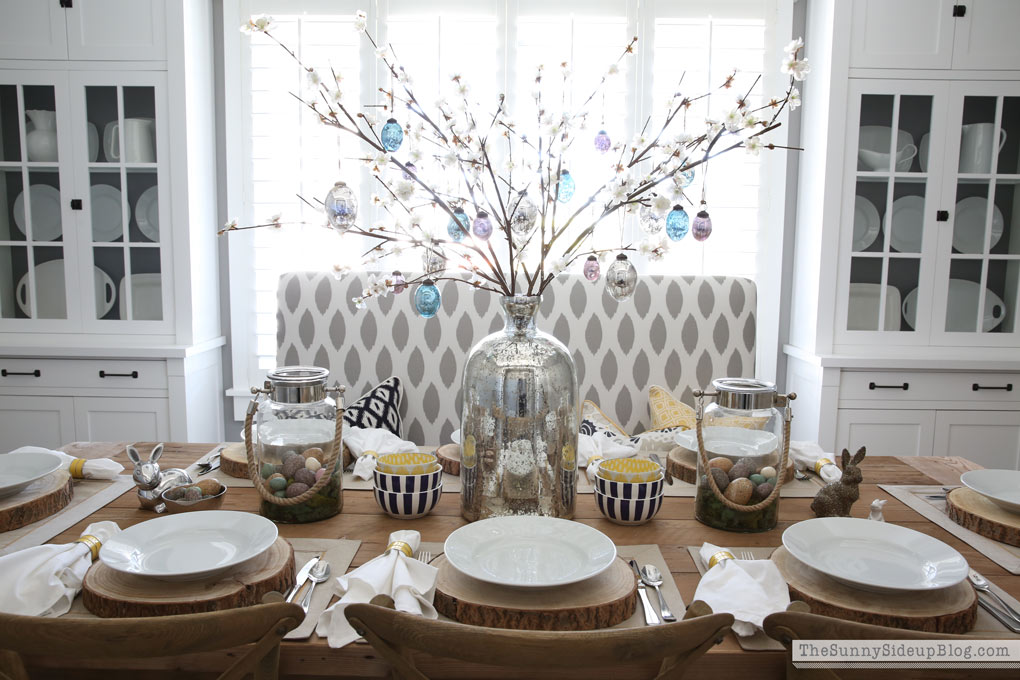 A SIMPLE EASTER TABLESCAPE brightened our dining room.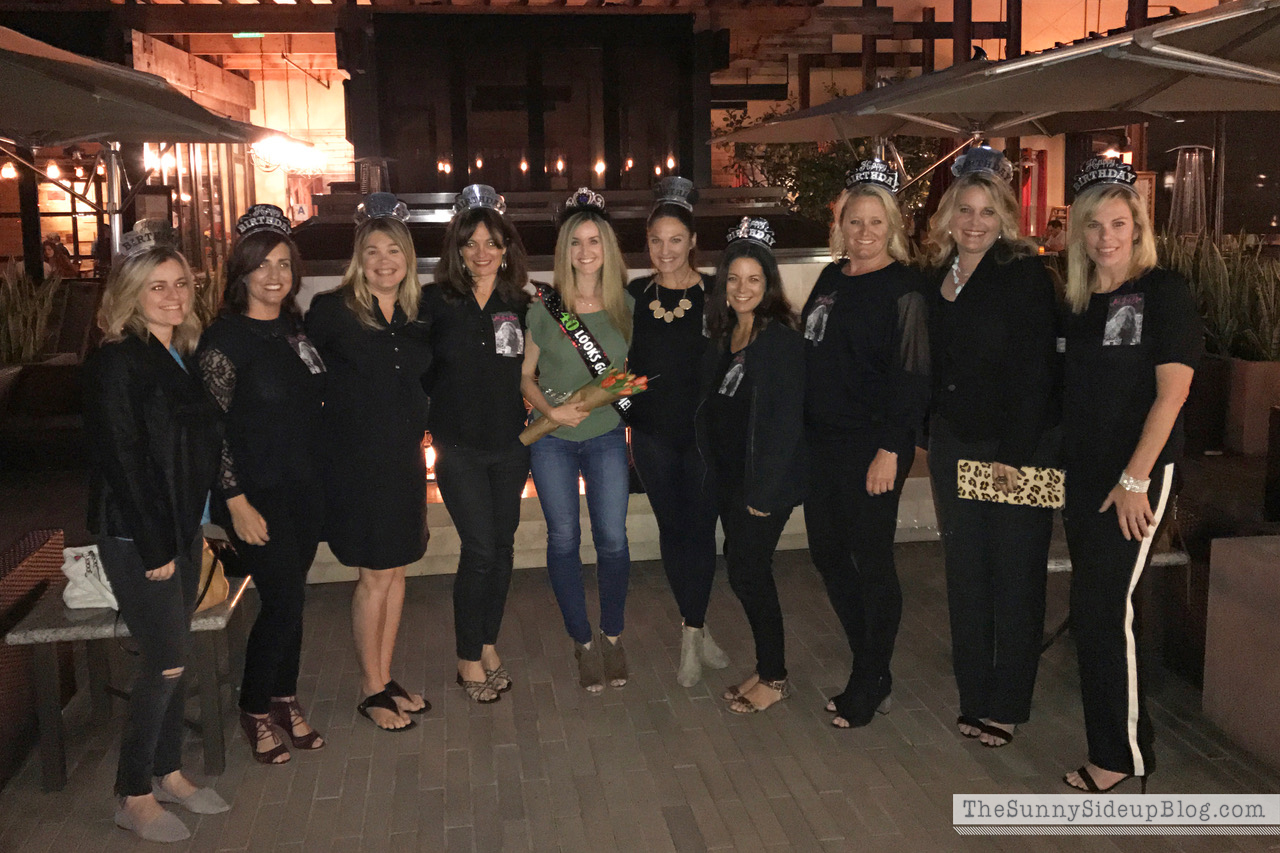 Then I ended the month with some fashion favorites and a 40th birthday part my darling friends gave me!  ONE SKIRT THREE WAYS, PURSE LOVE AND A BIRTHDAY TRADITION.  The gift they gave me that night is an all time favorite.  I cried a lot of tears!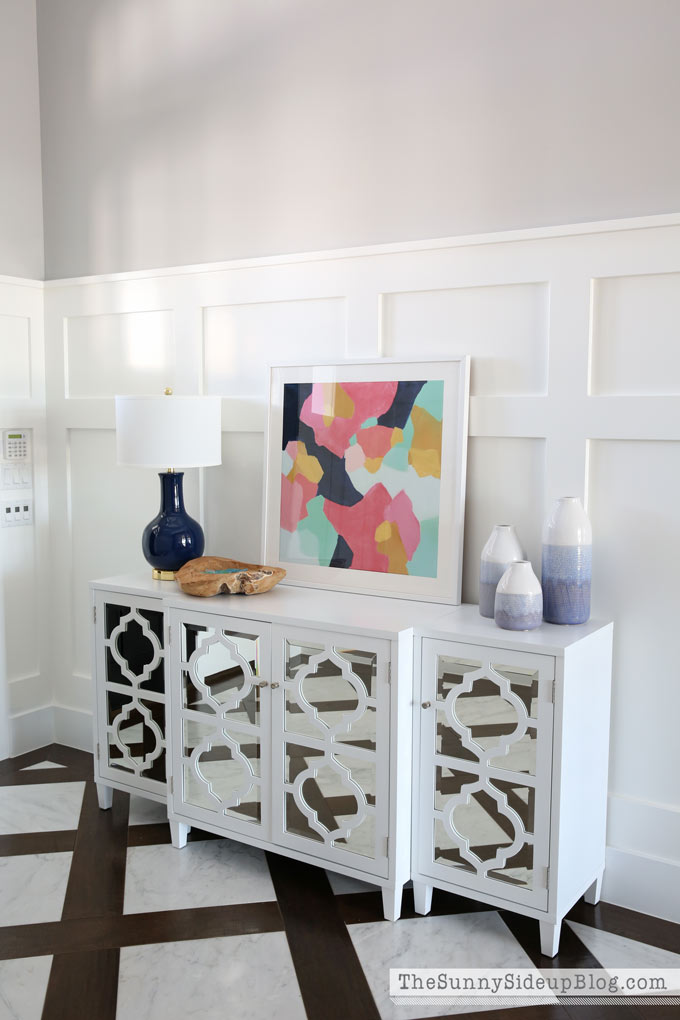 I kicked off April with our MIRRORED CONSOLE TABLE (ALL GROWN UP!).  I just put this beautiful artwork back on this table yesterday after taking down the Christmas decor.  I still love it so much!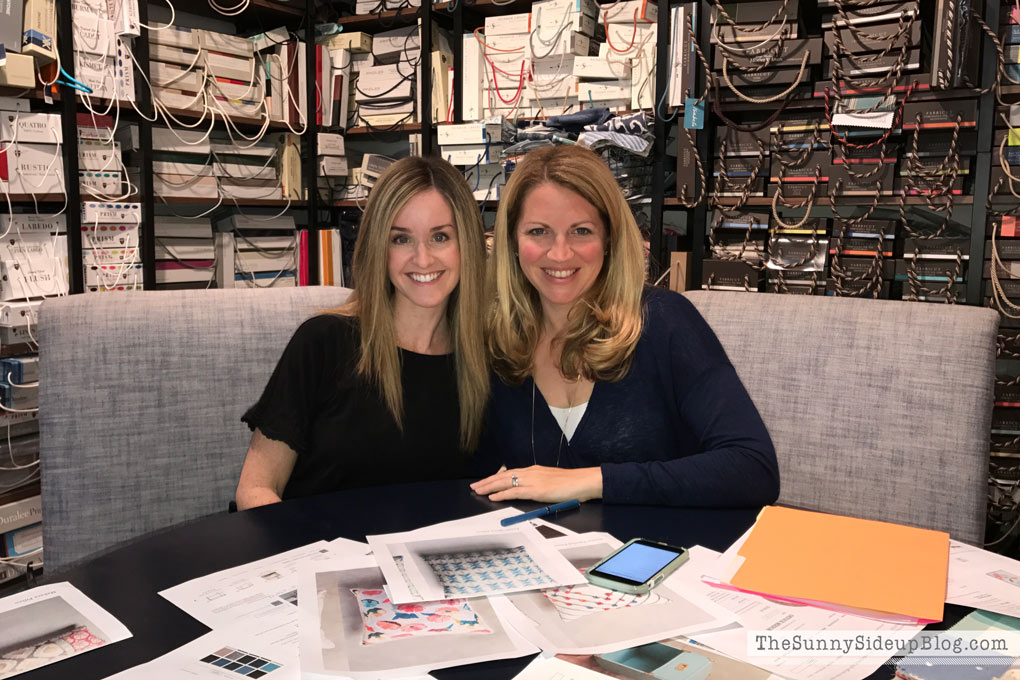 I get so many questions about the custom items in my home so I finally wrote a post with my designer/friend's info!  She's the best. :)  CUSTOM ITEMS IN MY HOME (HOW YOU CAN GET THEM TOO!)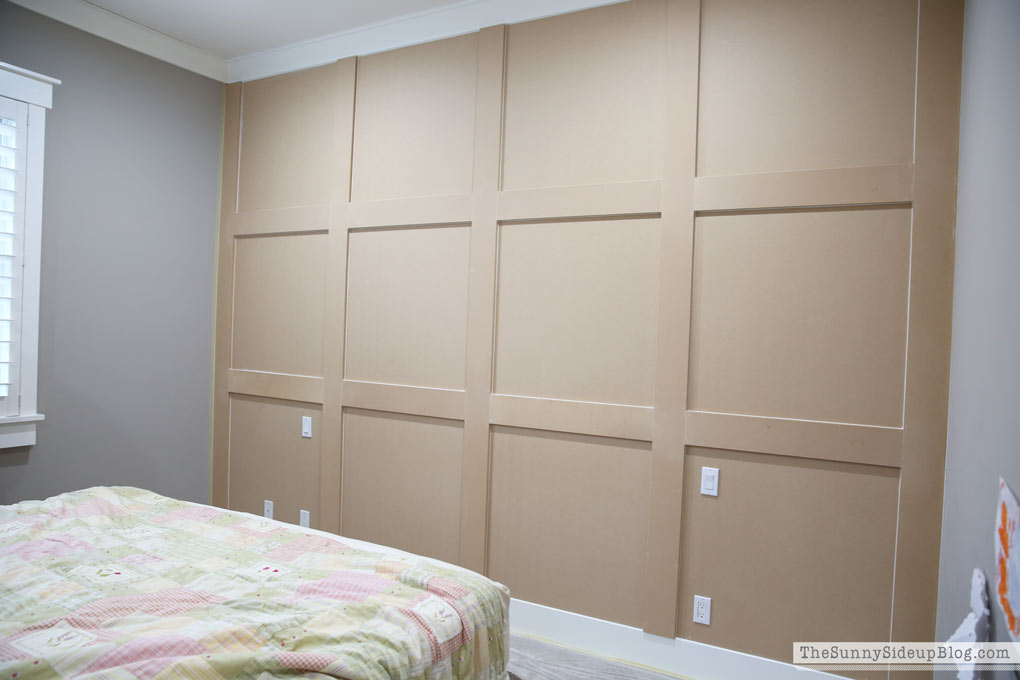 Finally started decorating our guest room!  I'm excited to show you my recent progress soon.  GUEST ROOM (THE BEGINNING!)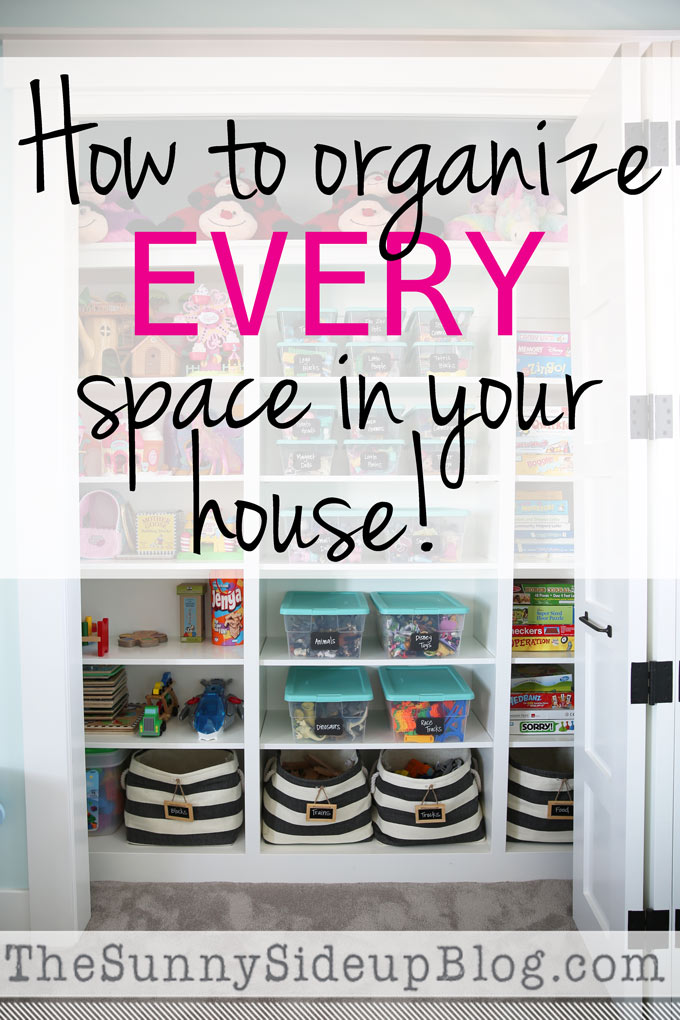 HOW TO ORGANIZE EVERY SPACE IN YOUR HOUSE!  After almost 10 years of blogging I finally took the time to round up all of my organizing inspiration so that everything is all in one post!  Great place to start if you need some ideas for whipping your home into shape this year!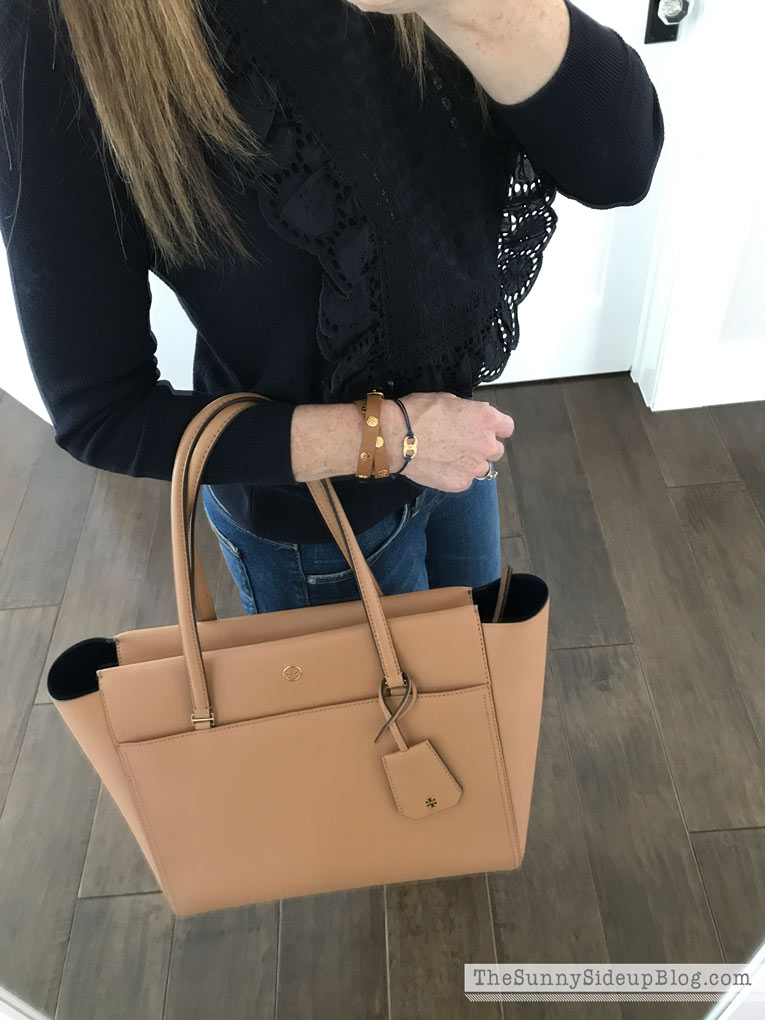 Nothing like Tory!  This bag is still a favoirte. :)  TORY BURCH FAVORITES WITH NORDSTROM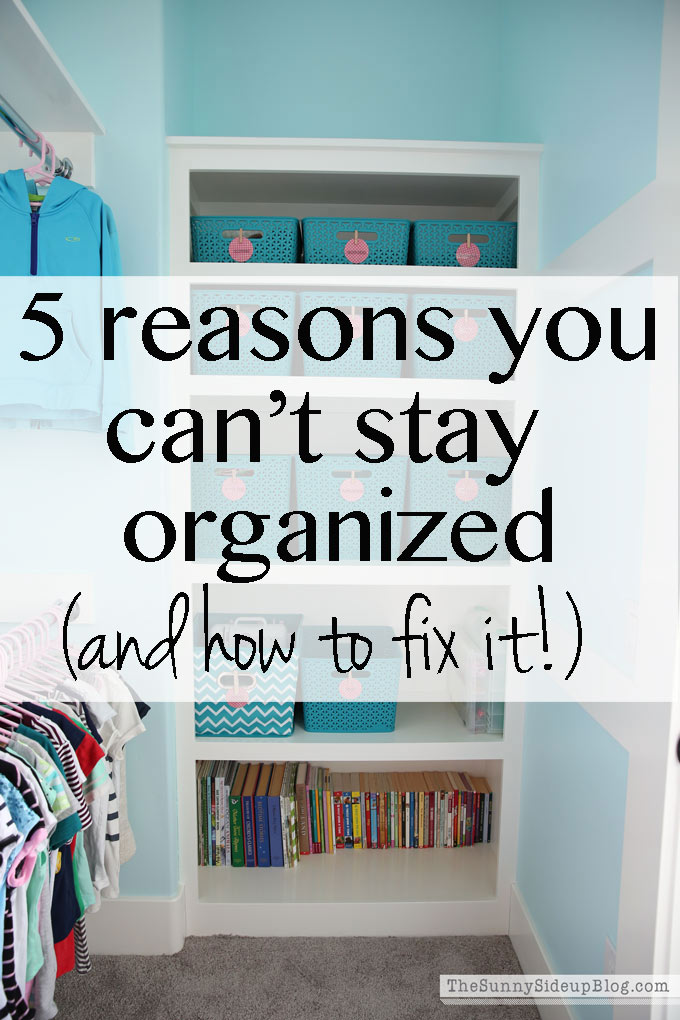 One of my favorite posts!  5 REASONS YOU CAN'T STAY ORGANIZED (AND HOW TO FIX IT!).  The reason I know why you can't keep your home organized is because I've been there too!  These are the stumbling blocks I've dealt with over the years and how I've learned to work around them.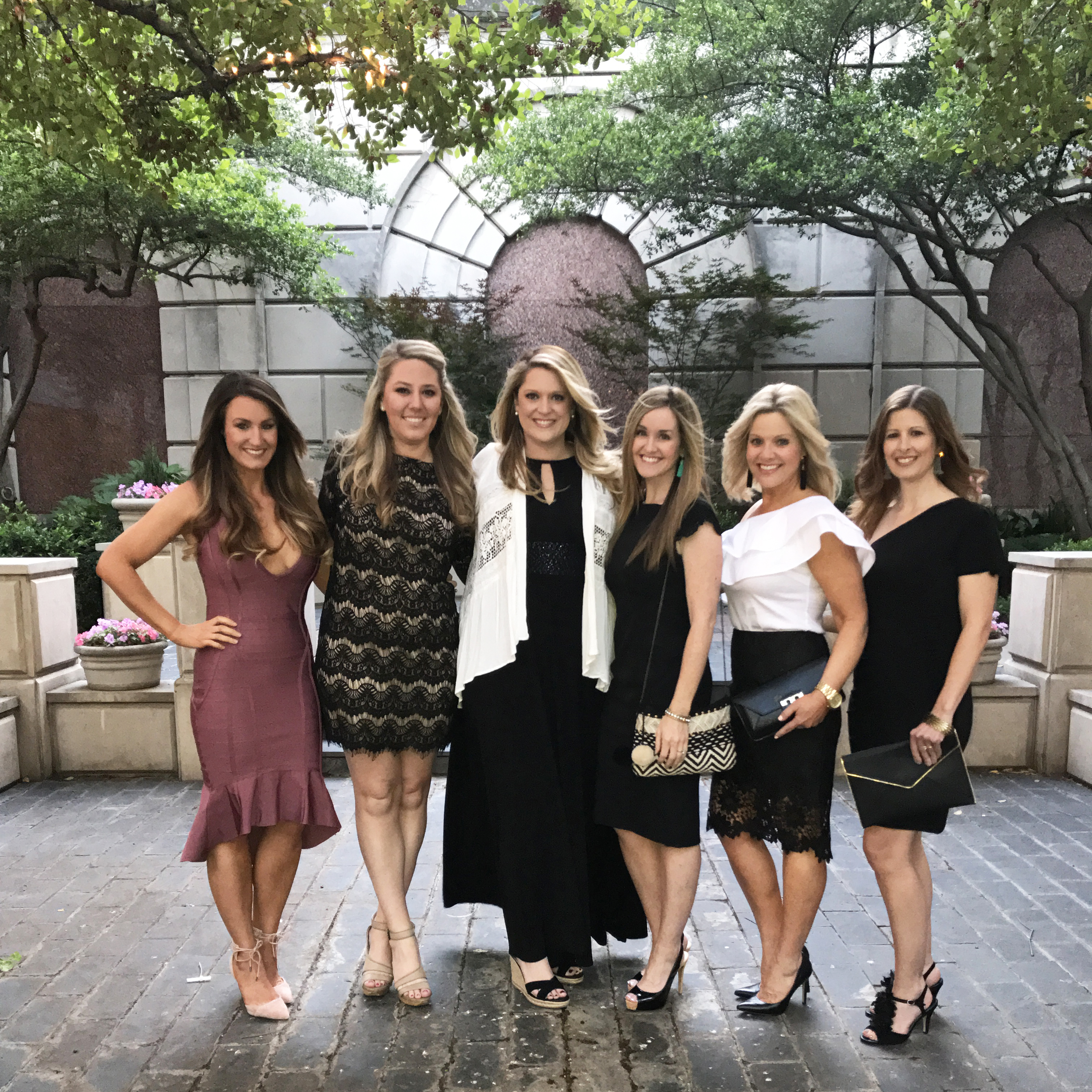 I spent the end of April at the Reward Style Conference in Dallas.  Good times!  I was happy I finally dared to go. ;)  REWARD STYLE CONFERENCE (AND WHAT I WORE)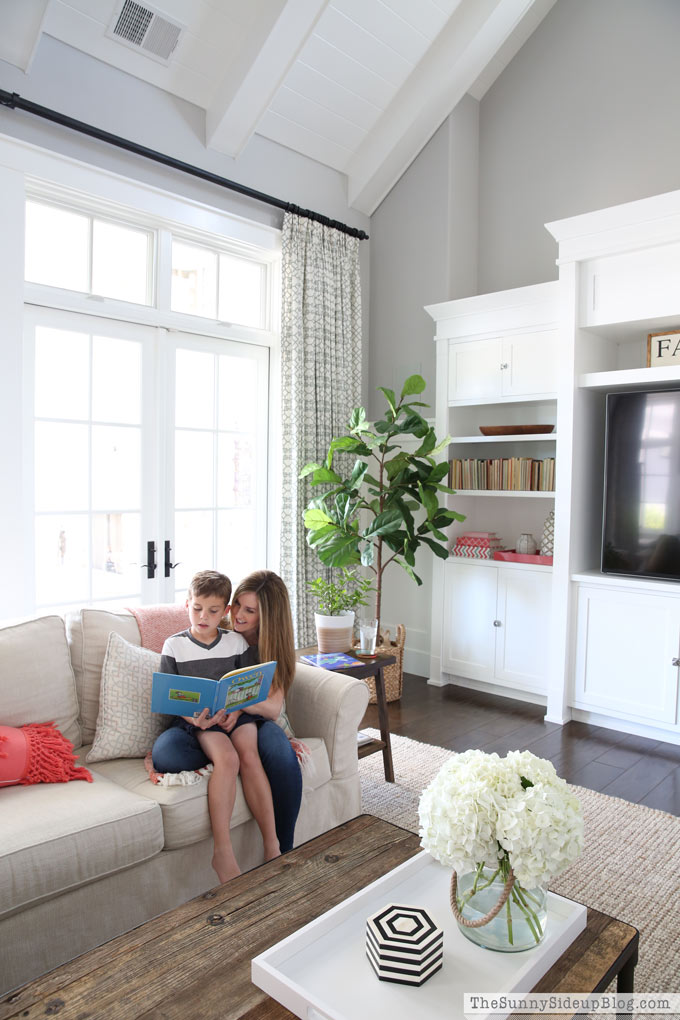 I kicked things off in May by sharing some new decor updates!  POTTERY BARN SMALL SPACE COLLECTION (DECOR UPDATES!)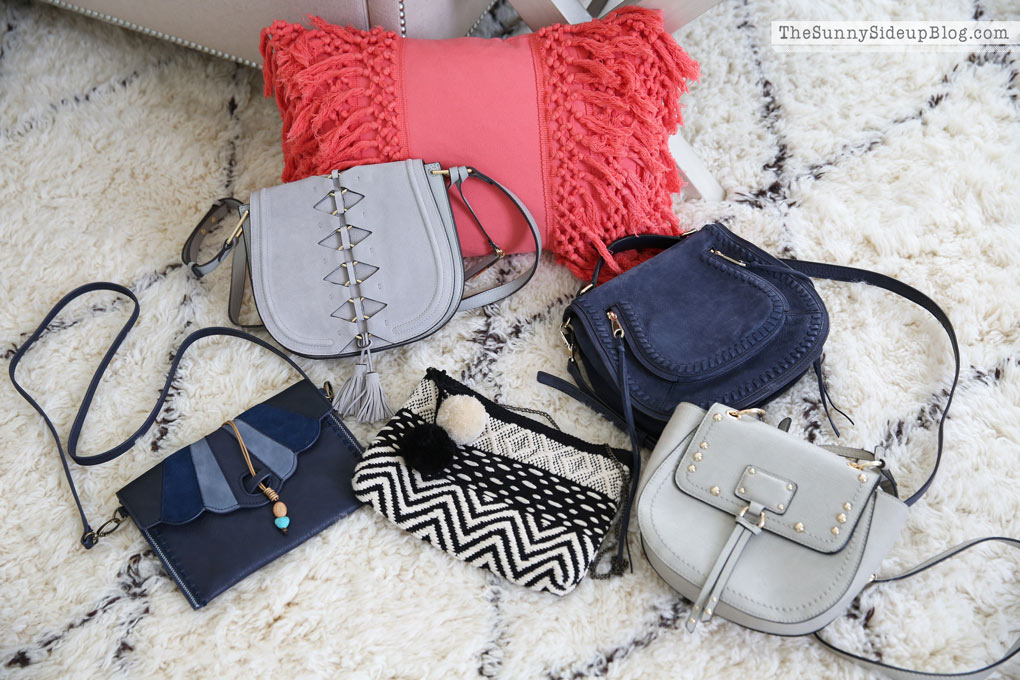 Along with recent FASHION AND FAVORITES!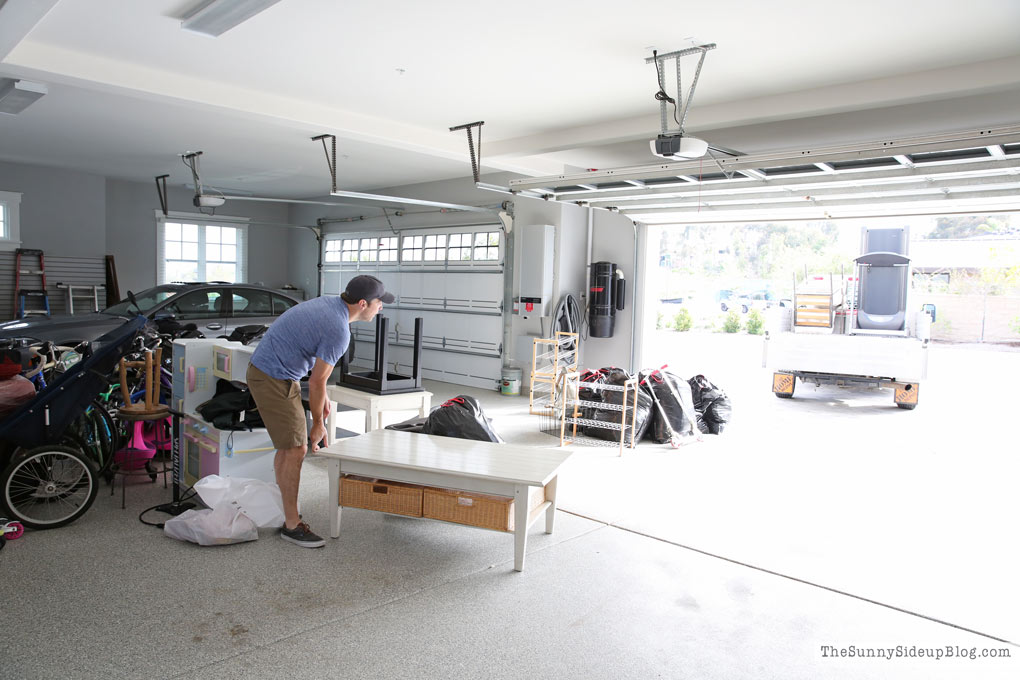 GARAGE AND CLOSET ORGANIZATION.  Oh man.. we SO need to wrap up our garage organization this year!  The post above includes updates and pics of how I organized Kole's clothes closet.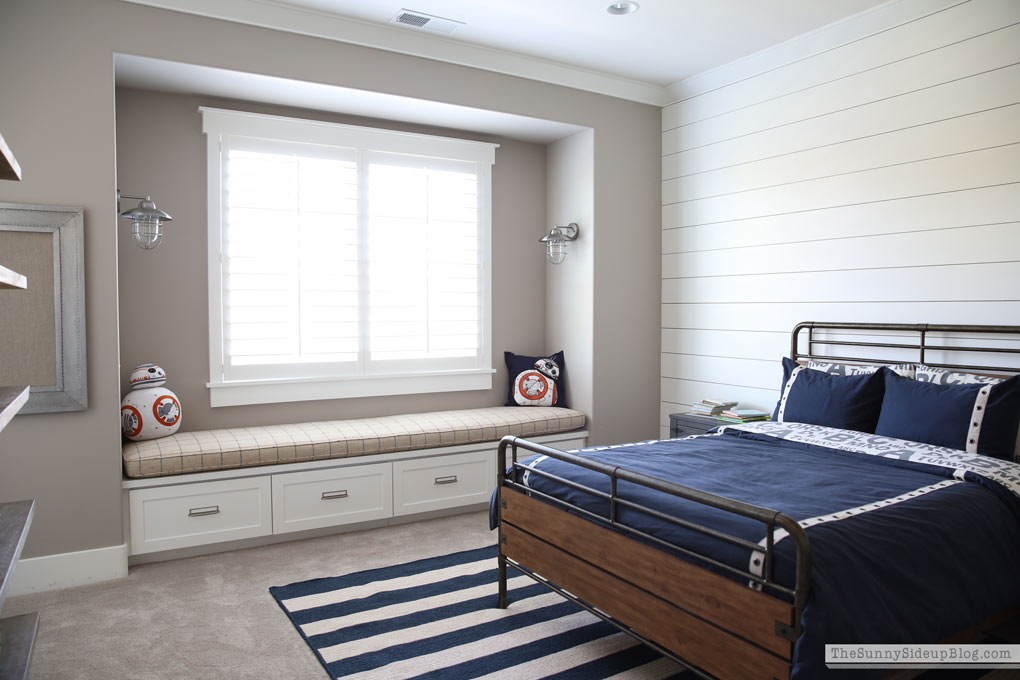 NAUTICAL INDUSTRIAL BOY'S BEDROOM (PROGRESS!)  Loved sharing Kole's bedroom with you all this year!  Finishing it up with the small details is on my project to-do list for 2018!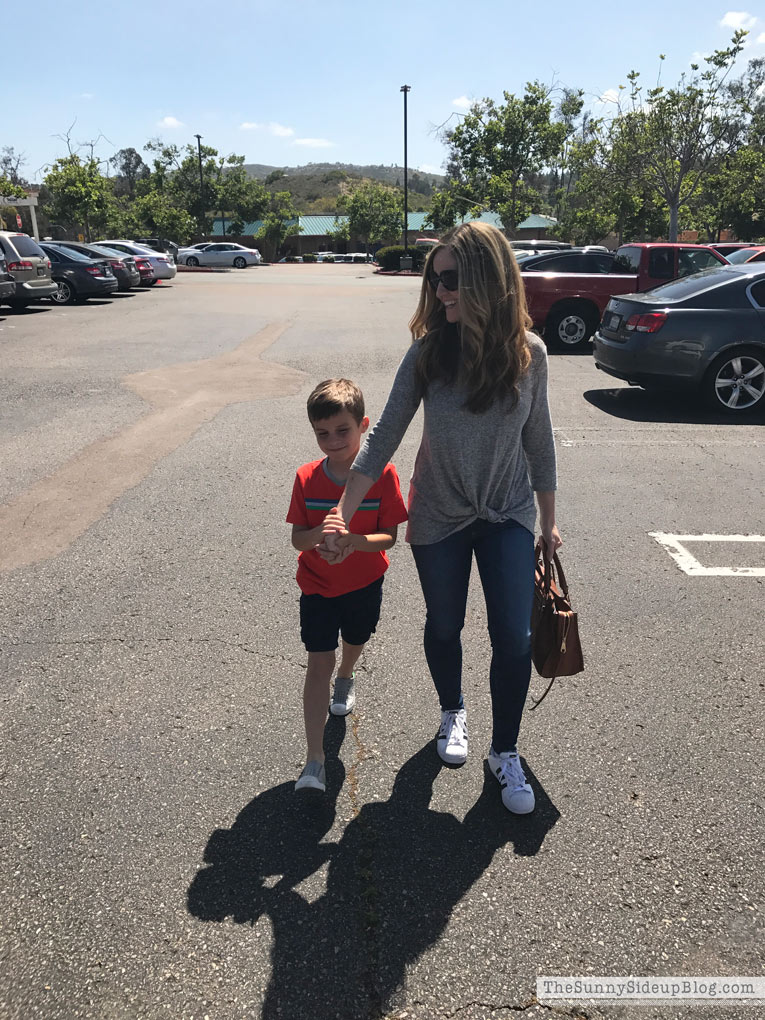 FASHION FRIDAY (NEW FAVORITES FOR THE KIDS!)  Fun new clothes for the kids!  And this twist front cozy fleece pullover is so soft and still one of my favorites!  Great reviews and comes in so many colors.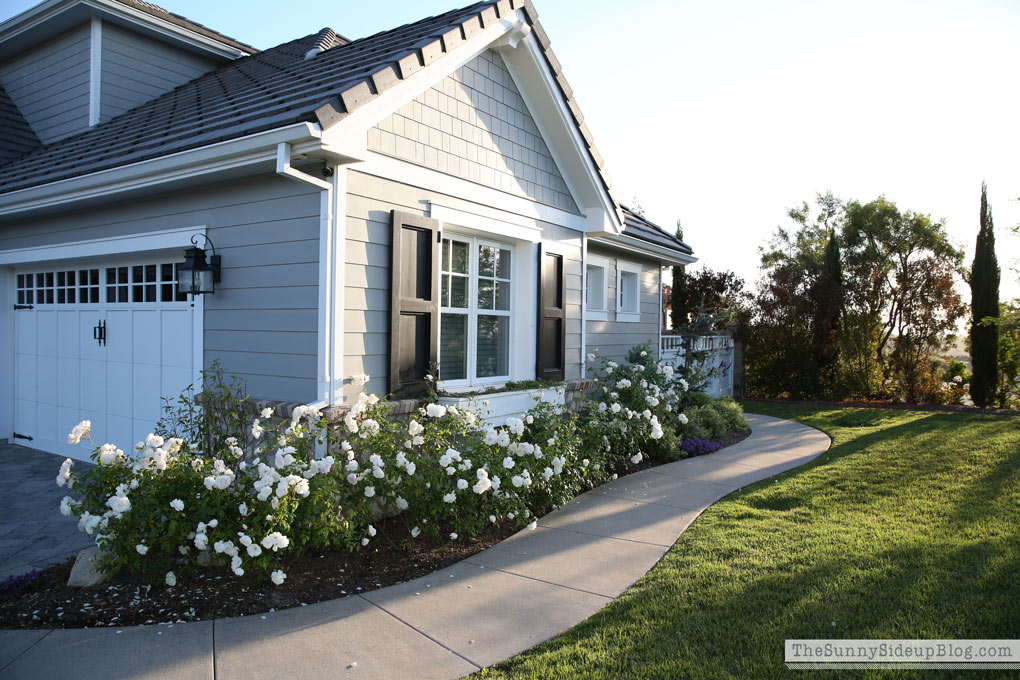 ROSES, GATES, SALES AND SURVIVAL!  All sorts of randomness in this post!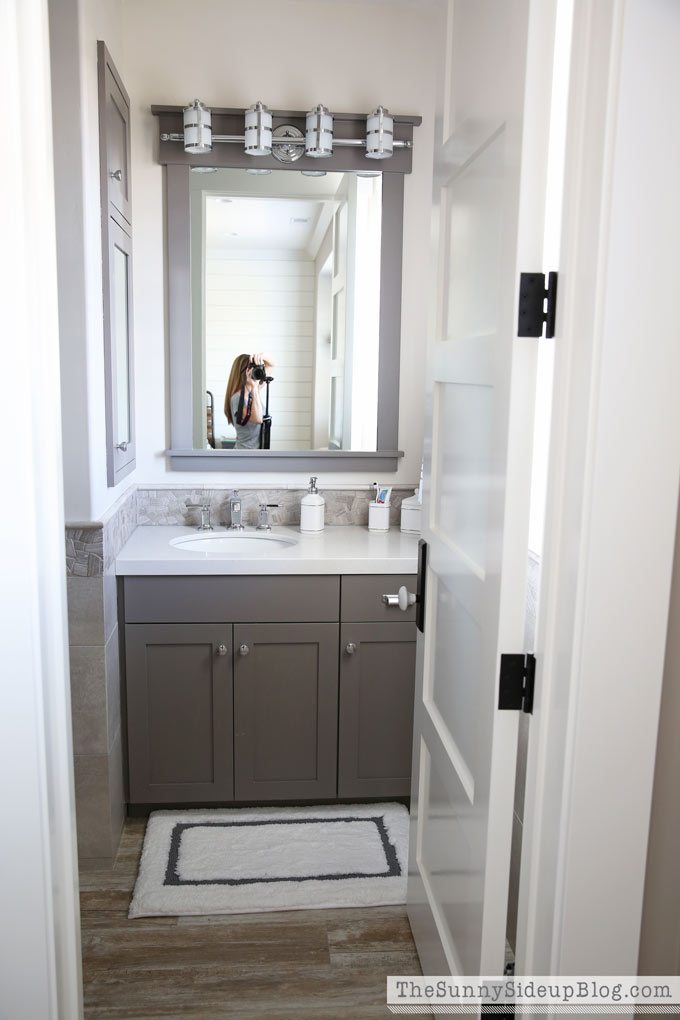 I shared pictures of Kole's NAUTICAL MODERN BOY'S BATHROOM!  Fun giving you the official tour. :)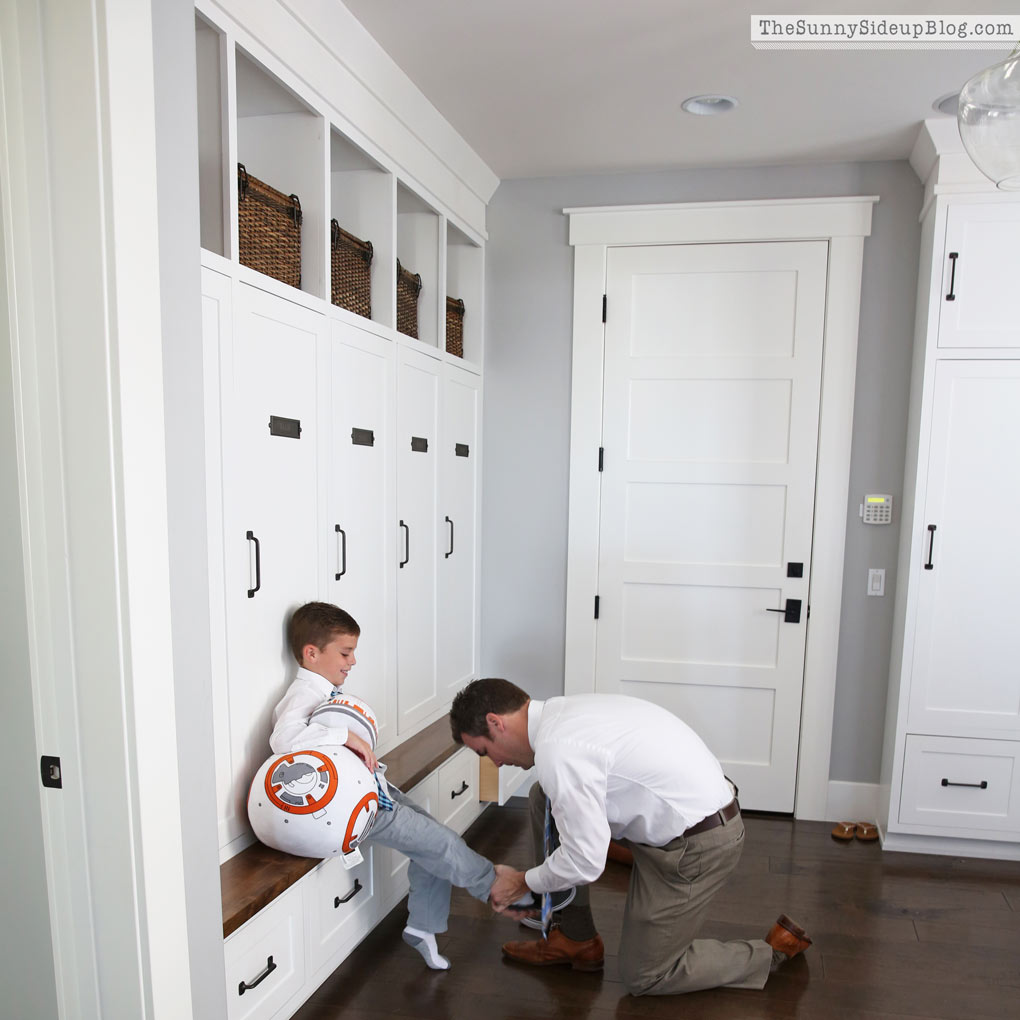 Lots of everyday life posts throughout the year!  I'll just link to this LIFE LATELY post in June because this pic I quickly snapped of my boys is one of my favorties. :)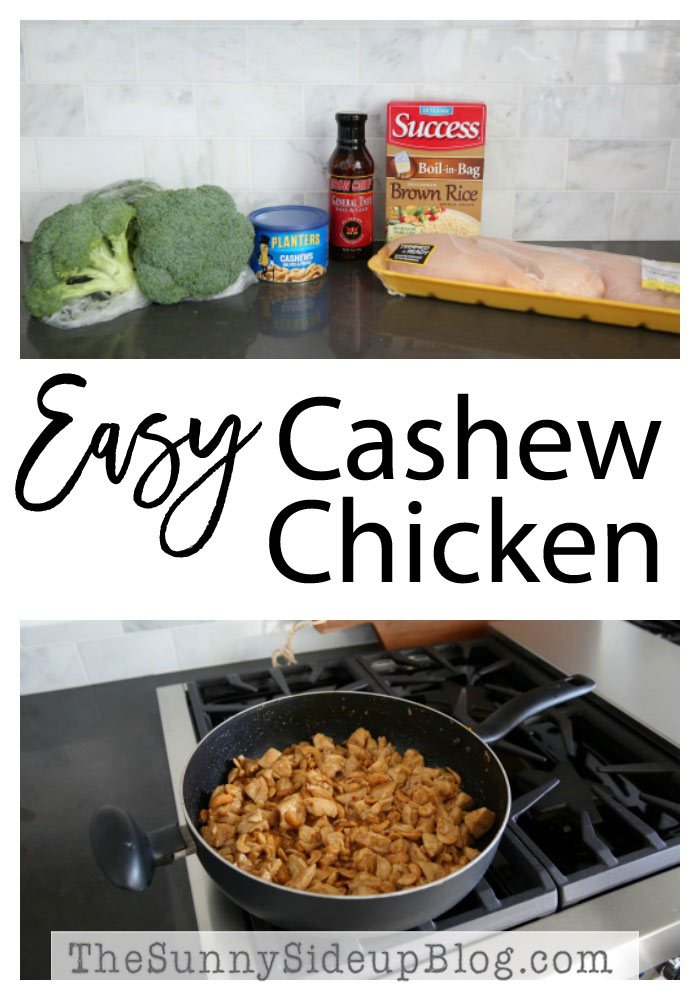 It's not often that I share recipes on my blog but this EASY CASHEW CHICKEN is so easy to make and a hit with my crew!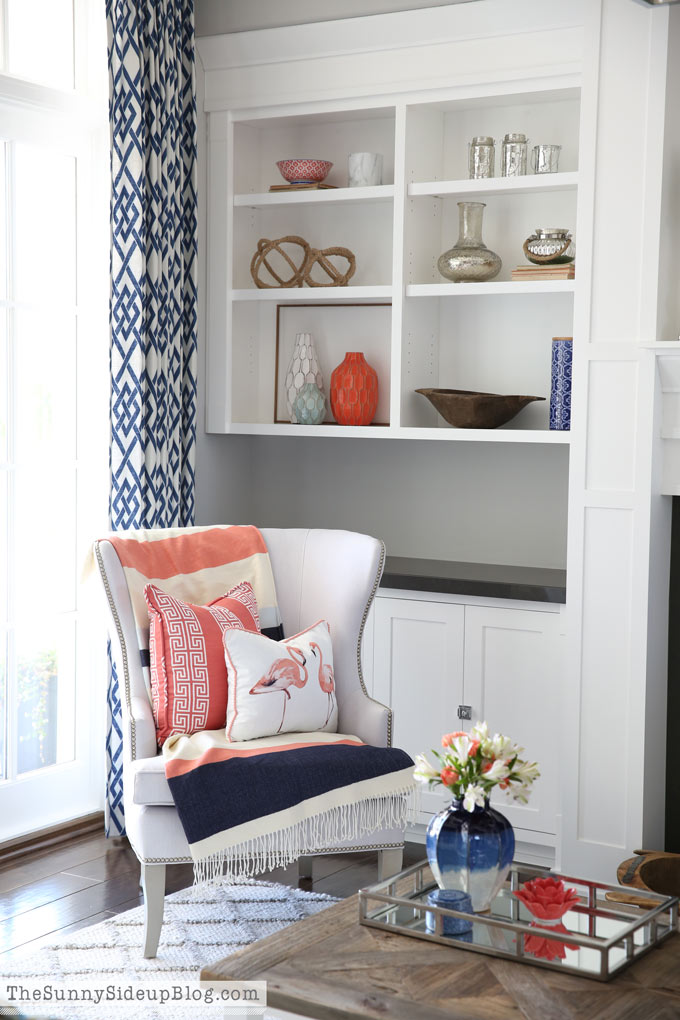 My living room got a little summer re-fresh!  LIVING ROOM SUMMER DECOR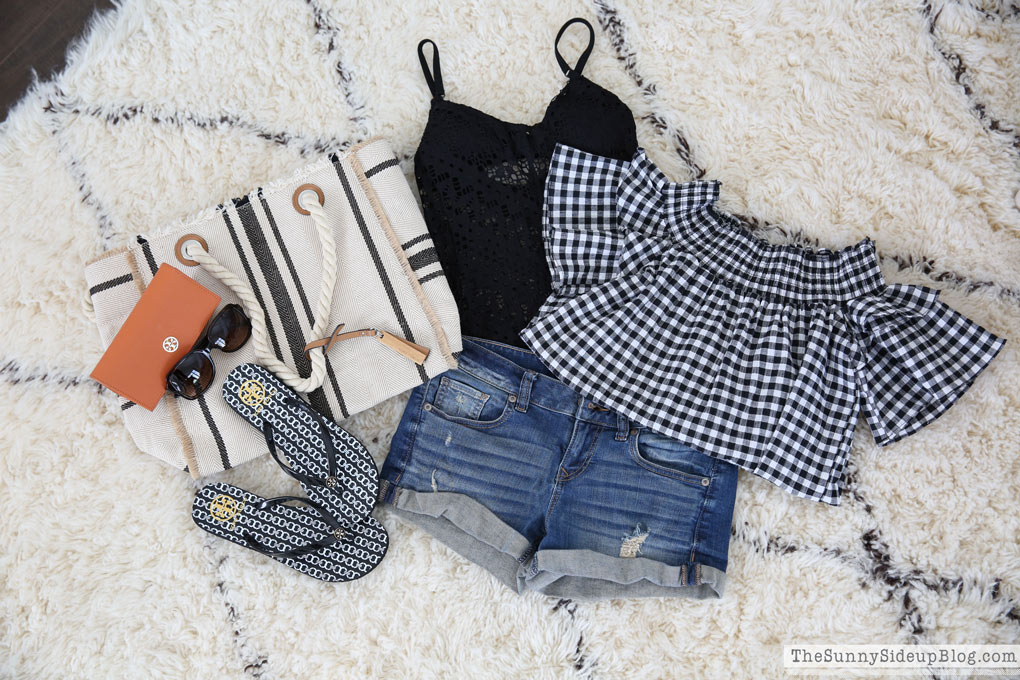 Then I shared what I was packing for an upcoming trip to Maui.  FASHION AND WHAT I'M PACKING FOR MAUI
Things didn't exactly work so well the first time I organized this space so I found a better solution for our medicine cabinet!  Check the post to see the after. :)  ORGANIZED MEDICINE CABINET (TAKE 2!)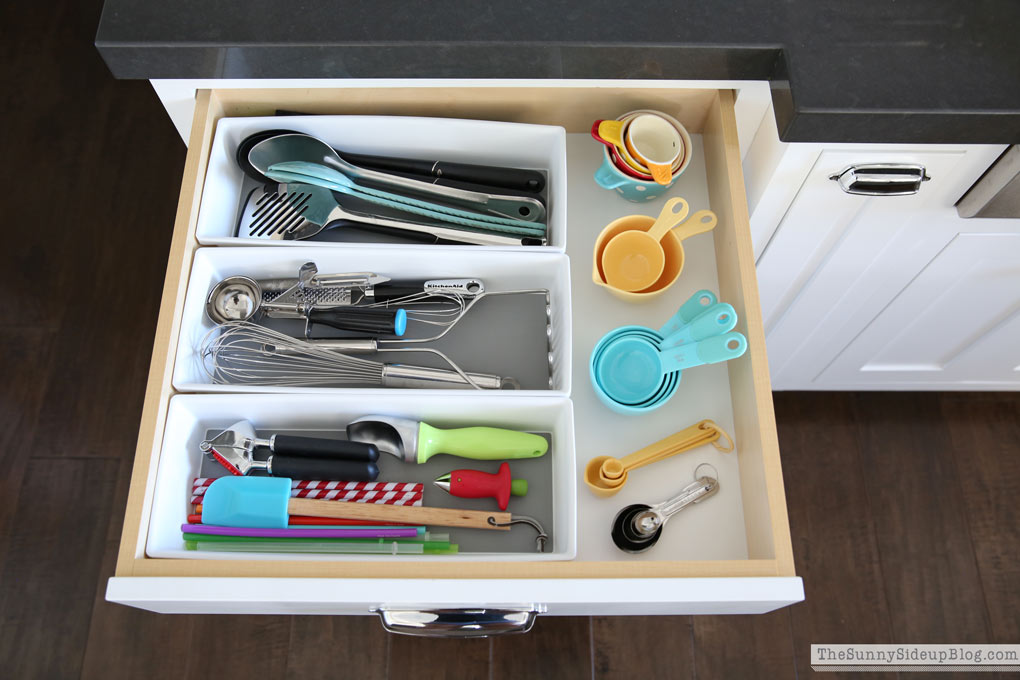 I shared some pics of my kitchen drawers and cupboards and a few of my best tips for keeping your kitchen clean and organized.  MY ORGANIZED KITCHEN (AND HOW TO KEEP YOUR KITCHEN CLEAN AND ORGANIZED TOO!)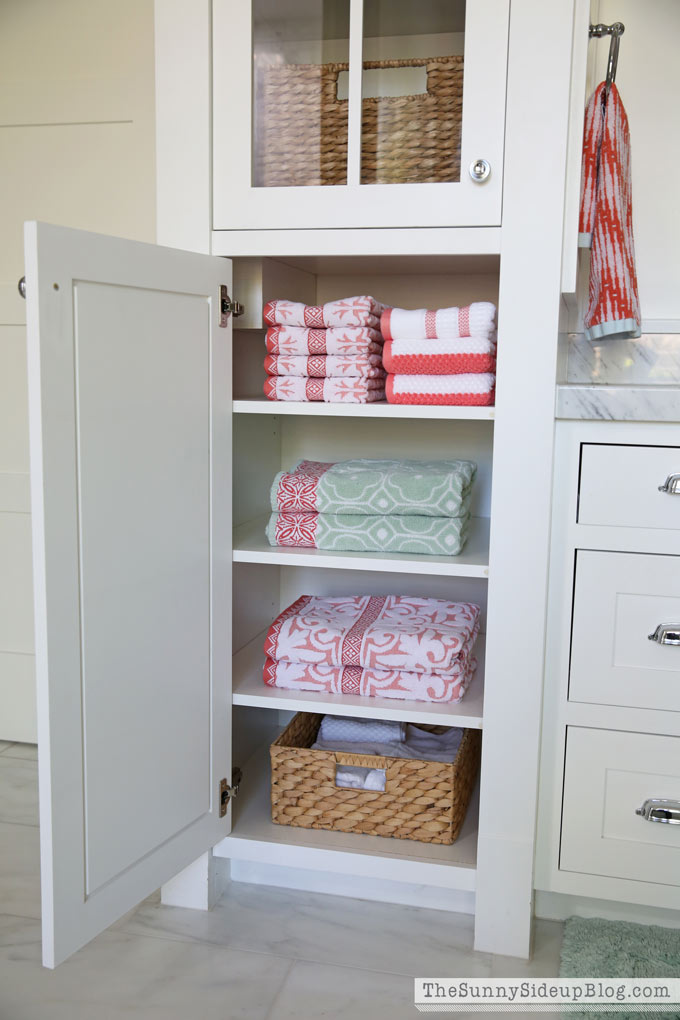 Then we kept organizing our way through summer with pics of my ORGANIZED MASTER BATHROOM.  Nothing like clean bathroom drawers!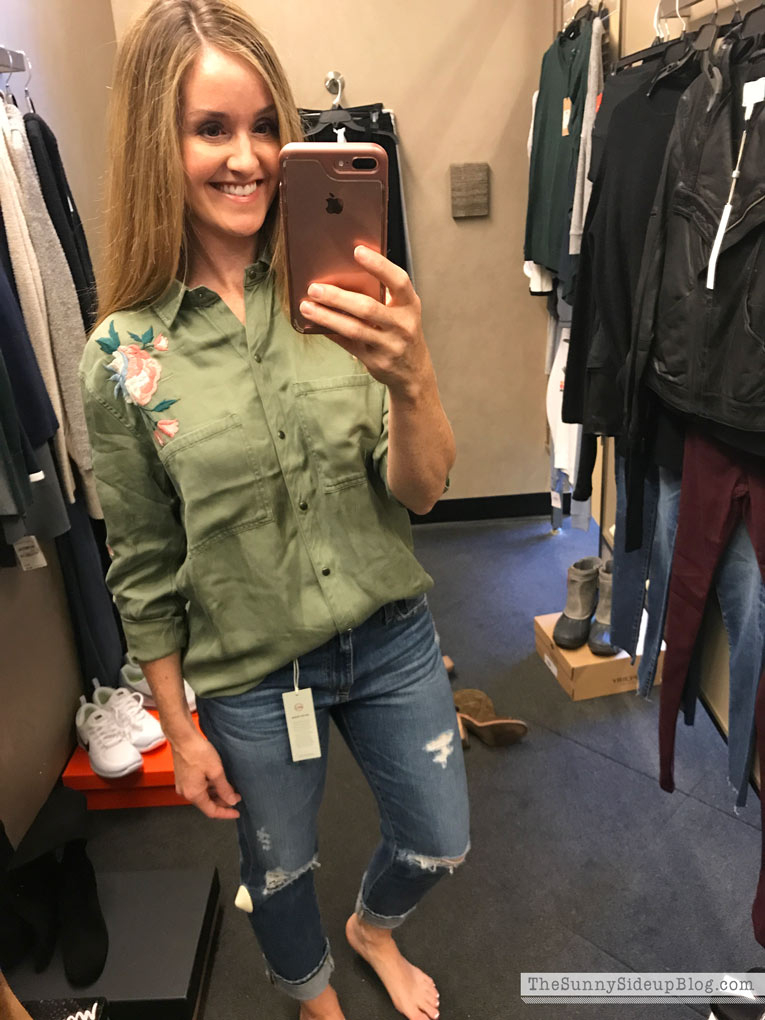 We did some major damage at the NORDSTROM ANNIVERSARY SALE!  The sweaters and clothes I bought last July have been on heavy rotation the past few months.  I love that sale.  Time to start saving for next summer. ;)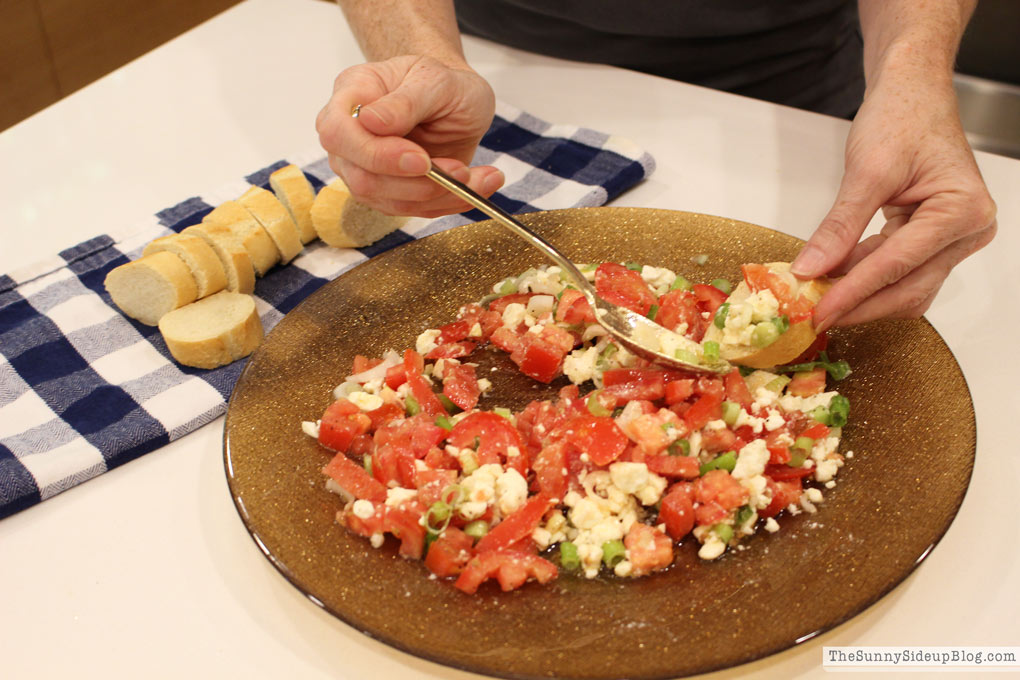 What!?  It's another recipe.  Well would you look at that. ;)  FETA AND TOMATO DIP  (So good!)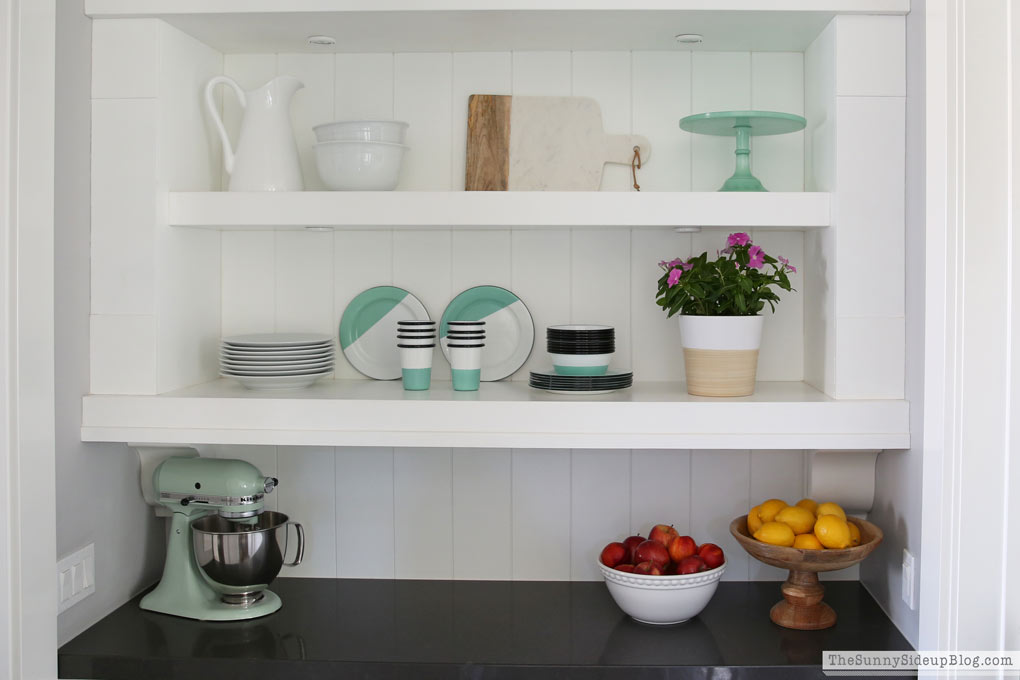 We ended July with some DECOR UPDATES WITH BARN LIGHT ELECTRIC!  Lamps for Kole's room and some new every day dishes.  Still working on manners at the breakfast table. ;)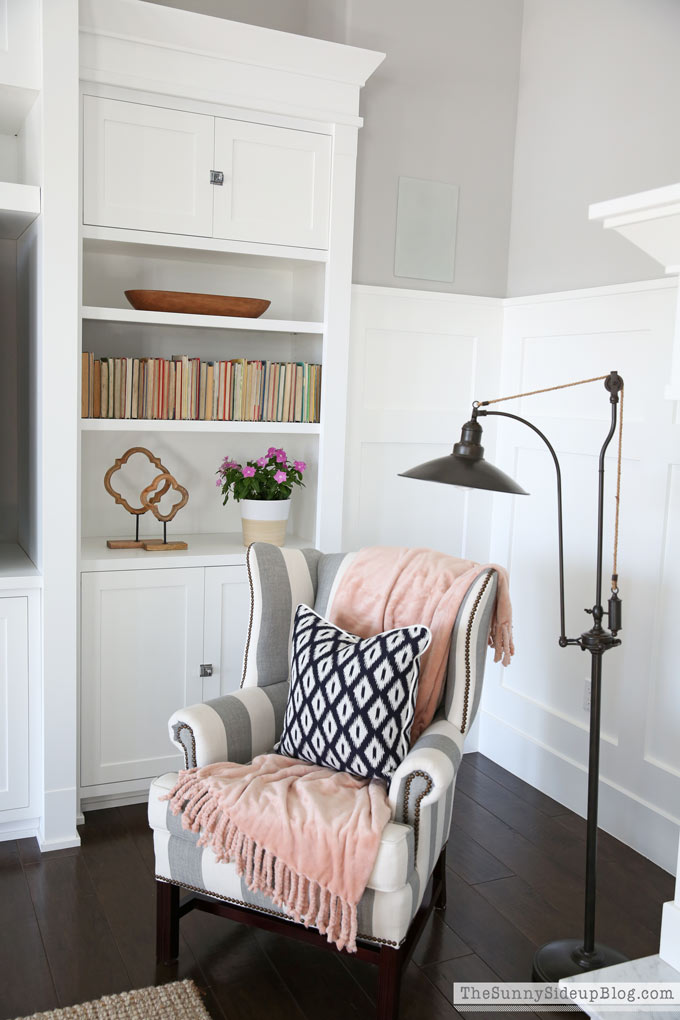 Wrapped up the sale with NORDSTROM ANNIVERSARY SALE – FINAL FAVORITES!  Lots of fun clothes and home decor I'm still loving.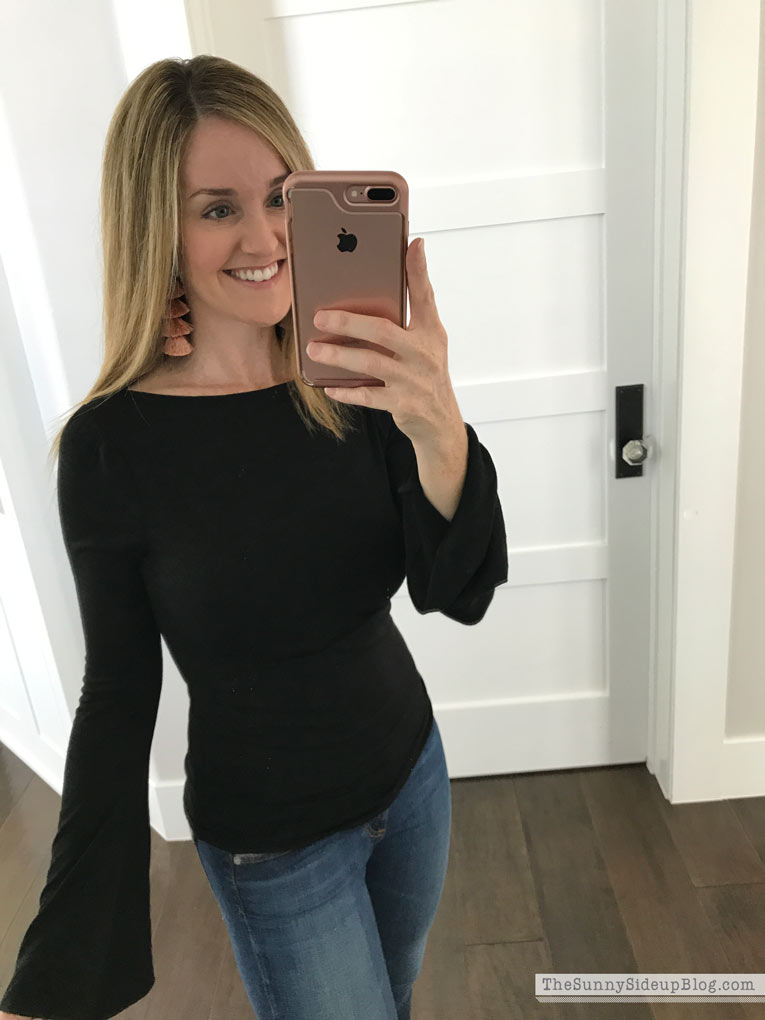 BRING ON FALL!  Fall is my favorite time of year to shop for clothes.  Lots of fun fashion in this post!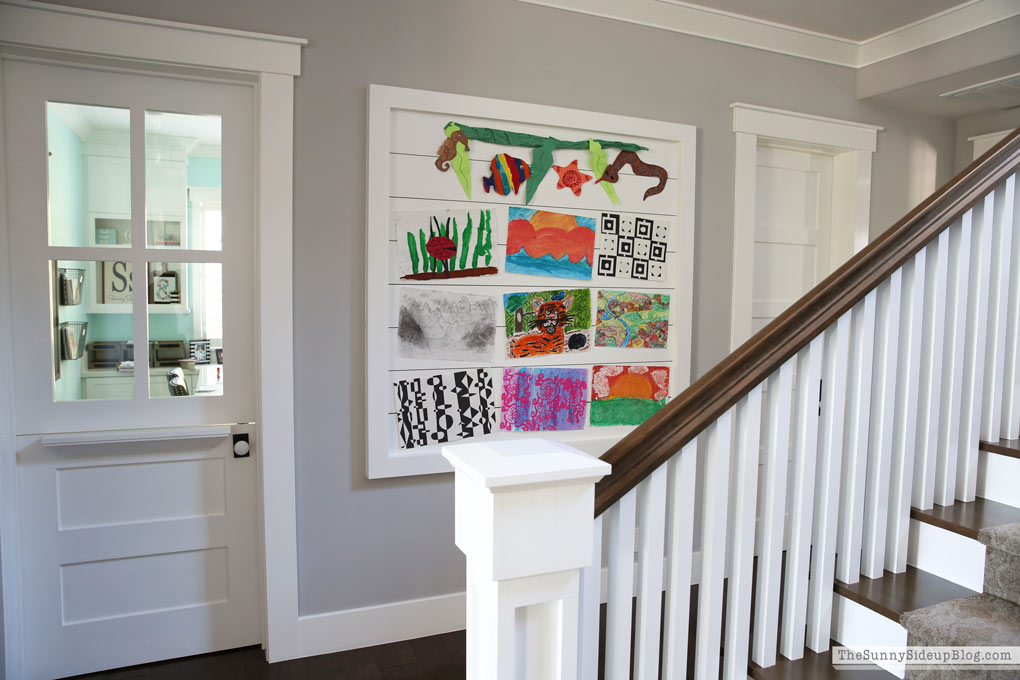 I shared my SHIPLAP DISPLAY WALL FOR SUMMER.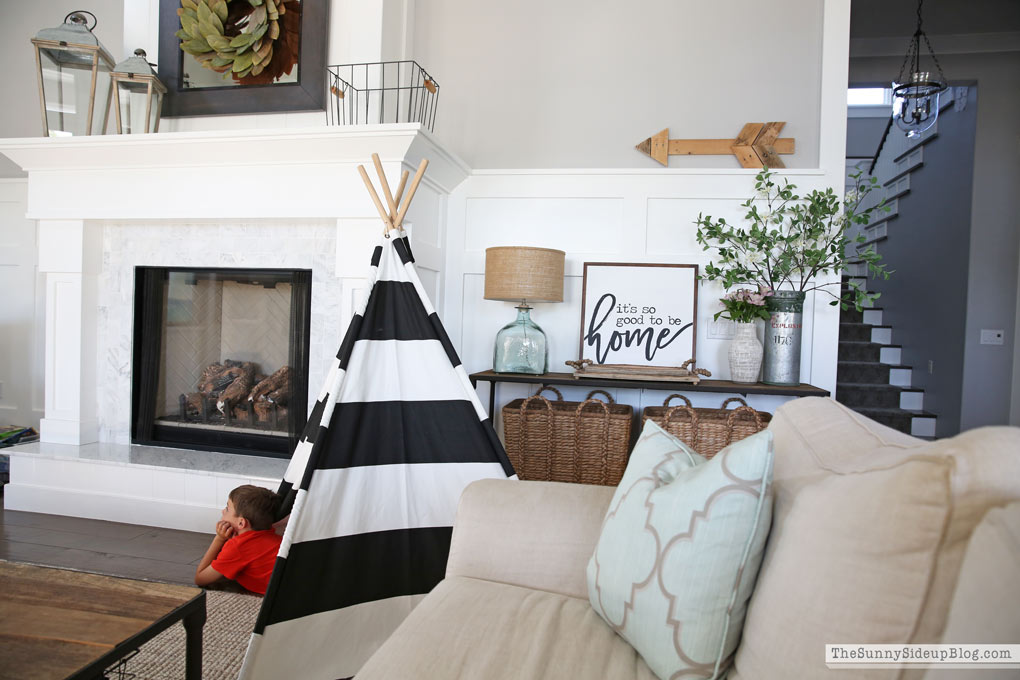 SAYING GOOD-BYE TO SUMMER!  Always a favorite post to wrap up months of chaos. :)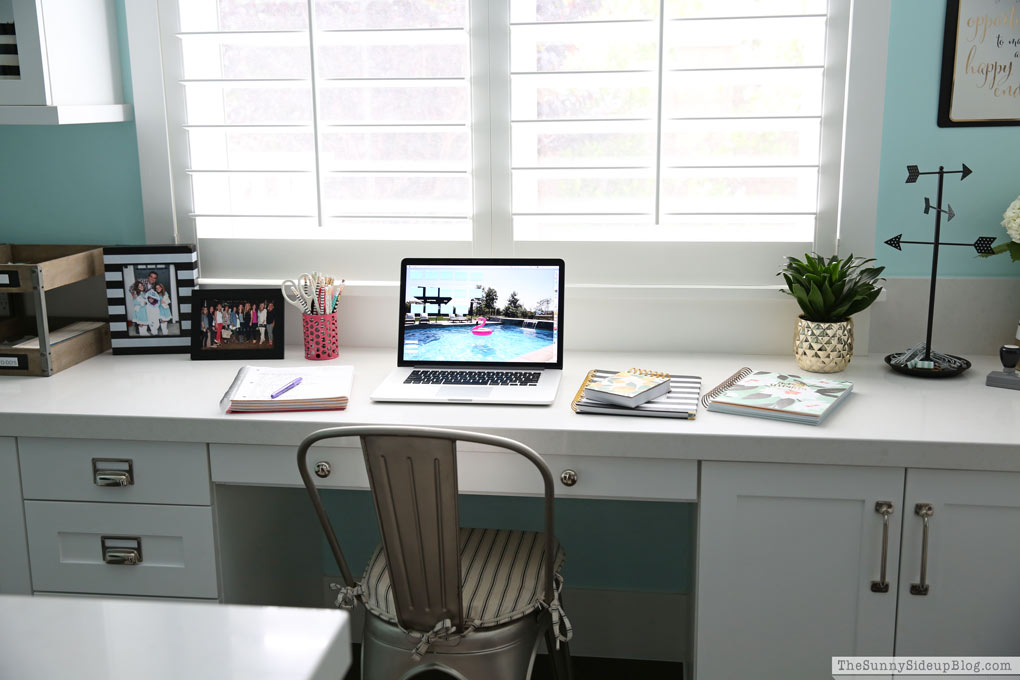 I kicked off the new school year by sharing A DAY IN MY LIFE!  Not so glamorous but fun to document a full day!  Thinking I need to do that once a year because those are the posts that will be really fun to read in 20 years.  I hope things have slowed down by then. ;)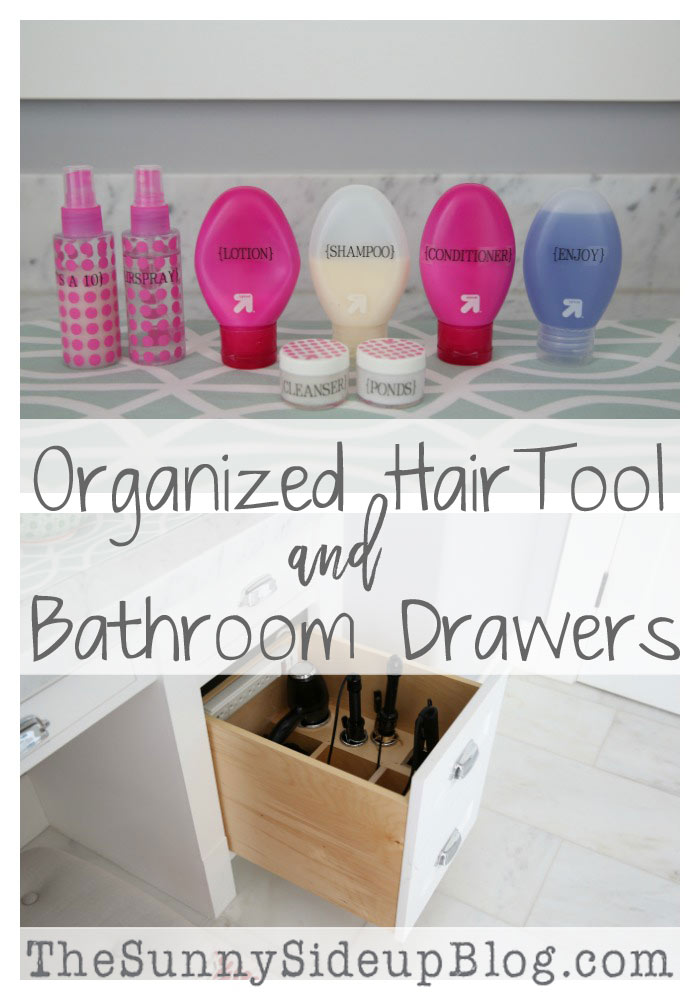 Then I shared more of my organized master bathroom!  ORGANIZED HAIR TOOL AND BATHROOM DRAWERS
FAVORITE FALL ACCESSORIES.  Still in love with all things Madewell!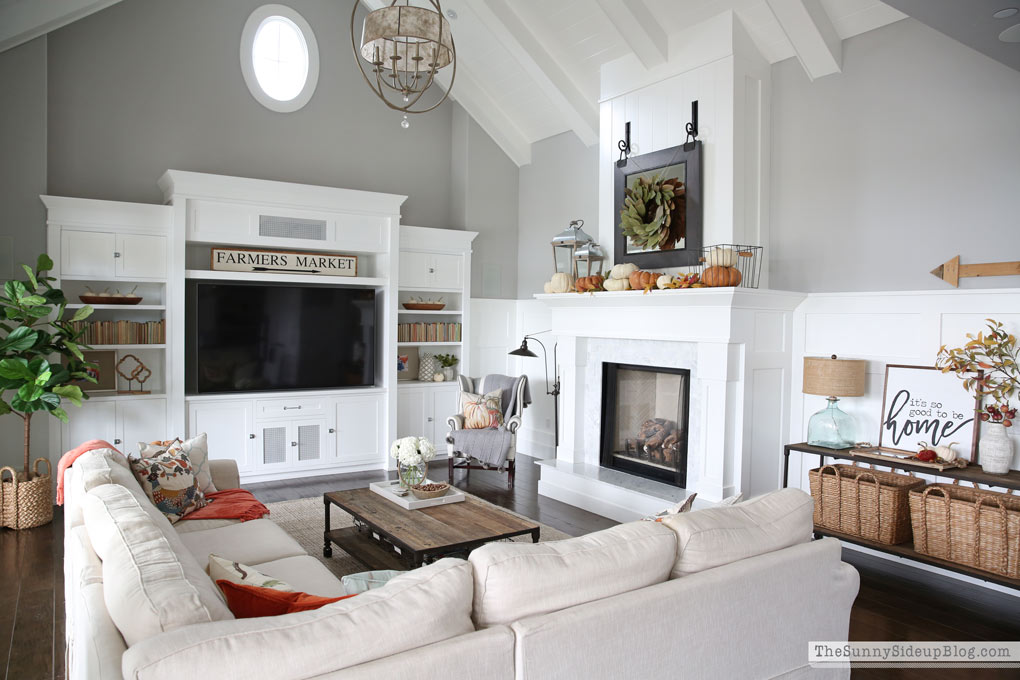 FRESH IDEAS FOR FALL TOUR!  Remembering this post makes me wish Fall was starting all over again!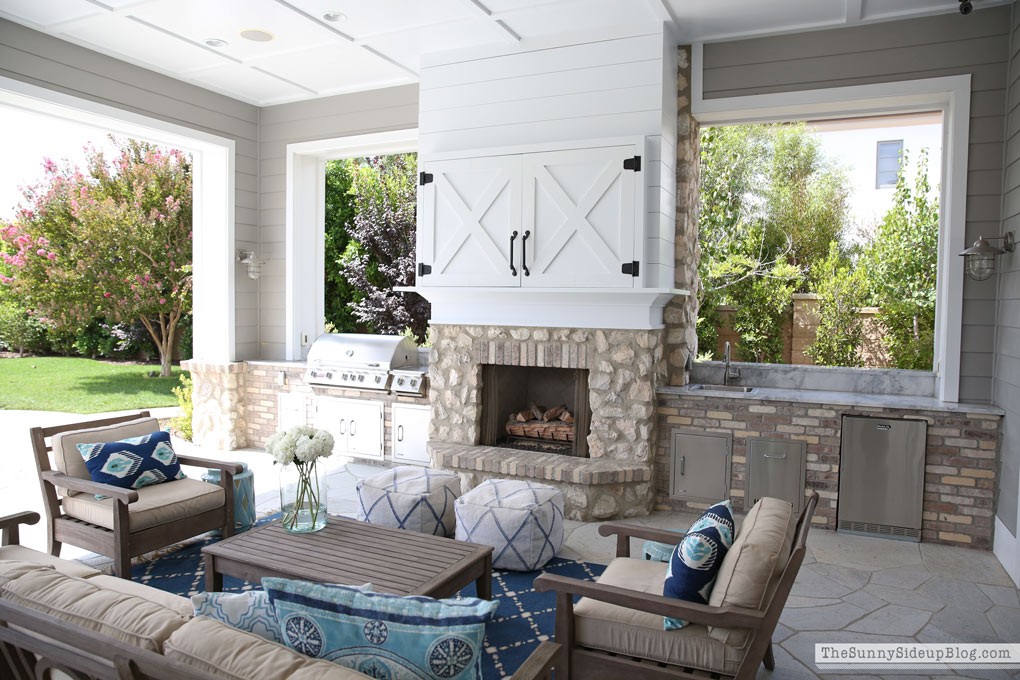 Finally finished and shared our BARN DOOR TV COVER!  It adds so much to our outdoor space.  Another project I was happy to see finally checked off my list.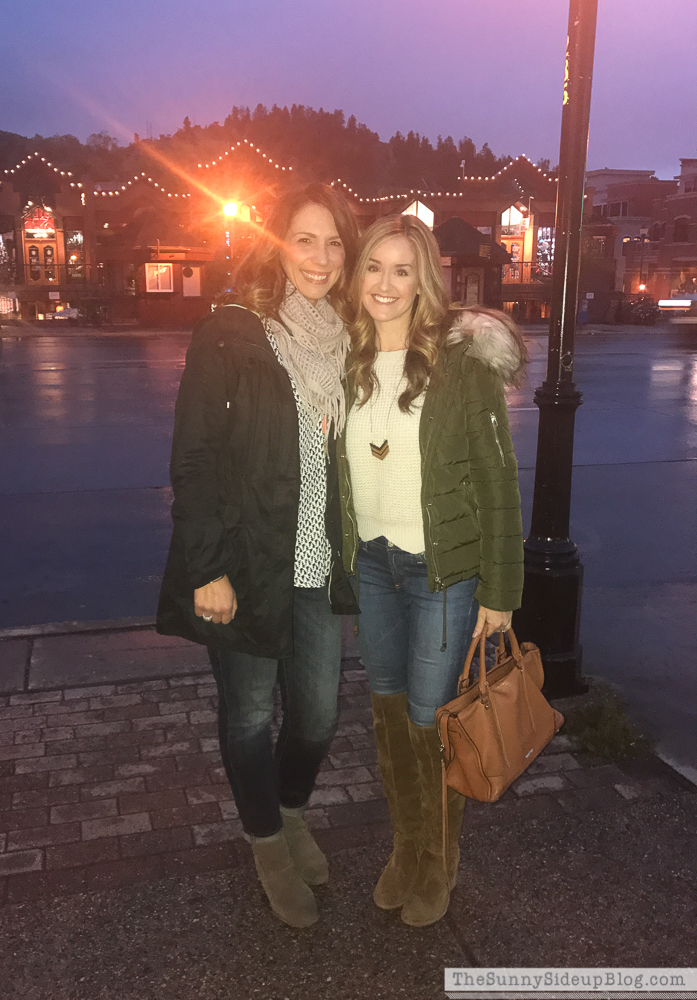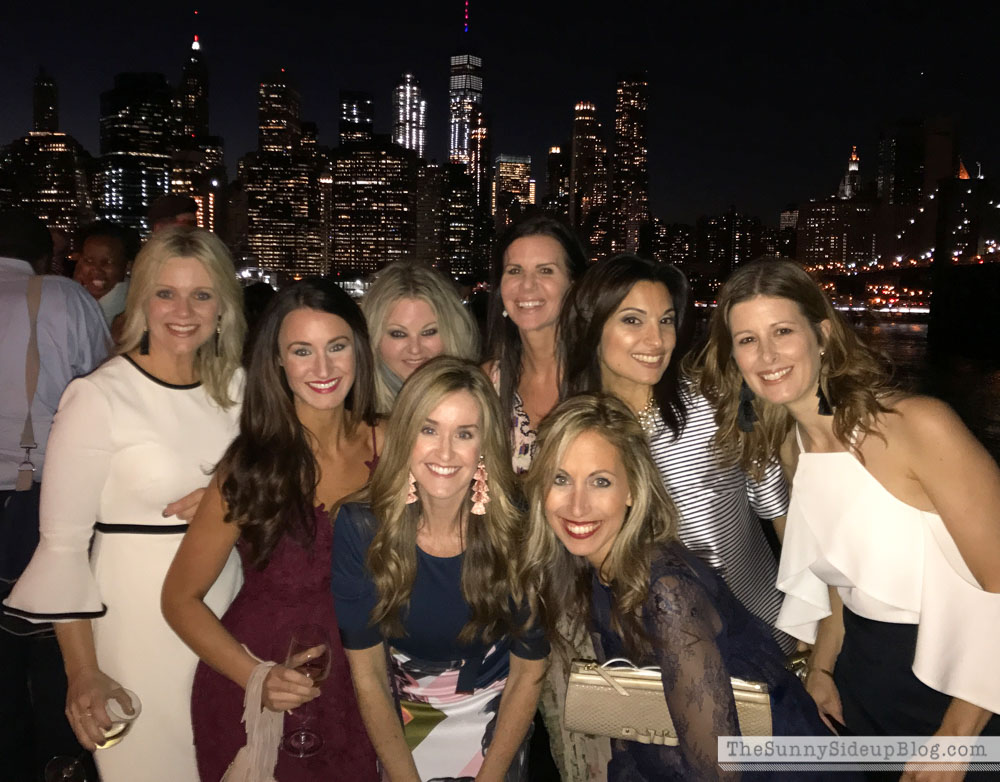 Then it was time for my husband and I to celebrate our 20th wedding anniversary with friends in Colorado.  Followed by NY for the Better Homes and Gardens Event.  Best trip!   COLORADO TO NEW YORK (ANNIVERSARY TRIP AND WHAT I WORE!)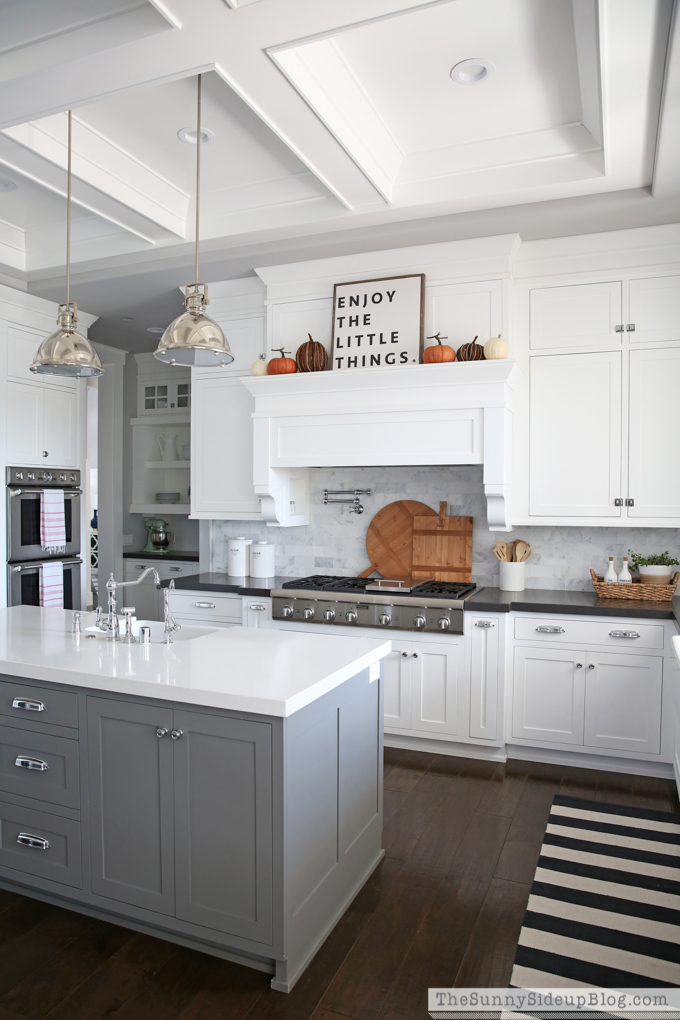 I gave my kitchen some SIMPLE FALL KITCHEN DECOR and geared up for pumpkin spice everything.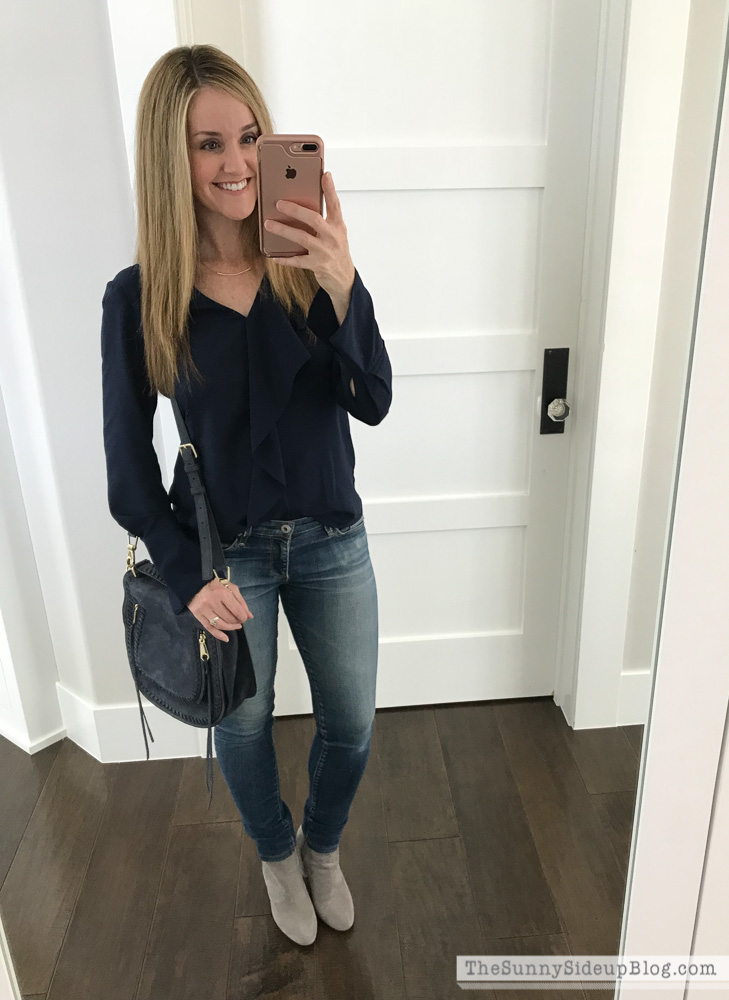 Shared some FASHION FRIDAY (ON A MONDAY!). :)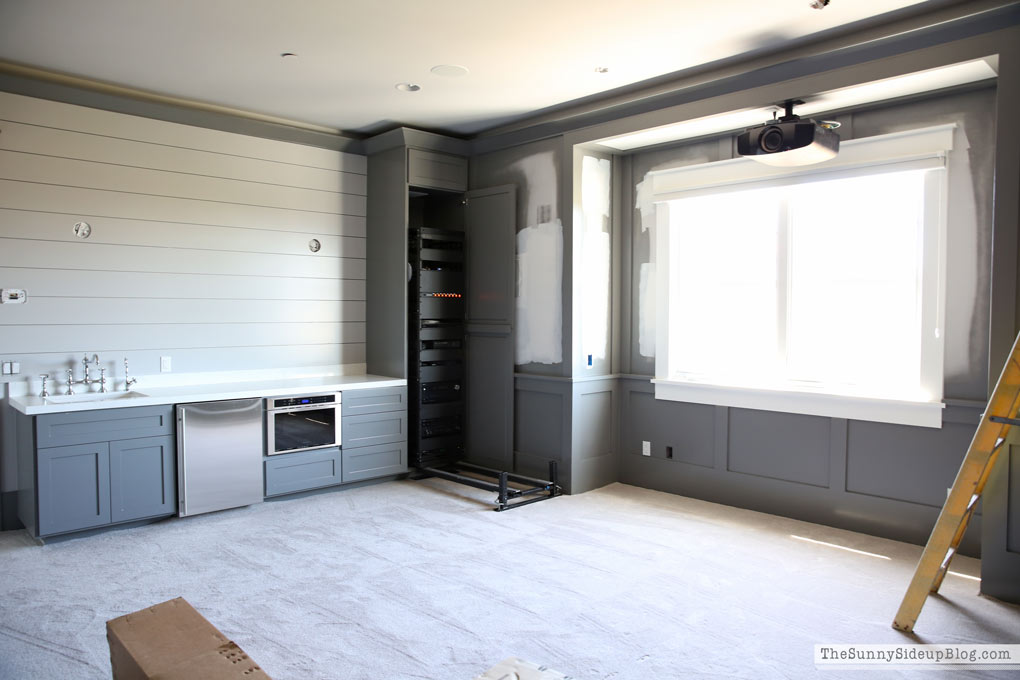 THEATRE ROOM WITH GREY PAINT AND APPLIANCES!  It was so fun finally sharing a theatre room update with all of you!  Hoping to completely finish this space in 2018.  We are getting close!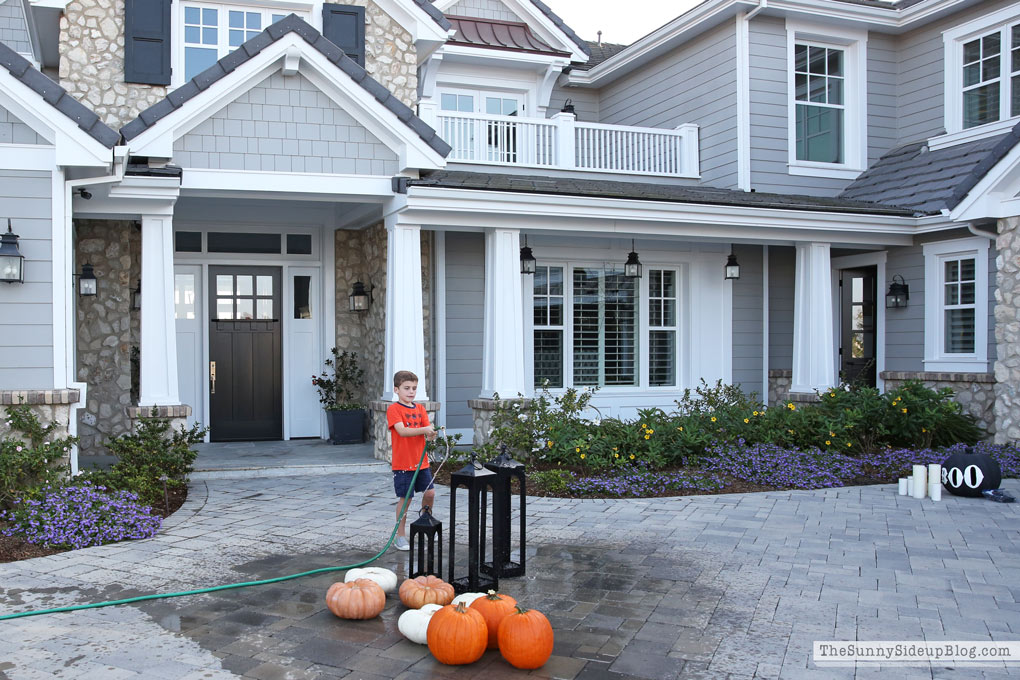 Kole and I had our annual HALLOWEEN PORCH DECOR party.  Best little helper. :)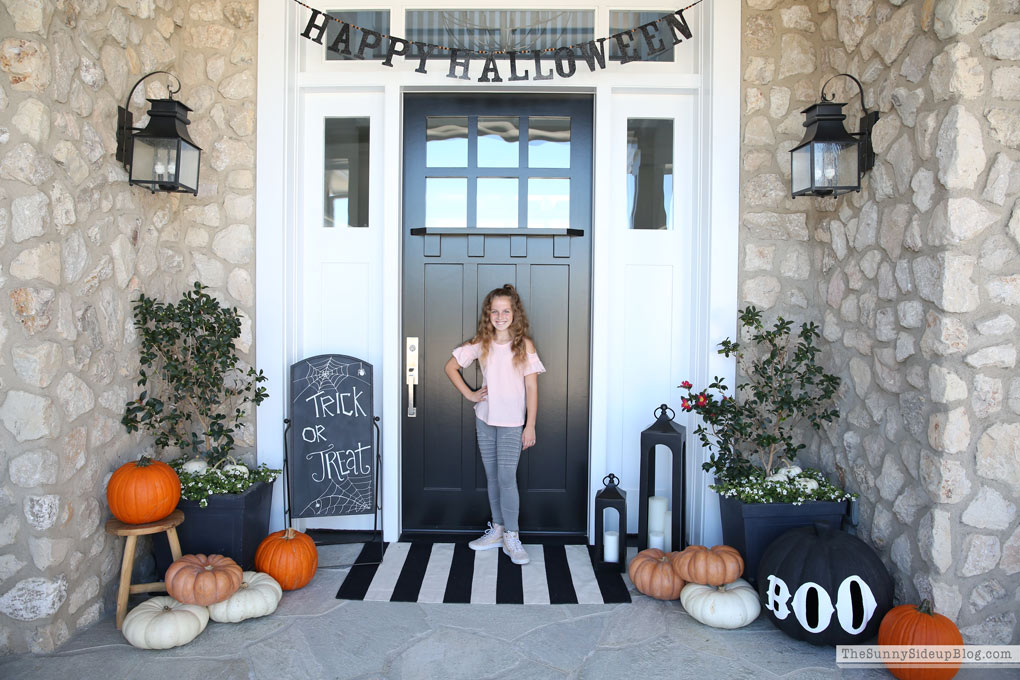 Then I shared some favorite new clothes for the kids!  Love Fall fashion. :)   FALL FASHION FOR GIRLS and FALL FASHION FOR BOYS.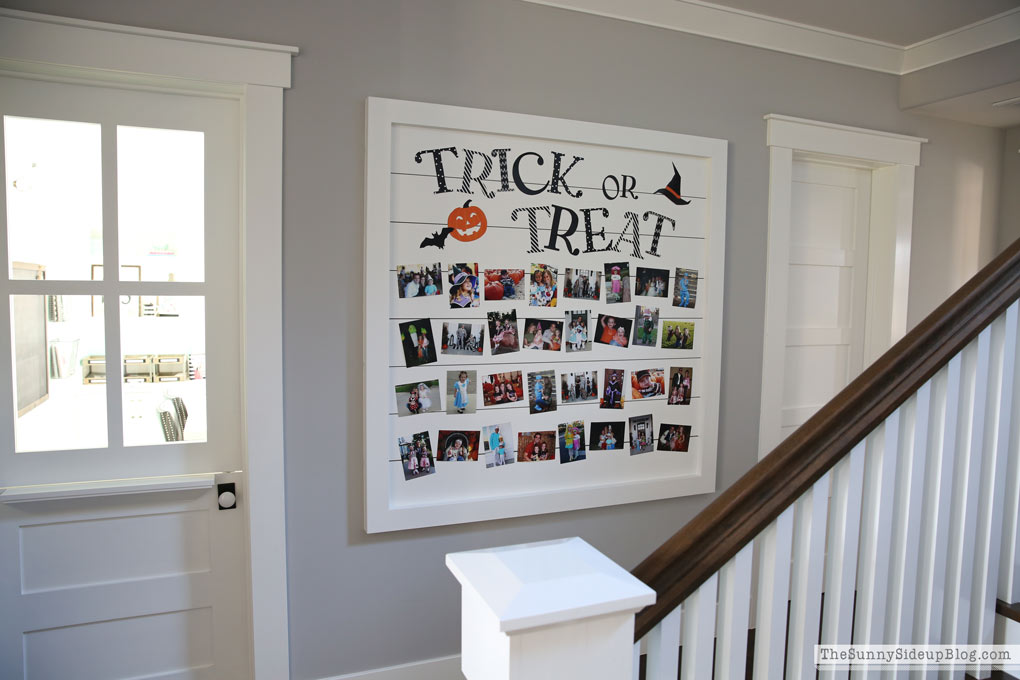 I got our hallway ready for Halloween with my SHIPLAP TRICK OR TREAT HALLOWEEN PICTURE DISPLAY!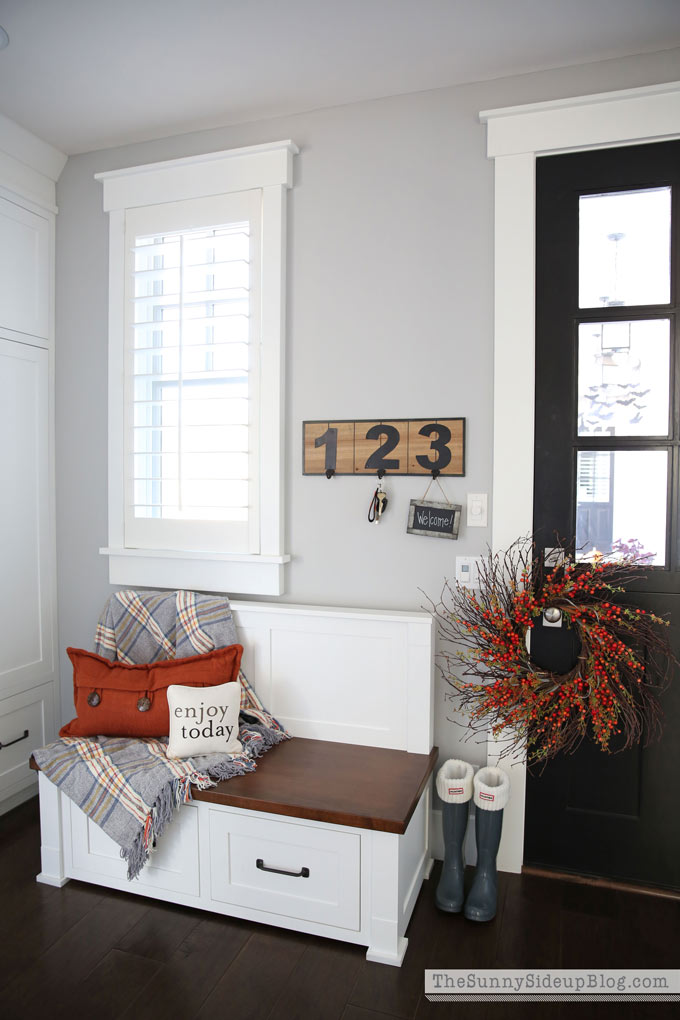 And the mudroom. :)  FALL MUDROOM DECOR AND A NEW RUG!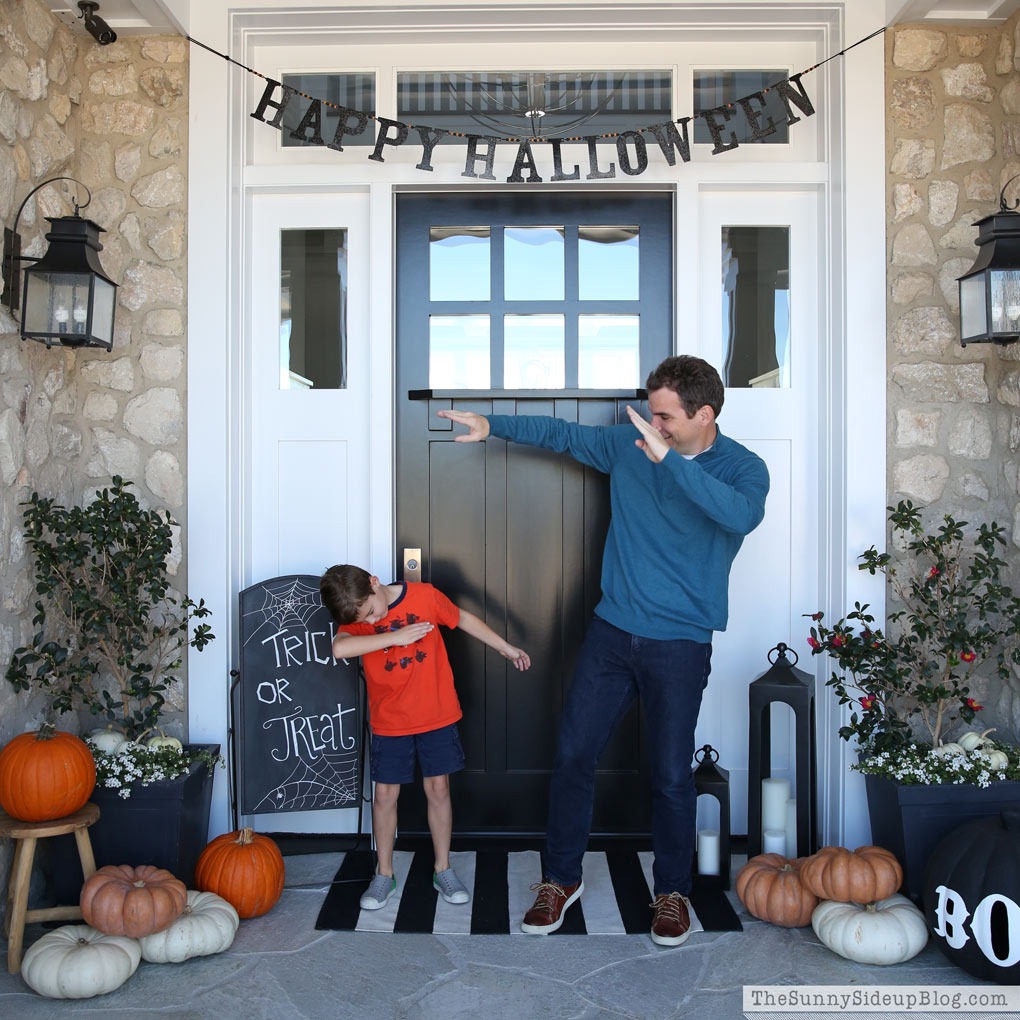 My husband did his first fashion post and shared some MENS FALL CLOTHES (GIFT IDEAS FOR THE MEN IN YOUR LIFE!).  That was.. interesting.  Ha!  He's a good sport. ;)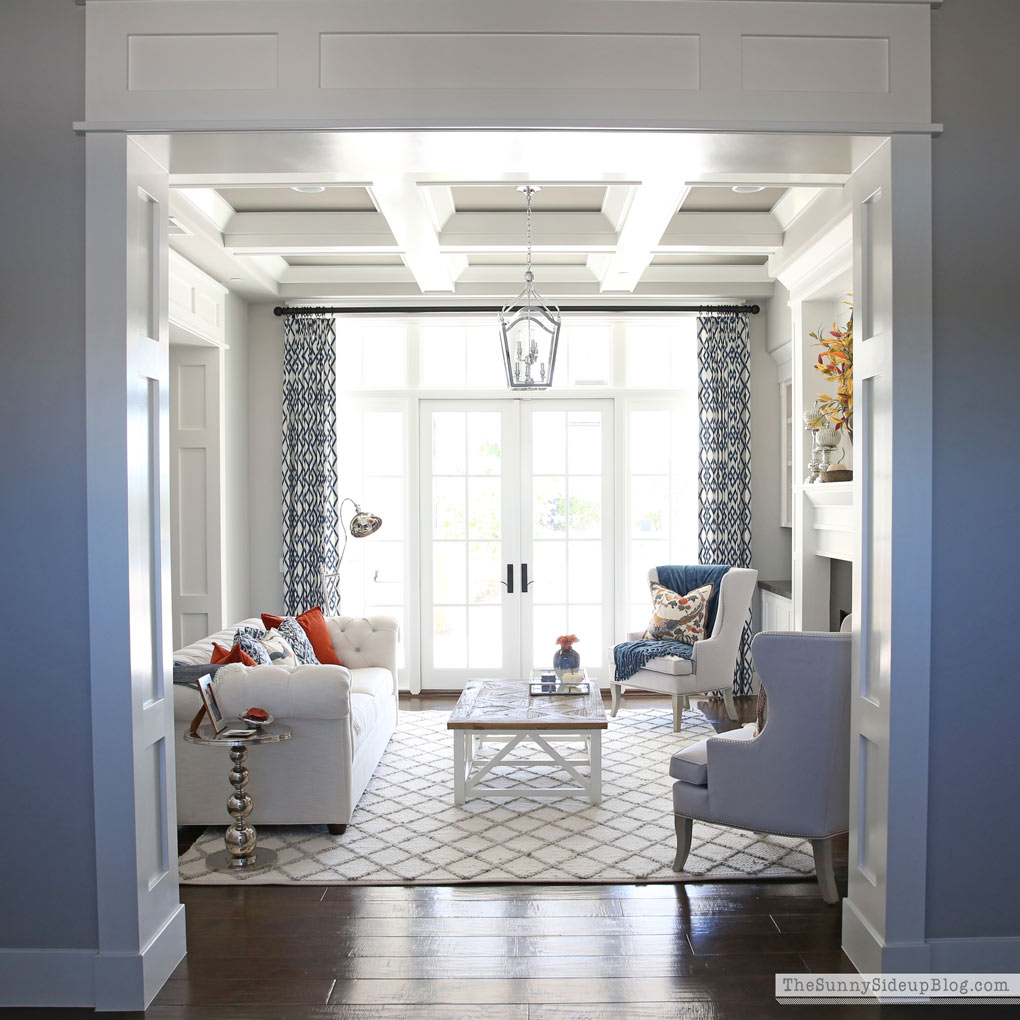 Then I shared our FALL LIVING ROOM DECOR to wrap up October!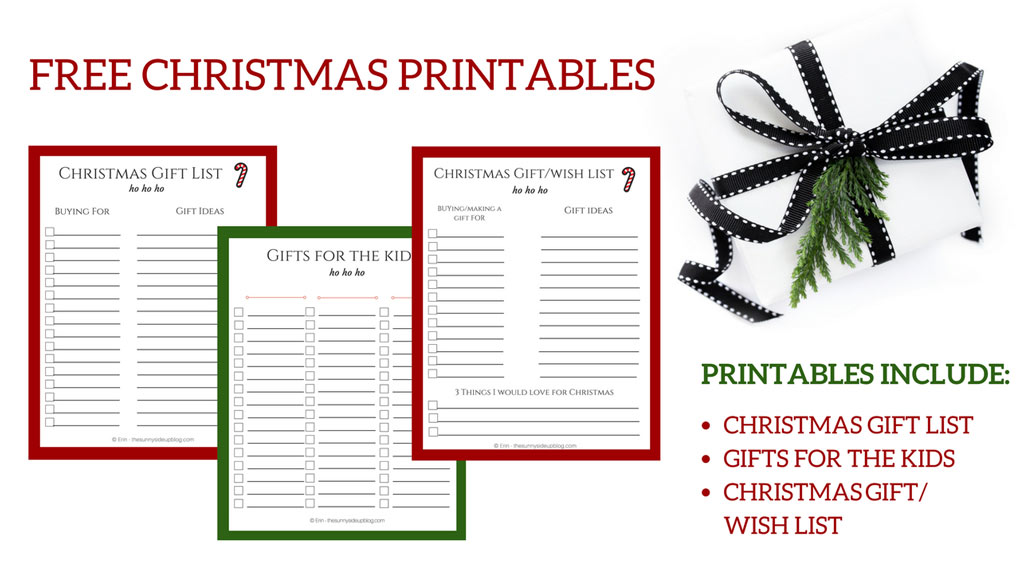 I've wanted to make and share printables with all of you for a long time now!  I was so excited to kick off November with some FREE CHRISTMAS PRINTABLES FOR ORGANIZED GIFT GIVING!  I hope they were helpful to some of you!  More printables to come. :)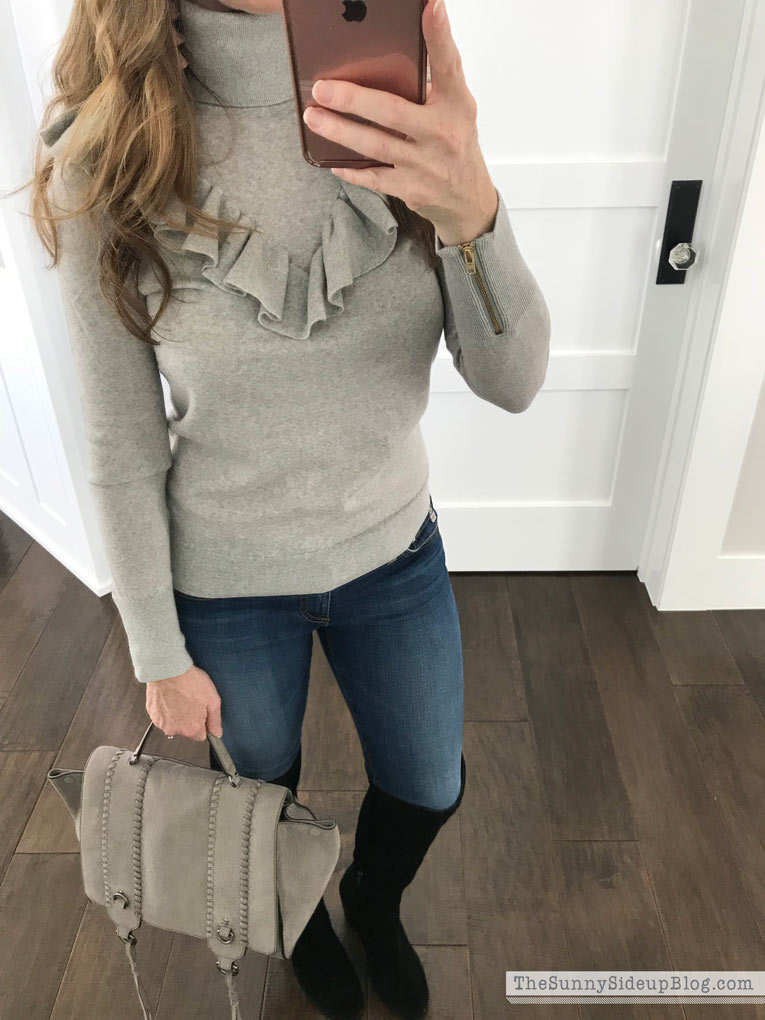 FASHION FRIDAY!  ON A SATURDAY. :)  I seriously need a new title for those posts.. any ideas?  ;)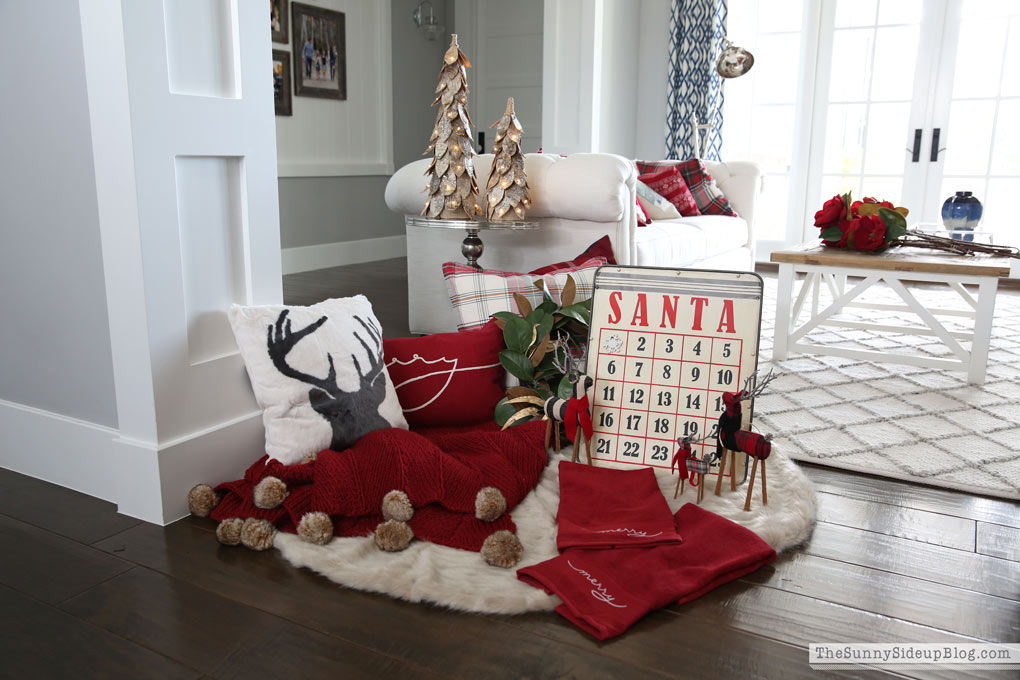 FAVORITE CHRISTMAS DECOR!  Man.. so bummed I had to put all of this away!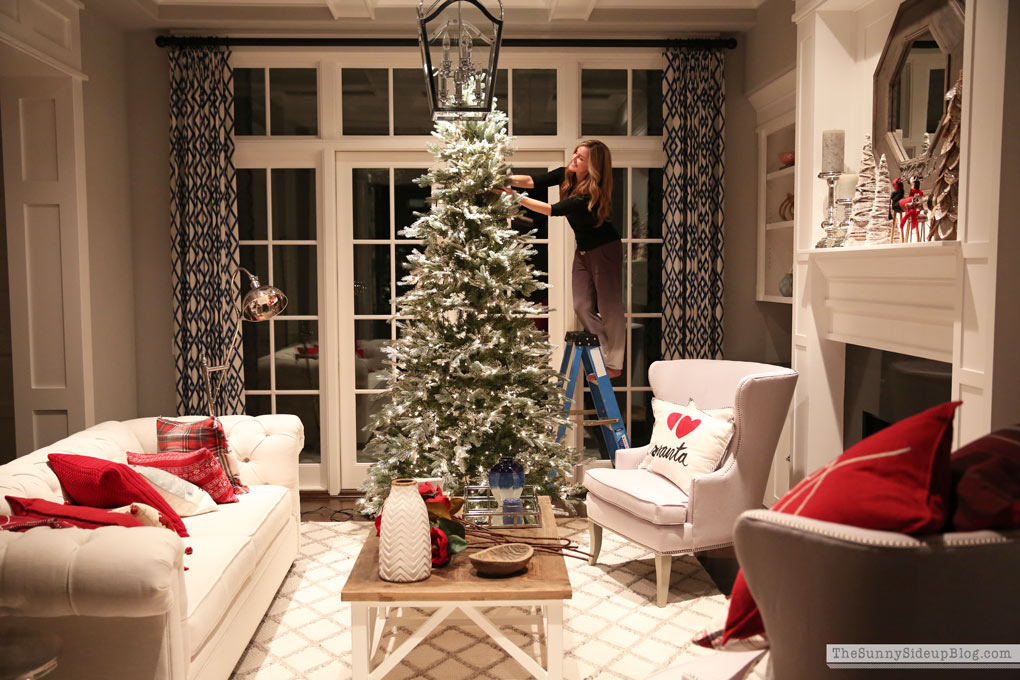 You know what was so funny?  This picture above was my most liked picture on Instagram from last year.  What!?  Isn't that funny!?  I can't figure out why.  Is it my half decorated, messy room?  The bad lighting?  My stunning look in no make-up and sweats?  Ha ha.. I'll never understand social media!  TAPERED COLLECTION – NEW FAVORITE TEES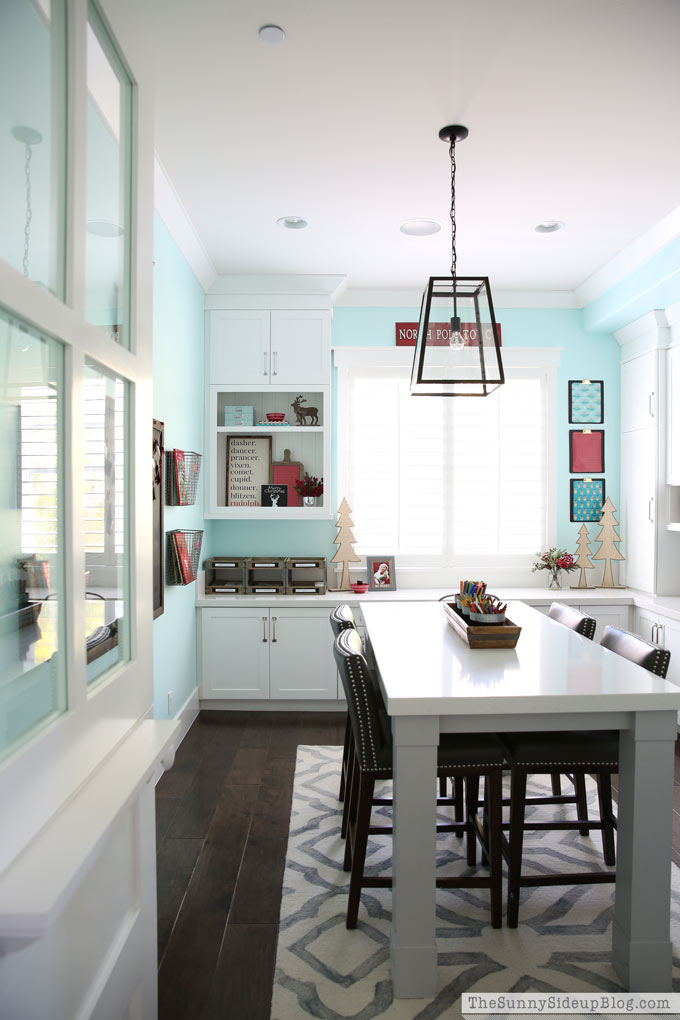 OFFICE CHRISTMAS DECOR WITH THE CONTAINER STORE!  One of my favorite posts this year.  Because office Christmas decor is my favorite!  And because anything to do with The Container Store just makes me so very happy. :)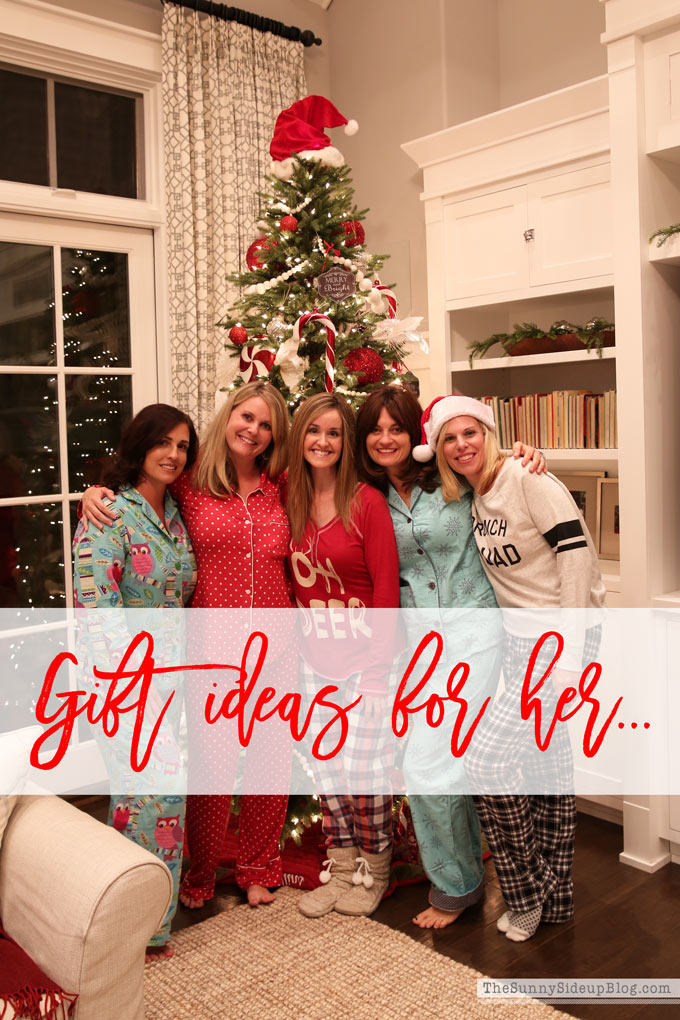 I shared HOLIDAY GIFT IDEAS FOR EVERYONE ON YOUR LIST!  Lots of fun things I gave my family and friends this year. :)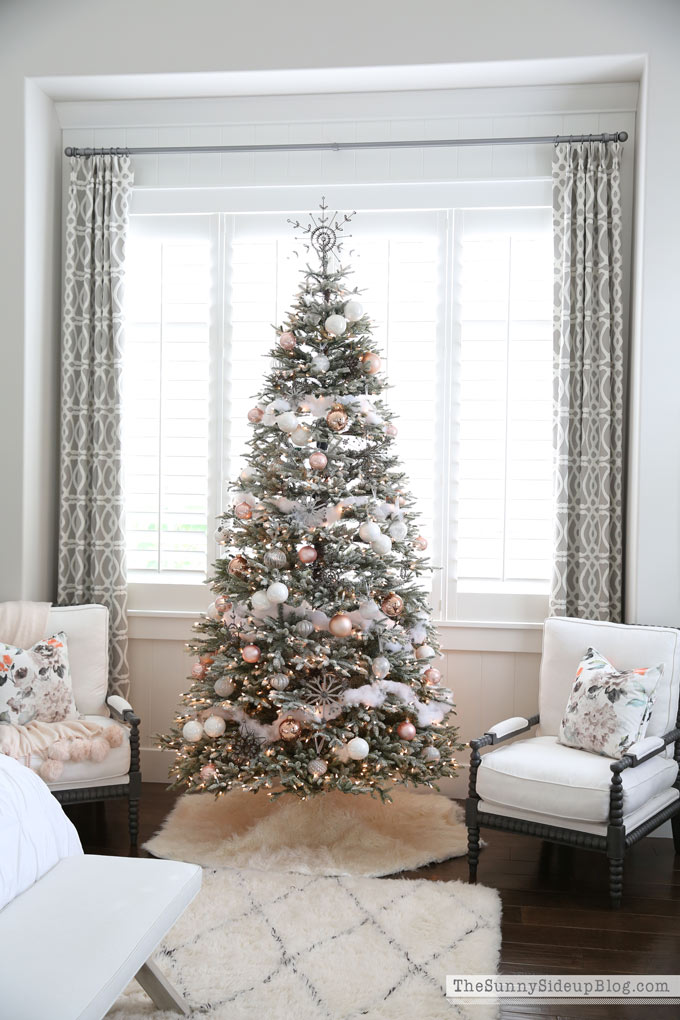 Sharing my FROSTED CHRISTMAS TREE WITH BALSAM HILL was another highlight for 2017!  Excited to finally share the rest of this room with you all.  For real this year! ;)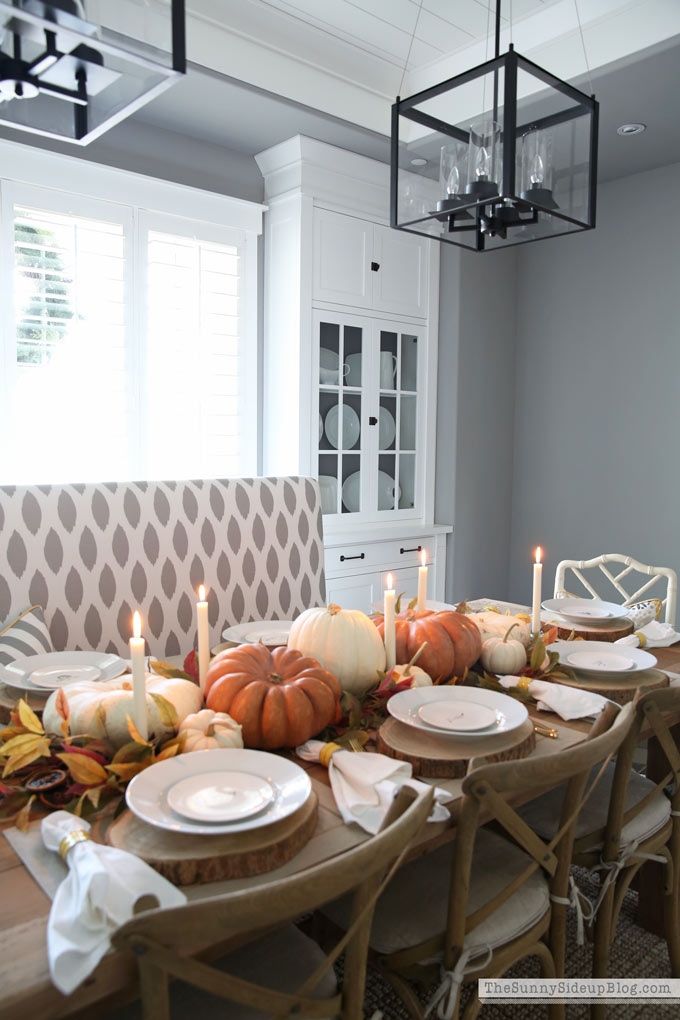 I joined some fun bloggers to share our shortcuts when hosting.  No baking?  Sounds like my norm. :)  This cheesecake recipe is a good one!  FAKE IT, DON'T BAKE IT: STRESS FREE HOLIDAY HOSTING!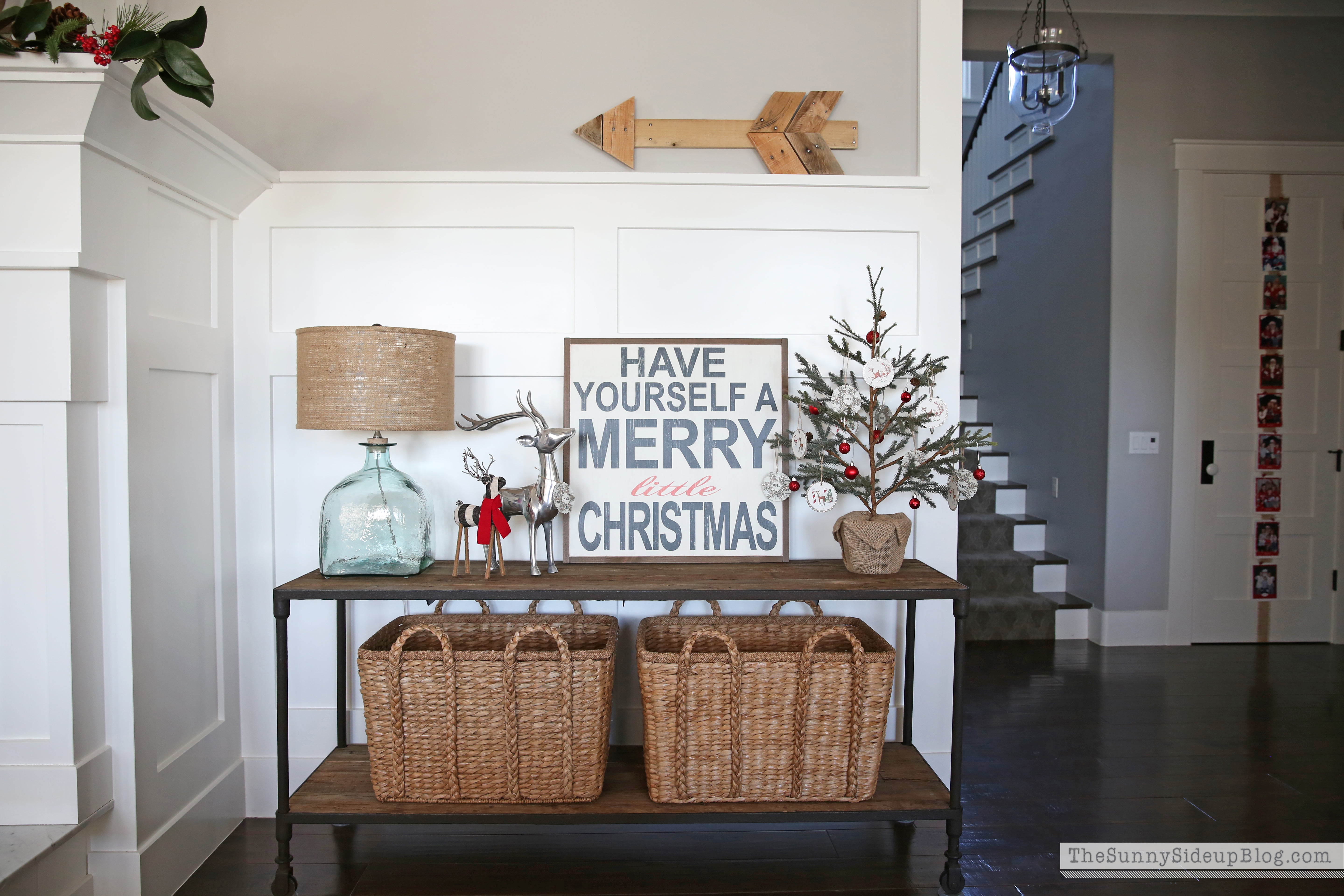 2017 FAVOITE THINGS!  An annual favorite post of mine!  ALL of my favorites from the year in one happy post. :)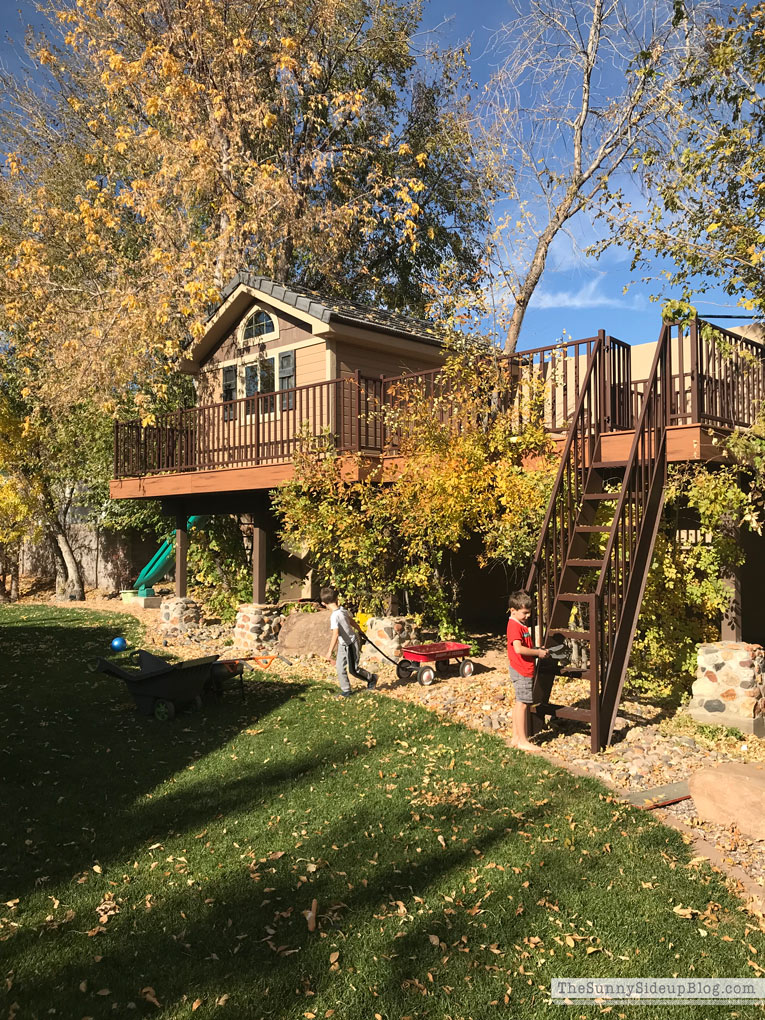 THANKSGIVING AND CYBER SALES.  Sales and pics of our time in Utah.  Basically me and my new baby niece because all I did was hold her!  Missing that little peanut.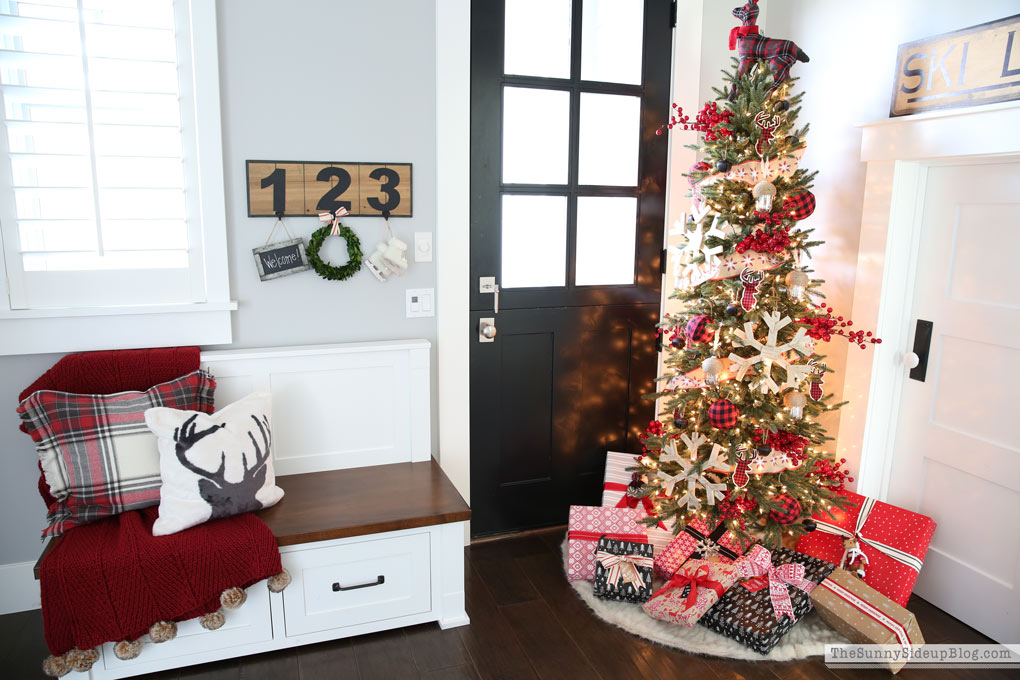 My last post in November was pics of my MUDROOM DECKED FOR CHRISTMAS!  Love that little tree.
Whew!  I'm going to stop there and not share December posts because they are so recent (you can see them below this post on my blog!).  I'm also putting the breaks on because this post has become a novel.  Clearly it was a busy year!  Thank you again for sharing it all with me and if you have something you'd love for me to blog about this year leave me a comment on this post!  I'm so excited about a new year for Sunny Side Up.  Good things in store!  Always.
:)
xoxo, Erin