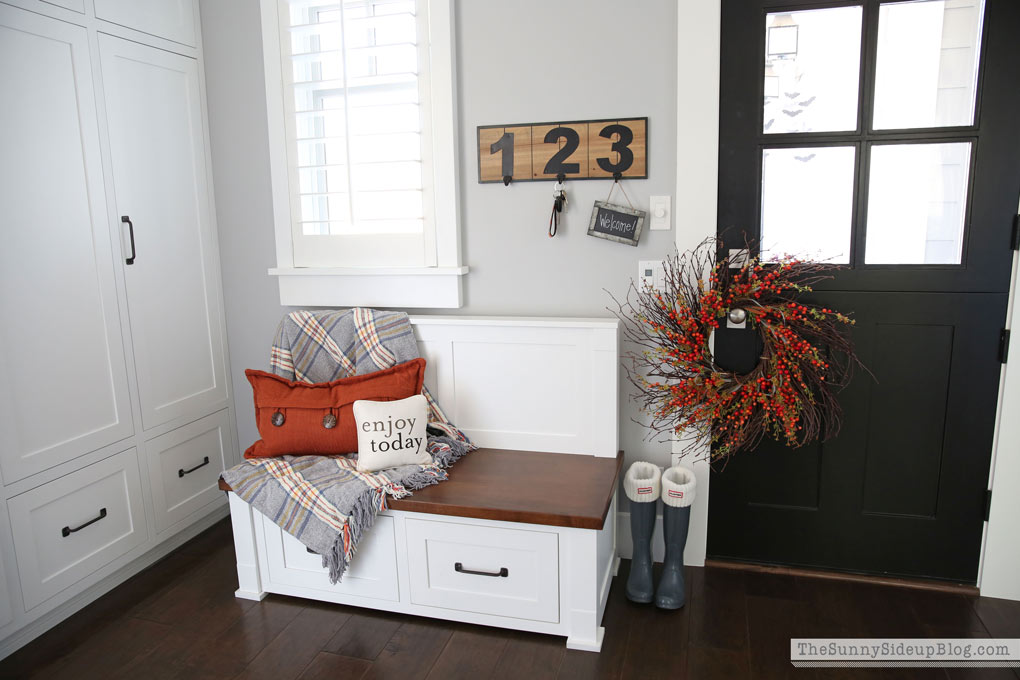 Well!  Happy Wednesday friends.  By the time you read this post, it will be Wednesday.  I know this because today (Tuesday) on my IG stories I was sharing details on my shiplap Halloween display and I told everyone happy Wednesday.  Then text messages from friends, IG messages and a phone call from my mom came pouring in.  All informing me that I was off a day and that it was in fact Tuesday.  Ha ha.. oh my word.  So embarrassing!  Mom brain!  I get it often.  So happy Wednesday friends!  Let's hope I can keep things straight for a change. :)
Sharing some Fall decor in the mudroom and my new rug in this space today!
(affiliate links used)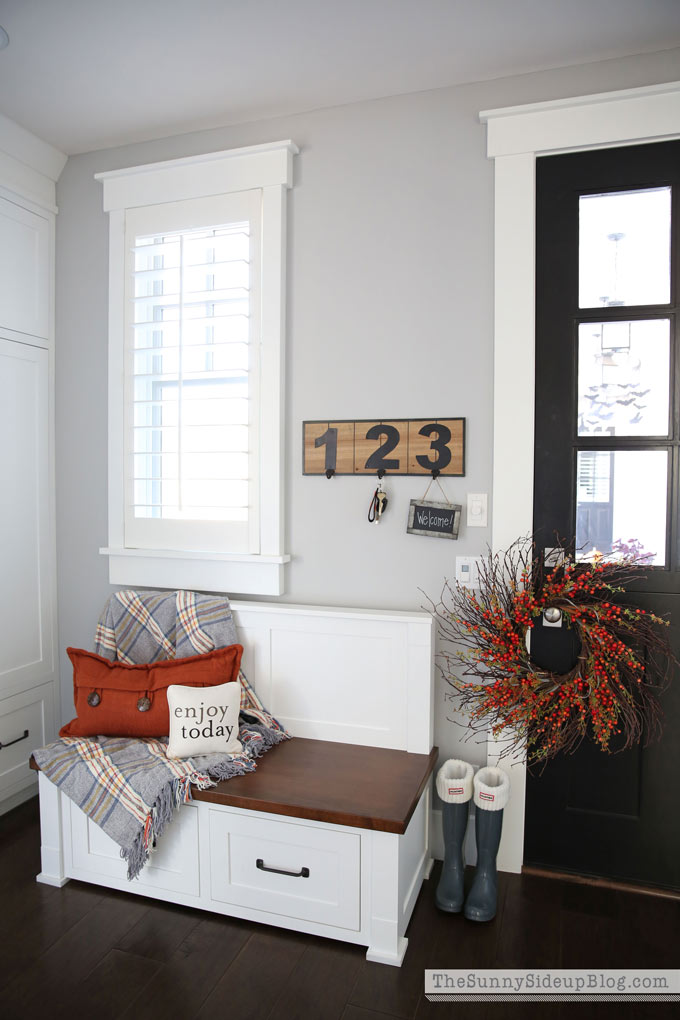 I decorated my mudroom the same as I have in past years.  A throw, pillows and wreath from Home Goods.  Simple orange touches to bring in the season!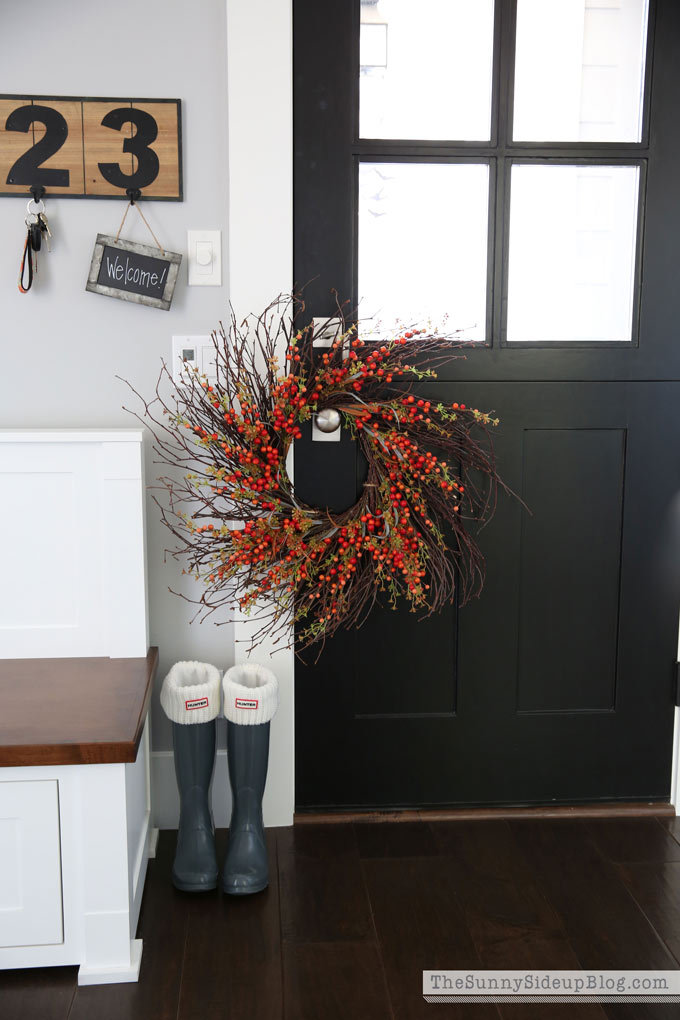 This wreath usually only lasts about a week on this dutch door before my husband complains about having to move it to go in and out of the door and takes it down.  Kinda similar to how he complains about having to take off the pillows on our bed every night and the way I keep moving his precious family room clock around where he can't see it.  Ha!  I don't get it.. I mean .. what does he expect?  That we live here too? ;)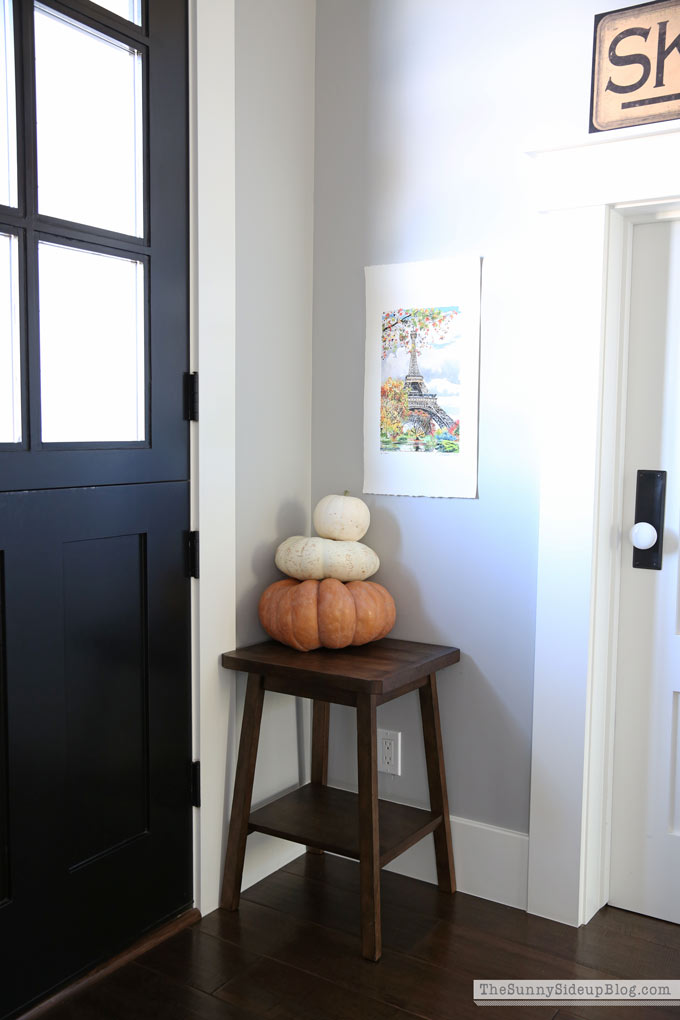 I added some pumpkins to my little side table in the corner of the mudroom..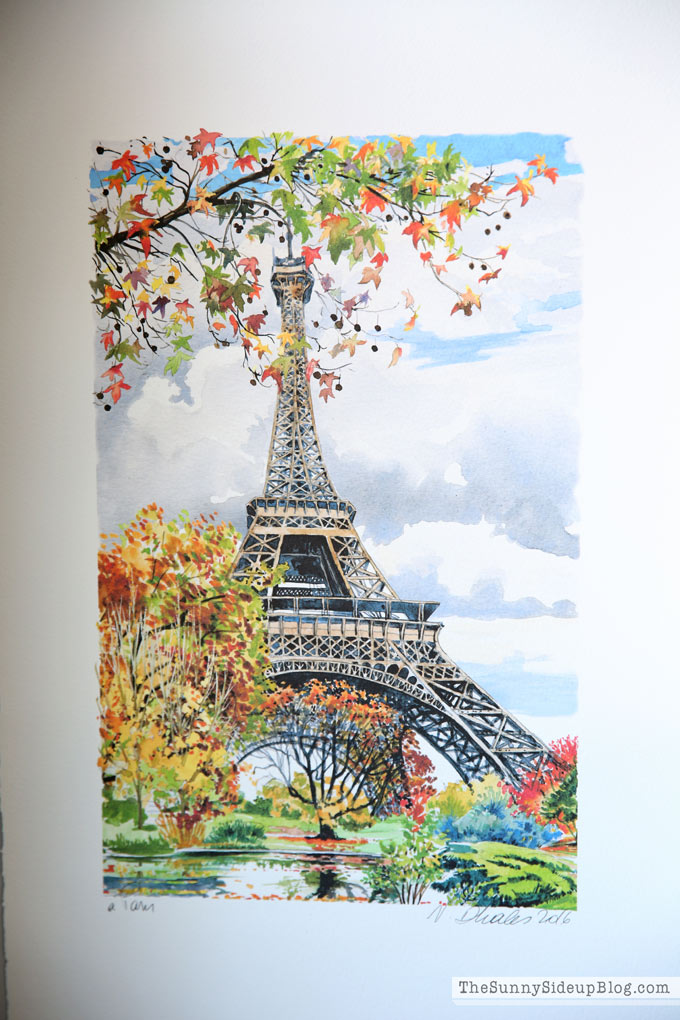 And this beautiful painting of the Eiffel Tower I got when we were in France last year.  It was the only souvenir I bought that whole trip!  I love it so much and it reminds me of such a fun week with my husband.  (I still need to write about France!  Post #3,486 on the list.) ;)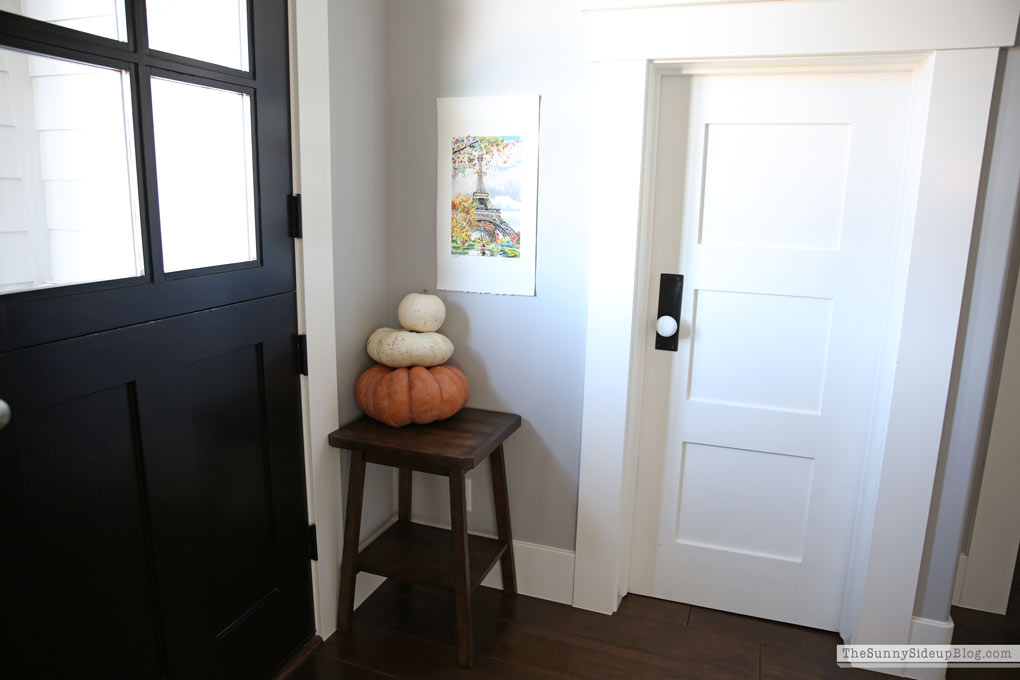 Cozy corner!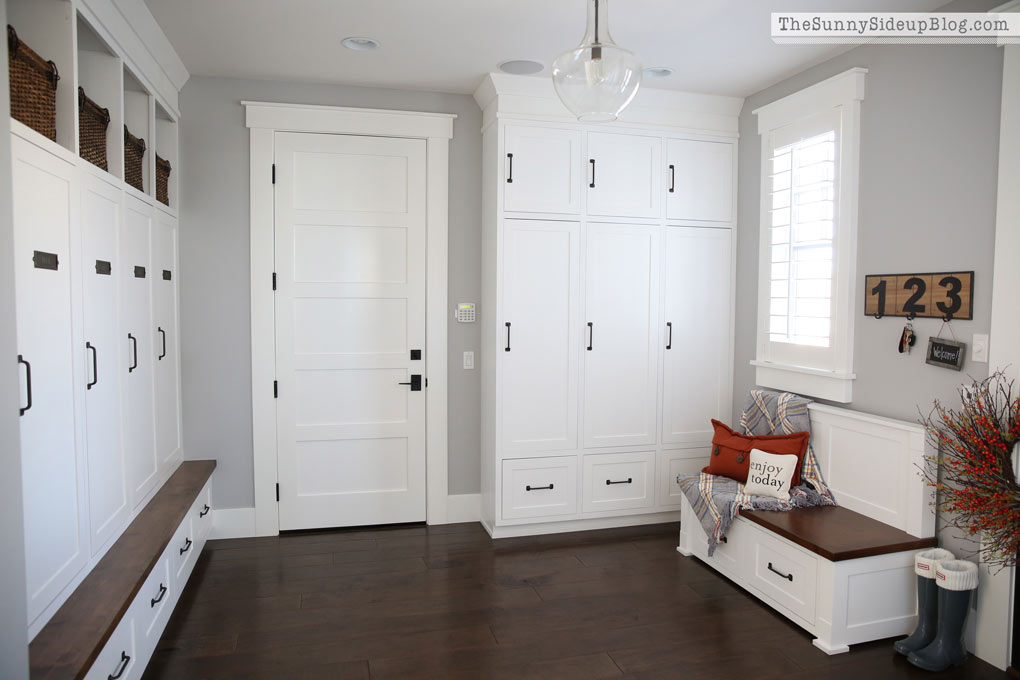 The only thing missing was a rug!  I usually have this rug in front of our mudroom lockers – perfect for Spring and Summer but Fall?  Not so much. :)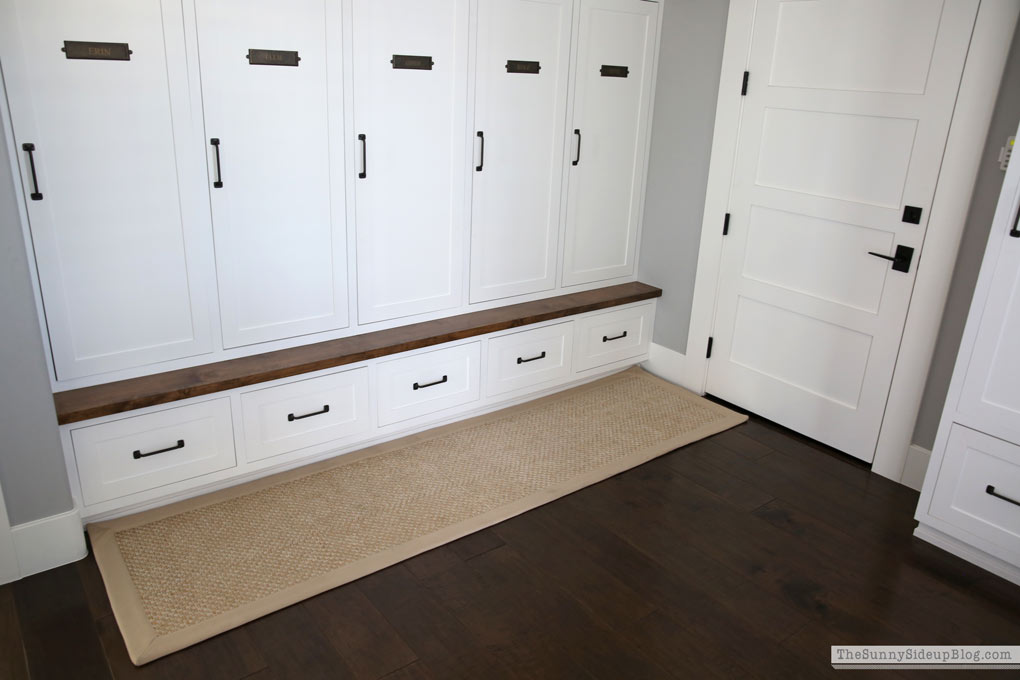 So I did a little digging and researched lots of runners and ended up with this Chenille Jute Basketweave Runner from PB (the natural).  I LOVE it!  It's so soft, the perfect fit and very neutral and cozy for Fall. :)  This is a major traffic area with my kids and while the border shows a little dirt (not too bad) the inside hides dirt really well.  (You can read about the rest of the rugs throughout my home in this post.)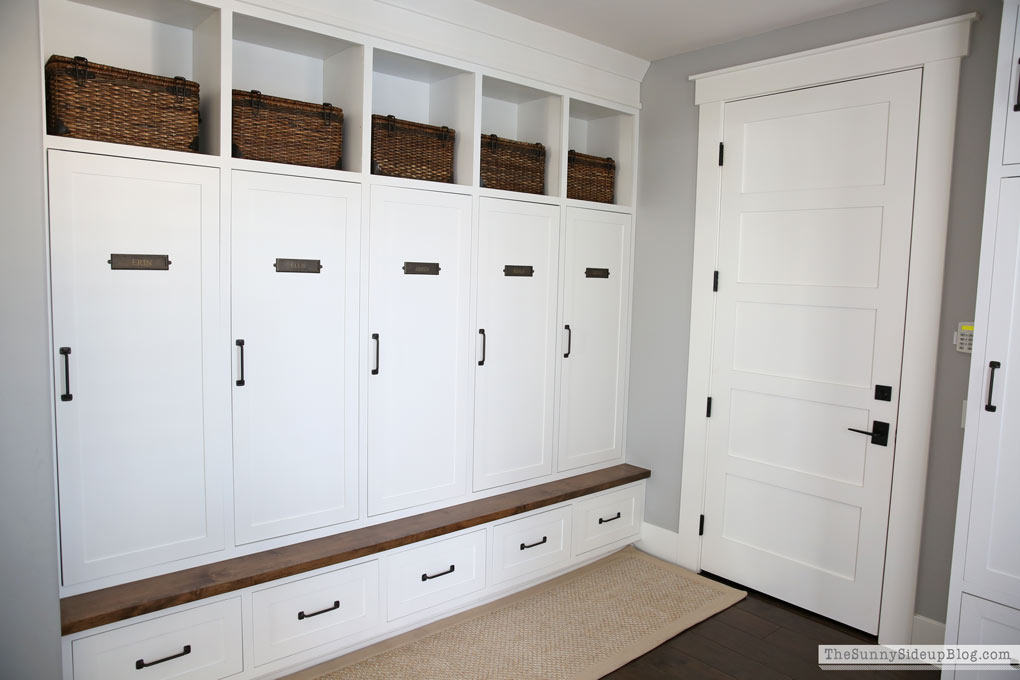 It just makes the whole room feel warm – always a good thing!  Speaking of PB.. oh my word you guys.  I'm trying to contain myself when it comes to their Christmas decor, but seriously!  They have the cutest things this year!  I know.. I say that every year. ;)  But they always do!  I just ordered these bathroom towels and this vintage Santa advent calendar.  And their Christmas signs!  How cute is this one!?  Trying to figure out a fun spot for it.  Also my favorite Magnolia Garland is back in stock!  I know I know.. we haven't even had Halloween yet.  But I have to decorate early to have posts ready for the blog so my brain is already in total Christmas mode.  (Major job perk in my opinion.) ;)  I'll be showing you all of my favorite Christmas decor in a post at some point, but things are already backordered and the good stuff always goes so fast!  It's hard for me to contain my excitement when it comes to Christmas decor.  All things Christmas really!  I have so many fun things coming up on the blog.. can't wait to share it all with you!
Speaking of all things Christmas coming up.. I'd love to hear from you!  What would you like to see on Sunny Side Up this holiday season?  Christmas decor?  Fun holiday outfits?  Ways to stay organized during the holidays?  Gift ideas?  Things we do with the kids?  Anything specific? I have some fun things planned, but would love to also make sure to cover anything specific you'd enjoy!
Such a happy time of year!  Ok.. back to Fall and Halloween.  I hope you enjoyed the Fall mudroom decor.  Since I'm taking it all down November 1st.
;)
xoxo, Erin