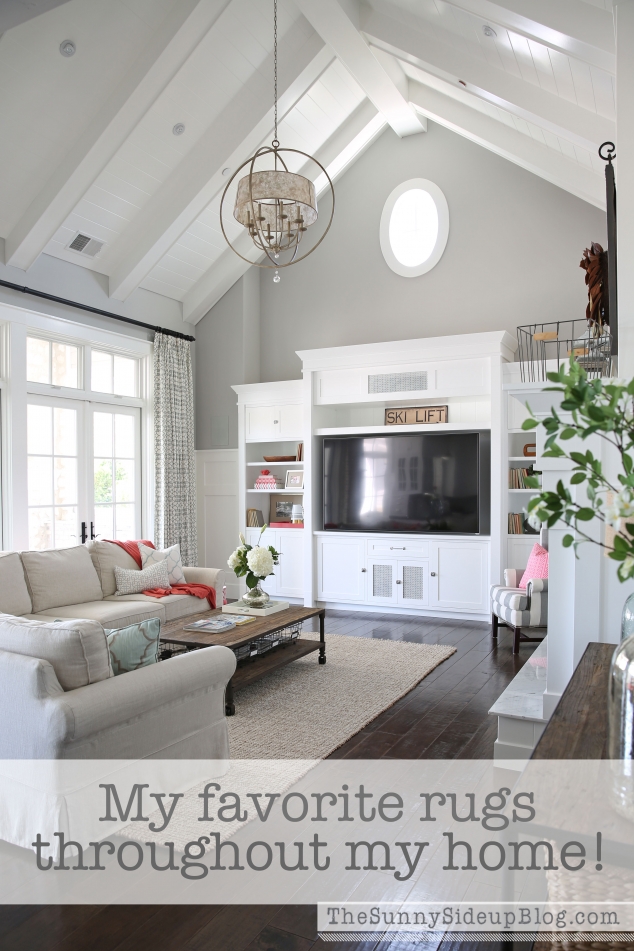 Quite often I get asked questions about the rugs throughout my house.  Where did I buy them.. how are they holding up.. would I recommend them.  I was looking up one of my rugs on-line the other night to help answer a question someone e-mailed me and I saw that my rug was on sale.  So I looked up another rug I own in a different room.  On sale too.  Before long I realized that almost every rug I have throughout my house is currently on sale!  I guess this makes sense because I bought all of these rugs in the past year or two since we've been in the new house so a lot of them are marked down and on their way out.  That little discovery prompted today's post.  I'm sharing info. and sources for most of my rugs!  And if you've been debating getting one of them for your home.. now is the time.  :)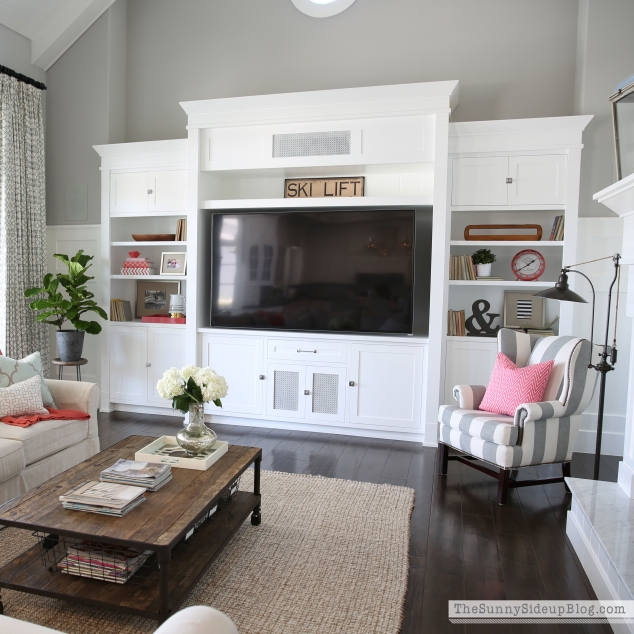 In our family room we have Pottery Barn's Chunky Wool Jute Rug.  I can't say enough good things about this rug.  Absolutely LOVE it.  One of my all time favorites.  I recommend it to anyone who asks.  It's incredibly soft to walk on – not at all rough like most jute rugs – you can feel the wool!  It's thick and sturdy and only shed a bit for the first few weeks after I bought it.  I love the look of it.  Such a great neutral that would work in so many spaces and it adds so much texture to the room.  But my favorite thing about this rug?  It hides EVERYTHING.  This is the most lived in space in our house and don't let clean and pretty blog pictures fool you – we really live in this room.  This floor is often covered in toys, books, blankets, magazines and occasionally food and drinks.  We try to be careful, but life happens.  We've spilled on this rug countless times (mostly water or light colored food, but also Coke Zero a time or two) ;) and so far everything has come right off.  It hides every crumb so I have to remind myself to actually vacuum.  Yup.  Dream rug!  It's my favorite.  Comes in 5 sizes and is on sale!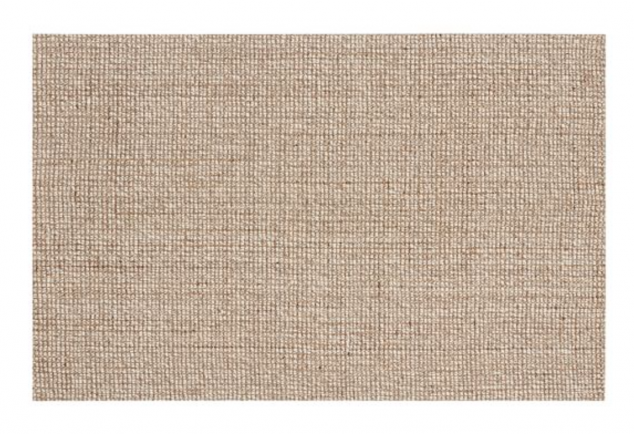 Pottery Barn's Chunky Wool Jute Rug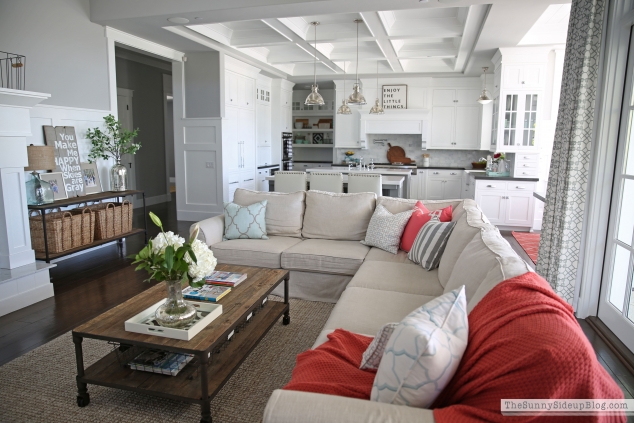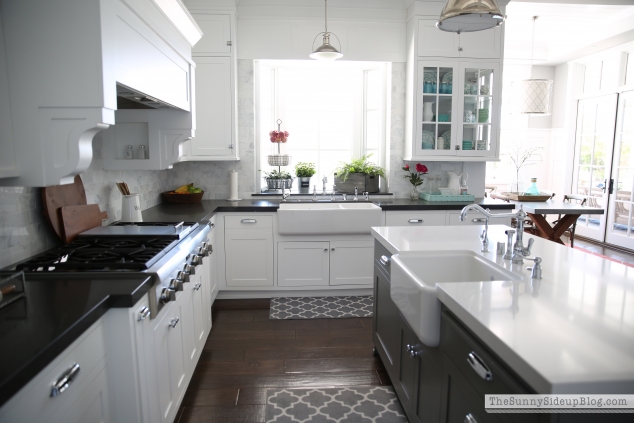 I bought our kitchen rugs soon after we moved in the house and they are still holding up great almost two years later!  These were inexpensive rugs from Target and to be honest I thought they'd only last about a year, but they're still kickin'!  They do get dirty – all kitchen rugs do – but I toss them in the wash once every 3-4 weeks and they come out looking brand new.  This rug comes in 8 colors and is on sale.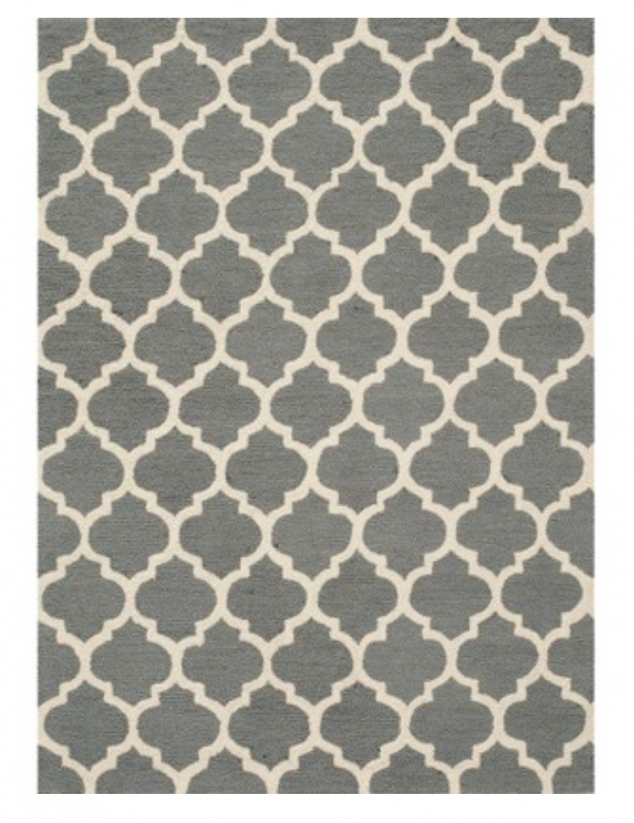 Target's Simple Morocco Hand Tufted Rug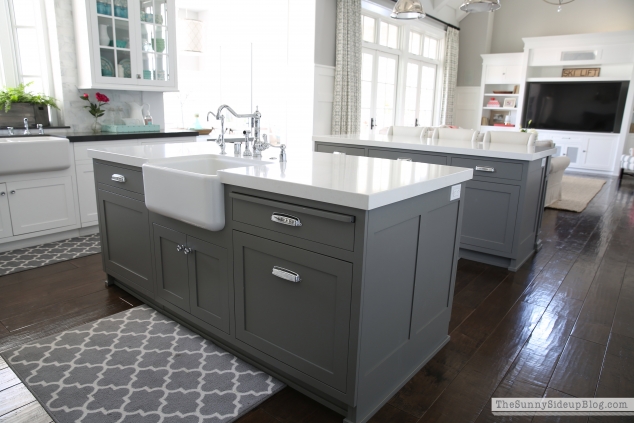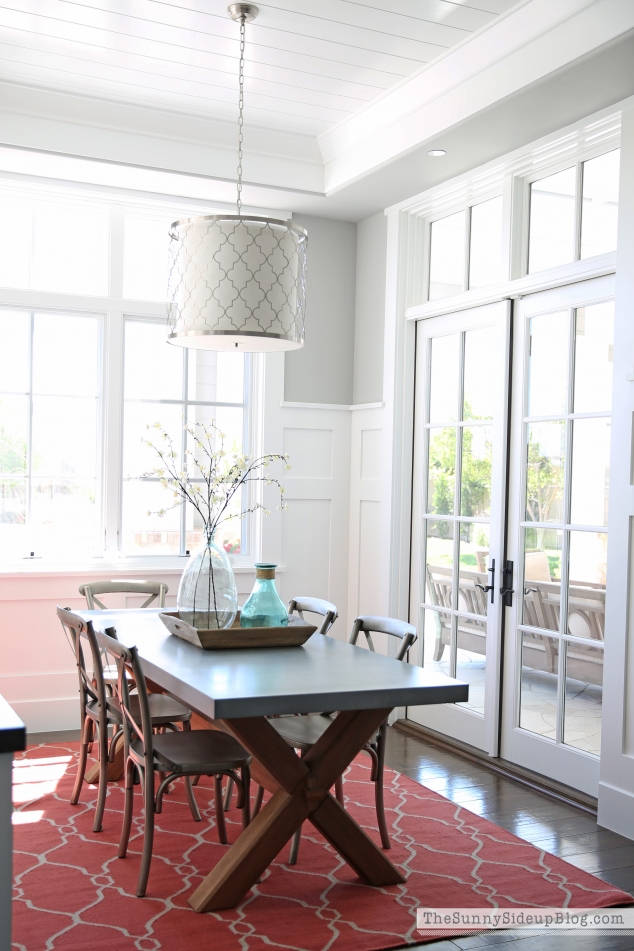 The coral rug in my kitchen nook is from Rugs USA.  I LOVE the look of this rug.  Clearly I'm a fan of coral and of this pattern.  :)  But it's not my all time favorite because it's so thin and not as soft as other rugs to walk on.  It works great for under a table but I wouldn't recommend it for a living/family room rug.  The other thing that bothers me about this rug (that you can't tell in this picture) is that the corners constantly turn up!  I've set heavy books on them and tried a few other things and nothing works.  I can't flip the rug on the other side because the tag is large and sewn on the backside.  So overall I give this rug a 6 or 7 out of 10.  :)  I do love the look of it and it comes in lots of sizes and colors.  Something for everyone.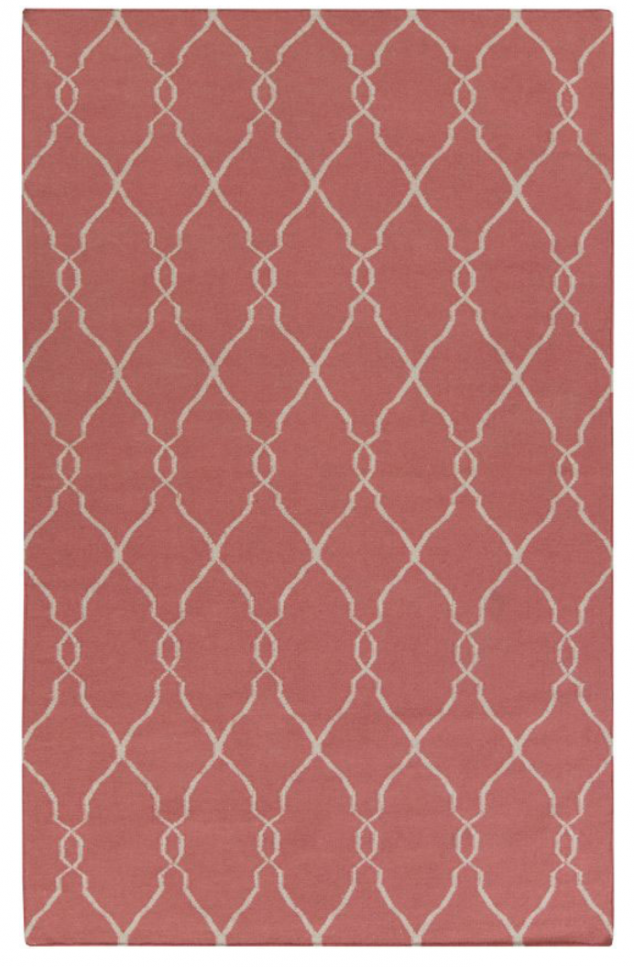 RugsUSA's Surya Jill Rosenwald Fallon Fal Rug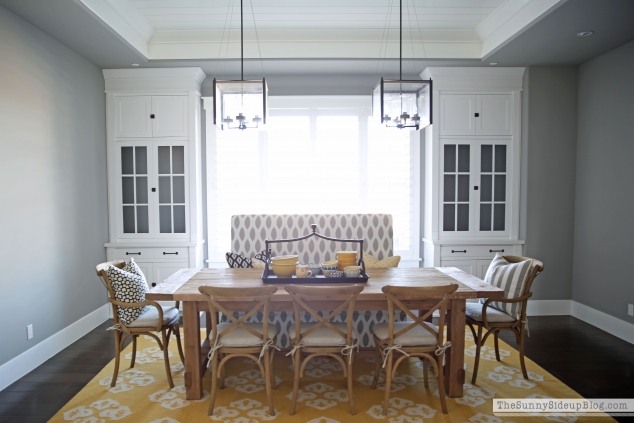 My formal dining room rug is SO similar to the dining nook rug I just shared.  It's from West Elm and it's a Dhurrie rug so like the rug above, it's thin and not as soft.  Great for under a table.  It's not available anymore, but here is one almost identical.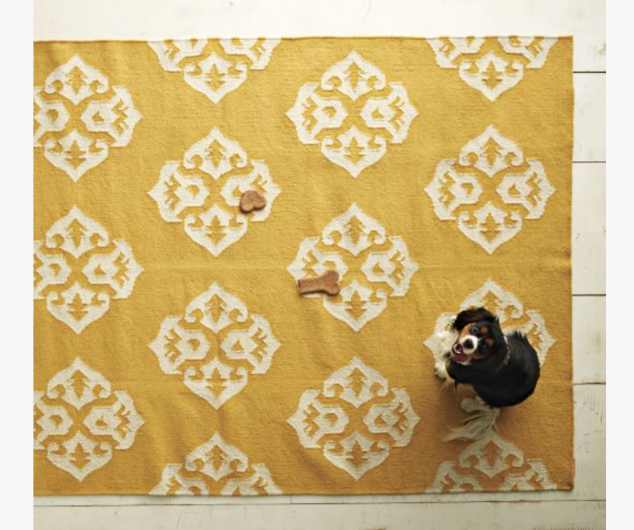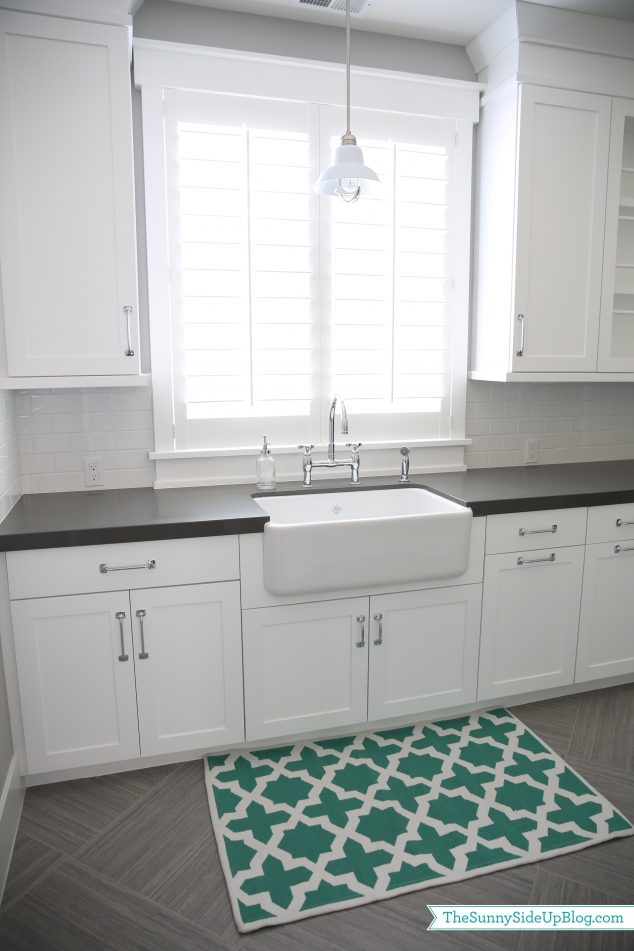 Our downstairs laundry room is still seriously lacking in decor, but at least I have this fun rug from Target my mom bought me adding some color and cheer when you walk by!  Simple, fun, and inexpensive.  I love Target rugs!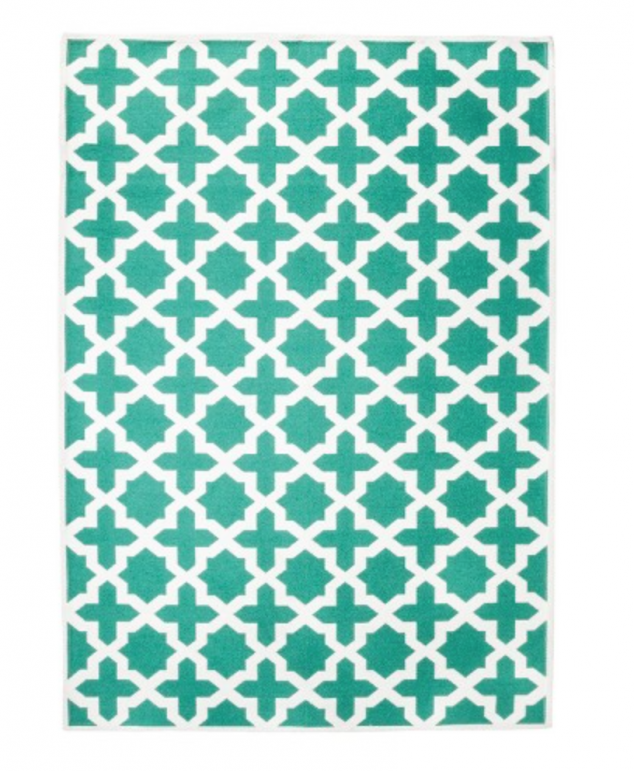 Target's Indoor Outdoor Flatweave Area Rug – Turquoise Green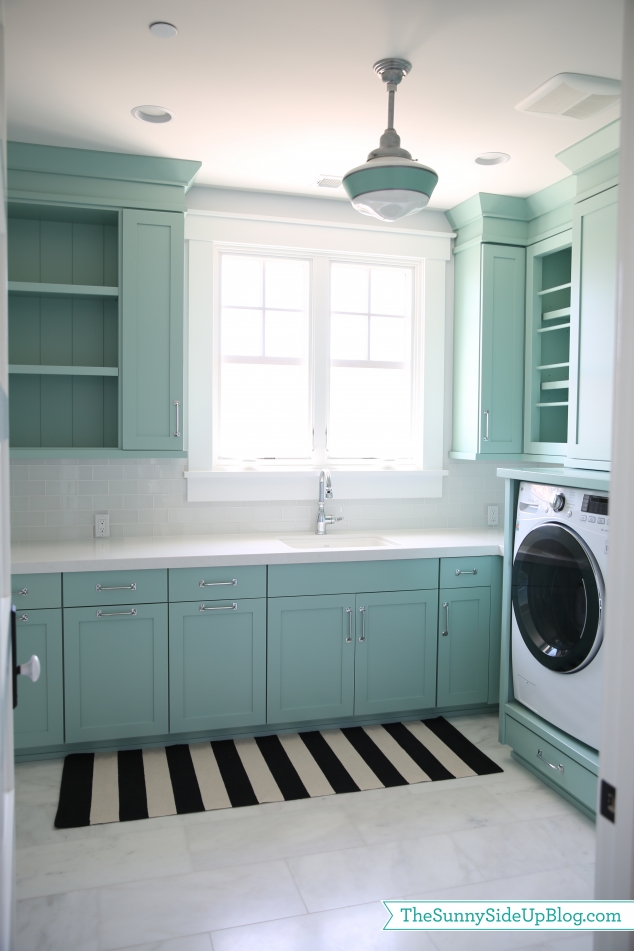 Ahhh.. one of my favorites!  My black and white striped rug from Crate and Barrel in our upstairs laundry room.  This is a fun rug at a great price.  I bought the runner but it comes in lots of sizes.  If you're putting it in a higher traffic area (kitchen rug for example) I'd buy a rug pad.  I didn't need one for this spot because we aren't walking on it that much.  I love this rug!  Makes a fun statement.  :)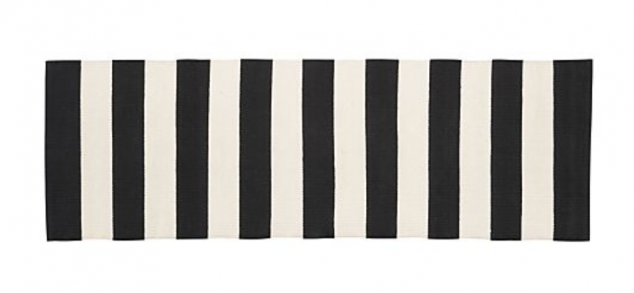 Crate and Barrel's Olin Black Striped Cotton Rug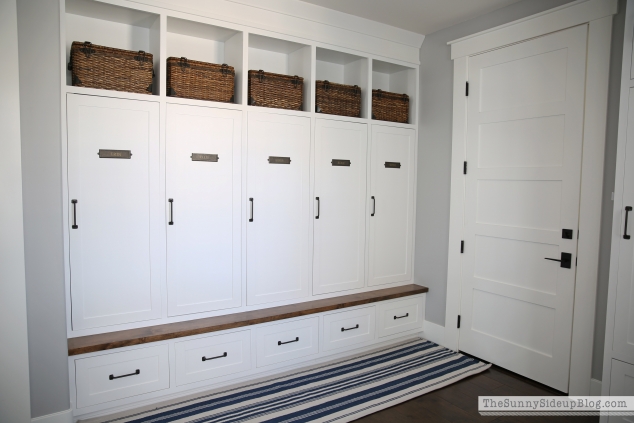 In my mudroom I have another striped runner (I'm nothing if not predictable) and I have a love hate relationship with this one!  It's from Pottery Barn and like all of their rugs – great quality.  Really soft, thick and durable.  It does need a rug pad under it to lay nice and flat.  I bought the runner but it comes in other sizes and colors and is also on sale!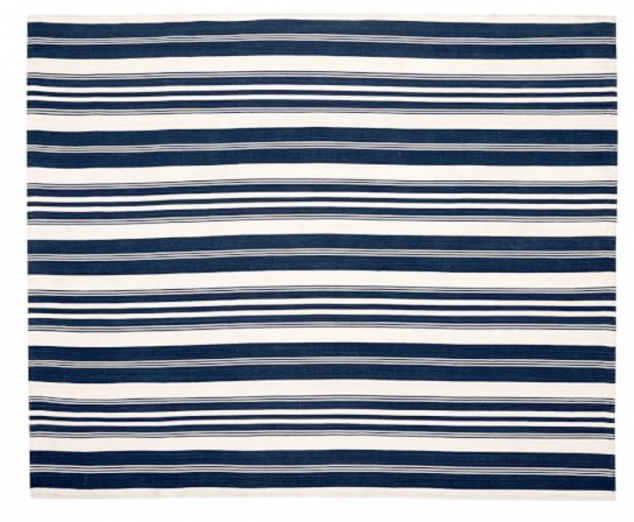 Pottery Barn's Oxford Stripe Recycled Yarn Indoor/Outdoor Rug – Blue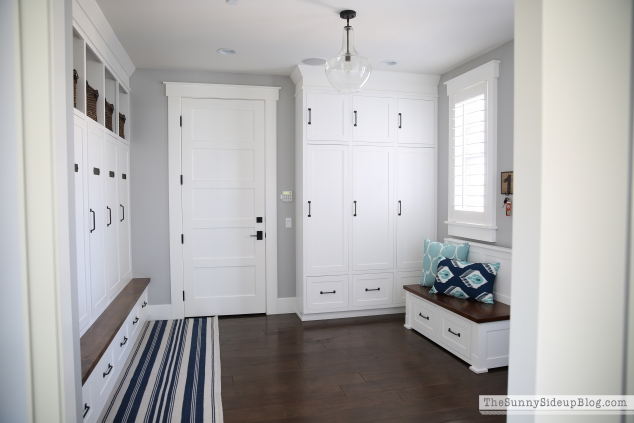 Really my only complaint with this rug is that it's too thick for the space I bought it for (which I shared in a post a while back).  It bunches up every time we open the mudroom door which is such a pain.  Most of the time I just fold up the end of it near the door but that doesn't look great.  I'm always on the lookout for a replacement, but I haven't found a runner that is as nice and as long with a pattern I love yet.  Plus I don't have a place to put this one and I do love the rug!  Just don't buy it thinking it will fit under a door.  Do you all love that you are learning from my many mistakes?  :)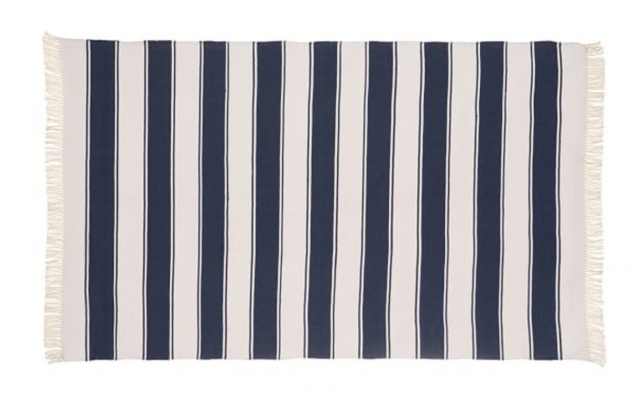 Speaking of navy striped Pottery Barn rugs I love, I've always had a crush on this one too.  :)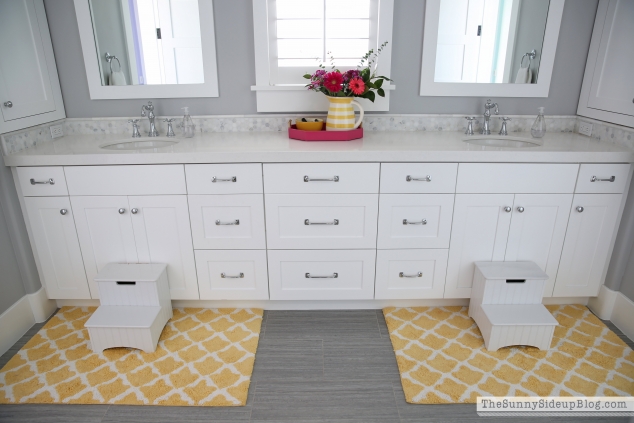 The Pottery Barn bath rugs in my girls' bathroom are amazing.  Softest rugs EVER.  Love love love these.  Non-slip back and they come in two sizes.  I would recommend and suggest these to anyone looking for beautiful and comfortable bathroom rugs!  They come in lots of colors and are also on sale.  Woot woot!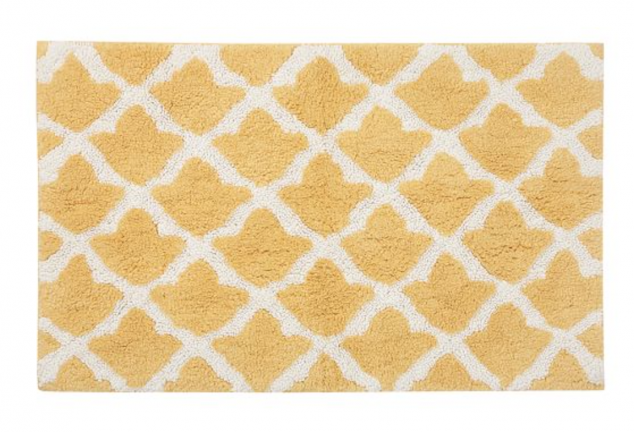 Pottery Barn's Marlo Bath Rug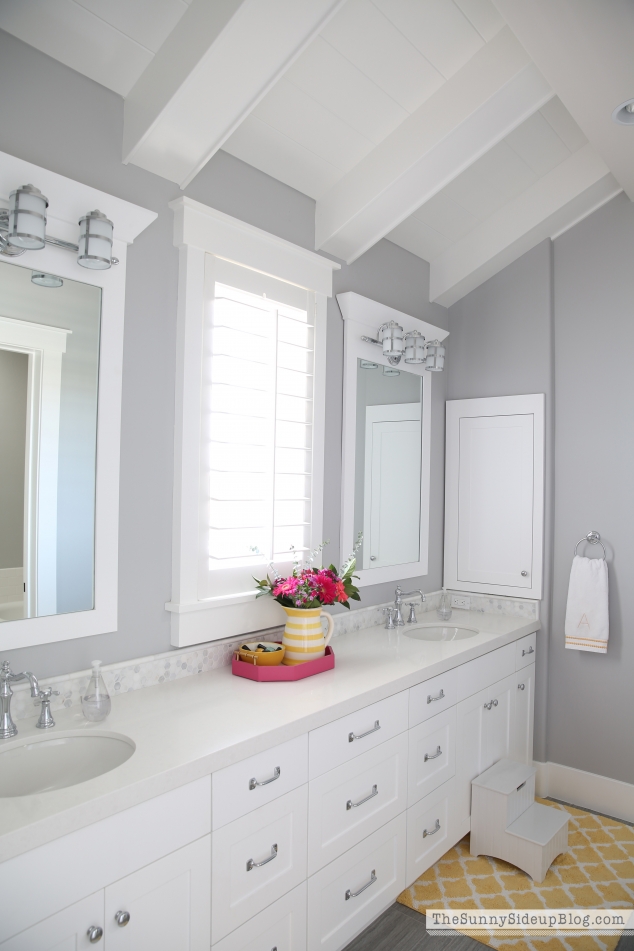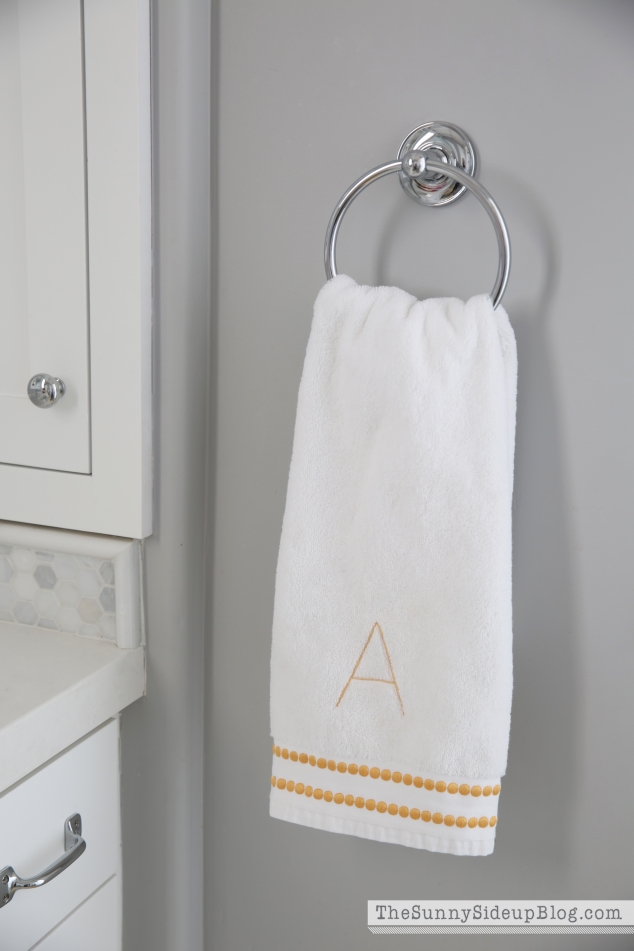 The cute pearl embroidered bath towels I bought my girls to match are on sale too!  Wondering why I didn't wait and buy these now? ;)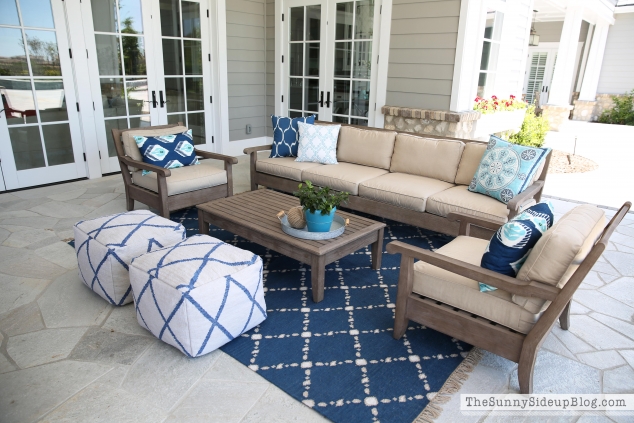 Clearly we are having a Pottery Barn party going on so I can't leave out this beauty.  This outdoor rug was love at first sight!  The second I discovered it on-line I knew it was the one for our outdoor area.  It sang to me.  Does your home decor ever sing to you?  Mine does.  Occasionally. :)  This comes in 6 sizes and is on sale!  Such a great time to buy anything outdoor related.  Then you will have a happy surprise to pull out when next Spring rolls around!


Pottery Barn's Dot 'N Dash Recycled Yarn Indoor/Outdoor Rug – Indigo
Whew!  I have done a lot of rug shopping over the past two years!  Rugs are tricky because most of them are on-line orders which means you really don't know how the rug is going to look/feel until you get it on your doorstep.  They are a pain to return and I've returned plenty!  Several times in a few spaces until I found the rug that was meant to be.  I hope my reviews help and that this post answered some of your rug questions!  I left off a few rugs I have that I will share at some point.  These are all of the rugs in my house that are on sale and that are most likely only around for a limited time.  Happy RUG hunting friends!
*affiliate links used
xoxo, Erin