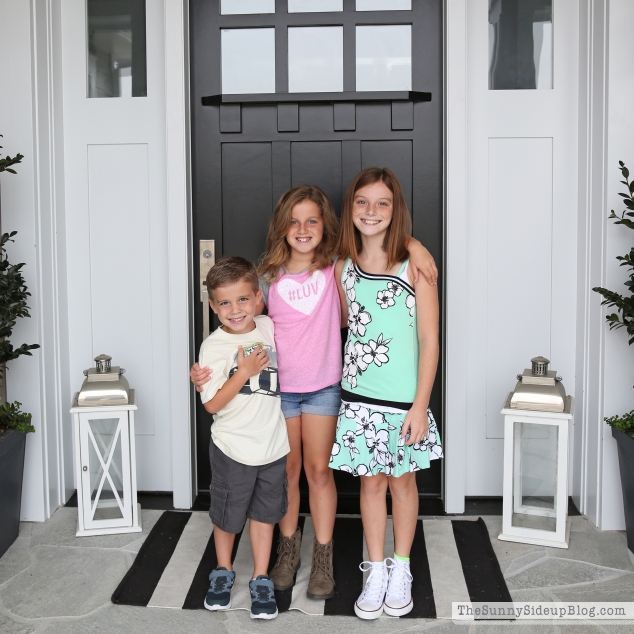 Ahhh!  6th, 4th and Kindergarten.  First day of school!  You guys.  Monday was a sad day for me.  First day of school is always hard but this year I woke up and thought about my baby boy going to Kindergarten and the crocodile tears started rolling before my eyes were even fully open and awake.  I went in my closet and had a good cry and tried to get it out of my system.  Wiped my eyes, woke the kids – got everyone dressed and fed and made lunches and did hair and put on my best smile and told them they were going to have a great first day.  I was doing fine.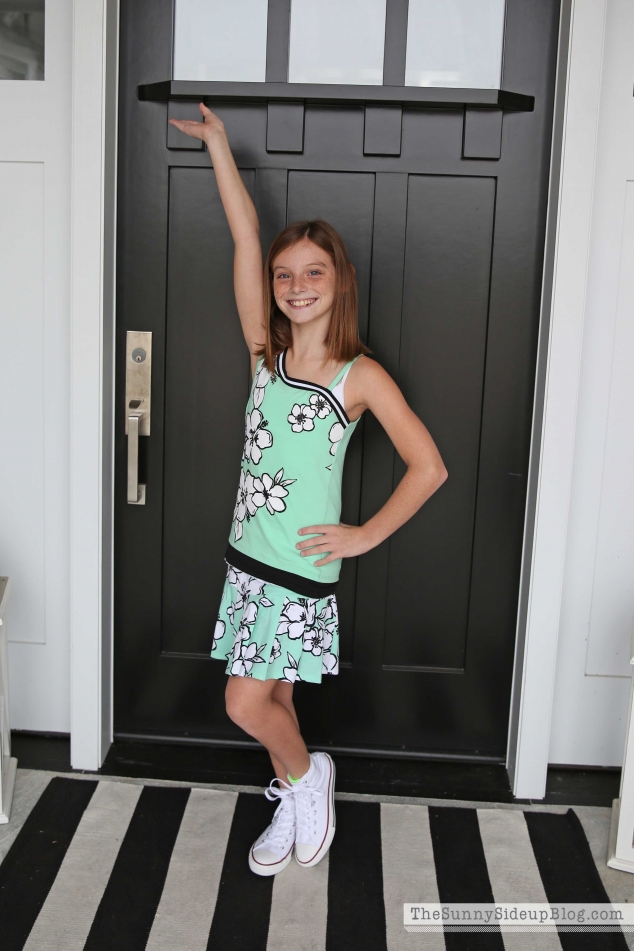 Until it was time to snap some first day of school pics on the front porch.  I said "smile!" and El did this.


And immediately I thought of this.  Striking a pose on the first day of first grade.  She was so little.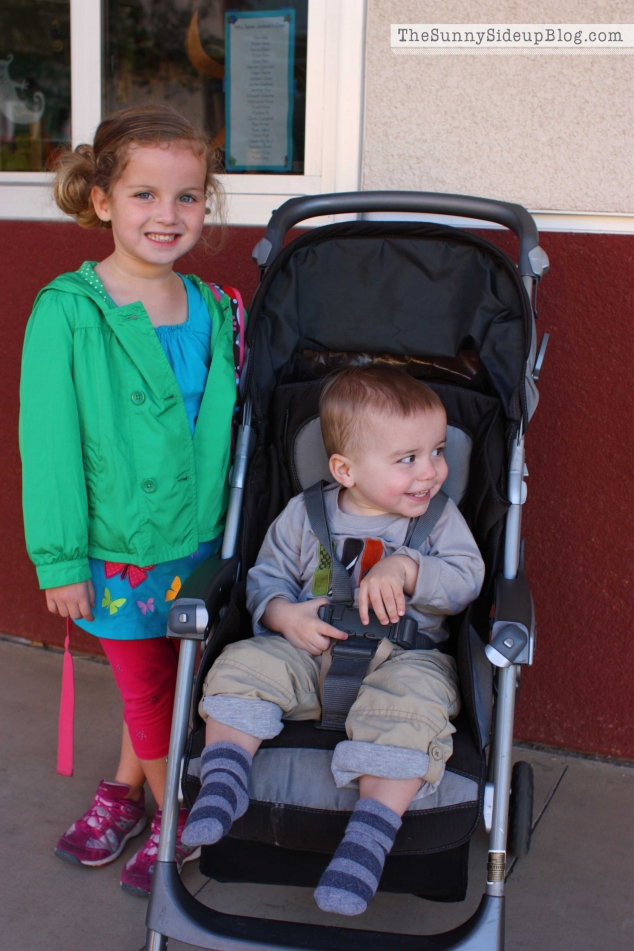 And so were these two.  Wasn't that about 20 minutes ago?
Tears started flowing again.  I tossed on my sunglasses and we made it to school.  I got the kids to class and hugged them and said good-bye and tried to act fine.  But I wasn't fine.  My husband could tell I was about to break down so he took me to breakfast after drop off to cheer me up.  I tried to drown my sorrows in french toast and bacon while he tried to cheer me up by telling me we could have another baby (which technically we can't) and how my sister could carry the baby for us.  Ha!  (She'd love him for that little sarcastic conversation.)  Before long he had me laughing again and feeling much better.  Really I don't want another baby.  I just want the three I have to stop growing.  Period.  Is that too much to ask?  :)  One of my friends said to Kole at school "are you really in Kindergarten!  How old are you!?"  and he answered "Well I'm 5 but I look much bigger because I eat so many apples."
Maybe that's the key.  Less apples.  :)
The kids had a great first day of school Monday and aside from the school forms I'm drowning in, today was a better day for me. I still have a pit in the bottom of my stomach but at least I'm not crying at the drop of a hat.
One thing that has been cheering me up immensely is my console table!  I discovered a couple of new shops on Instagram that I'm in love with and have been dying to share with you!


Have you all checked out Jaxn Blvd?  Kim has so many fun things in her shop!  I had a hard time choosing what I wanted most.  I ended up getting this striped sign and wreath (and one more thing I'll share later!).  I'm crazy about it.  Isn't it going to be fun to add a pop of red for Christmas!?  It comes in other colors too!


But at the moment I'm leaving it plain without the wreath.  Love this just as much!  You know how I feel about a good stripe.  And a rustic wooden frame.  :)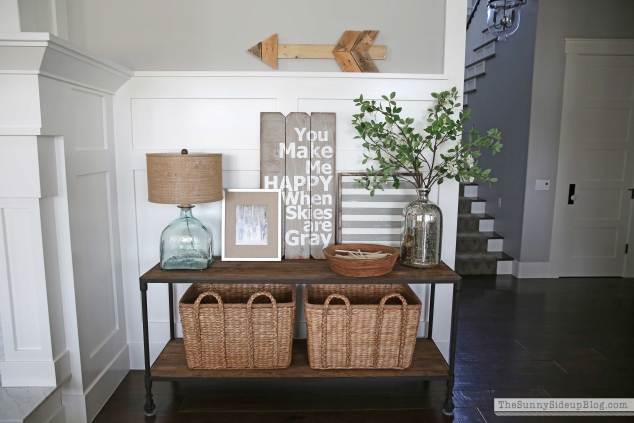 Right now I'm using it as a back drop on this table for my vase and Pottery Barn faux branches.  Can you see my other fun new addition?


Please tell me you love this arrow as much as I do!?  Oh my word.  When I discovered Axel Co I was so excited!  These arrows are beautiful.  All made of reclaimed wood and each one is unique.  I've moved this around all over my house and it looks good everywhere!  So good in fact that I have another one coming that's darker. :)  Just like a good stripe, one can never have too many arrows.  Words to live by.  Even though I just made them up.


The wooden bowl I found at a local shop and I just added some filler sticks I had on hand for now.  I'm sure I'll mix this up again soon for Fall!


For now, I'm so in love with my new striped sign and arrow!  It's amazing how just a couple of things can totally change a space.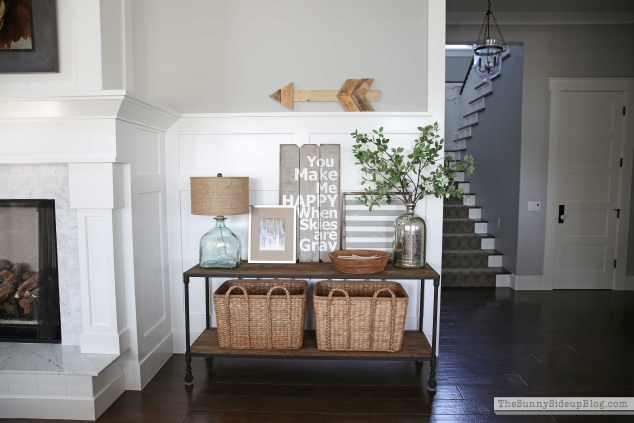 Check out Jaxn Blvd and Axel Co. if you haven't already!  Lots of beautiful things to choose from if you want to update your console table!  Or any other space in your house.
K.  Back to my school forms…
Enjoy your day everyone!  To the moms who are sending kids to school and are sappy and emotional like me, hang in there.  And try eating lots of french toast or buying new stuff for your house.
It helps.
:)
p.s.  Here are sources and details!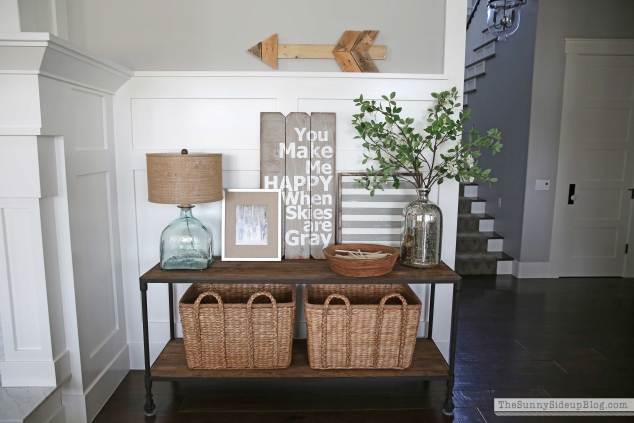 Lamp: Shades of Light  —  Console Table: Restoration Hardware  —  Baskets: Restoration Hardware  —  Picture frame: West Elm  —  You make me Happy sign:  Tai Pan (Utah based store)  —  Vase: Home Goods – similar vase here:  Pottery Barn  —  Faux branches: Pottery Barn  —  Wooden Bowl: local store find – similar bowls here: Pottery Barn   —  Sticks in bowl: Pottery Barn (I think these were a summer item I can't find but look at all of the fun vase fillers for Fall!)  —  Striped sign:  Jaxn Blvd  —  Arrow: AxelCo  —  Paint on the walls: Seattle by Frazee
*affiliate links used
xoxo, Erin