Happy Friday everyone!  Made it through our last week of summer!  I have so many fun things going on around the house to share but I can't take pictures until my kids are in school and I can keep things clean for longer than 15 minutes.  Monday is the day!  Feeling happy and sad about that.  For the most part – we are ready!  I've been shopping for school clothes for my girls the past few weeks and found some really cute things!  Mostly all on sale!  For all three of us!  :)  I scored at Old Navy this year.  Love this open front cardigan.  Lightweight, short in back and longer in front.  Perfect for cool but not cold days.  Such a steal for only 15 bucks!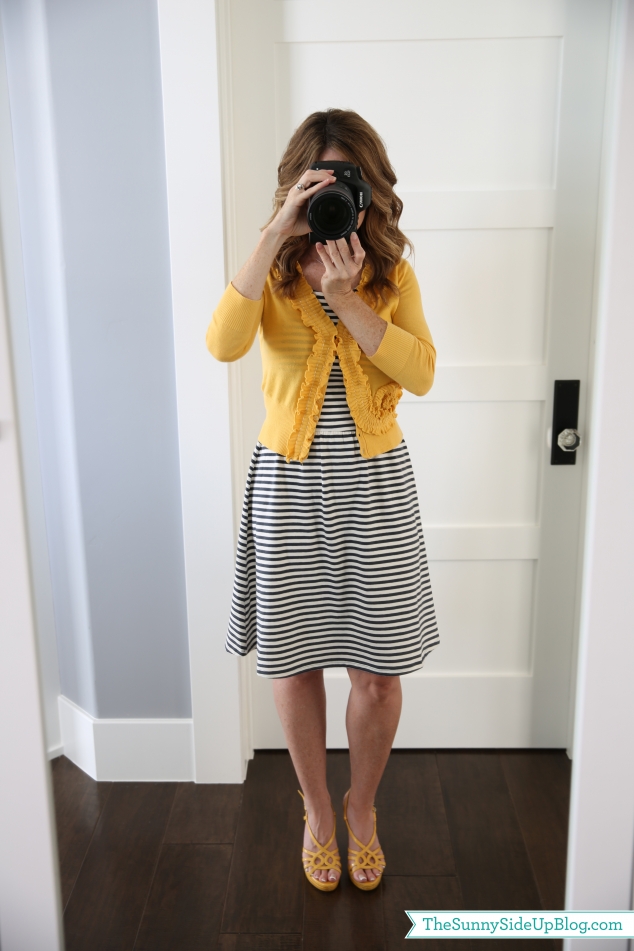 Remember this picture from a Fashion Friday a year and a half ago?  This striped dress from Old Navy has been one of my favorite staples (I still wear it so many different ways).  I found a very similar sleeveless mock-neck dress that comes in black and also in stripes.  So cute and on sale for 20 bucks!  (The yellow sweater is several years old and from Anthro.)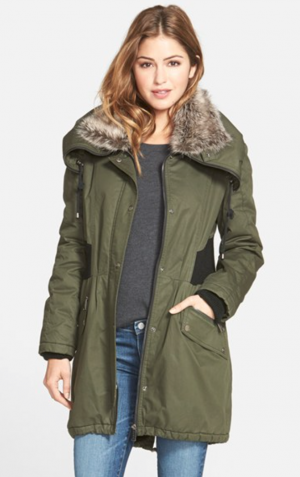 Remember this coat that I LOVE and wanted so badly during the Nordstrom Sale but didn't buy because it never really gets cold enough here in San Diego to justify a coat like this?  (Still debating buying it for that time or two we travel to cooler temps in the winter..)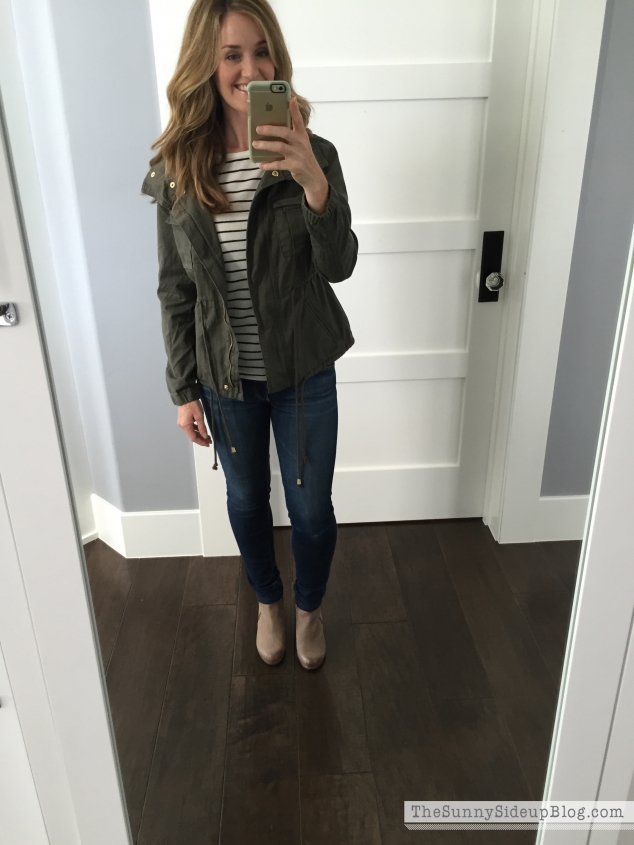 I found a replacement!  One much more reasonable for our climate!  This is Old Navy's Canvas Field Jacket and I love it!  So much fun.  I've seen jackets like these all over for so much more than this cost.  It's a shorter jacket which I like and it just has such a fun, casual vibe to it.  Love the big collar and the gold zipper/snaps.  It's similar to this cotton military jacket at Nordstroms I've been eyeing but half the price.  I love the Nordstroms jacket too but for a shorty like me this Old Navy jacket works much better.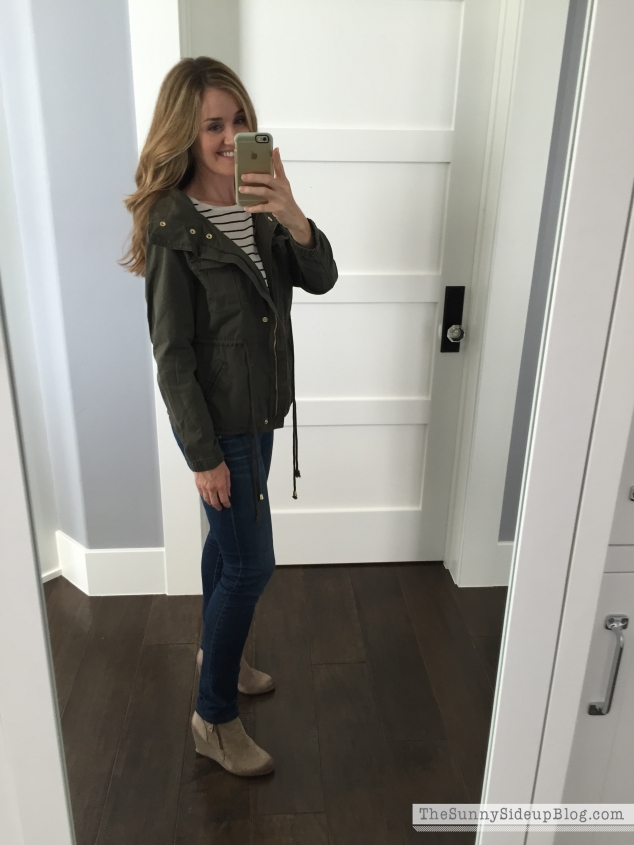 I'm wearing it with my striped top (if you don't own a black and white striped top buy one now – goes with everything!), my favorite hudson skinny jeans, and my new Ashton leather wedge ankle booties.


I like the way the strings are tied in the above picture.  I'll have to try that.


I tried cinching it up and liked that look too.  A fun jacket for Fall!  It runs a little big (short but wide) so if you are in-between sizes, go small with this one!


See how 'in' the green army vest/jackets are!  Snapped a pic of this adorable outfit at Target for my girls.  How cute is this green utility vest!?  For $13!  Buying it!  I fell in love with the quilted coral skirt too.  El tried to stop me from buying it because it doesn't have shorts under it and how can she possibly do gymnastics at recess in a skirt without shorts under it? (#priorities)
So I found some separate little shorts to go under it.  I'm nothing if not a problem solver.  :)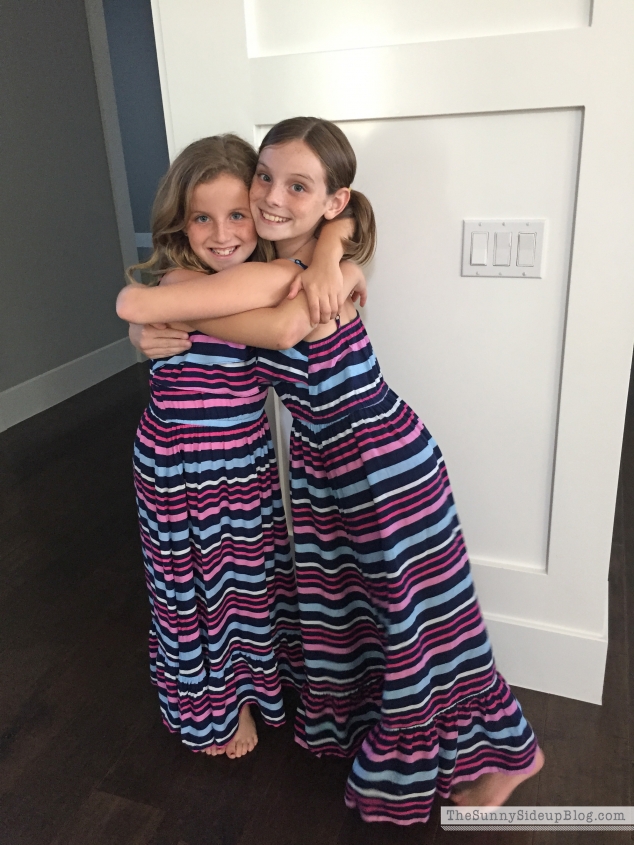 Speaking of Target my girls' favorite striped maxi dresses are on sale!  My girls have lived in these this summer!  They can be casual with flip flops or dressed up.  El wore nice shoes and a cute sweater over this dress to audition for the play.  She got a part so they must be lucky dresses.  :)  Sometimes when I see cute end of season clothes for my kids going on sale I pick up a size bigger and save it for the next year.  Smart right?  I like to think so.  :)


Ready for a new school year with some fun finds for my girls!  I snapped a few pics when they were trying things on and doing a little fashion show.  A back to school tradition we've had for years.  Unless it's shoe shopping, I usually go shopping without them or buy on-line (so much easier!).  Then we have a fashion show and try things on and see what we love and I return what we don't.  The #luv top was on sale at Gap (they have a lot of cute things on sale right now!).  The shorts are from Justice and the shoes are her new Nike Zoom's from Nordstroms.


El put this outfit together when I bought this adorable butterfly graphic tee from Gap.  I have always been such a sucker for Gap's graphic tees!  I buy several for my girls every year.  Great quality and you can mix them up so many different ways.  There were about 10 I wanted for my girls.  Had to restrain myself!  :)  El had this skirt from Children's Place last year, purple Old Navy leggings (btw – all of Old Navy's leggings are on sale for 5-7 bucks!  We stocked up!) and her new white Converse sneakers.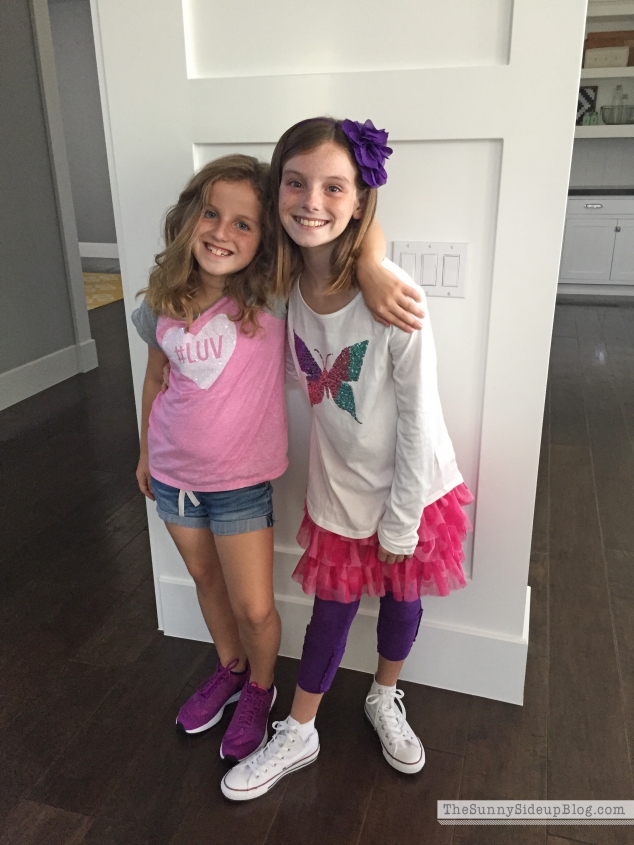 Ready for school!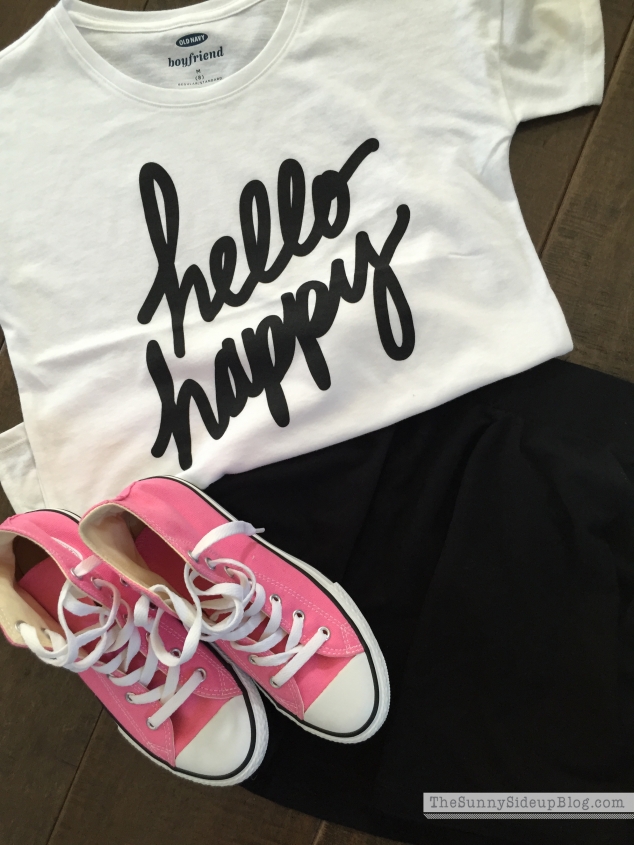 I also found this fun hello happy top at Old Navy (8 bucks!) and this black skirt.  Fun to pair with El's new pink Converse sneakers.  A pop of color never hurt anyone.  :)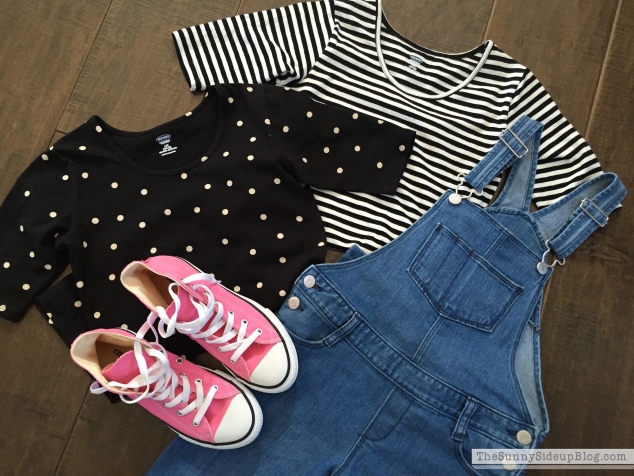 I fell hard for Old Navy's ballet tees for girls this year.  They are more of a fitted top with a bit longer sleeves.  They look so cute on both of my girls!  My girls are close enough in size right now that they can share a lot of clothes which is so nice.  Ad really wanted overalls this year (too funny they are back in style!  I remember rocking overalls back in the day…)  but this pair from Old Navy fit El better (too long on Ad) so I'm going to try this pair from Gap for her.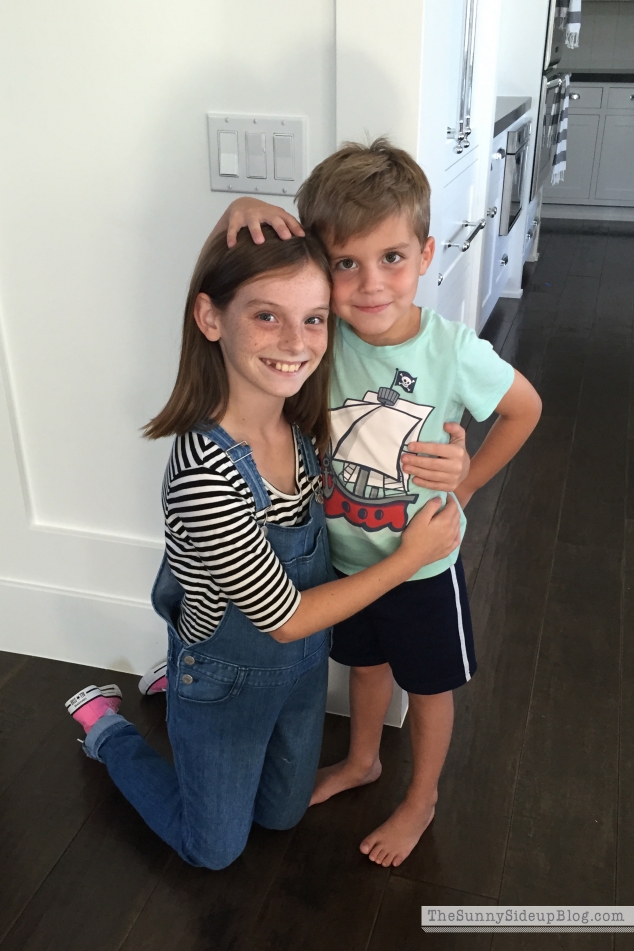 Tried to get a pic of El in the overalls with the striped ballet tee and a certain someone had to join the party.  I'll have to share his Kindergarten wardrobe at some point although it's a bit boring.  A few shorts – check!  A few tops – check!  Good running shoes – check!  And he's good to go.  :)


Love the way she entertains and takes care of him.  These two are thick as thieves.


A few more fun finds from Old Navy for my girls!  Their cropped track pants fit darling!  On sale for $10!  Perfect for school or dance/gymnastics.  This pretty bird dress was another steal on sale for $15!  It's so cute but a bit see through so I need to figure out what the girls can wear under it.  Also loved this gray dress that I can't find a link to.  Must have just been in the store.  You can't tell in this pic, but it has small gold dots all over it.  Cute!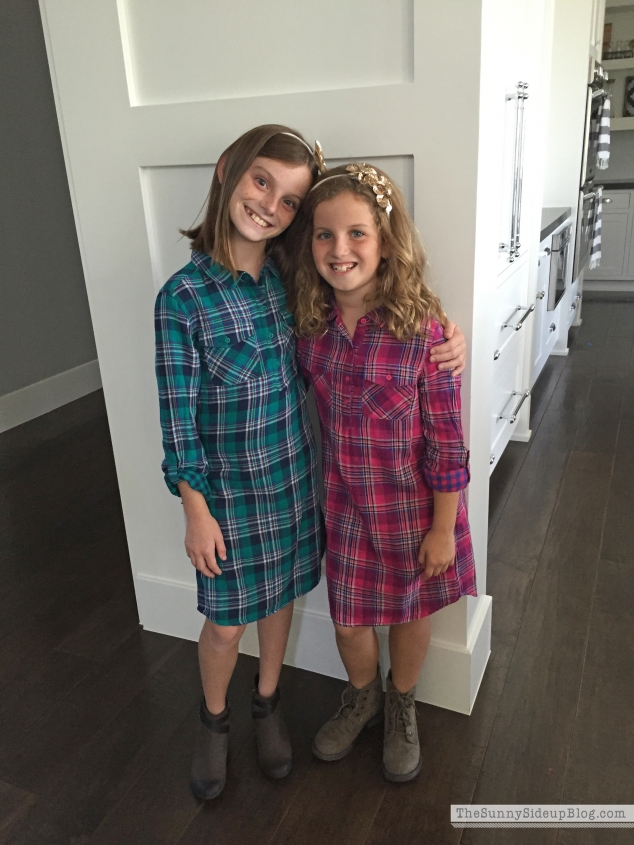 But THESE dresses.  These plaid flannel shirt dresses were my absolute FAVORITE back to school find this year!  Are they not adorable!?  On sale for $19 each!  Such a steal and so fun for Fall!  They come in a few colors but I loved the pink and navy/green for my two.  They look especially stylish with their new Fall boots from the Nordstrom sale!  Ad is wearing the Steve Madden Jhale boots and El is wearing the Tucker and Tate Track bootie in the color chocolate.  Love these outfits so much!  And the girls in them.  :)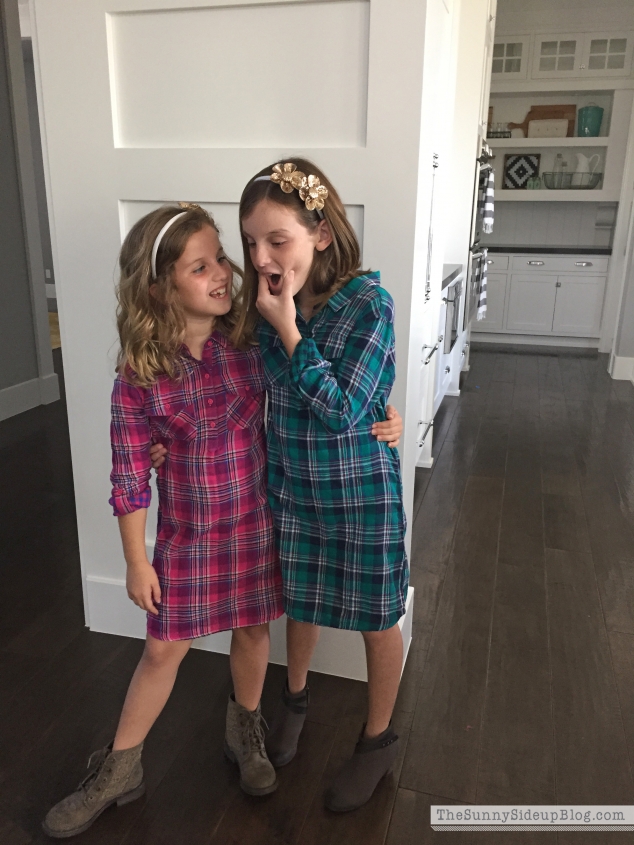 I have to be so quick when I'm snapping pics of these two.  Before long El starts complaining that her mouth hurts – all that smiling.. poor kid.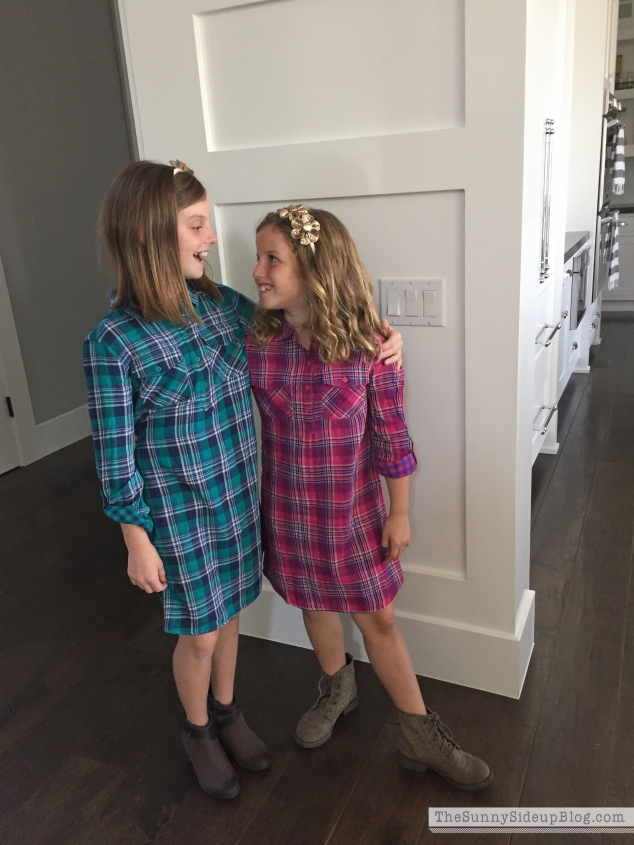 Or they start chatting mid photo session.


Then the chatting turns into acting sorta silly.


And before long we've reached a whole new level of silliness.
Hope you got your shot mom!  There's no going back now.
:)
Happy back to school shopping everyone!
xoxo, Erin