Happy Friday friends!  Yea!  The weekend is upon us.  This is the last weekend of the Nordstrom sale!  Prices go back to normal Monday, August 3rd.  My husband is so happy about that.  ;)  A couple of weeks ago I shared some of my purchases from the sale.  I've been wearing what I bought and loving it all!  So much that I ended up making a couple more trips to the mall.  Hence the reason my husband is over the Anniversary sale.  But I'm not so GEAR UP and grab a snack!  This post is a book.  In the picture above I'm sharing three of my favorite shoes I've recently purchased along with a peek of some master bedroom progress!  Slowly that space is coming together.
But that's a post for another day.  :)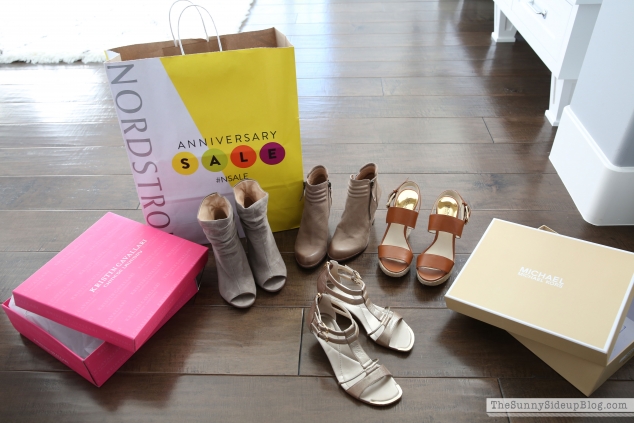 Moving on to the fashion!  So last time we talked shoes I shared with you my favorites at Nordstroms right now.  The 'Laurel' Peep Toe Bootie, 'Ashton' Leather Wedge Ankle Bootie, Michael Kors Wedge Sandal, and the Phoenix Wedge Sandal.  LOVE them all.  I've been living in the Phoenix Wedge Sandals since I bought them and they are so comfy!  Plus they zip up in the back – no messing with buckles. Love that!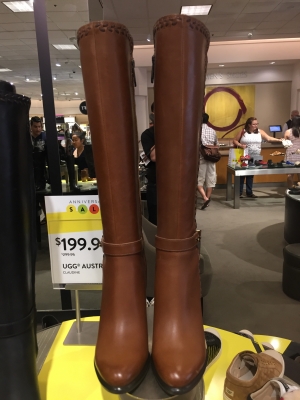 The only thing that was haunting me was this gorgeous pair of Uggs!  The 'Claudine' Tall boot.  I passed them up my first trip because even though they were $100 off, they were still expensive.  I loved them so much I didn't even try them on.  I knew they would be trouble.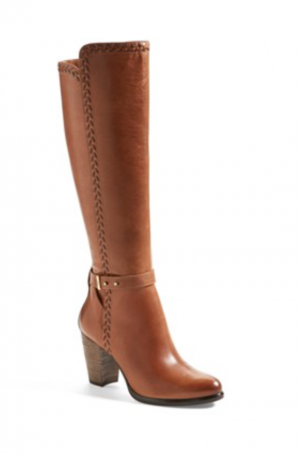 But I kept thinking about them.  Uggs are SO comfortable.  And the color was perfect.  And the heel was perfect.  And that stitching up the side!  And I just knew that I would be so sad to walk into Nordstroms in a month and see them still sitting there so beautiful back at full price.  (Post sale remorse is real!  Am I right ladies!?)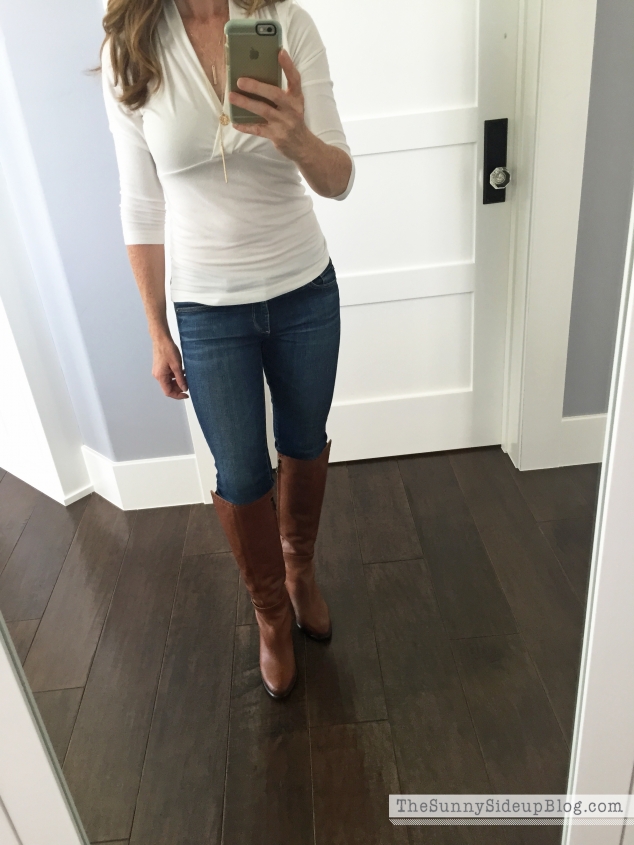 So what's a girl to do!?  They had to come home with me.  And I think I'm even more in love if that's possible!  They actually have more of a pointed toe than I usually go for in a boot, but I like that because it dresses them up so I can wear them with skirts too.  I tried them on with my favorite pair of Hudson jeans and this top I've had for years.  (I LOVE Hudsons btw and there are so many cute Hudson skinny jeans on sale!)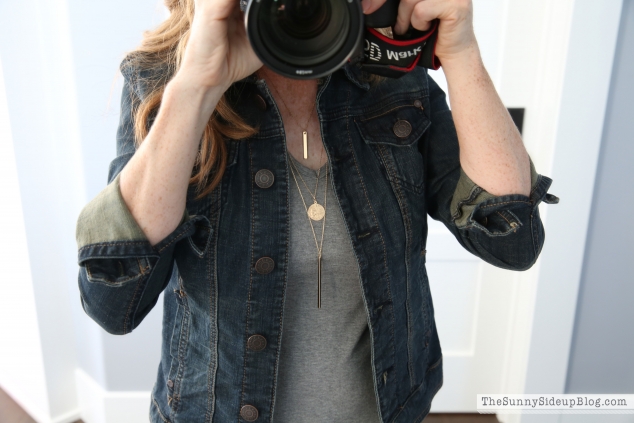 I also added my BP layered pendant necklace I shared last week.  I have been wearing it with everything!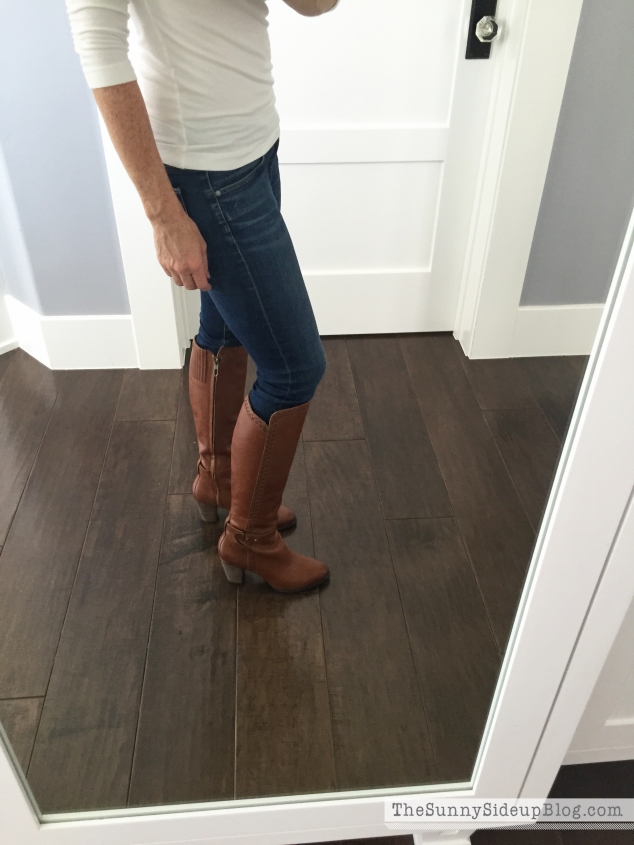 So cute from the side, right!?  And seriously you guys.  The best part is that they feel like I'm walking on a cloud!  A splurge for sure, but I know I'll love and wear these for years.



If you're looking for a tall boot I rounded up a collage of my favorites from the Nordstrom sale.  I love the look of every one of these.  I only tried on the two boots with more of a heel because I know from past experience that I don't look as good in a flat heeled boot.  I need to grow a few more inches!  :)  Here are the links in order from the left:
1 – 'Jloulie' Steve Madden Boots.  K.  These are actually for kids.  LOVED these boots for my girls!  I had to include them in my round up because if they had them in my size I would own a pair.  :)
2 – Ugg 'Claudine' Tall boot.  Winner!!
3 – 'Dominion' Wedge Boot (wide calf) –  I love these and actually ordered them on-line in the dark grey.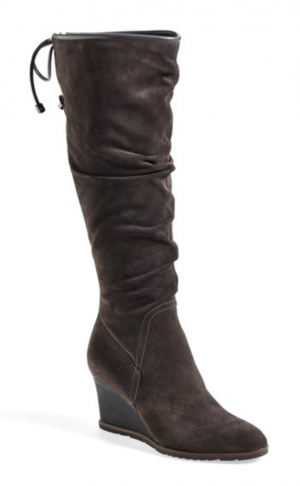 Aren't they so cute!?  I had to return them though because the calf was too big on me.  My calves aren't super thin and sometimes tall boots are tight on me so I thought the wide calf might work.


But you can see from this quick picture I snapped when they came, it just wasn't a good fit for me.  I was so bummed too because other than the calf fit, these boots are gorgeous!  Really comfortable and a great price.  If you have a wider calf you will love the fit and look of these!
4 – Jamison Tall Boot (wide calf)
5 – Lucky Brand 'Heloisse' boot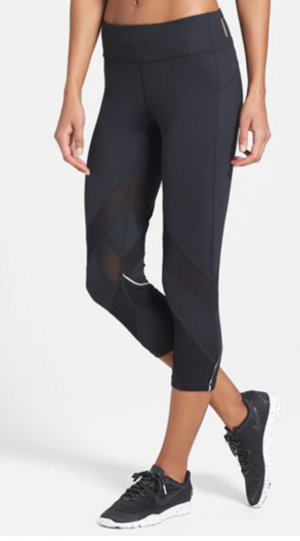 You might have noticed when I snapped that boot picture I was in my Zella running pants again.  I snuck another pair in my cart.  Couldn't help it!  They are only $33 right now!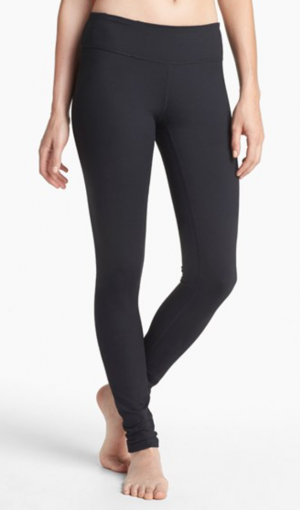 So are their 'live in' leggings.  That I'm trying to hard NOT to live in.  :)  Love Zella.


In my last fashion post I showed you this cute black top I bought to wear to Haven, but I forgot to also show you the fun pants I picked up with it!  How cute are these Hudson camo pants!?  You guys they must have sold out!  I can't find the link to them anywhere on-line.  I found them on-line earlier today and snapped a picture for this post and now they're gone!  If you see them on-line let me know and I'll add the link.


I need to get a few more tops to wear with them, but I thought I'd try them with my striped shirt (similar one on sale here) and my 'Ashton' ankle booties.  Also wearing my fun triple chevron necklace.  I was so excited when I found these pants because they fit so perfectly length wise.  I thought finally!  A pair of pants I don't have to have hemmed!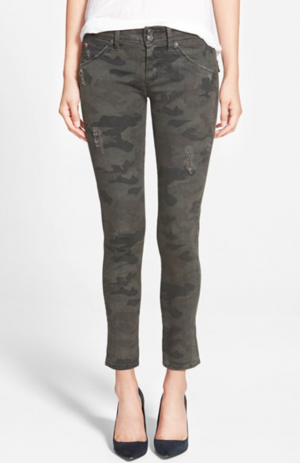 Then I found this picture of them on-line and they are supposed to be capris!  Ha!  I laughed out loud!  So that's why the length fit so perfectly.  They are pants on me.  :)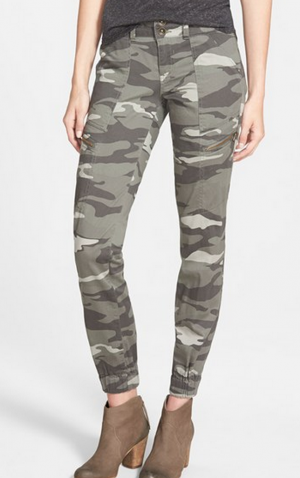 Another cute camo pant that caught my eye are these Jolt Camo Utility Pants.  Same exact pair as as the Jolt Utility Jogger pants in Olive I shared in my last post that I love so much!  And they are only$31!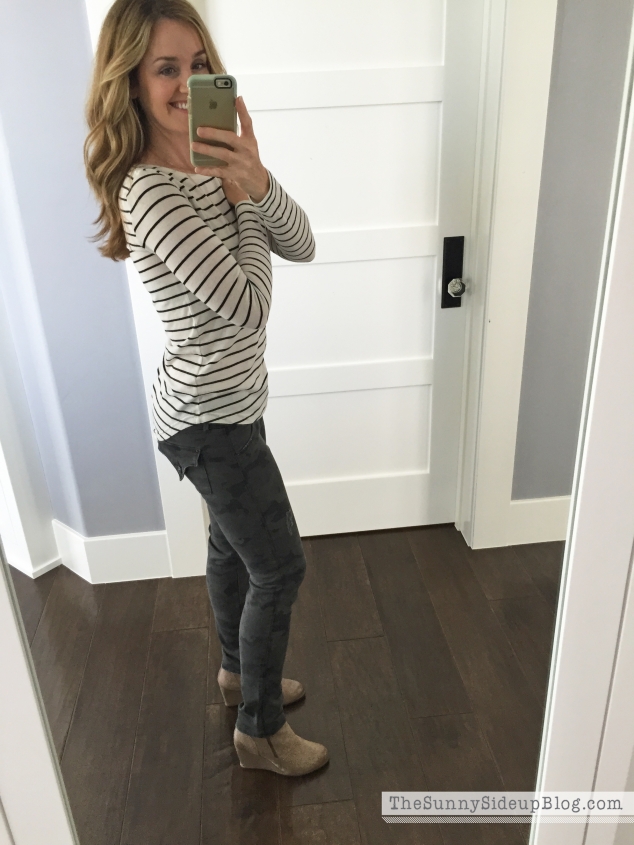 I was trying to show you the pocket of these jeans (so cute in the back!) and my arm kept getting in the way!  I am still learning how to take pics of myself in front of the mirror without making a complete idiot of myself.  Obviously.  But on a happy note, just look at the length of these capris jeans!  Ha!  Perfect fit.  I think I now have a long term strategy for finding pants that are the right length.  ;)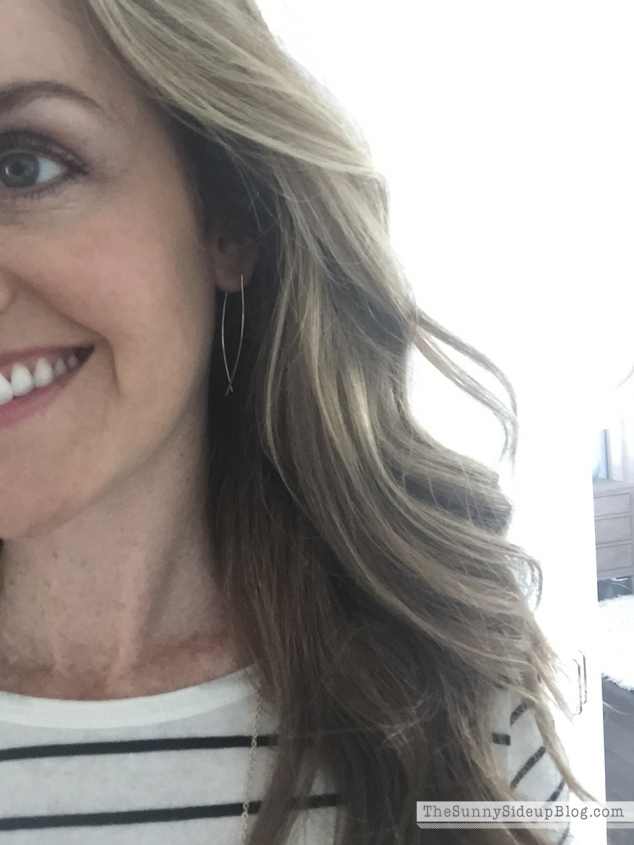 Nordstroms has a lot of fun earrings on sale right now too.  I picked up these simple gold earrings for only $15.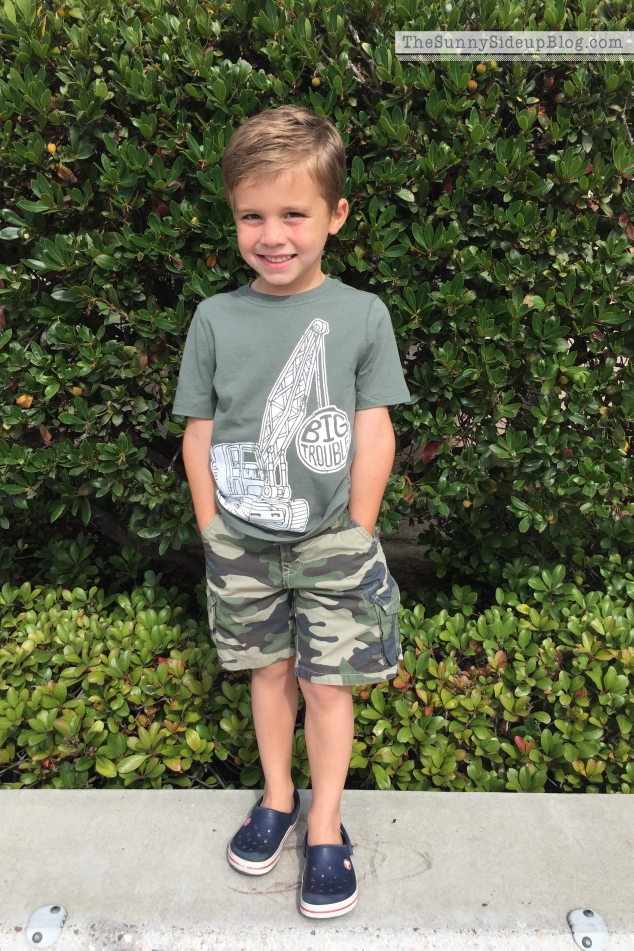 Really I just wanted camo's to match my little man.  Who doesn't look so little in this picture!  First day of Kindergarten camp this summer. (I get most of his shorts from Gap or Old Navy.)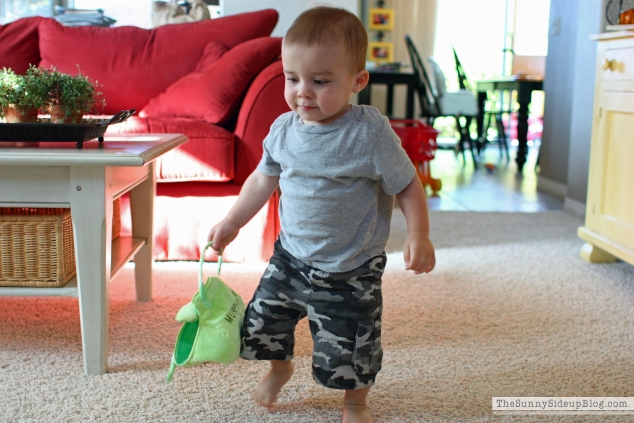 I've been dressing him in camo shorts since he was born!  What a little stud.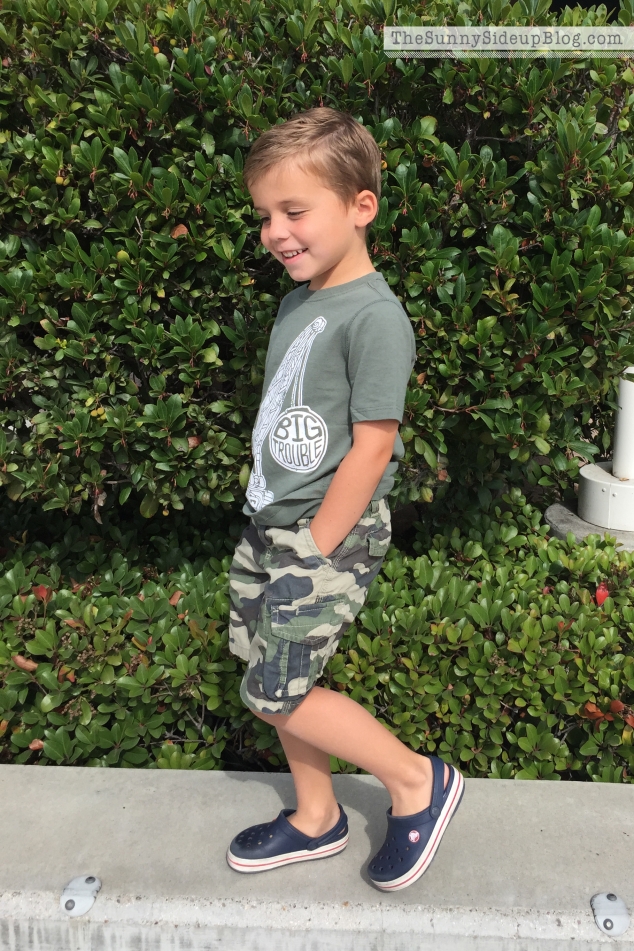 I can't believe how big he is getting.  I'm gearing up for his first day of Kindergarten this year.  I don't think one box of tissues will be enough!  I'm bringing two boxes for back up.  When I'd drop him off at camp he would walk in a line with his little class through some trees before going inside to his classroom.  The first day I kept waving and blowing kisses and he kept waving and blowing kisses back along the whole trail through the trees.  So from that day on he'd say "mom! be sure to wave to me through the trees!"  It became our little routine.  Waving to each other and blowing kisses through the trees until he went in the door and I couldn't see him anymore.  This boy has my whole heart.  And then some.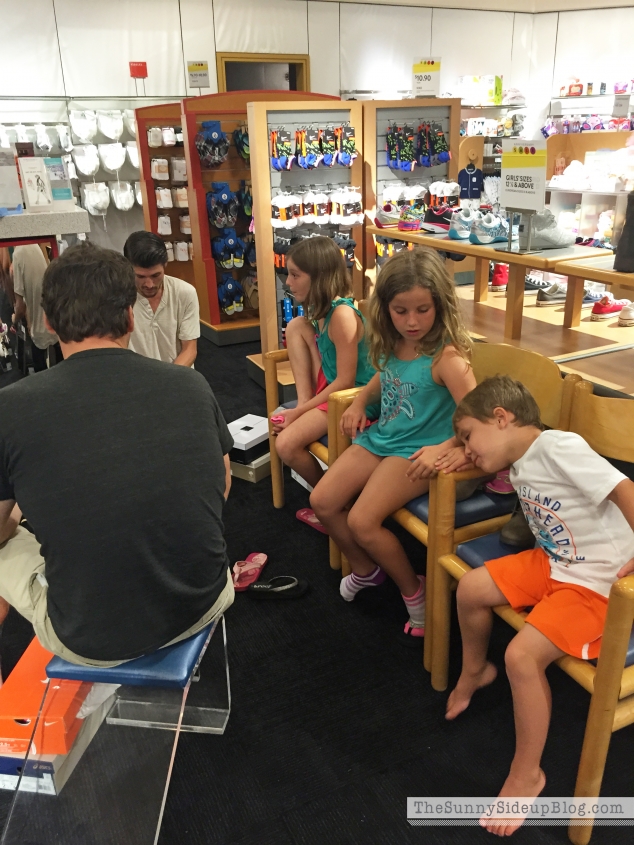 Speaking of my little man, I took him and his sisters to Nordstroms to look at school shoes before the sale was over.  You can tell how excited he was to be there.  :)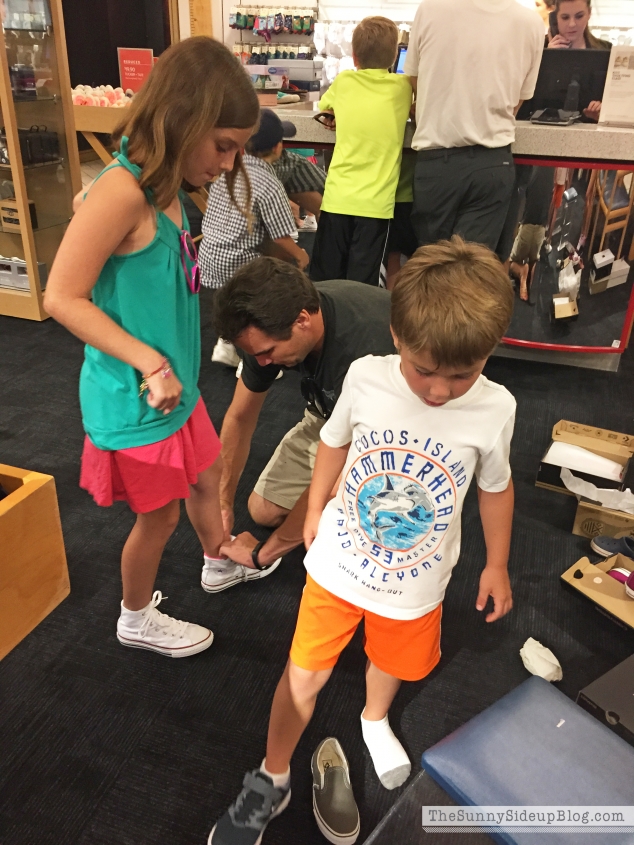 I always make my husband come shoe shopping with me when I take all three kids.  Shoe shopping with kids isn't for the weary!  Backup is essential with my crew.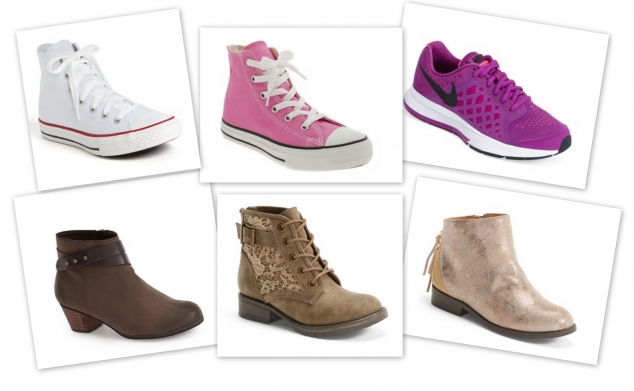 These are what my girls loved and came home with for the new school year (all on sale!).  El was all about Converse shoes this year.  She had a black pair last year and lived in them so we got her a white and pink pair this year.  Ad fell in love with these cute purple Nikes.  Normally $80 on sale for just $52!  They will be good running shoes for PE and her running club.  El also fell in love with these cute Track booties.  I told her I was worried about the heel but apparently "all 6th graders wear heels mom!"  Pre-teen.  I'm not ready for what's ahead.  Addison and I both fell in love with two pairs of boots.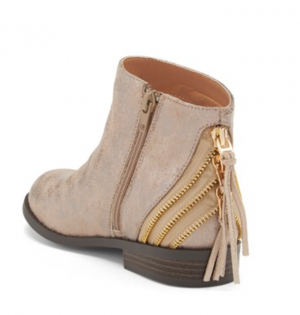 These Savina booties were darling and we loved the zippers in the back!  But they were too big in the ankle and just didn't fit her right.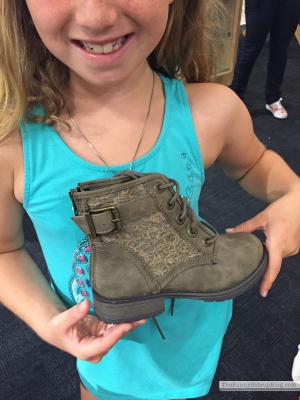 We ended up going with these Jhale boots.  SO cute on her and a really comfortable fit.  She was thrilled.  :)



Favorites for my little man!  We ended up coming home with the grey Flex Nikes.  Bummed they weren't on sale, but they were just the best fit and perfect for all of the running Kole does in a day.  Plus I'm all about velcro with Kindergartners.  Laces add too many minutes to the morning routine.  :)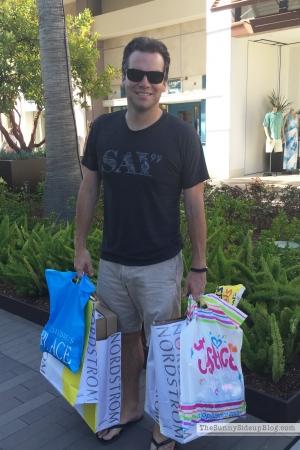 My husband is such a good sport to hit back to school shopping with us every year!  I snapped this pic when we were done and my girls said "that's a fake smile dad!  Show us how you really feel!"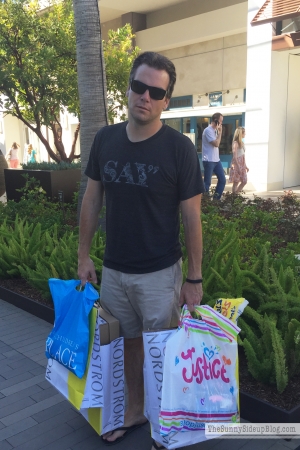 And then his true feelings about the day came out.  Ha!  :)  Like I said, he is a really good sport.  He came home and took a two hour nap after our trip.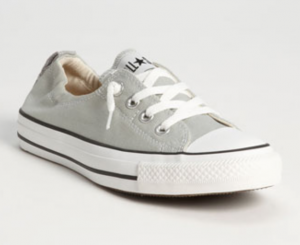 A while back I decided my kids shouldn't be the only ones who get to wear Converse!  I've LOVED these grey sneakers!  My favorite part about them is the way they gather in the back.  I have narrow heels and they never slip off at all!  Such a perfect casual staple.  They are really comfortable.  I've loved them this summer!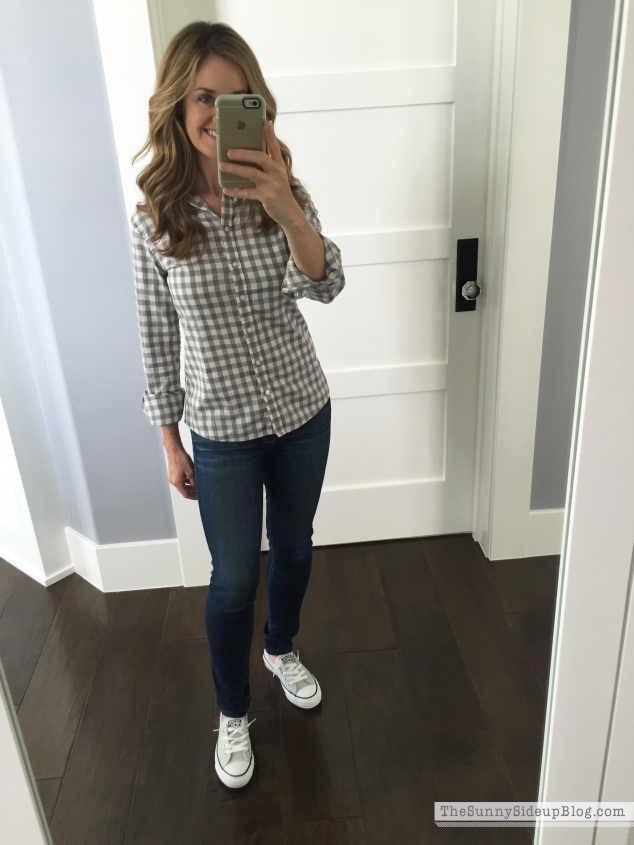 I paired them with this gray flannel from Banana Republic (similar shirt here) to see how they'll look with something more Fallish.  (I also love this plaid shirt on sale now!)  These shoes run BIG so order at least a half size smaller than you normally would!
A few more of my favorites from the sale before I sign off!  These are all sitting in my on-line cart.  I've spent more than enough so I doubt I'll buy any of them, but I may have mentioned to my husband that I have a few gift ideas in my Nordstrom cart if he wants to take advantage of the sale!  I'm sure he can't wait.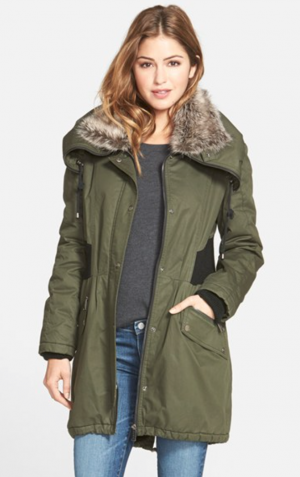 This Faux Fur Trim Parka is DARLING!  I would have absolutely bought this if I lived in a place where I could actually wear it more than twice.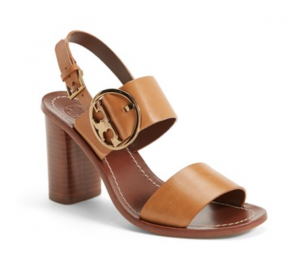 These Tory Burch Sandals cost more than I would spend on a sandal.  But oh my word.  LOVE them!!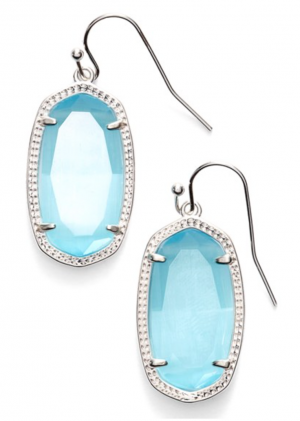 I bought the Kendra Scott Tassel Necklace on sale in this color so I'm crossing my fingers these matching earrings show up for a gift at some point.  :)  They are a great price right now!  Hear that babe!?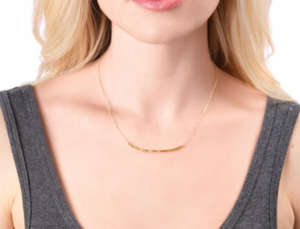 I also love this Tanner Small Bar Pendant Necklace that's on sale.  Seems like it would look good with everything.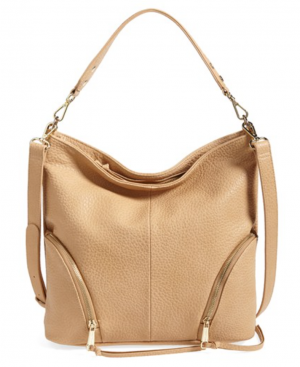 And this 'Round Zip' Hobo Bag is really wishing it could come home with me.


Did you make it though that post!?  Fashion is too much fun.  Clearly I could ramble on about it for longer than you all care to listen!  (Or should I say read..)  In any event, I hope I gave you a few ideas if you want to take advantage of the last few days of the Nordstrom sale!
Enjoy your weekend everyone!  And happy shopping.
:)
{affiliate links used}
xoxo, Erin