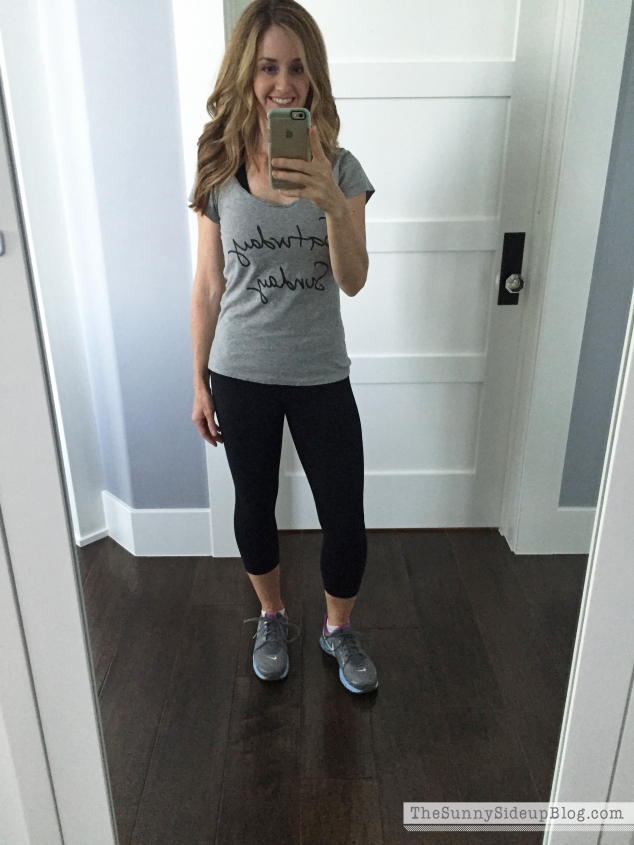 YEA!!  It's Friday!  So excited for the weekend!  I haven't done a Fashion Friday post in such a long time!  (You can see past Fashion Friday posts here.)  But I found some really fun things at the Nordstrom Anniversary Sale and have to share them with you!  The sale goes public today and it's a good one this year.  I snapped this picture above a few days ago to share with you my typical wardrobe these days.  Honestly I have made a bad habit of living in workout clothes.  I exercise in the morning and then get busy and run around in gym clothes all day.  Now that things have settled down and our new house isn't taking so much of my time I'm trying to make more of an effort to actually get dressed in something cute for the day!  You'd think that would be an easy thing..  :)
Quick sidenote.. if you do need some new workout clothes, the pants I'm wearing in the picture above are Zella and they are my favorite!  You can find them here and other Zella workout clothes on sale here.  If I hadn't just blown my budget on shoes I wold be picking up more of these pants for sure.  My Nike's have also been a staple for me and there are lots of cute colorful Nike's on sale now too.  K.  Moving on!


Here is a new outfit I just bought and the pants and top were both on sale!   The shoes weren't but are still a great deal.  These are the Jolt Utility Jogger Pants in Olive and they are so comfy!  I love that I can make them casual or dressy depending on the shoes and top I pair them with.  They are normally $48 and are now just $31.90!  The top is the Hardware Keyhole Cap by Vince Camuto and is such a great fit.  Normally $59 on sale for just $38.90.  The shoes are the Phoenix Wedge Sandal in gold.  Most of my shoes have some height because I'm a shorty and like to be taller, but I needed some cute sandals that were lower for everyday running around with the kids.  These are fun because they're casual, but also nice enough to wear out at night.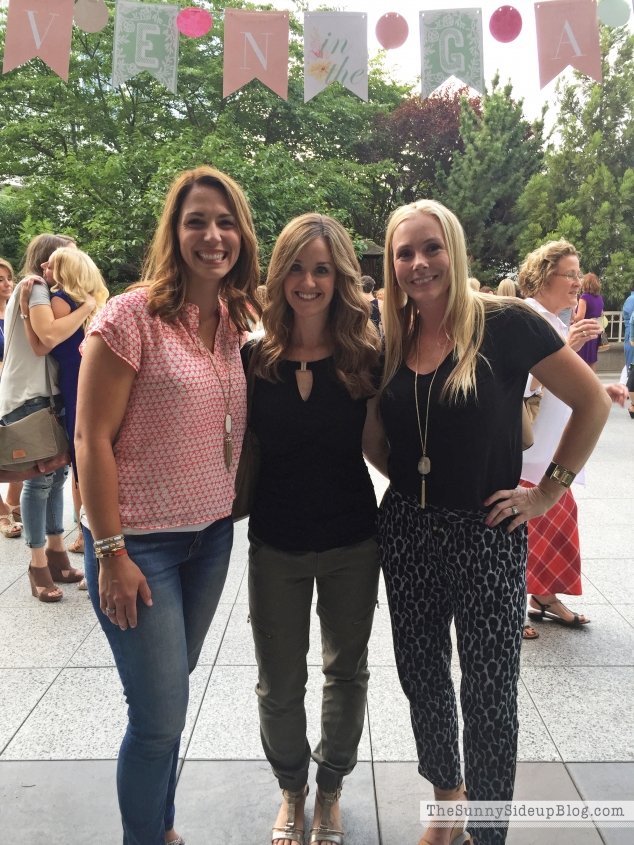 Here is a pic in this outfit I just took tonight!  I'm writing this post in my hotel room in Atlanta.  I'm at the Haven blog conference!  My very first blog conference and I'm so excited for the weekend!  I'm here with my cute friends Gina and Jen and we had so much fun meeting with other bloggers tonight.  I was a little nervous at first, but everyone has been SO nice.  Now I'm just excited.  :)
Sidenote – if you look at my friend Gina's necklace (on my left) it has been one of the most popular sale items this year!  It's Kendra Scott's Stone Tassel Pendant Necklace and it sold out in stores so fast!  I know because I tried to call and get it in three different Nordstroms in San Diego and it was gone so I'm ordering it on-line.  It comes in so many fun colors and goes with everything!  Normally $80 on sale for $52.90.  Fun gift idea too!  I know it will be one of my go to favorites.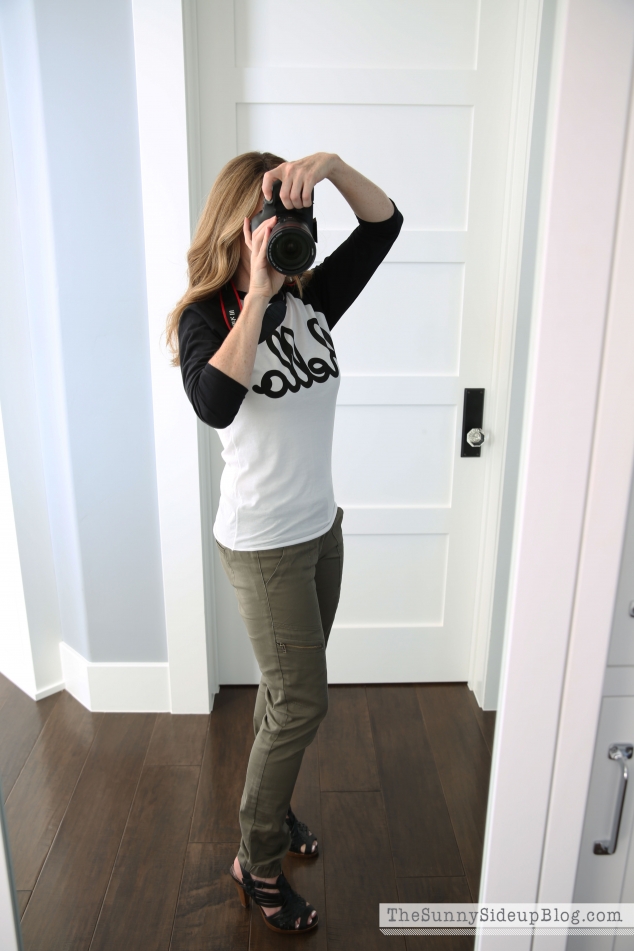 One more pic of my Jolt Utility Jogger pants with a different top and shoes so you can see the fun zippers on the sides.  Still can't believe these pants are only $30 bucks.  I'm tempted to buy another pair in a different color.  

Speaking of pants, here is a pair I've lived in this summer.  These Roxy Oceanside Beach Pants are so light weight and comfy.  They are long on me (most pants are!) but with my wedges they work.  :)


I was packing for my trip last night and took some quick pictures of a few of my favorite necklaces I've been wearing lately.  This one is new.  It's the BP layered Pendant Necklace and I love it!  Layered necklaces are all the rage right now.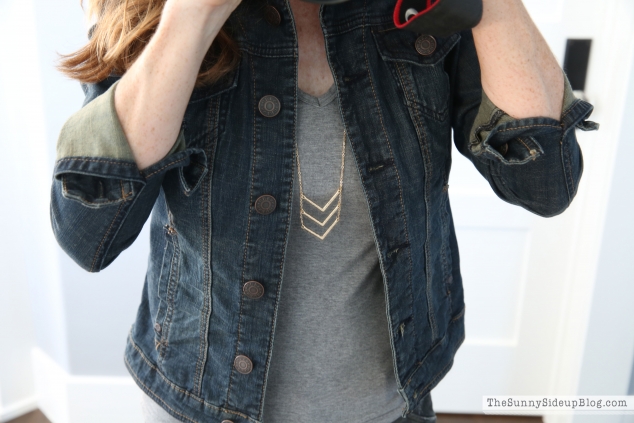 This necklace I've had for a while but it's also a favorite.  The Triple Chevron Layering necklace is only $16!


This Bar Lariat necklace is fun too.  I got it in silver but it also comes in gold.  I've had this one for a year and wear it often!


This year was all about the shoes for me!  I haven't bought new shoes in quite a while so I picked up a few new pairs on  sale and now I'm set for Fall!  And Summer and Winter and Spring where I live.  :)  Here are the links to these shoes in order from the left:
'Laurel' Peep Toe Bootie – oh my word.  These shoes were love at first sight!  Not practical for every day but so much fun for date nights.  They fit true to size.  Seriously SO in love with these shoes!  I might fall flat on my face in them but I'll look cute doing it.  ;)
'Ashton' Leather Wedge Ankle Bootie – Normally $129.95 on sale for $84.90!  So cute and practical for Fall (really comfortable and true to size).  There are a lot of fun booties on sale right now and as soon as the sale ends they'll go back to full price so even thought it's hard to think of boots in hot weather now is the time to get them.  This pair was my favorite!
Michael Kors Wedge sandal – I've shared pics in these for years.  A staple for me!
Phoenix Wedge Sandal I shared above.  Love them.


This isn't a great pic but I wanted to share the shoes from the side so you can see how tall they are and what they look like from this angle.  My favs at Nordstroms right now!


Two other favorites of mine I'm wearing in this picture that are also on sale right now.  This striped V-neck pullover (similar to the top I have on in this picture) and Hunter rain boots!  I got this grey pair of Hunters for Christmas last year and only got to wear them a handful of times because we've had such little rain.  Praying for more rain next year!  We need it for the drought.
And of course so I can wear my Hunters.  ;)
Hope that gives you a few fun ideas for Nordstroms sale items you might want to pick up!  Let me know if you like the Fashion Friday posts or not so much.  I'm far from a fashion expert and sometimes I feel silly taking pics of myself in front of the mirror, but I love getting ideas from what other people are wearing!  If you do too I'll try to share what I'm wearing and loving more often.  :)
Well I'm off to bed. Excited to take in Atlanta tomorrow!  Enjoy your weekend everyone!
xoxo, Erin