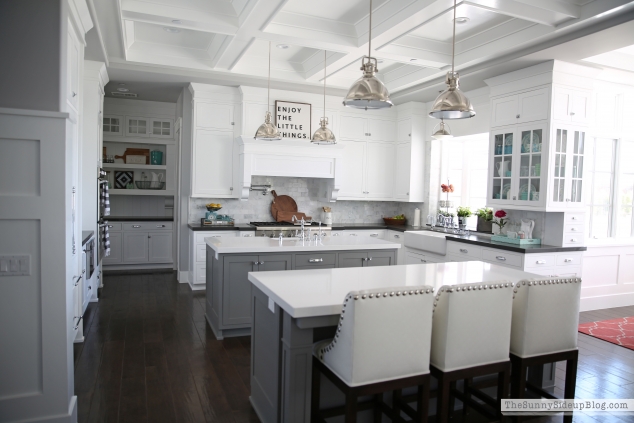 Happy Wednesday!  I hope you all had a nice 4th!  We are back from Utah and had such a fun trip (hoping to share a few pics soon).  I'm slowly trying to re-engage and get on top of things around my house.  Lots of laundry and food prep and cleaning!  It always takes me a few days after a family trip to recover.  Sometimes I feel like I need a vacation to recover from our vacation!  That's why I call travel with kids "family trips" and not vacations.  While they are fun, you often come home more tired than you were before you left.  :)


Remember back in January when I made a plan to organize my home in 12 months?  Still loving my monthly list!  I'm a little behind (A LOT behind as far as sharing pictures on the blog) but I'm still following along and clipping away at different spaces when I have an extra 10 or 20 minutes.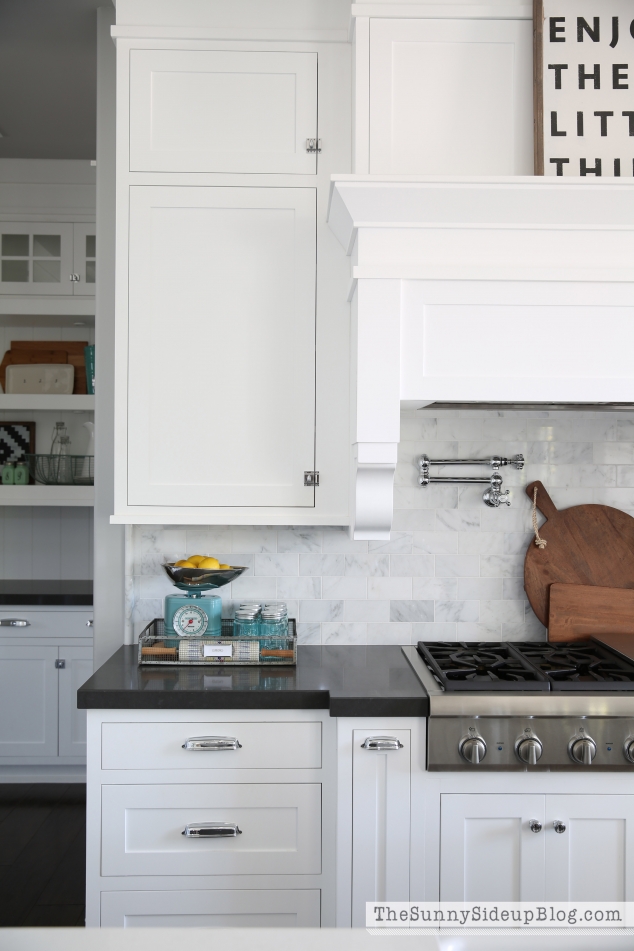 One of things I wanted to tackle under my kitchen to-do list was my medicine cupboard.  See that cupboard above my kitchen scale?  When we moved in the house I tossed all of our medicine/first aid things inside, closed the door and it was a mess for over a year.  I took a really good before picture with my phone and now I can't find it!  (I'm bummed because it would have made the after look so much better!).  You'll have to trust me when I say it was a mess.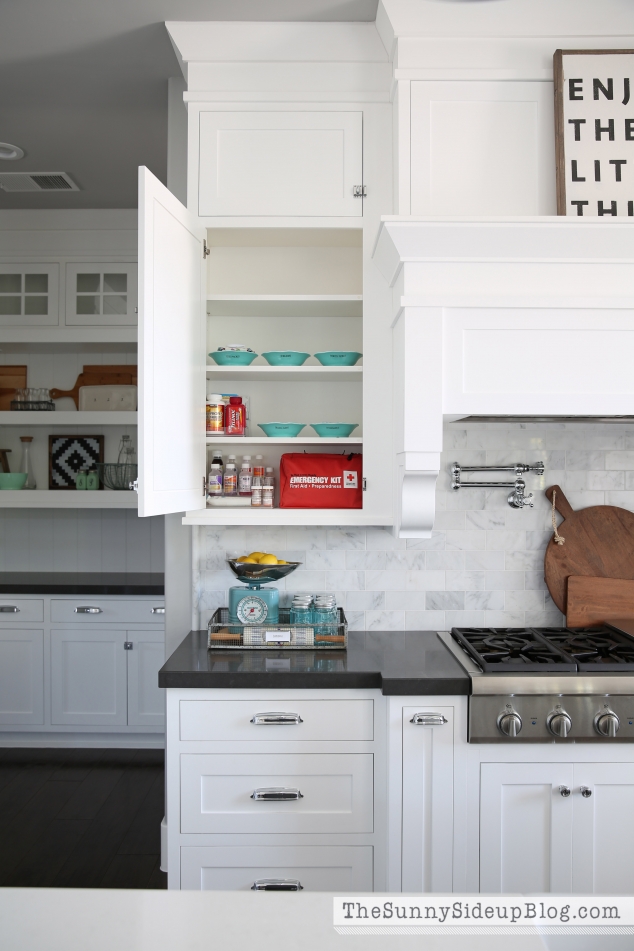 But not anymore.  :)  I took everything out and spread it all on the counter.  Got rid of anything old/expired (tips on how to dispose unused medicine here), wiped out my cupboard and then had fun putting it all back together.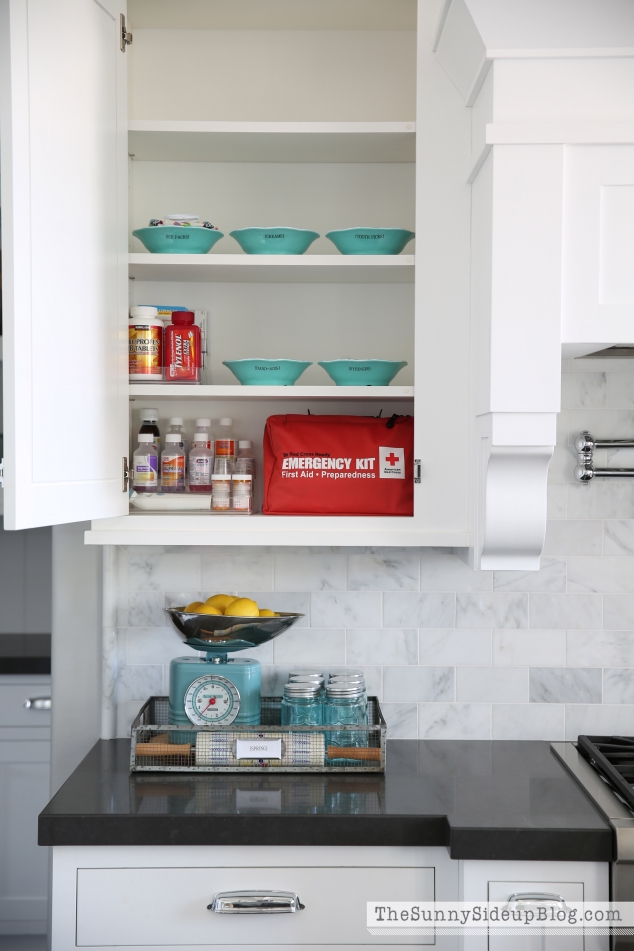 Isn't it pretty!?  I was shocked at how much extra space I had once I organized everything.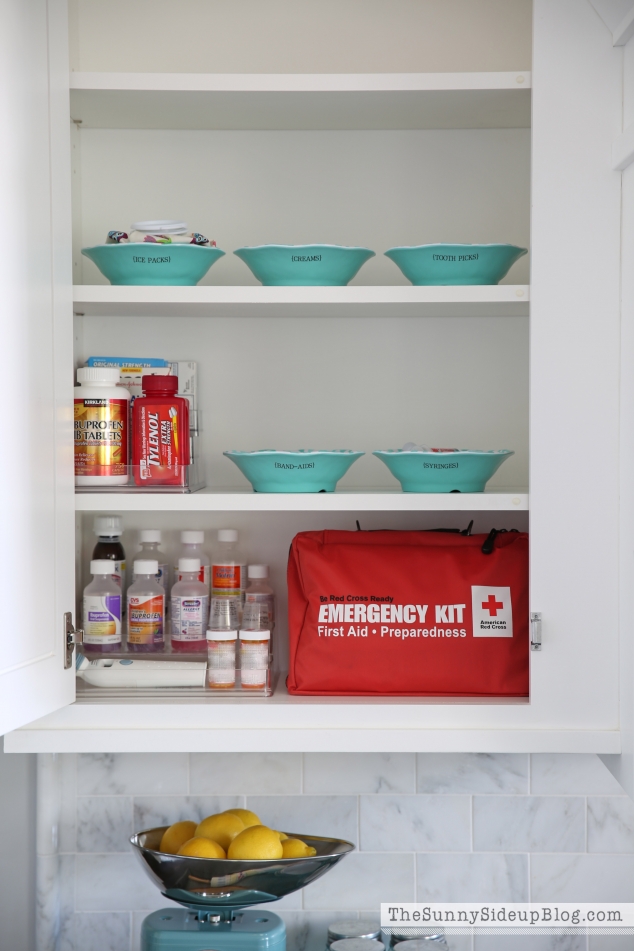 One of my favorite organizing tools are these tiered cabinet organizers.  You can find lots of styles/sizes on Amazon and they don't cost much.  They are major space savers and because we lived in small spaces for years before we built our current home I had them in cupboards all over the house!  I'm using the first row to hold any current medications and our thermometer (love having that close by when I'm suspecting one of the kids has a fever!).  The next two rows hold other medications for kids.  I was laughing at how many duplicates I have!  When your cupboards aren't organized you can't tell that you already have four bottles of children's tylenol and don't need to buy another one.  :)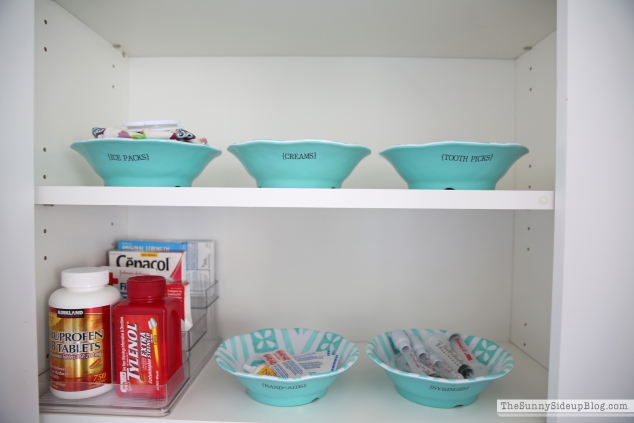 The tiered stacker on the second shelf holds extra medicine – cough drops, etc.  These bowls aren't a great idea if you're short on space, but if you have the room like I did in this cupboard, bowls are a great way to organize things.  I bought these bowls for two dollars each from our grocery store and they are perfect to hold random extras.  I used my label maker to label the bowls for small ice packs, creams, toothpicks, band-aids, etc.  I often get questions about my label maker.  You can find it on sale right now here!  LOVE that thing.  But you all knew that.  :)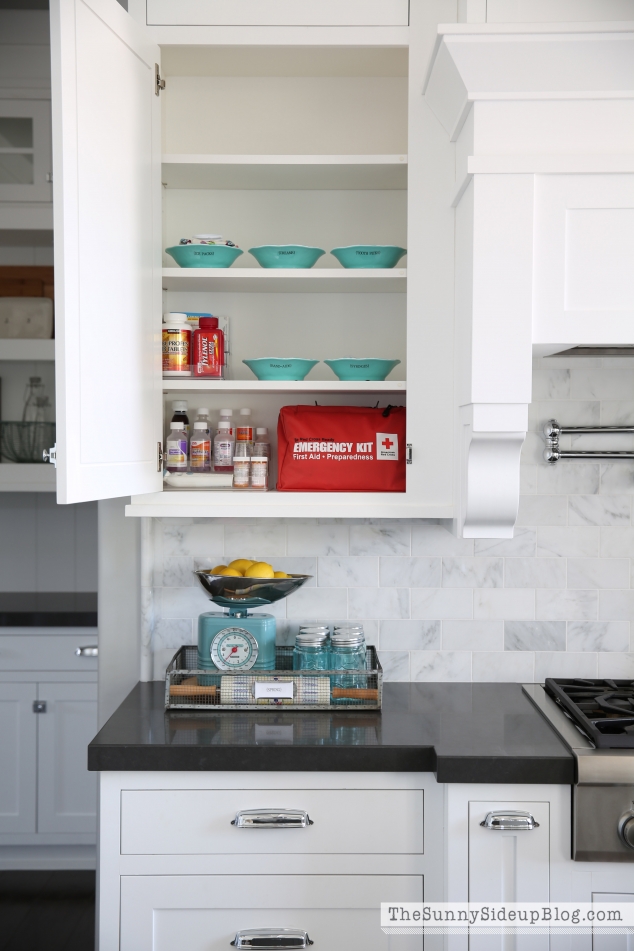 I debated taking everything out of our first aid kit, but it's organized so nicely inside the red bag I decided to leave it.  Plus it's nice to grab the whole bag and toss it in the car if we are heading out somewhere for the day.  We bought it at Costco years ago and it has been a lifesaver with the kids!


So there you go!  Most of the time this cupboard is closed, but now when I open it…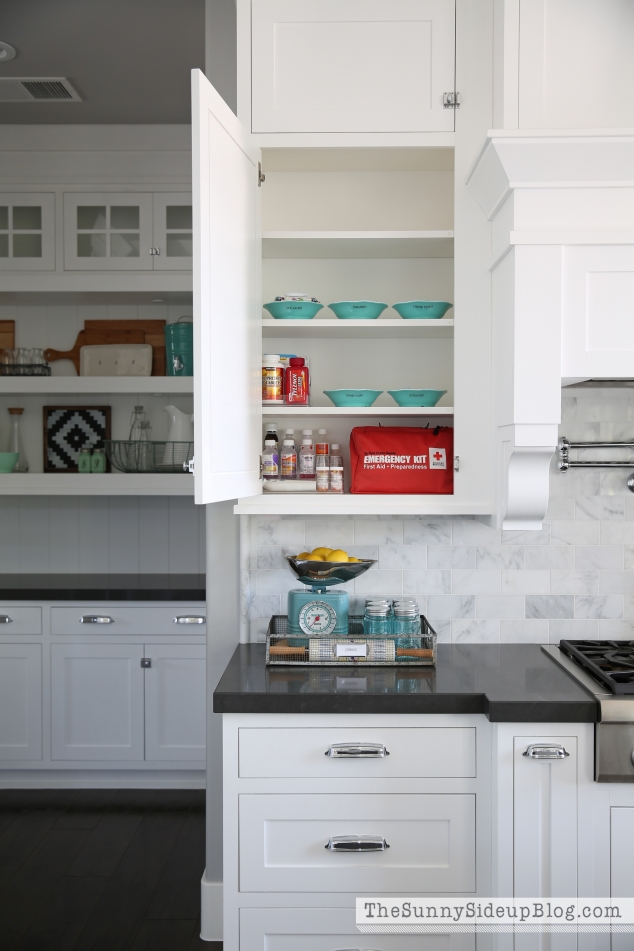 Ahhhh.  I feel peaceful and calm.  And I can find what I need immediately.  And I've stopped buying Children's Tylenol.
The world makes sense once again.
:)
xoxo, Erin