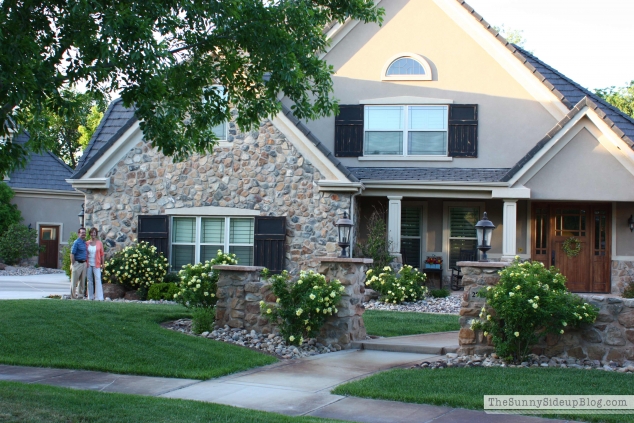 I hope you're all enjoying your summer so far!  We are having a fantastic week at our #1 getaway.  A place where food is bought and cooked for me, babysitting is readily available, my kids are forever content and everything in sight is a walk down memory lane.  Mom's house.  Ahhh.  Love it here!  Isn't my parent's home beautiful!?  It's just as cozy and welcoming on the inside as it is the outside.  We spend a week here every summer and aside from the dreadful heat (San Diego weather has spoiled us!) we love everything about our time here.  Yesterday my parents celebrated their 41st wedding anniversary.  41 years! They are such an amazing example to me of what real love is all about and I loved being here for their special day.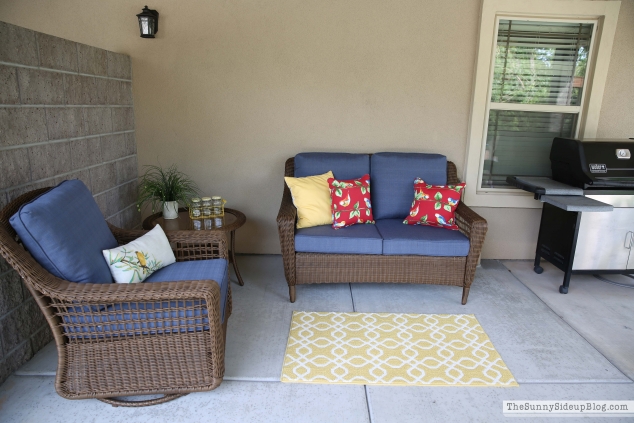 My cute dad bought some outdoor furniture from Home Depot for my mom to celebrate.  They have this corner next to their BBQ that was begging to be a place to sit!  My dad unloaded the new furniture and set it down and then my mom said she'd have to buy a few things to spruce it up.  I told her to give me 5 minutes and ran in the house!  Then I went shopping.  Shopping in my mom's house is something I've become extremely skilled at over the years.  Her house is full of treasures just waiting to be discovered!  It's my duty of course as the oldest child to discover said treasures and put them to good use. Usually in my own house.  :)  I take one for the team because I'm nice that way.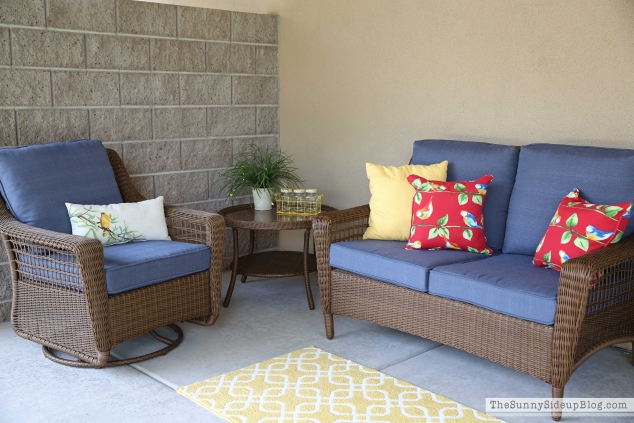 After 5 minutes I came outside with some pillows, a rug, a plant, some jars  and… ta-da!  New furniture set was decorated!  Not bad for just rounding up odds and ends if I do say so myself.  :)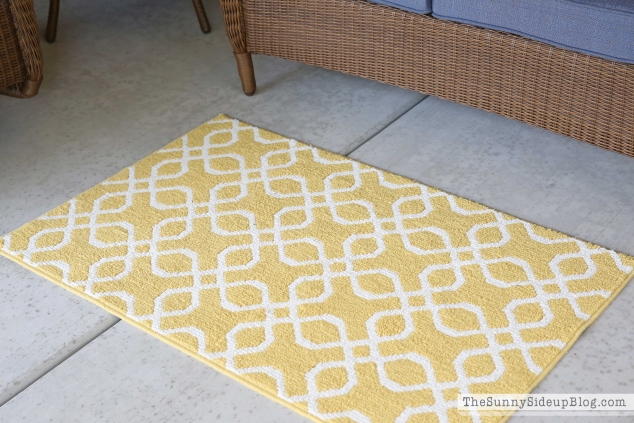 Isn't this yellow trellis rug cute!?  It's from Target!  My mom had it by her garage door where hardly anyone saw it.  It added such a fun pop of yellow to this space!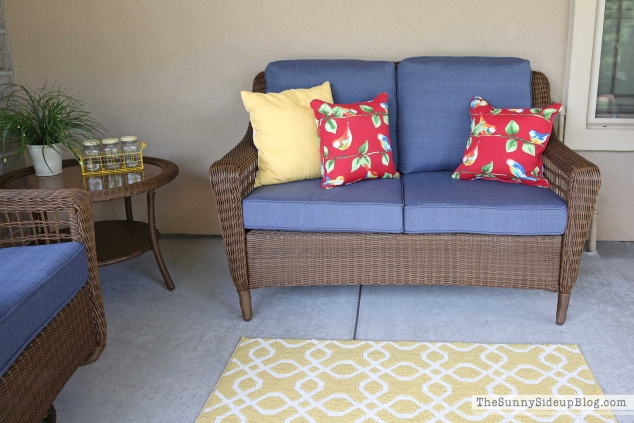 The red bird pillows are from TJ Maxx.  They were on some other random chairs, but really pop and come alive on this outdoor denim.  The yellow pillow is actually this cute trellis pillow also from Target turned around.  With so much pattern in the rug and red pillows I wanted a solid background.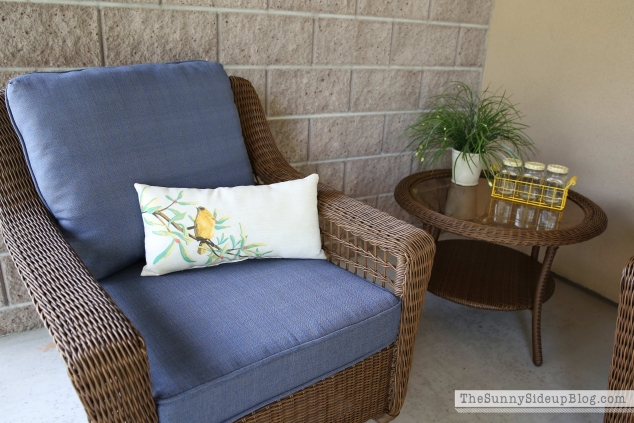 Isn't this little bird pillow perfect for the chair!?  (Clearly my mom is a fan of birds.)  Also from Target!  Target you are not disappointing in the pillow/rug department this year.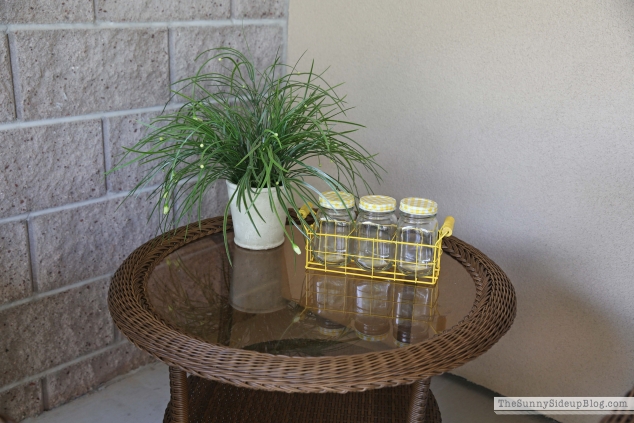 I'm sure my mom and I will find lots of fun items to add to this table, but for now this simple plant and festive yellow jars (a Home Goods score) work great.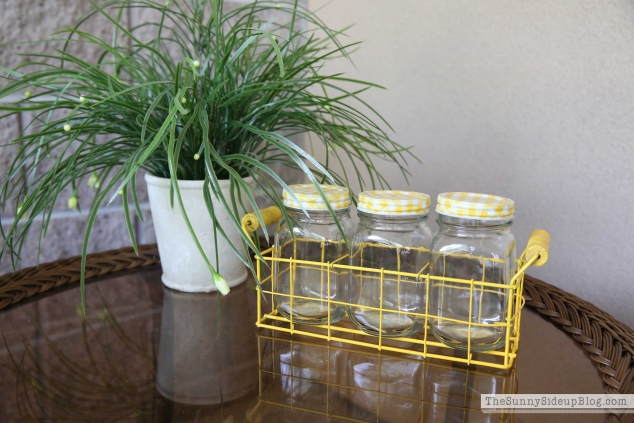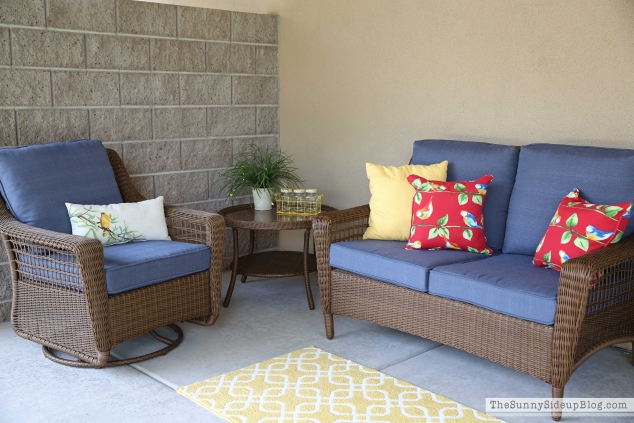 So there you go!  Colorful and inviting.  My parents loved the mini makeover which made me so happy.  My mom keeps going outside to look at it and just smiles.  My dad (who's job in life is to tease me) said "well.. it's not Restoration Hardware, but it will do.."  I laughed and said "Dad!  You've been reading my blog!"  He just smiled.  "Occasionally."  :)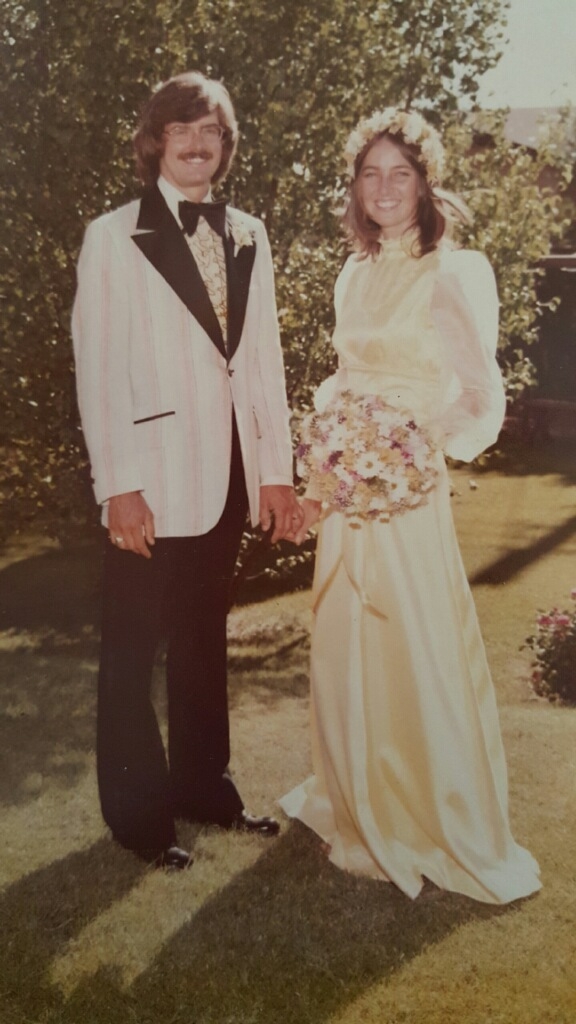 41 years ago.  My dad's outfit!


And today.  Love these two.
Oh!  And my mom wants me to tell you all that her laundry room still looks amazing.  She kept it organized for a year!  Mom.. we are all so proud.
;)
** More posts of my mom's house:
xoxo, Erin