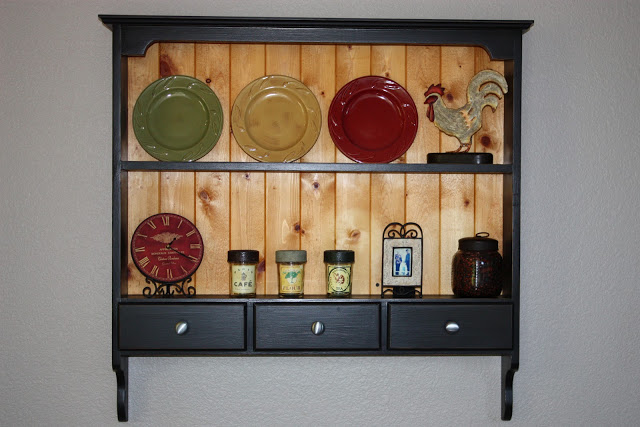 One weekend I took the first step by re-painting a wall and my shelf.
I can't even tell you how invigorating that felt!
It was a fun project and I was so in love with my new wall!
Even though it looked completely out of place and didn't match anything else in my house.
There was a chance that any day we would be putting our house up for sale.
Kenny thought I was crazy. My realtor thought I was crazy. I knew I was crazy.
I just didn't care. :)
Slowly I started making small changes to coordinate with my new wall.
Not wanting to spend a fortune, I just updated things with small purchases.
A dish towel here…a new vase there.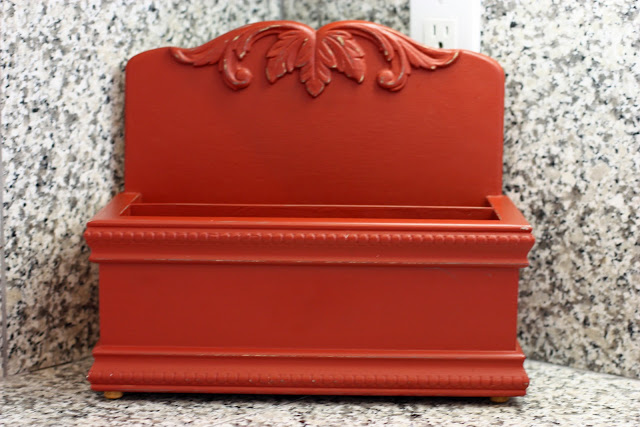 I also used my leftover wall paint to paint other things in kitchen that were previously red.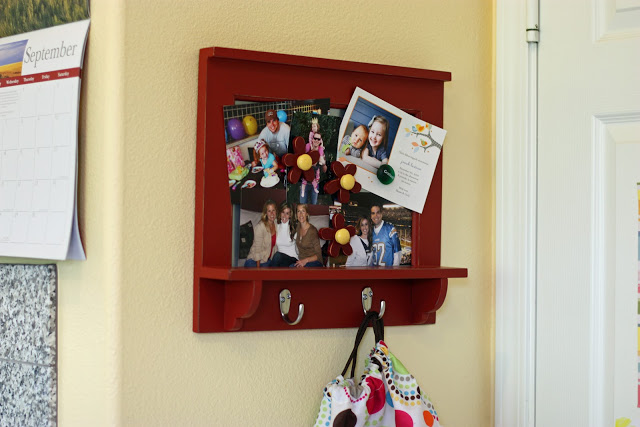 Magnet board in October.
Anthro apron was a fun addition. Even though I never use it, it sure looks cute. :)
And my magnet board today. Aren't the typewriter magnets fun!? I picked those up at the last Queen Bee Market. And I love that picture of my girls on the beach in Maui. Summer time. :)
It's simple because simple is appealing to me at the moment.
Our birthday spotlight was a fun addition. No cost since I just painted an old frame and used mini clothespins I already had on hand. (Clearly I got my money's worth out of that can of aqua paint!)
Swapping out a few dishes in my clear shelves helped pull together all of the colors in my kitchen.
And the mantel has gone from red and black…
to the blue/yellow/white combo as well.
It was also fun to switch out ribbon and paint my black frames yellow taking them from drab…
to fab. (Or at least from dark to light.) :)
Summer decor isn't complete without lemons.
So I added lots of them. :)
Kenny made me a happy wife when he bought me this Pottery Barn lamp after I had been eyeing it for months. I also added some fun summer lanterns from Z Gallerie. Eventually I want to move the lanterns to the kitchen and replace the clock. One thing at a time…
And my latest update: adding the magazine organizer from Ballards.
Something that looks as beautiful as it functions. My favorite kind of decor!
My last decorating project that I am currently working on:
Above my kitchen cupboards. This space is SO hard for me to decorate. It's a tall space so I have to have big, tall decor. Plus I have a hard time keeping it from looking too clutter-y. I hate too clutter-y. In my next kitchen that we are currently designing there will NOT be a big open space like this above the cupboards.
So far all I have are these plates I bought at Z Gallerie.
They look a bit small for the space. I need to bring in other colors and figure out what I'm doing here. I'll probably get it figured out and looking exactly how I want it just in time to move into our next house. :)
When I look back at all of these pictures I'm pretty happy about the transformation of my house over the past year. I have loved experimenting with different looks and have fun plans for the decor in my next house. (Like not going quite as overboard with aqua!)
Slowly, by completing one project at a time, my current home has become a place that makes me smile again.
And lucky for me, the rest of my family feels the same. HOORAY!
xoxo, Erin