My girls have been busy. Busy drawing, writing, and creating.
All of their creations make me so happy.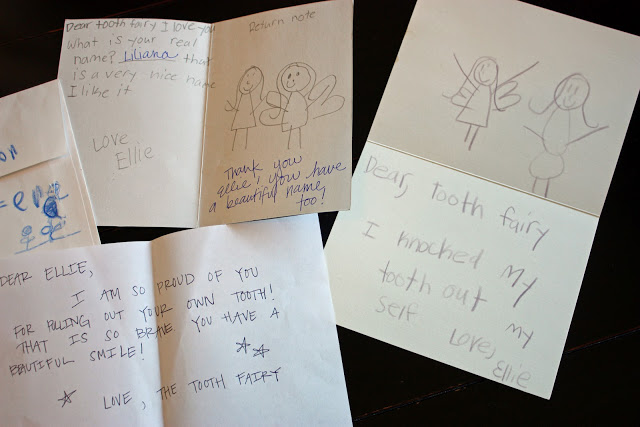 Ellie has been losing teeth right and left. She is getting to where as soon as a tooth gets loose she just yanks it out. Cracks me up! She wants the tooth fairy to visit so badly. Not for the money. Mostly just because she loves the tooth fairy so much. Ellie draws her perfectly. I envision the tooth fairy looking just like Ellie's drawings with long hair and beautiful wings. Did you know that the tooth fairy's name is Liliana? Ours is anyway. :) Such a fairy-like name, don't you think? Her handwriting isn't very consistent. And it's kind of similar to mine, in a non-consistent sort of way. Wonder if she knows that. I'll have to point it out to her sometime.
"Dear Tooth Fairy, I knocked my tooth out myself. Love, Ellie."
My favorite. :)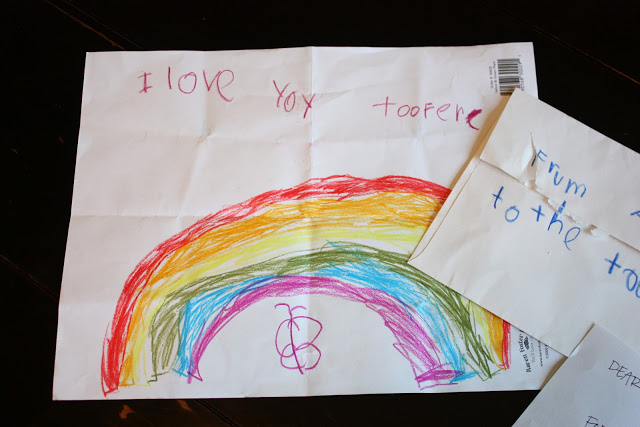 Of course if Ellie is leaving notes for the "toofere" so is Addison. She is counting the days until she loses her first tooth. I hope it's a ways away. I love her baby teeth smile so much.
Last weekend Ellie sat down at the table, pulled out the crayons and in half an hour presented us with this book all about butterflies…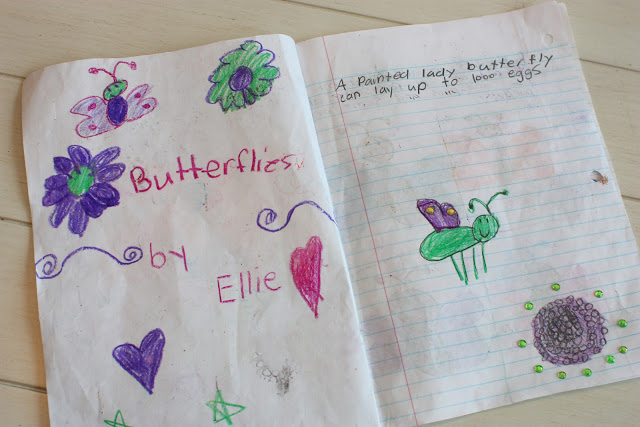 I think I need a close up of those bedazzled eggs.
Simply stunning.
That is one looooonng tongue on that butterfly on the right.
And my favorite page: "Hawks are enemies. They eat butterflies and think they are a tasty snack."
"Yikes" is right. Check out the hawk's angry eyebrows. He means business.
Kenny, Addison and I were all fighting over who gets to keep the butterfly book so Ellie has promised us more coming soon. Next up – "All About Puppies." Can't wait for that one.
Wonder if I can snag an autographed copy?
Addison made this page on a school computer today. It made me smile when I took it out of her backpack. Yes. Those are definitely the many feelings and faces of my Addie. She especially nailed the "angry" face. That one was a regular pretty early on…
(December 2008 – age 21/2)
There once was a girl
who had a little curl
right in the middle of her forehead…
(December 2010 – age 4)
You better not cry, you better not pout…
Clearly we were still working on the not pouting part.
Although I still give my Addison props for knowing how to look fancy while pouting.
Nothing better to me than a house full of my girls' creations.
They crack me up and make me smile every. single. day.
xoxo, Erin