Finally! I'm sharing my Spring mantel. But now Spring is almost over. So let's call it a Spring/Summer mantel, shall we? Yes. We shall.
Here is a look at last year's Spring mantel…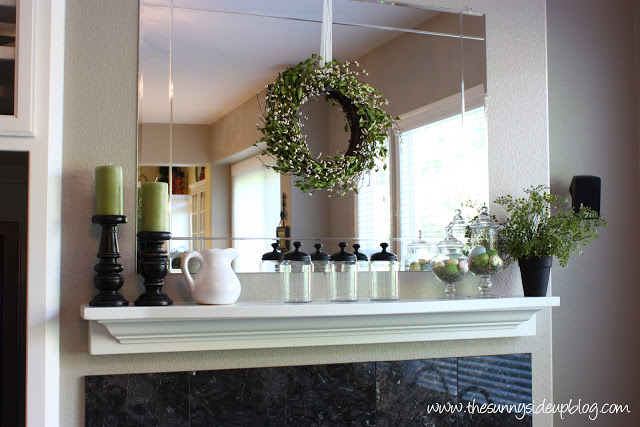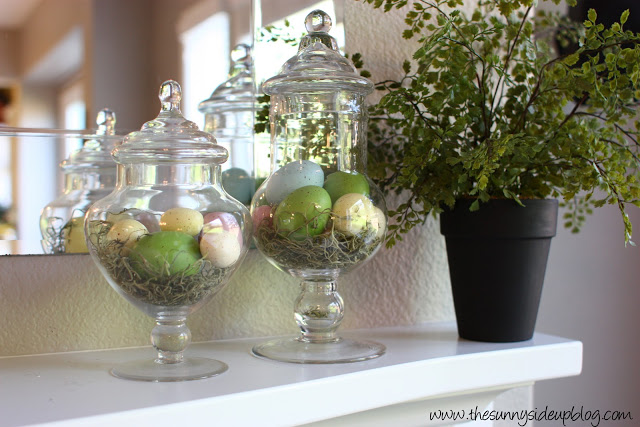 Notice the eggs in apothecary jars. I wanted to use my eggs in apothecary jars again this year. But eggs in apothecary jars in May? Not so much. So I'll shoot for getting my Spring mantel done a little earlier next year. Eggs in apothecary jars will be my incentive. I like them. :)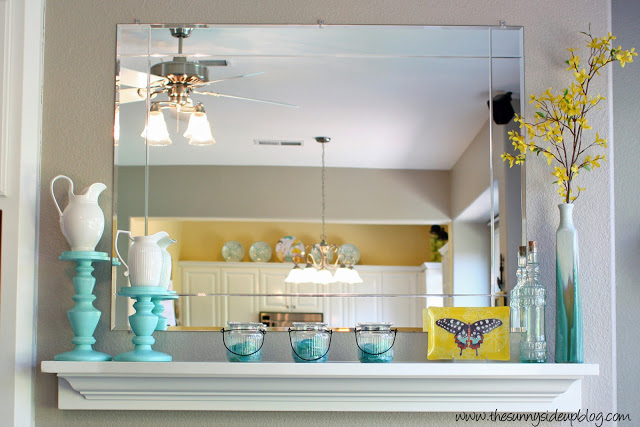 But instead of eggs in apothecary jars, this year I went with pitchers on candle sticks. This mantel should actually be titled the "thrown together in 20 minutes and still kinda bugging me mantel." I don't love it. I like it. But it's missing something. Some yellow on the left? Another color brought in? Something hanging in the middle of the mirror? I had this mantel put together so quickly back in March, but it just didn't look right so I waited and waited and waited to take pics of it. I tried random things at random times, but it just kept looking so… random.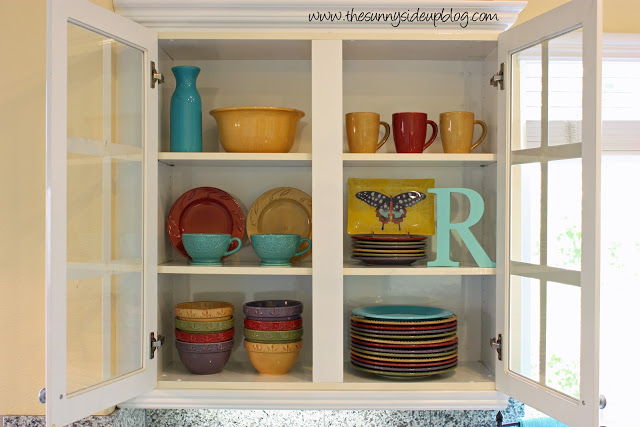 Finally I pulled the butterfly plate out of
my kitchen cupboard
, stuck it up, and called it DONE. And there is something so nice about DONE. Even if it's not done to my satisfaction. (Done = Satisfaction these days!)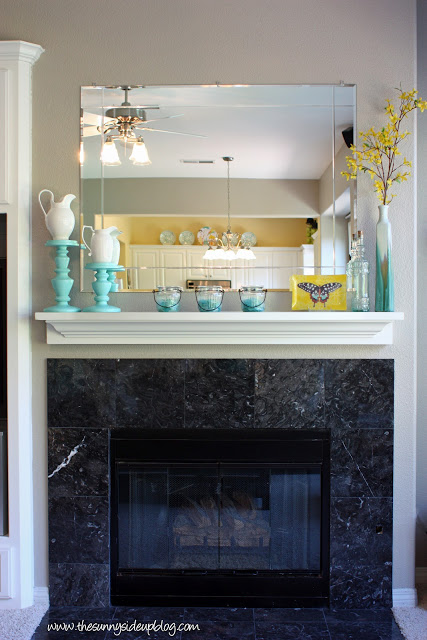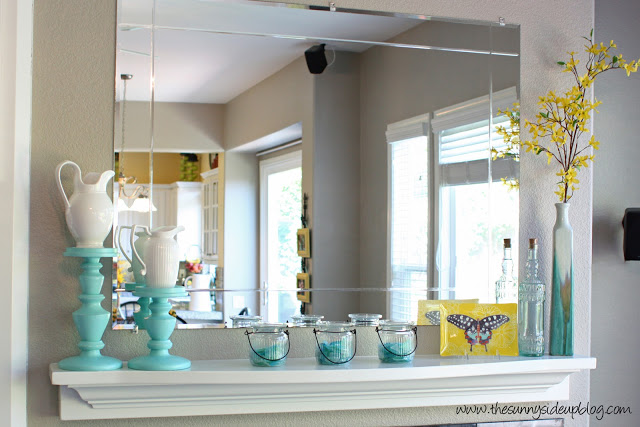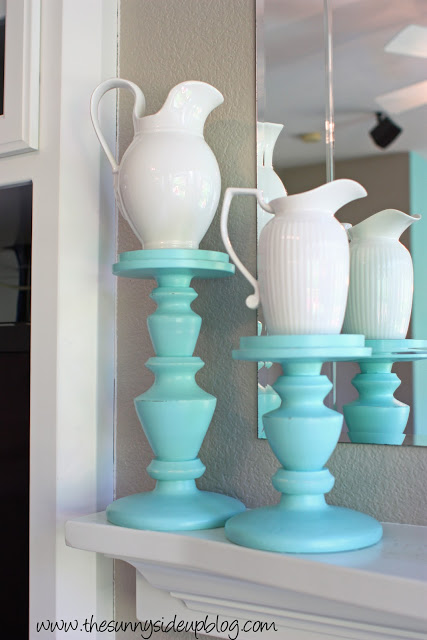 I love these candle sticks so much that I've had them up all year. Fun to display decor other than candles on them like I did in the Fall.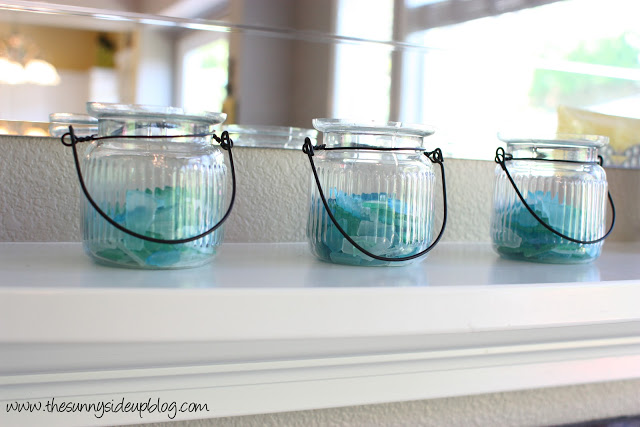 I bought these glass jars at Pottery Barn several months ago. LOVE them. While I was at it I also bought some sea glass to give the mantel a "summery" feel.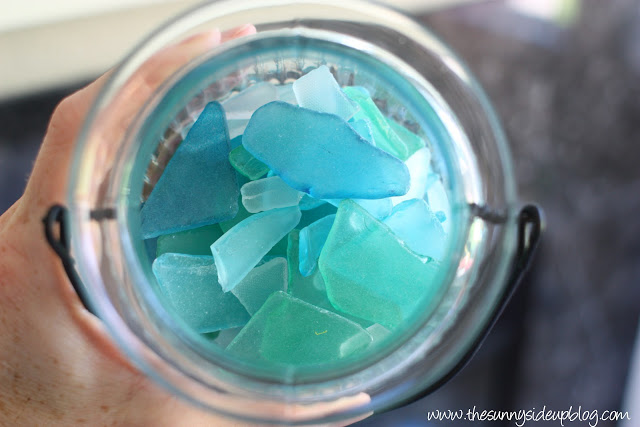 Aren't the colors beautiful!? I think I'm dangerously close to having too much aqua in my house at the moment. But I don't care. And I know it's so trendy. And I don't care about that either. It makes me happy. When I walk in my house and see all the aqua I smile. That's what I care about.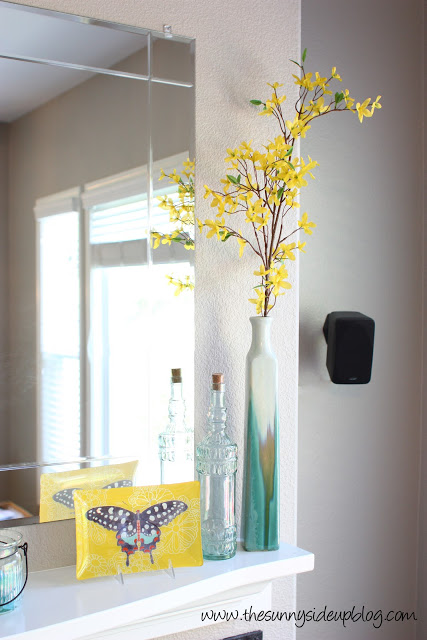 I'm loving clear glass jars/bottles right now so I tossed one of those on the mantel too.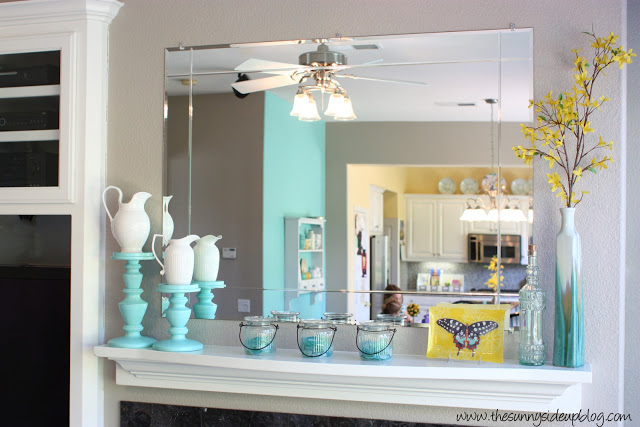 And that's a wrap on my "Spring/Summer – not in love with it but glad it's done mantel!"
Ever had one of those? :)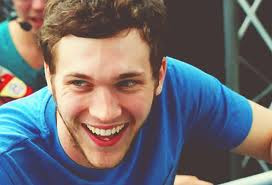 p.s. I think all three final contestants are amazing singers, but I have had a crush on this guy from day one. (Kenny's ok with it. He has a crush on him too.) Love his voice. Love his personality. Fingers are crossed Philip!! (I just caught up on American Idol while I finished this post and felt that needed to be said.)
And now I'm DONE.
xoxo, Erin