I hope all of you mothers had a great weekend! I think Mothers Day is my favorite holiday. Well. Christmas can't be beat, but Mothers Day is becoming a very close second for me. My girls were so sweet and Kenny was a real trooper this weekend. They did their best to make sure I felt special. (Kole was up to his usual tricks, but he is saying "ma ma" and a few other words now and that is gift enough where he is concerned!) Kenny woke up with the kids at 6:30 Saturday morning so I could sleep in. Kole was screaming around 7:00 and woke me up, but that extra half hour was still a bonus. (You take what you can get when you're the mom, right?). I was then greeted by these lovely signs going down my stairs:
When I followed the signs and went "this way down the stairs" (instead of the other way down the stairs?) I found my cute family with breakfast made and a few more pictures hanging on the wall…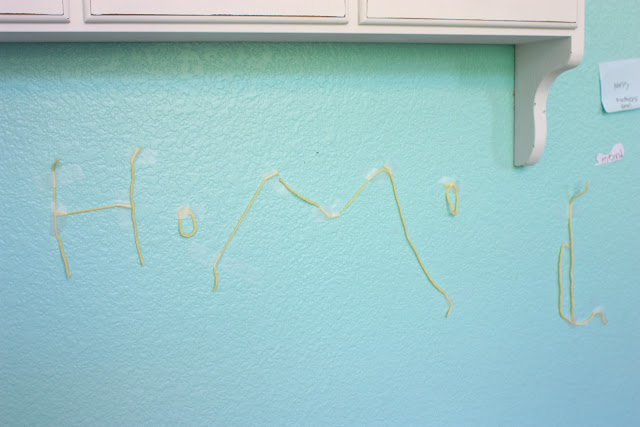 This was a favorite. Apparently the girls were trying to spell out "Happy Mothers Day" in yarn but it was taking too long. So they just did the initials H M d and added some periods (that look like o's) in the middle instead. Kenny and I had a good laugh coming up with a variety of things this could stand for. :)
I also received some beautiful cards along with hand made gifts.
My girls' handwriting and pictures are always a favorite.
(So glad you love my "hairdue" Ellie.)
(And Addison, I love you so much too and I "em gad dat" you are my daughter.)
:)
Soon after breakfast Kenny took all three kids to the park for the morning. I enjoyed some nice alone time that included a bubble bath. It has been YEARS since I've had a bubble bath in my tub (pre-Kole era). It was so nice. Amazingly nice. The house was so still and quiet. I dimmed the lights and lit my candle and then took my time getting ready after. BEST mother's day gift ever (aside from my treasured cards). Then later that day Kenny and I went on a date to look at wood floors! K maybe
that
was the best mother's day gift ever! You know when you get so giddy/excited about something that you have a hard time talking without your voice coming up in your throat and squeaking? That was me for two hours in the flooring store. No joke. I had the best time! I knew exactly what I was looking for and found two options for our wood floors that I am
so
excited about! We also looked at a few options for carpet and bathroom tile. Kenny was great in the store. Just stepped back and let me take over. Now that the floor plan and landscape design are for the most part behind us he could care less what I put in this house (as long as I'm staying on budget of course). I have a feeling we are getting to a place where he will stop joining me on these trips. His voice doesn't squeak when we walk in a store full of flooring material.
After doing our "house homework" we went to dinner. I decided on Outback. Kind of obsessed with their sauteed mushrooms lately. Then today was another great day of being pampered and showered with cards and hugs from my sweet kids.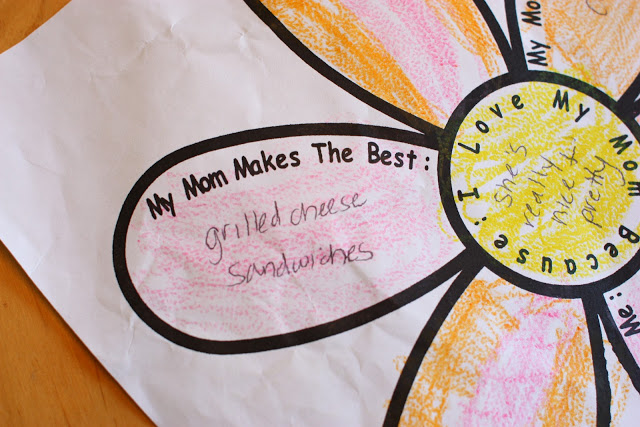 Addie's teacher in church helped her with this pretty card. What can I say – I make a mean grilled cheese sandwich. But if you've read my blog profile you already knew that. :)
And one more treasured letter from my Ellie…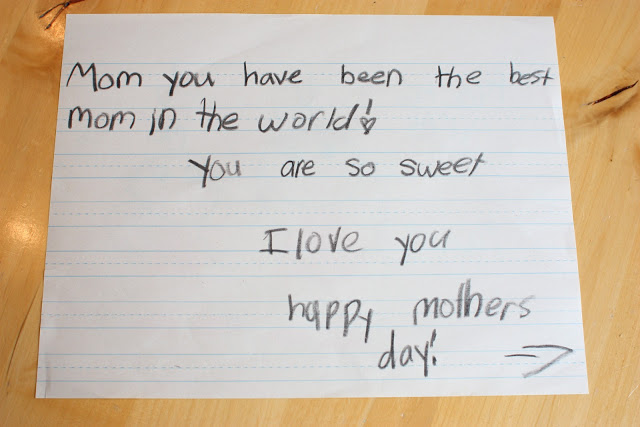 Loved the front…
Especially loved the back.
People tell the two of us how much we look alike all the time and we love it.
I guess we are freckle girl twins. :)
Lucky me.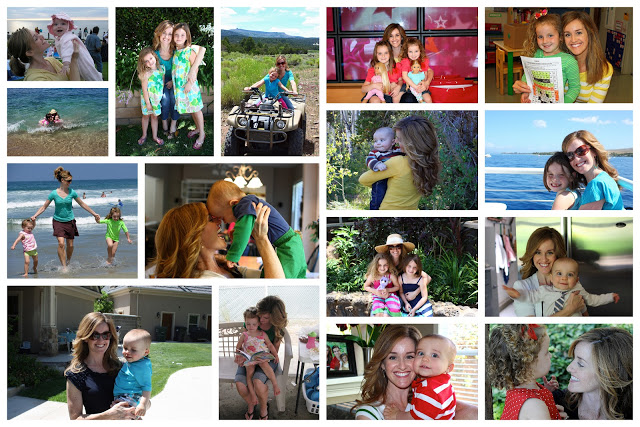 I can't think of anything better than being mom to these three.
Lucky me indeed.
xoxo, Erin