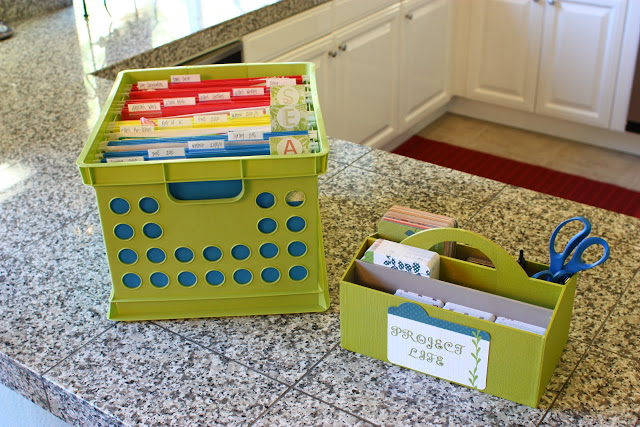 I gave Ellie and Addison each a section in this crate and labeled each of their folders by the season/year (that makes the most sense for the way I scrapbook). The last section held extra school work.
Well. Life is a bit busy right now and I have had zero time to scrapbook. The kids' school stuff/memorabilia has been piling up. So a couple of weeks ago I dumped everything I'd been stashing in the middle of the living room floor. And then I organized it.
This is the new and improved folder system! Which totally looks just like my last folder system! But I tweaked it a bit. I made some new folders for the girls for all of their 2012 stuff and then I changed the last section (which used to hold school stuff) into a section for Kole. Now Addison is blue, Ellie is yellow, and my little dude is red. It's SO hard for me to look at this and see how behind I'm getting on their albums, but at least everything is organized so that when (if!) I find some time to scrapbook it will be a cinch to catch up.
I've been asked many times how I decide what I should save and what to trash. Kids come home with SO much stuff. Initially I save anything that speaks to me and makes me smile. Stuff that shows their personality and is my favorite. I also save things like report cards, awards/certificates, etc.
Addison's Spring 2012 folder – a Kindergarten homework packet, what she is grateful for, running club certificate, various handwriting and artwork that show her growth in Kindergarten.
Seasonal artwork, handprint, a note from her teacher.
Ellie's Winter 2012 folder – PE certificate, baptism program, birthday party invitation, a princess she drew one afternoon at home, note from mom that was in her lunch box on Valentines Day, note from Addison that says "From Addison. love you Ellie." I found that one on Ellie's bed one afternoon and may have teared up just a bit before filing it away.
I said these are the things I "initially" save because less than half of this stuff will actually make it into their albums. This is the first cut. Then when I'm actually putting together their albums I just pick a few things I think they will cherish most to save. Usually the certificates get tossed and the special notes and artwork find a way into their books.
I was surprised when I started sorting through my stash that there was so much for Kole! I have done NOTHING for his scrapbook. Wait. That's not true. I've done these layouts:
"look at you" (4 months old)
I adore this photo. And I miss this stage!
"your room"
and mommy's too.
"first summer"
That's it! Three little layouts. That's all I've done for my boy. I haven't even put together his hospital pictures. I covered his birth in the girls' albums but not his. So I have some catching up to do!
His first folder holds hospital stuff – ultra sounds, blessing certificate…little items like our hospital bracelets I keep in a small pocket holder that came in a baby kit I ordered from Becky Higgins years ago.
I even saved the page in my planner for delivery day. I was induced and knew the date I would give birth with all three of my kids. Not a bad set up for someone who loves to plan. :) The rest of Kole's folders are organized by year and are full of things like birthday cards and doctor visit info.
So even though this doesn't look much different, it feels A LOT different to me because I'm caught up! Caught up on filing things I may keep for their albums.
Now to answer this question:
"Hi Erin. I have a question for a future Q & A… what did you decide to do with your kids photos? Are you still doing a Project Life album for each of your children or did you decide to do photobooks in the end? I keep alternating between the two and am so indecisive!"


I've decided to stick to what I've been doing – individual Project Life albums for each of my three kids. I really debated just going to one family album – it would be SO much easier to stay on top of! But at the end of the day, I just really want each of my kids to have their own special albums that document a bit of their childhood. Created with love from their mom. It's my gift to them. And I just can't switch to digital photo books because I love including their school work/memorabilia. BUT. Since it is getting harder and harder to find time to scrapbook, my plan is also to SIMPLIFY in a big way. I'm really going to cut back on how many photos I put in each album and my goal is to fit at least two years in each binder. This will be tricky for the picture taking maniac that I am. :) But I don't want them taking 20 albums away with them when they move out. Too much of a good thing is never a good thing.
Aside from organizing their school work, I've also been attempting to organize my photos and select which ones will make it into their albums. That's the most time consuming part for me! I keep thinking I'll have time to develop them and get to work scrapbooking, but honestly, every time I find a spare minute during my day I am on the phone dealing with house stuff. Once this house is built and I have an actual scrapbook room I will be a scrapbooking machine! I won't come up for air! I'll scrap all day and all night!
Or I won't.
But it's a nice thought, isn't it?
For now, at least things are organized. That's a nice thought too.
:)
xoxo, Erin