Weekend is here! We have had beautiful weather this week. Summer is in the air! I know this because I spent over three hours at the park today. Yes. Despite the fact that I had a million things I needed to get done at home, we somehow ended up at the park. Twice. Once in the morning with my boy and once in the afternoon with my boy and my girls. Seems the three of them have a plan to sabotage me and my to-do list. Not the first time, certainly won't be the last. It's ok. This weekend should be fun. Date with Kenny is on the agenda. We're getting dinner and checking out options for wood floors. All of our dates now include shopping for house stuff or meeting with our builder or architect. On our last date after we'd spent three hours looking at appliances I said to Kenny, "I'm having so much fun! Isn't this the best date!?" The look on his face said no. He is a good man. Who keeps reminding me of what a good man he is to let me build when he could have been lounging in his hot tub by now in a number of homes we looked at and I said "thanks but no thanks" to. I guess I'll keep him around. :)
Anyway! On to the fashion! Sharing a few new things I've bought for Spring/Summer…
New flip flops from Banana Republic Outlet.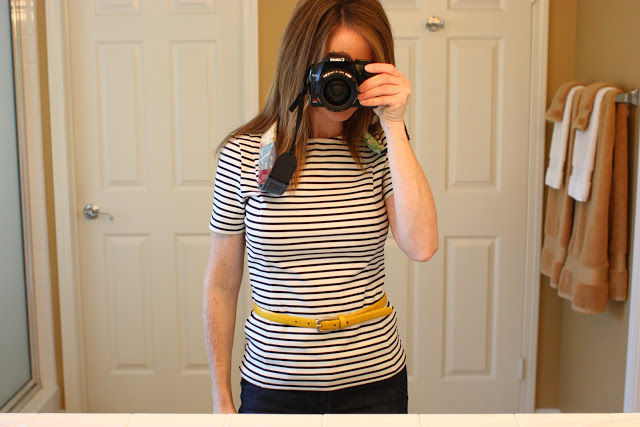 This black striped top and yellow belt are also from Banana Republic (main store). I was so excited about this yellow belt! Skinny belts and bright colors are so in right now. I love this belt with this top, but it also goes with so many other things. And you know how I feel about yellow… and belts. A great staple to add to my wardrobe!
The belt also looks great with my yellow sandals. And you know how I feel about my yellow sandals.
Let's face it. You all know how I feel about everything by now. :)
I've worn white shorts and skirts every summer for years, but I've never bought white capris or pants.
Until now! I found these white capris also at the Banana Republic Outlet (on sale by the way!). I'm usually a little scared of white for the same reason most moms are – how long are they going to stay looking this white? White is also not the most flattering for pants/capris. Unless you find a pair that is a really good fit. Which these are. They also pass my capri test – longer length, almost to my ankle, and a thick cuff at the bottom. Wear them with a heel or wedge and you will look thinner. I was out picking lemons in these capris thinking "this is why I shouldn't buy white capris. I have a two year old little boy and I when he's down for a nap I scrub my floors and climb the hill in my back yard to pick lemons." But oh well! Everything has washed out fine so far. And you only live once, right?
Which is why I bought white pants too. :) I fell in love with these white linen pants (also at BP). I'll wear these on a date or night out (dress them up a bit) and wear the capris for every day stuff. I still need to have these hemmed – I have them rolled up once in this picture.
The yellow sweater is also new this Spring. Bought it at The Limited.
I've worn this sweater so many times – so many different ways. Buttoned up with a fun necklace,
or open with a shirt and belt underneath.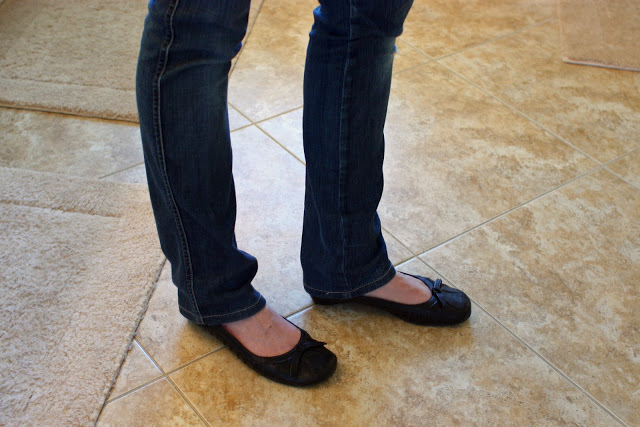 When I wear the striped top and yellow belt/sweater combo above I wear my black flats instead of my yellow sandals. Because like I just mentioned in yesterday's post – too much of a good thing is never a good thing.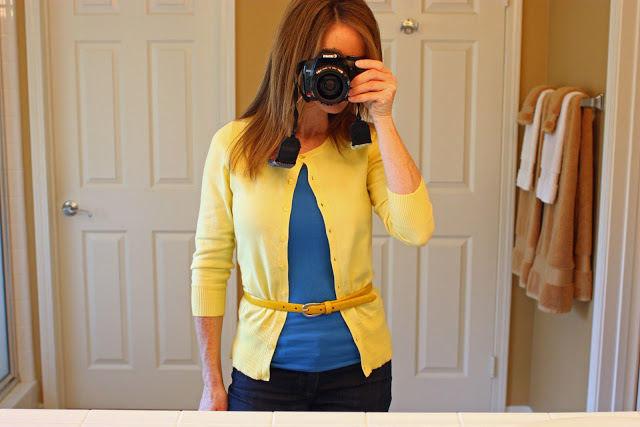 I've also worn it a few times with the belt on the outside of the sweater. Because why not? I think this yellow belt would look great with SO many colors of tops/sweaters. It has inspired me to do some more shopping. Doesn't take much. I'll let you know how that goes! :)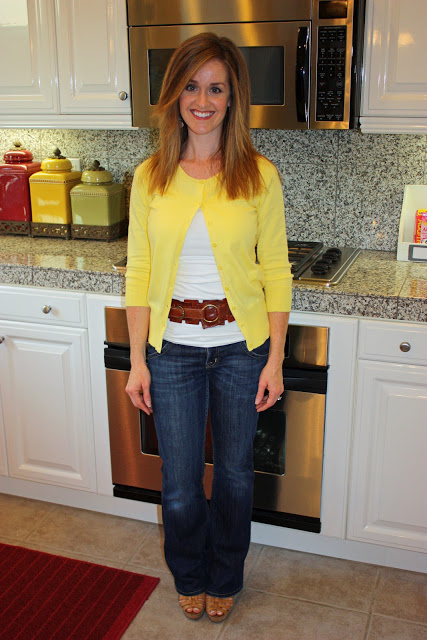 One last picture of my yellow sweater with a white tank and my beloved Anthro belt. Only because this favorite belt of mine was starting to feel a bit left out. :) I was on my way to dinner with friends when Kenny took this. It has been one birthday after another lately (our favorite excuse to eat out!).
This week I tried Thai Food for the first time! My friends are desperately trying to get me out of my turkey sandwich rut. I liked it! Almost as much as my turkey sandwich. ;)
Have a great weekend everyone!
xoxo, Erin