It's teacher appreciation week at the girls' school this week! Lots of fun stuff going on to thank the teachers. As a former teacher I know firsthand how much teachers do. I want to always make sure the special people teaching my little ones know how much I appreciate them. All of us moms have gone in on Nordstrom gift cards for a group gift, but I wanted to find a little something extra for my girls to give their teachers to say thanks. Naturally, I turned to the blogosphere for help! So much creativeness out there! Sometimes when I'm skipping from blog to blog for ideas it gives me a cute-craft headache. ;) I found several fun ideas to choose from so I thought I'd share them with you. First, here is a look at what we did for Addison's pre-school teachers last year…
I made the card in photoshop. Just collaged three photos of her in my shoes, added some text, and developed it as a 4×6.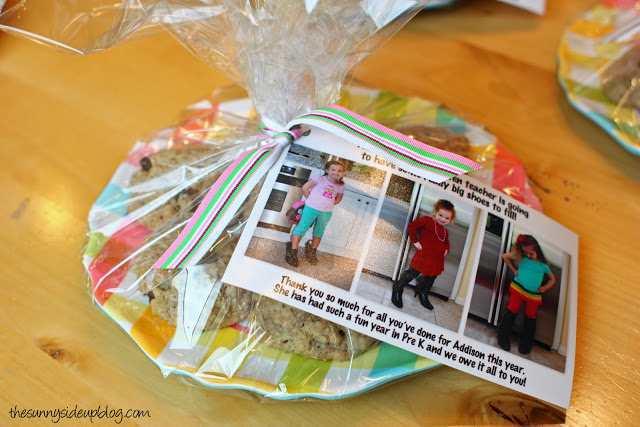 Then we tied the photo card onto cute plates from Target filled with oatmeal chocolate chip cookies.
It was a personal, easy solution for the many teachers we wanted to thank!
Of course, Addison's cards were what really stole the show. :)
**I still have cards some of my students made for me years ago. So many students I taught touched my heart and I will never forget them! I think personal cards are the best gift you can give – whether it's from the student or the parent. That or a Nordstrom gift card. Either would do. ;)
Here are some fun ideas from various blogs. They're all so darling – the hard part will be choosing which one to use! Click on each link to get all of the crafty details and free printables!
xoxo, Erin