Each season I get a little bummed when my girls put on their summer clothes from the year before and they are too small. That pair of capris that were SO big on Addie when I bought them are now too tight and too short. Just like everything else I bought the girls last summer. It bums me out because I want them to stay little forever. It also bums me out because dang! Those were cute clothes! That they hardly wore! It's nice that I can pass El's stuff on to Add, but still, the life of their wardrobe is pretty short lived. So lately I've been buying a few things here and there so they have something to wear this summer. Mostly stuff on sale! Since each season I'm repeating the process.
Shopping for El is tricky because of the comfort factor. I bought her the green dress at Gymboree and the grey skirt at Gap. Both passed the test and aren't "itchy." The blue tank is also from Gap but that's for my 5 year old who will sacrifice all comfort for the love of fashion. Or for a pretty butterfly. El would go crazy with those gathers at the top. I know my children well. And if you read this blog often, so do you. :)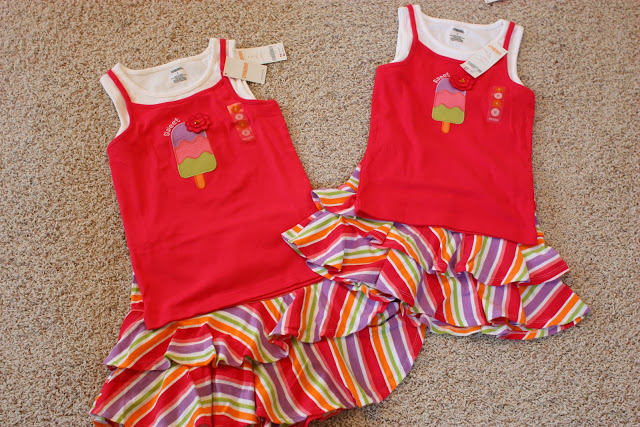 Matching days are getting few and far between, but I'm desperately trying to keep them alive! I'm also trying to keep my girls little as long as possible which is evident with the popsicle "sweet" outfits I scored at Gymboree. They might be wearing matching popsicle tanks in high school if I have anything to do with it. Which I won't. Which is why I'm not all that excited about high school.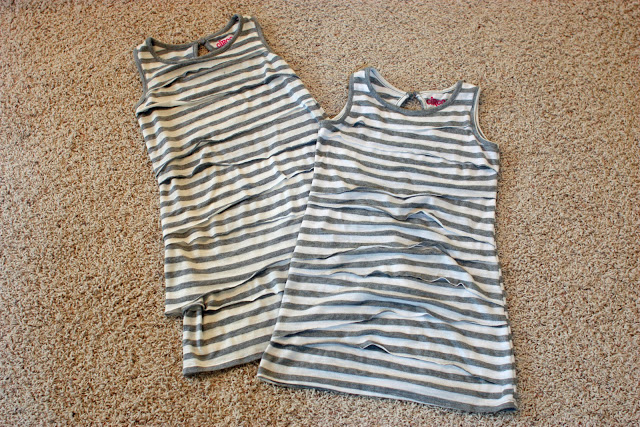 And aren't these simple grey ruffle dresses cute!? Target baby! So cheap and they fit darling! I love them on my girls. They come in other colors and when my mom came to babysit the kids while we were in Virginia she brought them the yellow ones. We laughed. We do that all the time because we have such similar tastes. These dresses are fun because you can add leggings, tights, a belt, headband, any accessory in a fun bright color looks so great with the grey stripes. Makes me want to find a grey striped dress or top for me!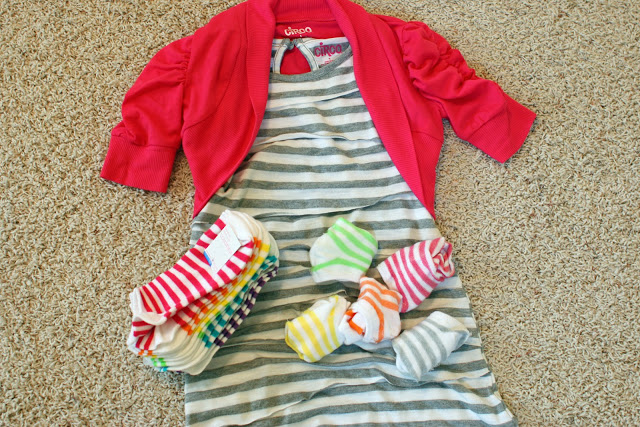 Isn't the dress cute with this pink shrug I bought Addie!? Also at Target! Looks so cute over the grey. I picked up these colorful socks for the girls too. They have to wear good running shoes to school which means we always need ankle socks and I was going crazy with all of the white socks in the laundry! I could never tell the difference between my socks and Ellie's socks and Addie's socks. They were all identical other than a slight size difference. I'm loving these new colorful socks! So easy to match and the girls just share them all. I don't know why in the world I didn't think of colorful socks sooner.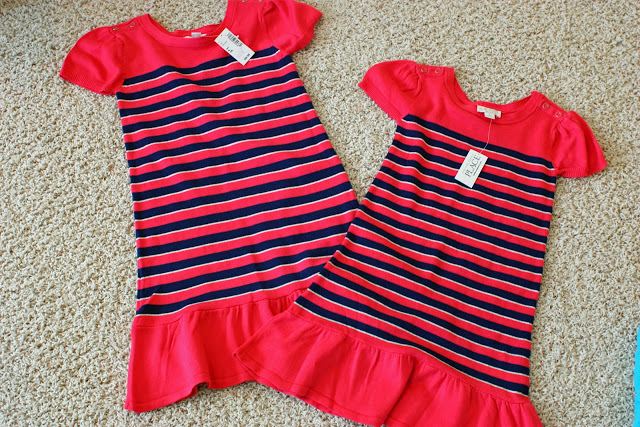 Since I'm on a stripe kick, here are a couple of other dresses I picked up at Children's Place last week… 10 bucks each baby! Love that.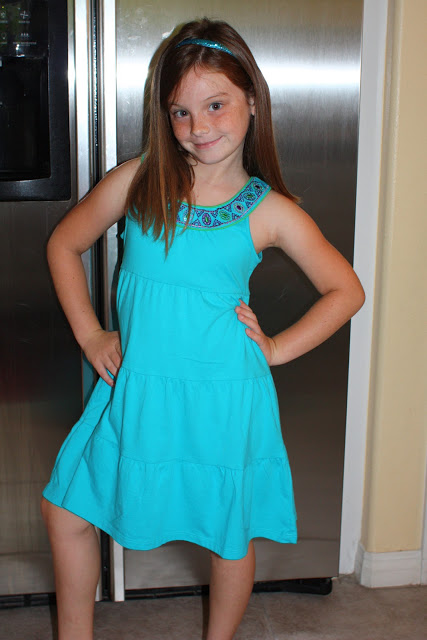 And another summer dress from Children's Place that was also on sale. Nice and comfortable which is why you see a smile on this girl's face.
My little man has been involved in some fashion pampering of his own. A couple of weeks ago he got his first hair cut. :)
We went on a Saturday and Kenny came. I knew I'd need back-up support. He held Kole on his lap and then turned on Tangled on the ipad. The ONLY way we got this boy to hold still for the whole four minute ordeal.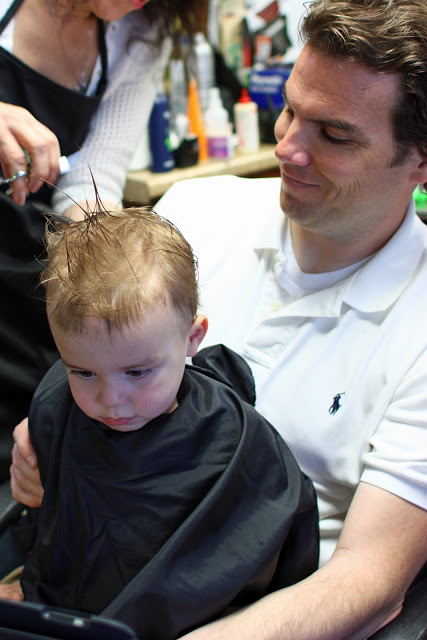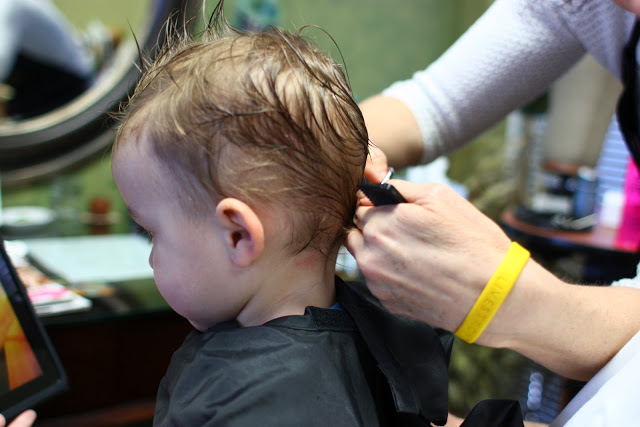 He is one stylish little dude. :)
Some pics I took today while we were on one of our outings…
Here's my boyfriend modeling his new Target shirt from grandma.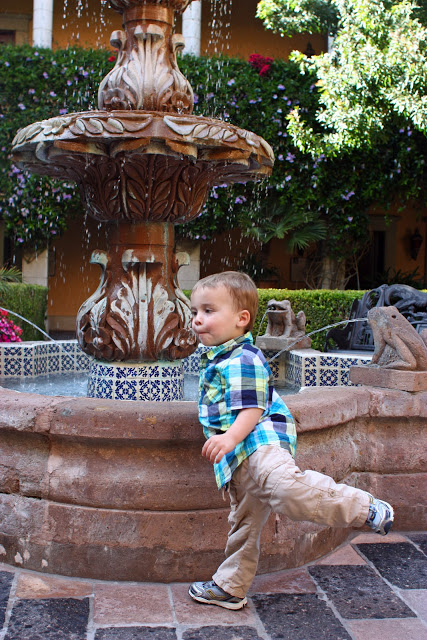 What a pro. I mean he's only been in the modeling biz for a year now, but just look at that pose.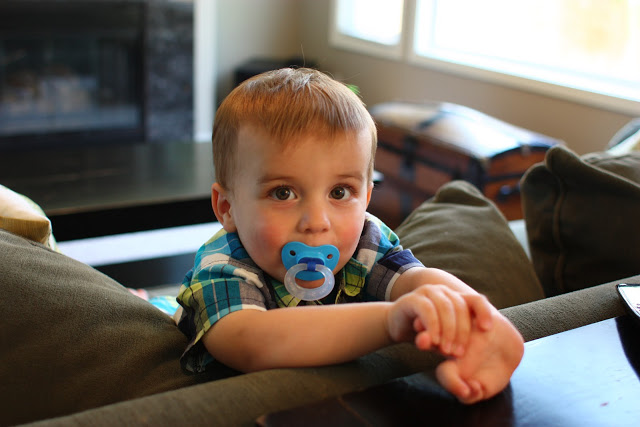 Just before nap time. This model needs his beauty sleep.
:)
Have a wonderful weekend everyone!
xoxo, Erin