So I have a secret spot. A getaway. My favorite place to visit where I can really relax and leave all of my cares behind. It is a place where meals are cooked (or bought!) for me, a place where I can visit and connect with old friends, a place where I feel totally comfortable wearing my pajamas all day, a place aside from my home where my children feel the most content. And, most importantly, a place where babysitting is plentiful and free!
Mom's house. Ahhhh. Isn't it beautiful!!?? This last trip to Southern Utah I asked my mom if I could photograph and share her home. Around six years ago my parents decided to down size (yes! this is actually a lot smaller than the home I grew up in) and build their dream home. My mom wanted a cottage style home complete with a porch, pillars and black shutters while my dad wanted his dream yard. They both got their wish. This house is very similar to the style of home I love and it has been so fun having this beautiful place to escape to now and again.
Is there a better combination than black shutters and yellow roses? Not that I know of.
Side of the house with a little black gate that leads to the back yard.
And to the left of the gate is the garage. I can't believe I forgot to photograph the garage! We love to tease my dad about his beloved garage that is actually more like a separate house. It's a four car garage with two levels above it. We call it "the garage-mahal" and if my dad suddenly disappears when his house is full of kids and grand kids, we all know where to find him. He is no doubt in his coveted, quiet getaway where he can take a nap, do a little fly tying for his next fishing trip, watch sports on the big screen, or just putter in his tool space. Once in a while he'll take the grand kids over to feed the fish in his aquarium, but for the most part the "garage-mahal" is a total man cave. Sorry dad — for forgetting to take pictures of what you believe is the most important part of your home.
And the view from the back of their home. Which is just as darling as the front. If I had zoomed in closer to the porch you would see several doll houses that my mom set outside so her granddaughters could play with their dolls in the shade. And a race track and cars for her grandsons. Even though Kole is the oldest of the three grandsons and the cars were mostly used as teething tools. Still mom. Such a sweet gesture. :)
I just love the vines growing around her pillars and the flowers planted around each tree.
Another favorite spot for the grandkids. Right inside these beautiful trees…
is a delightful, shady sand pile. My girls spend hours here always making me wonder why in the world I don't have a sand pile. Then I remember how I can't stand them bringing sand into the house. We get enough of that from the beach. My cute mom couldn't care less. She is all about the kids. She says she'll clean later – let them have fun. Then after we leave she tidies everything up. Except for the hand prints on her french doors. She's never in a hurry to clean those.
Of course we always spend lots of time here every time we come to visit.
The girls and I love "the baby turtle and his mommy" that live in the pool.
This last trip after watching her daddy's mad skills…
Ellie finally dared to jump off of the rock.
We also love all of the big open space (so hard to come by in San Diego!) where the girls run and play.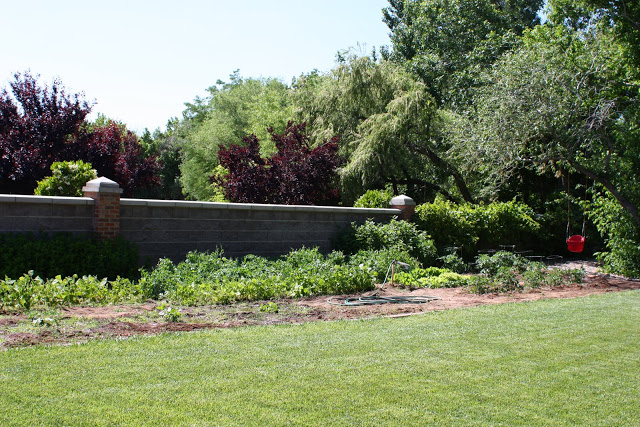 And next to grandpa's garden full of all sorts of colorful vegetables, is a little swing for a little person…
who loves swing time…
almost as much as his grandpa does.
While I love so many things about this beautiful home and yard, the thing I adore the most…
is the darling couple who own it.
Love you mom and dad! Thanks for letting me share your home. If I come and bring your grandkids again really soon will you let me photograph the inside? I have a feeling I've got a deal.
:)
xoxo, Erin