First of all, I can't thank you all enough for solving my plant/stool dilemma!  Industrial won hands down!  YEA!  Love it when you all agree and there is an obvious winner.  My fiddle leaf fig thanks you too.  DMD (decision making disorder) is cured!  For today anyway.  :)
Quick update on my formal living room progress!  Houston we have a couch!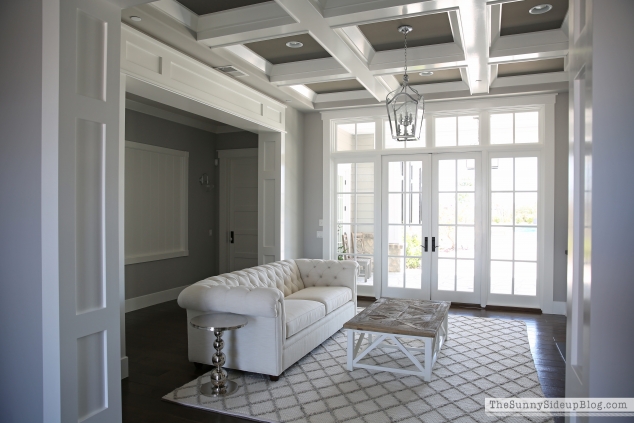 It's Pottery Barn's Chesterfield Upholstered Sofa and I couldn't be happier with it in this space.  Yes it's white and yes I have children.  But I chose Pottery Barn's new Perennial Performance fabric.  Totally kid proof!  You can wipe just about anything off of this couch.  YEA.  I love it so much!


We also have a mirror!  From Restoration Hardware.  Fell hard for it just like I did the coffee table.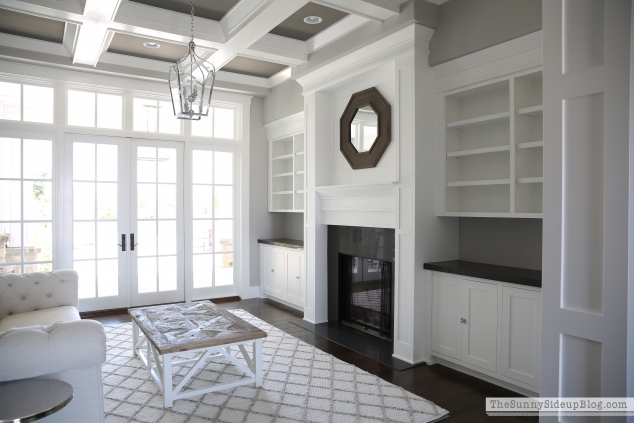 It comes in two sizes and the smaller size fit perfectly inside my mantel molding.  Love it when that happens.


It's so much fun seeing furniture in this space!  Lots of neutral going on (I love a neutral foundation!) but that won't be the case for long.  My girls are the only ones less than thrilled with the new look.  They lost their ice skating/dance party/gymnastic arena.  :)


I have to share my latest obsession with you all.  Have you heard of 25:40 LOVE?  It's an on-line shop with so many fun homemade items!   Chalkboards, frames, barn wood signs, etc.  I discovered their site one day and fell in love with it!  I was checking out all of the fun things they sell and my jaw dropped when I saw the Ralph Waldo Emerson quote on this sign above.  It's one of my mom's all time favorite quotes about the meaning of true success.  She had me and my brother and sister memorize it when we were kids!  I still repeat it in my head to this day.  I knew it would be a perfect birthday gift for my mom.  When it was delivered I set it in my living room and then my jaw dropped a second time because it looked so good in my space!  So I'm thinking I need to order another one for me.  For my mom's sake you know.  After all, she did want me to always remember it.  :)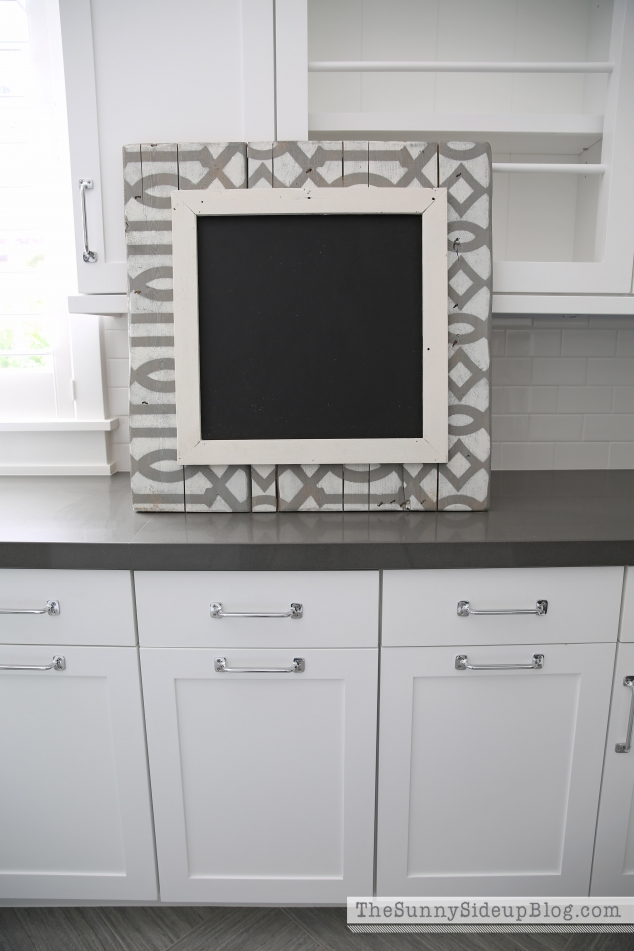 What I did order for me was this adorable trellis framed chalkboard.  Isn't it so fun!?  Oh my word.  Love that grey and white rustic wood frame!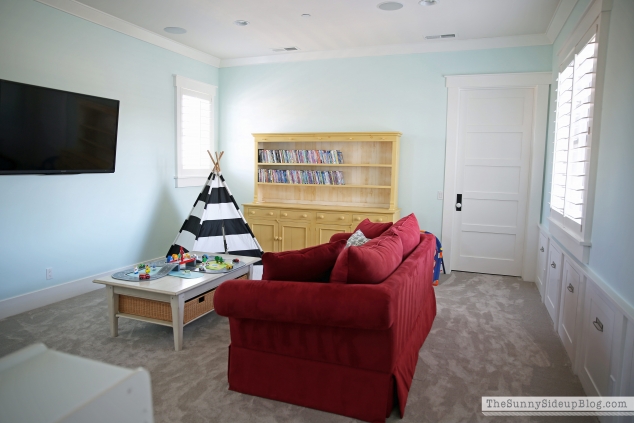 I originally bought it for my playroom.  This room needs to be decorated so badly!  I thought my new chalkboard trellis frame would be a good starting point.


But then I set it in my downstairs laundry room and I'm kind of loving it there!  Another space that desperately needs some decor!


The grey ties in so nicely with my tile floor!  Thinking I might hang it on a blank wall in this room.
So I have to tell you the other reason I adore 24:50 Love.  The darling couple who started it had the goal of funding the international adoption of their little girl for whom they are anxiously waiting for.  They now are serving other worthy causes as well.  If you purchase any item from 2540love.com they donate 15% of the purchase price to the charity or cause they are featuring.  I love that!  Shopping and giving back.  Two of my favorite things.  :)
Sweet Jessica from 24:50 Love is offering a discount for all of my readers!  When you check out, enter the code sunnysideup and you will receive 15% off of your purchase!  This offer expires Friday night at 11:59 CST so don't wait!  They have so many beautiful things!  Check out their site.  I know you'll love it!  I'm seriously tempted to buy half of their inventory. :)


Next time I show you this room there will be a splash of color!  Drapes and pillows are right around the corner.  And maybe a new sign or two.
:)
xoxo, Erin