Hello friends!  Sorry about the crickets chirping on the blog last week!  Things were a bit crazy around here finishing up the school year but I'm happy to report we made it!  Today was our first official day of summer and it was WONDERFUL.  We slept in until 7:45, didn't get out of pajamas until around 11:00, played at the park, swam in the pool, take out for dinner.  I loved every minute of it.  I am being really selfish this week and keeping my kids all to myself.  No playdates or get togethers.  We love them, but there is plenty of time for that and more than anything I have been craving some time with just me and my three kiddos.  We have a lot of fun together when we don't have to be anywhere doing anything other than what we want.  Imagine that.  :)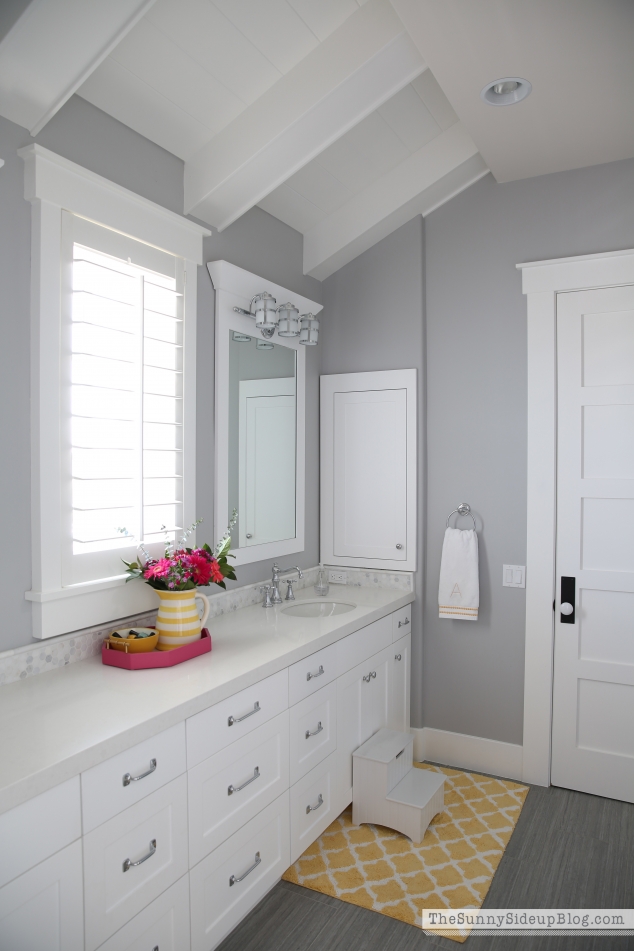 Anyway!  Lots of time for future summer ramblings!  This post is supposed to be about a touch of decor I added to my girls' bathroom so I guess it's time I steer back on track.  So here you have it.  A touch of decor I added to my girls' bathroom.  See.  I can stick to the point.  :)

My girls' rooms are painted different colors, but they both have some pink and yellow throughout their rooms so I decided to use those colors in their bathroom.  I found this darling tray for a steal at Target.  I always find the cutest decorative trays at Target!  Most of the trays in my house are from none other than Tarjay.


The yellow striped pitcher was a gift from my mom.. or come to think of it maybe I borrowed it from her house years ago.  My mom's house is one of my favorite places to shop.  She always wants me to organize and de-clutter when I visit so naturally anything cute I could see in my house makes its way into the "must immediately get rid of pile."  ;)  Next to the pitcher and flowers I just added a yellow bowl to hold nail polish.  Fun way to add some color and with my girls we are never short on "in house salon/pedicure time" around here.


The pretty flowers were for the girls after their dance recital.  I'll probably look for something fake, but lately we've had enough events that involve fresh flowers that we haven't had a hard time keeping something real in the pitcher.  It's simple, but I like to keep their counters clean so there's plenty of room for all of the day to day stuff that clutters bathroom counters.


I found these darling Pearl Embroidered Hand Towels at Pottery Barn on sale.  They are white and then you can choose from a variety of colors for the dots on the bottom.  I think they are so simple and cute!


For not much more I had them monogrammed.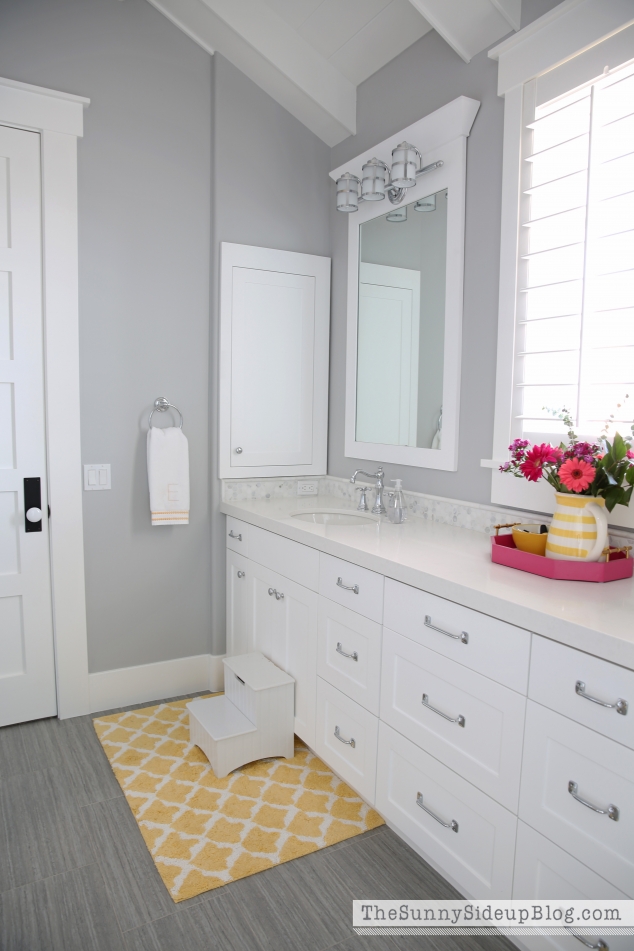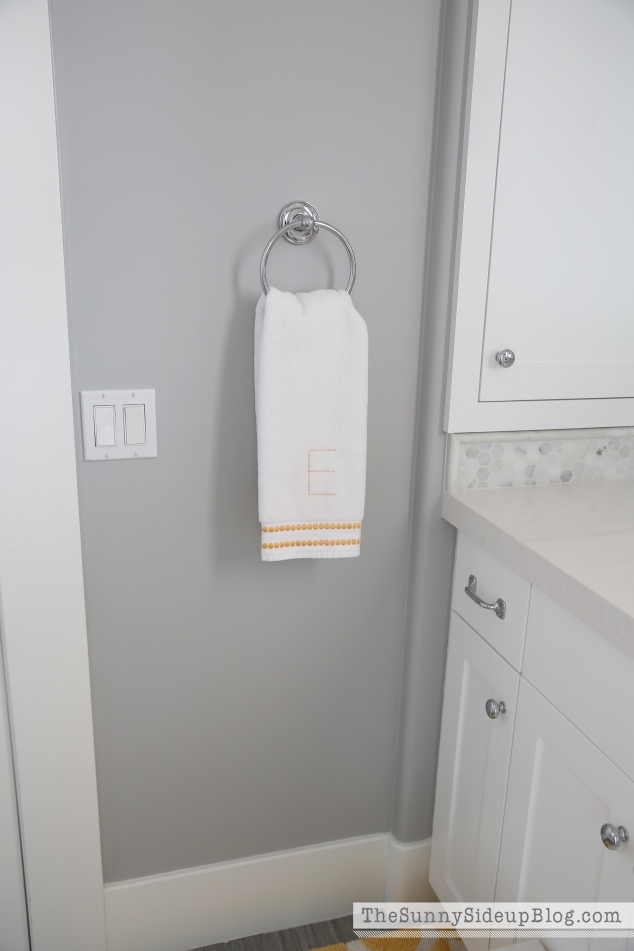 The bathroom rugs are also from Pottery Barn.  I love their Marlow bathroom rugs!   I actually wanted them for my master bathroom but the sizes didn't work.  They come in so many colors and are really soft on your feet.  They also come in two different sizes and the larger size was perfect for this area in front of the sinks.  My girls still need the step stools, but they have both moved down to the bottom step.  I know in another year they won't need to stand on them while I do their hair.  Actually in another year they won't need me to do their hair period!  That's a sad thought. :(  And a scary one if we're being honest…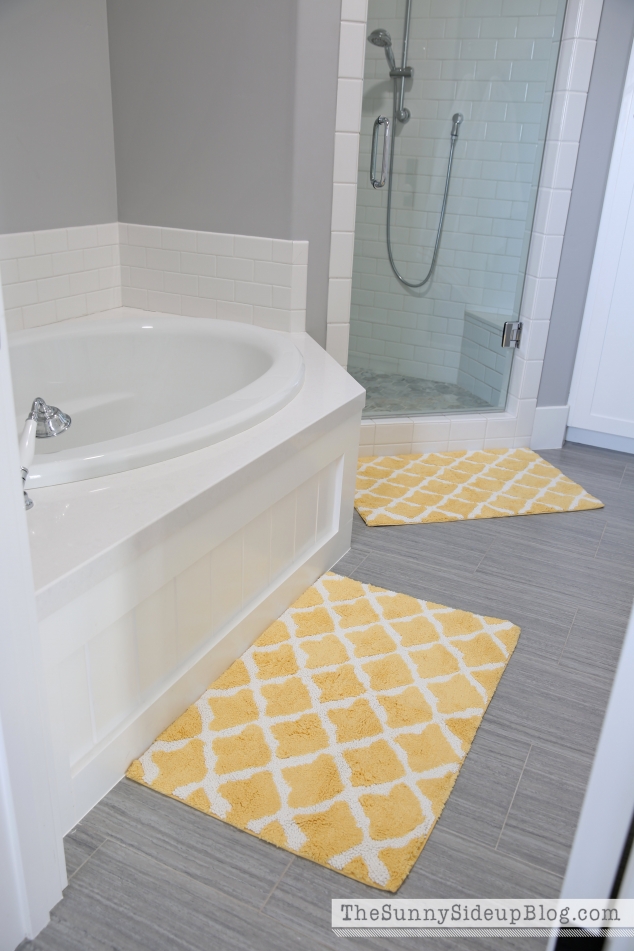 I also used the same Marlow bath rugs next to their tub and shower but the smaller size.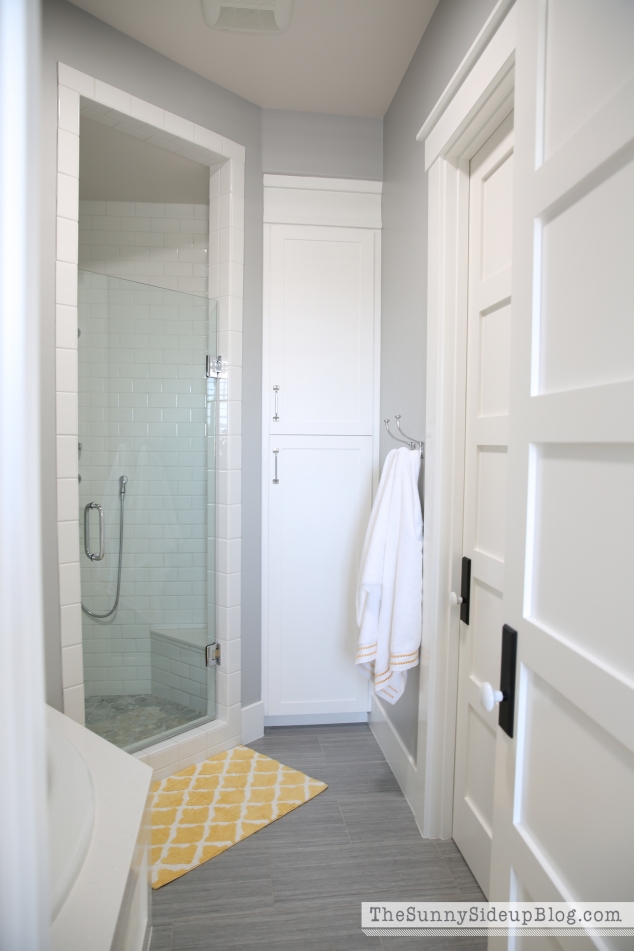 And the same Pearl Embroidered Bath Towels for after they shower.  Pottery Barn has towels that match the rugs, but I thought that might be a bit too much of that pattern everywhere.


There you go!  Just a few small touches, but that's all it took to add some fun to this otherwise neutral bathroom.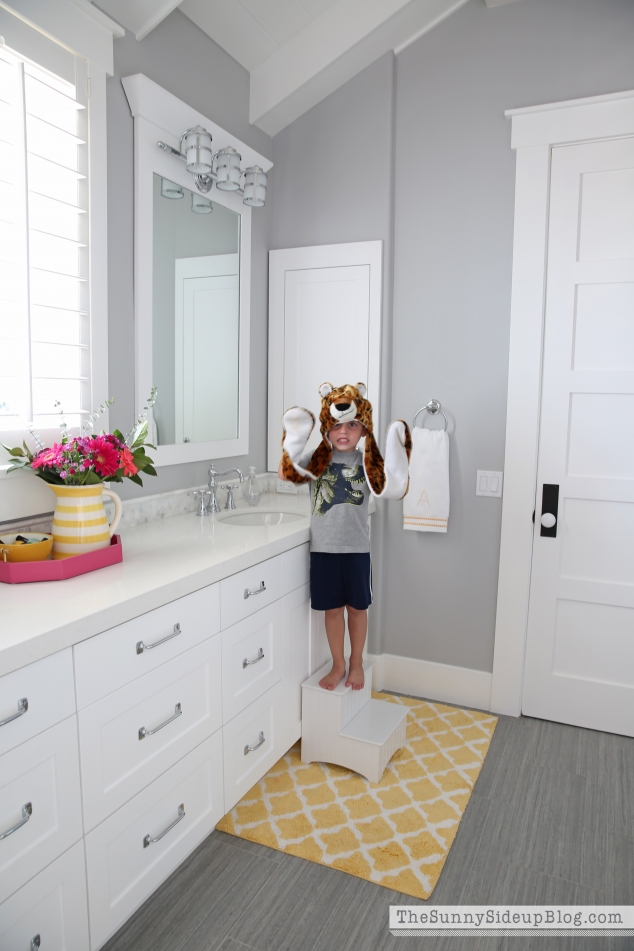 I had to include this picture of my little Cheetah head.  He was waiting so patiently for me the day I was taking these pictures so we could play.  For the first 5 minutes anyway.  Then when 5 minutes turned into 10 it was "mommmmm… c'mon!  How many more pictures!!?"  When he stood on the stool and started growling at me I snapped this picture and called it a day.  :)


Happy Summer everyone!
p.s.  I am SO behind on answering comments/e-mail questions.  Promise I'll get to them soon!  xo
p.p.s.  You can see pictures and more detailed information in this post on my girls' bathroom soon after we moved into the house.
p.p.p.s.  Can you tell I know I get to sleep in tomorrow!?  I can stay up rambling to you for another hour!  But I won't.  That's it.  For real.  Done now.
Over and out.
:)
*affiliate links used
xoxo, Erin