When I grew up my sister and I shared a jack and jill bathroom between our two rooms and I loved it. We loved getting ready together and listening to music and talking and fighting over clothes. Good times I will always remember. :) So I wanted the same thing for my girls. My architect kept trying to convince me to give them each their own bathroom, but I really wanted the girls to be able to get ready together each morning and I wanted their rooms to feel close to each other with the bathroom connecting them. So that's what we did.
Lots of drawer space that we are so not used to. I've always had to organize to make use of every inch and cranny. It feels strange to have empty drawers and cupboards!
After the drywall went up, my builder called me and said that there was a slant in the girls' bathroom ceiling from the roof line that he will patch up and make flat. But when I saw it for the first time I said "Do not patch that! I love it! Let's plank it!" Kenny will tell you "Let's plank it!" became a phrase he heard more times than he wanted to during our building process. :)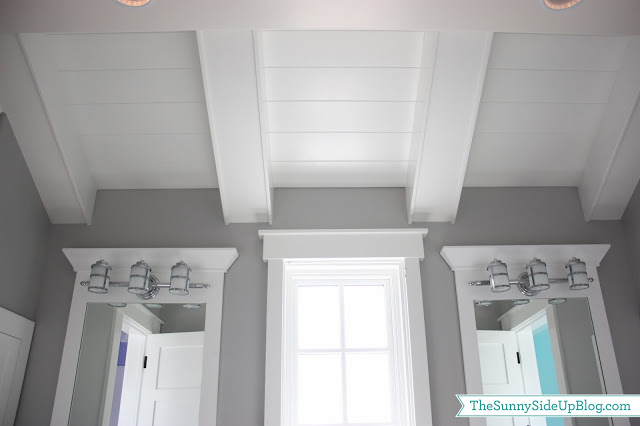 I think the slanted planks give the ceiling personality and they are my favorite part of the room.
A fun addition that wasn't in the plans. :)
I need to take a close up of the counters and backsplash. The counter is quartz (Caeserstone) called "Organic White." I used Organic White in the girls' bathroom, on my kitchen islands and in my office. We ended up using quartz everywhere throughout the house except in the bathrooms that have marble. I debated marble for this countertop for a nano second (it actually would have been less expensive) but then I pictured my girls painting their own nails and spreading bath toys out all over the place (someday make-up) and I knew I would live to regret it! Quartz is great if you want a clean look that won't scratch or stain and I have to say I am loving these counters! I'll do a post about all of my countertop choices at some point and show better pics of them up close.
I did use marble in the backsplash. Love the small hexagons. I also used this vintage style faucet throughout the house – in the powder bath and in the master bathroom.
I adore these lights! They are a bit nautical and I was excited when I found them because they fit perfectly with my mirror frame design (style and size).
I chose a grey tile for the floor. I used this same tile in my downstairs laundry room but in a different pattern. So excited to find some fun rugs for this floor!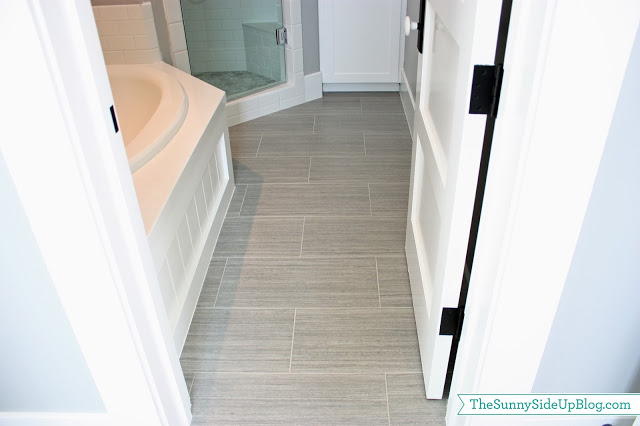 You walk in a separate door to the tub/shower. Then there is another door inside and on the right to a small separate room for the toilet.
This little space went through so many transformations! Originally we had a tub/shower combo and a large built-in linen cabinet, but during the framing stage my builder pointed out that we had room for a separate shower if we got rid of the linen cabinet. I did NOT want to lose my cabinet. I knew I wanted space for towels and linens. So we found a way to make a corner shower and keep a sliver of my linen cabinet. Win win! **Notice the left side of the shower where the paint meets the tile – our painters still have a LOT of touch-ups to do around the house and you'll see that in my pictures! My mom warned me that I would still be building for months after we moved in and she was so right. Our house is still under construction. (I haven't showed you kitchen pictures yet because it's not totally done!) I eat breakfast every morning with my painter, carpenter and landscaper and by noon the plumber and electricians have usually joined us. I love them all, but I'm SO ready to have my house finished and to myself!
I kept the girls' shower simple and clean and just used white subway tiles all the way up.
Larger marble hexagons for the shower floor. The bench seat is the same quartz as the counters.
I added planks around the tub and just used the subway tile for a backsplash. There is a lot of wall space above their tub that I'm going to decorate. Not sure how yet, but I'll come up with something.
I added a hand sprayer and we are loving that little feature! Makes it so much easier to get shampoo out of the girls' hair.
Ellie loves that there is no confusion about which side is hot and which side is cold. :)
I took these pics the day before we moved in. New mattresses had just arrived for the girls!
They love to sleep with their bathroom doors open so they can talk.
xoxo, Erin