Hi friends!  I'm back from Atlanta!  What a beautiful city.  Haven (the DIY/home decor blog conference I attended) was incredible.  Everyone was so friendly, the classes were amazing and I especially enjoyed finally meeting friends I've had for years on-line!  Blogging is a wonderful thing.  :)  I'll have to do a recap at some point but for now I'm sharing our outdoor pergola and fire pit area.  These pictures have been sitting on my computer for a few months and if I'm not careful I'll be sharing them in December when you all want to see Christmas trees, not outdoor pillows.  :)
Our fire pit/pergola area has been a work in progress for a while now.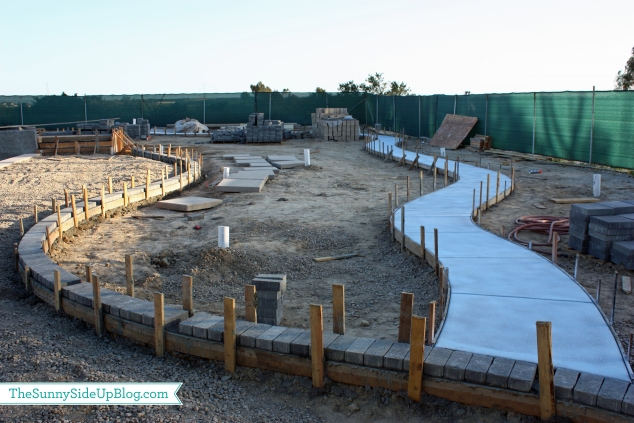 Here is a picture of this space during construction.  The little bike/scooter path I designed for the kids is my favorite part.  Just a simple cement path that winds around the yard.  My kids are on it every day!


When we first moved into the house a year and a half ago (has it really been that long!?) it looked like the above picture.  This was taken at my little buddy's 4th birthday party so please look past the lovely orange dinosaur balloon and you can see what the fire pit looked like after we moved in.  It was turned horizontally like the pool and we surrounded it with stones.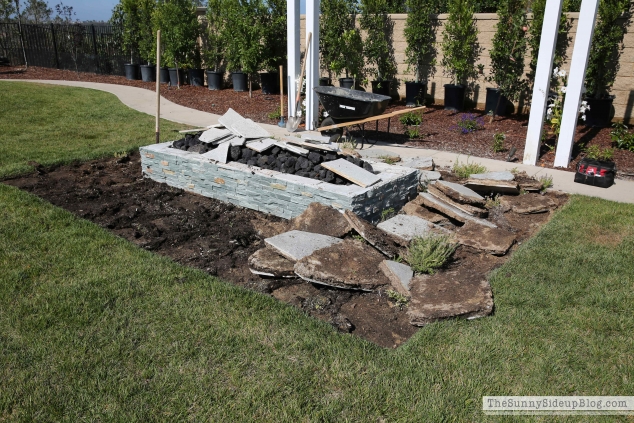 But there were a few issues with this set up.  First of all, ground cover was supposed to grow in-between the stones, but because of the soil in our area it didn't grow and always looked messy.  The uneven stones also made it hard to place chairs around the fire pit – nothing was level.  We had planned on placing a couch along the back side of the fire pit by the bike path, but the day the yard crew was placing the fire pit stone I went to the new house and could tell it was too close to the bike trail to fit a couch in-between.  I told my landscaper (who is a good friend of ours) that I was worried the fire pit was too close to the bike trail and he assured me it wasn't.  I told him it was and he smiled at me and said "if you're right, I'll pull it out and move it all for free."  I said "Deal."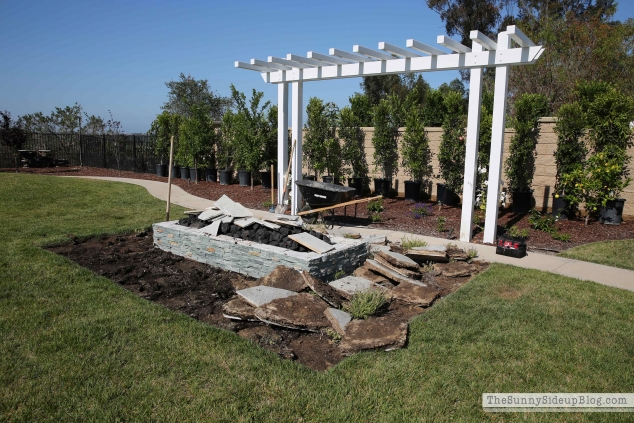 A few months later he was tearing it out.  Not to say I'm always right,  but.. I'm always right.  Ha!  :)  Kidding!  Sort of.  ;)  He did realize when we gave him couch dimensions it was too close to the bike path and would need to be moved.  The stones weren't working anyway so we decided to start from scratch.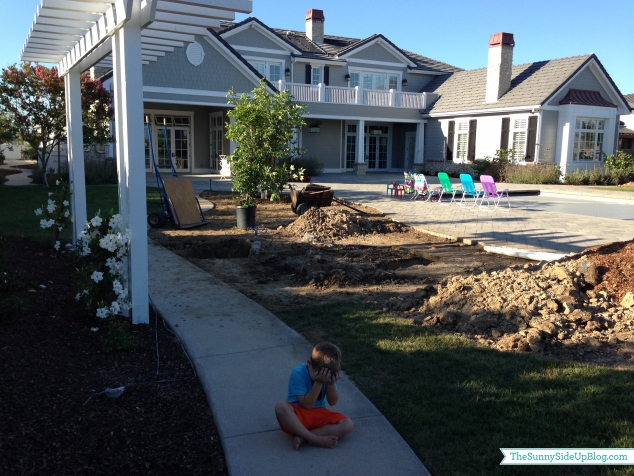 This picture from last summer makes me laugh.  Kole looks like we were all feeling about construction at this point.  Over it!
Since we were starting from scratch with the fire pit placement I decided it would be fun to create more of a cozy seating area.  I have always loved pergolas so we extended and added onto the white beams we started with.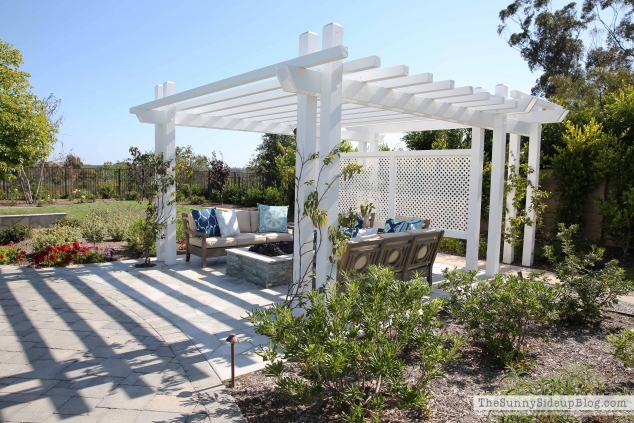 This is how it all turned out!  A cozy spot to roast marshmallows and visit by the fire.  With couches that fit.  ;)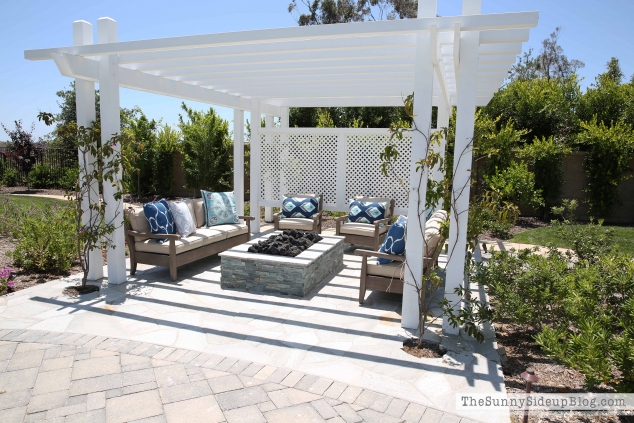 You can see we decided to keep the flagstone, but not have spaces in-between.  We also decided to turn the fire pit the other direction so there would be plenty of room for furniture along both sides.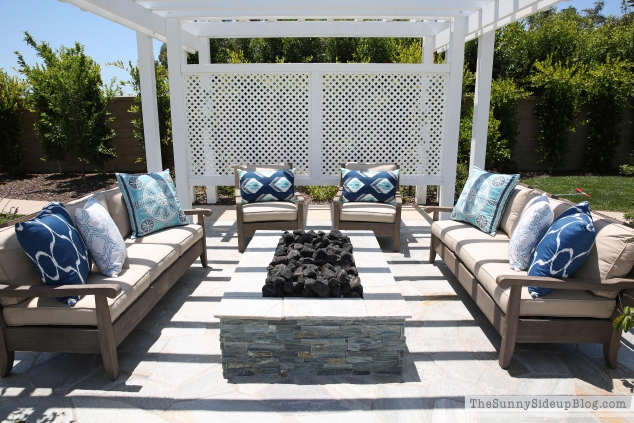 I love that there is so much space now!  We can easily host another family or two and all have room to sit around the fire pit.


We used the same furniture we put in our outdoor entertaining area.


Couches and chairs are the Leagrave set from Restoration Hardware.


Pillows are all from Pottery Barn.  From left to right is the Malibu Medallion Pillow, then the Izmit Print Pillow and the Dreyton pillow (no longer available).


The pillows on our chairs are the Katrea Print pillow (my fav!).  The three pillows that are still in stock are on sale.  I'm tempted to buy a couple more of the Katrea pillows for inside the house.  This is the best time to buy outdoor furniture/pillows.  Not at the beginning of the summer when everything is full price like I did.  (Oops!)  Always hard though because if you wait for sales you run the risk of items you love being out of stock.  And I really love these pillows.  :)  Taking good care of them all so they will last a long time!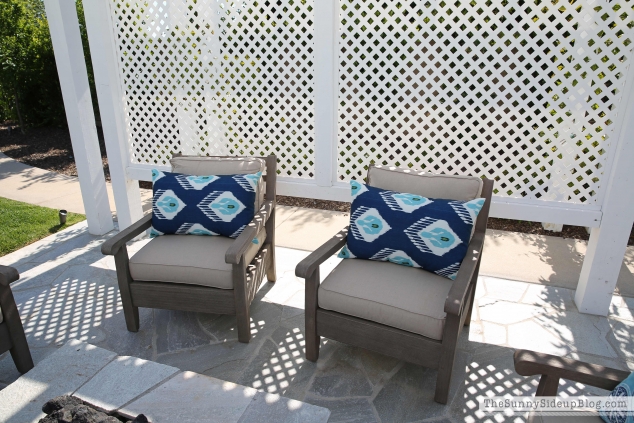 Aren't these two pillows especially happy?  They say "come and sit on me and forget everything else going on at the moment…"
At least that's what they say to me.  :)


Another change we made to this space was to pull out some of the grass and put in this garden area on each side of the fire pit.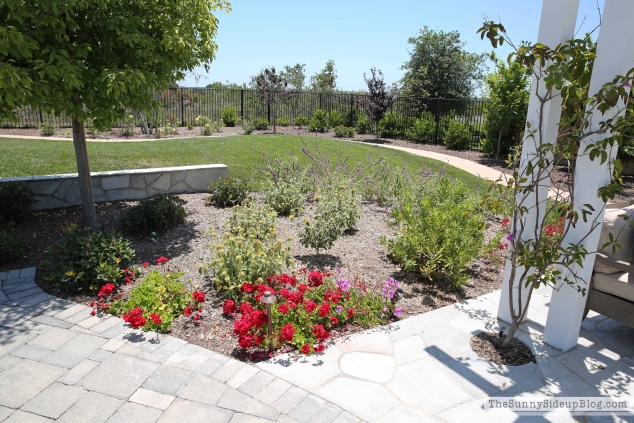 Things are still new and growing but this will be full of color when everything starts filling in and blooming!  Yellows, purples, reds and whites.  We've been grateful for this garden area during our drought.  It takes so much less water!  If this drought keeps up we are planning on pulling out more grass and replacing it with garden areas like this.  I'm actually so glad I took these pictures a few months ago because we now only water twice a week and my grass isn't looking this good at the moment.  We did have a tropical rain storm over the weekend though so fingers crossed we get more of that in our future!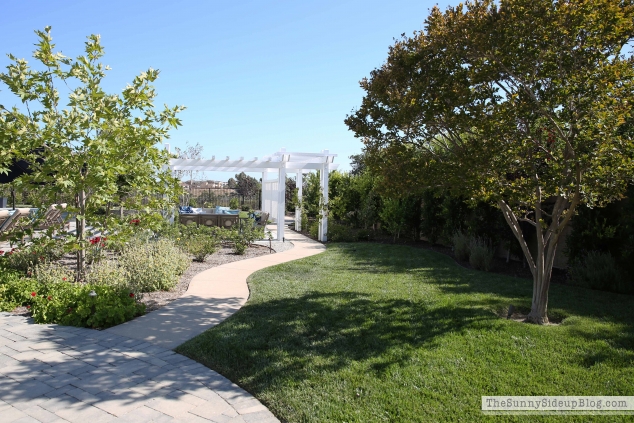 Bike/scooter path is still in tact!


Now my kids ride underneath the back of the pergola.  Eventually I want to grow vines running up and over everything.


So that's our new pergola/fire pit area!  Definitely more work than we thought it would be getting things finished, but well worth it.
Can I interest anyone in a S'more?
:)
*affiliate links used
xoxo, Erin