Happy Friday everyone!  Time for a few of my latest favorite things.  Excited!  I have some fun things to share with you today.  First on the favorites list is this beautiful and functional Calendar Pad created my by talented friend Amy who blogs at 11 Magnolia Lane.  This desk calendar was love at first sight for me!


Last week I shared my new favorite day planner with you all and this calendar pad is the perfect supplement to that!  Aside from the fact that it matches perfectly (bonus!), I also love the way it's laid out with a quick look at the days of the week and also spots for random to-do's and projects.  I'm planning to use one of my calendars for every day and one for blog to-do's.  It's the perfect size too.  Big enough that there is plenty of room to write, but not as huge as some desk calendars are.  Love it!  You can see more details and get your own here.
Sources: Planner, Calendar Pad, Mercury Vase, West Elm Pencil holder.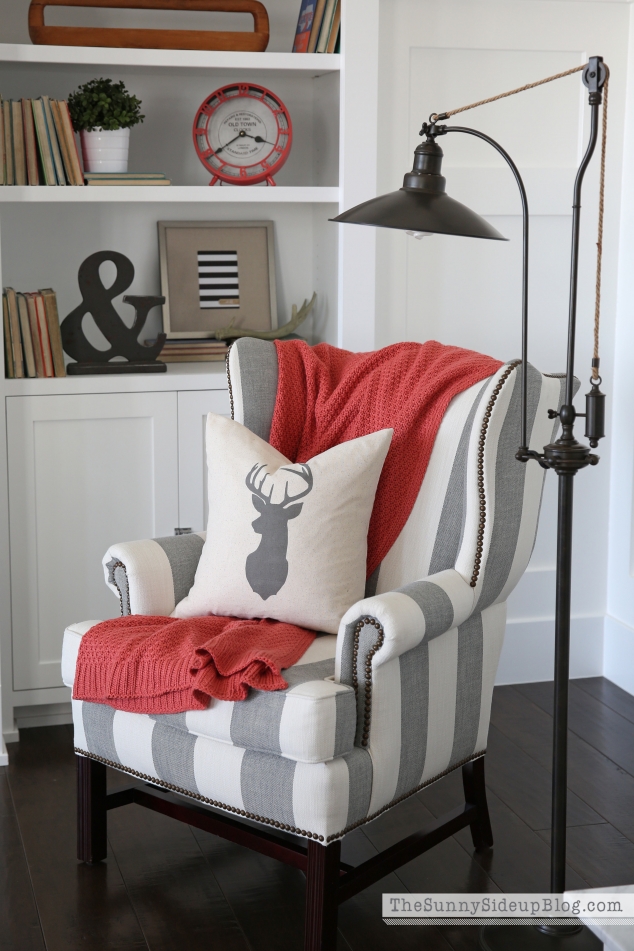 Have you started adding any Fall touches to your home?  I've been holding off because it's still so hot here!  But I did cozy up my favorite chair with this new pillow from Bows and Burlap Designs.  I absolutely love supporting Etsy shops and Erin's shop is too much fun.  SO many cute pillows.


I also picked up this fun arrow pillow (since I have a thing for arrows lately).  I just need to find a good place for it.  Check out her cute collection!


Btw – I'm trying to be better about sharing sources to help with the question "where did you get that!?" that pops up so much.  Also I HAD to tell you that my favorite lamp from Pottery Barn just went on sale!  Makes me want to buy another one.  :)  Sources: Pottery Barn Thatcher Chair, Pottery Barn Glendale Pulley Task Floor Lamp, Target coral throw, West Elm picture frame, Bows and Burlap pillows, rest of the shelf accessories are from Home Goods.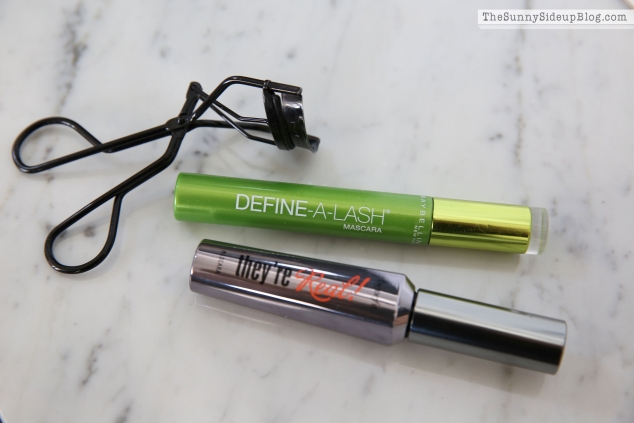 I've shared my favorite mascara with you before but it has been awhile and I actually have TWO favorites right now. :)  I love them both for different reasons!  I'm always trying new make-up and no matter how many mascaras I try I always go back to my standby Define-A-Lash by Maybelline.  It goes on so smooth – no clumps – makes your lashes LONG.  I love it.  I always buy the "very black."  My new favorite that I also love is They're Real! by Benefit.  WOW.  This really makes your lashes long and thick.  It was suggested at our last favorite things party so I had to try it!  I use the Define-a-Lash for every day and They're Real for special occasions and going out when I really want my lashes to stand out.  I also swear by my MAC eyelash curler.  It has been a staple and favorite for years!  Curl those lashes and then add some They're Real and your lashes will go on for days!  I was going to take a before and after picture and ran out of time so you'll just have to trust me on this one.  :)


So these three are an obvious favorite of mine. :)  But so are their new backpacks!  They picked them out themselves and really fit their personalities.  Kole had to have "scary dragons", Ad loved PB Teens Rolling Dot backpack, and El fell in love with this striped backpack from Target.  I think she has been hanging out with her mom too much. ;)  Love new backpacks and sharpened pencils.  Fun time of year!  I snapped this pic yesterday at pickup.  We had a great first week.  So proud of these three.


My kids aren't the only ones who got a new bag!  I found the perfect Fall bag you guys!  It's Nordstroms Reversible Faux Leather Tote and it looks SO much more expensive than it is.  I needed a large bag for extras.  A bag for traveling, packing things to entertain the kids if we are at church or an appointment, if I want to carry my planner somewhere, etc.  I love having an oversized bag and this is perfect!  Want to see the coolest part?


It's reversible.  Too much fun.


It comes in so many color combinations but these three were my favorite!  I had the navy in my on-line cart for a while.  Then I switched to the grey.  I was initially trying to break out of my bag comfort zone, but of course I ultimately went with my true love – the Cognac and Aqua color combo.  No surprise there.  :)


I snapped a quick picture the other day so you can see the size of the bag.  Was taking my new peep toe booties for a test run.  :)


Nothing like a new bag for Fall!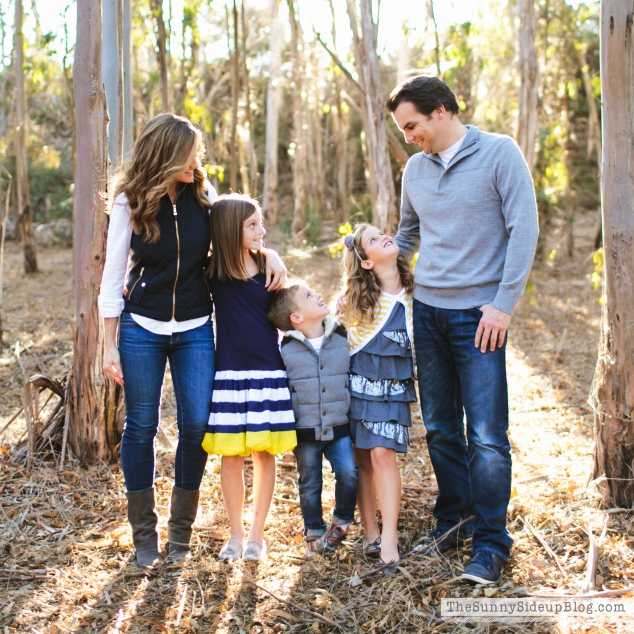 Last but not least I have to give a quick birthday shoutout to my husband who turns 4o today!  This was the picture and message I shared on IG and Facebook late last night:
Just past midnight on the west coast and I wanted to be the first one to wish my husband a happy 40th birthday! I love this picture (outtake) because we are all looking at him.  This is always the case at our house!  He takes such good care of us and makes us smile every single day.  I truly can't imagine doing life without him.  Babe.. remember how I told you I can't be married to a 40 year old?  Well I guess I changed my mind.  ;)  Love you most!  xo
We really do love him more than words could ever express.  And I really can't believe I'm married to a 40 year old!  And not that far from 40 myself.  Ahhh!  How did that happen!? :)  I can't imagine growing old with anyone else.  He's a favorite for sure.
:)
Enjoy your weekend!
xoxo, Erin