*Huge thank you to Nordstrom for sponsoring this post and for helping me keep my middle school girls in style and feeling good about themselves!  (affiliate links used)
My sweet Addison is doing a little modeling for me today to share a few cute things she has been wearing lately!  Fall Fashion for girls!  Although our Fall fashion might look a little different than yours since it has been over 80 degrees on the coast this week.  (Sigh..)  October is always one of our hottest months!  And so sad and stressful with all of the fires.  I don't like to wish away this month, but we are definitely excited for some cooler temps.  They usually come around in November.. after my kids have spent Halloween sweating in their costumes. :)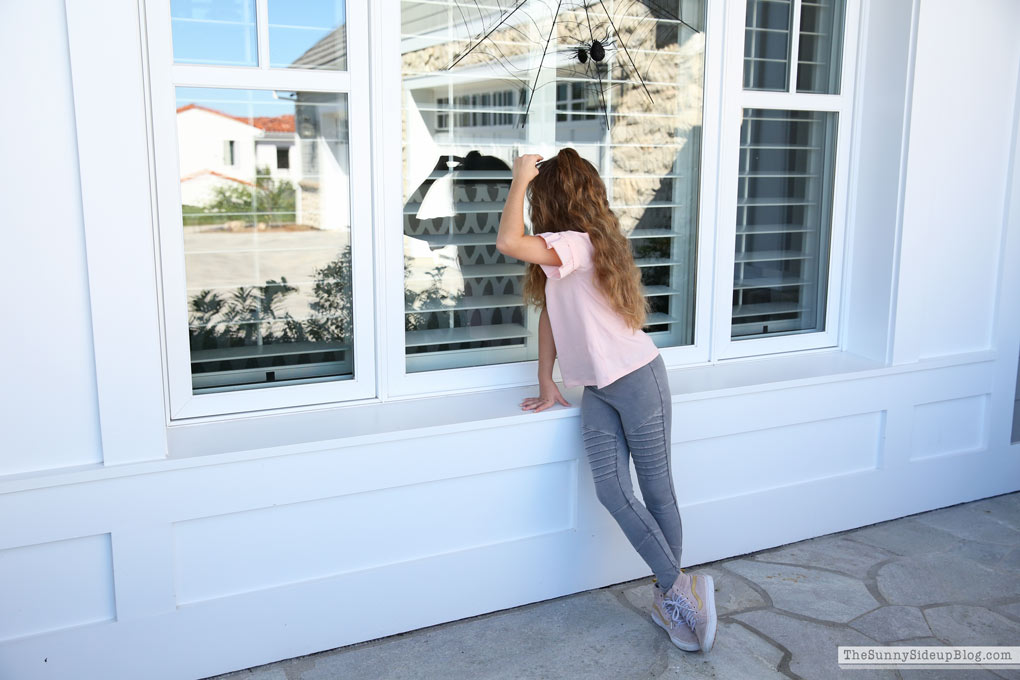 Quick hair check before we get started. ;)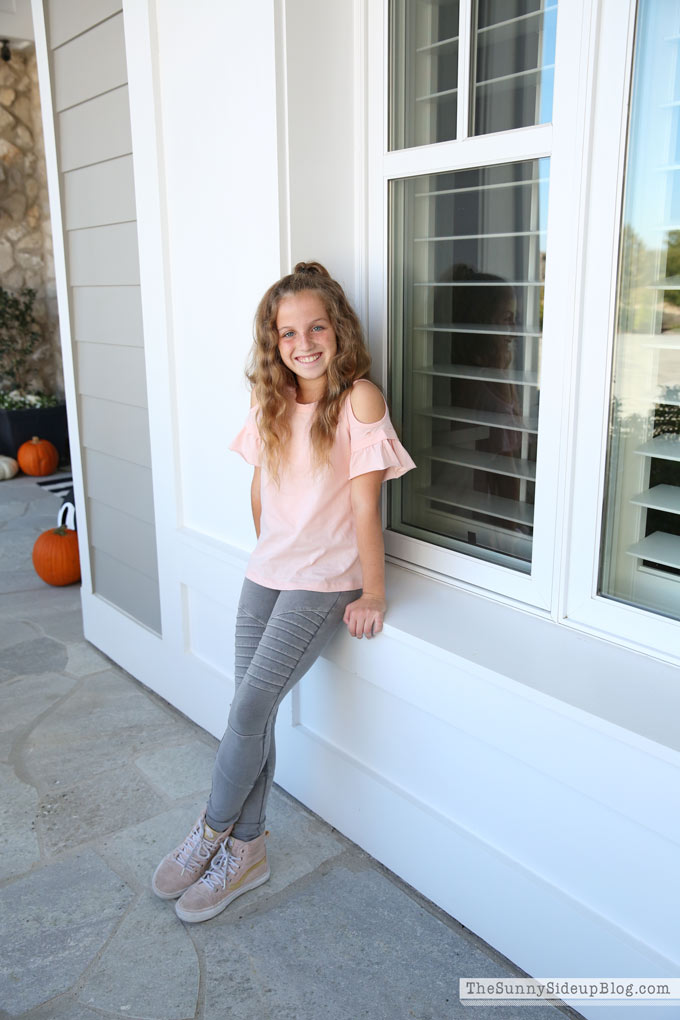 {flutter sleeve cold shoulder tee/high waist moto pants/pink Vans sneakers}
There's my girl ready to go. :)  First up.. we are loving this top and these high waist moto pants!  The pants are stretchy and comfortable and they go with everything.  My girls have them in black too and wear them all the time.
They have them for women too and are almost identical to this pair I bought and lived in last Fall.  Very flattering!  And did I mention that they are perfectly stretchy for Fall comfort food? ;)
This sleeveless lace top is another favorite.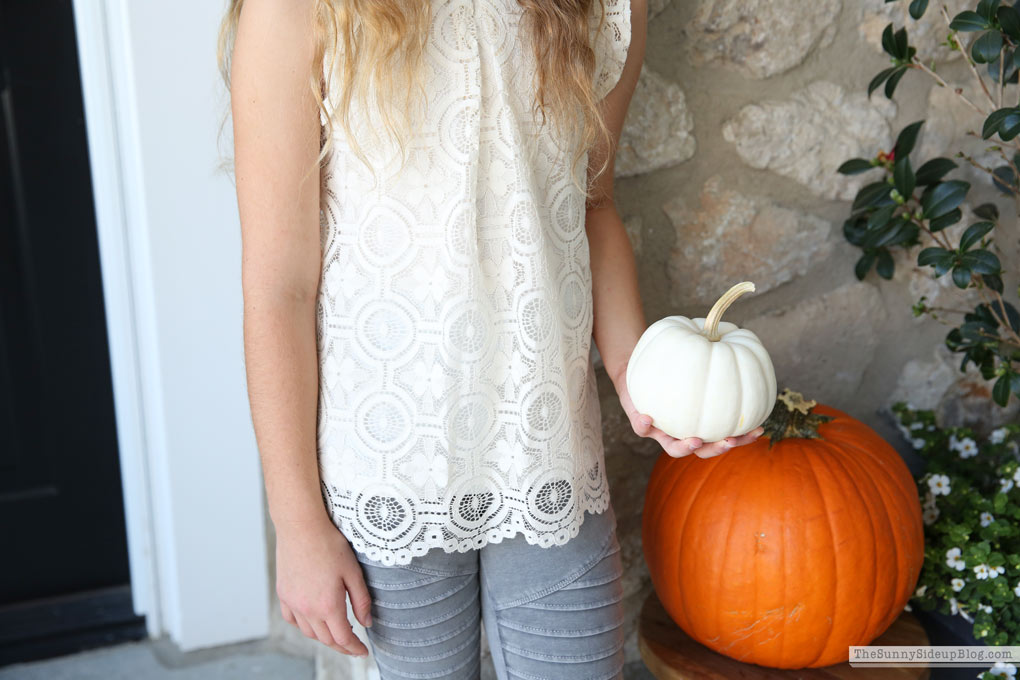 So darling, amazing quality and only $32!  El has it in navy.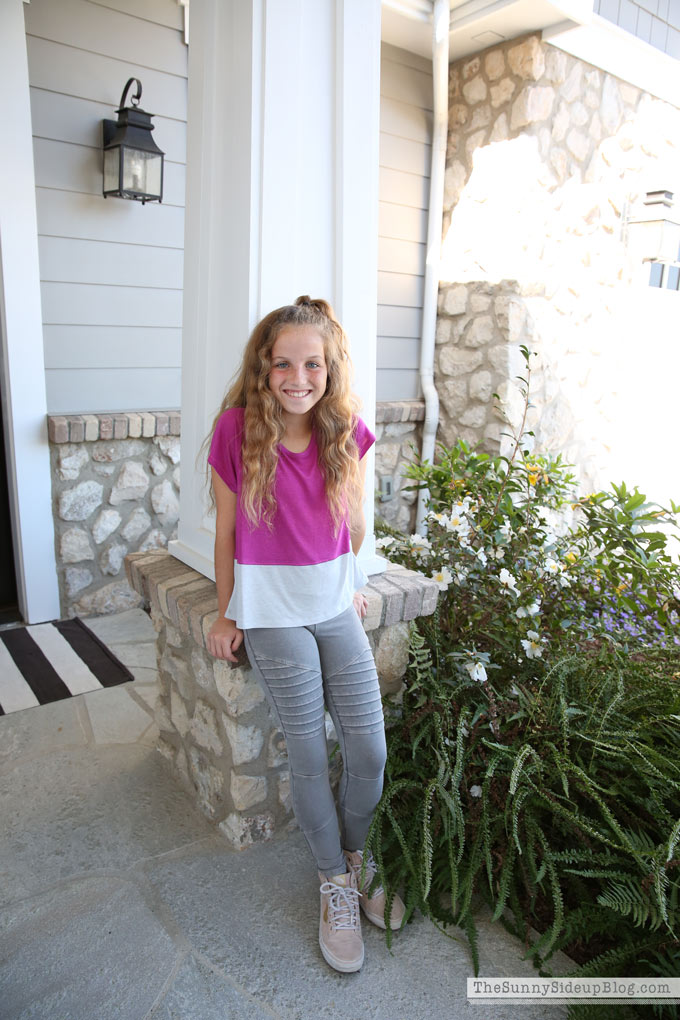 These Zella tops are so cute and are 40% off!  My girls wear them over dance clothes or to school.  Zella has always been a favorite brand of mine so I love finding cutie Zella items for my girls!  These pink sneakers are also so fun and Ad's favorite shoe right now.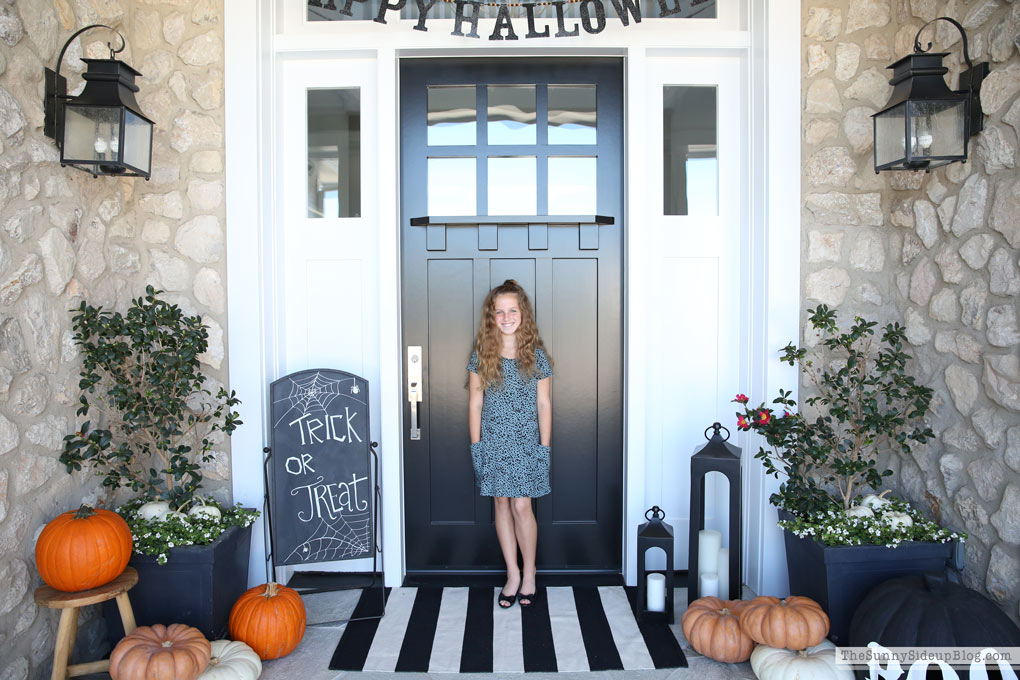 Ad really wanted this t-shirt dress and when we first saw it on-line I wasn't sure.  I know leopard prints are in, but to be honest, I've never been a huge fan.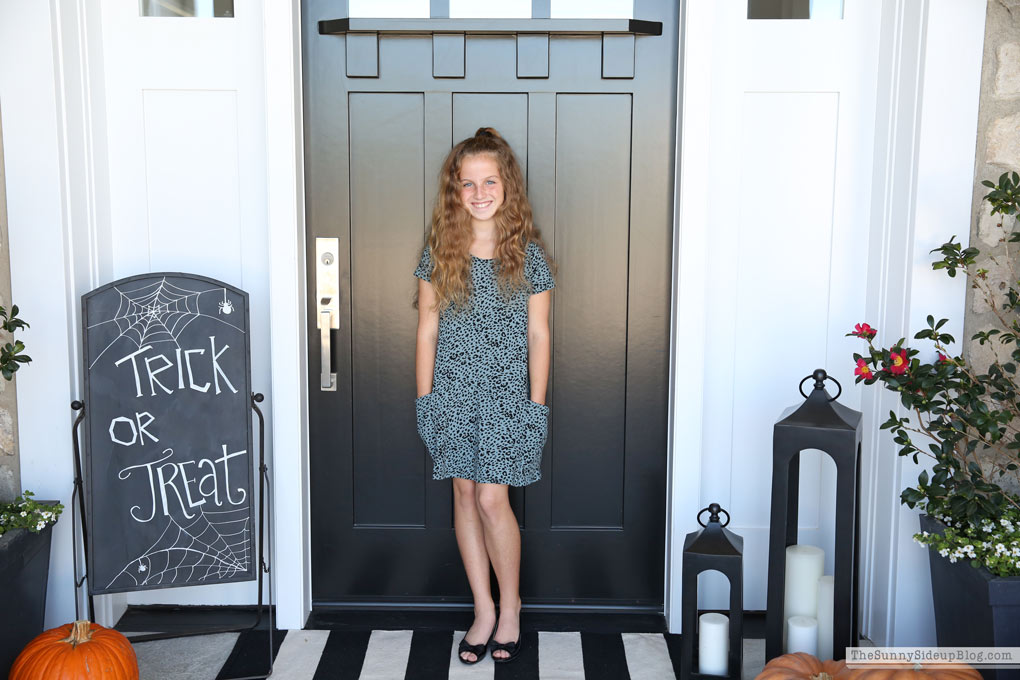 But then it came and she put it on and it looked darling!  Such a cute, casual fit and I love the blue.  It will look good layered with leggings and a levi jacket when it gets cooler too.  She won me over quickly with this dress.
Heading to play practice with a close friend in this cute sweatshirt dress!  It's hard to see in this pic but it has shimmery thread so even though it's causal and comfy there's a bit of glam.  Another dress that was high on her list.  I think she was hot the day she wore it, but was too excited to wear her new dress to care.  Ad loves fashion like her mom.  I've definitely had my fair share of days sweating in a scarf that I couldn't wait just one more day to put on. ;)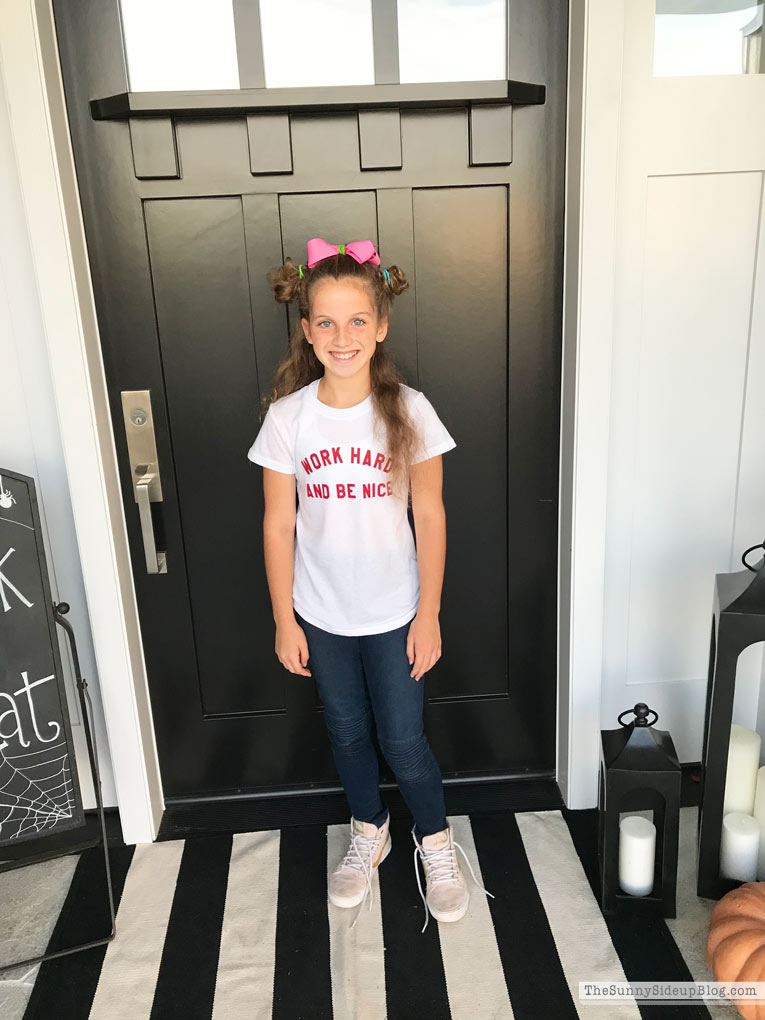 I didn't know yesterday was crazy hair day at school so when Ad walked downstairs for breakfast with her hair like this my brain was instantly racing.. ok.. how do I fix this situation without hurting feelings..  ha ha.. Total relief when she told me!  Whew.  ;)  Her shirt is our favorite brand of Nordstrom tees!  Sub Urban Riot.  They always have darling tees with fun sayings on them.  They are also really nice quality and a great fit for a tee.  They hold up well after many many washings!
Good job on the crazy hair Ad.  Next time tell your mom the day before. ;)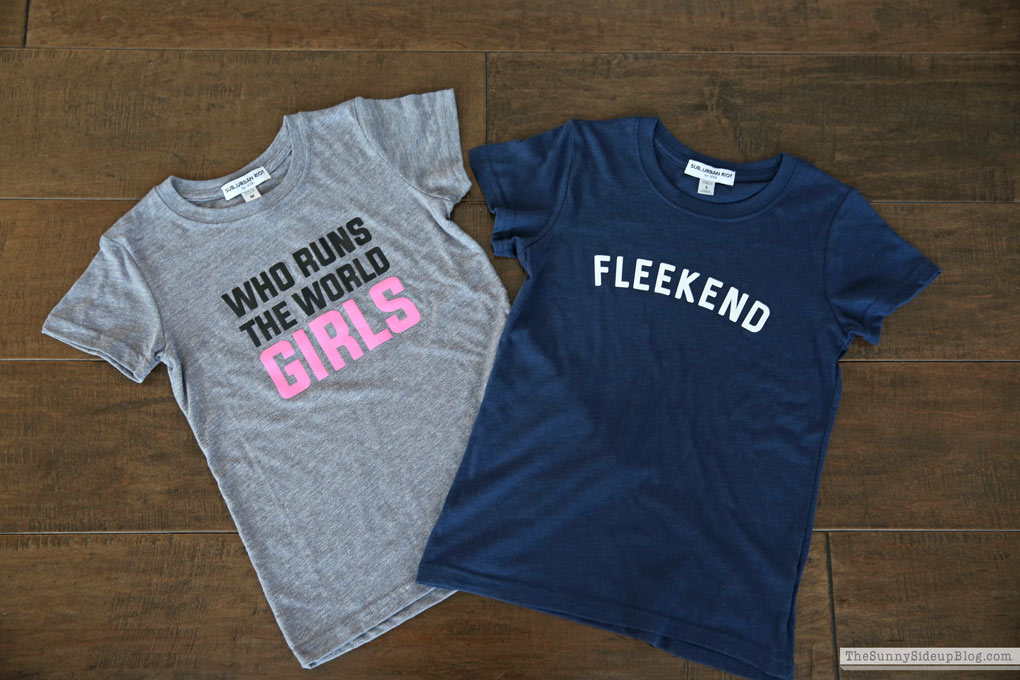 Two other Sub Urban Riot tees Ad is recently wearing and loving – Who Runs the World GIRLS and FLEEKEND.  :)
I know you've seen me in Sub Urban Riot tees a time or twenty.  :)  My favorite good vibes tee just came out in a sweatshirt!  And I kinda want the Work Hard Be Nice tee like Ads along with Taco Tuesday because Kole loves the Lego movies and would dig that. ;)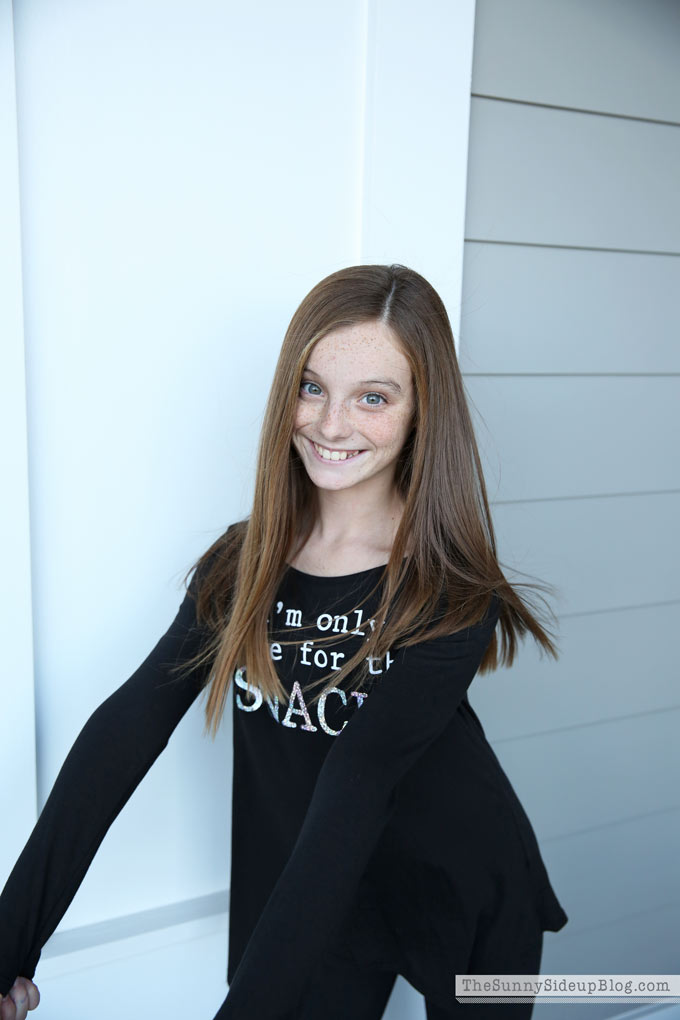 A favorite past Sub Urban Riot Top El lived in.  I'm only here for the snacks.  Sounds about right. ;)  Guess what's crazy and so fun and also sad!?  El is growing out of the "girls" section of clothes!  I can't even believe it.  She can still wear some of it, but is starting to gravitate to things in my departments and fits in a lot of xs tops like I do.  I thought this was so great and said "El!  We can start sharing clothes!  This will be so much fun!"  But after the "oh wow.. mom.. really?" I got followed by a teen eye roll I'm thinking she isn't as excited about this new development as I am.  Ha ha..
Long gone are the days I had complete control and could put them in colorful, matching little dresses and do their hair!  Sometimes I miss those days!  This picture reminded me of a note I got from Ellie the day I did her hair in that side pony tail.  I was in a hurry because we were going somewhere so I mixed up her regular pony tail and did a side pony tail (because I'm wild and crazy like that) and she HATED it.  We didn't have time to fix it so I said "leave it and we'll take it out when we get home!"  Then while I was doing Ad's hair she slipped this note under the door for me…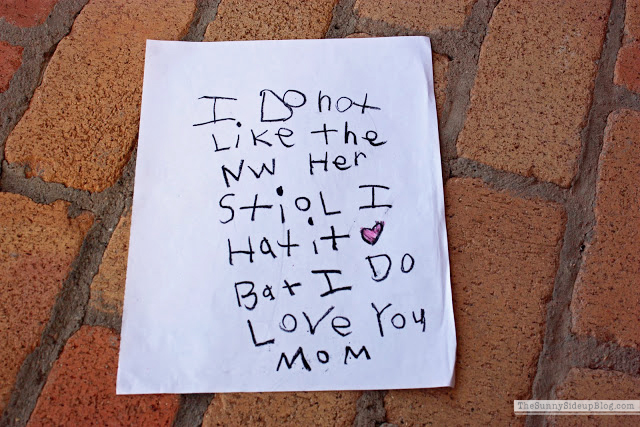 I do not like the new hair style.  I hate it.  But I do love you mom.  
That is an all time favorite. :)
Two nights ago I went to go to bed and laid down on another note.  This time from Addison.  She had snapped at me about something right before I dropped her off at play practice earlier that day and then immediately felt bad.  She wrote me the sweetest note apologizing and said at the end "and I am sorry for having a teen moment.. it won't happen again!"  
Such a darling note but that last line just made me laugh out loud!
Oh my word sweet girl.  It most certainly will happen again.  Lots of "teen moments" will happen with both of you girls over the next 5-6 years.  Let's just hope I have the stamina to handle them all.
If they are always followed by sweet notes apologizing I'm pretty sure that I will.
:)
{POST SOURCES}




{Cute sweaters we are loving and can't wait to wear when it cools down!}

xoxo, Erin