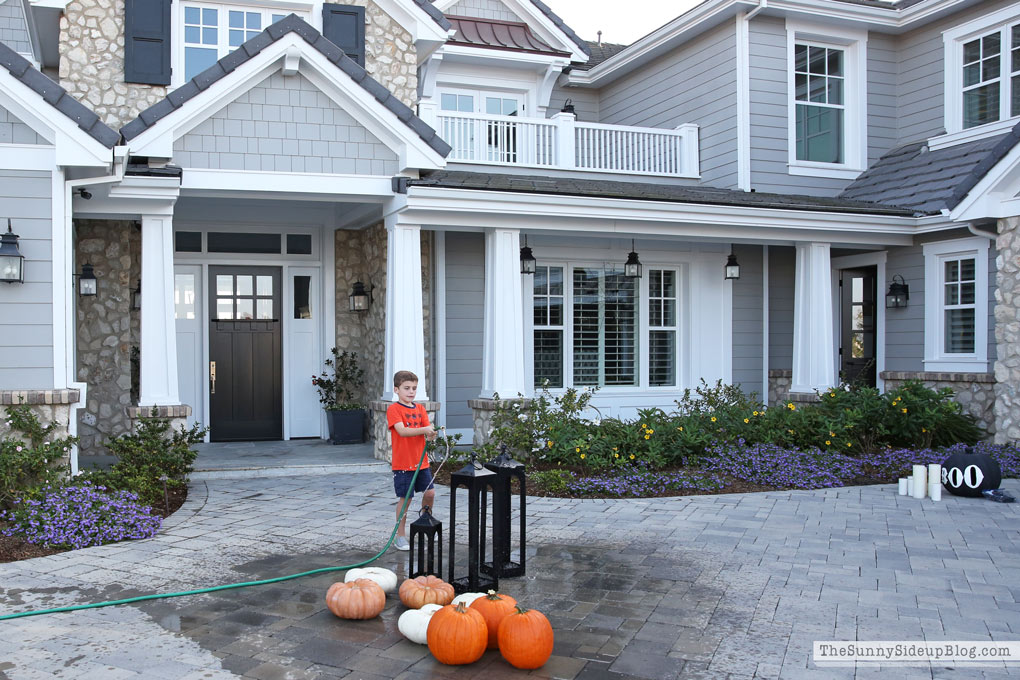 Last Friday night Kole and I got serious.  Serious about our front porch game.  We were more than ready for some Halloween porch decor, but my little buddy sternly reminded me that we needed to clean the porch first.  Ha.  He gets so excited to clean the front porch!  It's one of his favorite things ever which cracks me up.  He is definitely my child. :)  Washing off the lanterns and pumpkins is his favorite chore, quickly followed by watering the plants and sweeping.  What would I do without my little helper?  I wouldn't have nearly as much fun.. that's for sure. :)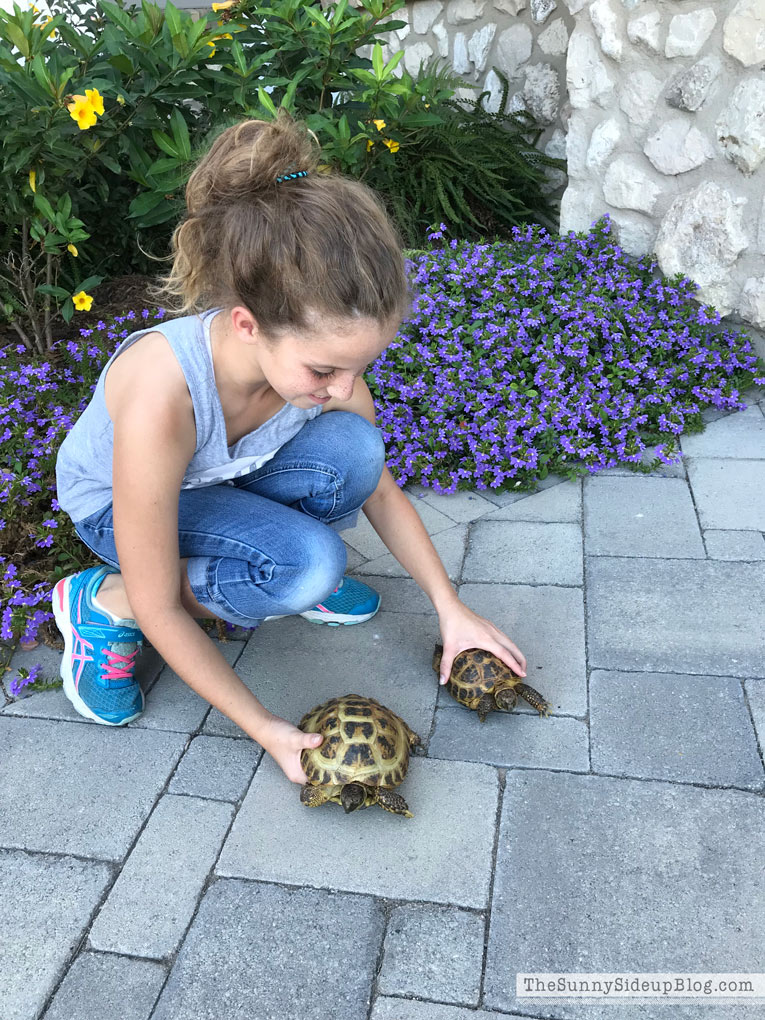 Ad joined us for part of the evening and while Kole and I sprayed and scrubbed, she let the tortoises out to do their nightly exercises. ;)  I put this picture on IG stories one day and got so many questions about these little guys!  For those asking.. yes – they are our pets.  The girls each got one for Christmas years ago because when you have a child with severe fur/saliva animal allergies, reptiles are the answer. :)  Yes – they are low maintenance pets which I love.  They eat lettuce and vegetables and aside from the occasional outing in the yard, they chill in their cage in our garage. (We are able to keep them in the garage year round because of our mild weather.)  The girls named them Coco and Spring.  They get homemade Halloween costumes in October and their own mini Christmas stockings in December and are truly part of the family.  As in I will NEVER be able to get rid of them.  They will live in my garage feasting on lettuce FOREVER.  Can you tell how excited that makes me?
Wait.. you came here to see my Halloween porch decor?  Not to learn all about the daily habits of our pet tortoises?  Just a slight detour… ;)
Here is my Halloween porch decor!  And thanks to Kole, our pumpkins are sparkling while being displayed on the cleanest porch you've ever seen. ;)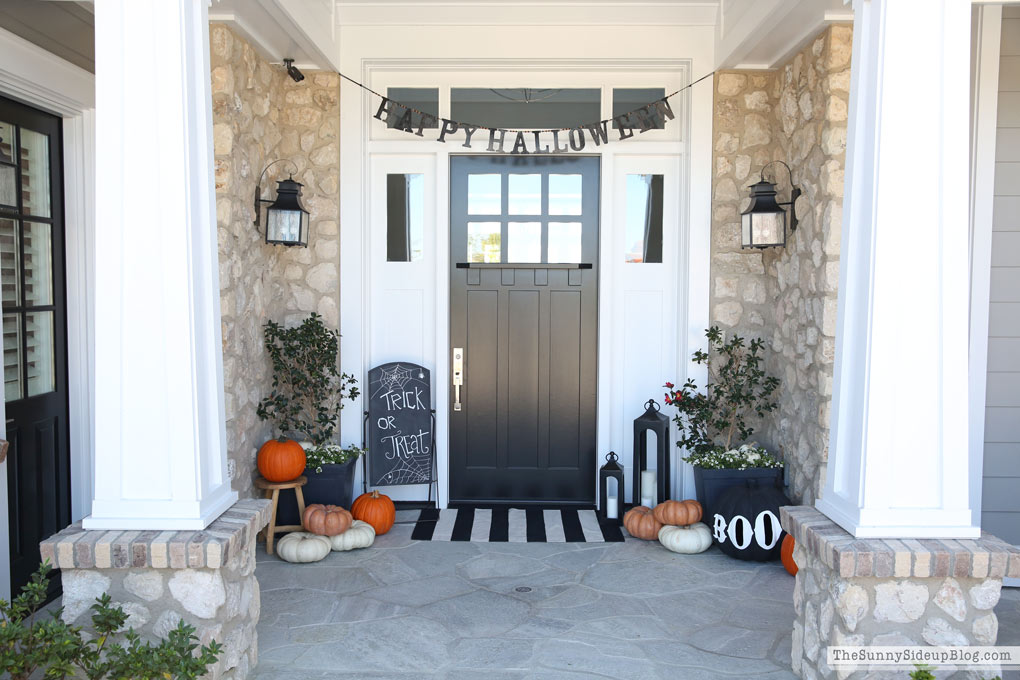 I used the same things I've used in past years, but clumped everything together near the door this year.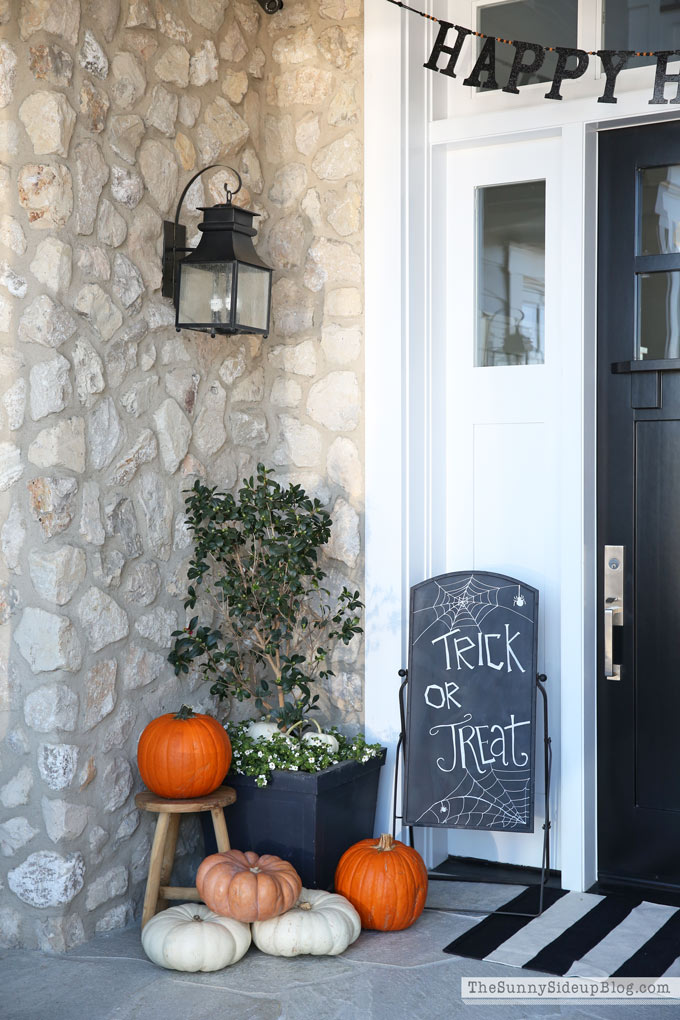 I wrote the "Trick or Treat" chalkboard art last year too and just never erased it!  Might as well use that baby again. :)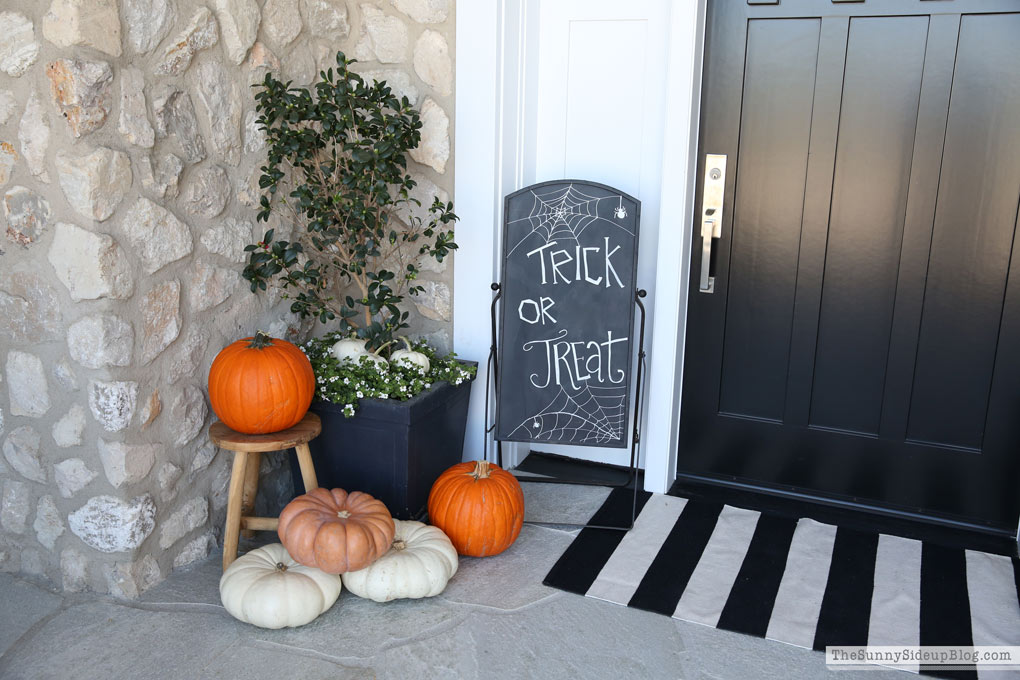 A few Cinderella pumpkins with a few bright orange pumpkins from the grocery store and we were in business!  I usually use a little wooden stool to add some height.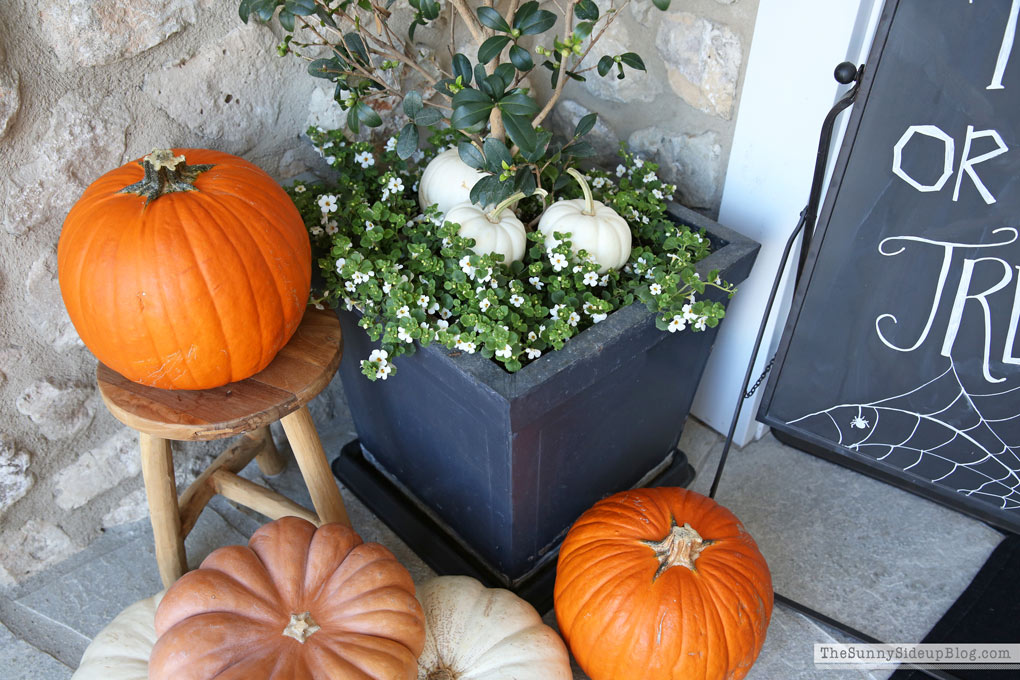 My favorite part of our porch this year?  The mini pumpkins in the greenery. :)
(The plant with the little white flowers is called "Bacopa" for those who have asked.)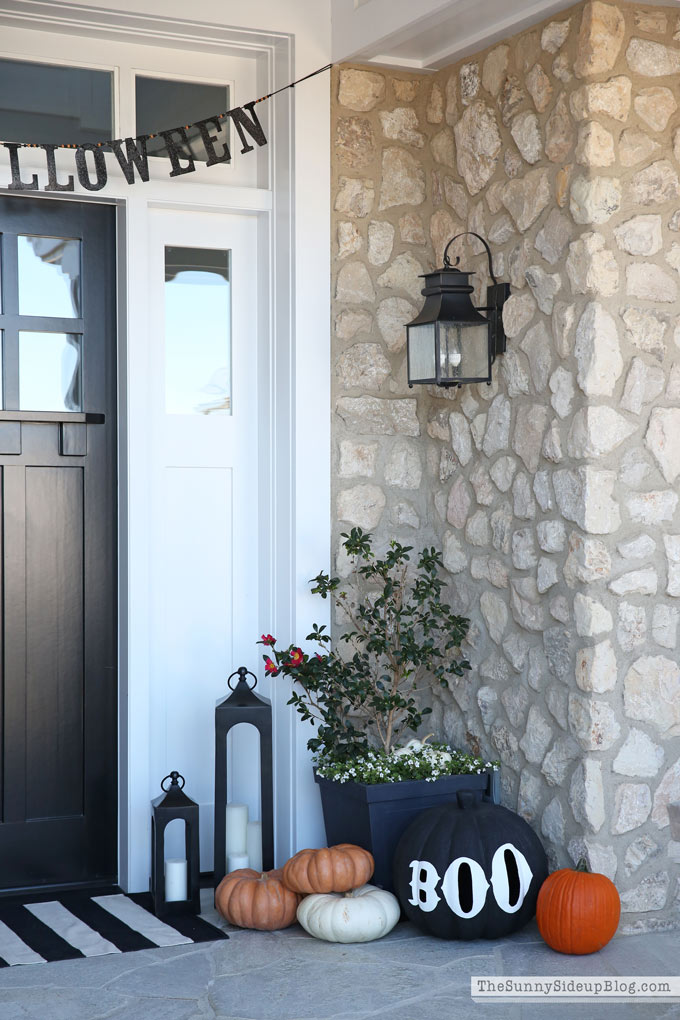 Still love our BOO pumpkin as much as the day I bought it!  Looks so cool lit up at night and is back in stock this year.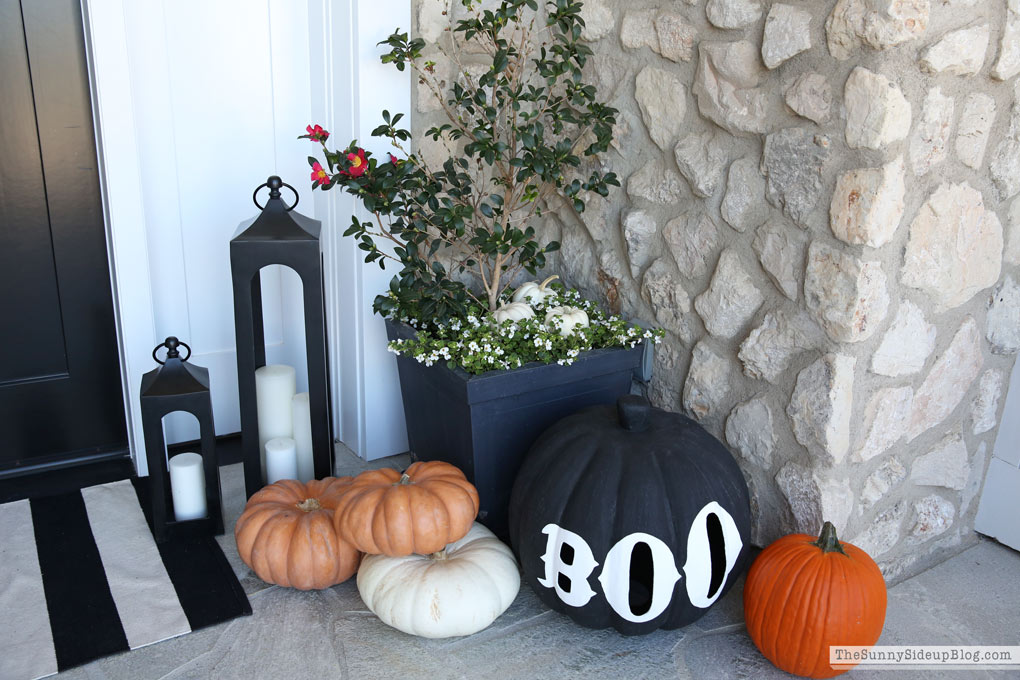 My black lanterns are another favorite porch staple and look especially fun for Halloween.  Without a speck of dust on them. ;)  #thankskole
This view of the pumpkins just makes me smile.  Pumpkins make everything better, don't they?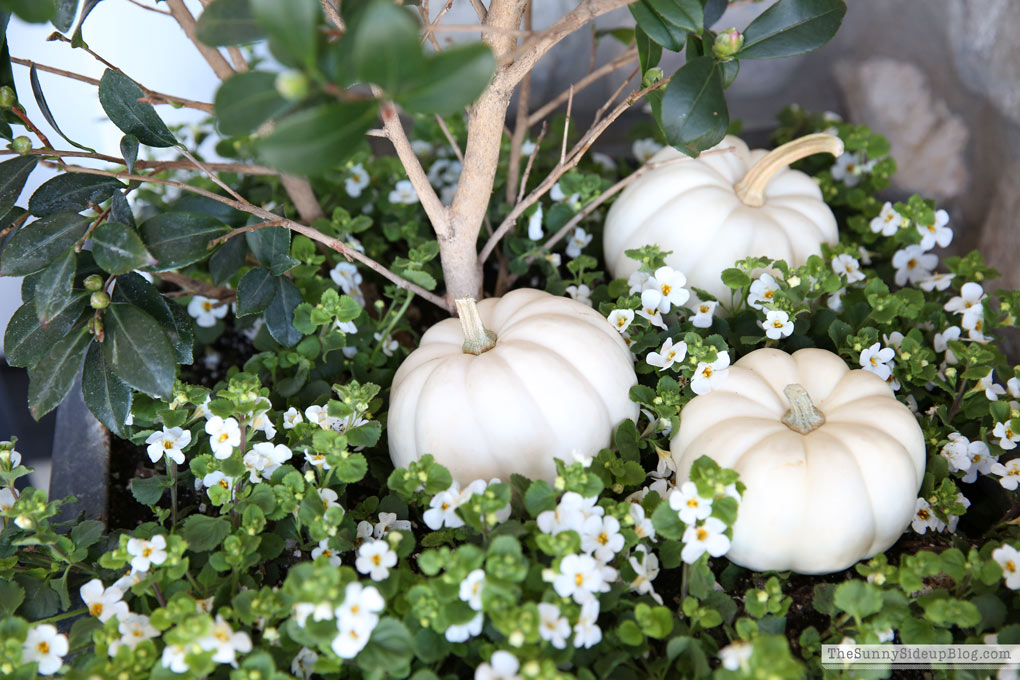 Especially the mini white pumpkins.  I adore them.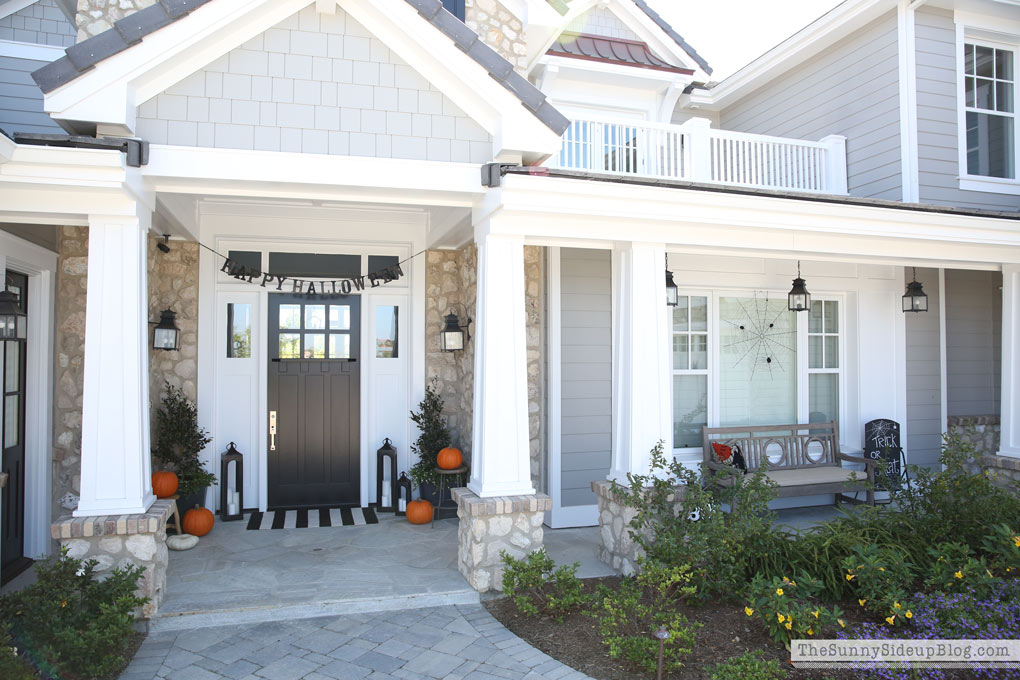 This is a picture of our Halloween porch decor last year.  I kept it simple by the front door last year and spread things out next to our bench.  (You can see better pics of it in this post.)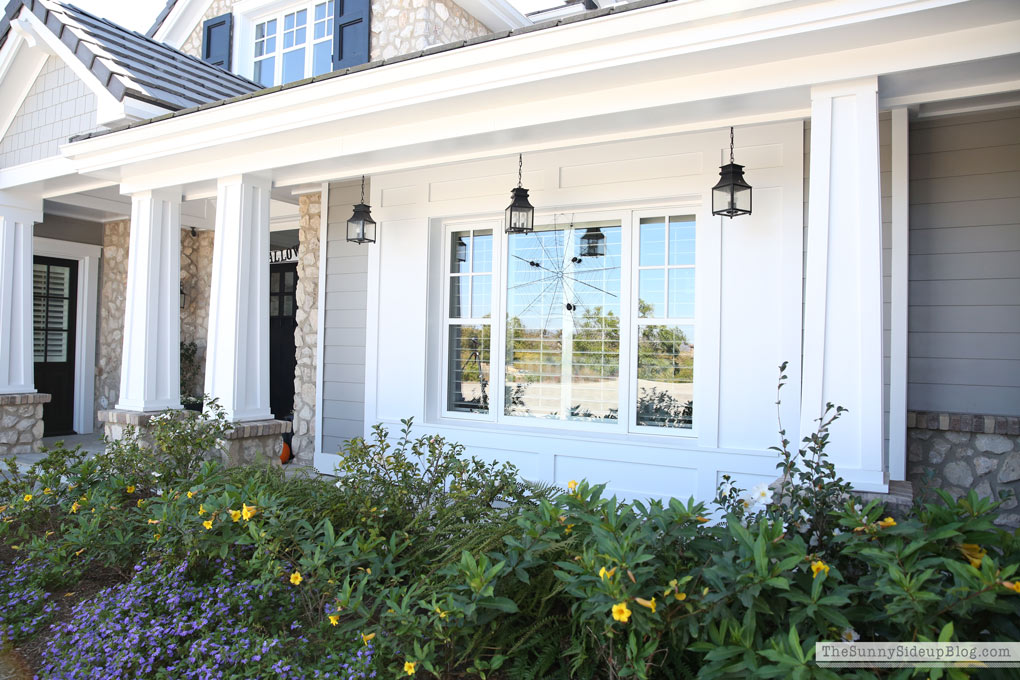 This year I moved the bench to our back yard so I just added our spider web to the porch window.  He's spooky enough to stand alone.
I can't believe it's already the middle of October!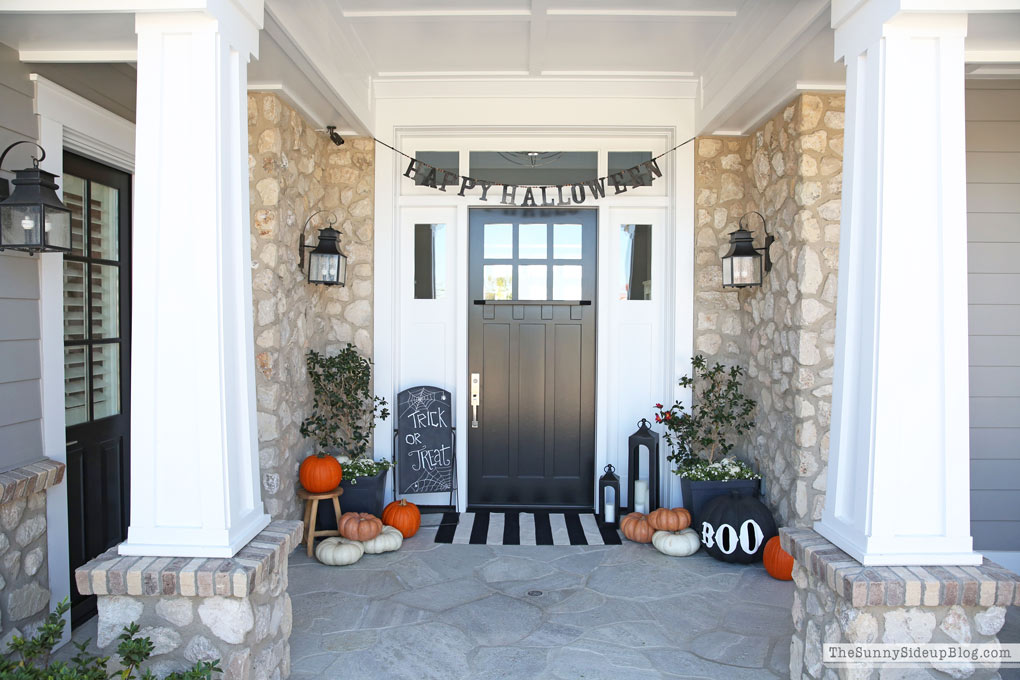 This time of year needs to slow down!  I love it and it always flies by too quickly.  So much to do.. so little time..
so many pumpkins that need a good scrub.
;)
{POST SOURCES – affiliate links used}



xoxo, Erin