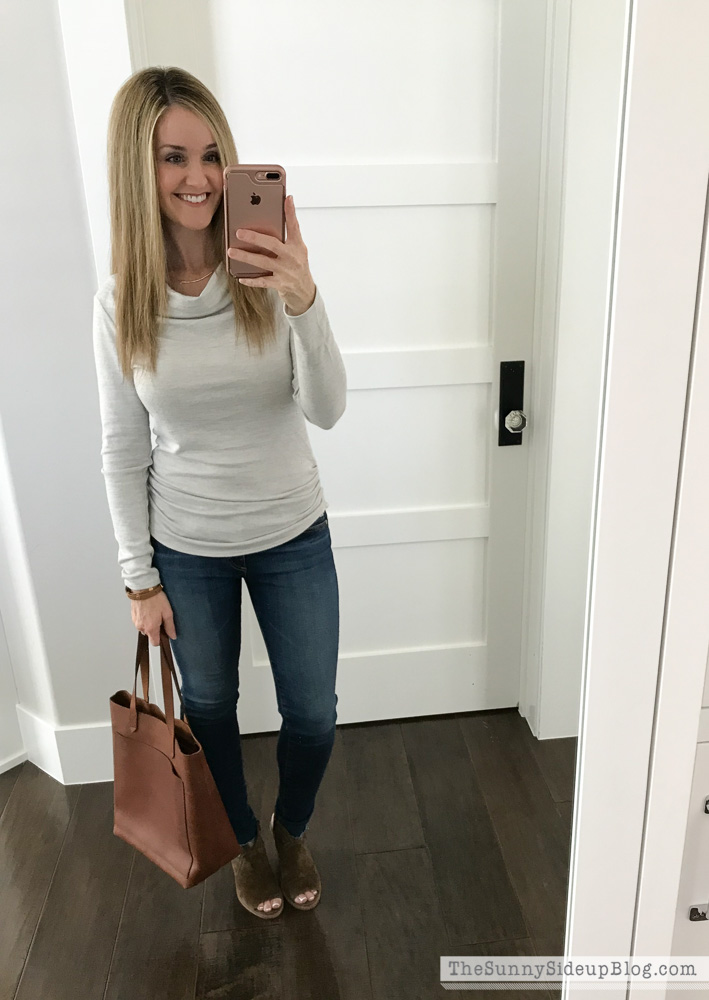 (Cowl Neck Soft Jersey Top/Tory Bracelet/Necklace/Jeans/Madewell Tote/Peep Toe Booties – on sale!)
(affiliate links used)
Happy Monday friends!  Sharing a few recent things I've been wearing and loving for Fall!  Do you live somewhere the leaves are turning?  If so can I come and visit? :)  This cowl neck soft jersey top is so cute and perfect for if you're having that weather that can't decide if it's hot or cold.  It's long sleeved but light weight.  Fitted but not tight.. really flattering!  I keep reaching for it.  Comes in this grey and also in black and burgundy.  Also my favorite peep toe booties that I have in three colors and wear most days are 20% off!  Woot woot!  It's a peep toe party!  ;)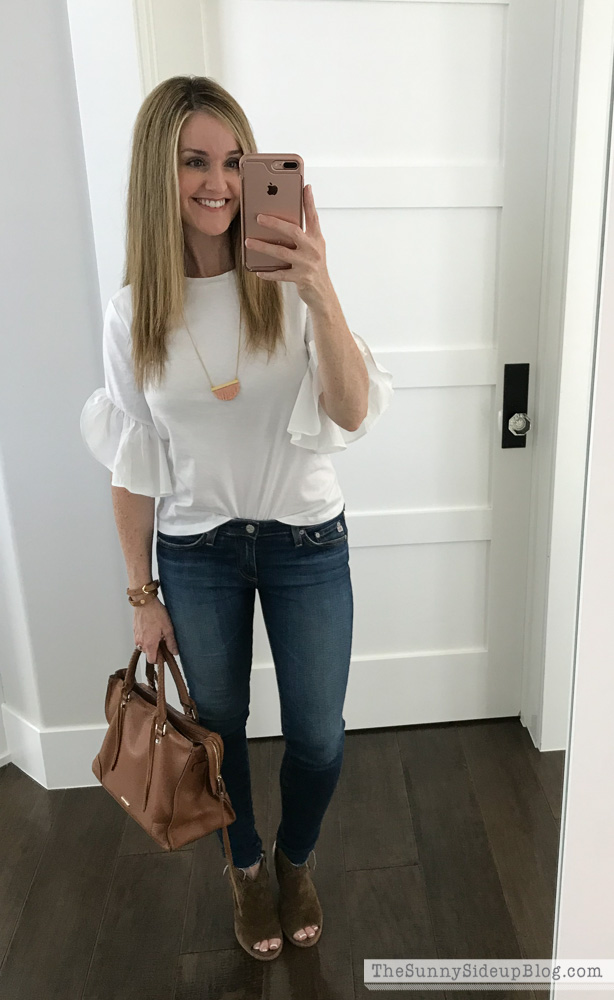 (White Ruffle Sleeve Tee/Tory Bracelet/Jeans/Booties – on sale!/Similar Necklace here and here/Similar Purse)
This white ruffle tee is another recent favorite.  I love white for Fall!  It's a little thicker than most which makes me happy because it isn't as see through.  I struggle to find white tops that aren't see through!  Sleeves are darling and every time I wear it I get so many compliments on it.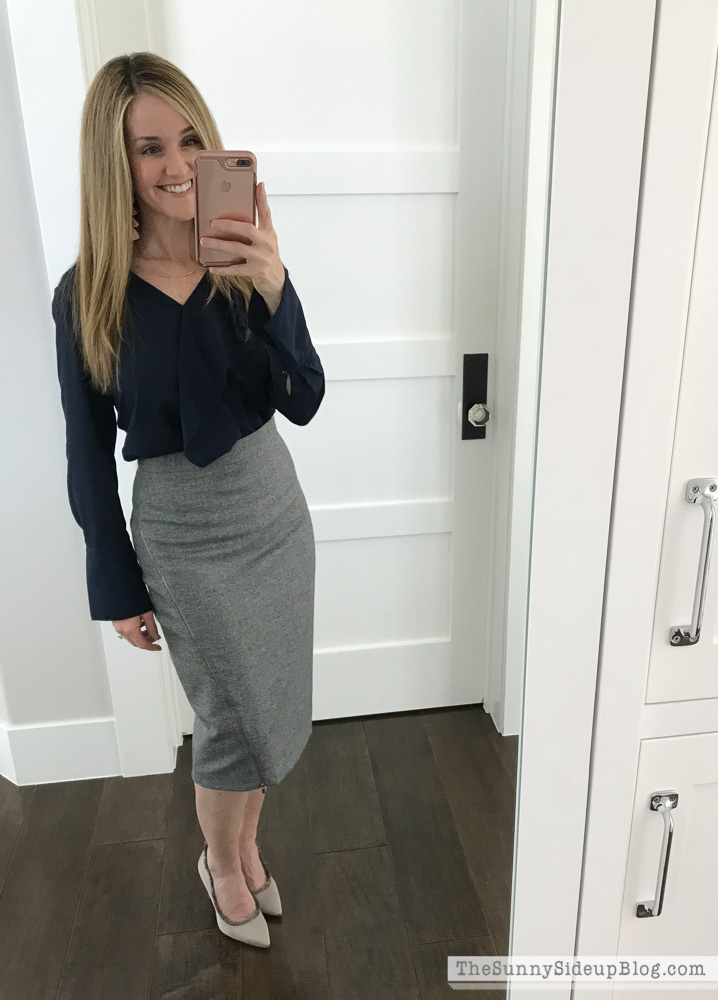 (Long Sleeve Cascade Ruffle Top/similar pencil skirt/Heels/earrings/necklace)
I found this beautiful blouse for dressing up a bit!  I was going to wear it in New York with this pencil skirt I've had for years and then ended up finding a dress instead, but I love and kept the blouse.  It's just so pretty.  I love the flowing ruffle and the way the sleeves bell out just a bit at the bottom.  So cute tucked in with a skirt.  (And speaking of ruffles, how cute is this pencil skirt!?  Wish list!)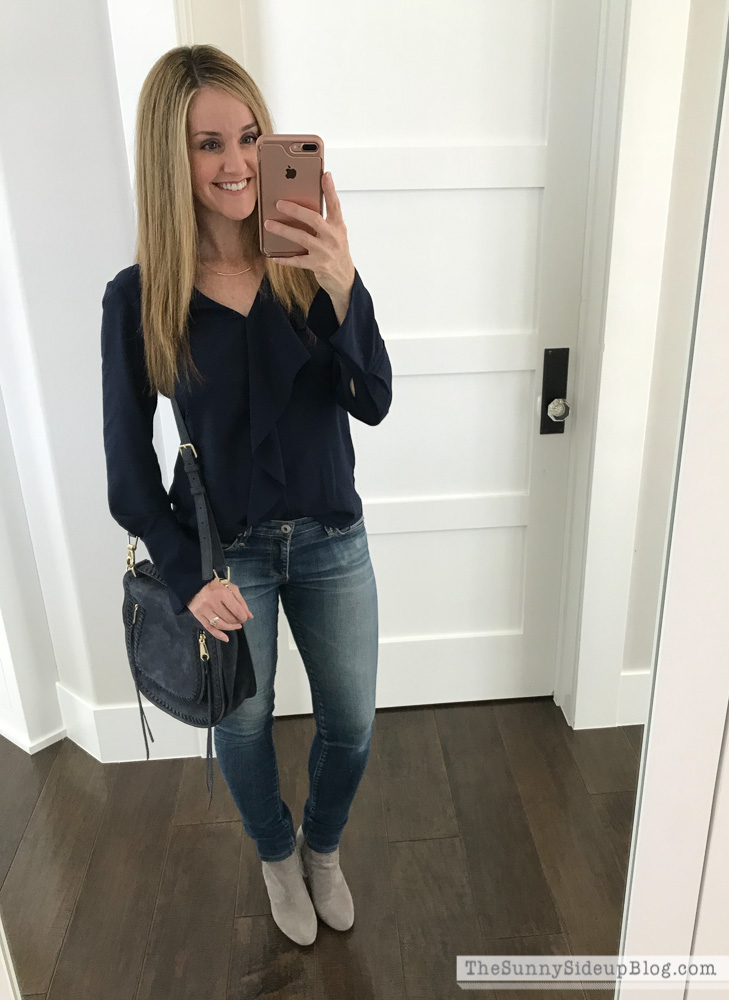 (Rebecca Minkoff Purse/Similar Booties)
It has a relaxed fit so it also looks great with jeans.  Love it with this purse!  Back in stock in three fun colors for Fall.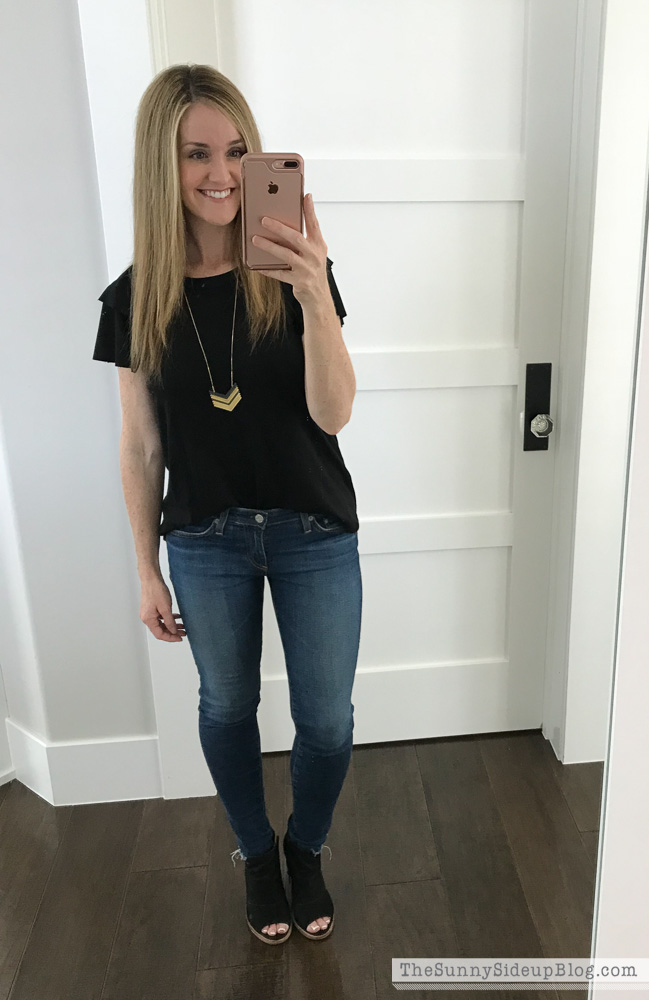 (Ruffle Sleeve Knit Top (on sale)/Jeans/Arrowstack Necklace/Booties – on sale!)
No.. this isn't a re-run pic.  I just have a thing for black ruffle tees.  Clearly.  Ha.  This one I'm wearing is really cute!  It's a flattering fit too and I love the material.   I wear this tank under it (a favorite staple) because the sleeves dip a little low under the arm.  Bonus.. it's 40% off!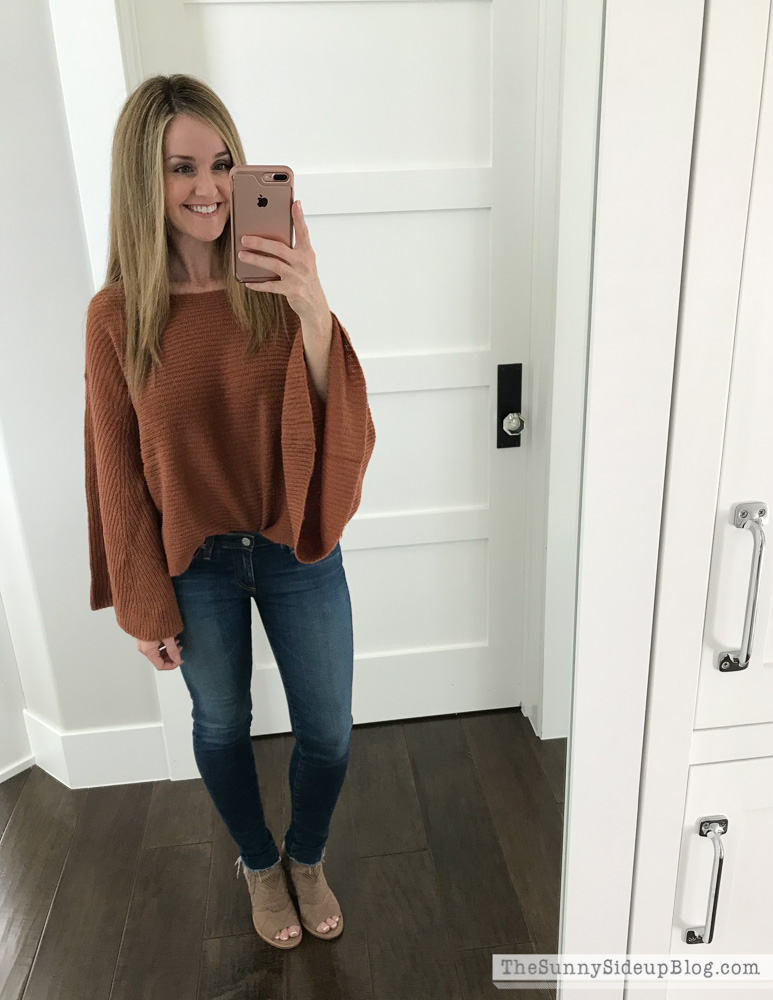 (Flare Sleeve Sweater/Jeans/Booties)
Couldn't resist this Flare Sleeve Sweater!  I packed it for our CO trip and never got a chance to wear it so I wore it last week and had to change at noon because it got too hot.. ha. :)  But soon the temps will drop and I will be loving this!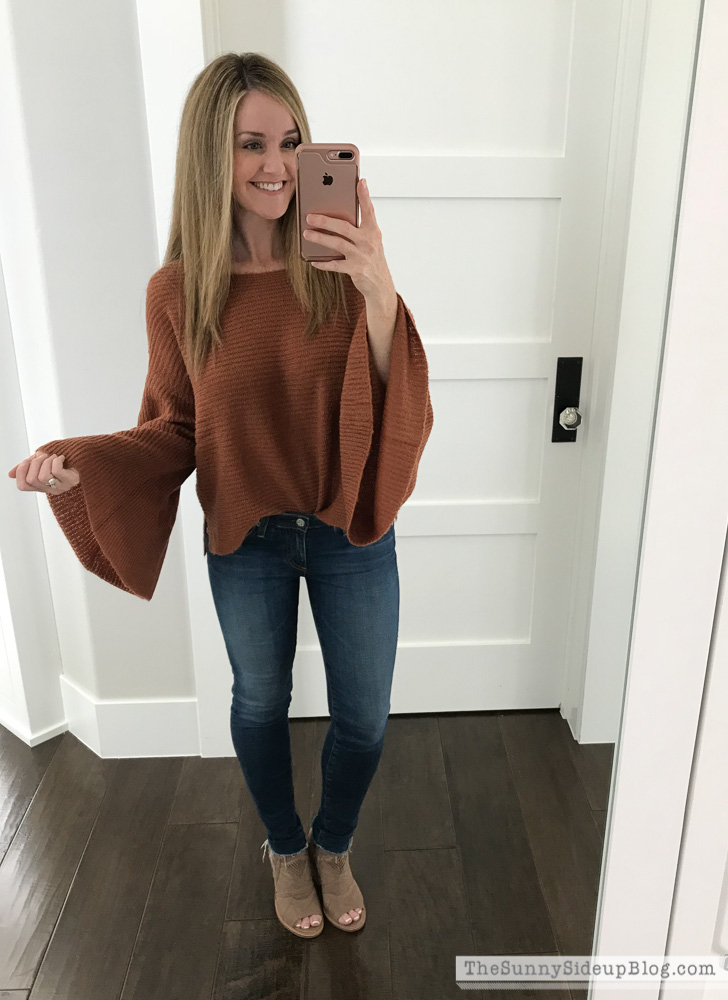 Here's a better look at the sleeves.. aren't they fun!?  It's so slouchy and comfy and I love this color for Fall.  Makes me want to head to a pumpkin patch. :)  It also comes in a pretty blue and a soft pink.
K.. speaking of our anniversary trip I shared (by the way.. it was so fun to hear from so many of you after that post!  Thank you!)… I mentioned that I tried on a lot of dresses before I found the two for my BHG event.  Here are a few of the runners-up.  Thought I'd share in case any of you need a new dress!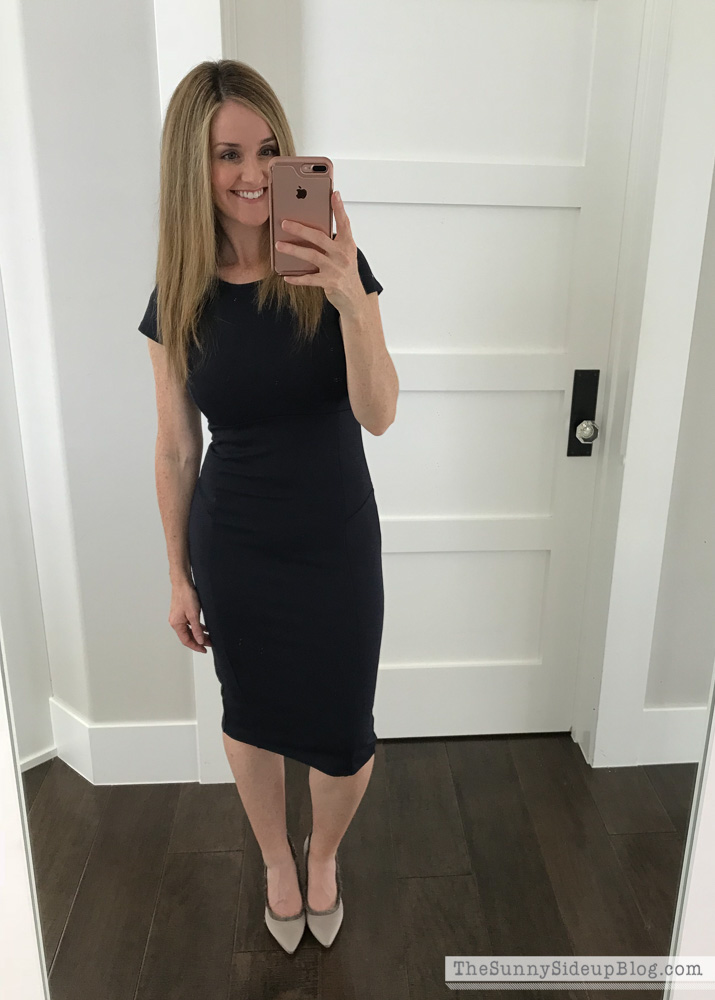 (Halan Pointy Toe Pump/Ward Seamed Pencil Dress)
This Pencil Dress is simple but so cute – comes in 4 colors and has amazing reviews.  I couldn't get a pic of the back of it (and would have looked ridiculous trying!), but it has a gold zipper that goes all the way up the back (so you can unzip the bottom of it as high as you want).  I really liked this dress.  It was a final contender.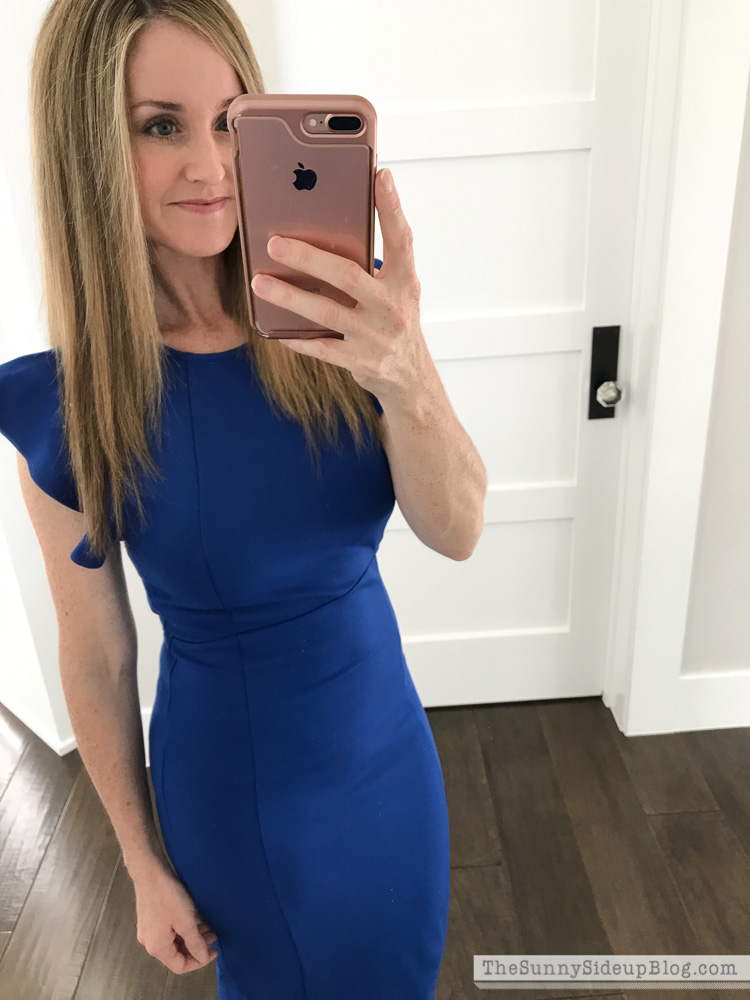 This Ruffle Sheath Dress is the same brand/style as the dress above but with ruffle sleeves.  I almost wore this dress to the event because I love the color and sleeves so much.  But it's really fitted.  Like I'd be in trouble if I ate pizza kind of fitted. :)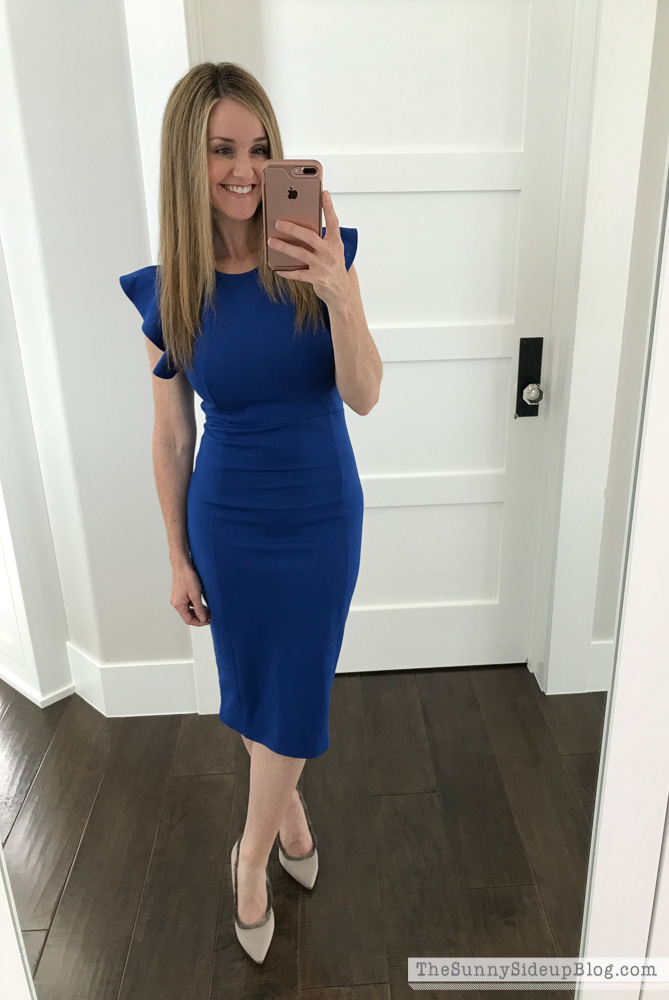 I tried going up a size but it fit the same way and was just too long.  It wasn't at all uncomfortable.. the material is really stretchy and comfortable.  It just fits in a way that shows everything.  One to wear with Spanx for sure!  ;)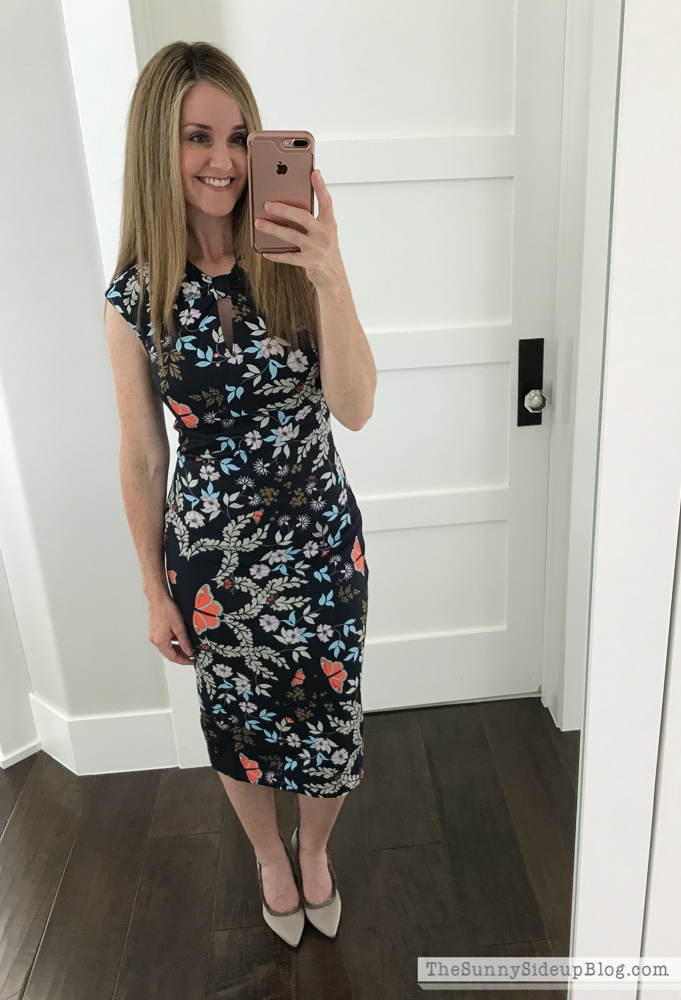 (Kiarra Kyoto Gardens Sheath Dress)
Another beautiful dress!  Amazing material and a great fit.  I loved the pattern.. but sometimes this much pattern scares me so I ended up returning it. :)   Those were the three dresses that made it to the finals!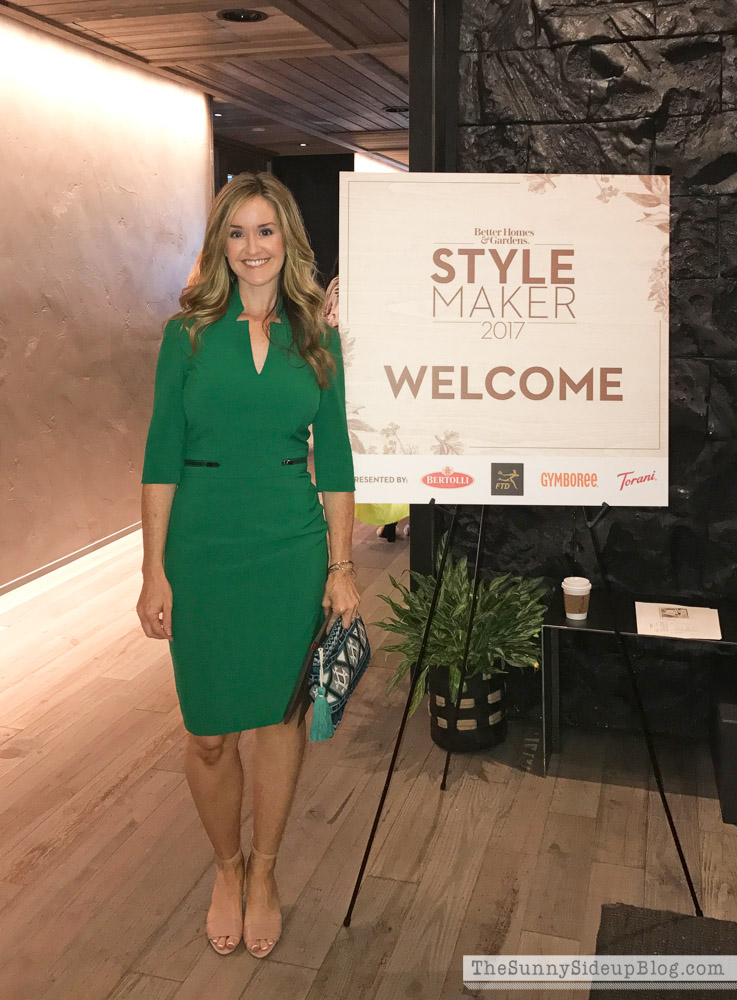 Winners were this green dress.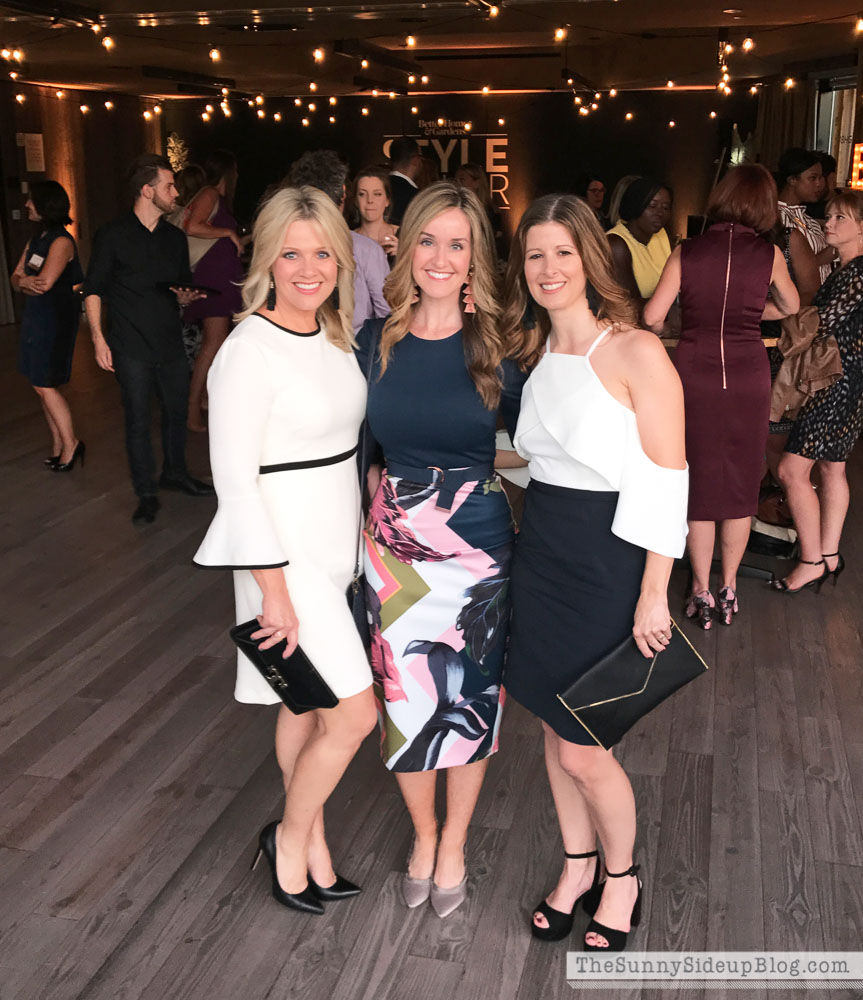 and this Casiew Eden Body Con dress if you missed my CO/NY post. :)
Two new Fall purses I have a crush on..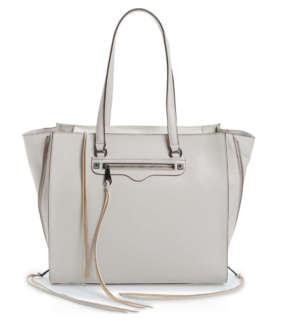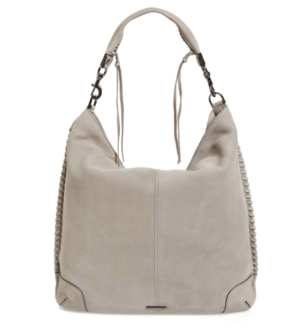 Rebecca Minkoff handbags are my favorite.  I love these two bags so much and would buy one of them if I could decide between the two!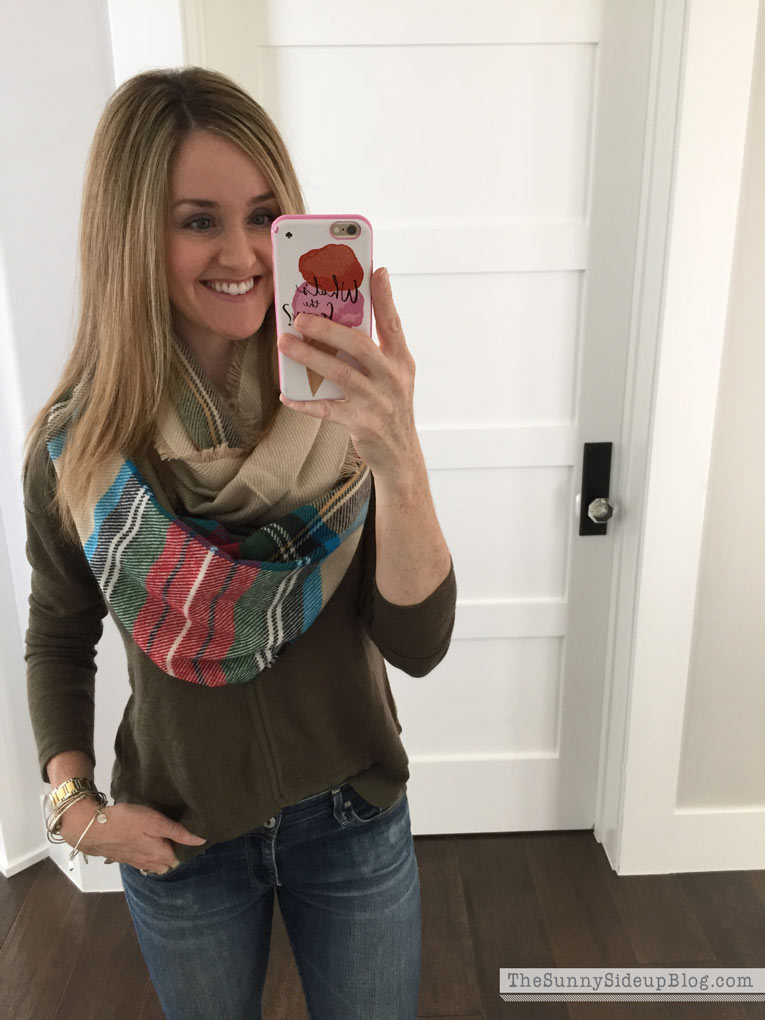 In other Fall Fashion news, my favorite scarf from last year is back in stock!  I lived in this last Fall.  Many of you already know that. :)  Looks great with solid colored tops..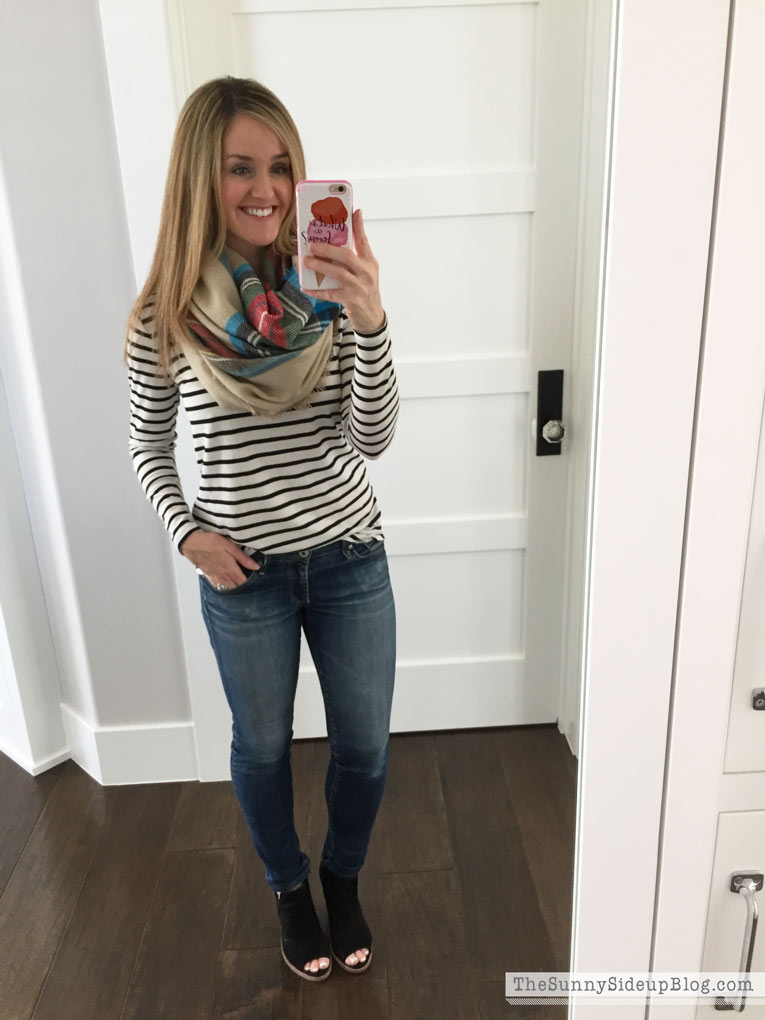 and is fun with stripes.  (Similar striped tops here and here.)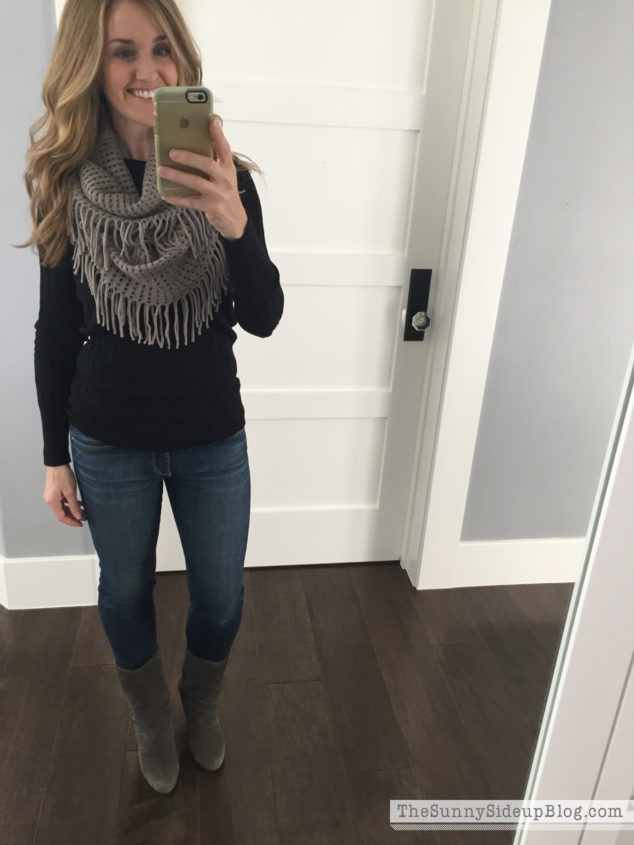 This infinity scarf is also back in stock!  An oldie but a goodie that I pull out as soon as the weather cools off.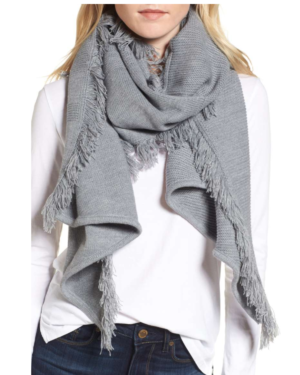 My favorite new scarf for Fall?  This one.  By Rebecca Minkoff.  I'm sensing a pattern. :)  I just ordered it in the grey and the pink because.. you guessed it.  I couldn't choose which one!  It comes in black too.  I'm going to see which color goes with more of my tops and return one.  Maybe.  ;)  Totally not practical for San Diego, but fun for our trips to Utah over the holidays.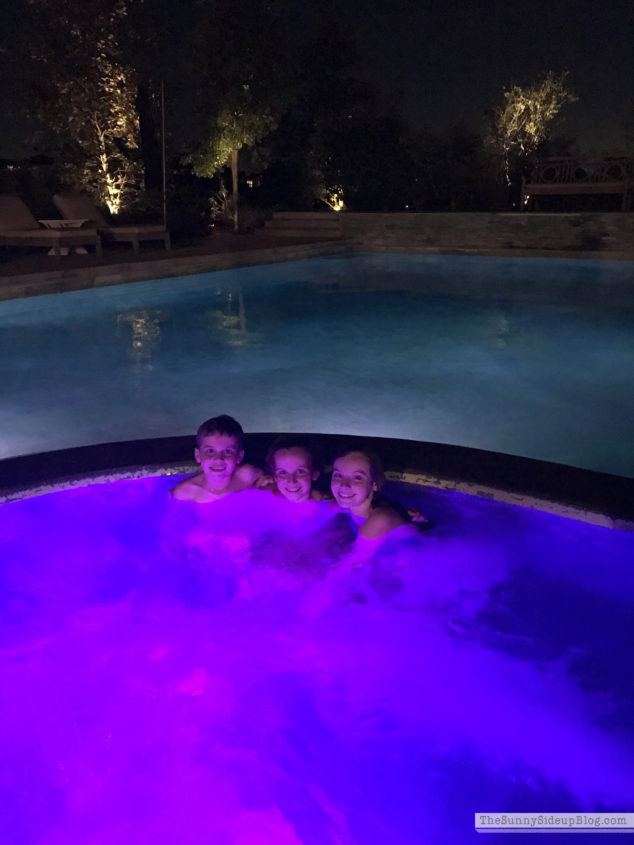 In the meantime, I'll just keep sweating in my Fall clothes during the day..
and then keep swimming with my kids to cool off at night.
:)
{ALL POST SOURCES}






xoxo, Erin