Hello friends!  I am typing this post in the Denver airport right now. :)  My husband and I have been on a trip to Steamboat Springs, Colorado to celebrate our 20th wedding anniversary and it has been a blast.  SO cold here!  But the Fall leaves are gorgeous.  Now I'm heading to NYC for the Better Homes and Gardens Style Maker event.  (Sharing updates on Instagram/Stories if you follow me there!)  My sweet parents are holding down the fort taking care of my kids and getting them everywhere they need to be while I'm gone.  Bless them!  I dumped a lot on them this week and hope they are still standing when we get home. ;)
So excited to finally share pics of our new barn door TV cover!  I first shared an update on this little project here and am happy to report that it is now one project checked off the list.  Only 2,742 more projects to go. ;)  When we were designing this outdoor space while we were building we were excited to have an outdoor TV for the kids in the summer and for when we have people over.
What I didn't think through was that we would need to protect that TV from any wind, dust, etc. so we ended up with this not so cute gray plastic cover over our TV that I wasn't very excited about.  This is what you see out of all of our family room doors and windows and it was a bit of an eyesore.  I knew some white barn doors (and a little shiplap!) would look so much better so I called our carpenter Chuck and we got to work designing barn doors to cover the TV.
Here's the sad part of this story.  When the barn door was half way finished and soon after I first shared this project with you, Chuck had an accident.  He was working on a house in our area on an outside upstairs deck and he fell.  From basically the roof to the ground.  I was in shock when I got the news about his accident and I cried on and off for three days.  He was hurt badly – in critical condition – broken bones and needed several surgeries.  It was awful.  Chuck feels like family to us so we were all devastated.  Long story short (months later) he is doing so much better.  Right now he is in a rehabilitation center healing and walking and getting back to himself.  We are so grateful he is alive and will recover.  Maybe not to 100% but pretty close which is a miracle after the fall he endured.  SO so grateful.
Chuck introduced us to another carpenter he had worked with who picked up where he left off.  He was so great to jump in and help us finish this project and our theatre room cabinets!  I told him he had some pretty big shoes to fill. ;)  When we originally discussed this TV cover, I wanted doors that would swing open to the side, but because of limited space Chuck thought we should go up with the door.  Our new carpenter couldn't quite figure out how Chuck was going to make the door slide up smoothly (Chuck figures things out as he goes along and I have no doubt he could have made it work!).  But after discussing options, we decided to leave the shiplap and start from scratch with the doors.  We came up with a way to have the doors open accordion style to the side and I'm thrilled with how they turned out!  So!  Without further rambling.. here are pics of our new barn door tv cover.  YEA. :)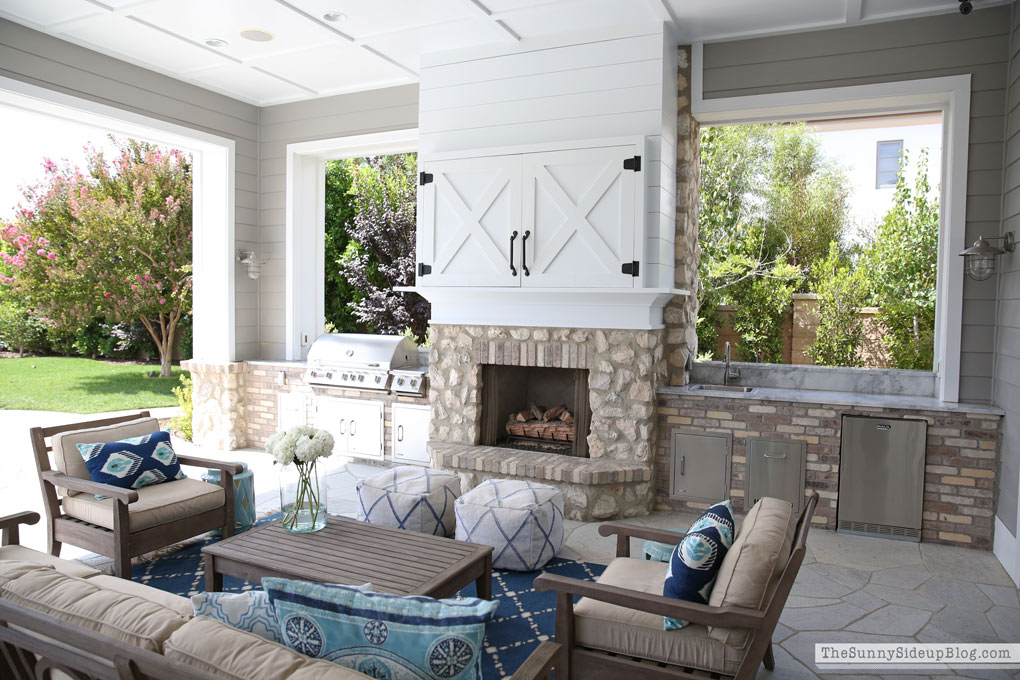 So much better than that plastic gray cover!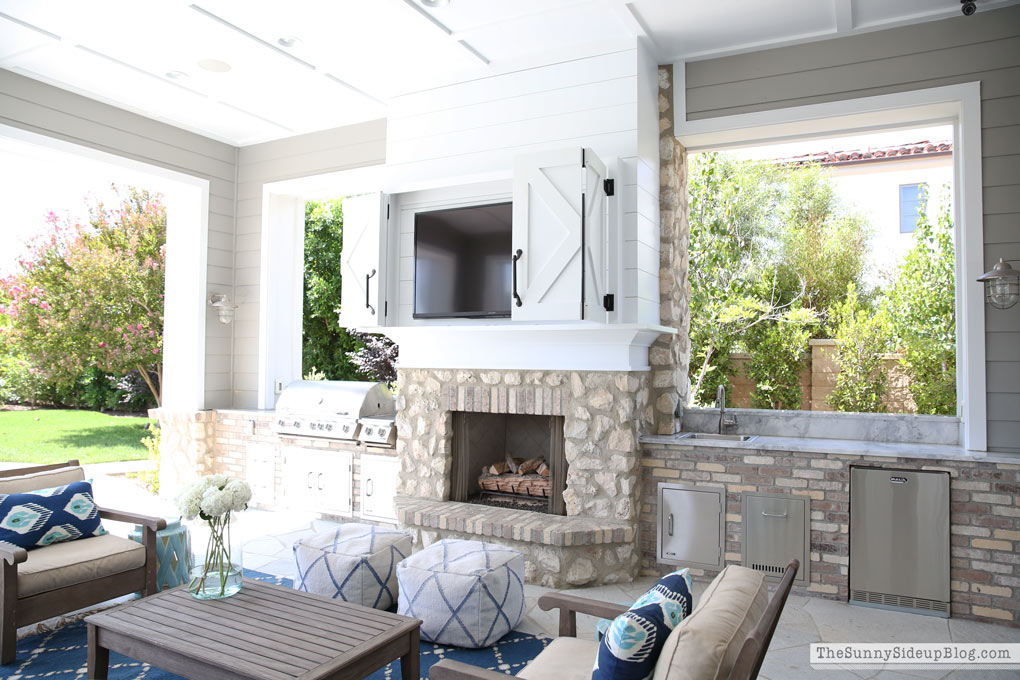 This pic above shows how they bend and open.
And this is what they look like open.  We are still working on a way to attach them when they are open so they don't swing if there is some wind..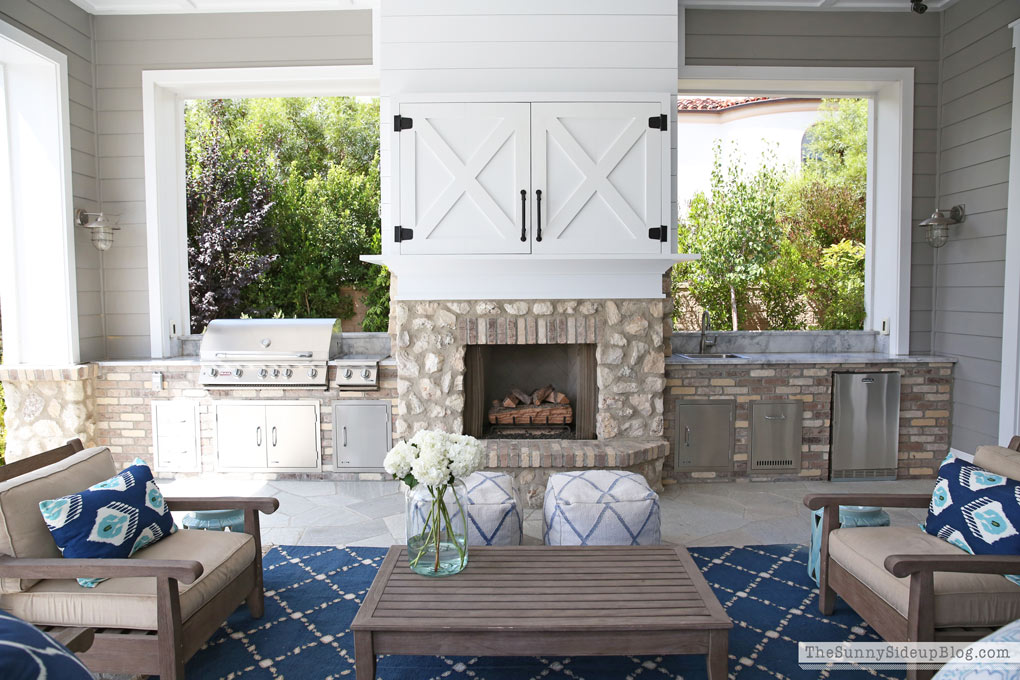 and you can see that the left door is a touch higher on the bottom.  He got a little carried away sanding and is fixing that too.  Ha. :)  But other than that we are done!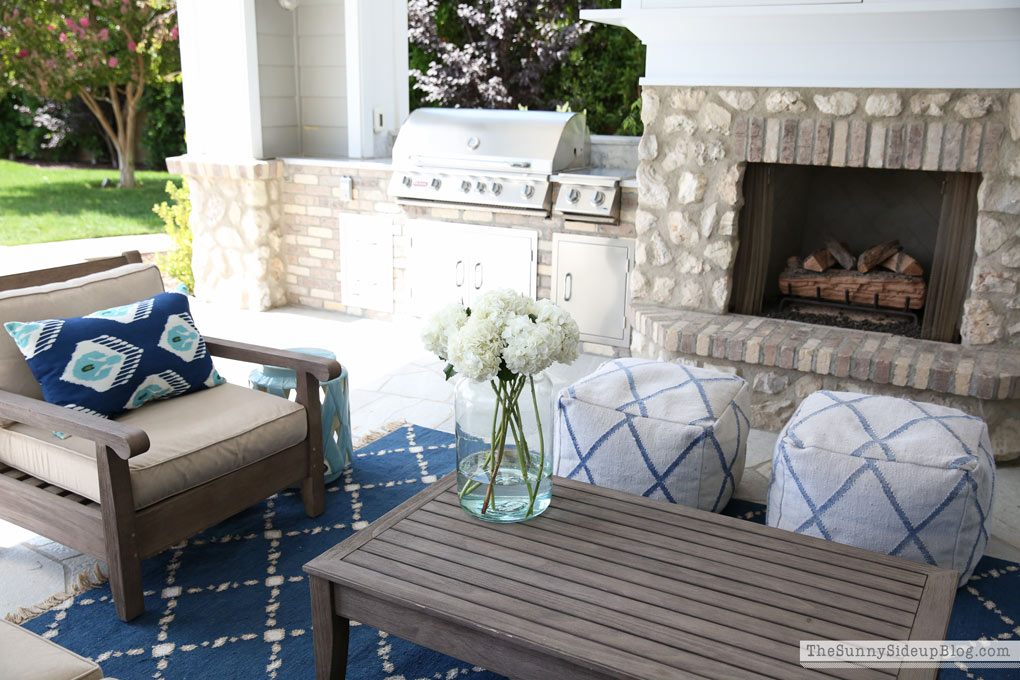 I ordered these pretty recycled glass jars a few months ago and had white hydrangeas on this table most of the summer.  Love them.  The jars and the white hydrangeas. :)  (This glass jar is the large size.)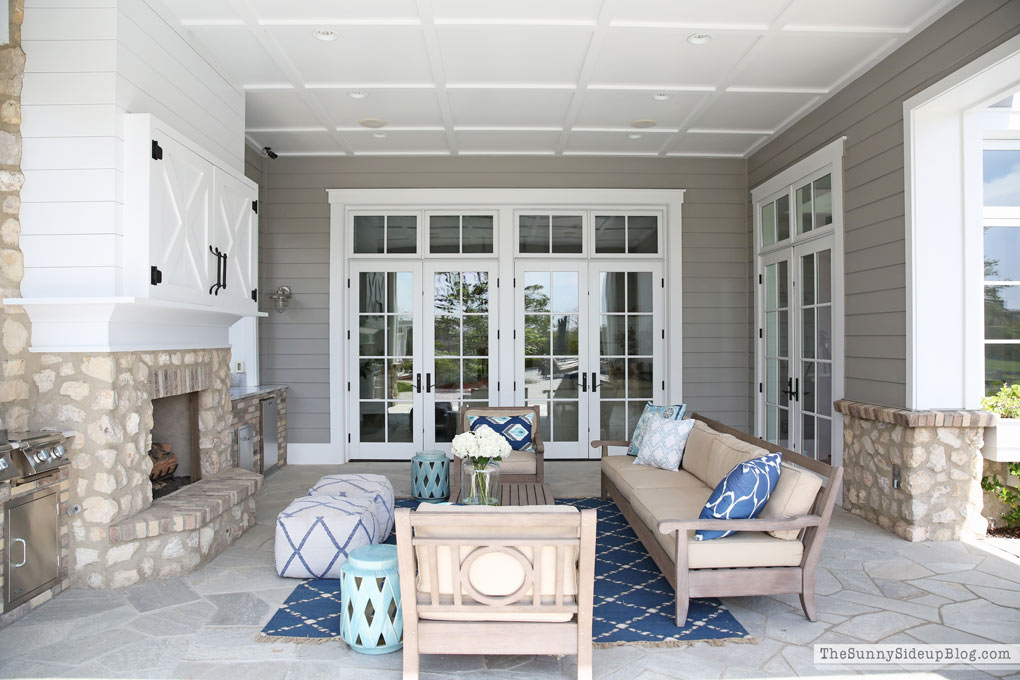 I feel like it was just what this space needed to finish it off!
My outdoor rug was two years old and looking a little faded from the sun.  I was about to pull it out and start looking for something similar since this exact rug sold out, but I flipped it over and it looks like a brand new rug!  I'll link to similar options I was considering at the bottom of this post.  Looks like I can wait another two years. :)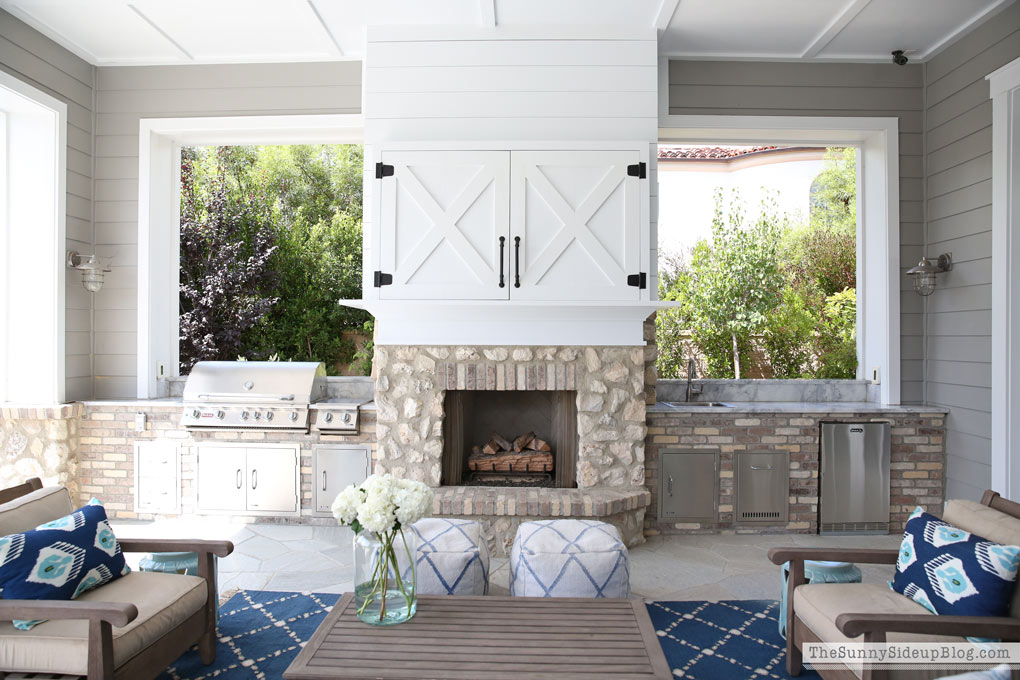 This project took on a life of its own and ended up taking a lot longer than I thought it would, but I'm so happy with how it turned out in the end.  The barn door TV cover completed this space and it makes me smile every time I see it out of the french doors in my family room.
I can't wait to have Chuck over to see it when he's back in the swing of things.
:)
{SOURCES}
The outdoor furniture and poufs are from Restoration Hardware and I've linked to similar rugs/pillows that are on sale because ours have sold out. (affiliate links used)



xoxo, Erin