It's Fall friends!  Well.  In my house it is anyway. :)  So excited to be sharing some of my fall decor with you today!  I've been decorating up a storm and now instead of 20 folders full of pictures/projects to share with you all I have 25.  I seriously need to get busy posting.  Forget food.  And showering.  And sleep.  And after school pick-up.
Well.  I'll still pick the kids up I guess.  And take care of them in-between posts. ;)
Today I'm excited to be joining some of my favorite friends for a Fresh Ideas for Fall Home Tour!  Wow.  That was a lot of F's.  I'd tell you who the tour is featuring, but I think I'll just let you just read that for now since I've never been good with tongue twisters.  (Can you tell I'm up too late again?)  If you are visiting from my talented friend Bree's blog ZDesign hello and welcome!  I have no doubt her Fall decor blew you away.  She is one of my most favorite decorators ever!  And a favorite friend.  Love her.  Ok.. on with the tour!
*affiliate links used (ALL ROOM SOURCES WILL BE LINKED AT THE END OF THE POST!)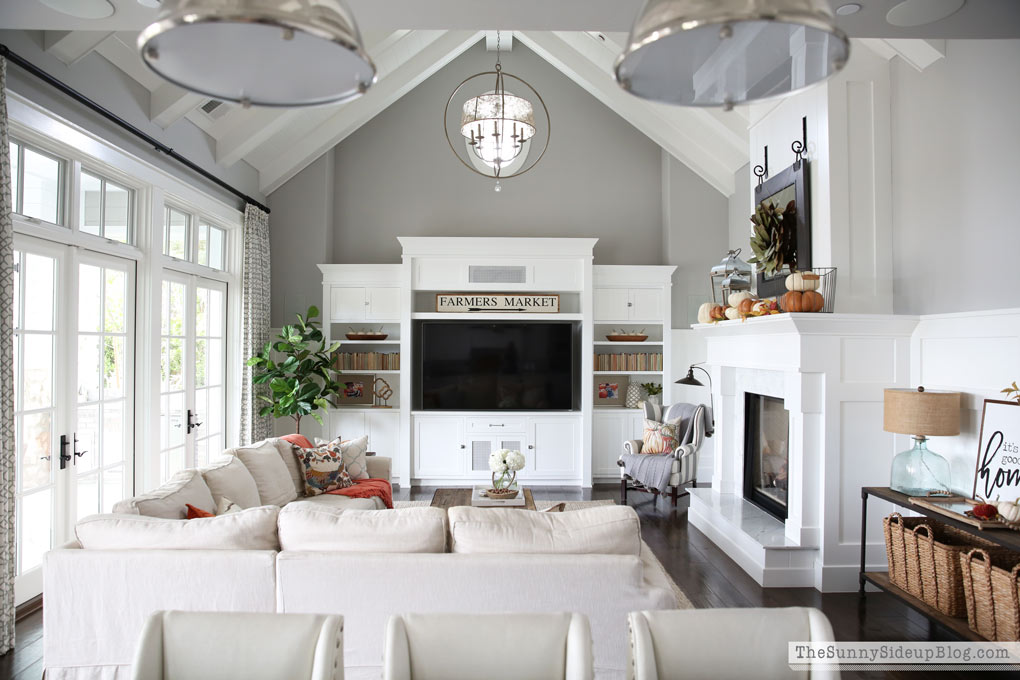 To be honest when I started working on this post I was planning on sharing three decorated rooms with you.  This is a "Home Tour" after all.  But after some sorting and editing I decided I'd just share two rooms.  After more sorting and editing (and giving myself a serious lecture about my excessive picture taking.. again) I ended up deciding to just share my family room.  I know you all have busy lives and not enough time to go through a post that takes 30 minutes to read.  Make that 45 minutes when I'm rambling because I'm tired.
Did you all know I ramble when I'm tired?
Moving on.  With my tired rambling.  And my now "Room Tour."
This should be fun. :)
My family room decor this year is simple but all sorts of cozy.  My favorite.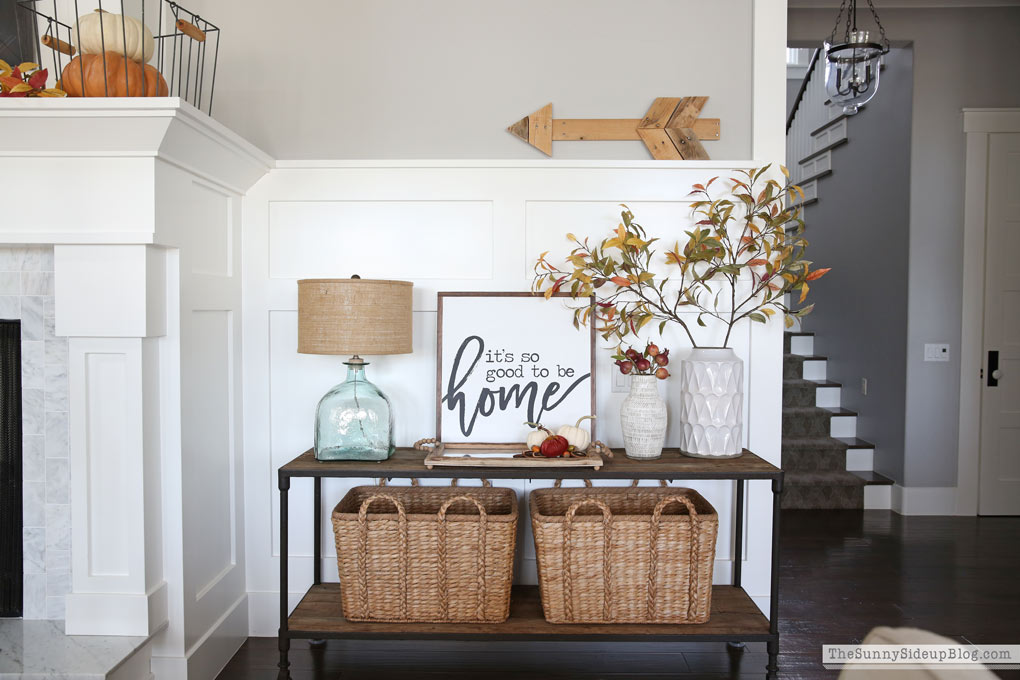 You all know I love switching around my console table.  Just a few simple changes and Fall has arrived!  I used my favorite faux turning leaf branches to decorate with a lot this year.  They are back in stock and always sell out quick!  I've had a lot of questions about them on Instagram.  I usually use just two branches in large vases.  Sometimes I use three, but usually that is too much because each stem is so bushy and full.  They are beautiful and the colors add so much warmth.  They are sitting in this Kora vase (medium) that I've had my eye on for a while and finally bought.  I love pulling them out every Fall!
I kept my mantel simple too.
These Cinderella pumpkins are my absolute favorite!  I get so excited when I see them popping up in grocery stores.  I just placed them here and there on my mantel and added more of my turning leaf branches in-between them.  Honestly one of my favorite Fall mantels and it took no time at all.  Which is good because no time is about how much time I've had lately. ;)
Sometimes when I style my family room shelves they look a bit cluttered to me.  I really wanted them streamlined this year so I kept them them pretty similar on each side.  My favorite Vintage Wood Oval Trays on the top full of mini white pumpkins, my mom's vintage books in the middle (that I'm still "borrowing" from her – thanks mom and maybe you want to just give them to me? :) and then on the bottom I added two favorite pictures of my little buddy at his first pumpkin patch.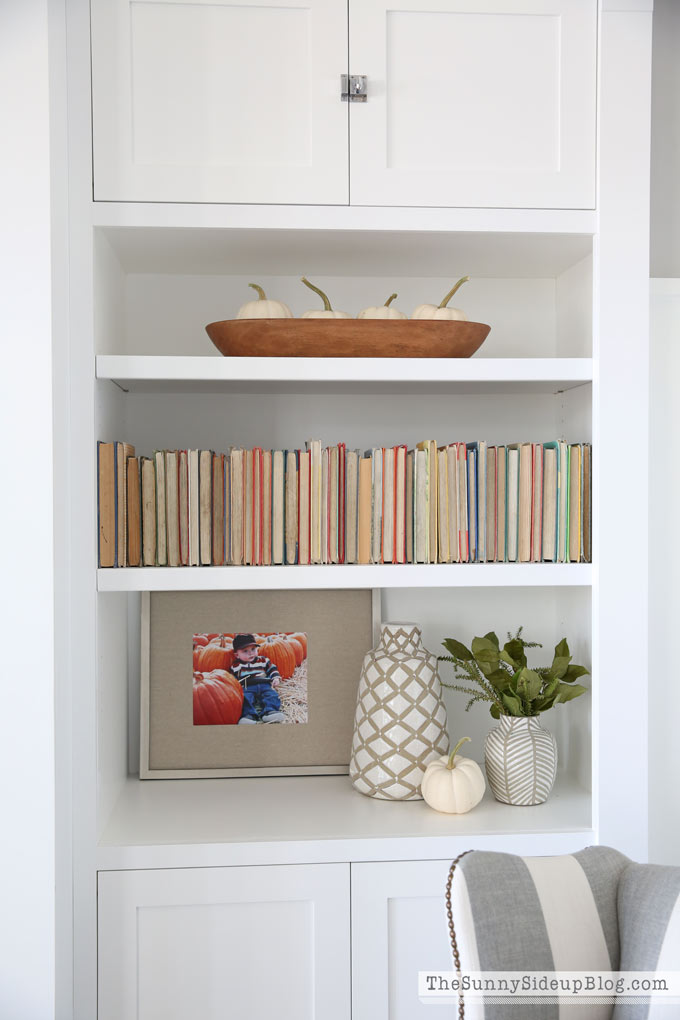 He looks like a little cabbage patch doll in this picture!  Which reminds me of another picture..
Oh my word.. I laughed so hard the day I walked around the corner and saw this sitting on my mom's couch.  Life with two older sisters!  #poorkid  #oneofthedolls
Sorry.  Got a little sidetracked there. :)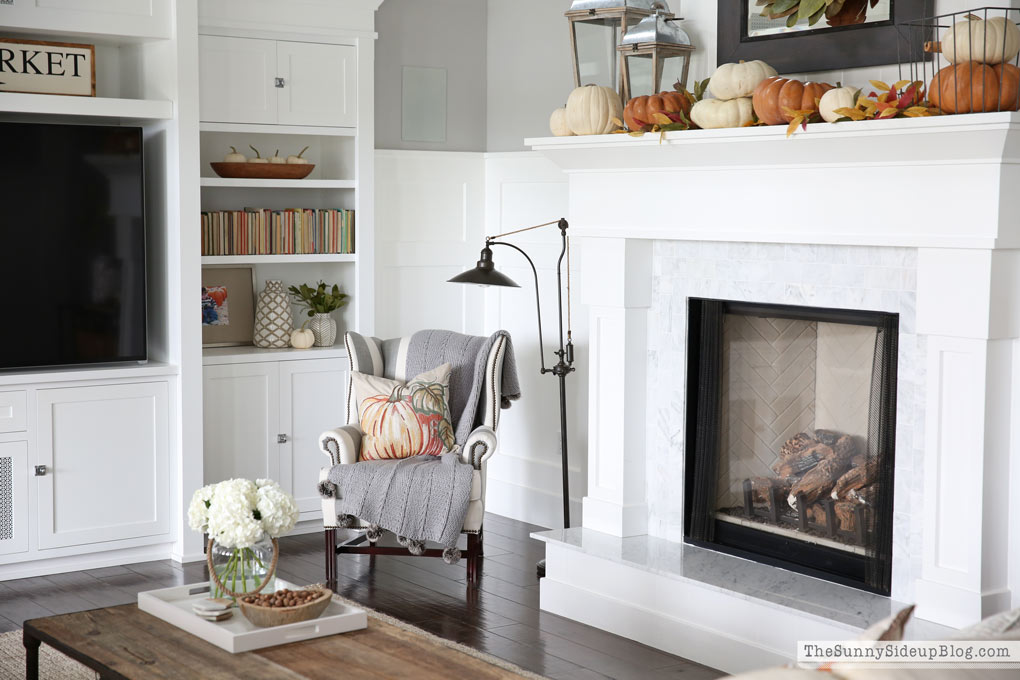 A fun pumpkin pillow and this beloved throw from PB make our reading chair nice and cozy.
I wasn't ready to say good-bye to white hydrangeas yet this year!  I know they are more summer than Fall, but since San Diego is still hot and will be through October I decided I could get away with it. :)  I added some acorns in a wooden bowl to bring us back to Fall.
Huge thank you to my acorn pickers. ;)  (You can read more about that little ongoing adventure here.)
I added another Cinderella pumpkin to my side table and then my favorite purchase of the year!  How pretty are these Pheasant Pillows!?  LOVE them.  I bought two for this room and am going to order two more for my living room.  I love them that much.  They have all the fall colors in the design plus some blue which works great with my existing pillows.  And remember my Bliss throw from the Nordstrom sale?  My family's new favorite – the kids love them too.  (And I've loved hearing so many of you also love them!)  I bought six of them to give as Christmas gift this year and this is the third color I've decided I need to keep!  It's the "Ginger/Mango" color – a burnt orange that is perfect for Fall.  I have a feeling that come Christmas I'm going to be buying six more to give as gifts.
Maybe that's why my husband wasn't as excited as I was about my early Christmas gift shopping. Ha. :)
This pretty bird pillow is new too but I can't find the link!  Behind it is the Washed Velvet Pillow in "Ember."  A darker burnt orange color and so soft.  PB has so many fun new pillows in for Fall!  And I know.  I needed more PB pillows like I need a hole in my head but when their seasonal pillows come out they get me every time.  Plus you can just buy the pillow cover if you want and switch them all out.  So easy and no body has to know.
Not that I'm hiding them from a certain someone.  A certain someone who doesn't agree that buying good seasonal decor is a true investment.  He's clearly confused.
And hasn't visited PB in the Fall.
;)
So that's it for the family room!  Like I said, really simple this year, but enough Fall colors and pumpkins and books and cozy pillows and throws to really bring this beautiful season inside.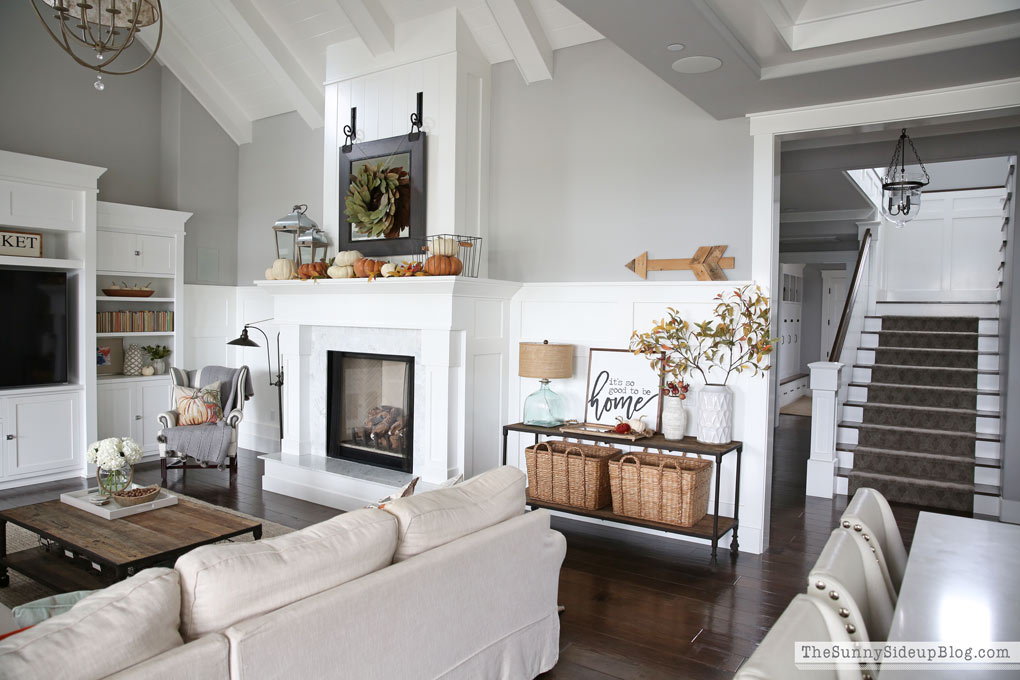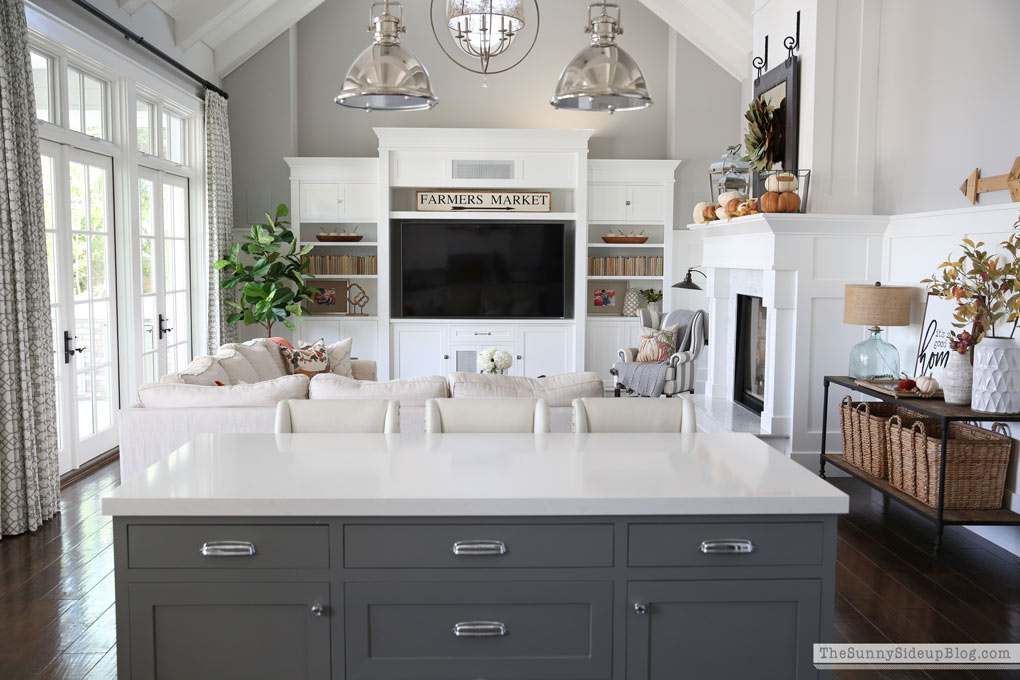 Ahhh.. I can smell my pumpkin spice candle just looking at these pictures!  Most likely because it has been burning 24/7.
But still.
:)
ALL DECOR/ROOM SOURCES:






Make sure to check out my darling friend Tam's blog CitrineLiving.  Her seasonal decor is always stunning and timeless.   Isn't this living room gorgeous!?  So fun to see everyone's personal styles come out in these tours.  I hope you enjoy getting Fall decorating ideas from the rest of my friends!  I know they will all inspire us!  I'll be back with more soon.  Lots more.
:)
TAM
RANDI
KRIS
JEN
KELLEY
BRITTANY
xoxo, Erin