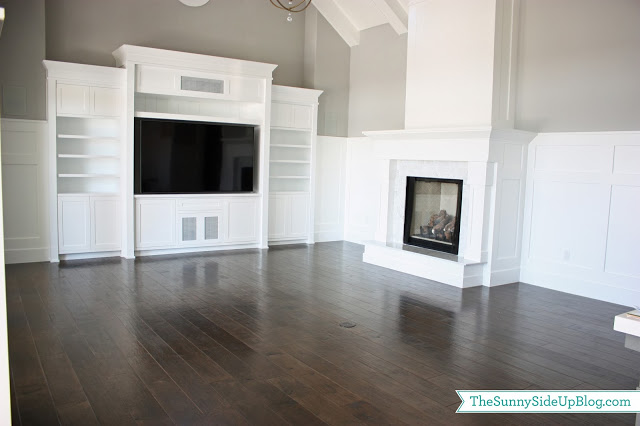 I'm curious to know about your flooring – I love it!  Where did you purchase it?  What is the color?  I love the dark look, but have been told it's super hard to keep clean.  Thoughts??
I've had so many questions coming in over the past few weeks about my hardwood floors.  Thank you  for being patient with me for a response!  K – here's the scoop on my floors.  I've been dreaming about having pretty hardwood floors for 16 years now – my whole married life. Which feels like forever.  (In a good way babe.)  We couldn't afford them in our first house and when we finally could, I wanted to pull up the tile and carpet and put in hardwood so I spent some time researching floors years ago.  Kenny convinced me to wait for our next house so I've had a long time to think about and research hardwood.  When it finally came time to pick out the floors for this house I thought it would be a piece of cake because I knew exactly what I wanted.  But instead it was hard.  Because I knew exactly what I wanted.  And I couldn't find it!  These are the things I personally love and was looking for in hardwood flooring:
– Maple – I love the look of maple and maple is DURABLE – so important.  It's high enough on the Janka scale (a scale that measures the density and hardness of wood) that it won't dent easily.
– Wide planks – I've always loved the look of wide planks (these are 7 inches wide).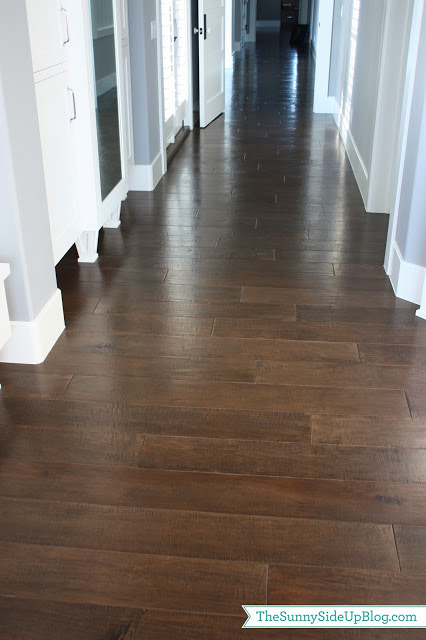 – Slightly distressed – I didn't want them too distressed and casual, but I wanted some distressing because it goes with the elegant/farmhouse vibe I wanted for my home.  Plus the obvious – I have three kids and distressing hides a lot!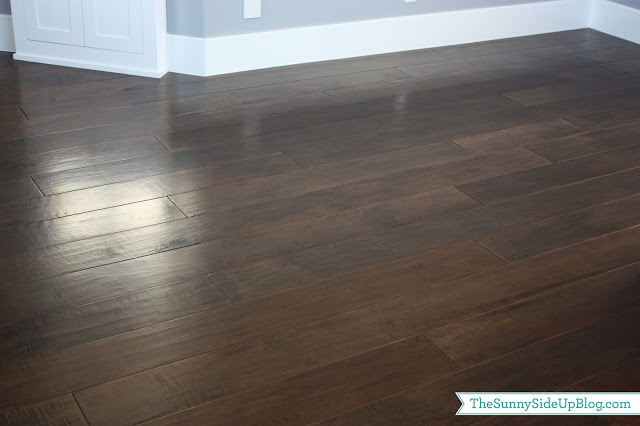 – Brown floors with grey undertones – Originally I wasn't too concerned with the shade of brown, but once I decided to paint my kitchen islands grey we had a problem.  The grey didn't look as good with wood that had strong red or yellow undertones (which is common in a lot of hardwood).  I didn't want grey floors (a lot of salesmen tried to convince us to go that route).  I really wanted brown floors so we kept looking for brown floors with a grey undertone.
I would find a sample with just the right shade of brown, but it wouldn't have any distressing.  Or I'd find the perfect plank size, but the color didn't work.  I drove Kenny crazy trying to find the perfect floor that only seemed to exist in my head.  :)  Finally after searching for months we were looking in a local hardwood store and I explained my dilemma to the owner.  He said "we can do that!  You just need to have your floors custom made."   He showed me various options as far as types of wood and different levels of distressing.  I gave the manager (who at this point I wanted to embrace) some samples I had and told him I wanted Maple with 7 inch wide planks, this level of distressing (on a sample) and this color (from another sample).  Kenny used his mad attorney negotiating skills to work out a fair price and then the manager (my new BFF) told me he would make me a sample of everything I wanted all put together.   I was so excited when I got the sample.  Found my floors!
SO to answer your questions  —  while I can't give you a color, I can tell you that the product line is called "Private Reserve" and Summit is the manufacturer.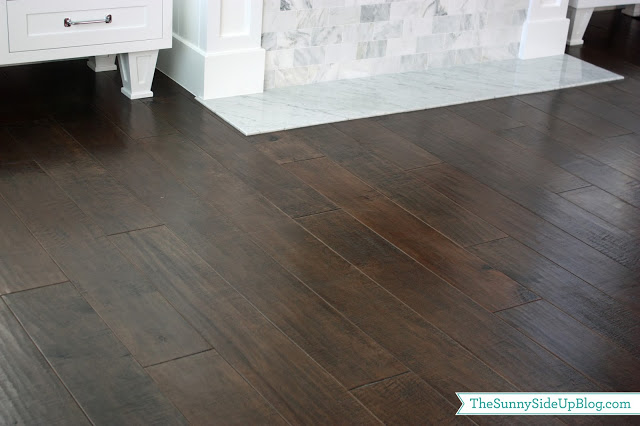 As far as keeping dark floors clean…  I knew if I went this route my floors would be high maintenance!  But every time I debated going with something lighter I just couldn't do it.  This was the look I wanted and I really needed some dark to contrast all of the white cabinetry and built-ins and moldings.  I have so much white in my house.  I needed the dark floors to ground things.  So this was one of those decisions where I opted for looks over practicality.  That was the debate with almost everything in my house!  Do I care more about how it looks or how it functions?  Some things I sacrificed the look I wanted and others I sacrificed some function/maintenance.  But I have to tell you that after living with these floors for a couple of weeks I am SO happy with them.  Yes – crumbs show.  Dust shows.  I will definitely have to clean them more often than my previous floors.  But I love them so much that it is worth it to me to either clean them more often OR learn to live with them not looking perfectly clean all the time (most likely the latter).  :)  I have several products I'm using to clean them that have been working great.  I'll share more about them in a future post.  I'll also answer other questions asked about my girls' bathroom in a post soon.  (Thanks for the sweet comments on my girls' bathroom post btw – so  happy some of you liked it!)  I hope this post helped those of you researching hardwood.  If you're having a hard time finding what you want consider custom!  Just don't tell your husband you heard that from me.  ;)
Enjoy your weekend everyone!  Is anyone doing anything fun?
 I will be unpacking.
Or cleaning my floors…
:)
xoxo, Erin