Hello hello friends!  I hope you all enjoyed the weekend!  Extended for some people.  I'm so happy to have my kids home from school Monday and a short school week ahead!  I've been doing a lot of organizing around here (love a productive weekend!) and one thing I worked on today was cleaning up my picture folders on my computer.  (You can see how I organize my pictures here.  That post is 4 years old and I still do it the same way!  If the system isn't broke, don't fix it.)  :)  I thought I'd share some random pics I came across of what we've been up to lately before we dive into more organizing together!  Because if I don't share it on the blog it's like it didn't happen, right?  And we can't have that. ;)
(affiliate links used)


My sister and her family came to visit in the Fall and we took all the kids to Disneyland. This was the whole crew minus my husband because he took this pic.  Frozen lemonade!  That's why we're all smiles at this point in the game.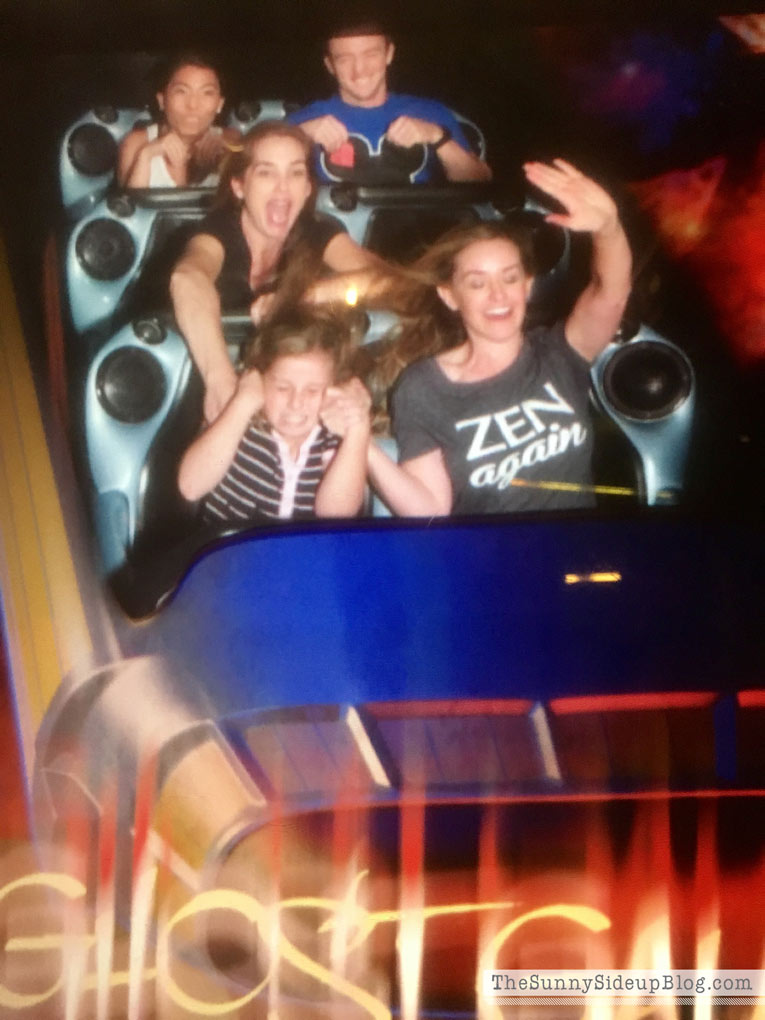 I snapped this pic of the computer screen with my phone after this ride.. too funny!  My girls are finally old enough to go on "the big kid" rides and Ad was so excited to try Space Mountain.  Hard to tell from this pic (she looks terrified!) but she loved it.  My sister and I were both nervous for her and held her hands the whole way.  That ride is scary!  Love that I'm wearing my Zen Again shirt.. ha.. fitting right?  :)  Don't ask me what the people behind us were doing..


After years of Disneyland being all about the princesses with my girls it was finally time to switch gears and do a little Jedi training.  :)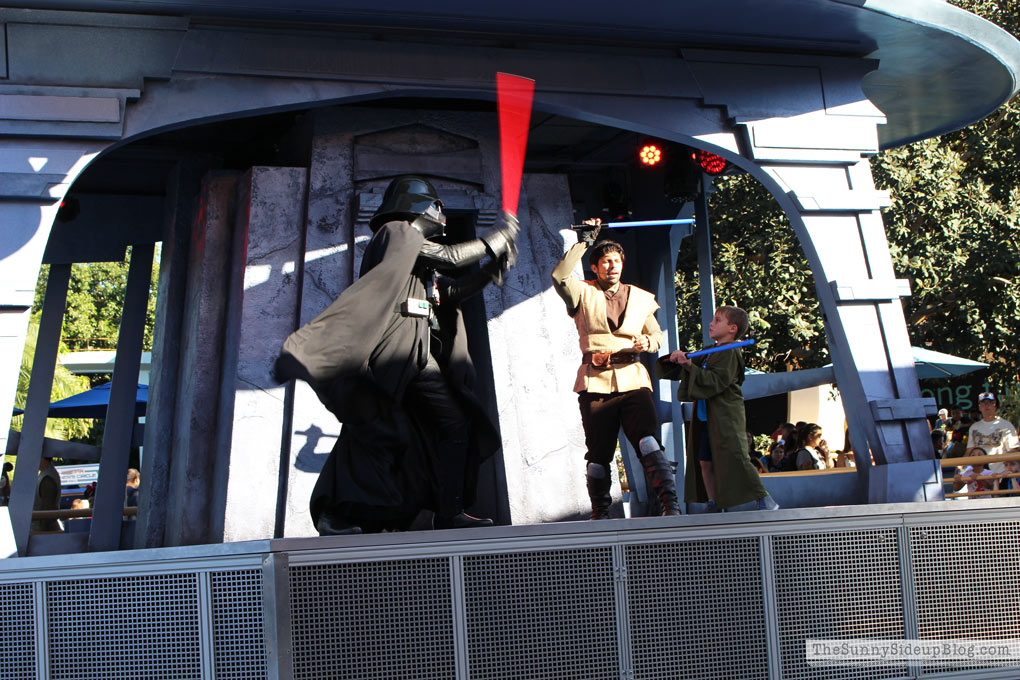 Darth Vader finally met his match.  My son's response after.. "I was terrified mom!  Can I do it agin!?"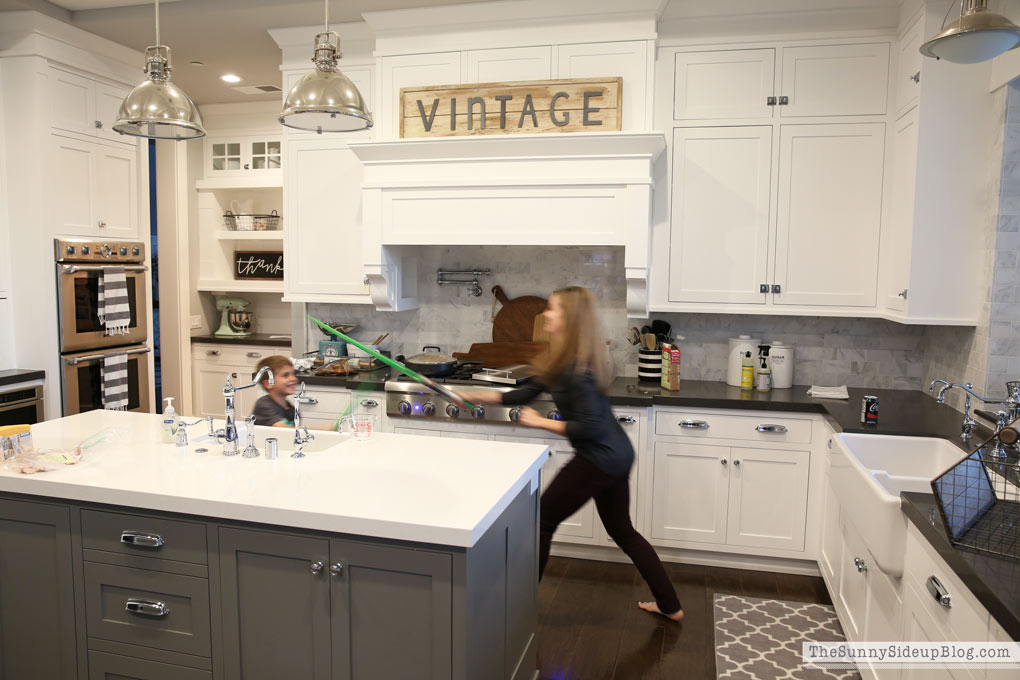 Of course ever since he has been obsessed with his light sabers and pleads me to fight with him all. day. long.


Most nights while I'm making dinner I finally cave and a match ensues.  The force runs deep within me and I can't resist.  Besides, I figure the chicken can cook itself.  It will most likely taste better than if I cooked it anyway. ;)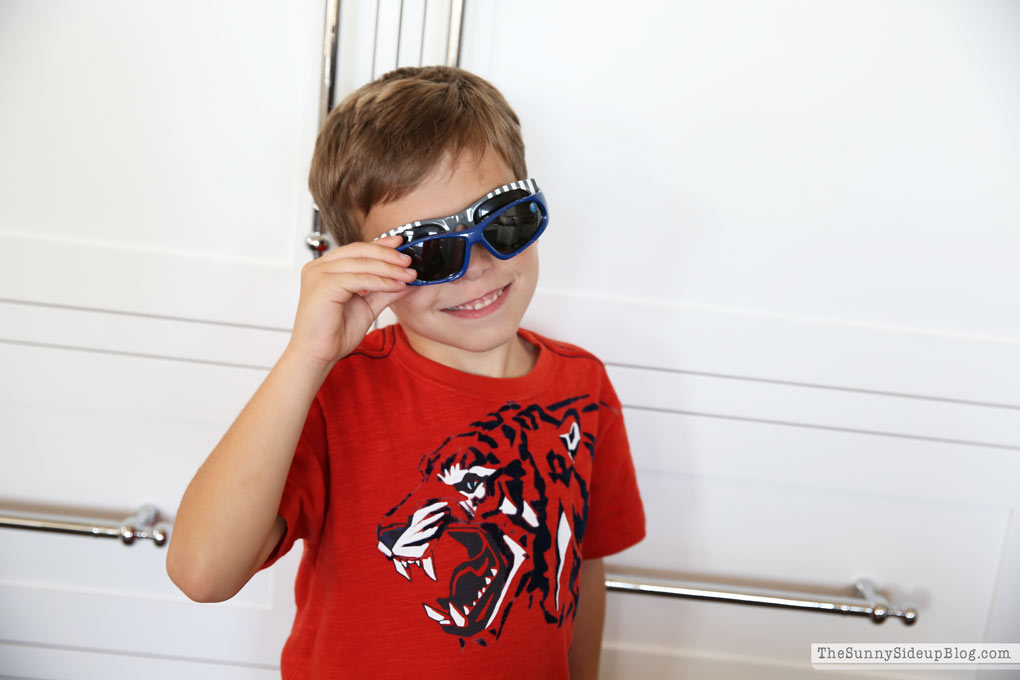 Good thing I love this little Jedi so much.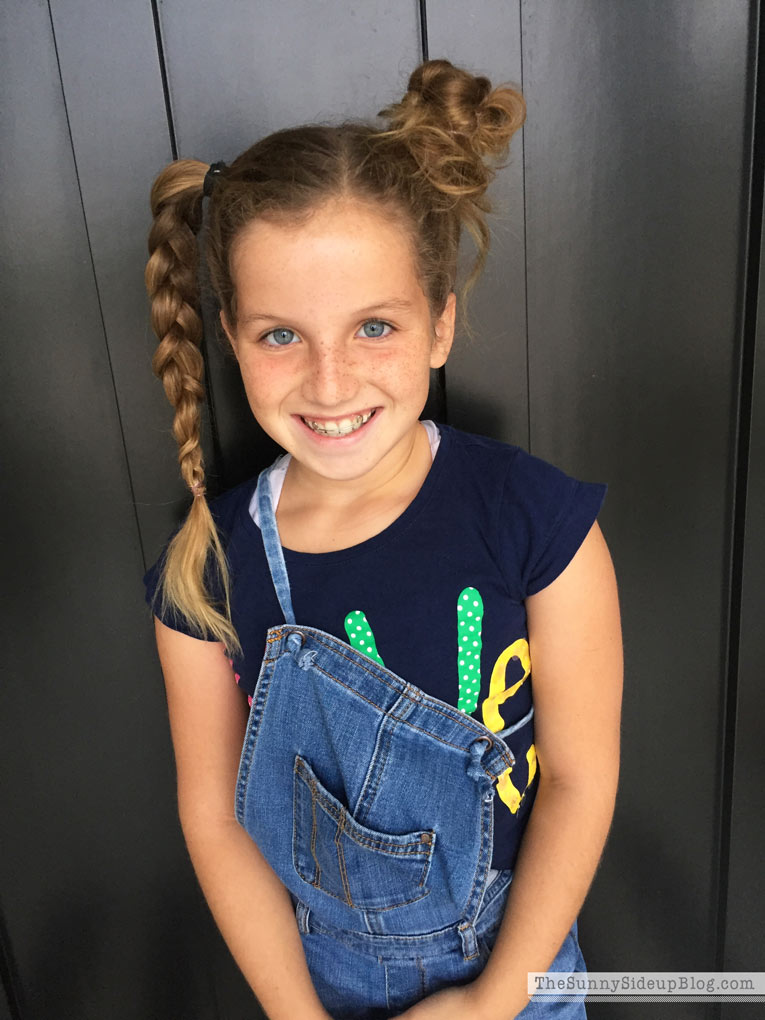 And his silly sisters.  Crazy hair day!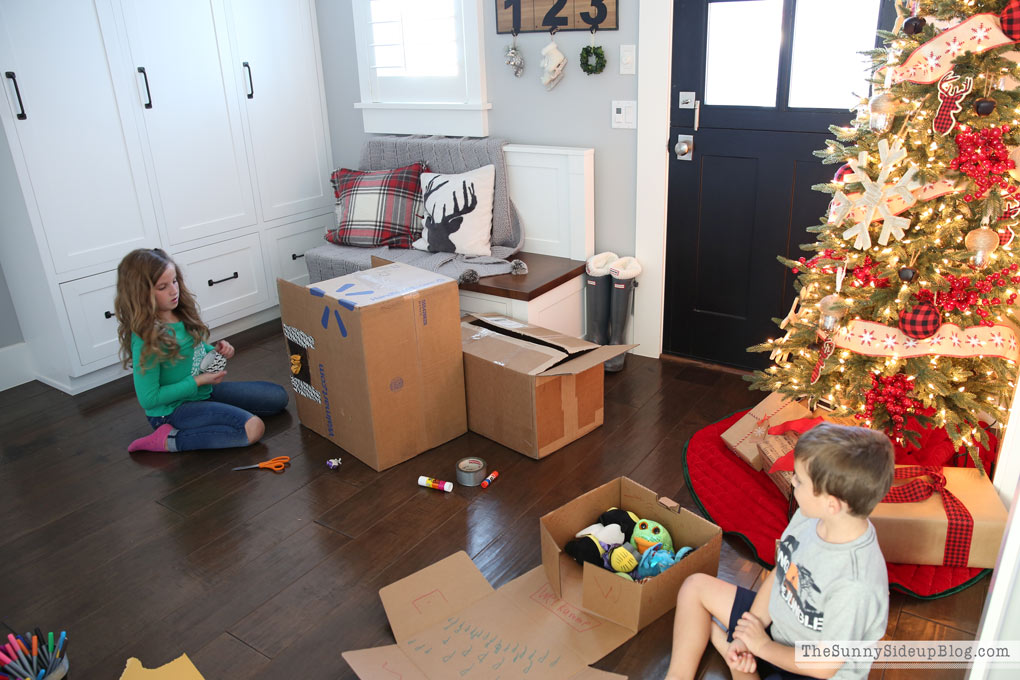 We had so many boxes being delivered in December (I seriously did almost all of my Christmas shopping on-line this year!) so my kids got creative and put them to good use.


Lots of homemade doll houses are occupying the playroom at the moment.  I especially love the window box and flowers in this one. :)


Every year I host a party in December for all of the Young Women in our church (girls 12-18).  The girls are all so much fun and I look forward to it every year!  We usually do some sort of service activity and then have our annual crazy sock exchange.  The girls are making cards in this picture.


El and some of her cute friends.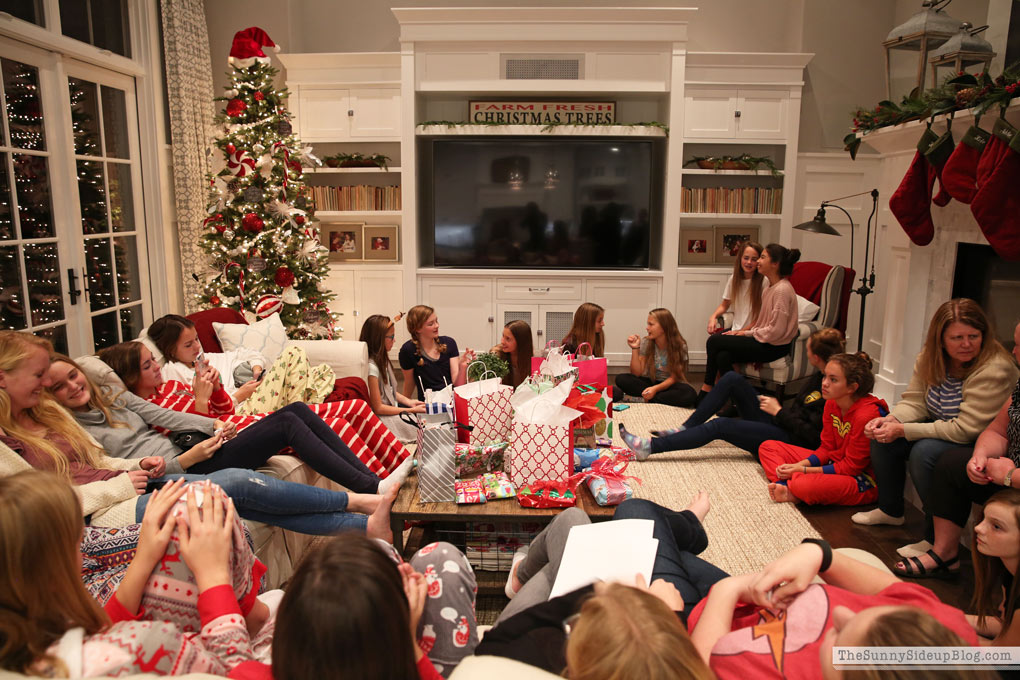 This was a pic I came across from last year's party when we made baby blankets for a local woman's shelter.  They turned out so cute!


Last year's group photo.  A lot of the girls wear their pajamas because.. well.. they know they are coming to my house.  ;)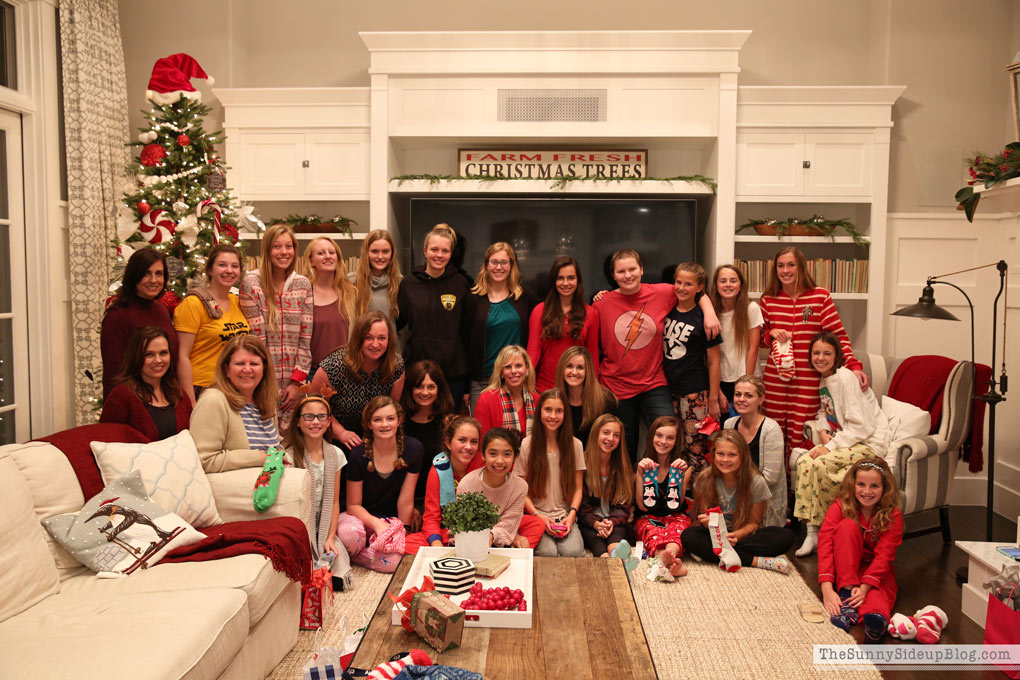 And this years group pic.  Love these girls!  A full house is always a happy house.


We spent a week in Utah after Christmas visiting family.  My sister, sister-in-law and I are all three glued at the hip as much as possible when we're all in town together.  (My sweater is scrunched up in this pic but it's so cute!  I got it for Christmas and it has quickly become a favorite.  This one is similar and darling too for half the price.)


Christmas round 2!


We even bought cheesy HUGE matching men's plaid flannel shirts this trip to wear together.  Because we're nerdy like that.  And because then we felt like we could eat whatever we wanted with room to spare.  And because they were on sale for $6.  Bring on mom's homemade Christmas Cinnamon roll!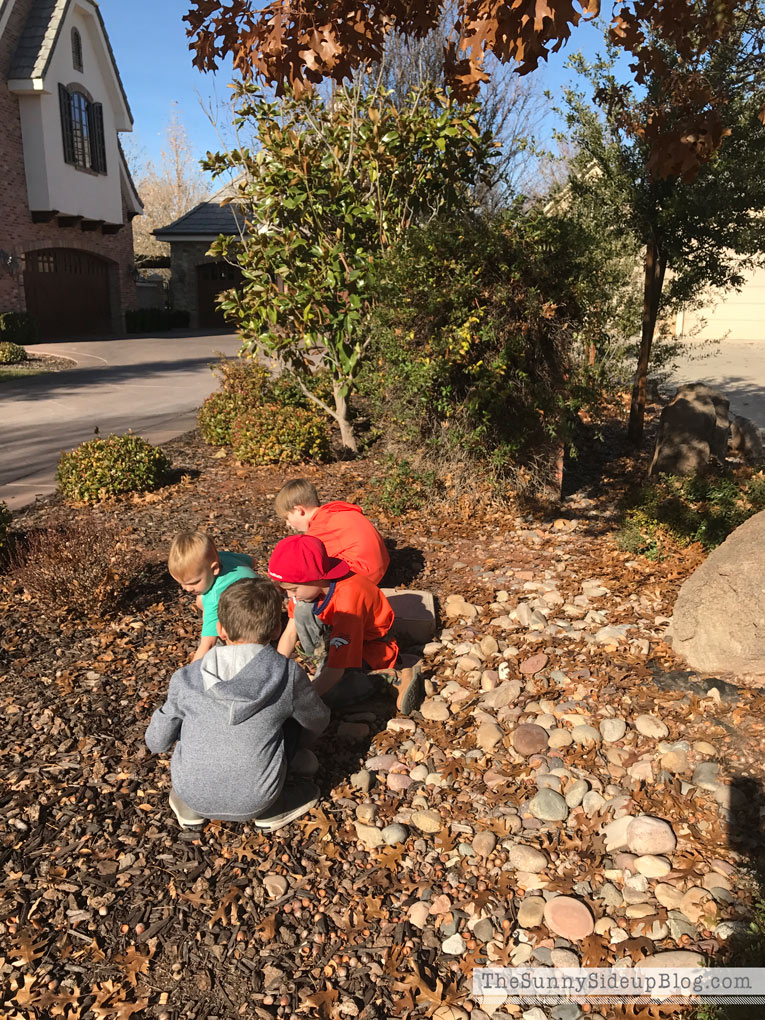 This is how we keep the boys entertained at my moms.  It's acorn picking time!


Remember all of the real acorns I displayed around my house this past Fall?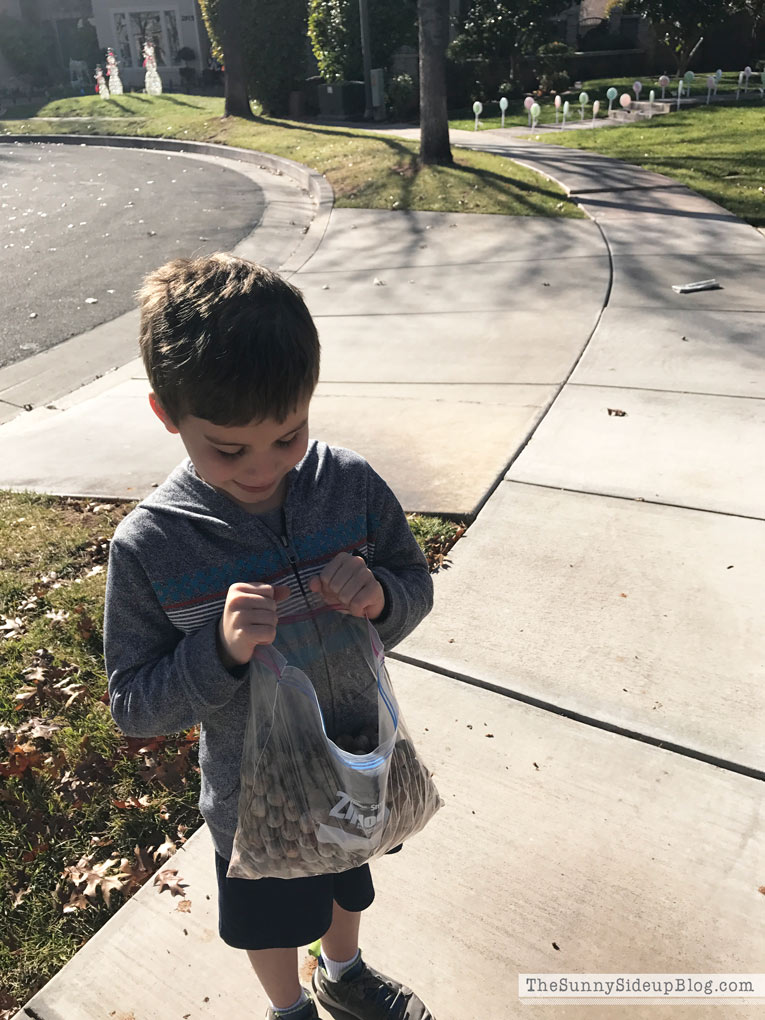 Grandpa pays them all a penny per acorn they pick up.  The boys are kept busy for hours (not only picking them up but counting them after), my dad gets his yard cleaned up and I score some free home decor.  My dad and I continually pat ourselves on the back for coming up with this one. ;)


Cousins make the best buds.


Poor Uncle Austin doesn't get much of a break when we all come to town.  El said the other day "sometimes grown-ups are hard to talk to but when I'm with Uncle Austin I'm free to just laugh and be my goofy self!"  I reminded her that my brother never grew up.  He's a kid himself which is why he's such a big hit with the kids.  (Not sure if my brother ever reads my blog.. but if he does I'll get a text or call about that one so this should be fun.  He can't get too mad at me though because he knows it's true.)  ;)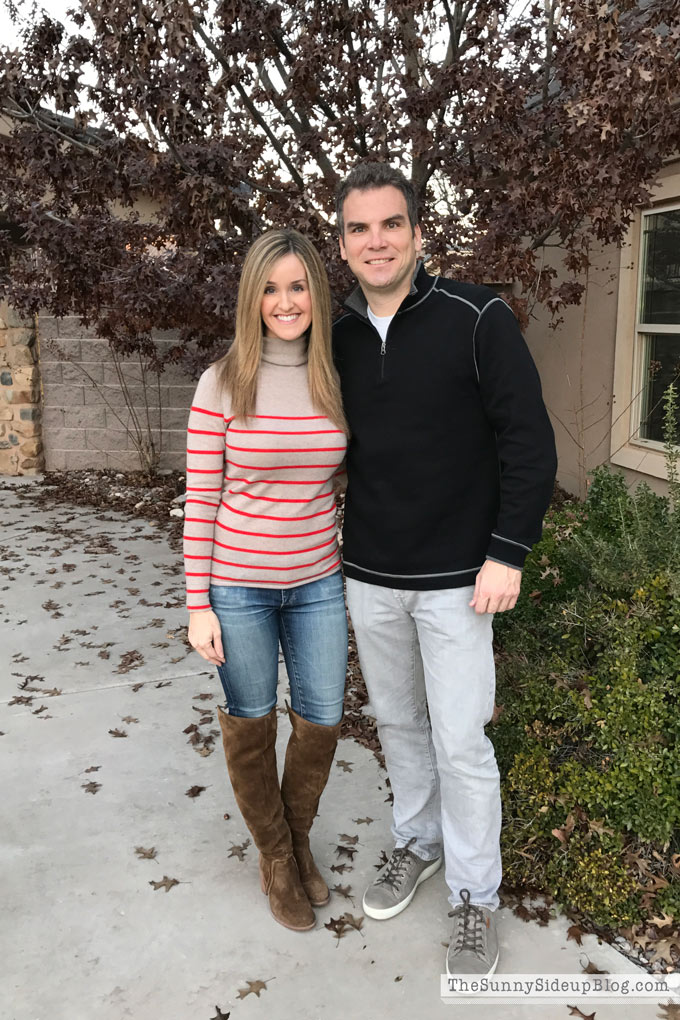 I always love getting my husband away from the office and all to myself for a week!  Date night!  My sister bought me this cute turtleneck for Christmas.  Stripes!  How did she know?  :)  (The stripes sold out but it's still available in solid colors and it's on sale!  It's a wool/cashmere blend and such a good fit.  I really love it.  I would dry clean it though so not one to buy if you don't like to hassle with dry cleaning your clothes!)


Love him.  :)


One of our favorite things about spending time in our home town is getting to go out and catch up with old friends.  Not that my friends are old.. just that they have been our friends for a LONG time.  :)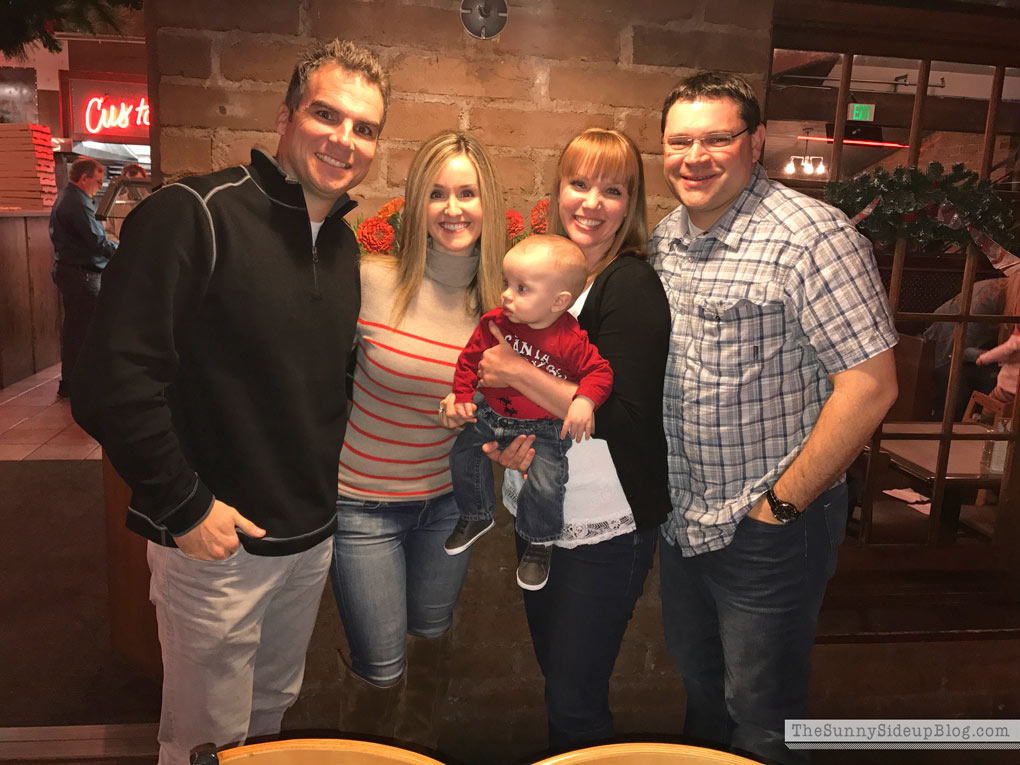 My friend's sweet little boy made me want another baby!  For about 10 minutes anyway. Well.. maybe for 20.  ;)


So fun catching up with everyone!  We saw more friends that aren't pictured and ran out of time before we could get together with a few more we wanted to see.  Happy there's always next time!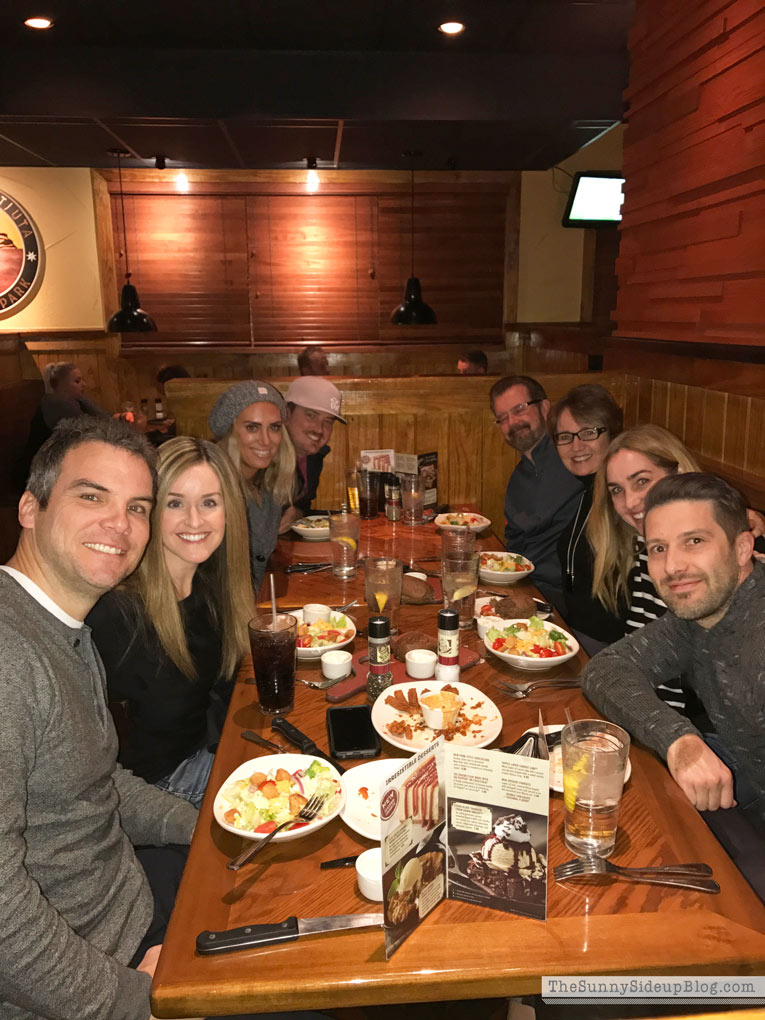 My mom's sweet friends (who are like family) offered to babysit all of our kids so my dad could take us all out to dinner the last night we were together.  Such a treat!  We talked and ate and laughed together for hours.  Our favorite Christmas present.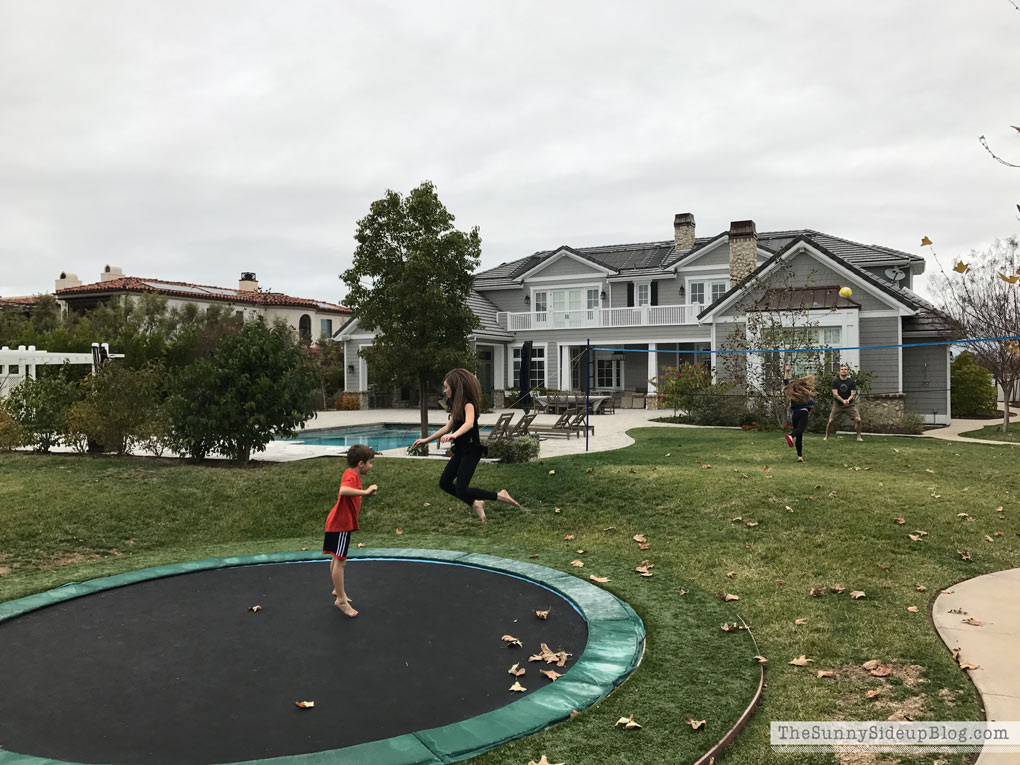 It's always hard leaving a fun trip like that with family because I miss them all so much and wish we lived closer together.  But then we come back to San Diego and it always feels so good to be home!  I snapped this pic our first day back and shared it on Instagram.  Cloudy outside.  The whole family spending time together.  Ad asked for a volleyball net for Christmas (she is on her school's volleyball team) and Santa delivered so Kenny set it up and the two of them practiced her serve.  El and Kole were jumping on the trampoline and I walked around the yard picking lemons off of our lemon trees.  They have been growing like crazy lately!  We didn't have to be anywhere.  Everyone was getting along and enjoying each other.  I couldn't help but think about how grateful I am for my husband and kids.  It was one of those low key family days I will always remember.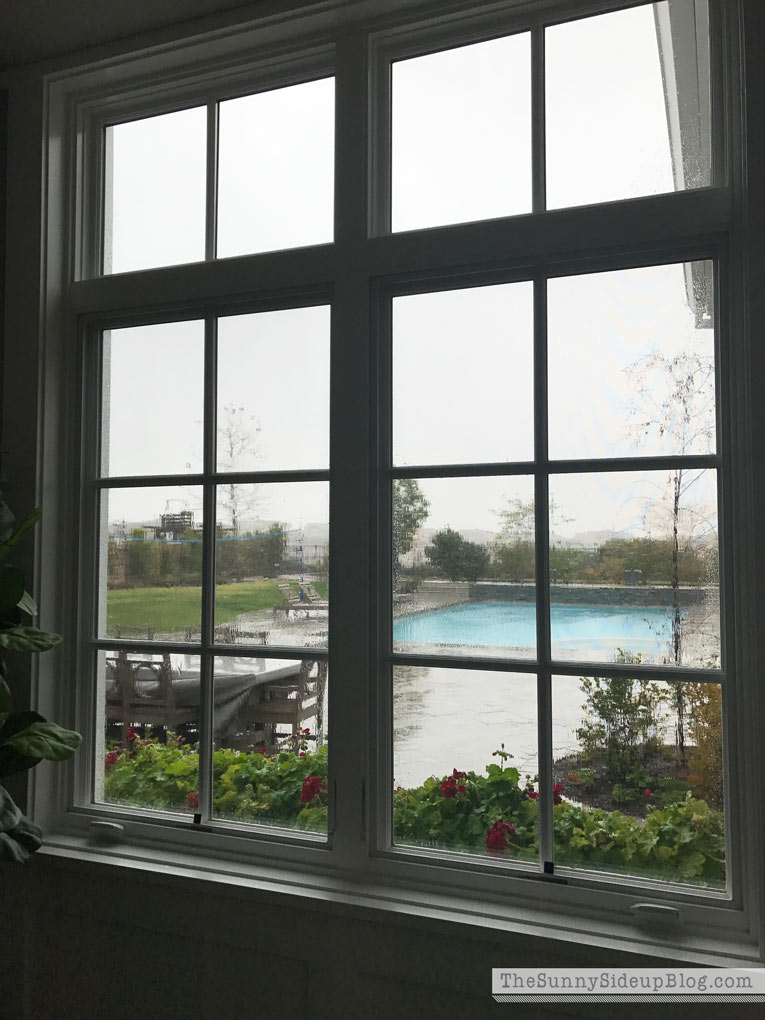 This past week we have had SO much rain and I've loved every minute of it!  Last year it felt like winter just skipped us completely and while I know that sounds nice to some people, I missed it!  I've loved running around in the rain, wearing sweaters and scarves and turning on my car seat warmer.  It's the little things.  :)


Back in the routine of after school chores!  Unloading the silverware is always Kole's job.    He takes his work pretty seriously. :)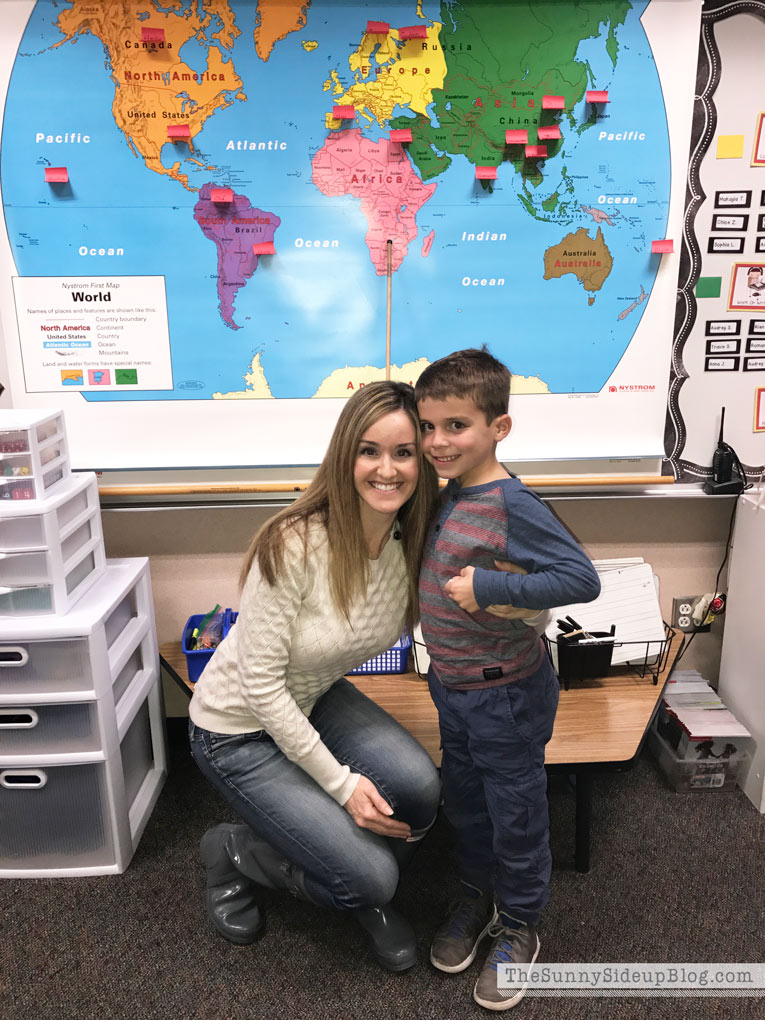 A pic from last week spending time in his first grade classroom.  Wearing my new favorite sweater again.  And my rain boots!  Woot woot!  I asked my girls what I can do this year to be a better mom and they both said "stop spoiling Kole!"  Ha ha.. I can't help it.  This little guy has had me wrapped around his little finger from day one.  Not that his sisters have it too rough. ;)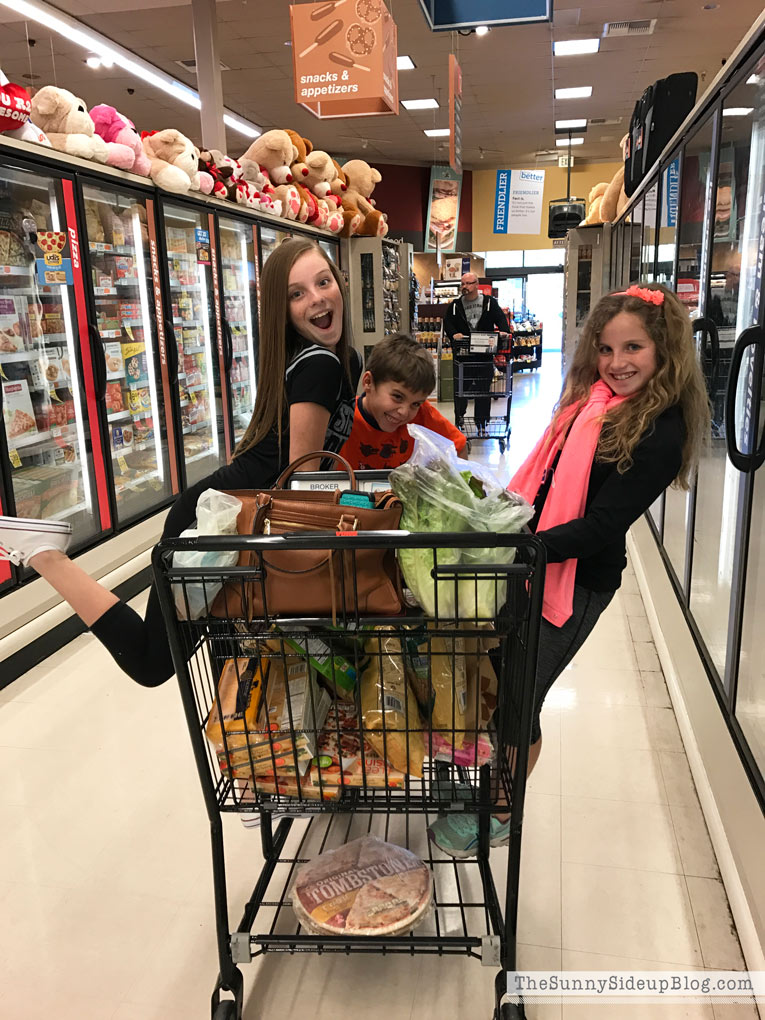 One more pic from last week.  Grocery shopping with all three!  Always a party.  And I have no idea why that frozen pizza is in our cart because we NEVER eat frozen pizza.
More than twice a week.
Life lately.  Randomness at its best!
And always a good thing.
:)
xoxo, Erin