Hi everyone! I thought today I'd share how I organize my pictures on my computer. You may remember that I ended my relationship with iphoto a while back. As much as I have loved my new Mac, I just couldn't ever figure out a system on iphoto that worked as good for me as the system I have been using for years. And that's the thing about organization. It's really just about finding what works best for YOU. So I went back to my old system. And I have fallen in love with my old system all over again because I had a chance to see what else was out there. And it's so true that you never really realize what you have until it's gone. {tear}
(I can just hear Kenny singing Aladdin's "A Whole New World" right now. He sings that song to me whenever I say anything even remotely sappy.)
Moving on.
I know this system won't work for everyone, but it may give you a few ideas of how to organize your pictures on your computer. It will be especially helpful if you share a lot of your pictures on a blog. Which I do. :) So here's what works for me:
When I open the folder on my computer marked "PICTURES" multiple folders pop up:

(**If my pictures of these folders are hard to read, just click on them to make them bigger)
I use a simple folder system for organizing all of my pictures. I love folders. My brain likes to see things laid out this way. On the first row, I have a folder for each year. Then under those folders, I have random folders for pictures that are grouped together for a certain purpose (Project Life pictures for the girls, Kole's scrapbook, Digital Scrapbooking supplies, etc.)
Now let's click on the folder "2011" —
Inside the folder for each year, I have a folder for each month. At the top I also have a folder called "pictures to organize." When I download my pictures (I usually do this each night because I take pictures every day) all of the pictures go straight into this folder. I don't have time each night to organize all of my pictures, so this folder is a resting spot for my pictures, but not their final destination.
Now let's click on the folder "July" —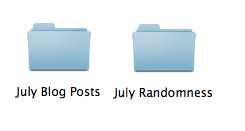 Inside each month I have one folder for blog posts and one folder marked "randomness" which is basically just every picture for that month that I want to keep but don't end up posting. It works the best for me to organize my pictures by blog posts because that is how my brain remembers where my pictures are located. If I want to develop a picture of Kole brushing his teeth for his scrapbook, I remember that I had a post called "copy cat" with pictures of my little man brushing his teeth in July of 2011. If I can't remember the exact month, I just pull up my blog and the date I posted will tell me where that picture is stored. If you don't blog, instead of a folder titled "blog posts" you could just categorize your pictures similar to how I do for posts – by whatever common theme they have (4th of July, El's birthday, painting the wall, etc.).
Now let's click on the folder "July Blog Posts" —
Here I have a folder for each post I did this month (in order). I try to be specific about what pictures are in each folder to help me find pictures in the future.
Now let's click on the folder of my previous post titled "Lots of Stuff" —

All of the pictures from my last post! And that is where my folders finally stop! I know. It's folders, inside of folders, inside of folders… but this system has worked for me for so long. I just love having my pictures so nice and tidy in their happy little spot where they belong. :)
This system also makes things easy for me when I'm about to develop pictures for my kids' scrapbooks. If I'm working on Addison's book for the months May through August, I just go through each blog post folder for those months and each month's "random" folder and pull any pictures that I want for her book. I move them to the folder on my main page called "PROJECT LIFE", make any collages I need to and then send them off to be developed.
BTW – some of you have asked me how my albums are coming along since I haven't been posting pics of them. Well, they're not. I had great ambitions of getting so much done this summer and now I'm laughing at myself for even thinking that would happen! This summer has been so busy. But it's ok. I'd rather spend this time making memories with my kids. I'll record those memories later when they're back in school. I'll also shower, prepare meals, and do laundry when they're back in school. A few other things that have also taken a back seat this summer!
So I'd love to hear your thoughts! What works for you with picture organization? Anyone do anything similar to what I do? No? Am I the only crazy folder lady out there?
I can live with that. :)
xoxo, Erin