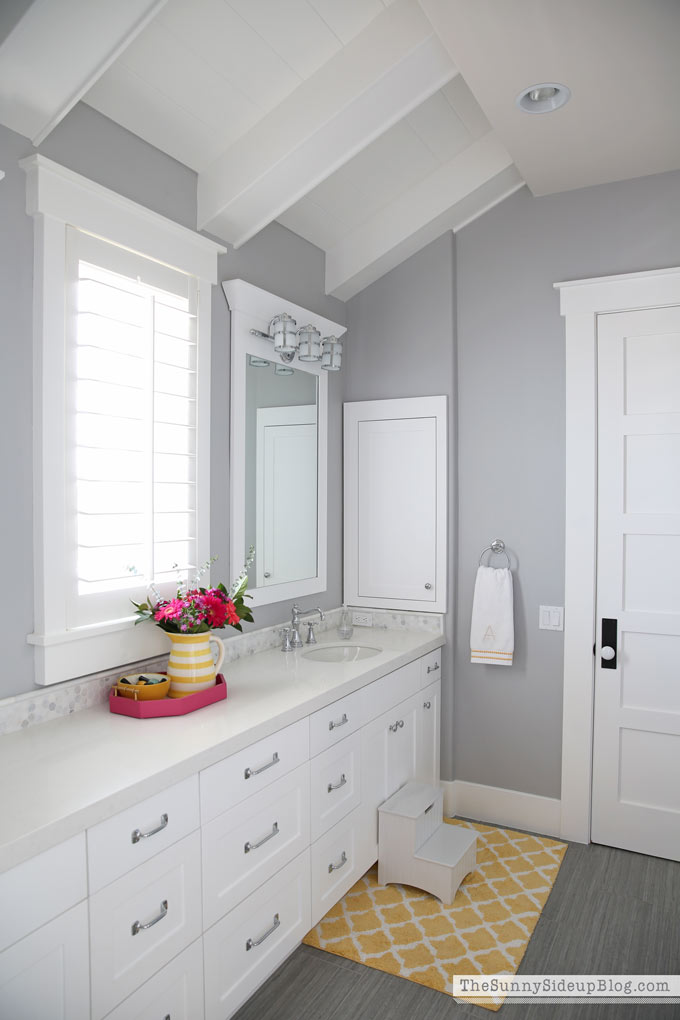 Alright friends!  Let's get this organizing party started, shall we?  :)  In my last post I shared what I do at the beginning of every January.. I make my annual "to organize" list.  It gives me a plan and a place to start!  One of the first spaces on my list this year that I wanted to tackle was my girls' bathroom drawers.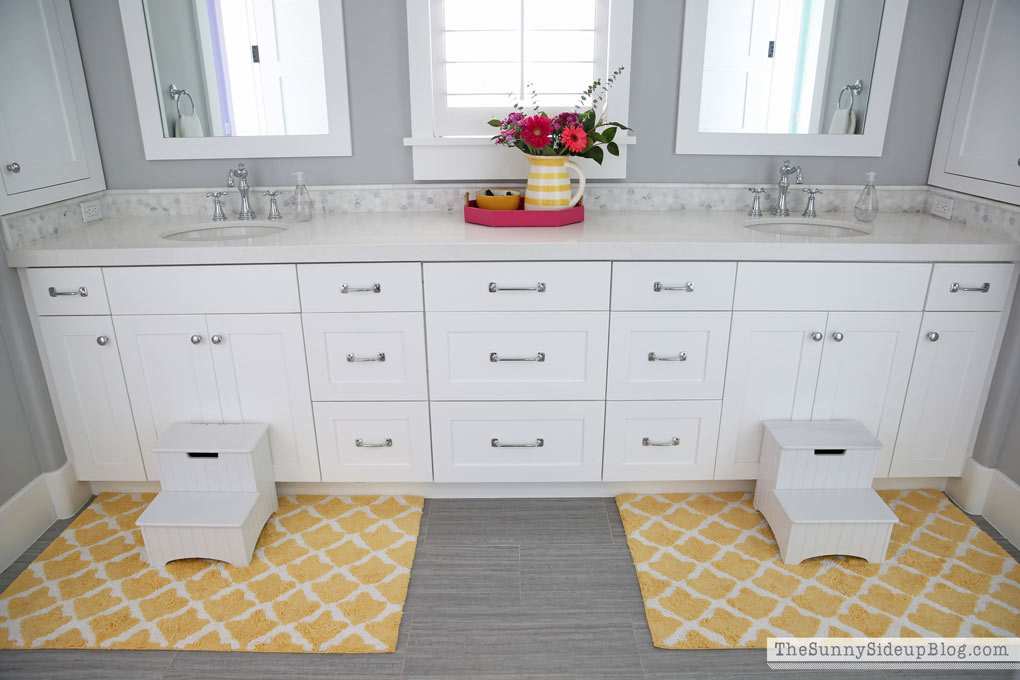 My girls have a shared bathroom that connects their two bedrooms.  (You can see more bathroom pics and sources here.)  My sister and I had this same set up growing up and I have many fond memories of the two of us getting ready together every day.  Lots of laughs, hairspray, singing, chatting, fighting, and solving hair issues together.  One bad perm at a time.  So of course I wanted the same for my girls. :)  This bathroom has a lot of drawer space and while their bathroom (most days) looks lovely on the outside of the drawers, inside the drawers?  Not so much.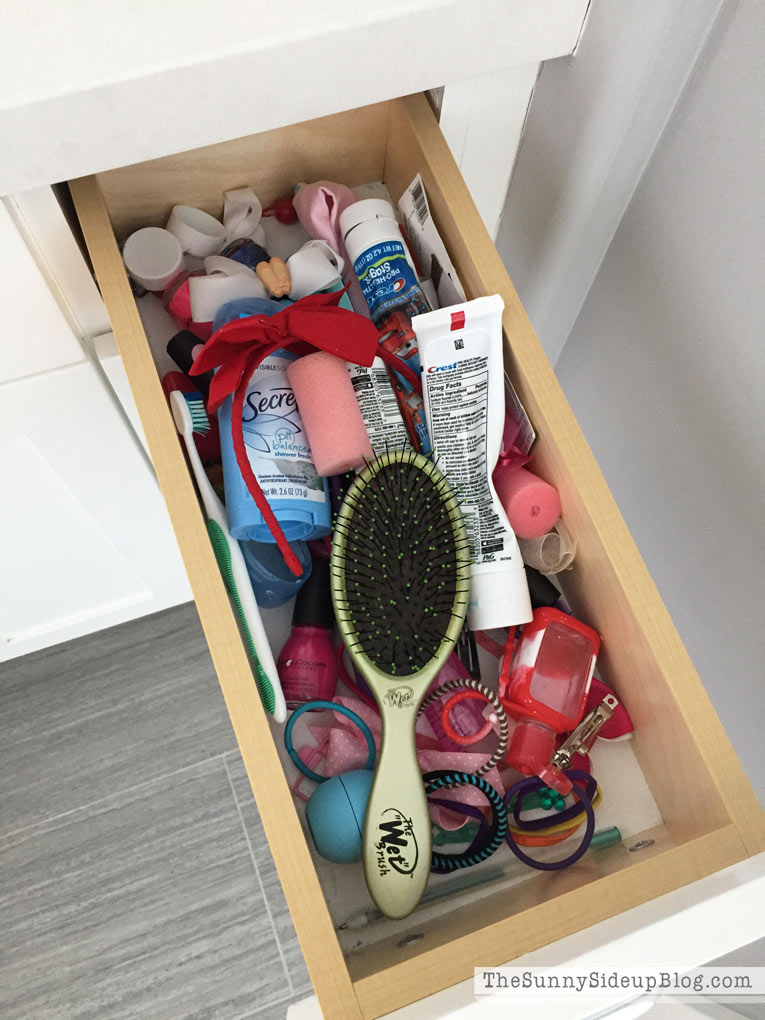 Here are a few "befores" to give you an idea of the lovely mess I started with.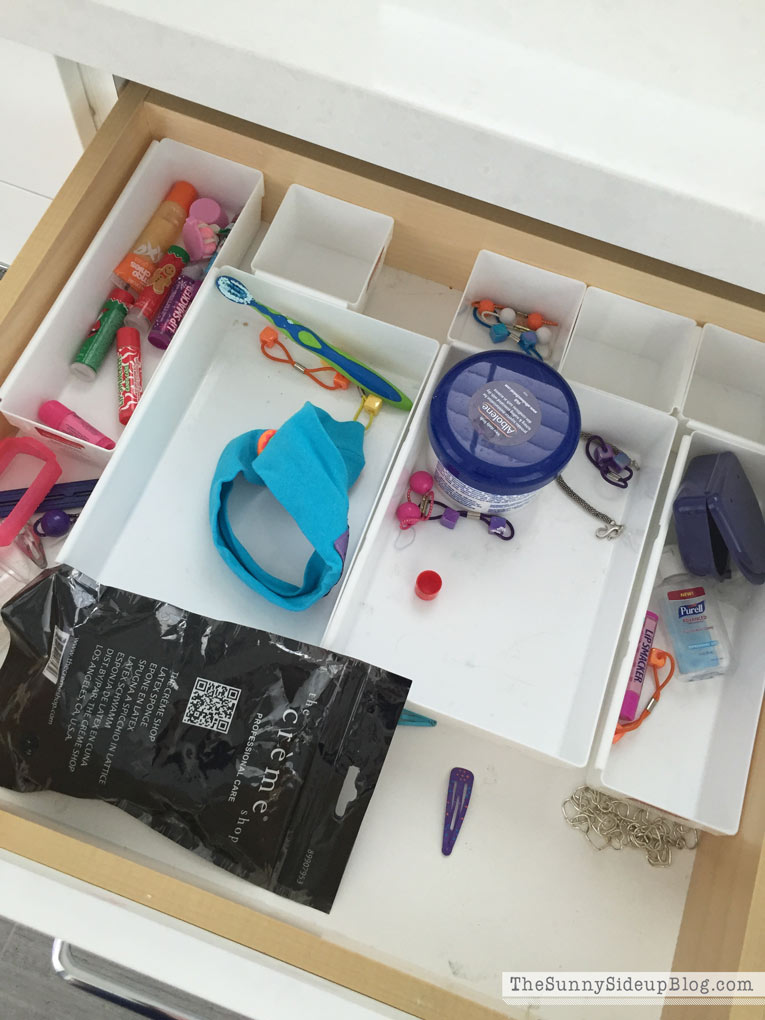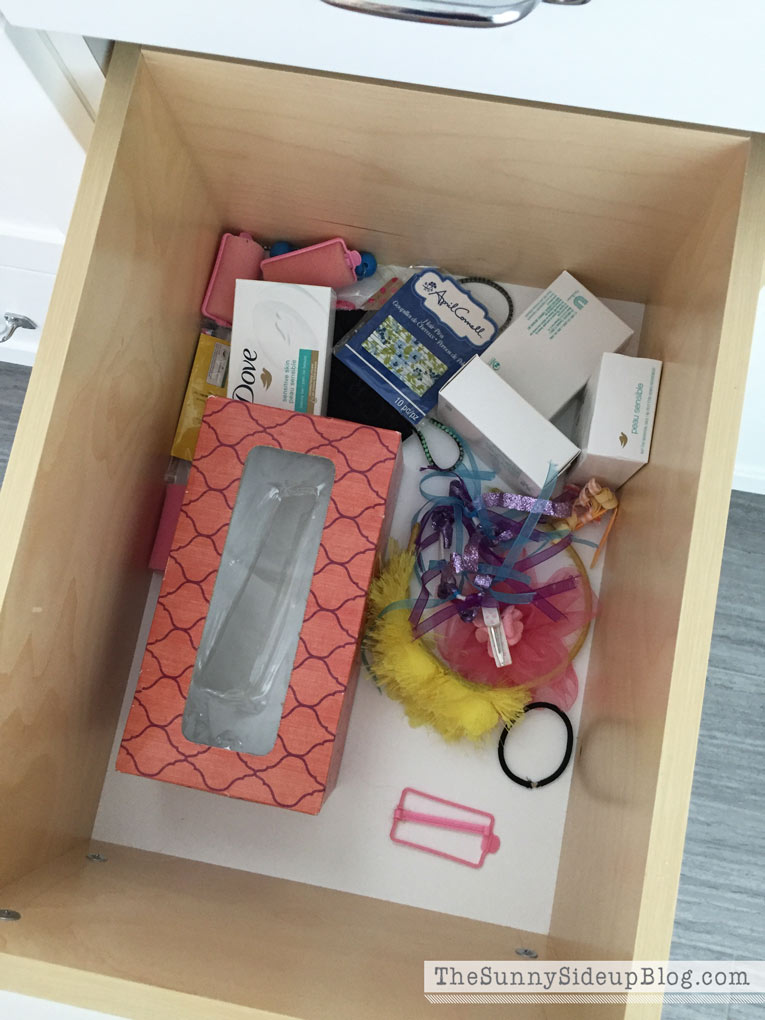 Every drawer looked similar… and a few of them were even worse than these.  I had my work cut out for me!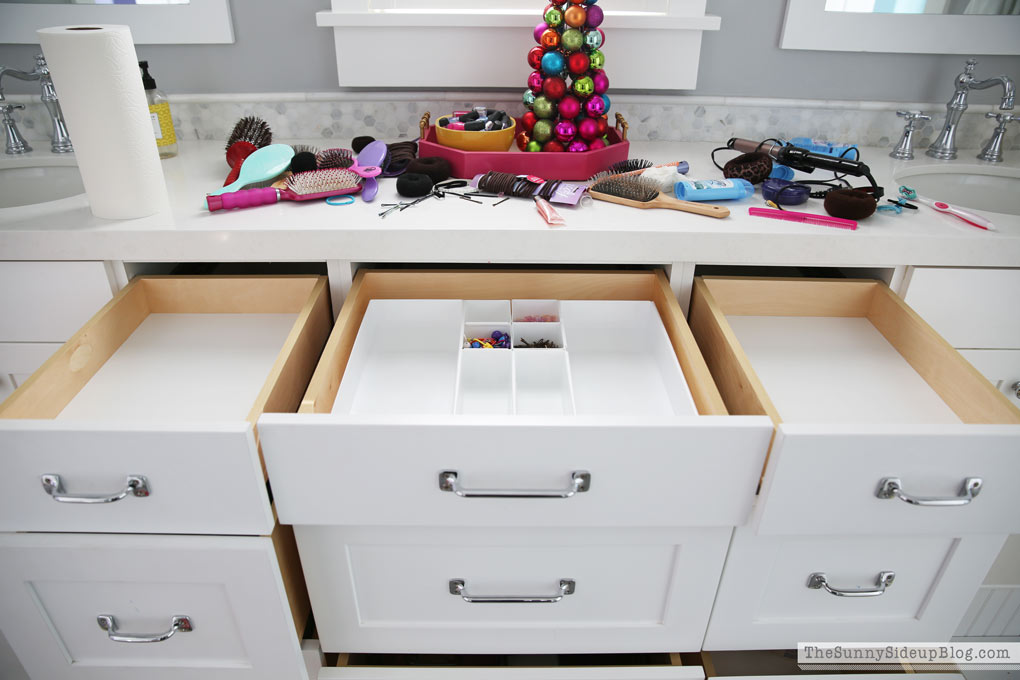 I didn't snap a picture of their floor during my clean out and I wish I would have!  Whenever I clean out bathroom drawers that are this big of a mess I lay a towel down on the floor and dump everything on it.  Then I fill up a sink with hot soapy water and scrub all of the inside of the drawers and any old organizers clean.  This is a picture I snapped after I had washed all of the drawers and organizers and was starting to put everything back in its place.  Here are the afters..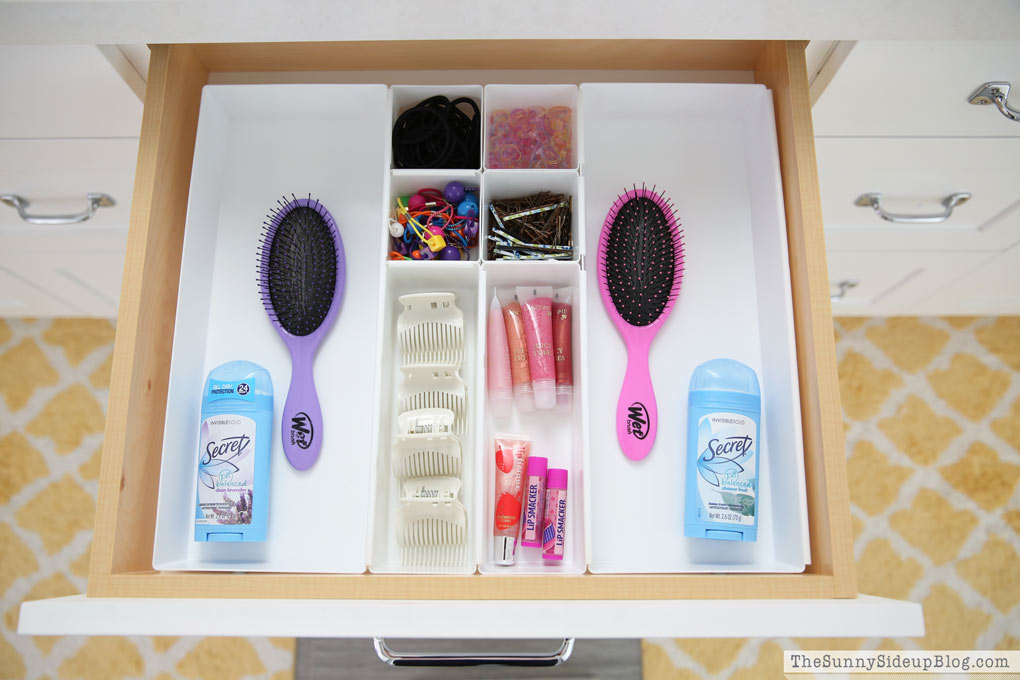 Ahhh!  SO much better.  For years I have used these interlocking drawer organizers from The Container Store for all of our bathroom drawers.  They come in all different sizes and link together so you can create the perfect set up for how you want to organize things.  Plus they are so inexpensive!  They wash out nice, but if they ever get really dirty I just toss them and buy a few more.  The little squares are perfect for those tiny things like elastics and bobby pins.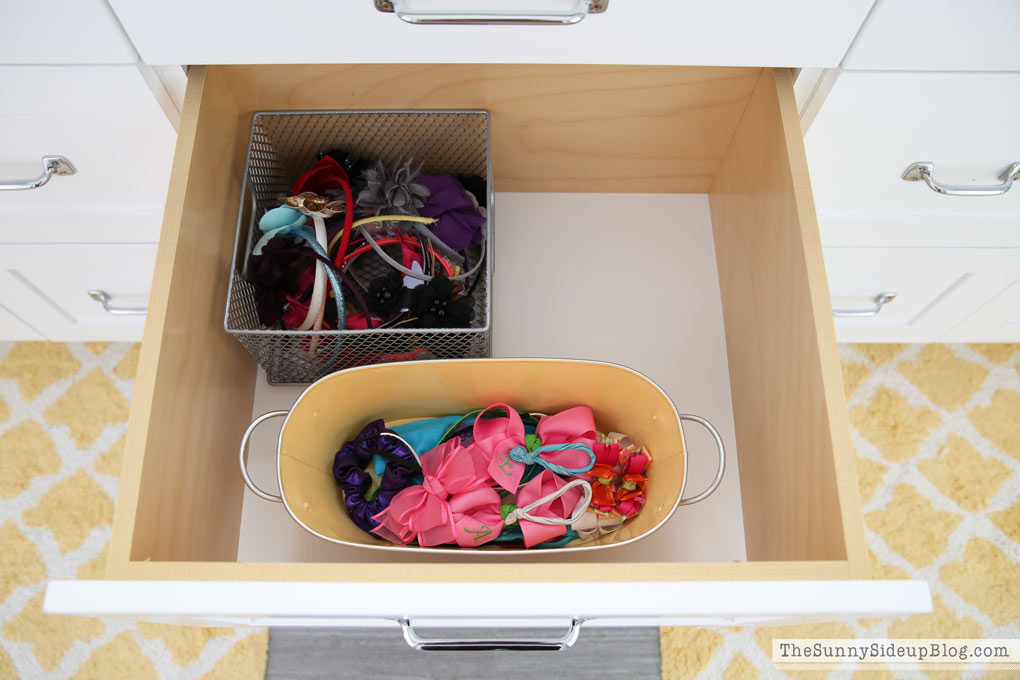 The next drawer holds my girls' headbands and hair bows.  I just used random organizers I've had for years.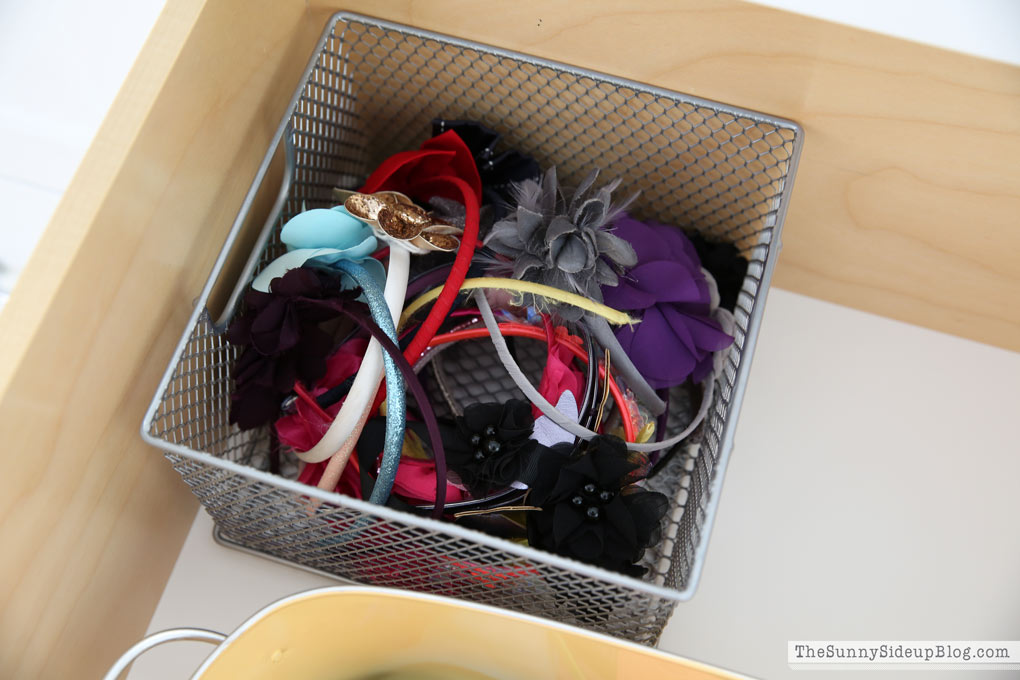 One for all of the styling tools.  It's still surreal to me that they use these and do their own hair now!  Growing up so fast.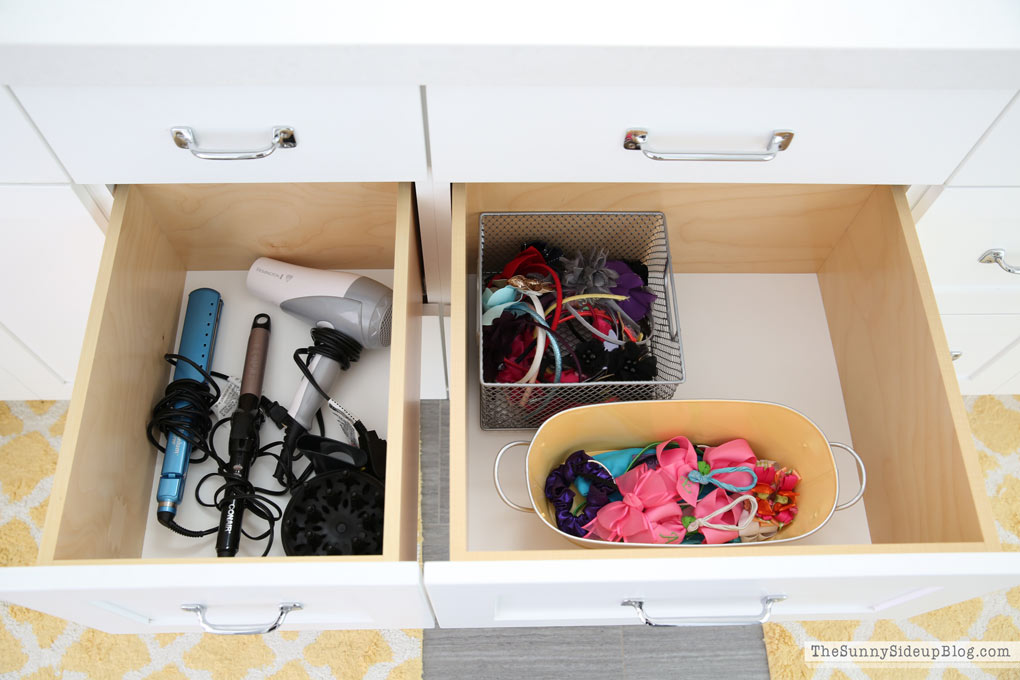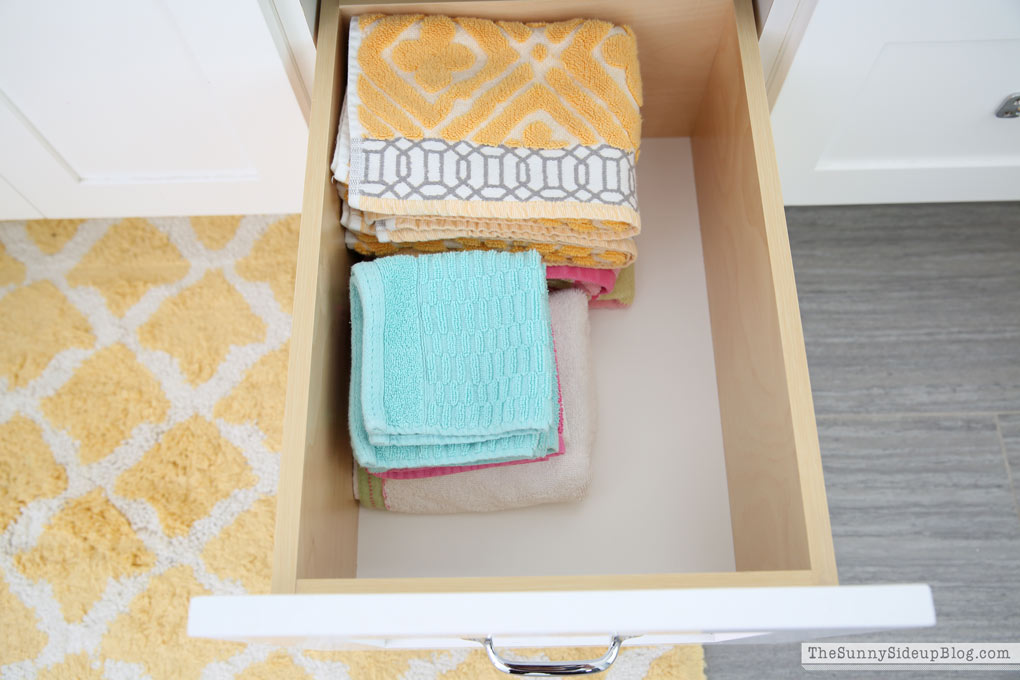 A couple of drawers are for extra hand towels and wash cloths.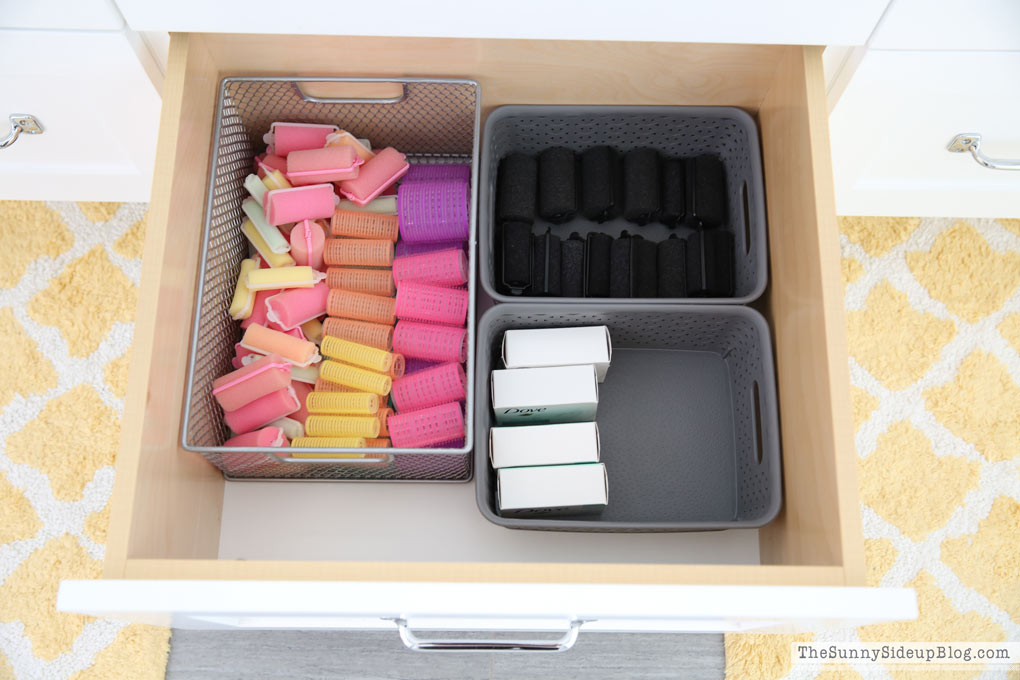 Curlers and soap.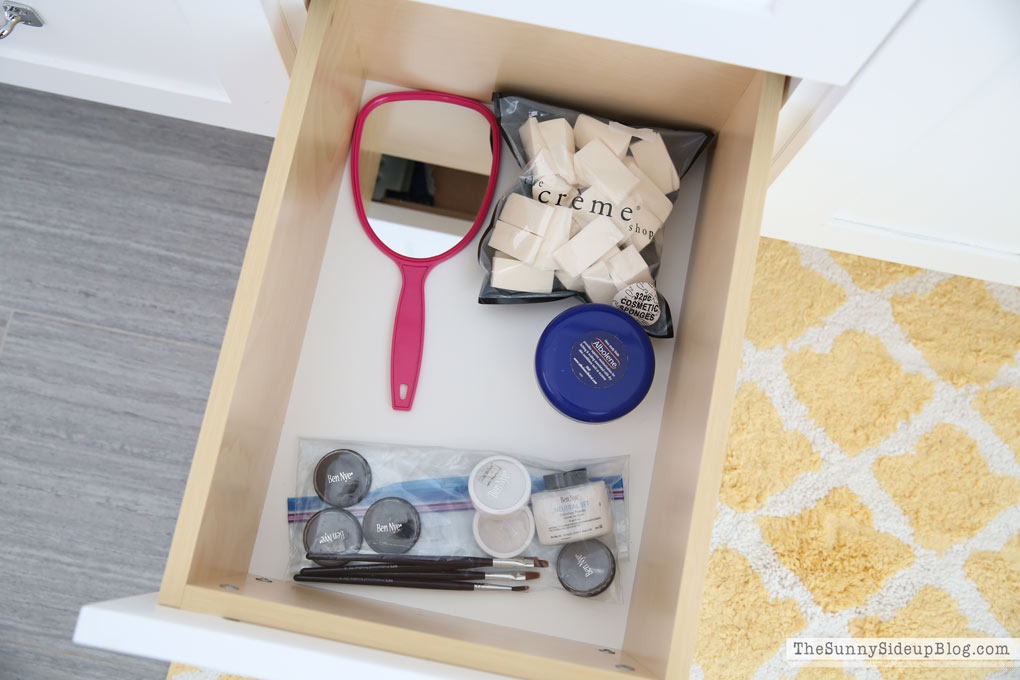 And some drawers just hold miscellaneous things like their stage make-up from past plays.  So happy "Cats" is a thing of the past.  That was a fun play, but getting two girls in full on cat hair, make-up and costumes every day and downtown by 4:00 after school.. and then removing it all after 10:30 each night with emotional girls who were exhausted was not my idea of a party.  So yeah.. good memories in this drawer. ;)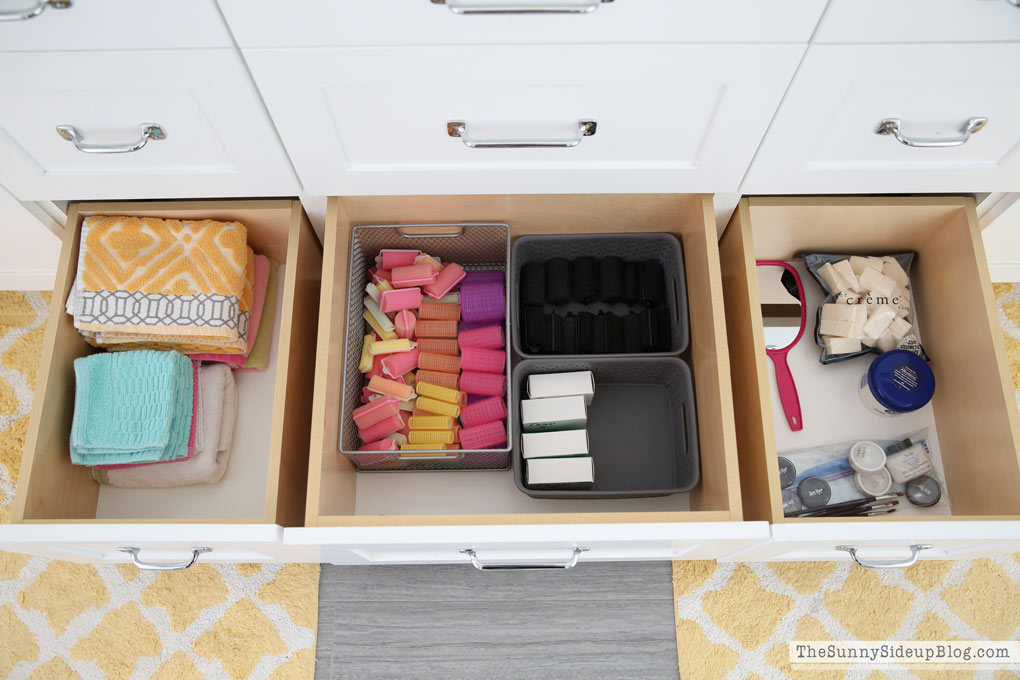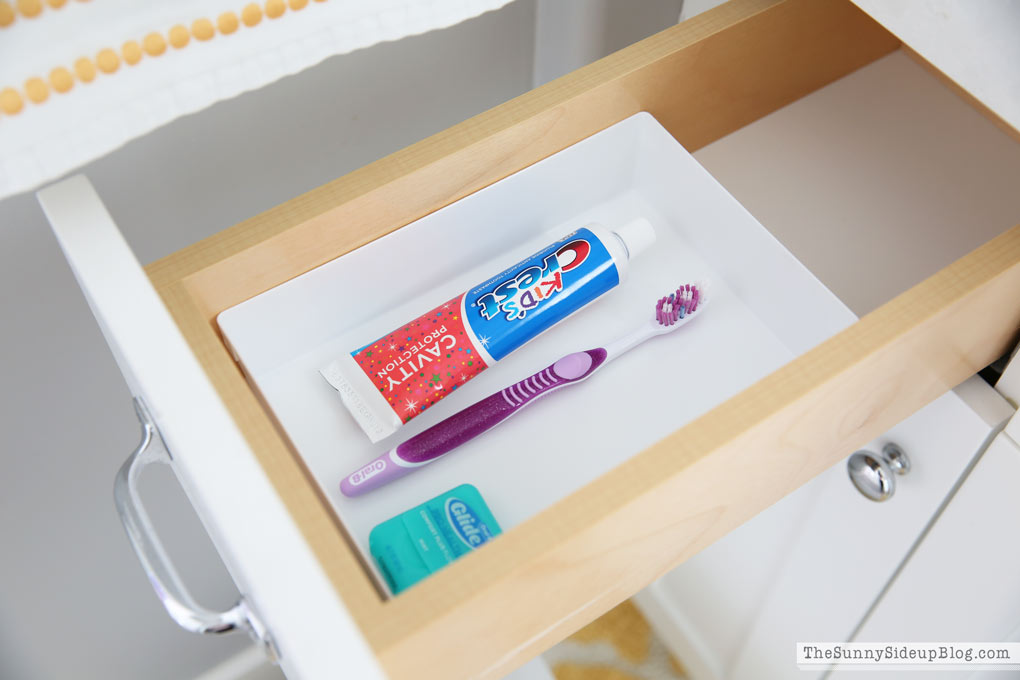 The small drawer on each side just holds their toothpaste, toothbrush and floss.  New toothbrushes for a new year!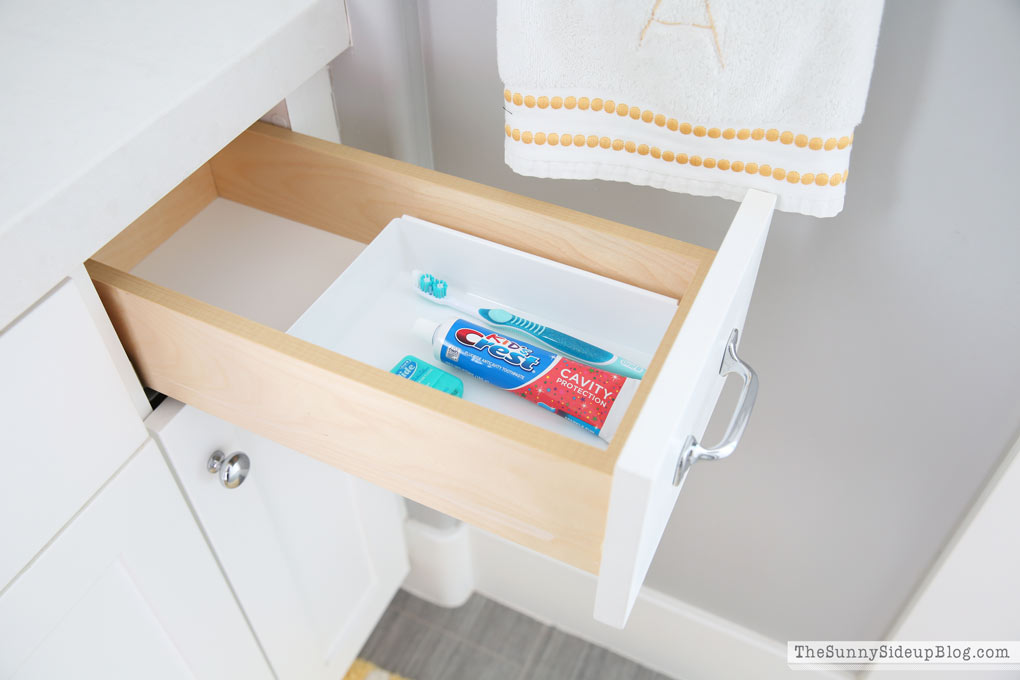 It feels SO good to have this little project done.  Nothing special.. just CLEAN.  Bathroom drawers can get out of hand quickly so I'm going to be checking these drawers often to make sure my girls are maintaining them.  They loved the makeover!
Often I involve my kids when I'm cleaning and organizing.. especially when it's their things.  But in a situation when I know I will be throwing a lot away, I like to do it myself.  I don't want to be slowed down with "but I have to keep every single hair bow!" (even though most are falling apart and haven't been worn in years) or "wait!  I need all of those 18 chapsticks!"  Easier for them to not know what they're missing.
That they aren't really missing. ;)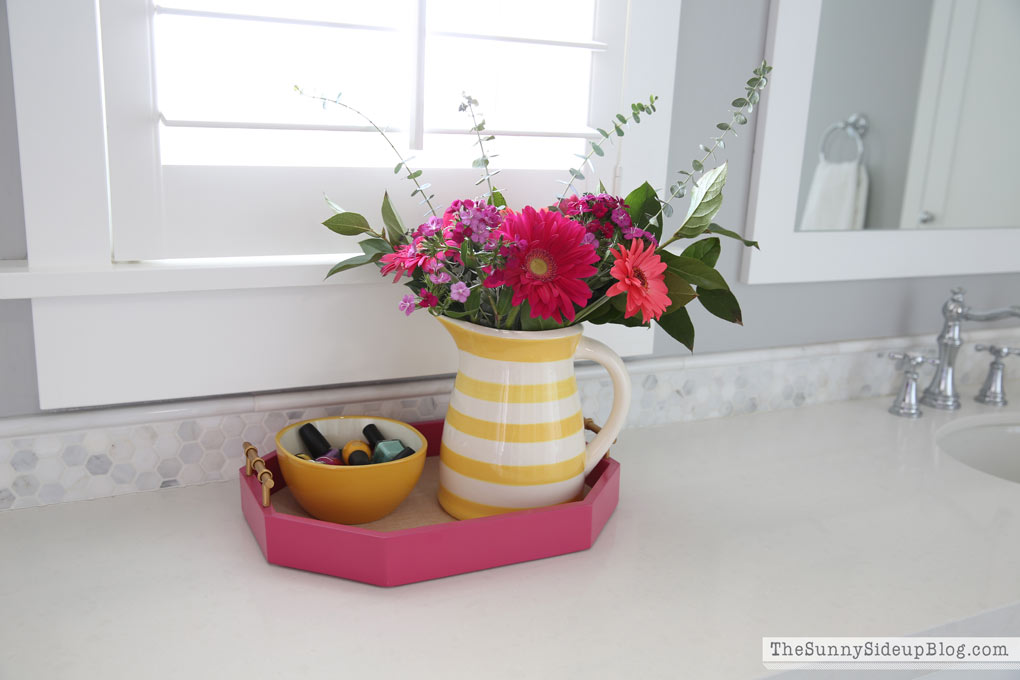 I usually have this yellow striped pitcher and some sort of flowers on my girls' bathroom tray.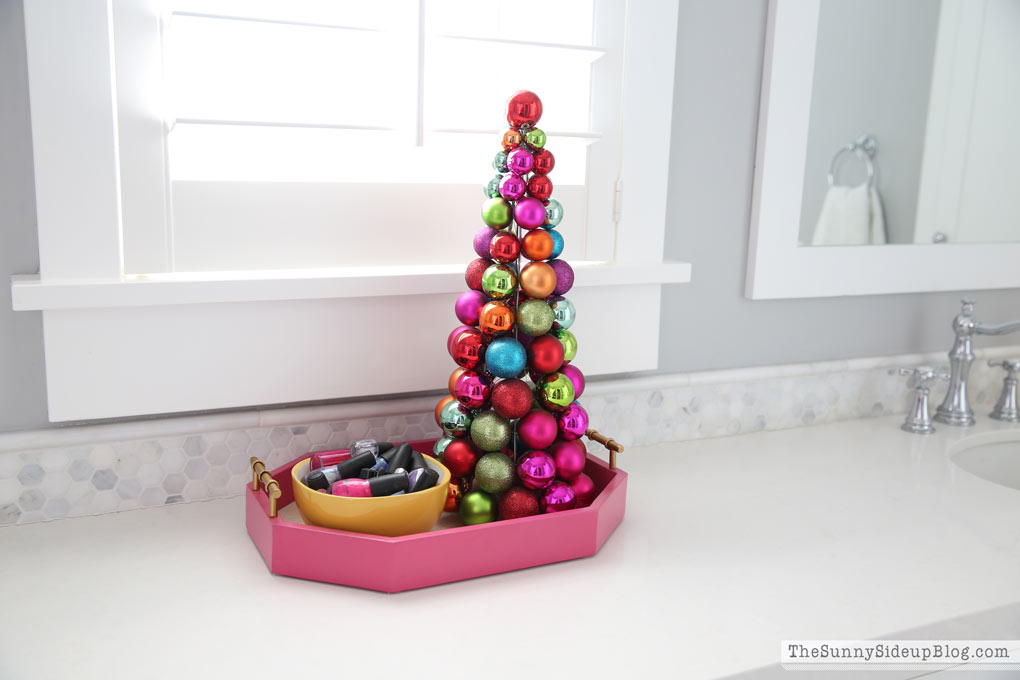 But this was how it looked in December… and still does today.  Time for an update. :)
A few sources:  you can find my girls' bathroom rugs here (on sale in lots of colors!) and you can find the towels here.  The organizers were all from The Container Store, tray was from Target (sold out) but here is a similar tray.  The yellow striped pitcher I shopped from my mom's house, but I just found it on Amazon!  Many of you asked about it in earlier posts.. you can find it here.  You can also find similar step stools here.  (affiliate links used)
Yea for one space checked off of my list!  That always motivates me to tackle another one.  If you are organizing too and looking for more inspiration check out the posts below!  My friends Amy and Christy from 11 Magnolia Lane are hosting their annual Operation: Organization series – always a favorite!
Happy organizing friends!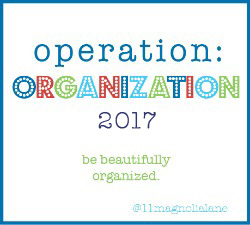 Monday January 9th
Wednesday January 11th
Less Than Perfect Life of Bliss
Friday January 13th
xoxo, Erin