My friends!  It's time.  What time you ask?  My favorite time I answer.  The time of year when the rest of the world gets an itch to do what I love to do year round.
Time to organize. :)
I've got so many projects in the works and fun things to share with you all this year!  But first I'm sharing my top Five Favorite Things that keep me Organized.  My sweet friend Kris of Driven by Decor invited me to join her along with Jennifer of Dimples and Tangles, Pam of Simple Details and Lisa of Shine Your Light for the fun "My Five Favorites" series they host each month.  This month's theme is Five Favorite Things that keep me Organized.  I'm not going to lie.  This one was tough for me.  Tough to narrow my favorite organizers down to a mere five. ;)  But here they are.. my Five Favorites!  (*affiliate links used)
1 – DREAM DRAWER DIVIDERS

If you've been reading my blog for a while you know how I feel about dream drawer dividers.  They have been one of my all time favorite organizers for years!  I use them in all of our clothes closets, in my pantry (pantry post is coming!), and in my bathroom drawers (also coming!).  They expand to fit any size of drawer and don't take up a lot of space.  Such a great way to keep things in their place and make the most of the drawer space you have.  Love them!
2 – BINS
Bins aren't anything new or special, but at the end of the day, nothing quite keeps things categorized and organized like bins do.  Am I right?  Or am I right?  I do believe I'm right. ;)  Here are some of the ways I use bins to organize things around my house.  (I've linked to the full post below each picture if you want more details!)


I use bins to organize random odds and ends in my daughter's closet.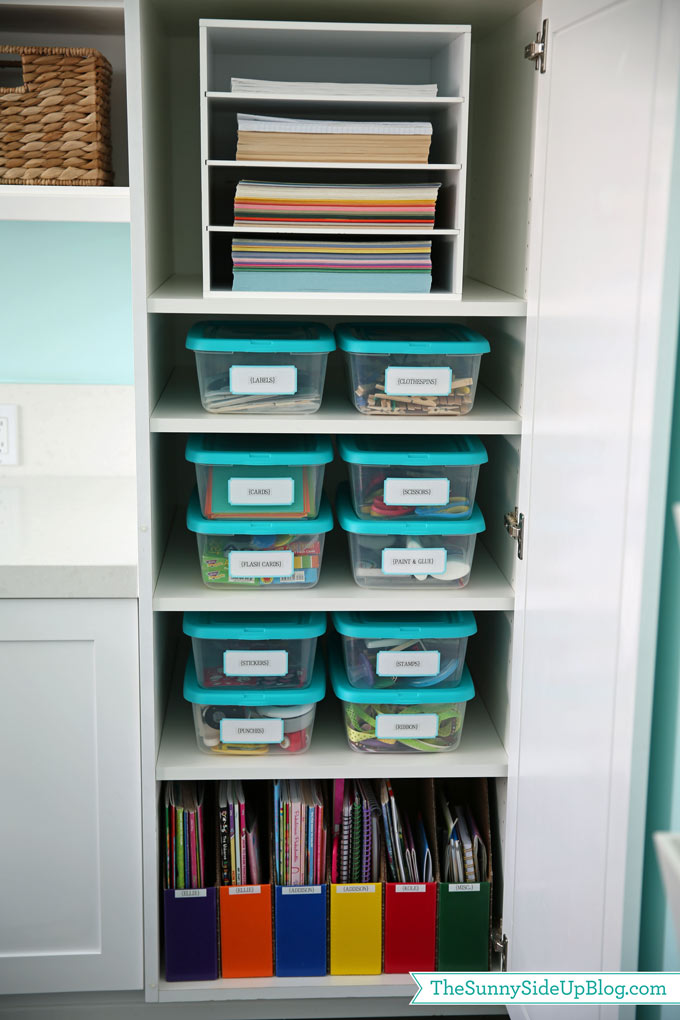 To organize craft supplies in my office.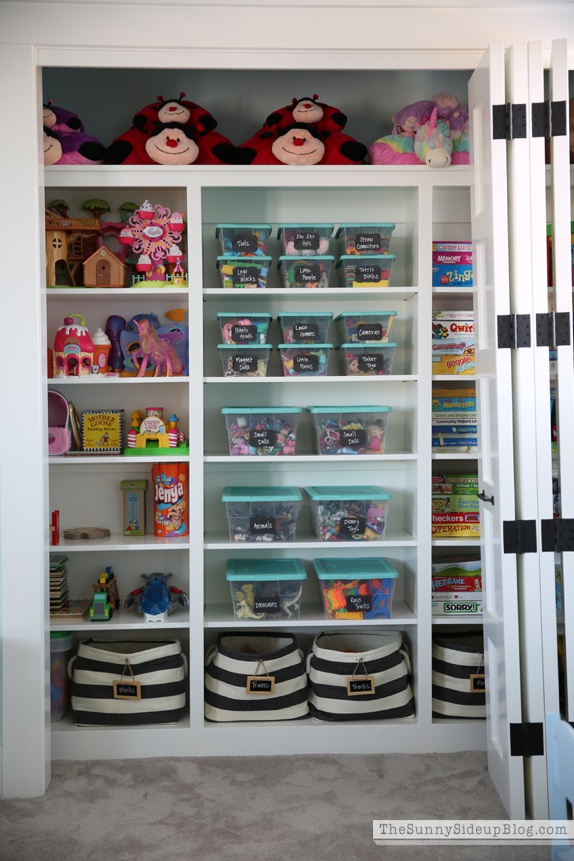 Small bins to organize small toys in our playroom closet.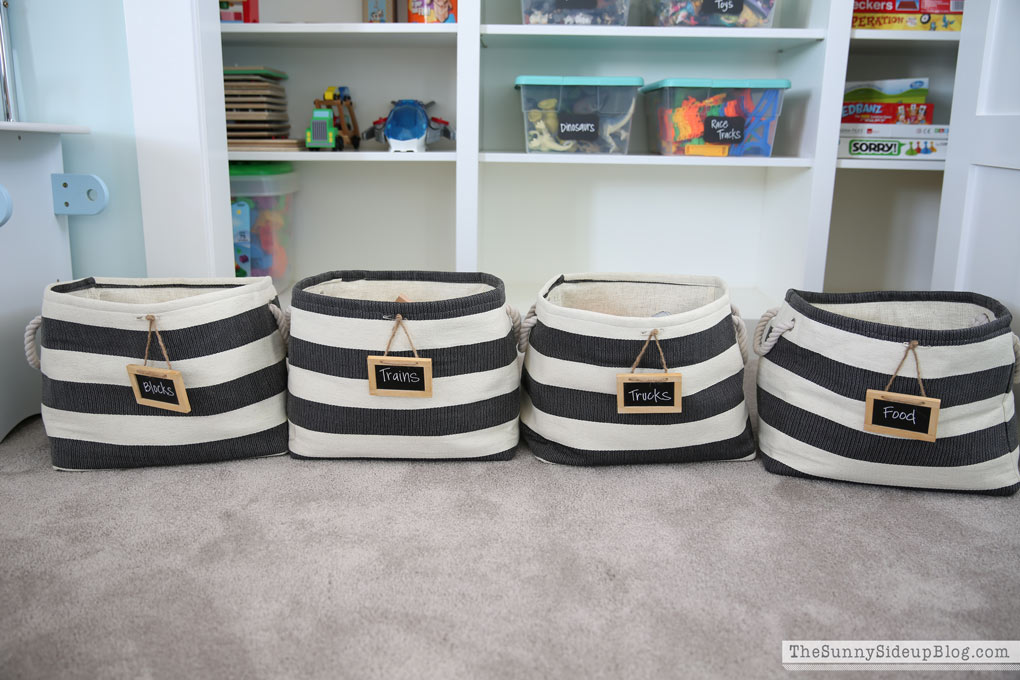 And large bins to hold larger toys in our playroom closet.  These Rugby Stripe Bins from the Container Store are the best!  Aside from looking good (my stripe obsession lives on) they also hold A LOT.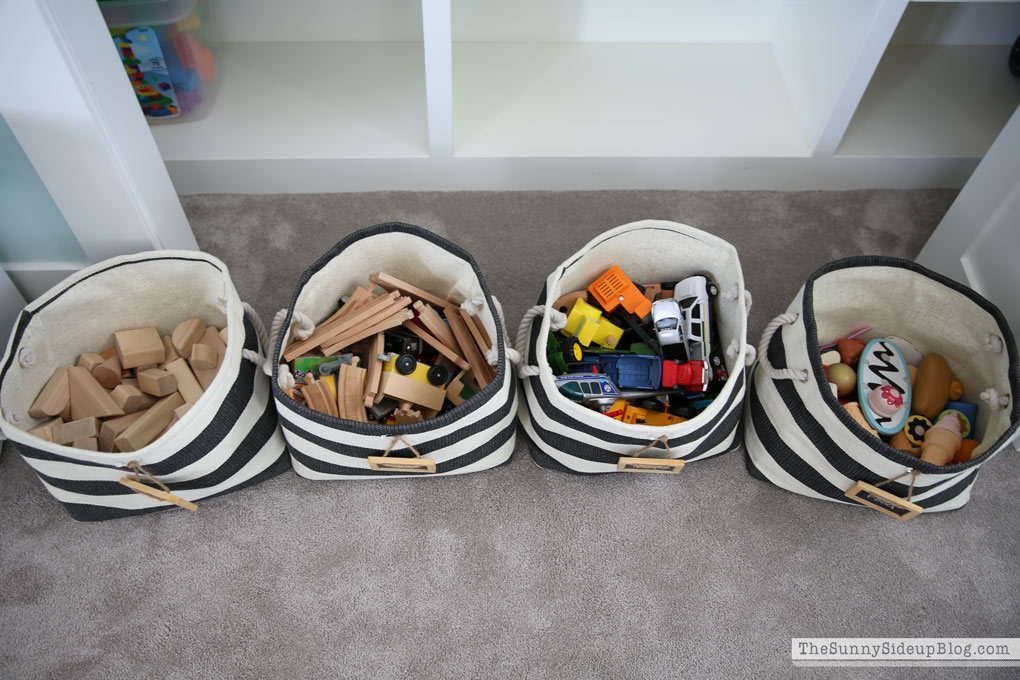 Great for things like bulky toys, blankets, shoes by the door, etc.  The possibilities are endless!  They also come in a navy stripe.


I also use bins to organize wrapping supplies in my office/craft room.


These wood and metal two level organizers are more trays than bins, but I had to add them because they are definiltey favorites!  Such an easy and stylish way to organize our paperwork in my office.  I need to label them and share a post on how I'm using them soon!
3 – BASKETS
Baskets are another no brainer when it comes to organization but they will always be one of my favorite things to use!  Not only do they conceal a lot and keep things grouped together, but they also look stylish and can double as home decor.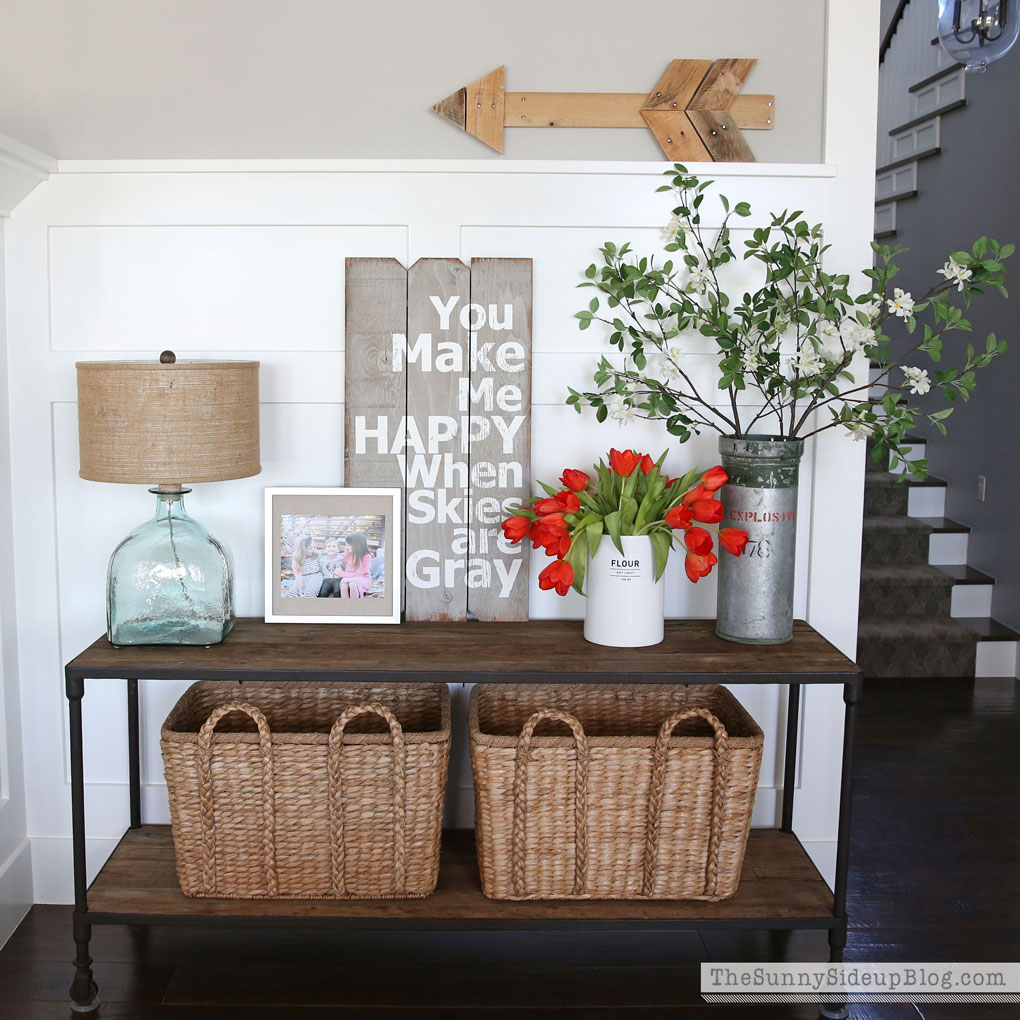 The large baskets under my console table in our family room (similar baskets here) have held an assortment of things over the past few years.  Blankets and throws, DVD's, toys my 6 year old wants to keep close, extra picture frames and random decor (I tend to re-arrange things in this room quite often!), books I'm reading with the kids, etc.  Sometimes they are just great catch all baskets when I need to pick the room up in a hurry!  Regardless, they definitely help to keep our family room clean and organized.


I also love the wire baskets under our coffee table (similar baskets here) that keep my magazines together and close by for whenever I give myself permission to hit the couch and do nothing but flip through a good magazine.  My favorite treat to myself. :)
4 – BUILT-INS
As soon as my husband and I bought a lot and decided to build a house my mind was racing with ideas of how to create a home full of organization.  I thought about all the things in my then current house that made it hard for me to stay organized.  No place to keep the kids' shoes and backpacks, not a lot of storage for toys, laundry constantly piled up on the floor a mile high.  These are a few things I came up with to help with those problems!  Maybe they will give some of you a few ideas if you are building, re-modeling, or if you are just ready to add some built-in organization to one of your rooms.


My mudroom was a dream that lived in my head for many years!  You can see in this post how I organize everything in this happy space.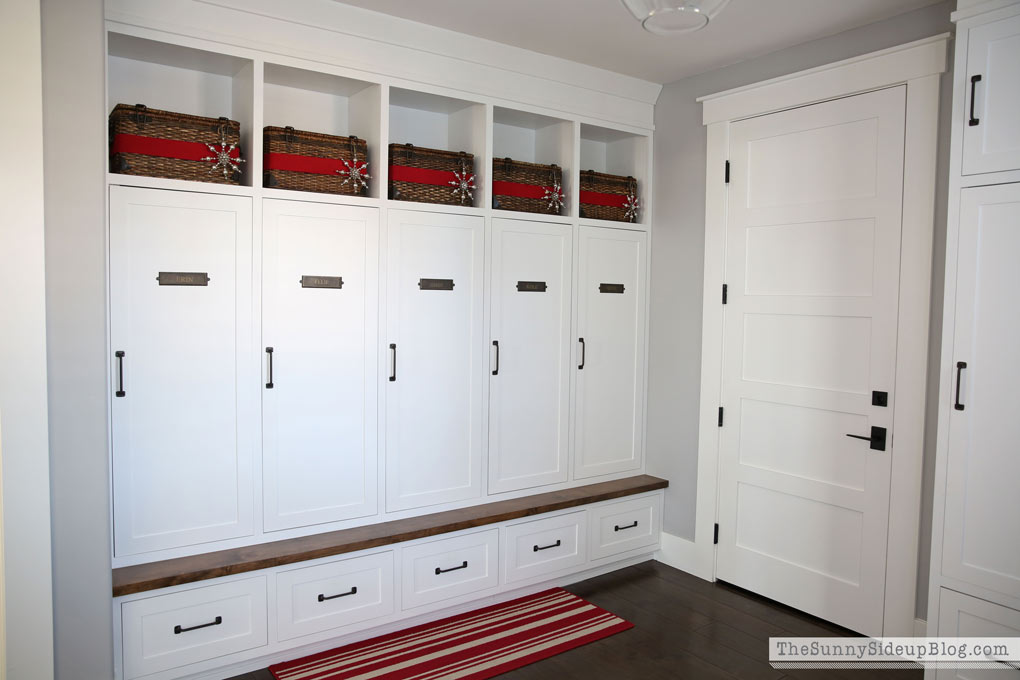 These lockers for back packs and drawers for shoes have been a dream!  (Btw – I've received so many e-mails with questions about dimensions for these lockers lately. That info. will be coming to the blog soon!  My blog is getting a makeover this month and all sources/details/house information will be much easier to find.  YEA.)  *Mudroom baskets here.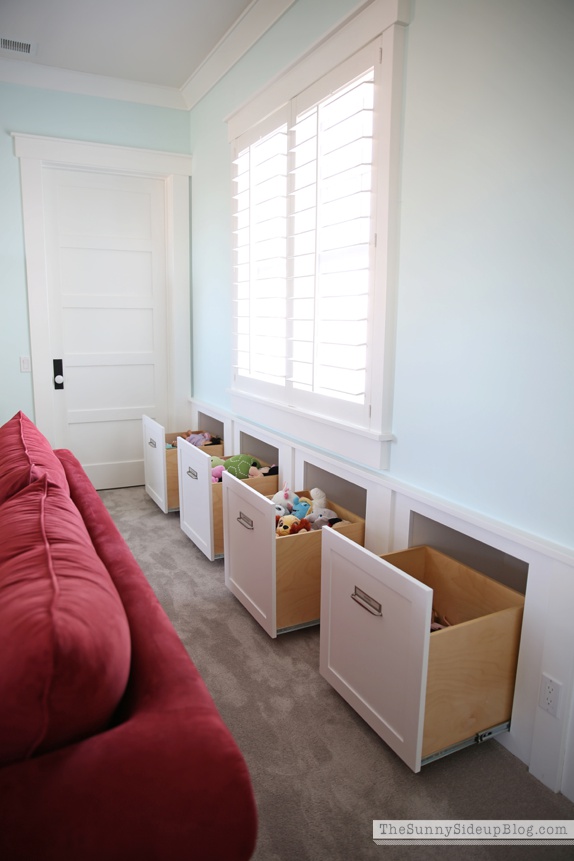 Another favorite built-in storage solution are the drawers in my playroom that I designed when I realized we had extra space in the wall because of our roof line.  Perfect for more large toys!  My kids love their stuffed animals and I love having them concealed when they aren't being played with.  Win for everyone.
And last but certainly not least are my built-in laundry hampers.  They were one of the first things I sketched a picture of for my architect when we were designing the house.  I got the laundry off the floor!  Mission accomplished.  Getting it to magically fold itself is still a work in progress.  Next house.  ;)
5 – TIME MANAGEMENT SOLUTIONS

Because I'm a very visual person and because I always have 50 projects going on at the same time and because I have a love affair with sticky notes… I created my very own Visual To-Do List.  This helps me keep everything out of my brain and right in front of me where I can see it.  You can read all about how this helps me stay organized here.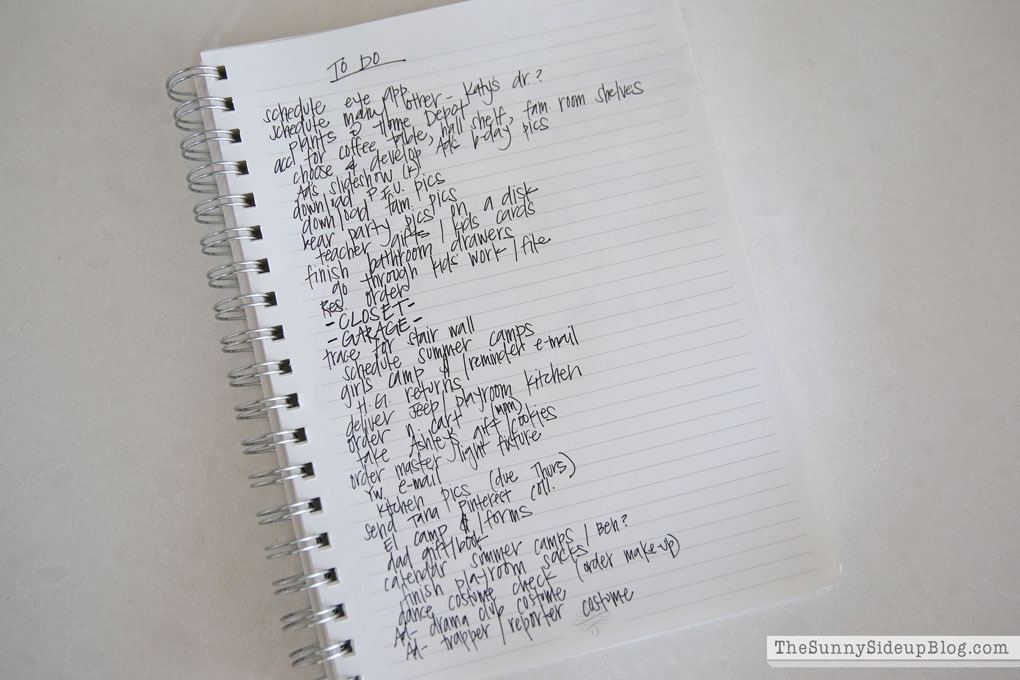 If I'm feeling really overwhelmed, I have another go to time management system.  I do a massive brain dump and get everything I need/want to do in my head on paper.  This list is always crazy long and totally unrealistic.  But it feels good to get it all out of my head!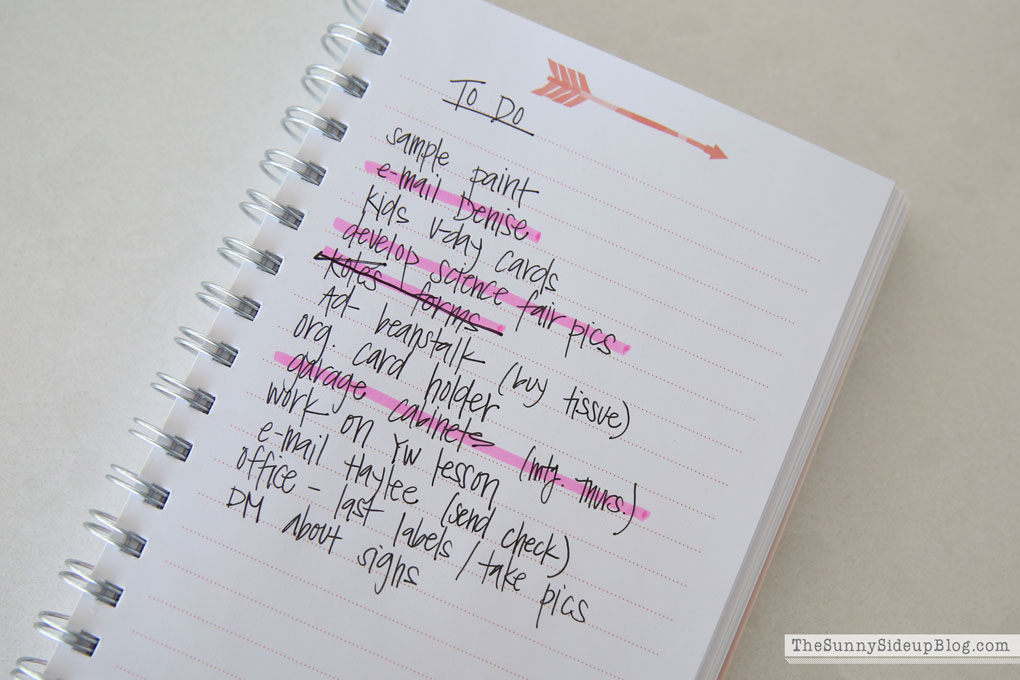 Next I cross items off that aren't that important and create a shorter list of the REAL priorities.  This is hard to do, but necessary when you need to get back on track.  Then I highlight just THREE things that I need to get done first.  (EAT THAT FROG!)  These are the most important things I need to get done or things that are time sensitive.  Doing this simple thing when I feel overwhelmed always gives me direction and clarity instead of a jumbled and scattered brain.  I'll take it.  :)  After I finish and cross off my main three things I can highlight three more.  (Btw.. these two lists above have nothing to do with each other, they were written at two different times and are just illustrating my point.) :)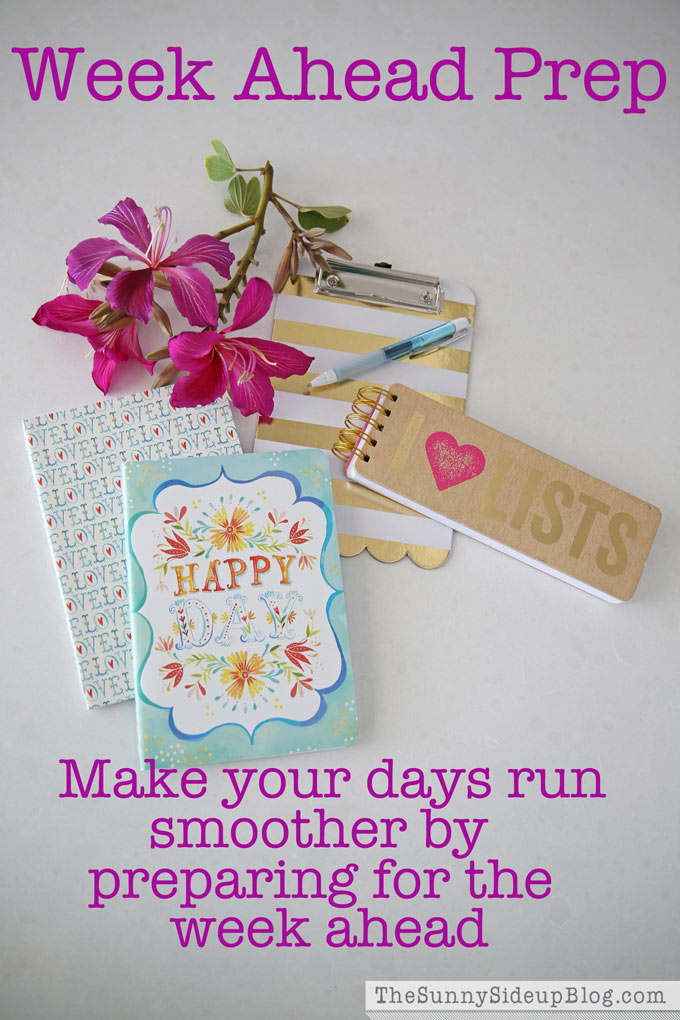 Last by not least, every Friday that I'm able to I do a little Week Ahead Prep!  You can see what my Friday prep includes in this post.  When I really follow through with this I am so prepared for the week ahead! I feel like I'm on top of things vs. scrambling around at the last minute.
Like I was doing today.  Because instead of prepping over the break I was playing and eating.  And that's ok too.  Some of the time.  ;)
Whew!  Like I said I had a hard time narrowing this post down!  Believe it or not there is still a lot of fun organization to come – so many organized systems in my house that I haven't shared yet!  I think it's going to be our most organized year yet.  :)
Make sure you subscribe to my blog (on my right sidebar) if you haven't already so you don't miss a post!  You can also see what I'm organizing and decorating next on Instagram or Facebook and what I'm inspired by on Pinterest.
Re-cap of some of my favorite organizers:

Thanks again to the 4 talented hosts for inviting me to join their Five Favorites party this month!  Make sure you visit their blogs to see what their Five Favorites are when it comes to organization..
Kris – Driven by Decor
Jennifer – Dimples and Tangles
Pam – Simple Details
Lisa – Shine Your Light 
xoxo, Erin