When I shared my office/craft room with all of you last week you may have noticed a tall cupboard in the corner of the room next to the window.
I wanted a simple place to store wrapping supplies so I added this cupboard on top of the counter.  I kept the left side of the cupboard tall and open to house all of my wrapping paper and then added adjustable shelves to the right side to hold extra supplies.  When we moved in I just tossed everything in this space knowing I'd get to it at some point!  It has been like this for a year driving me crazy every time I needed to wrap a gift.
So last week I finally organized the wrapping supplies!  I took out all of the wrapping paper.  Got rid of a few old rolls with not much left, took the packaging off of new rolls, and put a rubber band around each of them.
Then I pulled everything out of the cupboard and started categorizing it all into piles.  When we moved I got rid of a lot of wrapping supplies I knew I wouldn't use so sorting everything went quickly.
Part of the reason I hadn't organized this space sooner is that I couldn't find baskets that were the right size for my shelves.  A few weeks ago I finally found some!  At The Container Store of course.  My husband thinks I need to just get a job there and move into that place already.  Hmm.. not a bad idea.  :)
Because not only are they the right height and width, but they are DEEP.  That's what I was looking for.  Long baskets so that I could utilize every ounce of space in my cupboard.
 I also picked up a package of cute Christmas gift tags.
 Ta-da!  The baskets now.  So nice and organized!
And so much easier to find what I need.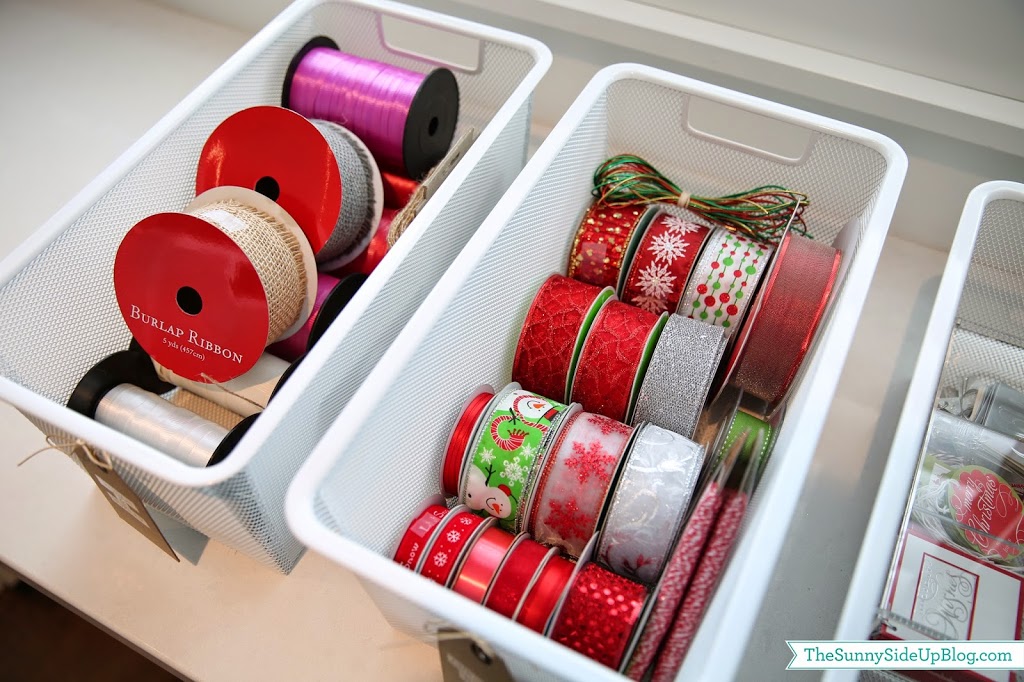 All of my Christmas ribbon is now in one happy spot.
 The other baskets hold tags, cards, tissue paper, and gift sacks.
All of my Christmas gift tags were loose so I corralled them in this small container I've had for years.
Honestly this whole thing took me one hour.  One hour!  No more wasted time searching for wrapping supplies.
Now I see this when I open my cupboard.  SO much better!
The gift tags made perfect labels.
 Just enough space for tall gift sacks on the bottom.
For now Christmas supplies are in the middle for easy access.  I'm ready to wrap!
My cupboard looked so pretty and organized after I finished that I didn't want to close it.  :)
So I grabbed a colorful Christmas tree to hold the door open.  Colorful Christmas trees make everything happy, don't they?
But then I wanted my whole counter back (more room to wrap!) so now it's closed.
One more before and after.  Because they're fun.
Time to tackle those Christmas gifts.
:)
*affiliate links used
xoxo, Erin