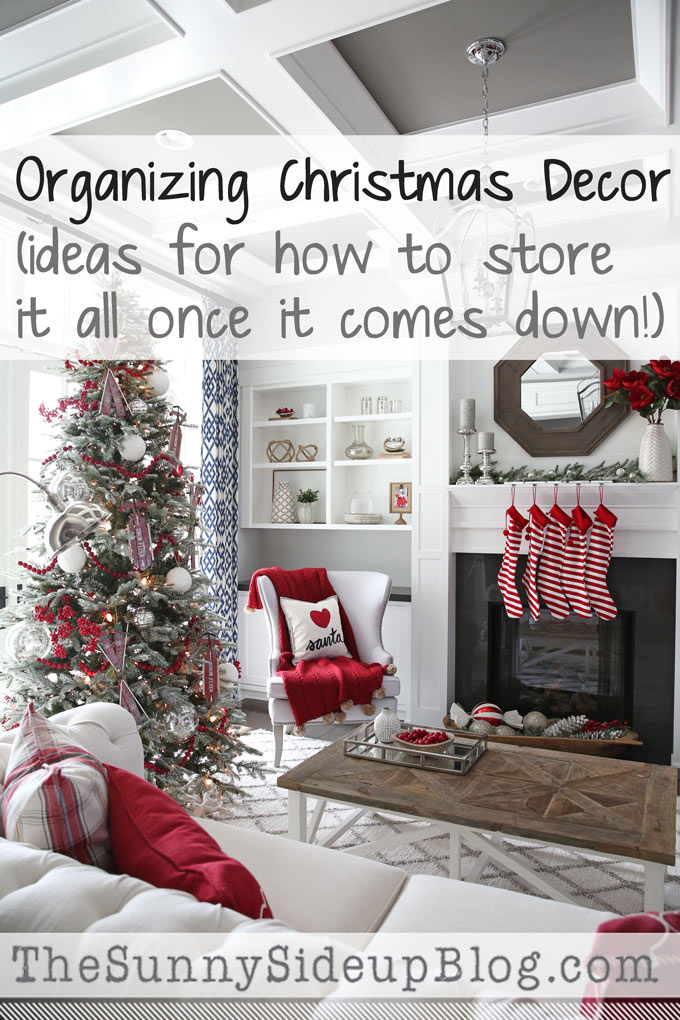 I hope you are all enjoying this week!  The days between Christmas and New Years are some of my favorite days of the year.  For me they are a mix of relaxing with family and thinking about the New Year ahead.  And eating.  Lots of eating.  Because we can all eat what we want and then hit the gym hard with the rest of the world in January, right?  :)  I know a lot of people are itching to take down their Christmas decor as soon as Christmas day is over.  I'm not one of those people!  I would seriously keep my Christmas decor up for six months if I thought I could pull it off.  In fact I told my family all today that next year I might start decorating trees before Halloween.  The holiday season just goes by too quickly for me!  I want those tree lights going year round.  But alas.. at some point it all has to come down.  And when I finally do pull the trigger and start putting things away, something inside me snaps.  And I want every single thing in my house to be clean and organized.
I know you know the feeling. :)
So I start with my Christmas decor and make sure I'm putting it all away as organized as possible.  Today I'm sharing a few ideas for how to organize Christmas decor once it all comes down.  Some of these pics are from our previous house and some I took this year before I decorated for Christmas.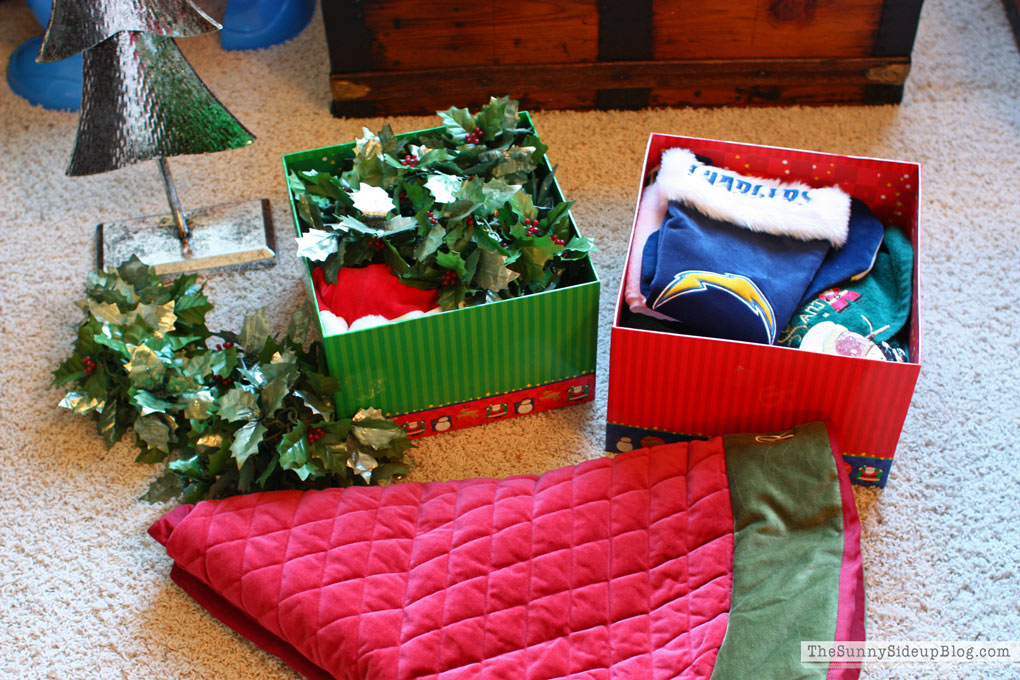 (affiliate links used below)
I use all sorts of things to organize my Christmas decor.  These decorative boxes came with gifts in them years ago.  Perfect to hold random odds and ends.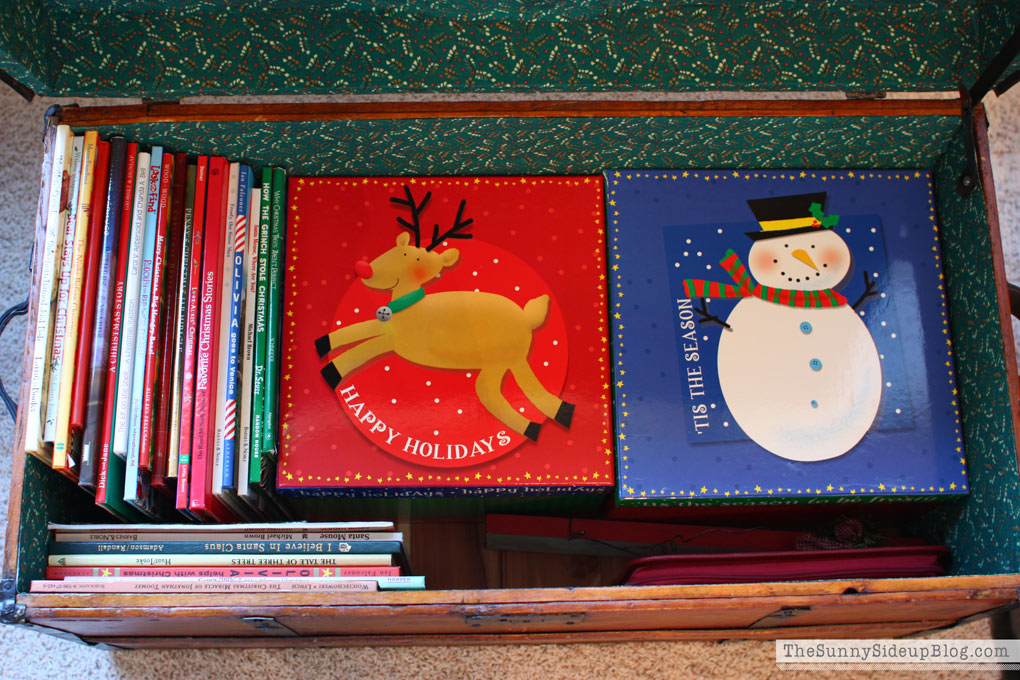 In our previous house we were short on space so I used my living room trunks to hold Christmas decor.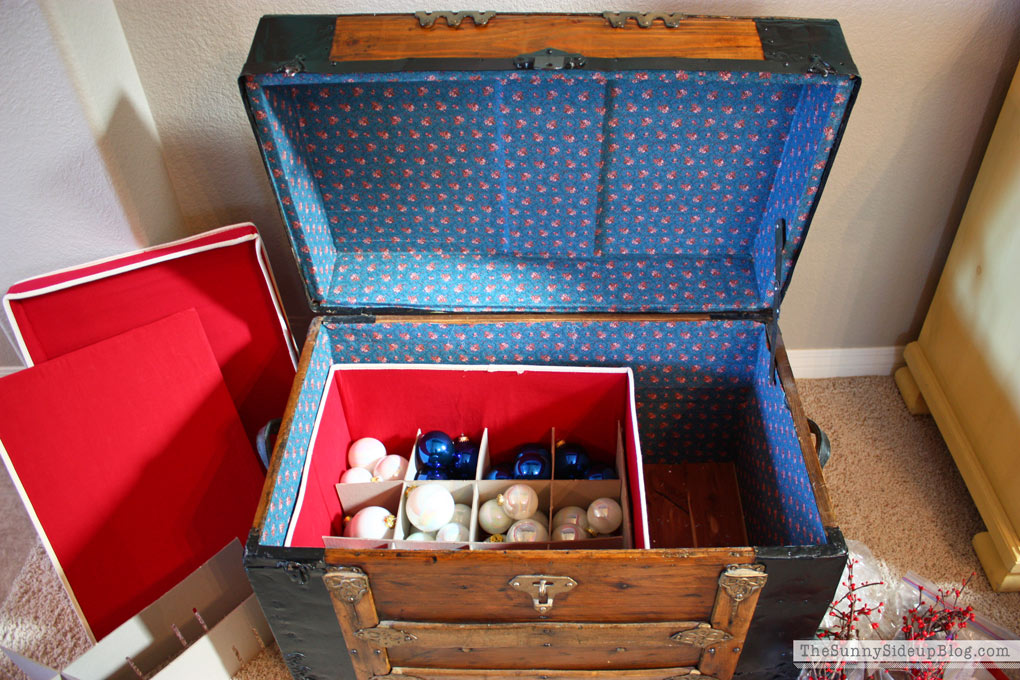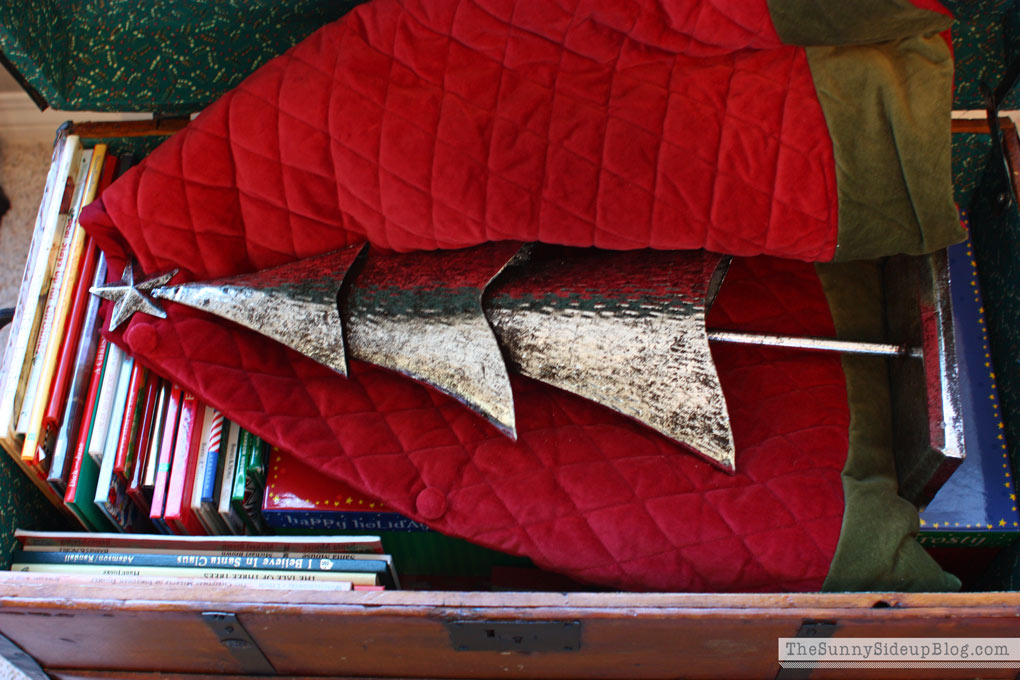 I always wrap breakable items inside of Christmas throws, stockings and tree skirts.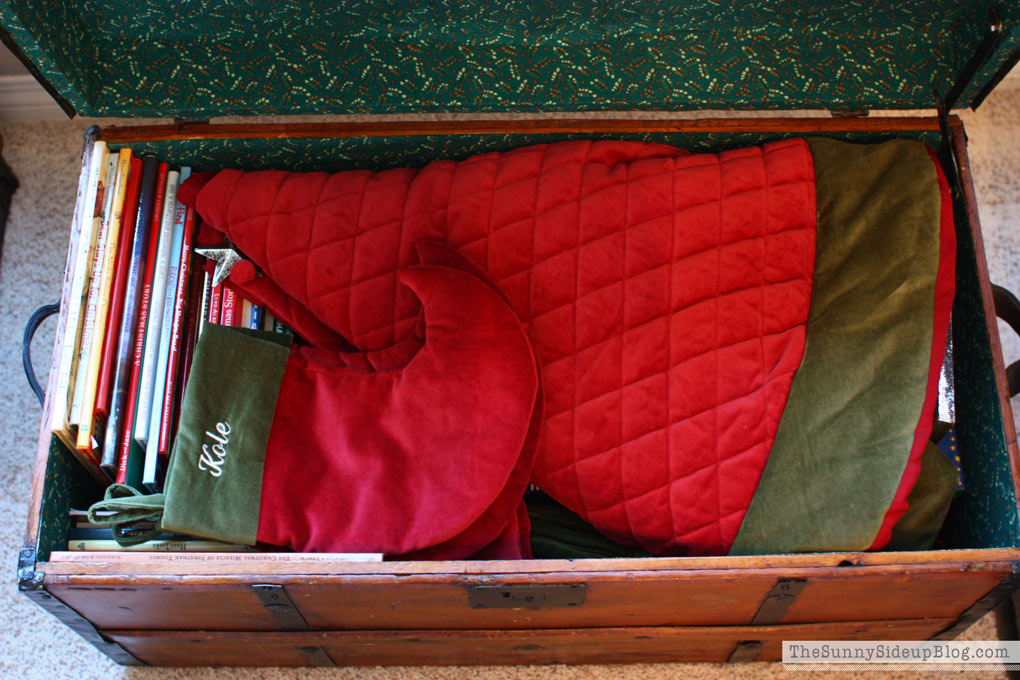 PB stockings and holiday decor is on major sale right now!  Happy dance. :)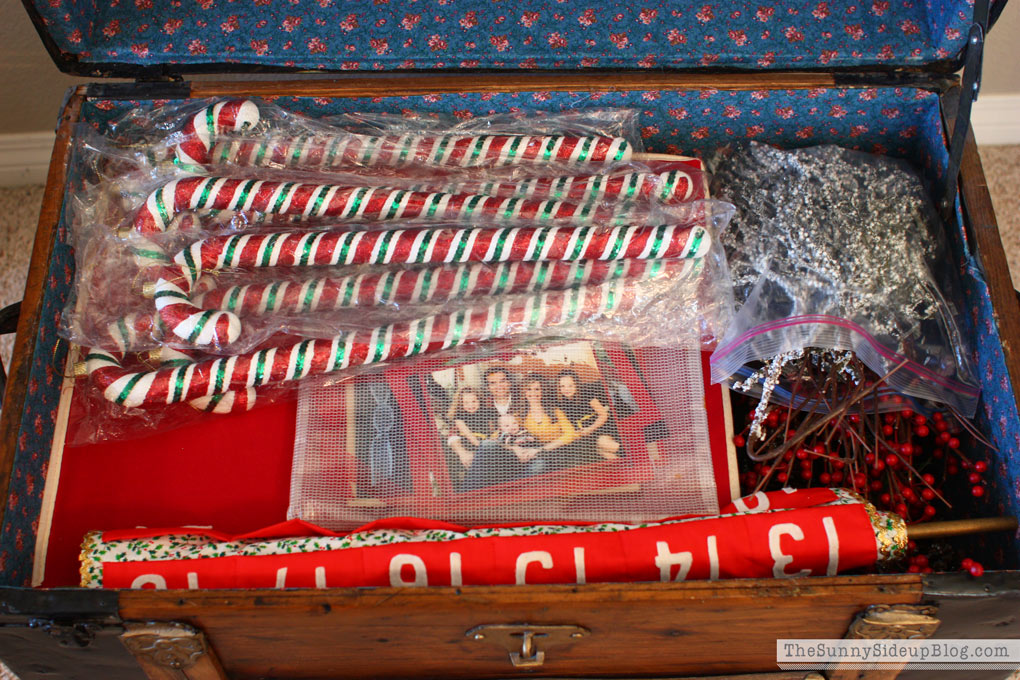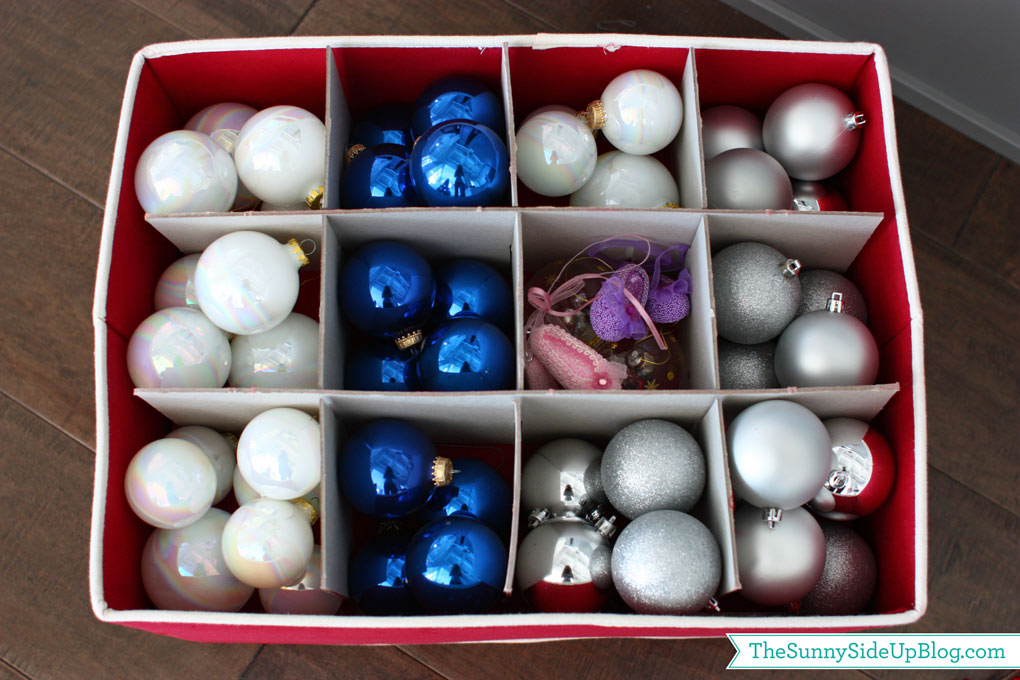 Of course ornament boxes and organizers are my best friend.  (Some favorites are at the end of this post.)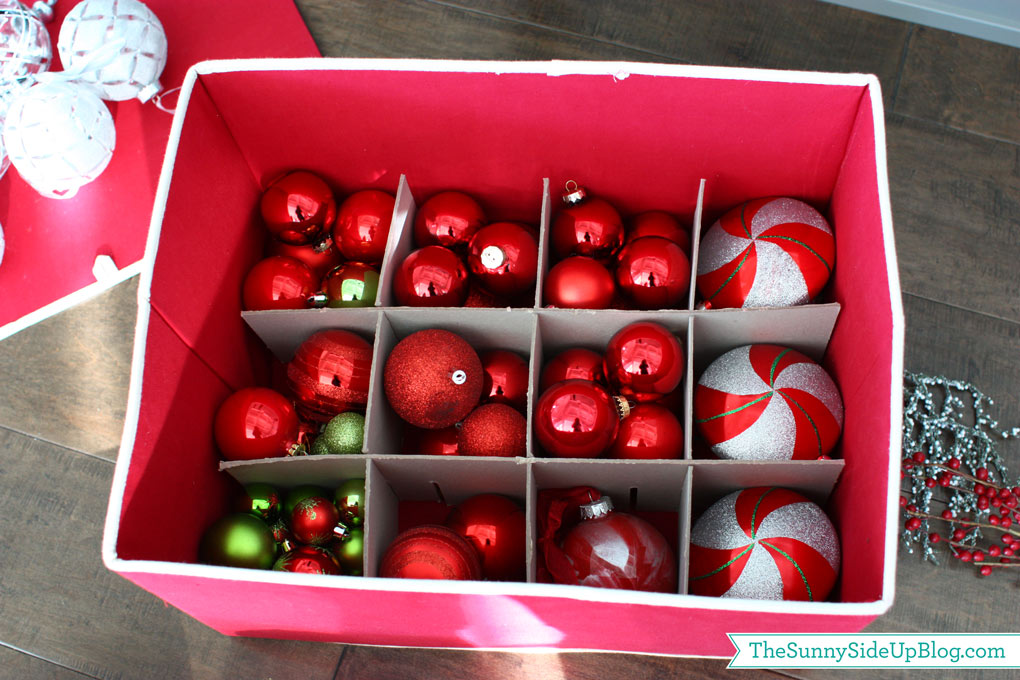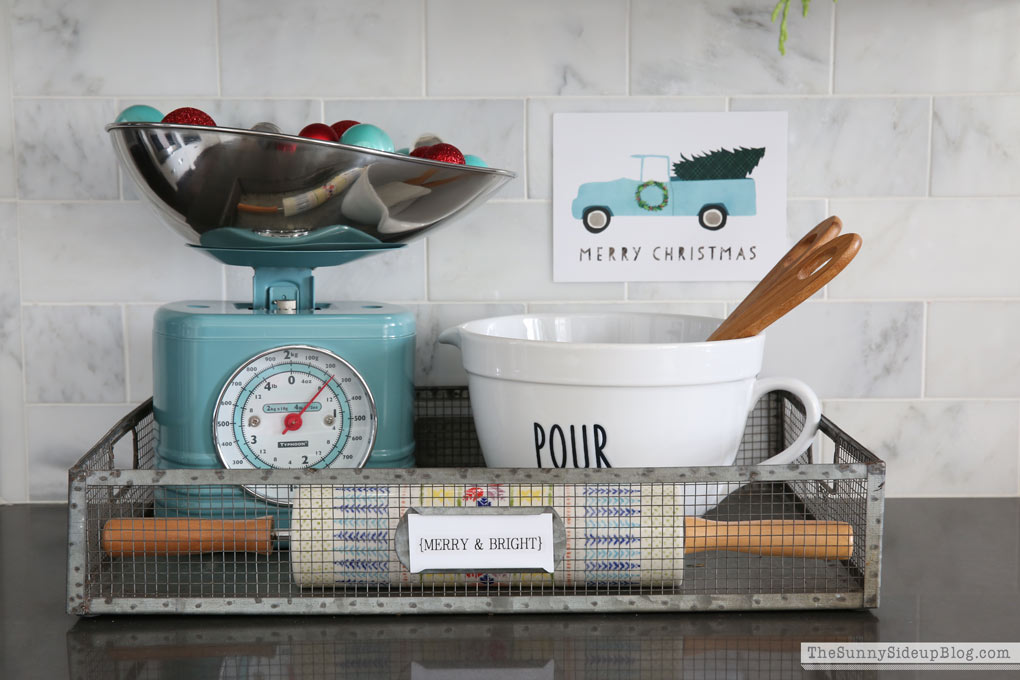 Small ornaments like the colorful balls in my kitchen scale are stored in GladWare.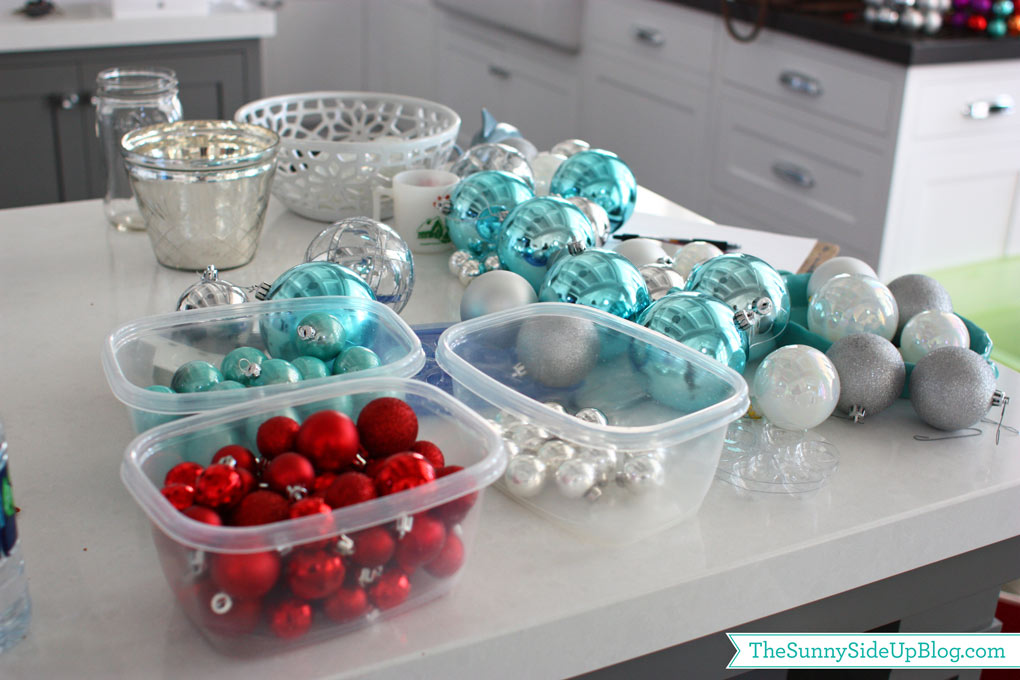 These plastic containers are perfect for small items.  I love clear containers because you can see what's inside so easily.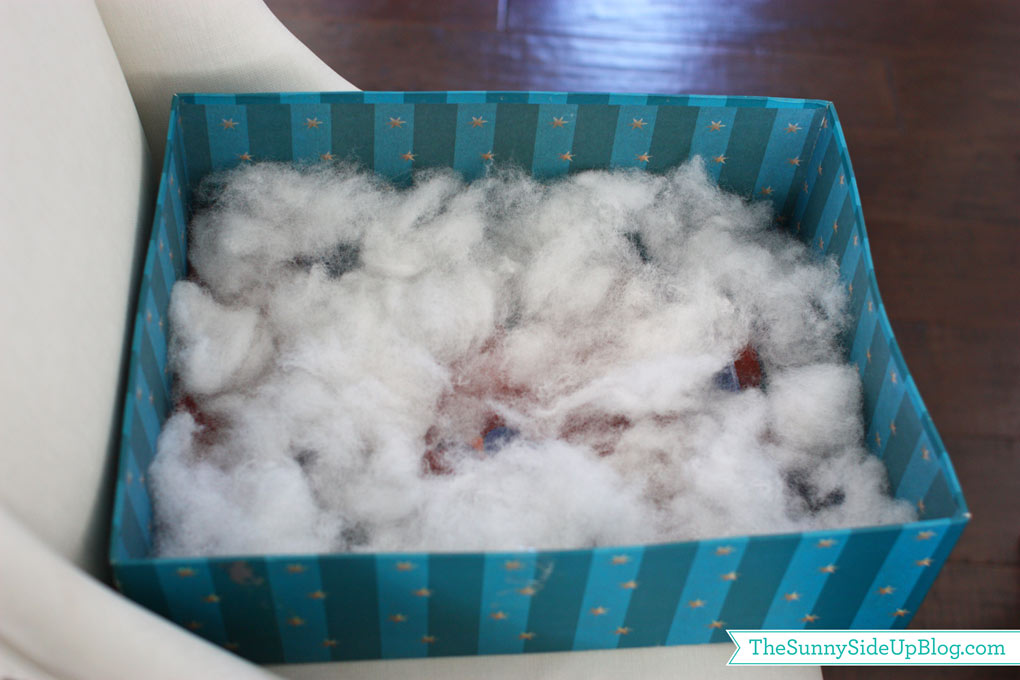 Sometimes I add quilt batting to the bottom of boxes to hold breakable ornaments.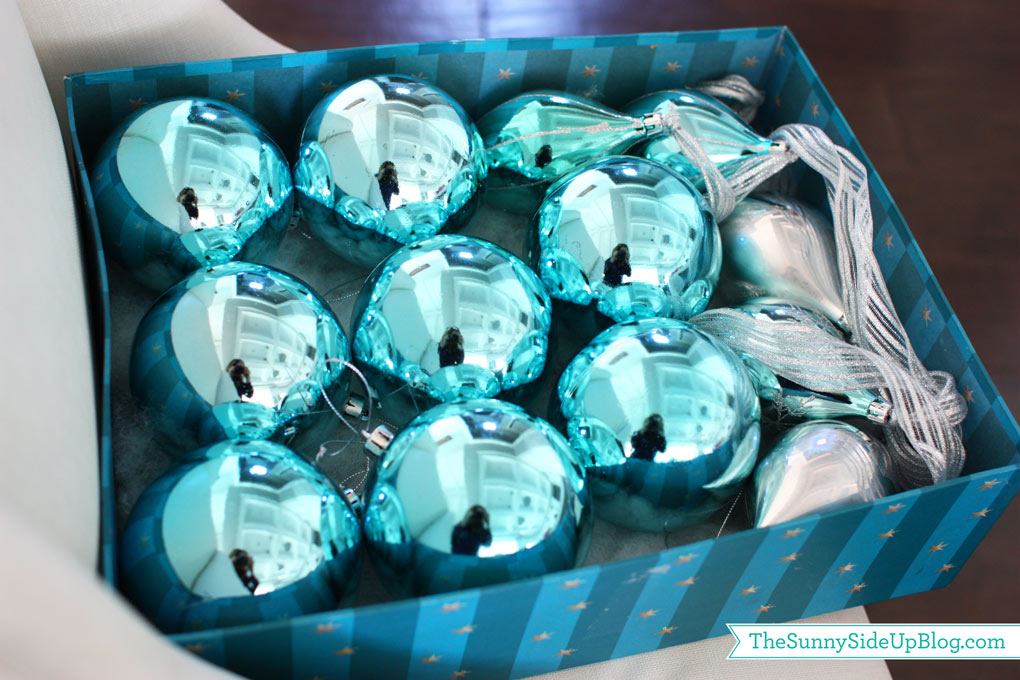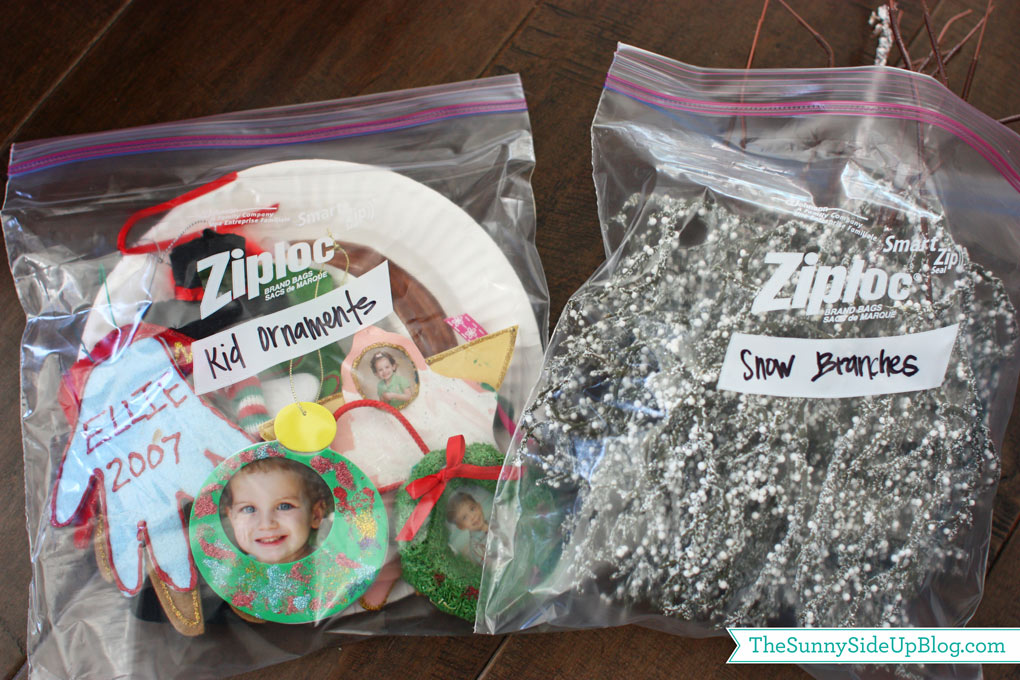 And I always use a lot of large Ziploc bags.  They come in so many sizes and have labels already on them.  Perfect!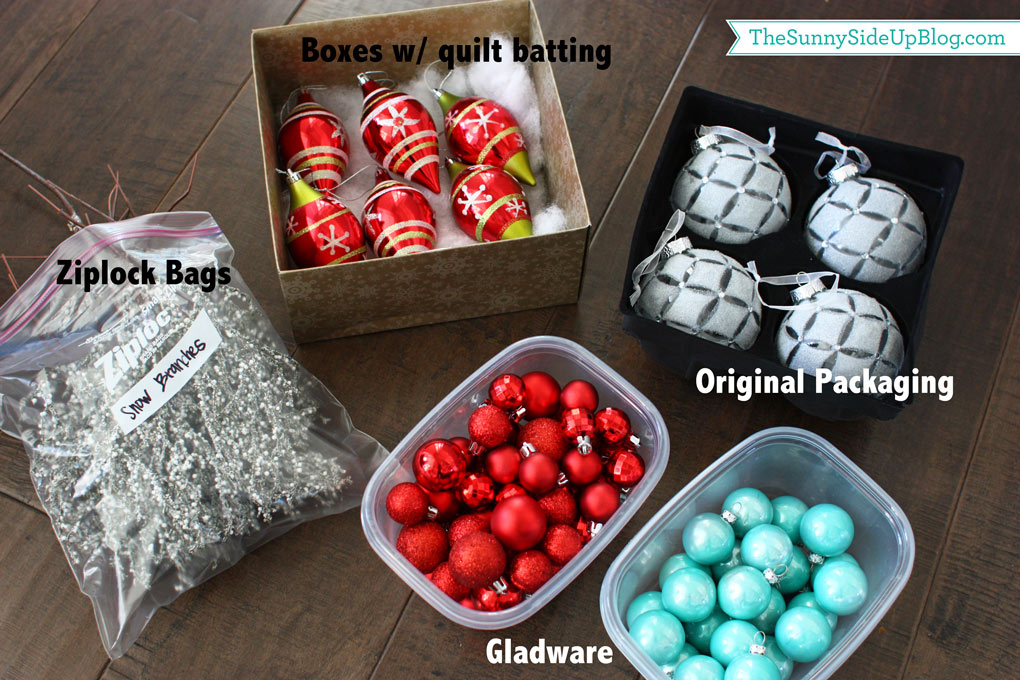 I try to get creative with Christmas decor storage and use what I already have around the house.  Especially for the small stuff.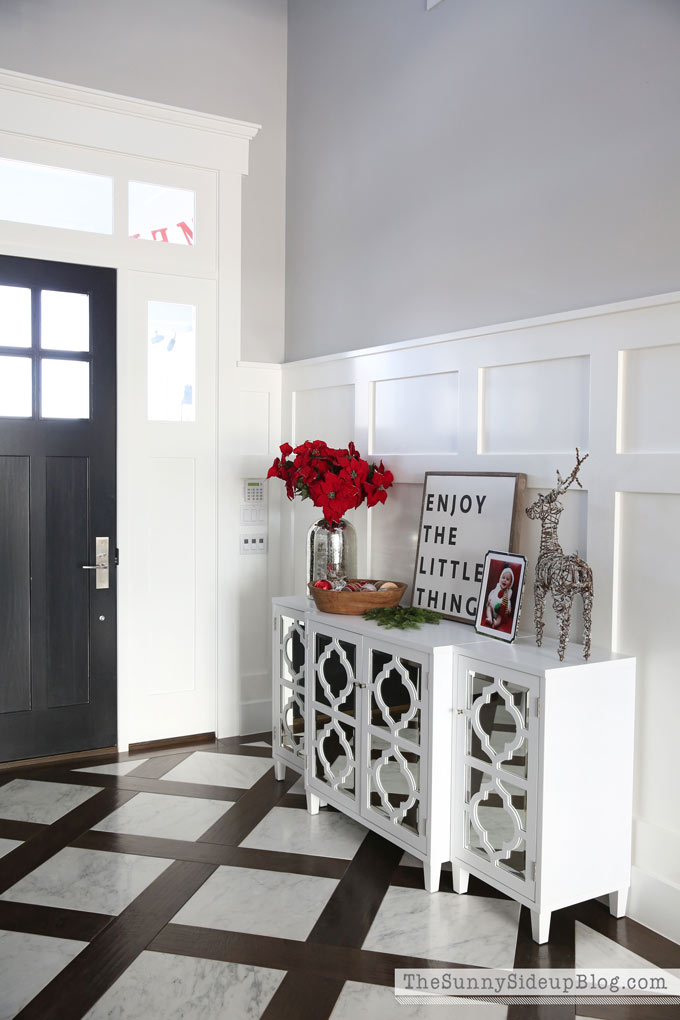 I store most of my Christmas decor in my upstairs attic, but if I can find storage close to where I'm going to display my Christmas decor I use it to make things easy to set up and take down.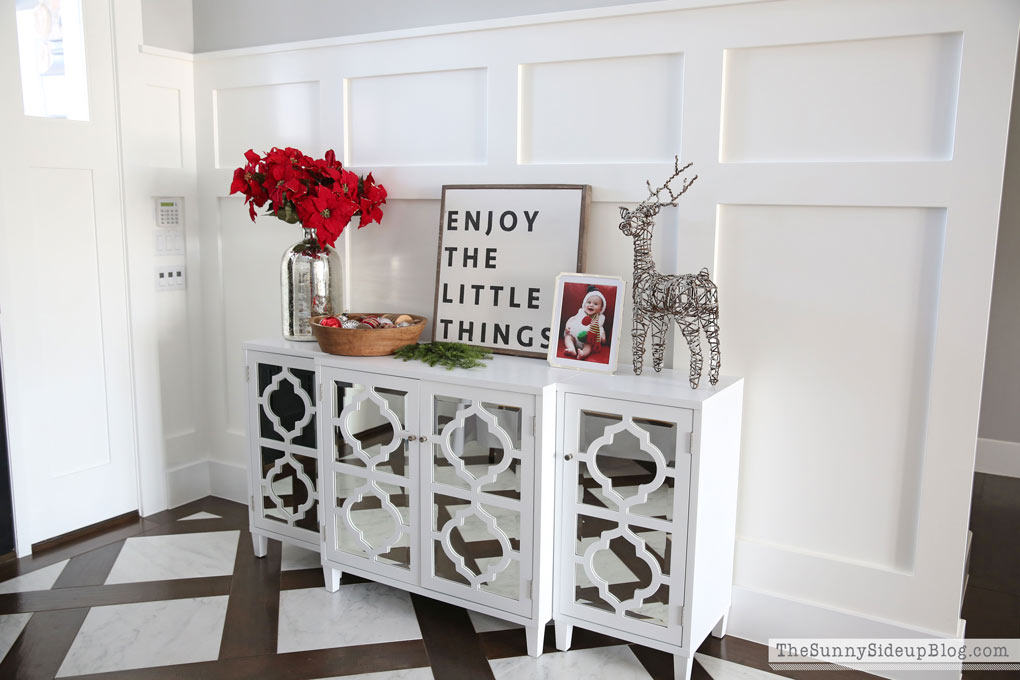 This mirrored cabinet in my entry is an example of what I'm talking about.  (I forgot to take pics of how I had it decorated this year!  It was similar to last year.) :)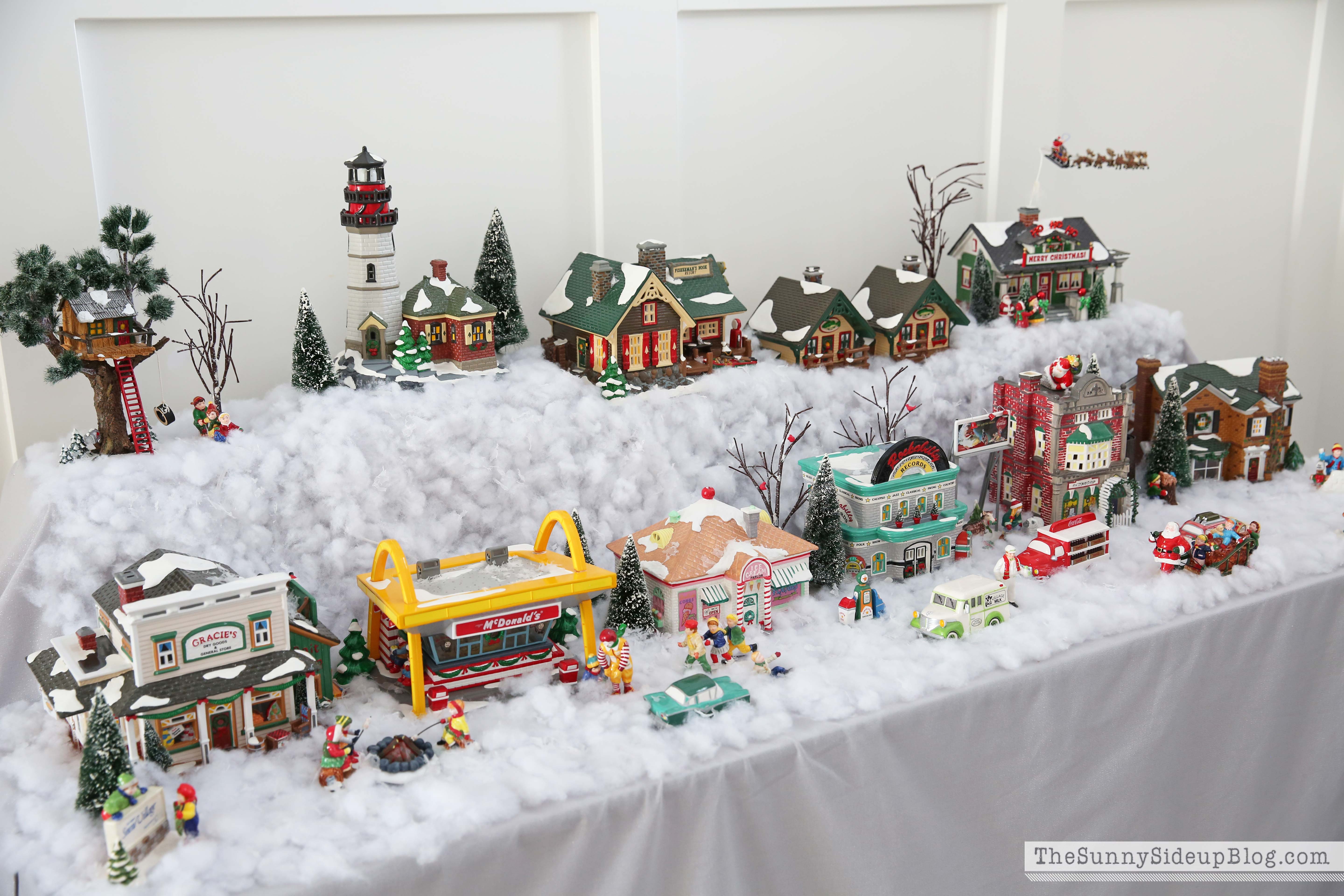 My kids set up our Christmas village in the entry each year across from the cabinet which makes it a perfect place to store the village pieces all year!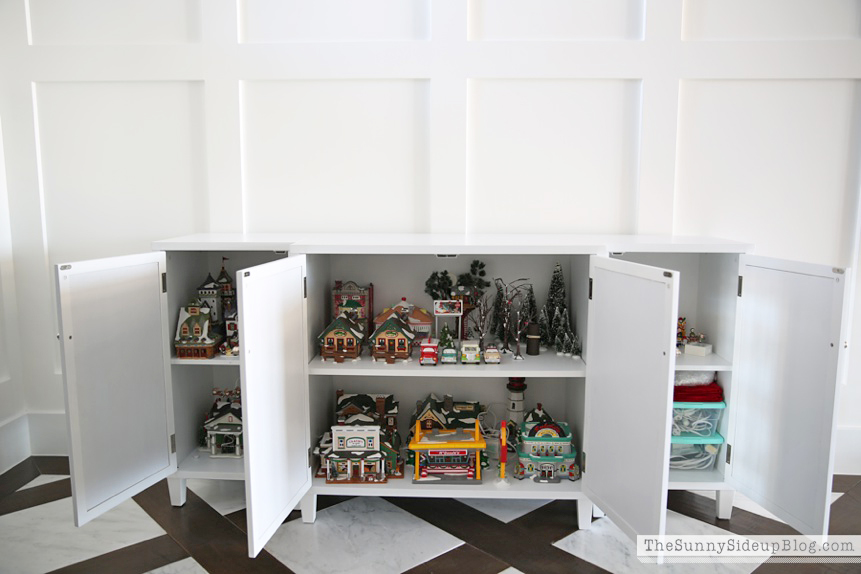 I used to put these village pieces in their own individual boxes and haul them upstairs.  This solution is SO much easier.  Set up and clean up is a breeze!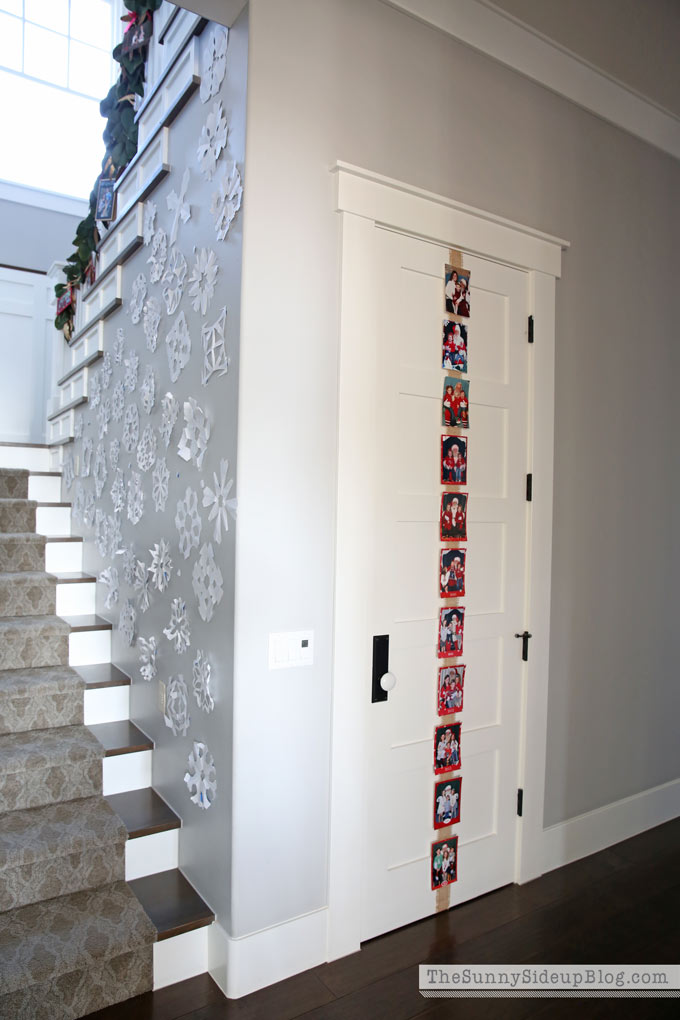 Items like our Santa pics I hang on a door get stored in Ziploc bags.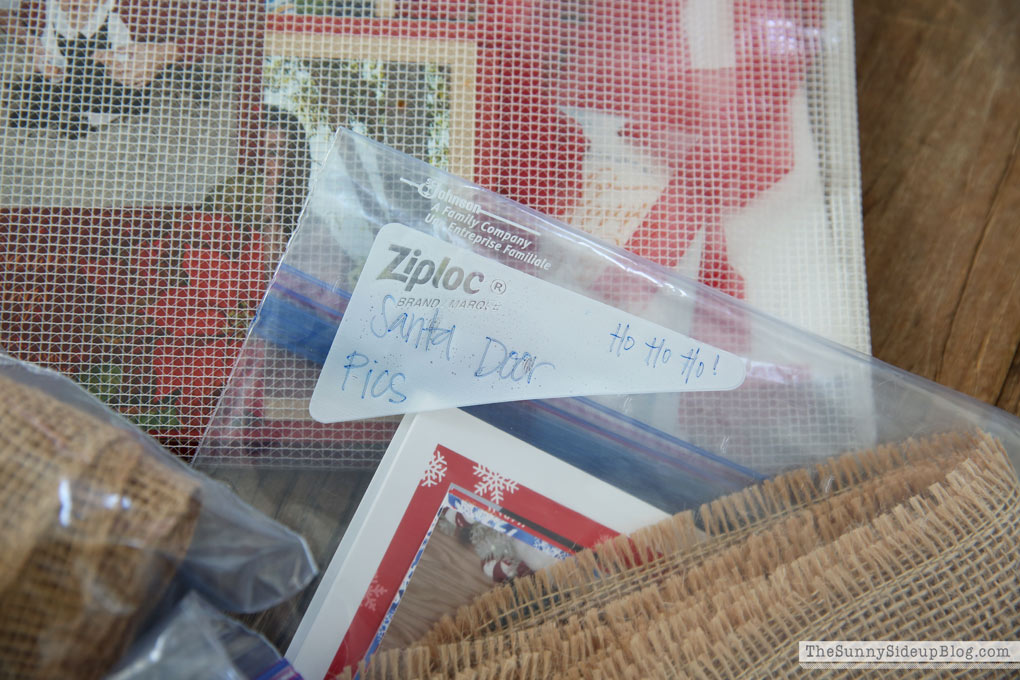 I include the pictures and the burlap I use to make it easy.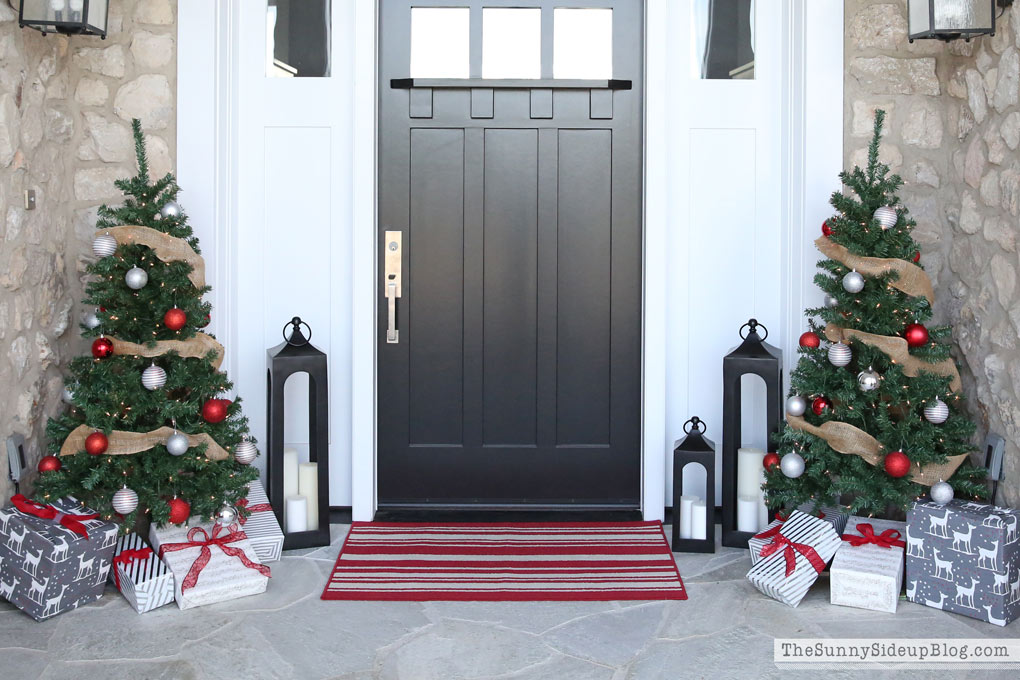 I always try to group things together that go together when I decorate.  In my attic I store my front porch trees right next to the wrapped presents and my red striped front porch rug.  (There is nothing in these presents except some cook books to hold them down if it's windy.  Finally putting my cook books to good use.)  ;)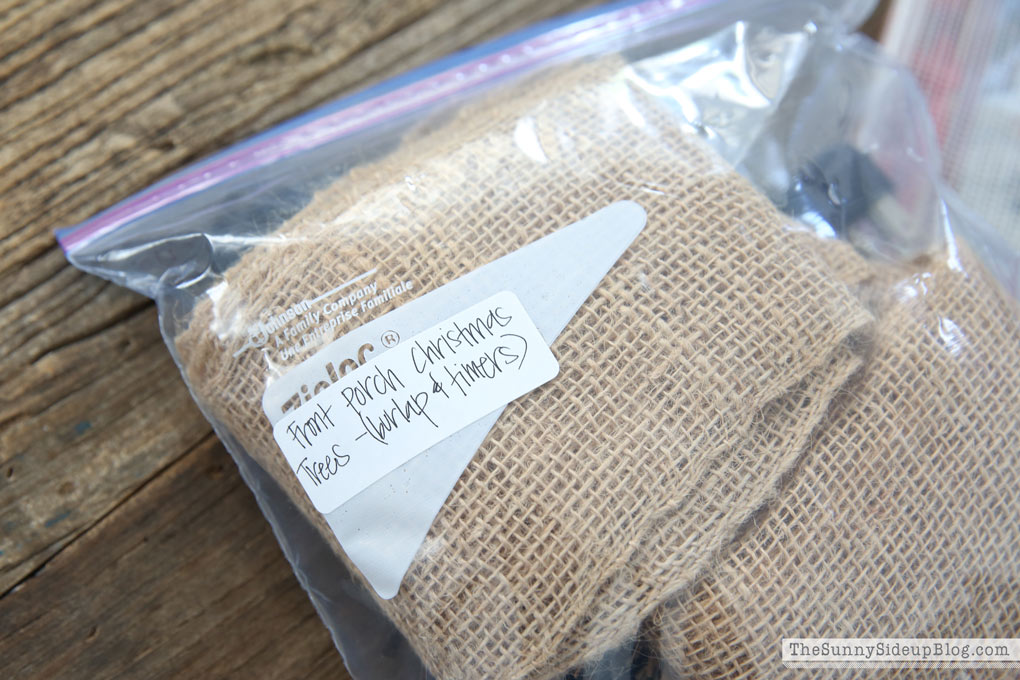 Then I toss this bag on top of the presents.  It holds the burlap for the trees along with the light timers.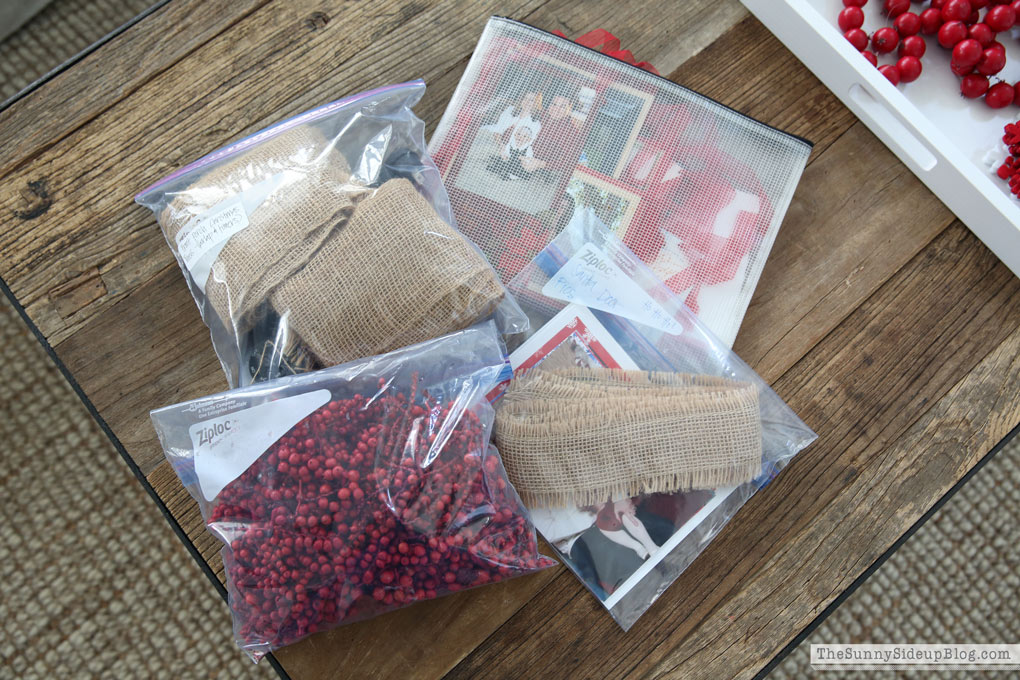 I use these inexpensive zipper mesh pouches (love them!) to hold things like our family Christmas card pics that I display on our stairs and other family Christmas pictures I display every December.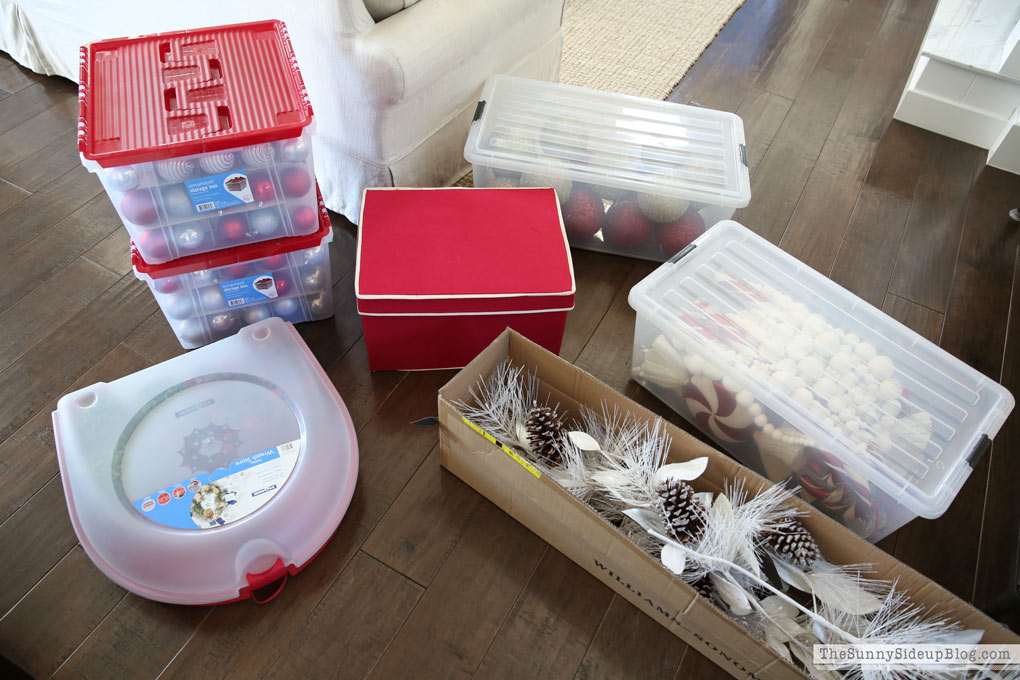 For the larger items I use boxes that decor came in along with my favorite storage containers from The Container Store.  The Container Store is my home away from home.  But most of you know that. ;)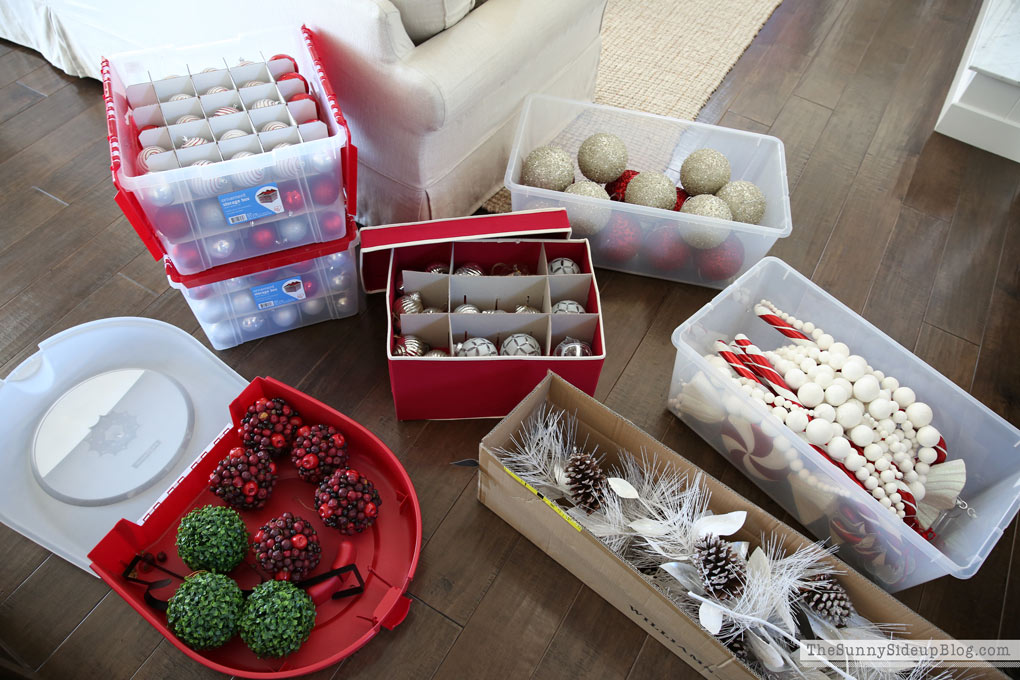 This is a peek of how I store my tree decorations.  These Wing Lid Ornament Storage Boxes are my absolute favorite for storing regular sized tree ornaments.  You can fit up to 75 ornaments so they hold a lot and they are so easy to access and to stack on top of each other.  Their wreath storage boxes are also great.  I have several and use them for a couple of wreaths and also for other random miscellaneous items.  Then of course I use a lot of clear bins and totes.  I use these for large items like big ornaments and my Christmas pillows and throws.

Quick recap of my main tips for organizing Christmas decor:
1 – Look for storage in places close to where you are displaying your Christmas decor.  Can family room decor be stored in the family room?  It's not always possible, but if it is decorating and clean up will be a breeze!
2 – Wrap breakable items inside of Christmas throws, stockings and tree skirts.
3 – Shop your house for containers to use for storage!  Boxes that gifts come in work great along with clear GladWare and Ziploc bags for smaller items.
4 – Keep items stored together that will be displayed together.
5 – Invest in some good bins/containers for larger items.  You will use them year after year!  I prefer clear containers so that I can easily see what's inside.
6 – Purge as you go!  I ALWAYS get rid of old Christmas decor each year.  Some older items are special to our family and those stay, but if it's decor without meaning that I didn't want to put up this year I know I won't want to put it up next year.  Get rid of it!  Only keep the items you use and love that make you happy when you pull them out each year.
I hope these tips and pictures gave you a few ideas for how to organize your Christmas decor as you are taking it down this year.  If you missed seeing my house decorated for Christmas this post includes a round-up of the rooms I shared.  Happy un-decorating everyone! Whenever you choose to start. :)
xoxo, Erin