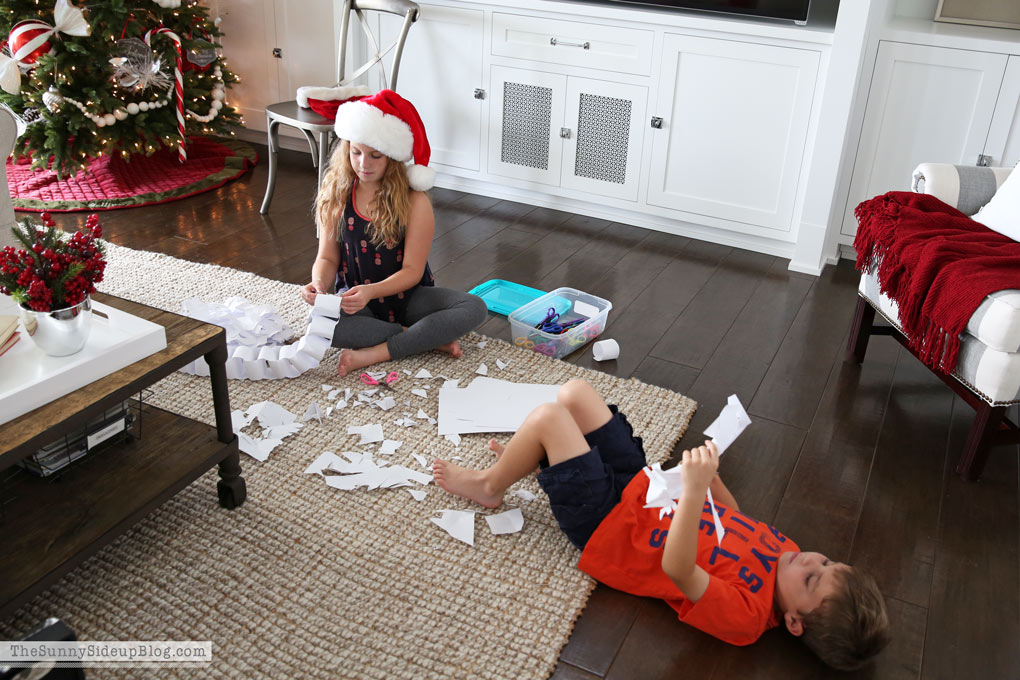 (affiliate links used)
How is everyone doing with just days left before Christmas!?  I can't say that I'm ready (still so much to do!) but I can say that I am really enjoying having my kids out of school this week.  This week before Christmas with my kids home from school is one of my favorite weeks of the year.  I love having them all to myself to do all things Christmas!  They are my best helpers and sidekicks around here and today I'm sharing a fun way they helped me decorate for the holidays.  Mid November my kids started making Christmas countdown chains and snowflakes.  LOTS of snowflakes.  At one point our family room floor was covered in snowflakes.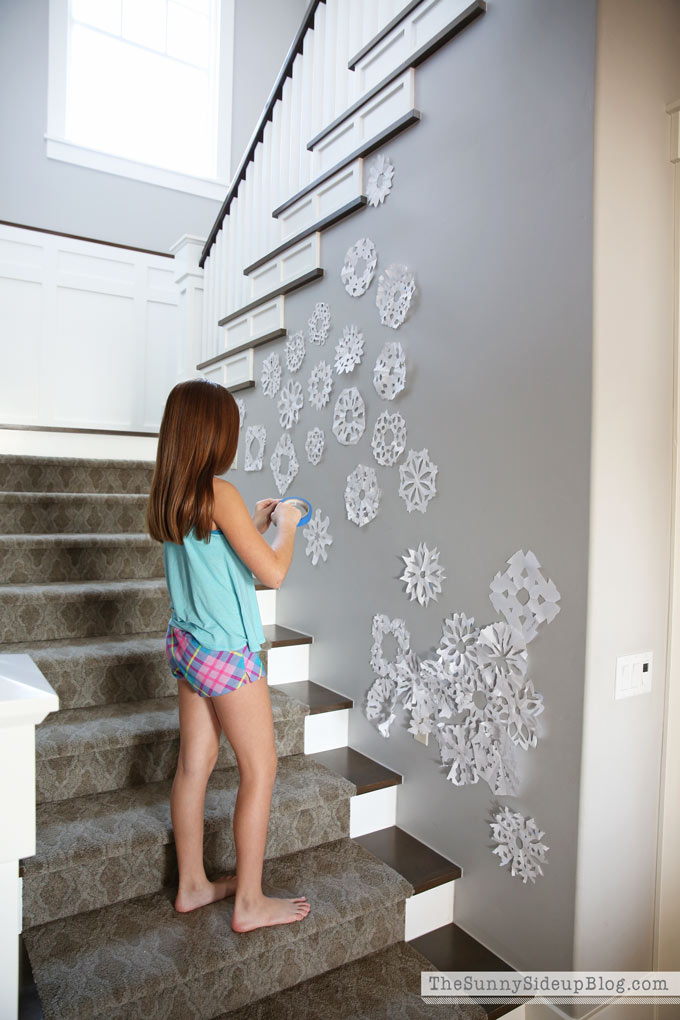 When we had so many snowflakes on our floor we couldn't walk anymore, El started hanging them on the wall by our stairs.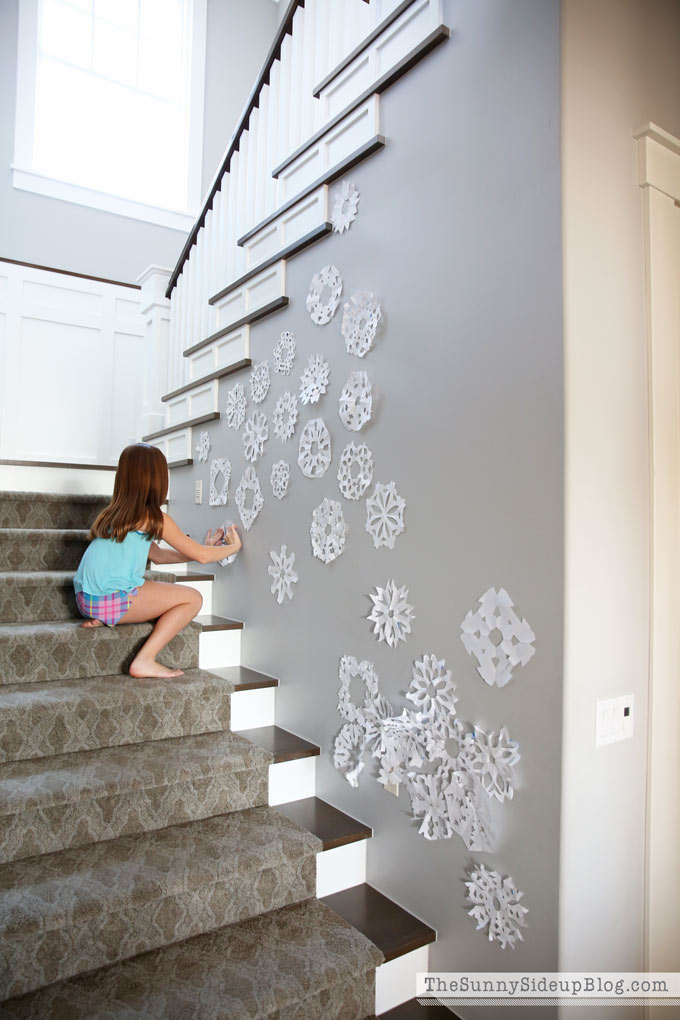 She taped and she hung and she taped and she hung some more.  Then Addison joined in the fun and before long our stair wall looked like this..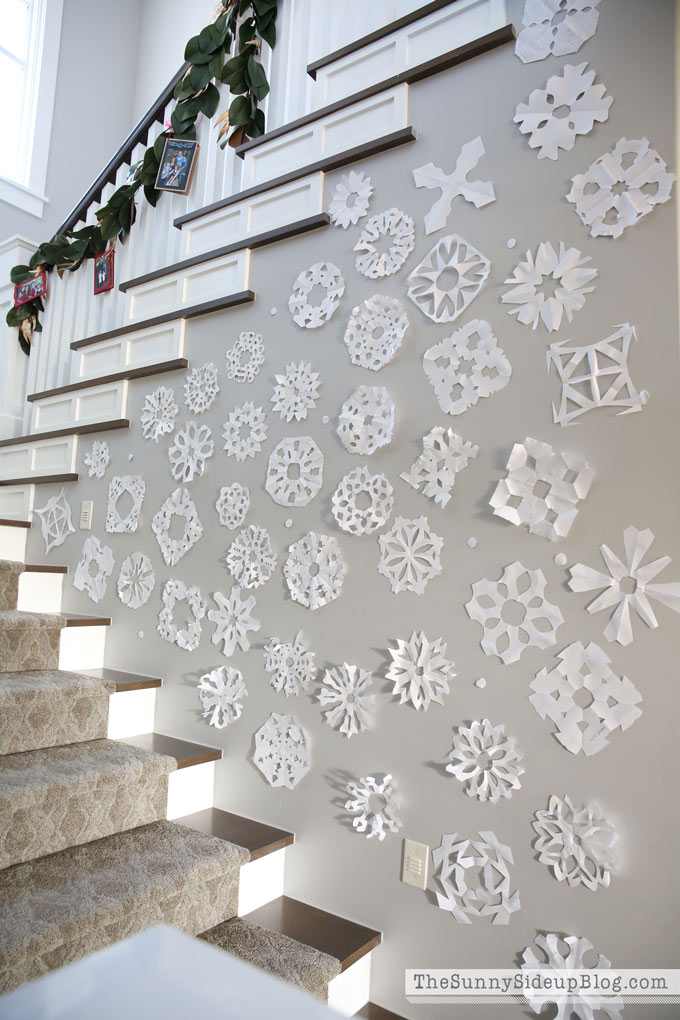 Our very own winter wonderland!  Who said it doesn't snow in San Diego? :)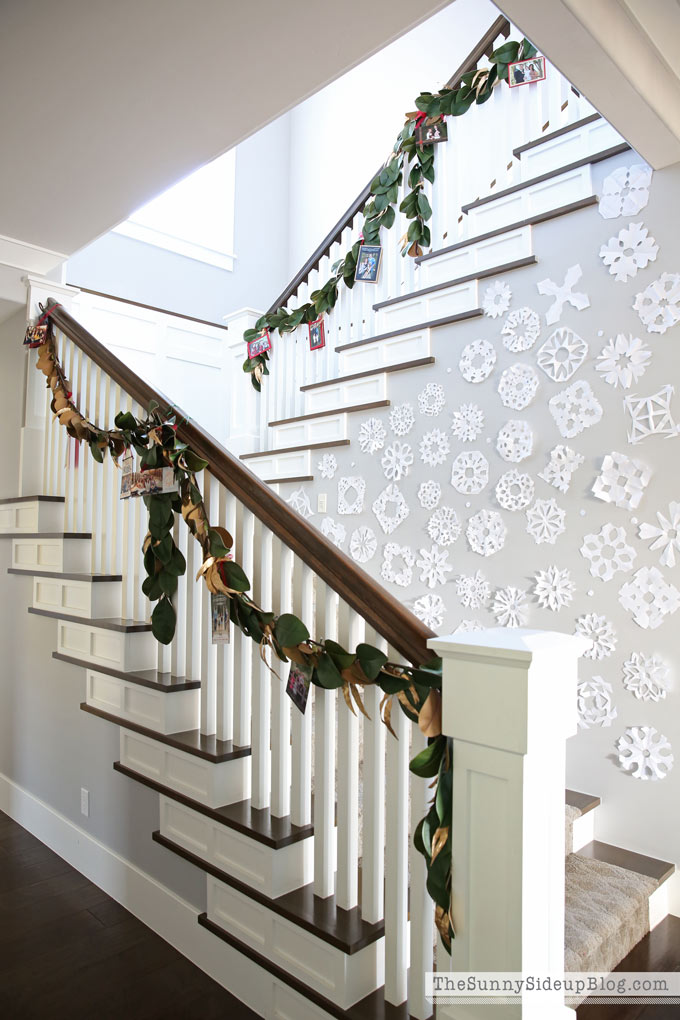 I added my new magnolia garland (from PB – similar options here) and our stairs were complete!  Didn't my girls do a great job!?  So proud of them.  They kept going of course.  There are snowflakes all over their room walls and the upstairs hallway.  I absolutely love it.  Little decorators in the making.  :)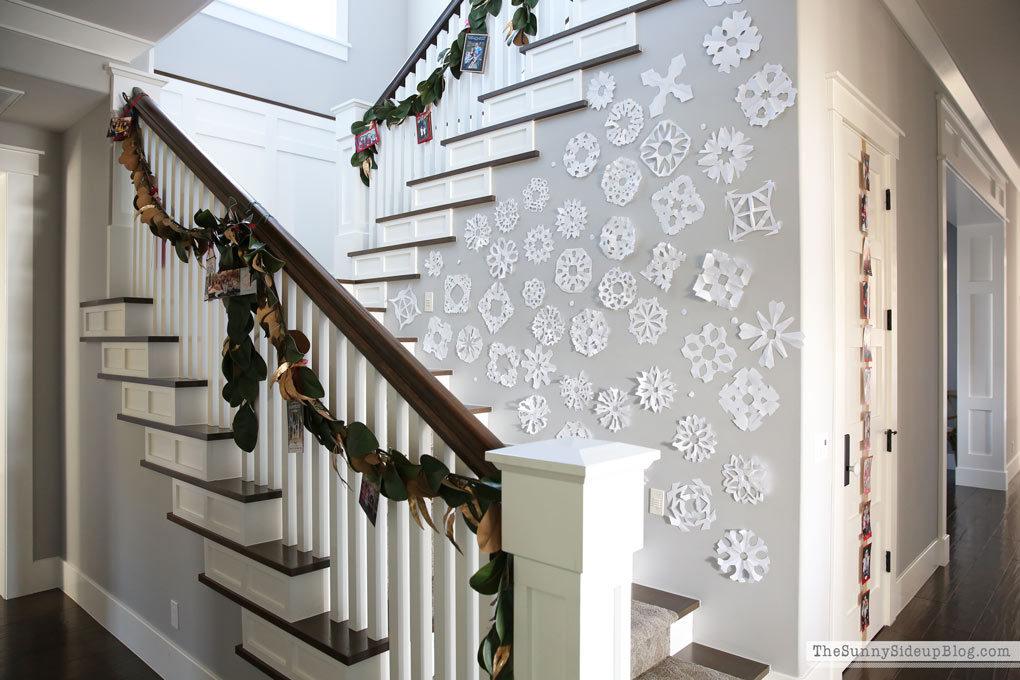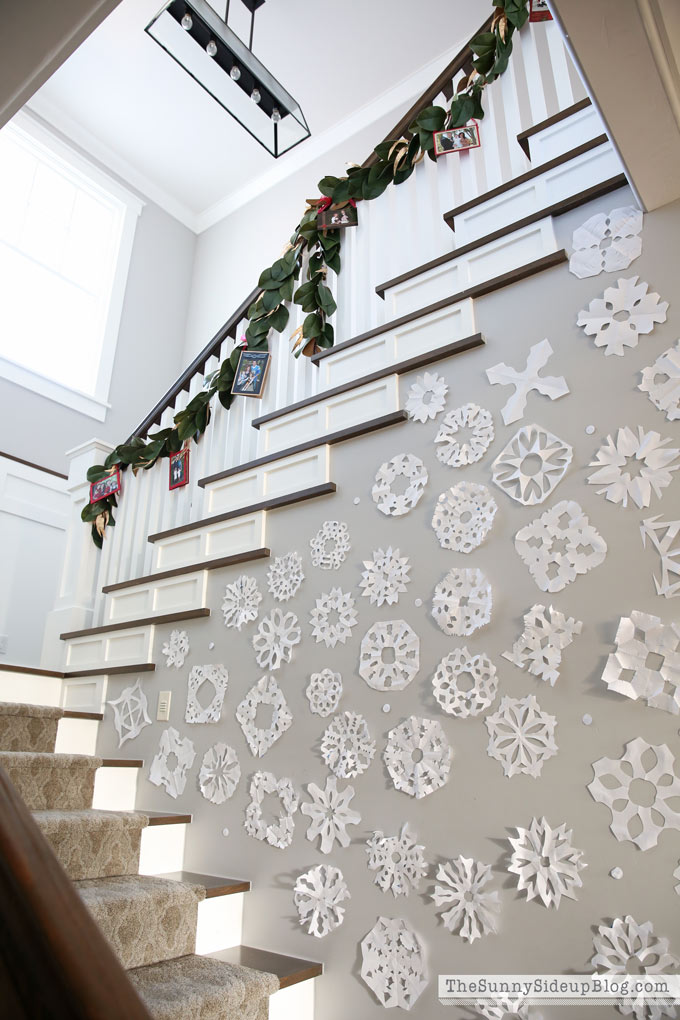 A view looking up.  I always display our past family Christmas cards on my stair garland.  (Post with details on that tradition here.)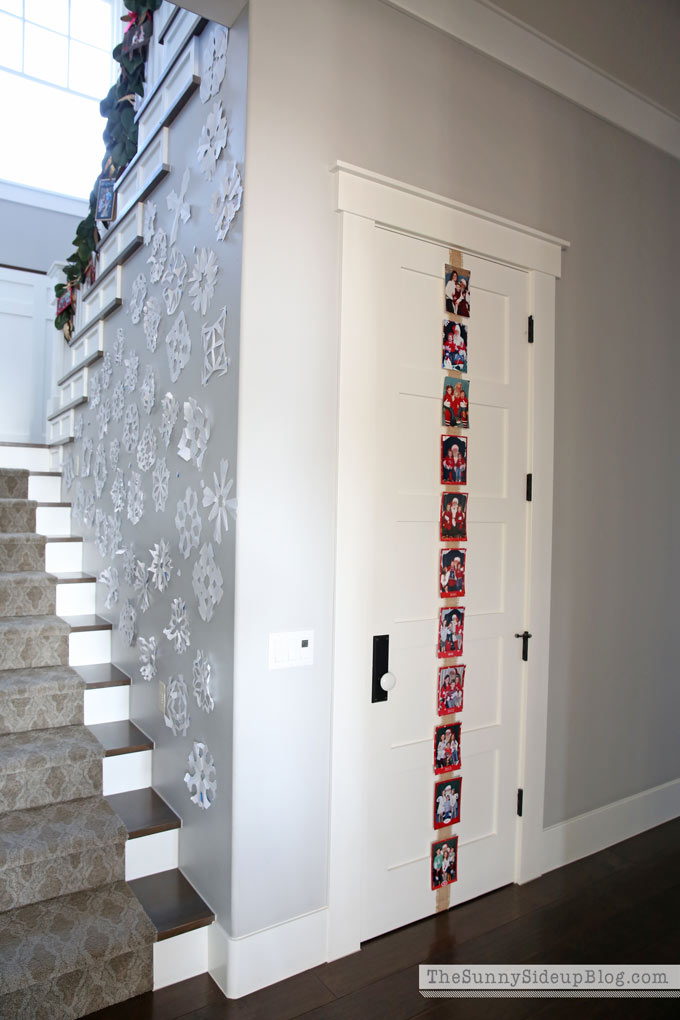 And I always display our annual pictures with the kids on Santa's lap on my hall door.  (Post with details on that tradition here.)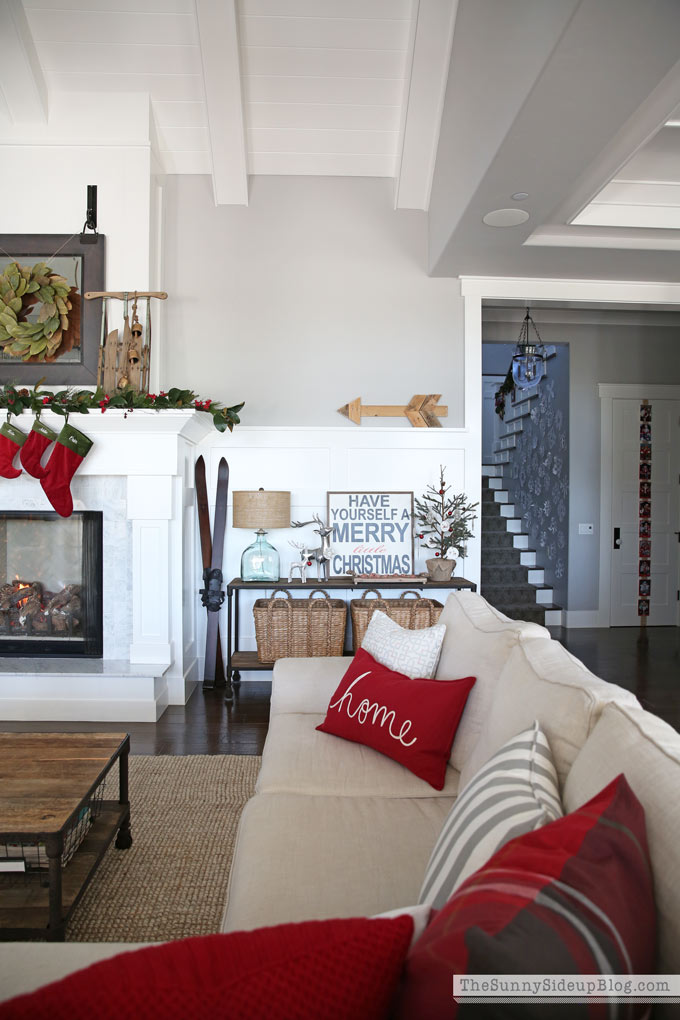 I love sitting in our family room and being able to see my kids' Santa pictures and the snowflake wall.  They just make me happy. :)  Speaking of choosing happy..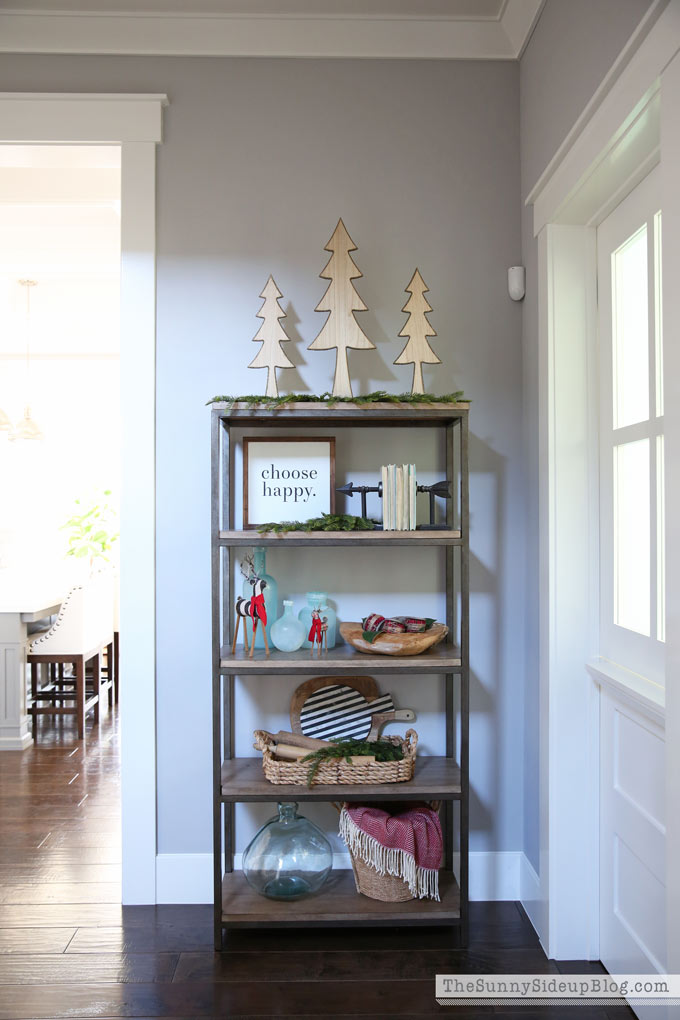 my hallway shelf got a little Christmas makeover too!  I just added some wooden trees to the top (similar here on sale), some cute little reindeer from PB (sold out), greenery and a red Christmas throw (from Target).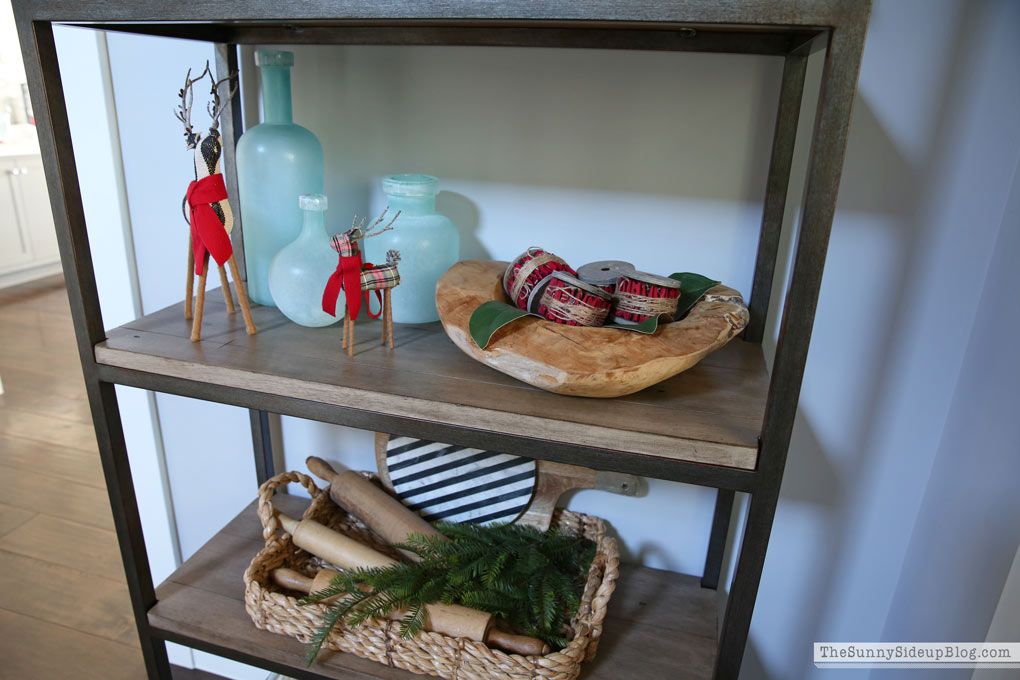 I added some red clothespin spools to my wooden bowl and a few magnolia leaves fell off of my garland so I tossed them in too. :)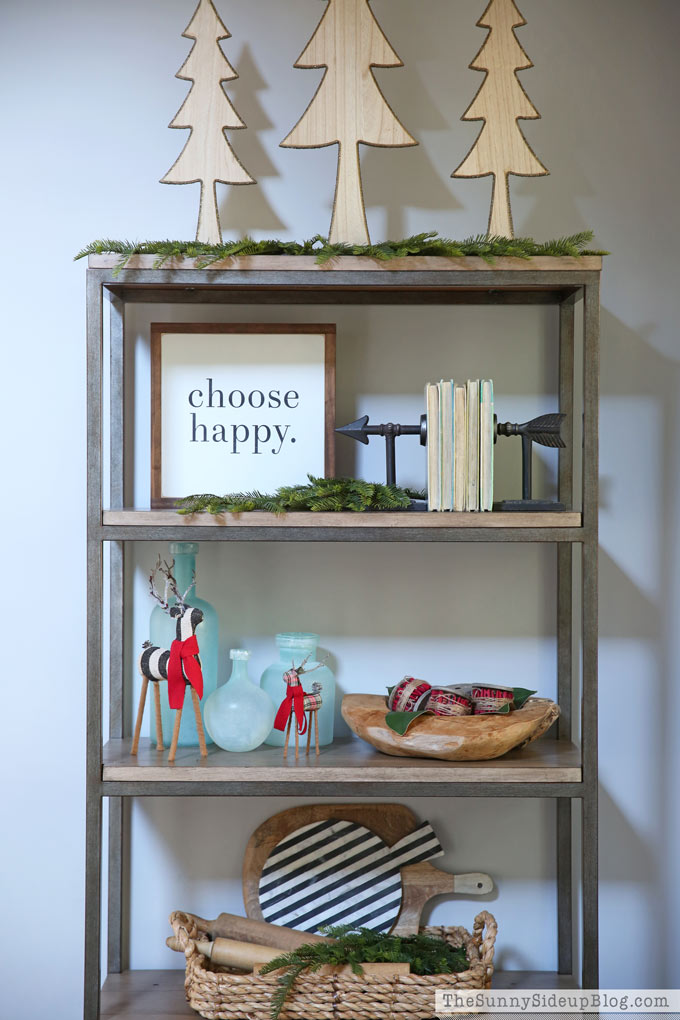 Just a few small touches and this shelf is ready for Santa. :)
Shelf sources: (Shelf is from Ballard Designs – similar below.)


Ok.. my Christmas cards!  So many of you have asked how I'm displaying them this year.  Last year I displayed them on the planked wall in my formal living room.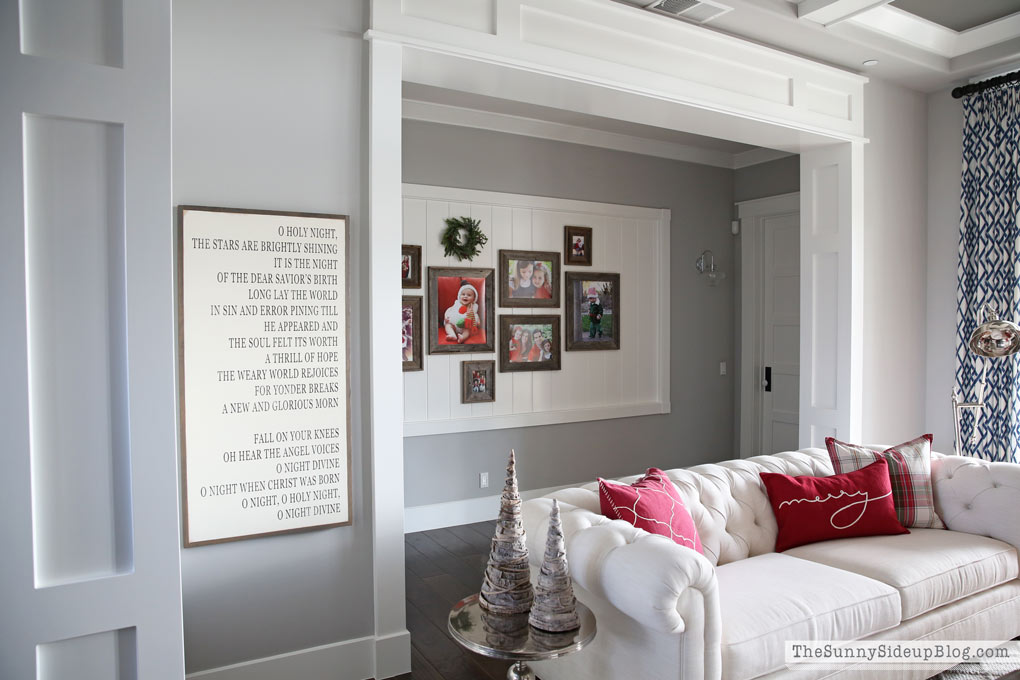 That wall became my Christmas gallery wall this year.  I'm finally using it the way I planned when we built the house!  I knew I'd need a new solution for Christmas cards (and other random things I might want to display throughout the year) so I sketched out another planked wall in my hallway..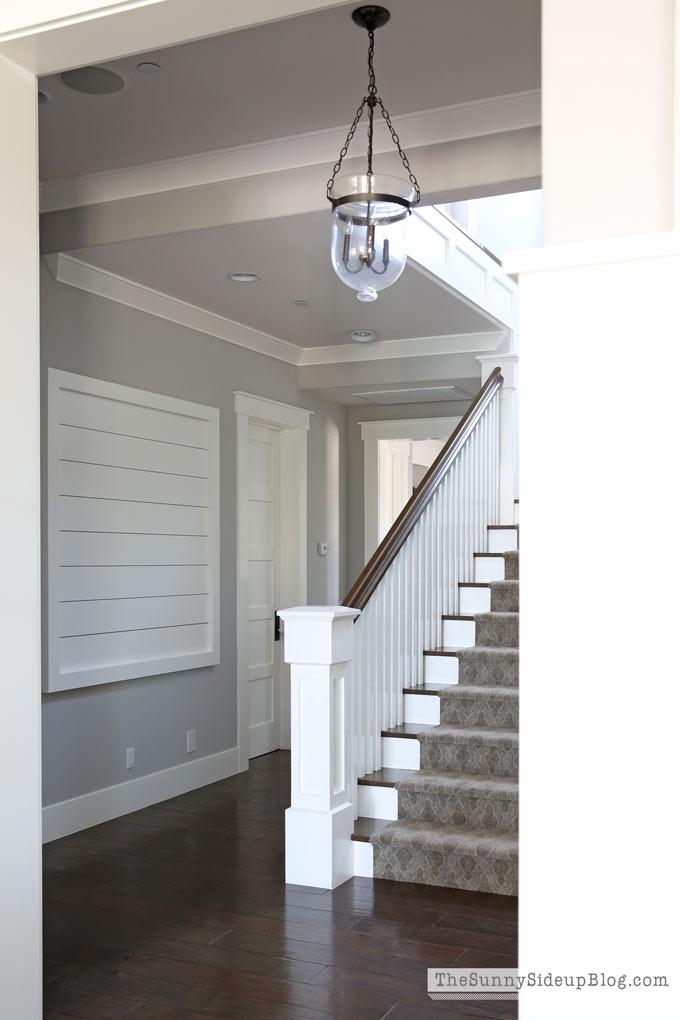 and my carpenter and I came up with this.  (Full post on my shiplap display wall here.)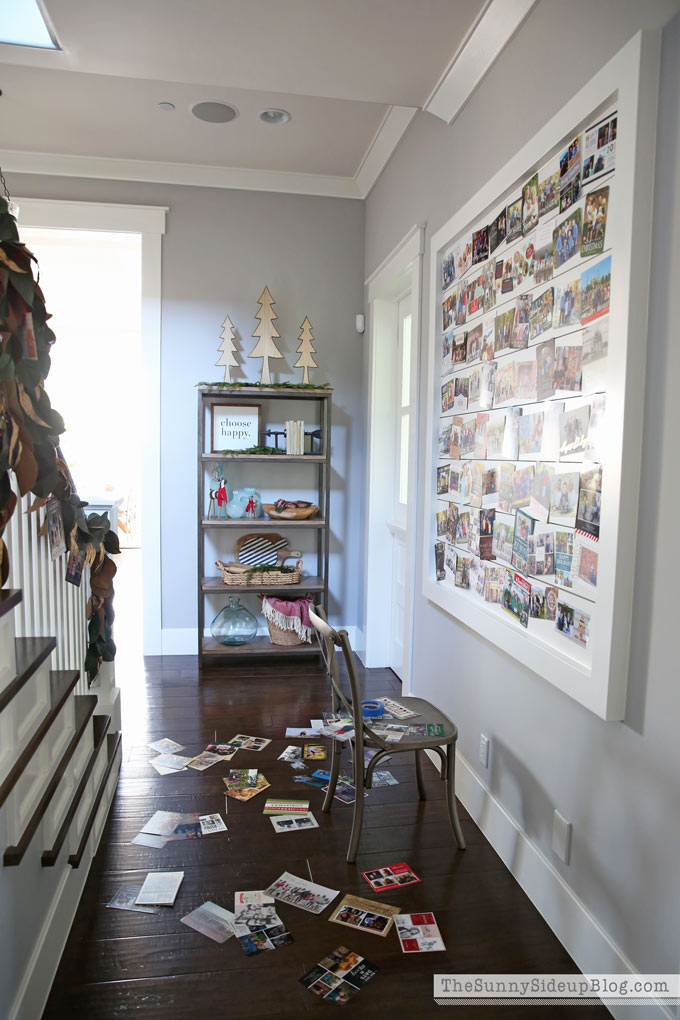 I couldn't wait to smother my shiplap wall with Christmas cards!  So I didn't wait. :)  I started at the beginning of December (at that point we only had a handful of cards) so I put them up and then got out last years cards.  I wanted to know how many I could fit on this wall!  Unfortunately, not all of them.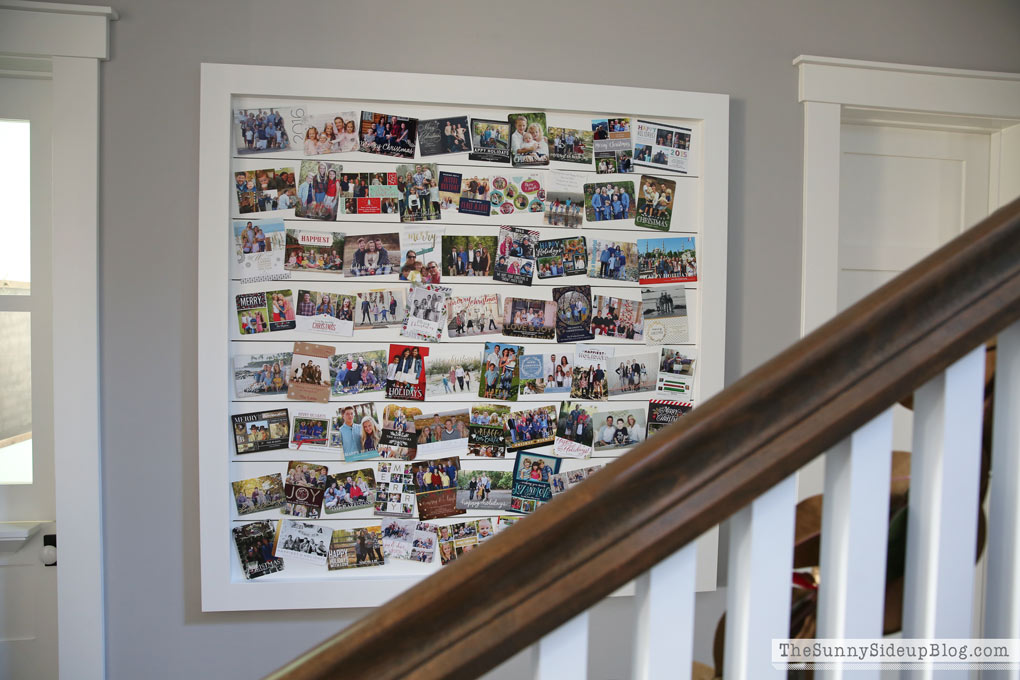 But it does hold a lot and I love the way it turned out!  I was going to hang them on some twine with little red clips like I did last year, but then decided it would be easier to just tape them with painters tape.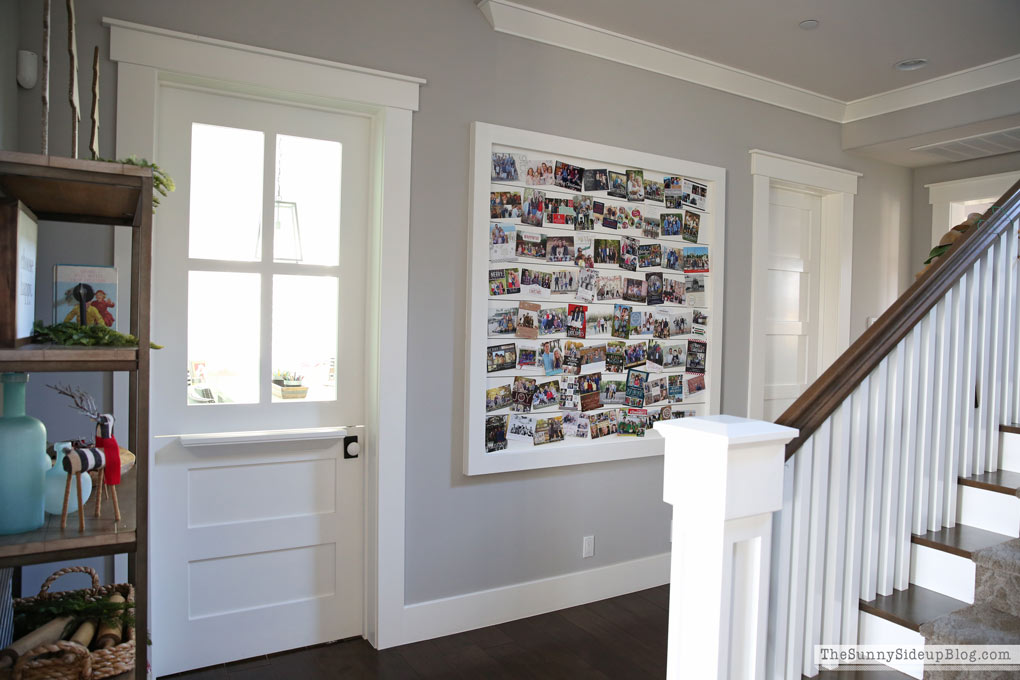 I love the way it brightens our hallway!  I've now switched out last years cards for the new cards coming in and I think I'll just tape any extras around the wall or below it.  I usually leave our Christmas cards up through January and sometimes February.  Do any of you leave your cards up past Christmas?  Seeing pictures of family and friends I love so much makes me happy so mine tend to linger for a while. :)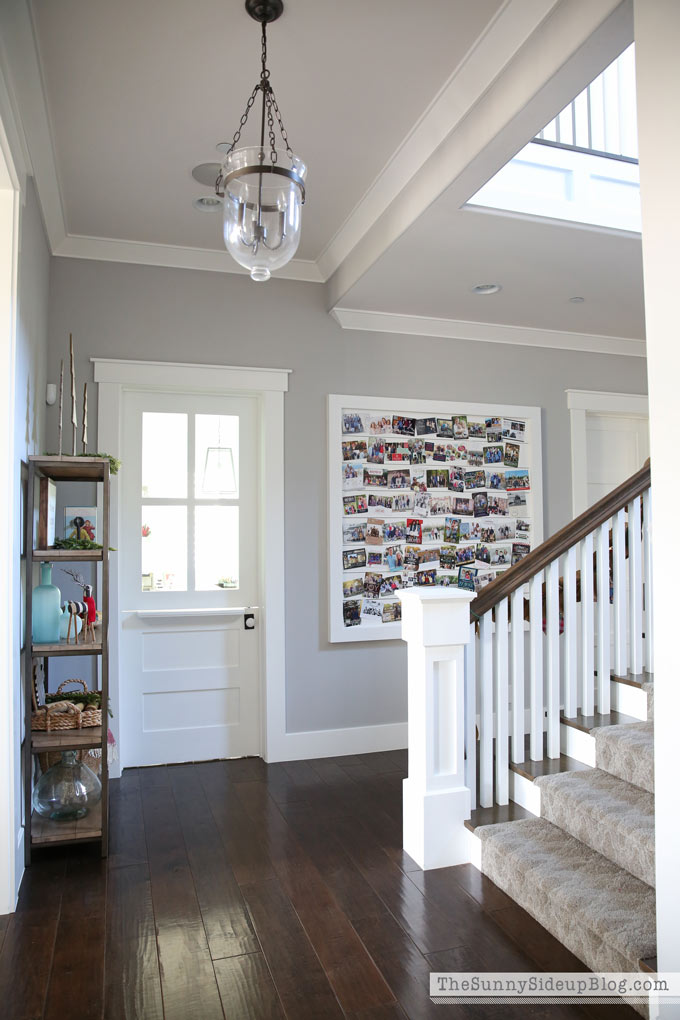 My white dutch door to my office is staying CLOSED these days.  It's still such a disaster!   A few more random pics I took..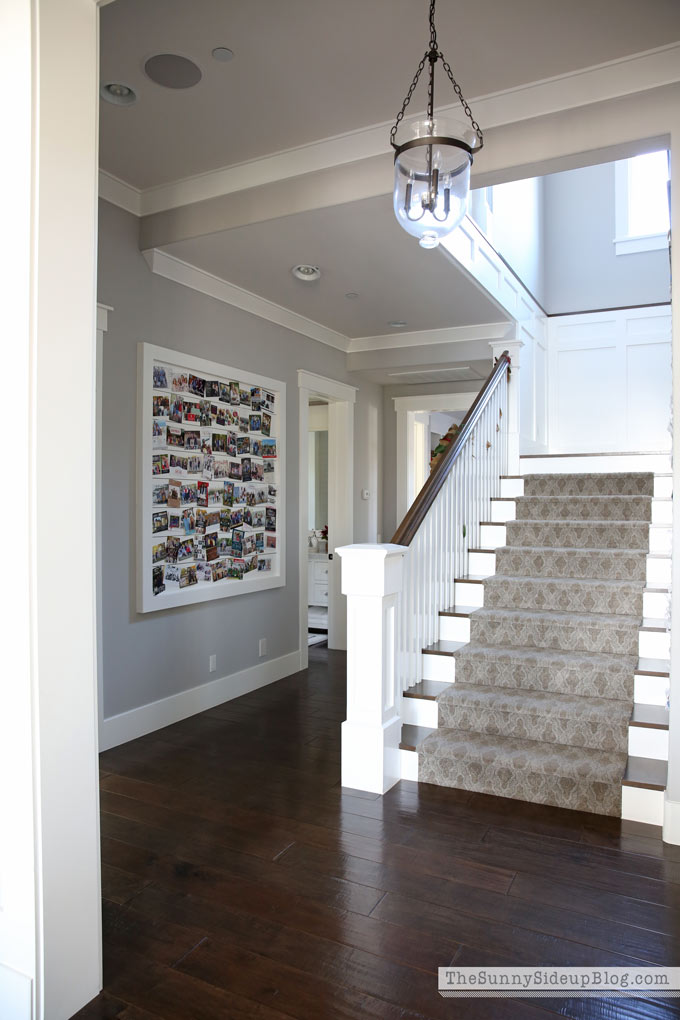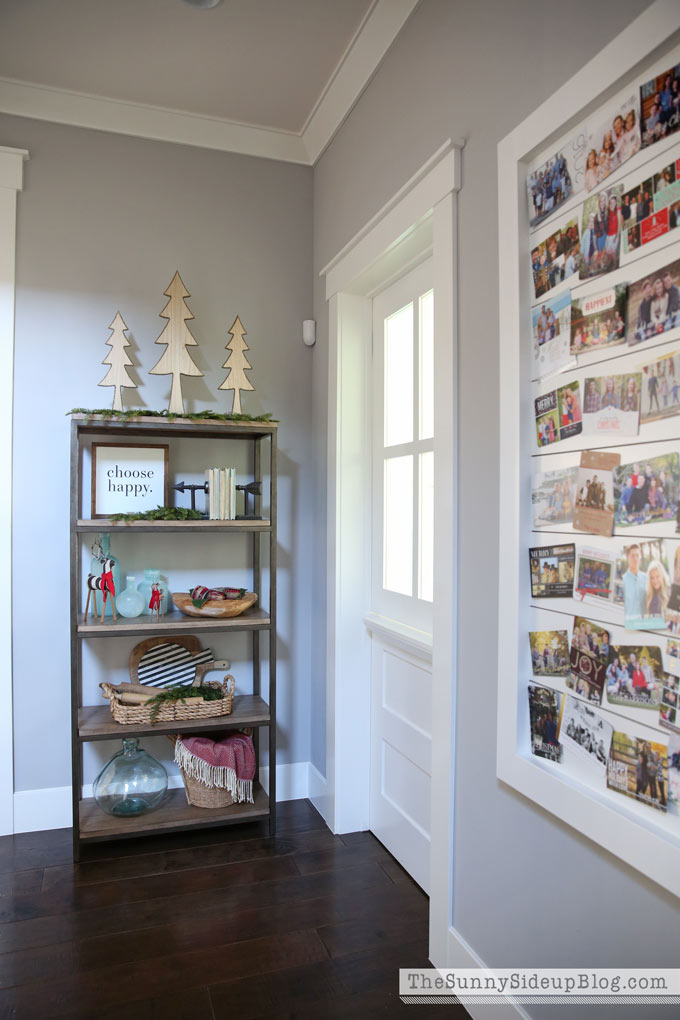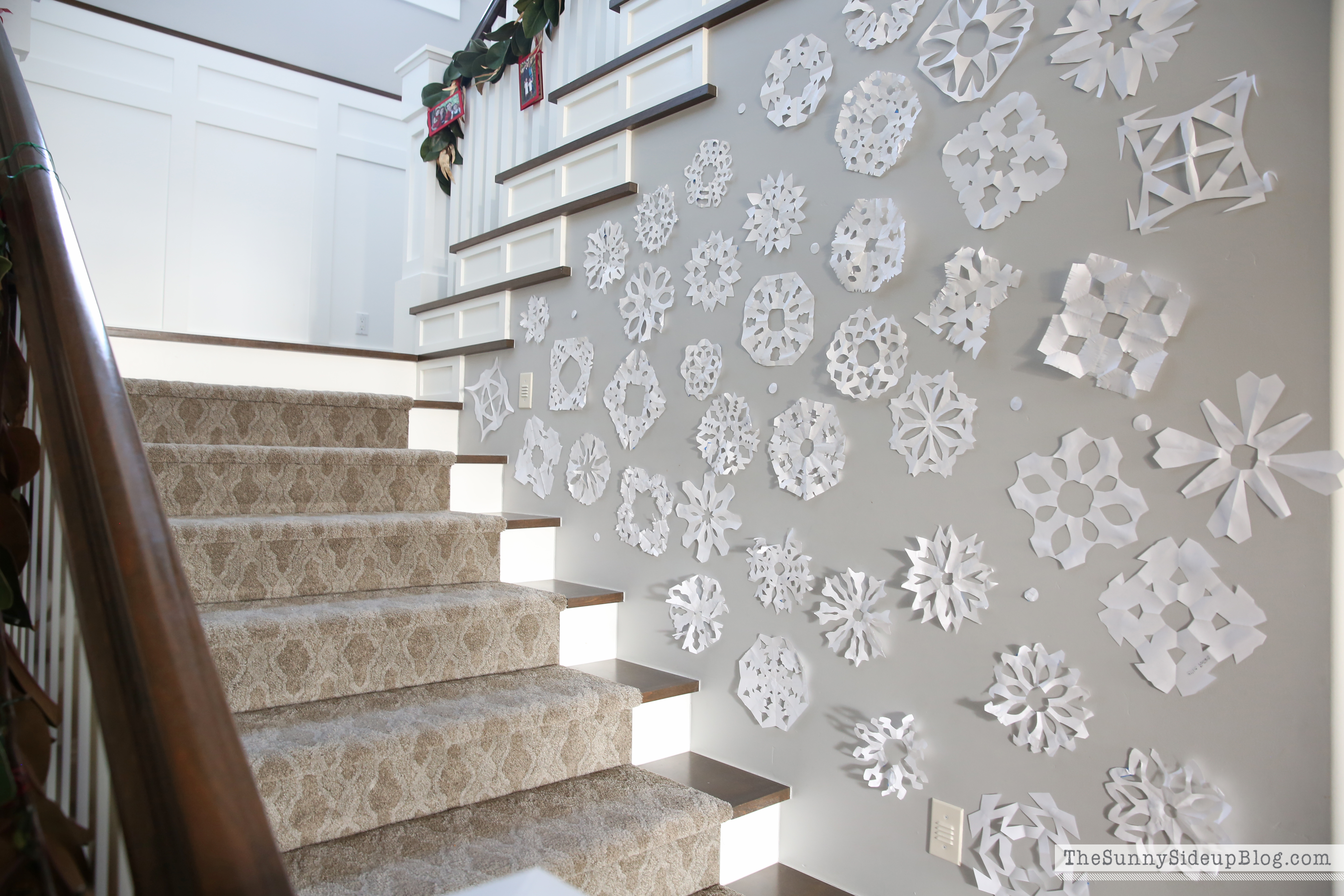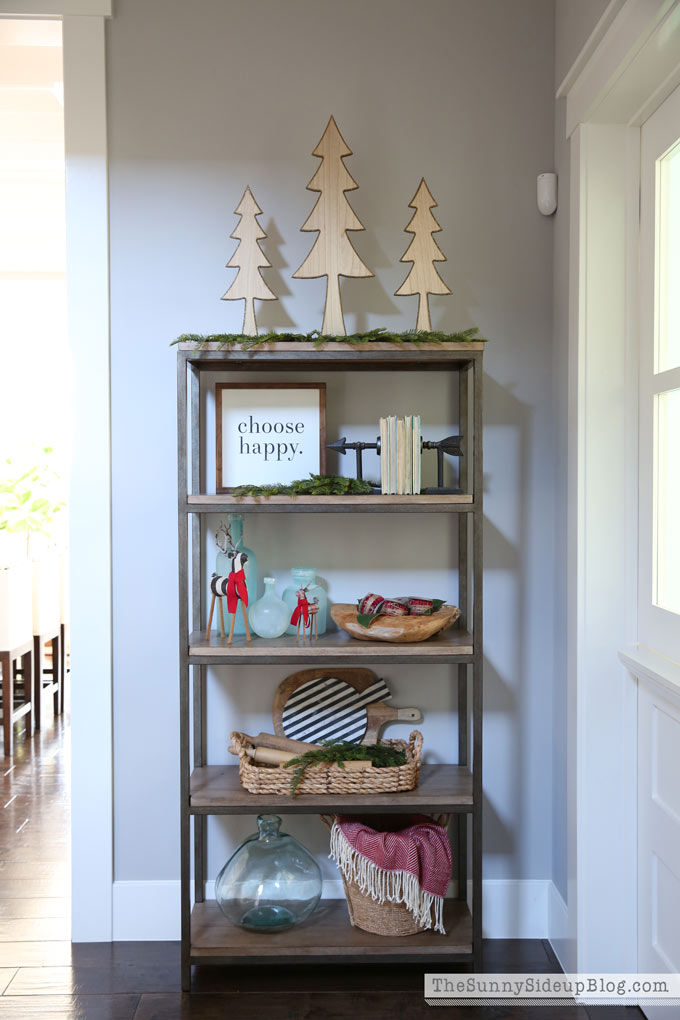 And that's a wrap on our Christmas shelf, card display and snowflake wall.
I hope you all liked it!
And I hope you are all enjoying this week before Christmas!  Running around like crazy people no doubt (I know I am!) but enjoying it just the same.
:)
xoxo, Erin