Happy almost Christmas everyone!  Are you ready?  We are wrapping things up around here.  Literally.  :)  I was going to gear up to face the crowds today and hit the mall for a few last minute things, but my little buddy isn't feeling well.  He is asleep across my lap sharing space with my laptop as I type this right now.  Poor little thing.  Thank goodness for Amazon!  Guess I'll be doing my last minute Christmas shopping on-line.  I can live with that.  :)  Thought I'd share some pics of our staircase decked for the holidays!  But first our Christmas card…


Last year we went with more of a traditional posed picture.  (Sharing this because I don't think I did last year.  We were moving and my blogging was sporadic to say the least!)


So this year we chose more of a candid shot.


Back of the card is a pic of my three babies.  Who aren't looking so much like babies anymore!  I can't look at this picture without smiling.  Couldn't ask for anything more for Christmas this year.  (side note:  it cracks me up that there is "snow" falling and El is in a sleeveless dress.  It was SO hot the day we took these pictures!  I had a long sleeved shirt picked out for Kole and a jacket to go over El's dress and I just couldn't tell them to put them on.  We were all sweating!  This picture is San Diego snow for sure.)  :)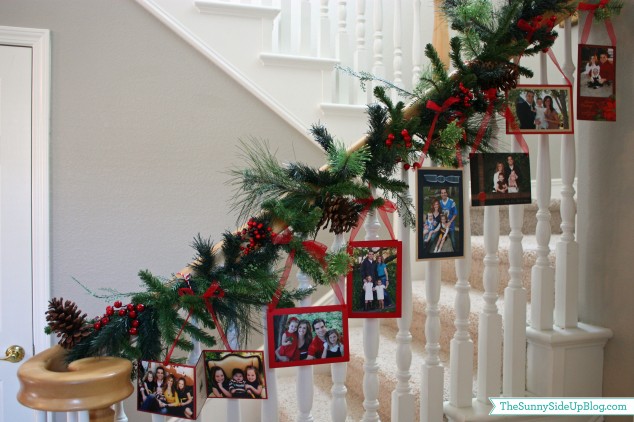 In our previous house I loved decking my staircase with garland and our past Christmas cards each December.


The old garland I had wasn't big enough for these stairs, so I put it on the outside of my house and decided to give real garland a try on our new staircase.  Loved the look!  And the smell.  So beautiful.  I really love the simplicity of it.


Fun to have the past Christmas cards and Santa pics all together.  A little walk down memory lane!  Can't wait to get more family pics hung on our walls next year.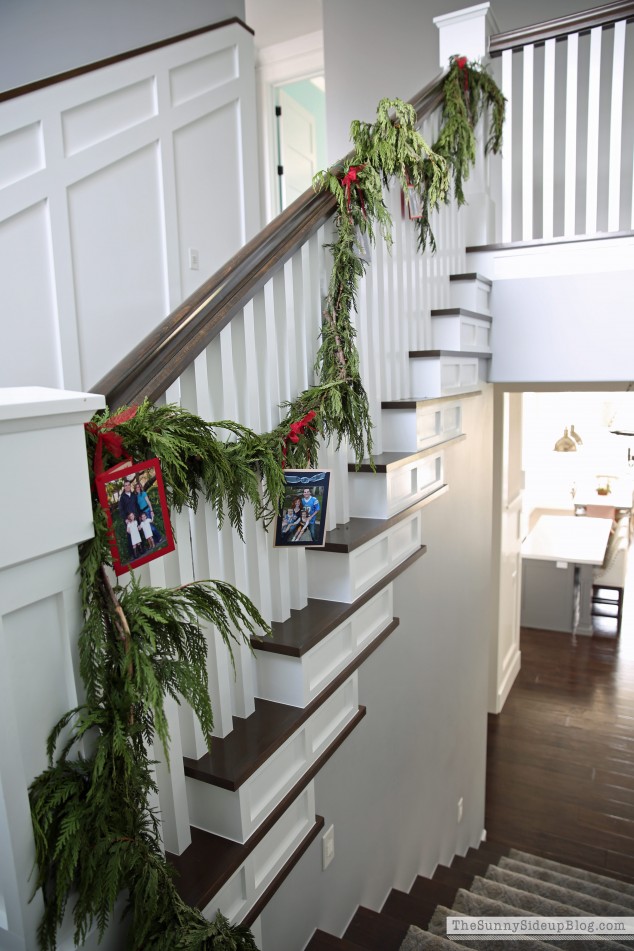 I mentioned the garland only lasted two weeks (despite my attempts to mist it!) so I had to replace it once.  Such a mess when it dries out and comes down.  I don't know that I'll use it again on my staircase, but I loved the look this year.


A few days ago Kole decided he wanted to decorate the stairs too.  I think the bows make a perfect addition, don't you?  :)  My girls have also been decorating up a storm.  All sorts of snowflakes and garlands and ribbon are hanging in their rooms and around the house.   I'm so happy have some down time with them all home with me!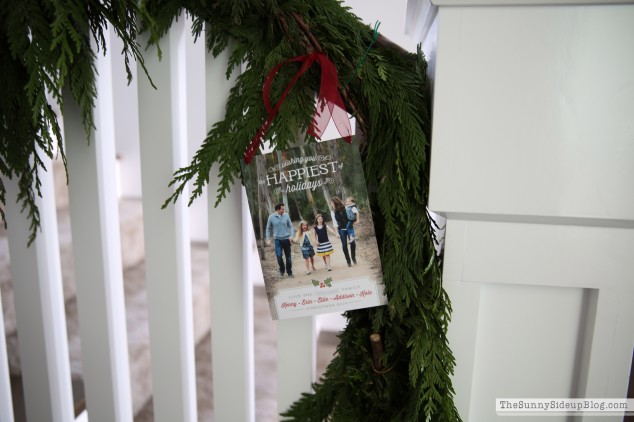 I'm planning to post again before Christmas, but just in case I get sidetracked (tends to happen quite frequently around here!) I want to wish you and your families all the happiest of holidays.  I can't thank you all enough for your kindness and support.  Enjoy this time with your loved ones!  xo

Free printable of the paint colors throughout my home!
Enter your name and email address to get instant access to my paint colors along with other free organizing printables. More will be coming soon!
Exclusive to subscribers!