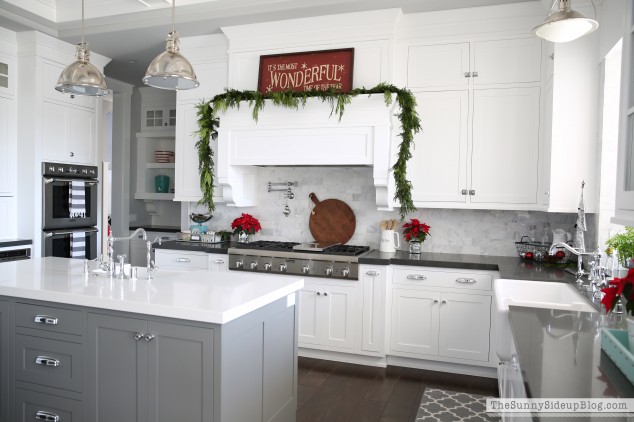 Happy Friday everyone!  Sharing pictures of my kitchen decked for the season today!  I have to tell you that based on the week we've had around here, it's nothing short of a miracle that I was able to keep our kitchen clean long enough to take these pictures.  This week felt like the perfect storm.  Just too much going on.  Then on top of it all somehow a power line for our house was cut. For two evenings we had power in random places and not others.  One garage door worked and one didn't, freezer was on but the fridge was off, most of the lights were out.  The night it happened, Kenny was dropping El off at an evening dance class.  He came home to us in the dark and after troubleshooting he quickly got on the phone with San Diego Electric to try to get someone out to fix it.  I was running around in the dark trying to get Kole to bed and help Ad with her cultural presentation for school the next day. Then 40 minutes later I suddenly remembered it was past time to pick El up from class and Kenny was still on the phone so I jumped in the van in our garage, opened the garage door and quickly backed up.
Right into my husband's car.
Yup.  I did.  Hit his car with mine.  He had parked in front of my garage door because the door wasn't opening on his side of the garage and it was so dark I didn't even notice.  Until it was too late.  So now we've got two smashed cars to get fixed.  You can imagine how excited my husband was about that little move.  Ha!  Tis the season!  The good news is that the power is working again.
And this week is over.  :)
So let's talk about something happy, should we?  Like Christmas decor!  I took too many pictures like I always do and I've rambled enough so I'll try to stop rambling and just show you around!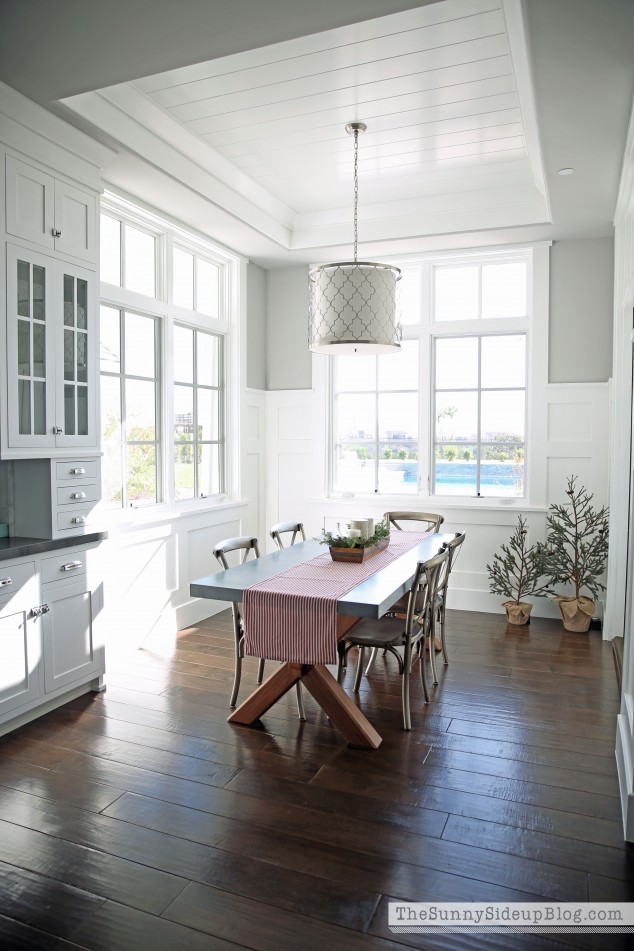 I love traditional red for Christmas decor but all the red wasn't working with the coral rug that was in our dining nook so I pulled it out for December.  :)  It's currently living in my office/craft room making that space feel like Rainbow Brite.
But that's a story for another day.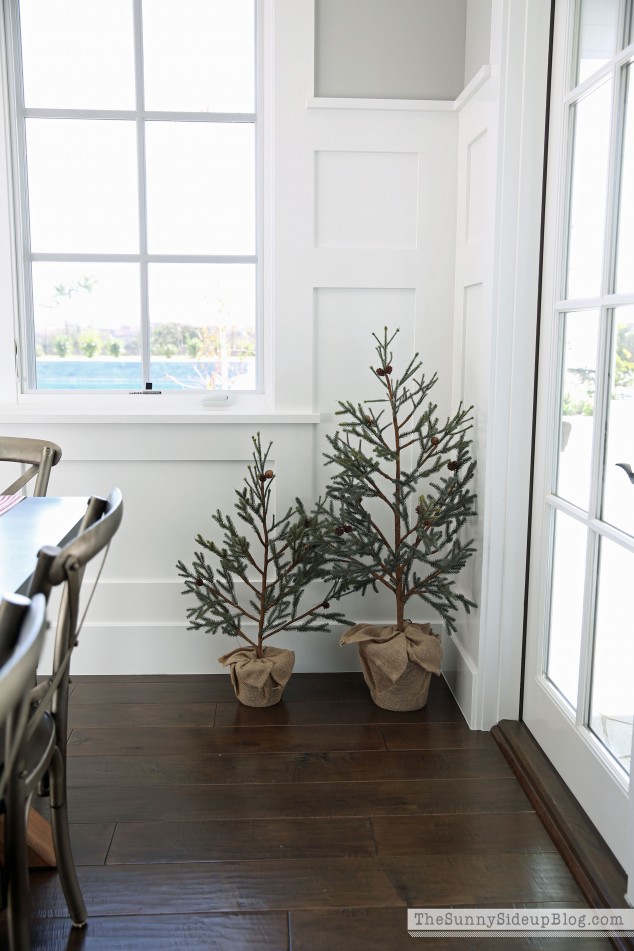 I couldn't find a great spot for these trees (I was going to use them outside and then ended up not) so I just set them in the corner of the nook.  They light up so pretty at night and came in quite handy when the power was out!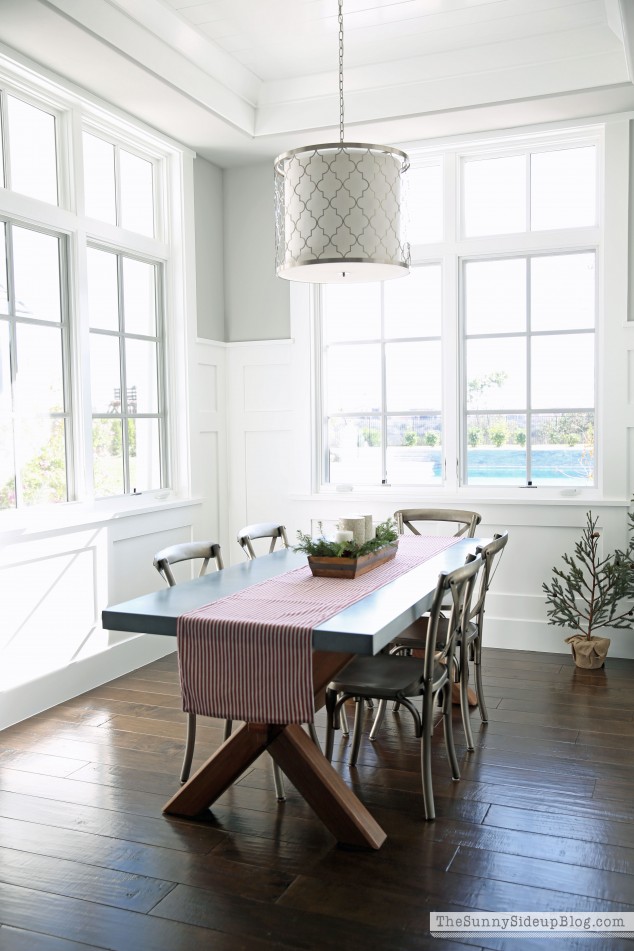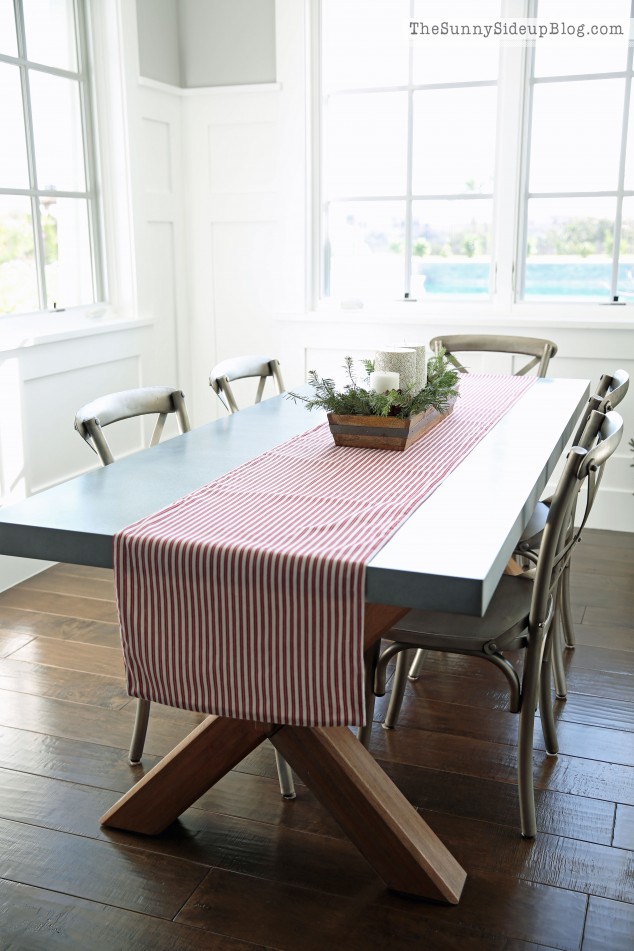 I always decorate with candy canes so when I found this red and white runner it was love at first sight.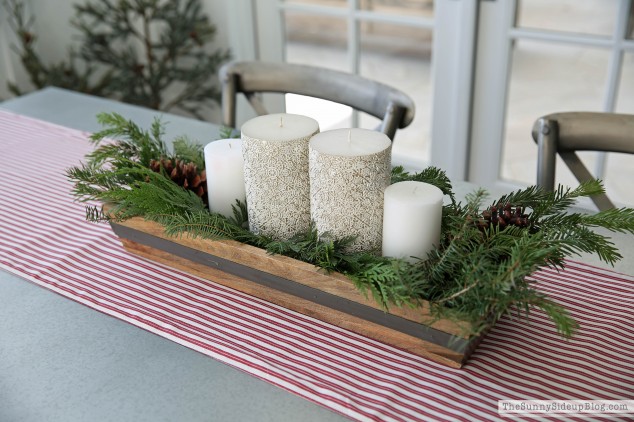 This was a simple table centerpiece that I created with things around the house.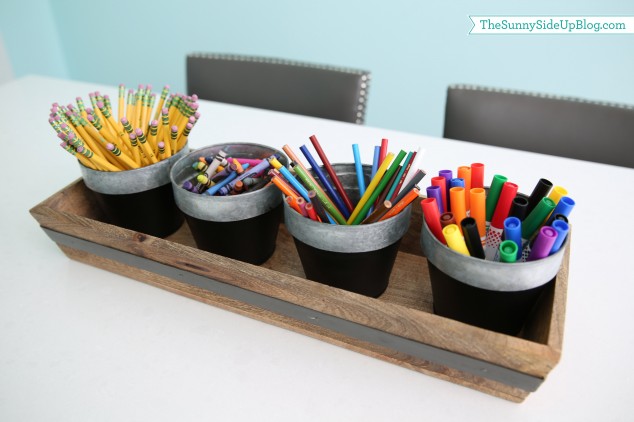 The wood crate is the one we usually use to hold our school supplies.  :)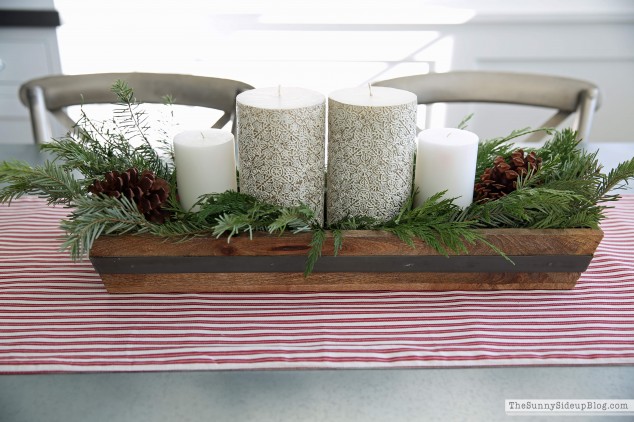 The candles I've had for years (you may remember them from past mantel posts in our previous house!) and then I just used some fresh greenery and a couple of pinecones.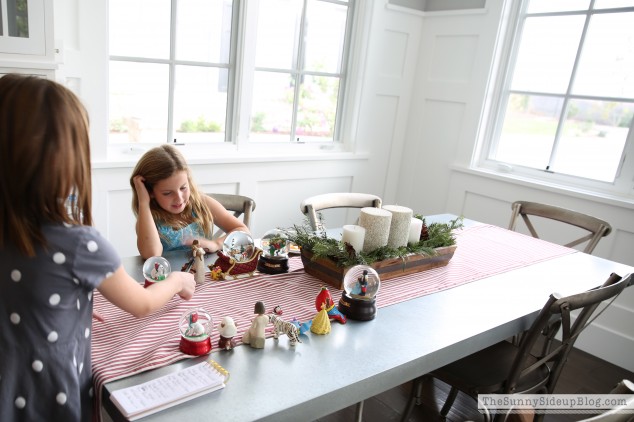 Side note: I wiped the snack crumbs off of our dining room table, took the pictures above, and seconds later my girls had covered it with all sorts of interesting things.
At least the centerpiece is still in tact.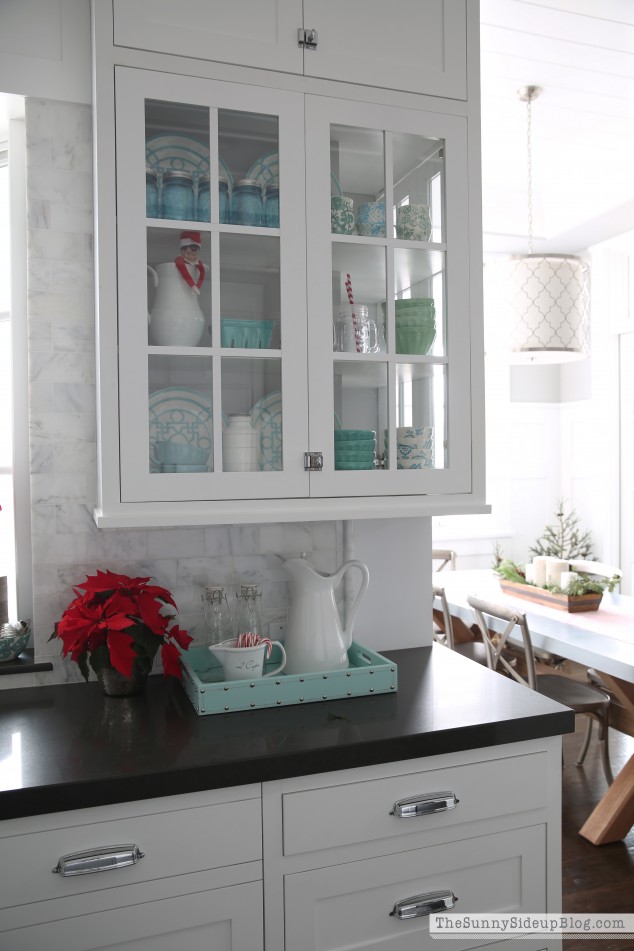 Our elf was hiding in the cabinet the day I took these pictures.  He's a happy well behaved little guy who has been visiting for the past five years.  Never makes a mess or does crazy tricks.  We like a low key, clean elf around here.  He just hides in a new spot each day to watch for good behavior to report back to Santa.  In fact, sometimes he likes his hiding spot so much he stays there for more than one day…
oops.  :)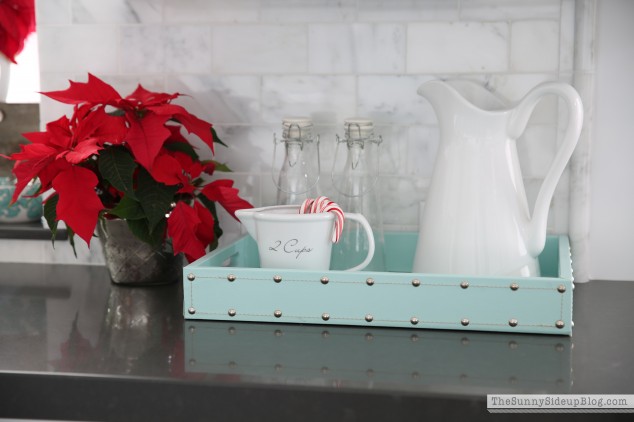 The only problem with using candy canes to decorate is that your decor doesn't always last so long.  I think this cup was fuller last time I checked.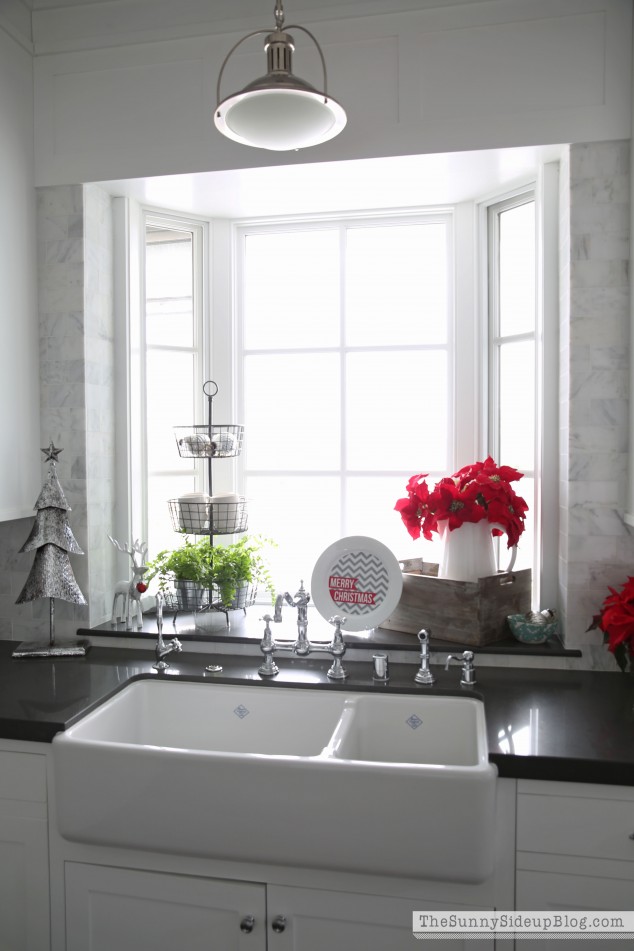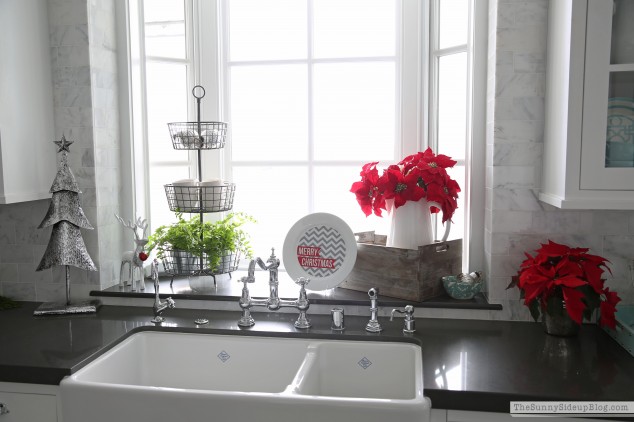 Christmas in the bay window!  Can you believe my little plants are still alive!?  The large one that I bought for Fall only lasted a month, but I'm choosing to focus on the fact that I've kept four small plants alive for over sixty days now.   We take our successes when we can get them.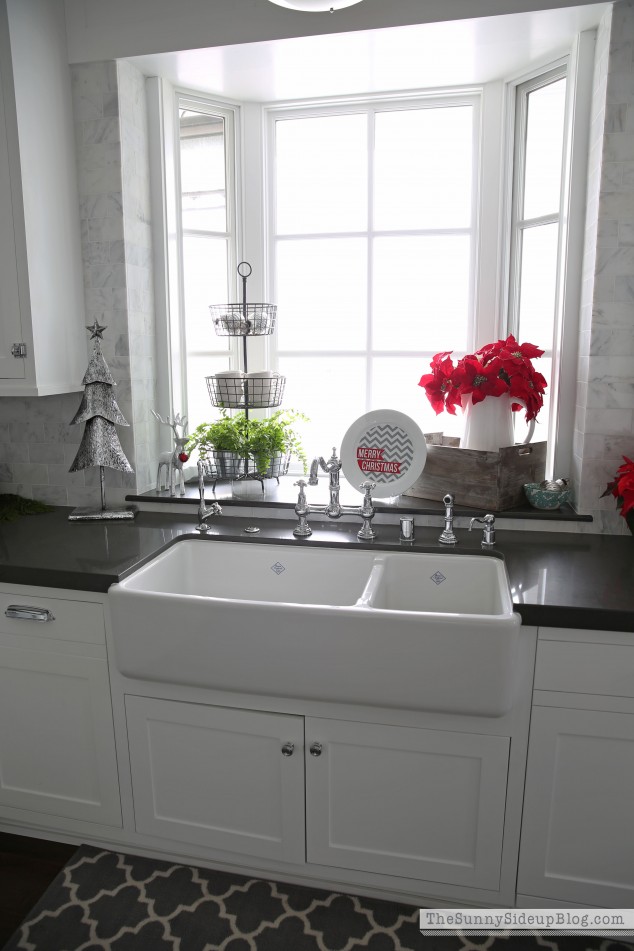 Easy decor.  Just a few ornaments and a fun plate, tree, and deer.  And lots of poinsettias.  I love them.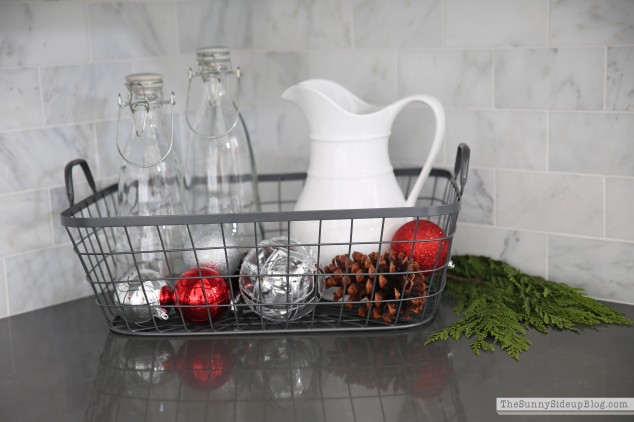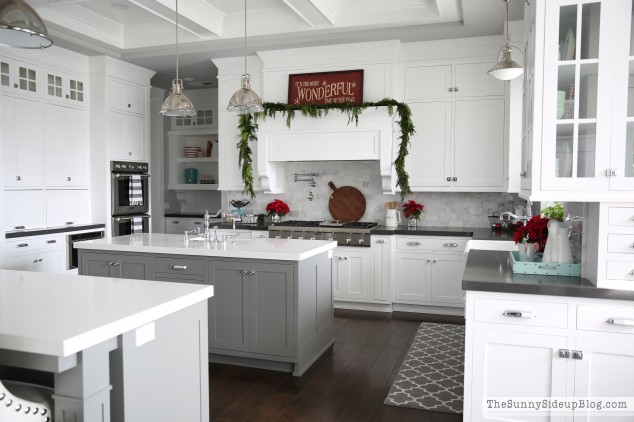 A shot of the kitchen from further back.  I just placed decor around the perimeter of the kitchen because I like to keep the islands clear.  They are dumping zones and food prep zones and half of the time Kole is perched up on them "helping" me make dinner.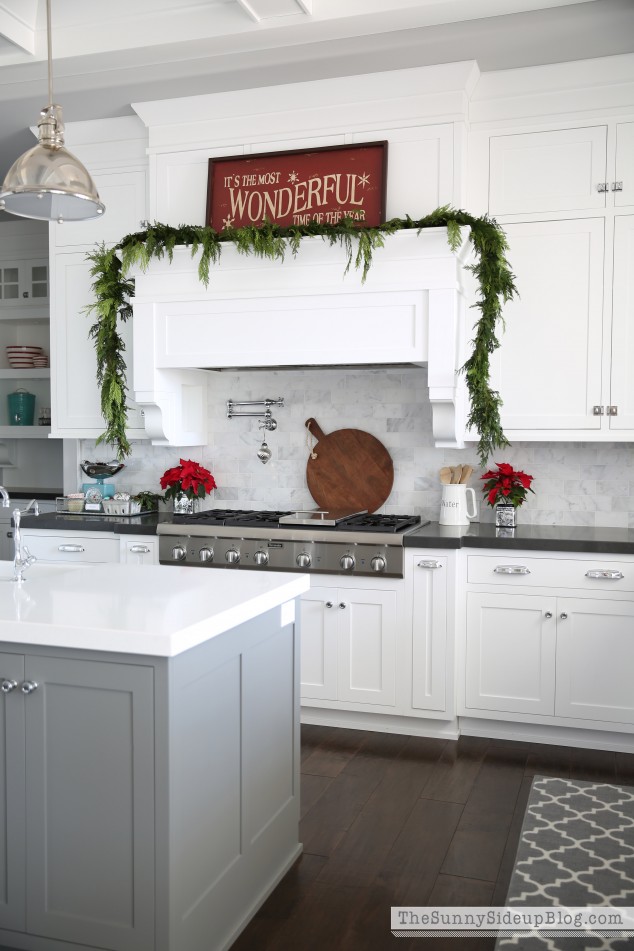 This was my first year experimenting with real greenery and I've learned a thing or two.  I love the look of it!  And the smell.  But it's messy.  Never again will I use it on my stairs!  But I love it over the oven hood.  It's much easier to replace and only makes a small mess.  It's lasting about two weeks for me so I figure I'll have to replace it at least once each season.  Easy to do since it's inexpensive and worth it to me in small doses.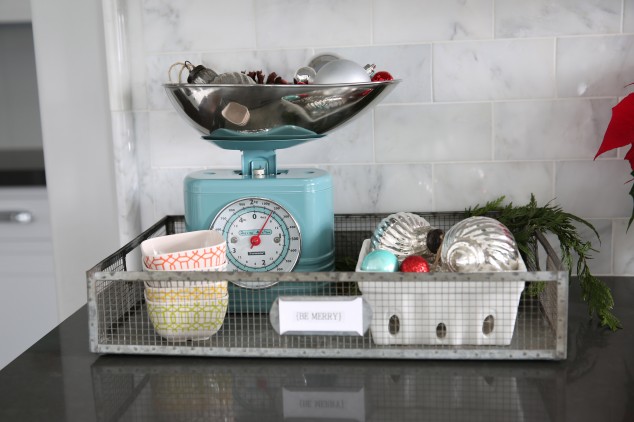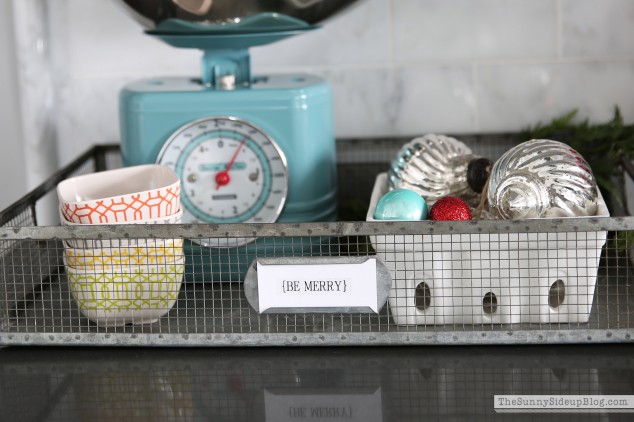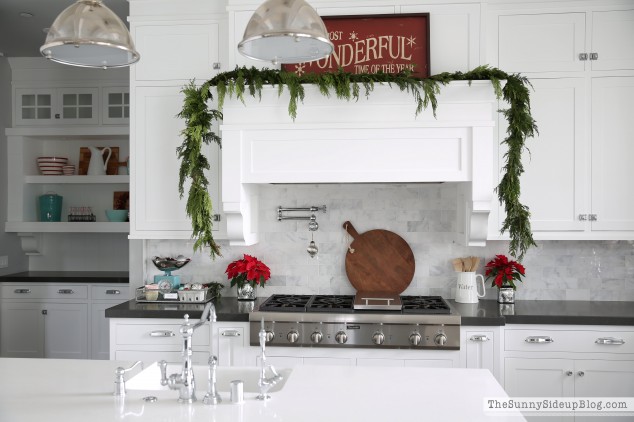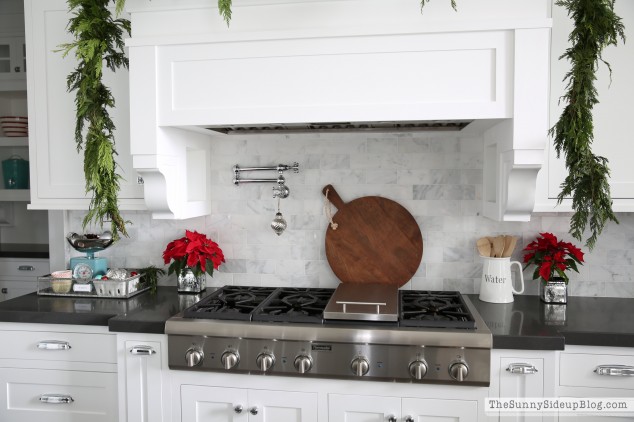 I was going to hang several ornaments dangling from the oven hood and then claim that I couldn't possibly cook because the decor was in the way, but figured that might not go over so well.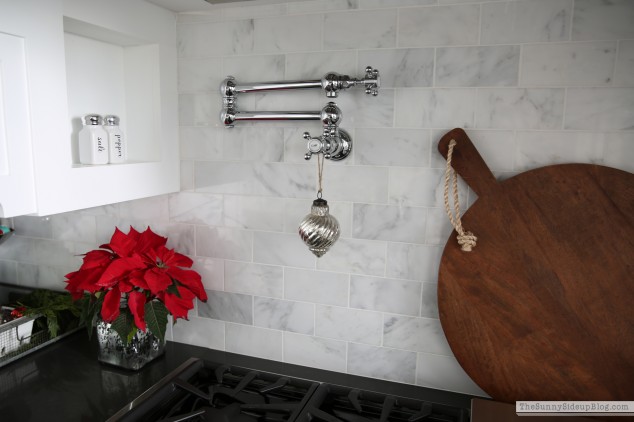 So I just hung one from the pot filler instead.  :)


More red and white stripes in the butler's pantry!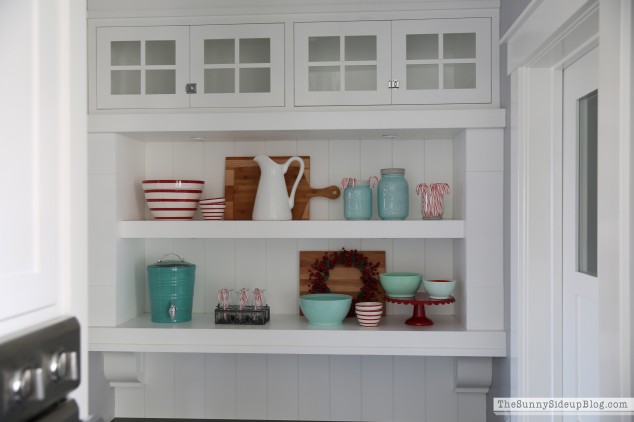 I love red and white so much that I chose red and white lights for the outside of our house.  It looks like candy cane lane!
When our power is working and they're actually on that is.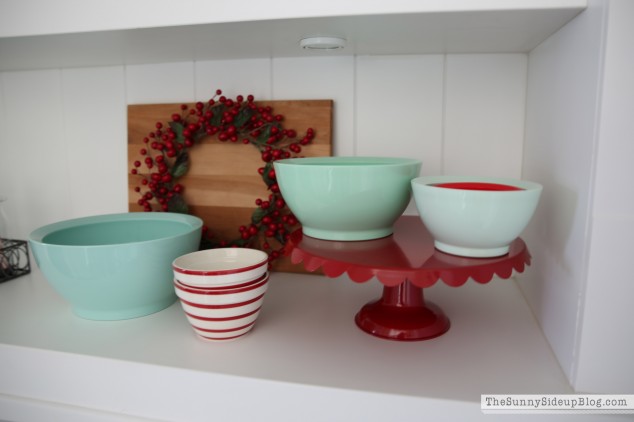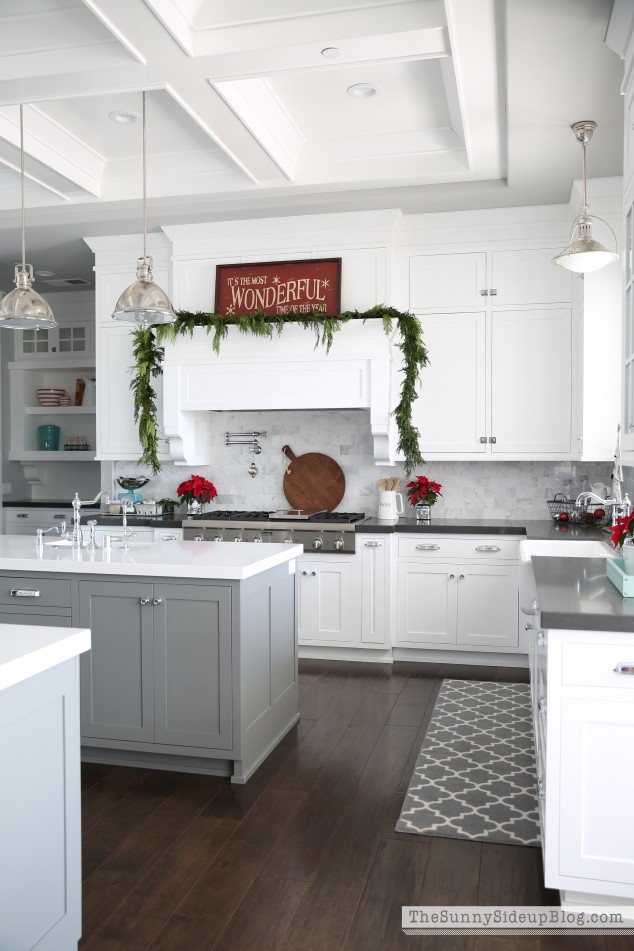 So that's it!  Just a few festive touches that bring the holiday spirit into the kitchen.  Lots more Christmas decor is coming next week!  I take too many pictures and can't keep the house clean enough to condense everything into one post like so many other bloggers are able to do.   (How do they do that!?)   And didn't I mention that I wouldn't ramble for this post?  And then I kept rambling.  Guess there are a few things I can work on this holiday season.
As soon as I get our cars fixed.
It's the Most Wonderful Time of the Year!
Isn't it?
:)
xoxo, Erin