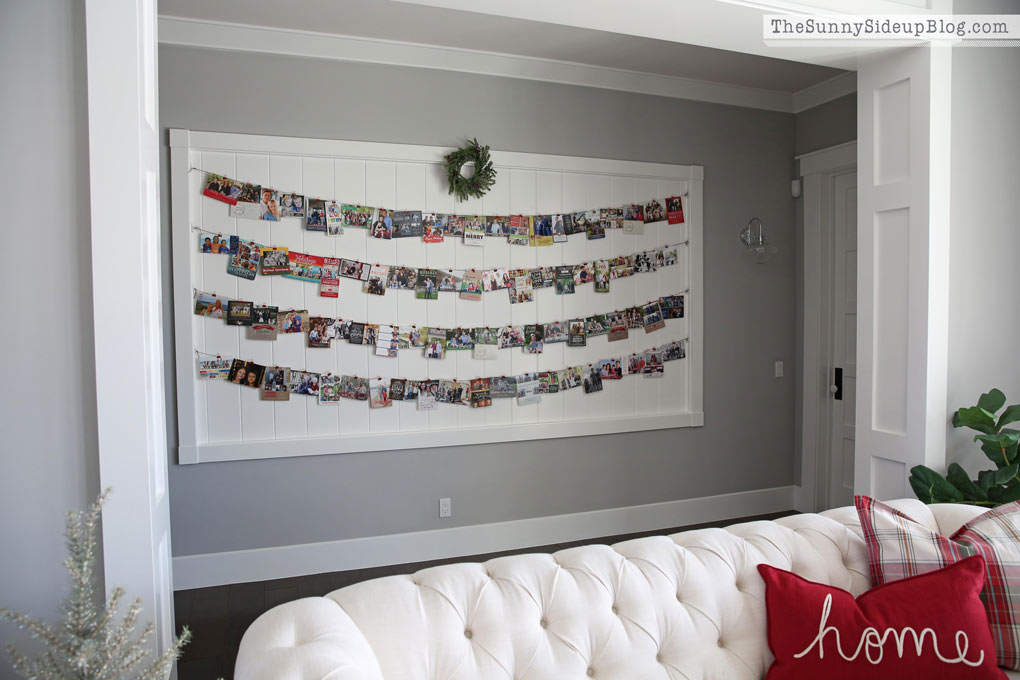 Happy Monday friends!  I hope everyone had a nice weekend!  If you didn't check in with my blog I shared the winner of the planner giveaway and a new fashion post Saturday if you're interested!  I'm going to be posting fast and furious for the next few weeks to fit everything in I have to share with you all so check back often.  I keep hearing Rocky music playing in the background and I've warned my family that laundry will pile up and pizza will be a staple this month.  Time to BLOG.  :)  First up: my Christmas gallery wall!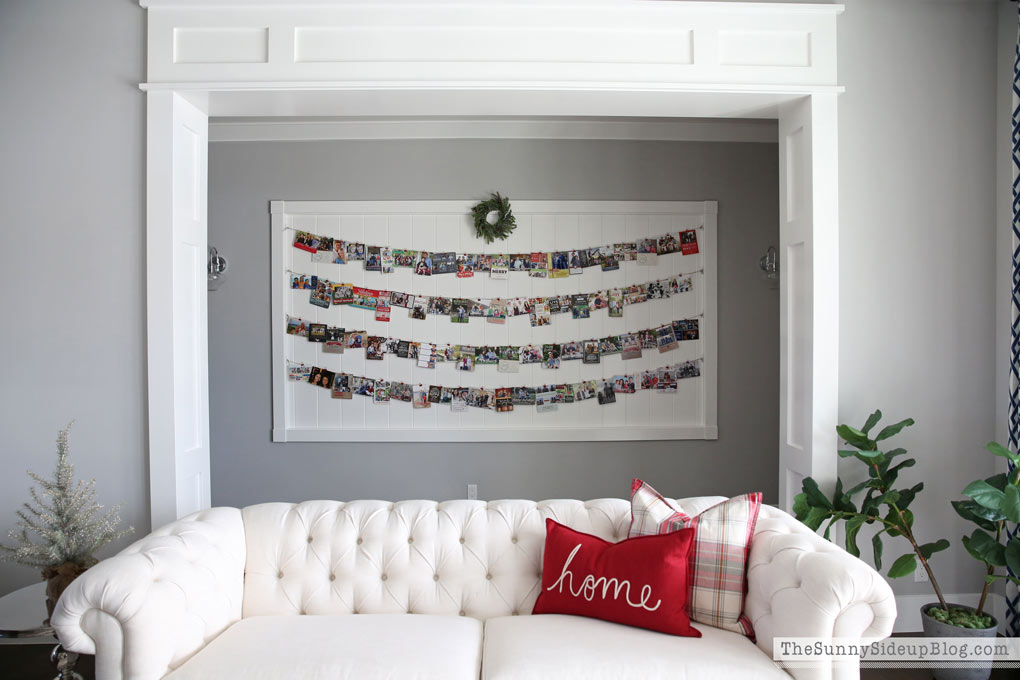 You might remember last year how I displayed our Christmas cards on this planked wall in our formal living room.  When we built our house I designed this planked wall to hold a gallery wall of pictures.  Since that little project kept getting put on the back burner (as many projects around here do!) the wall was open and free to become Christmas card central.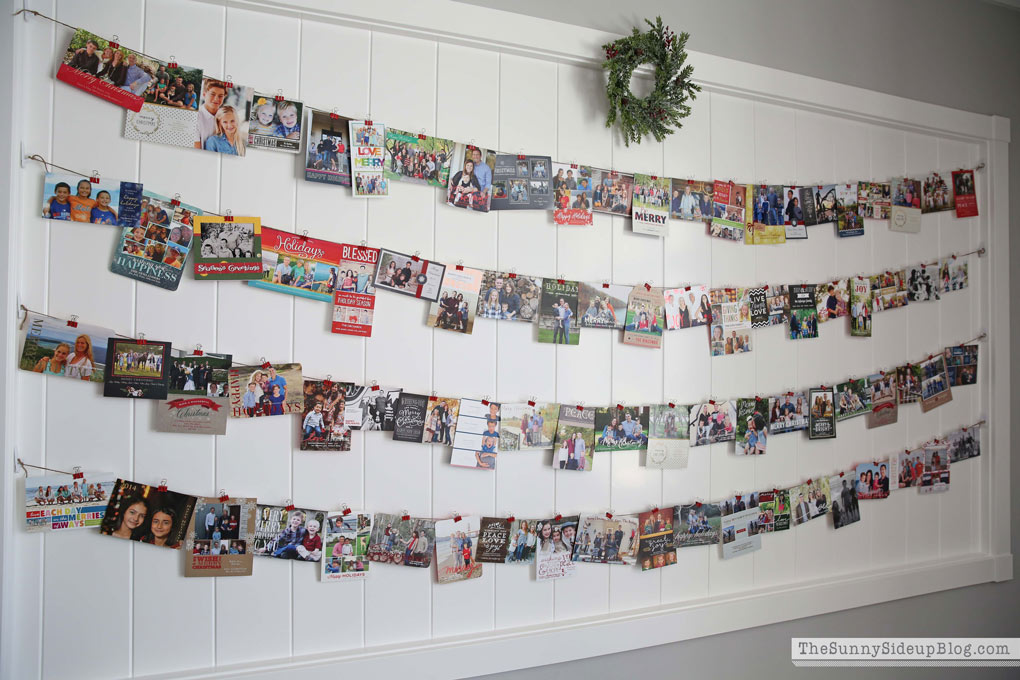 I loved it!  :)  So fun having a nice place to display cards from all of our family and friends.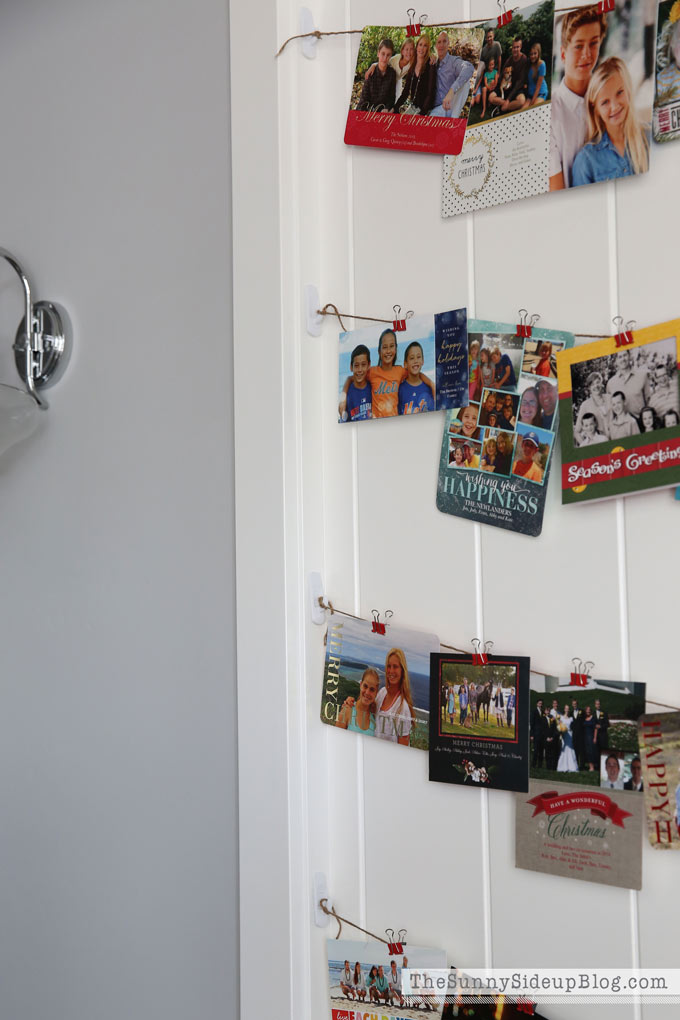 If any of you want to try something similar this year, I just attached command hooks to the sides of my planked wall and tied some jute twine on each end.  Then I used small red clips to hang each card.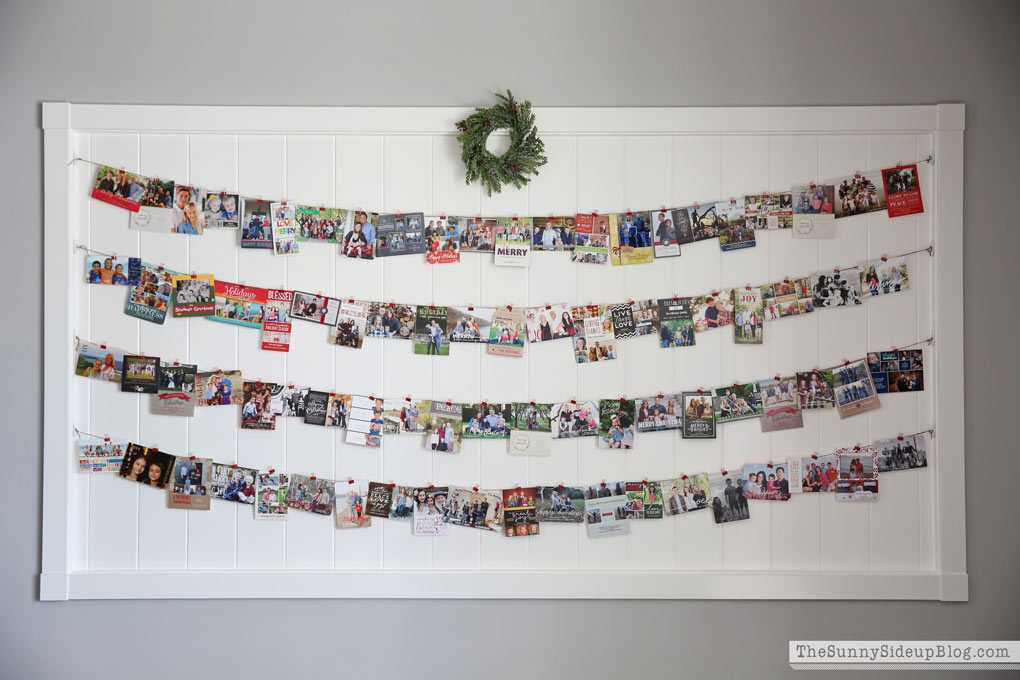 A happy wall indeed.  Until Christmas came to an end and it was time to take the cards down.  Then I was itching to get my originally planned gallery wall going!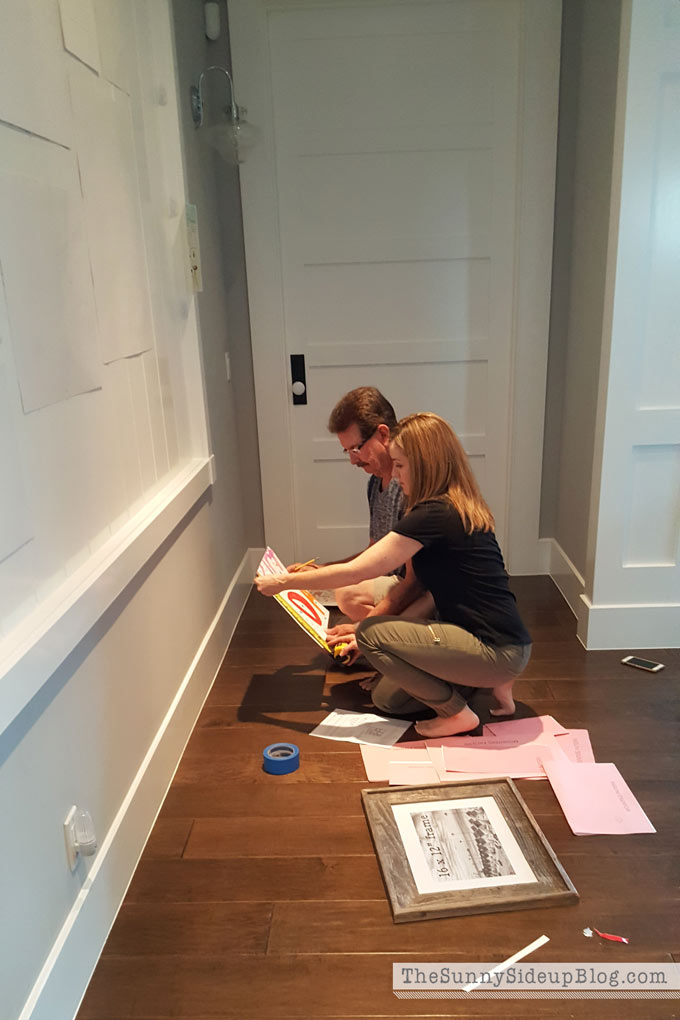 The first thing I did was find the frames to use.  I wanted wooden frames and debated buying some here or here.  Then one day I was shopping and walked into a local beachside store that sold custom hand made rustic barn wood frames.  I felt like I had hit the jackpot!  Perfect.  Then I found some inspiration pictures and used them to sketch a rough draft of what I wanted.  When my dad was in town last June I had him help me with layout/spacing.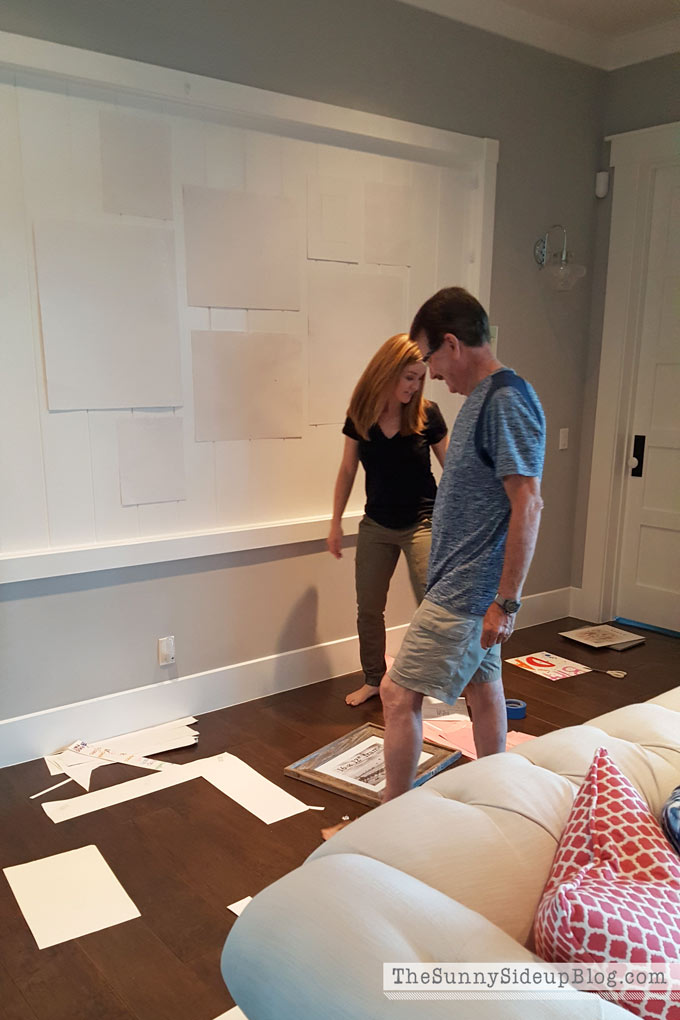 My dad is my favorite person to have help me with things like this.  He's really good at spacing/hanging plus he's extremely patient and handles my OCD with projects like this well.  My mom and husband not so much.  They get frustrated with my need for perfection and throw in the towel early on.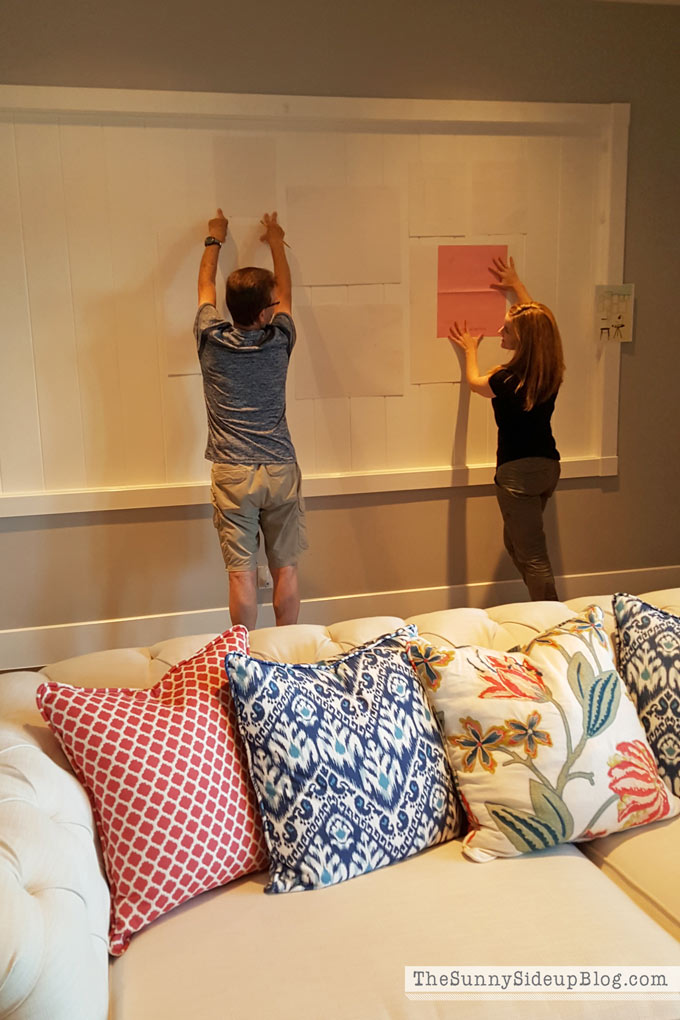 I have no idea why.  I'm so chill with stuff like this!  ;)  Love you dad. :)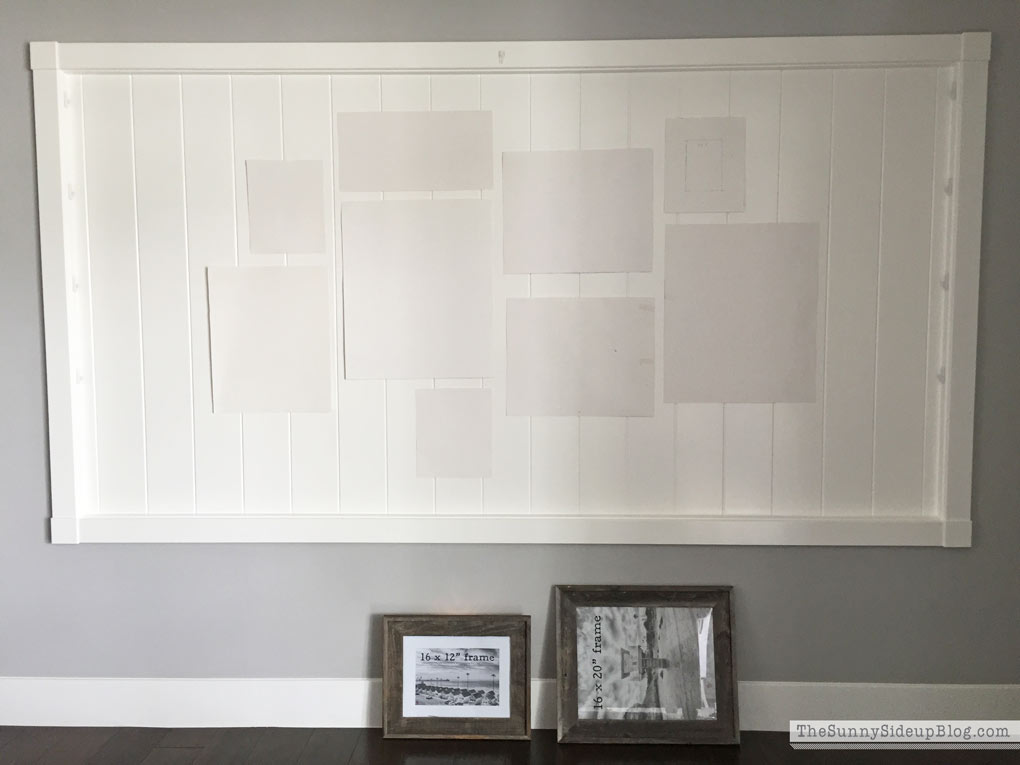 When my dad left we had completed the wall!  With cut out poster board.  :)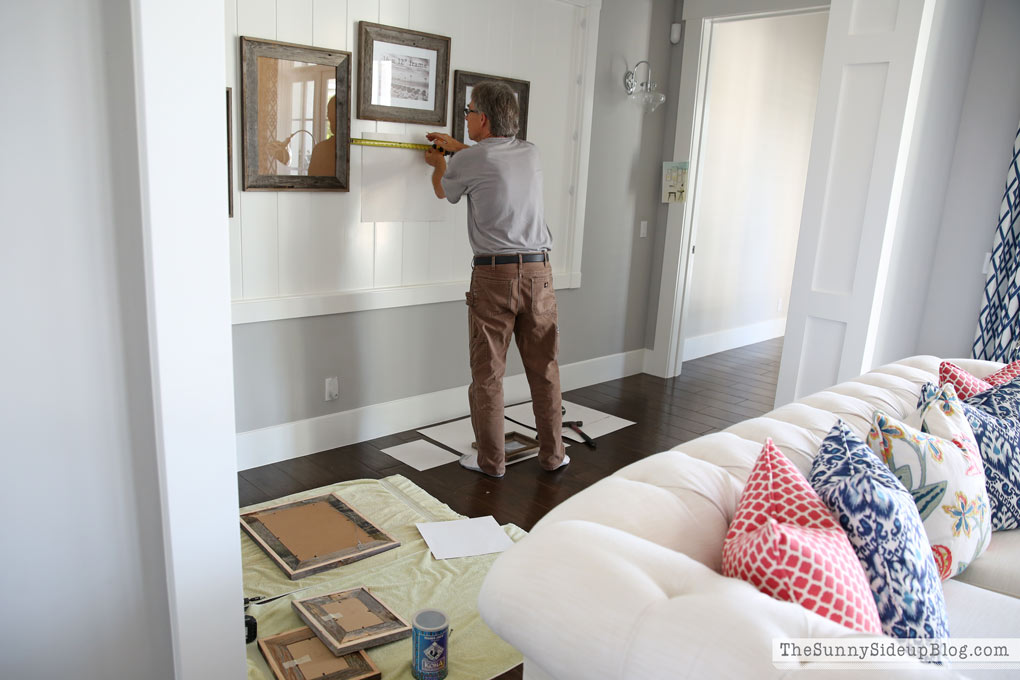 Then I called another favorite man in my life.  My carpenter. :)  I was a little nervous to hammer into this planked wall and decided I'd call in a pro instead of going to town myself and making mistakes I knew I'd regret later.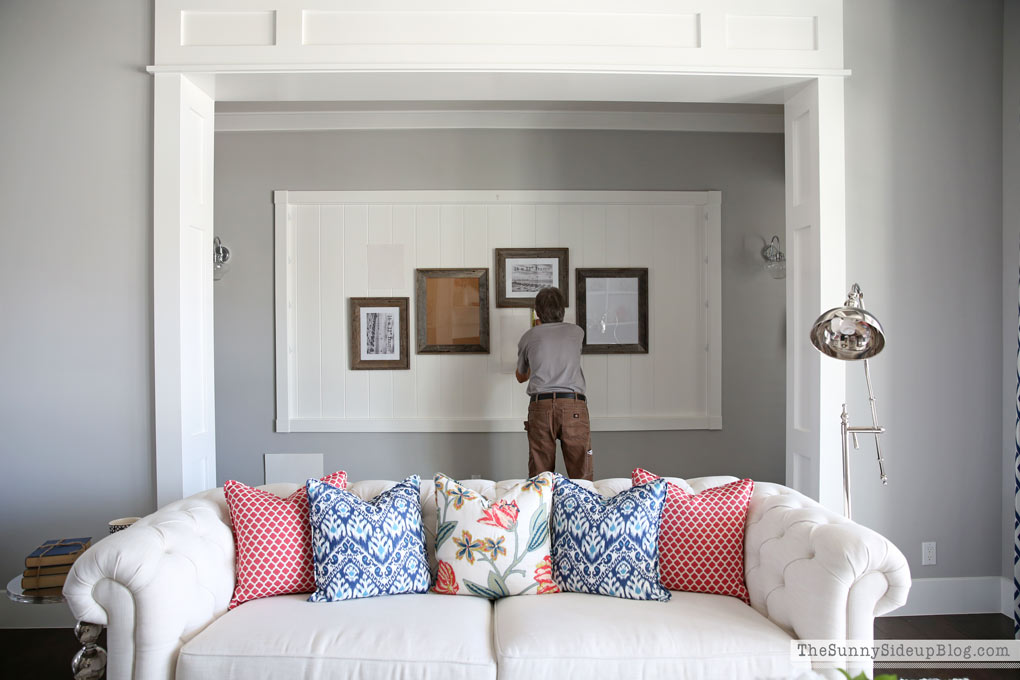 I couldn't believe how fast he had those frames up!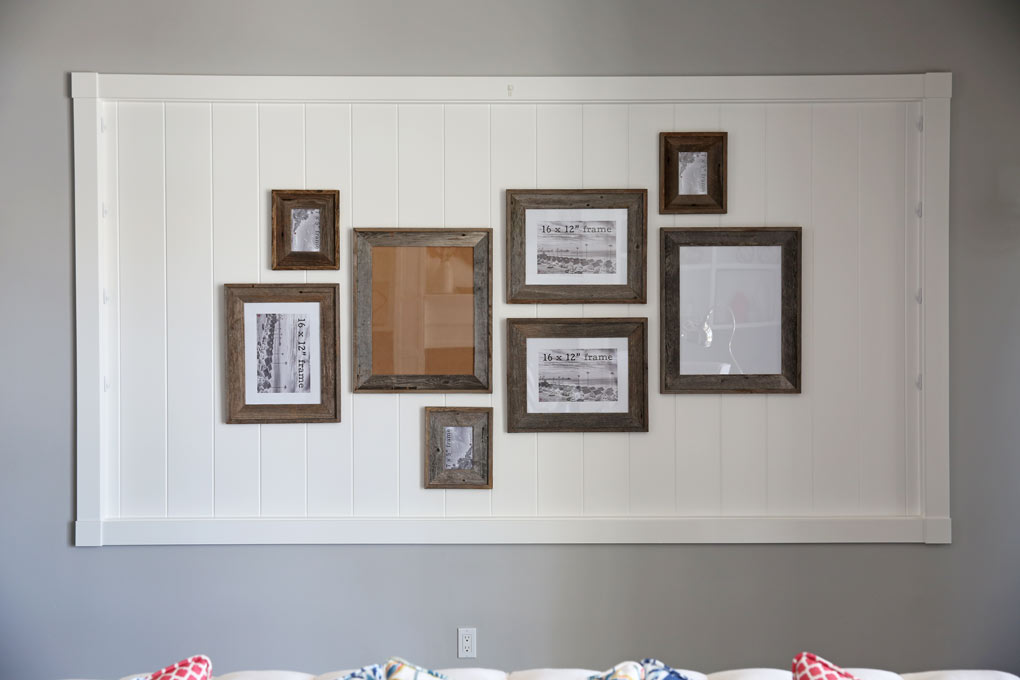 An hour later it looked like this.  With the hooks on the sides still up from my Christmas card wall.


And that's how it sat.  For MONTHS.  Hooks and all.  Every time I'd walk by I'd think.. I really need to develop some pictures for that wall.. but there were always other things that were more of a priority.  November hit and I decided it was TIME to make it a priority.  Of course by that time I had Christmas on the brain.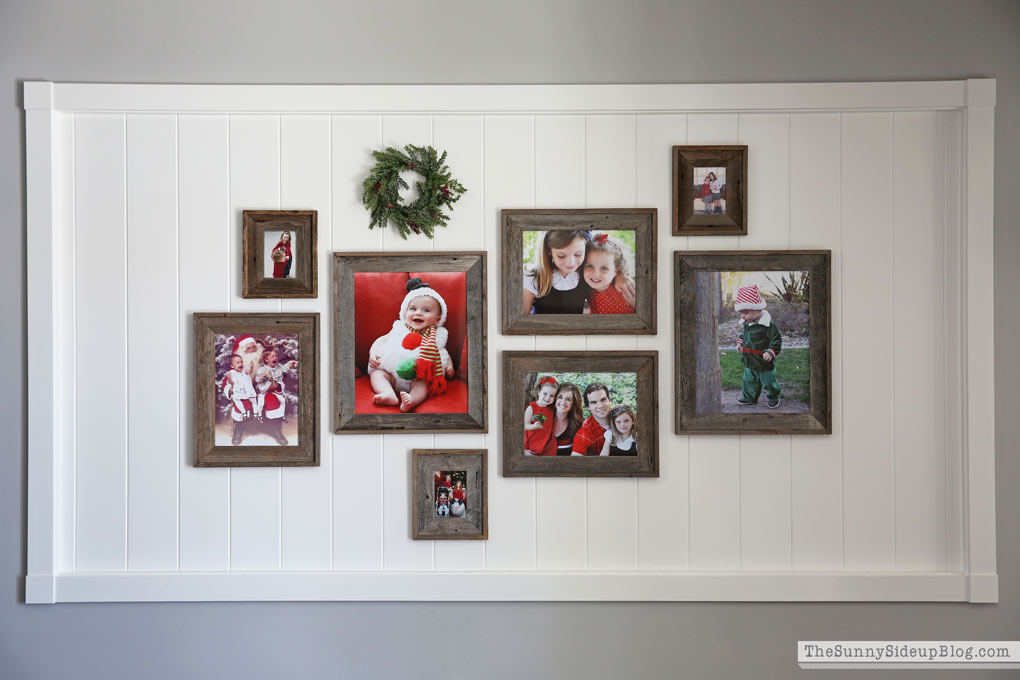 So this is how it looks today!  Not just a gallery wall, but a Christmas gallery wall. :)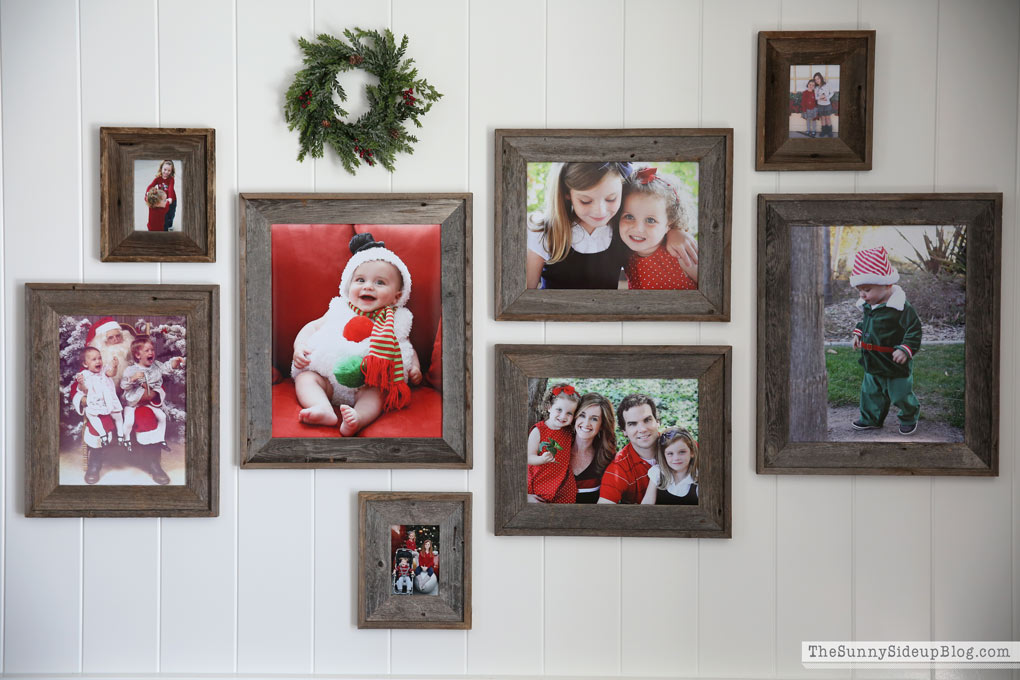 I didn't have a picture of our whole family wearing red… just an older picture of us with the girls when they were little so I used that and then made sure my little buddy was front and center just as much. ;)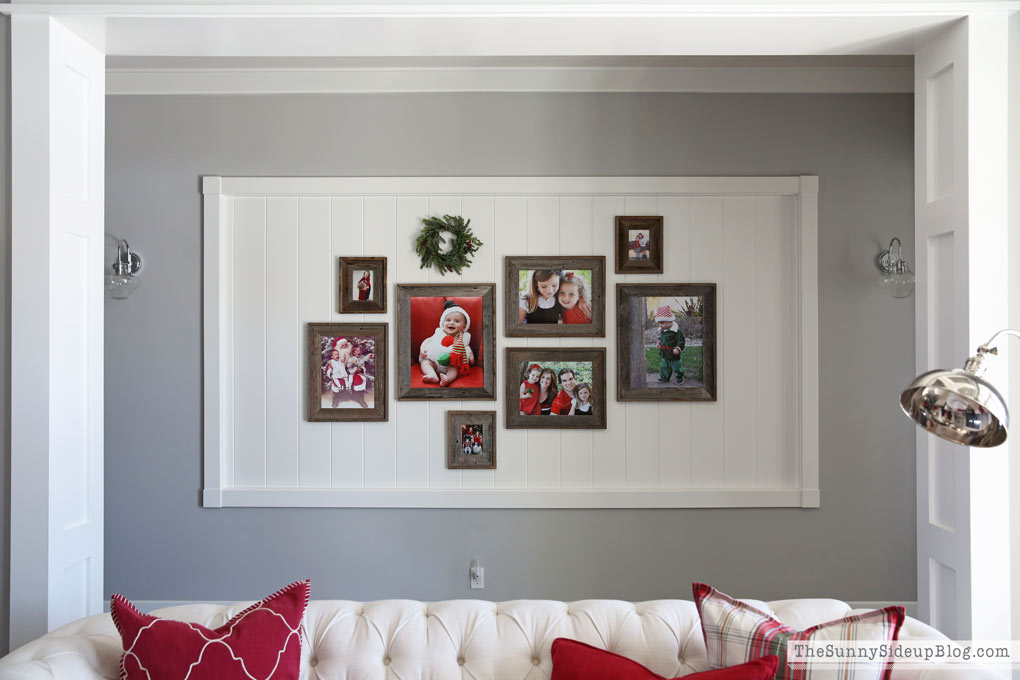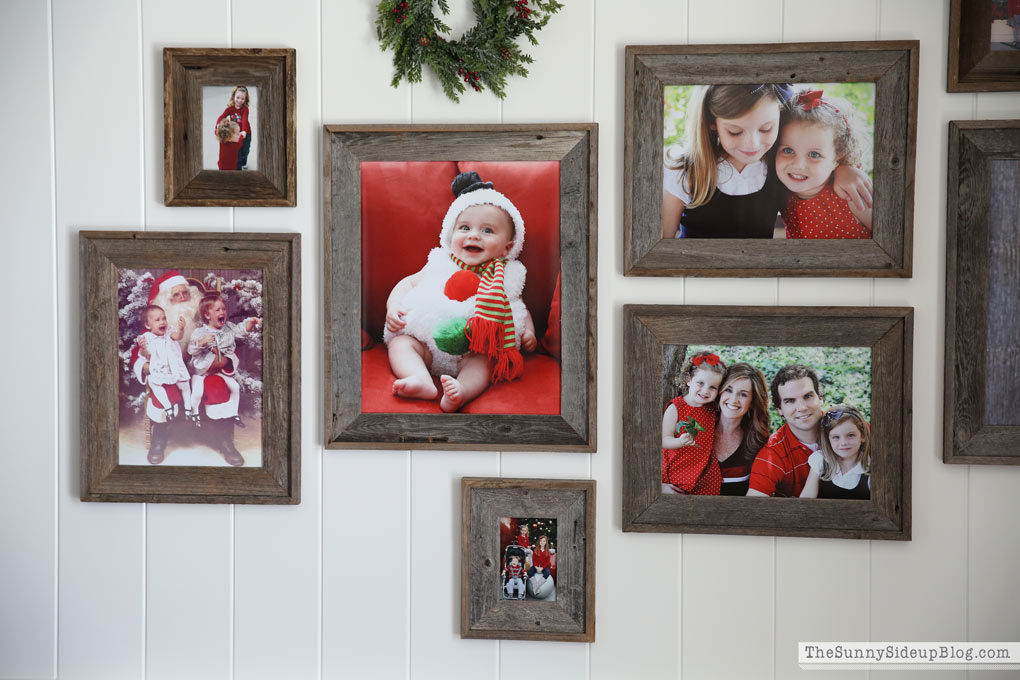 If you've been with me for a while you know how I feel about most of these pictures!  My baby boy in his snowman costume is an all time favorite I pull out every December.  So is the picture on the far left of me and my sister screaming on Santa's lap when we were little.  Christmas family favorites and I love having them displayed on this wall that I walk passed multiple times every day!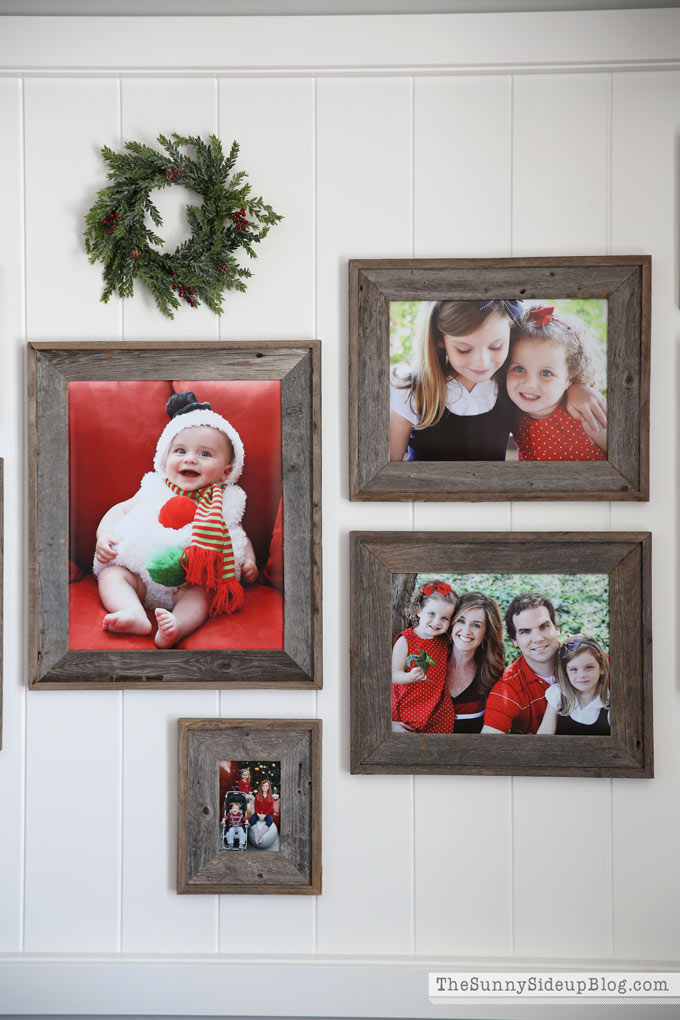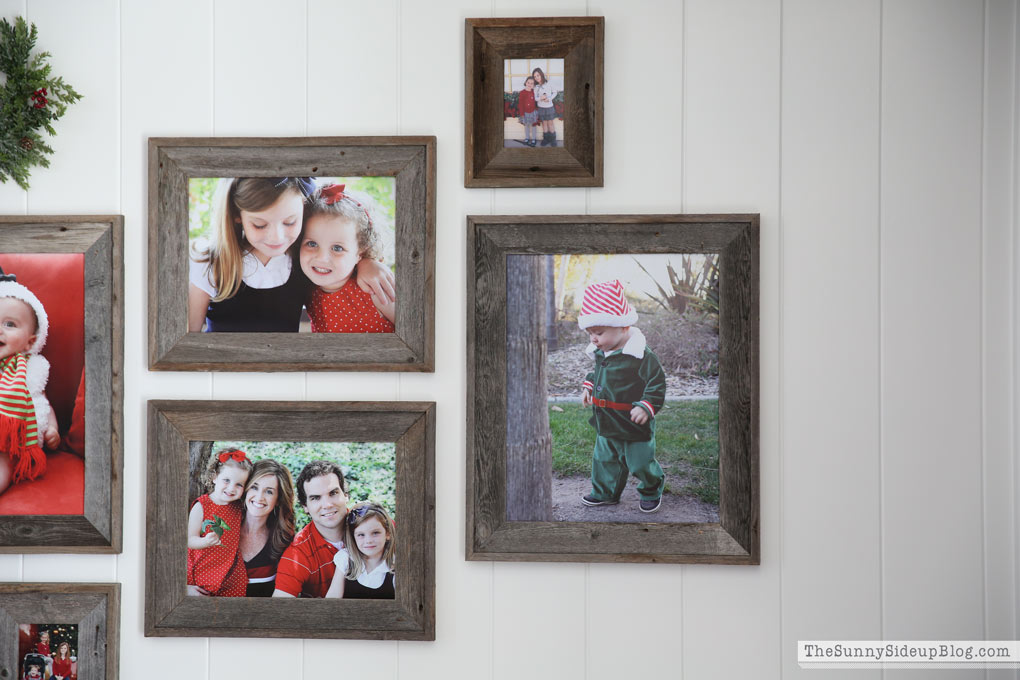 Kole was so cute as a snowman for Halloween when he was little that I dressed him up as an elf the following year.  Such a fun age when they have no say in what they wear.  Ha!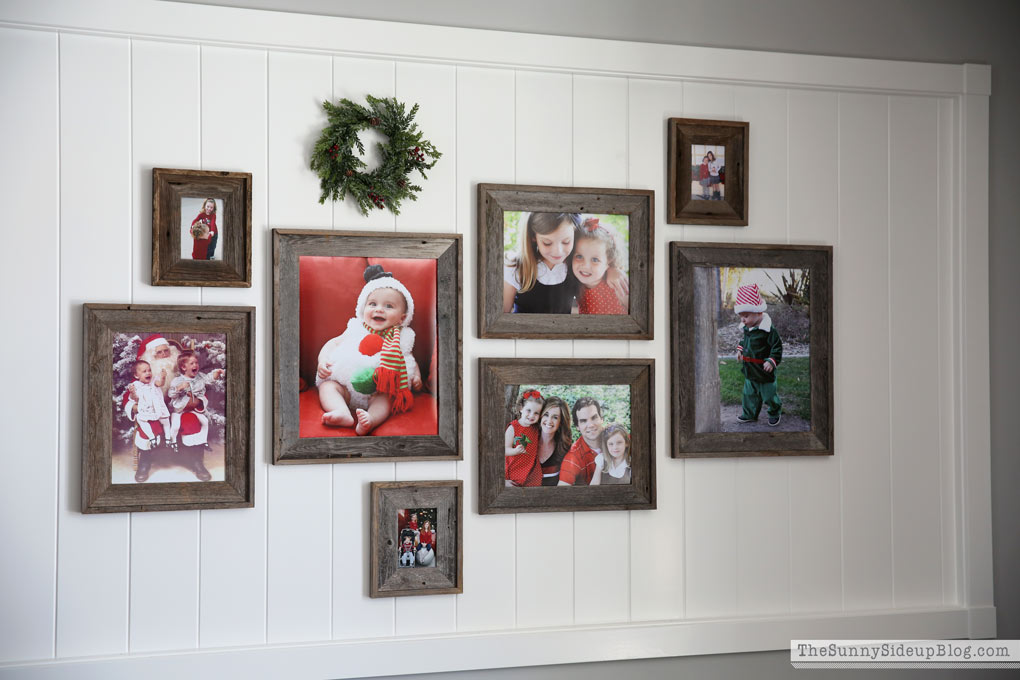 I'll have to find new pictures for these frames in the New Year but for now we are loving our Christmas gallery wall.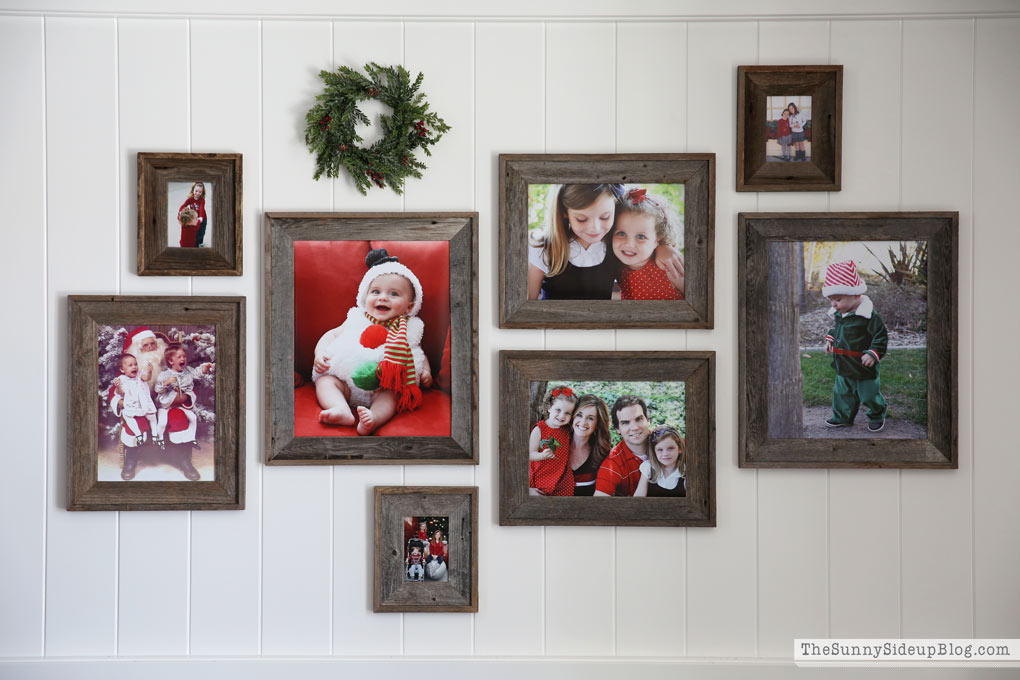 Slowly making this house feel like home.  One drawn out project at a time.
:)
xoxo, Erin