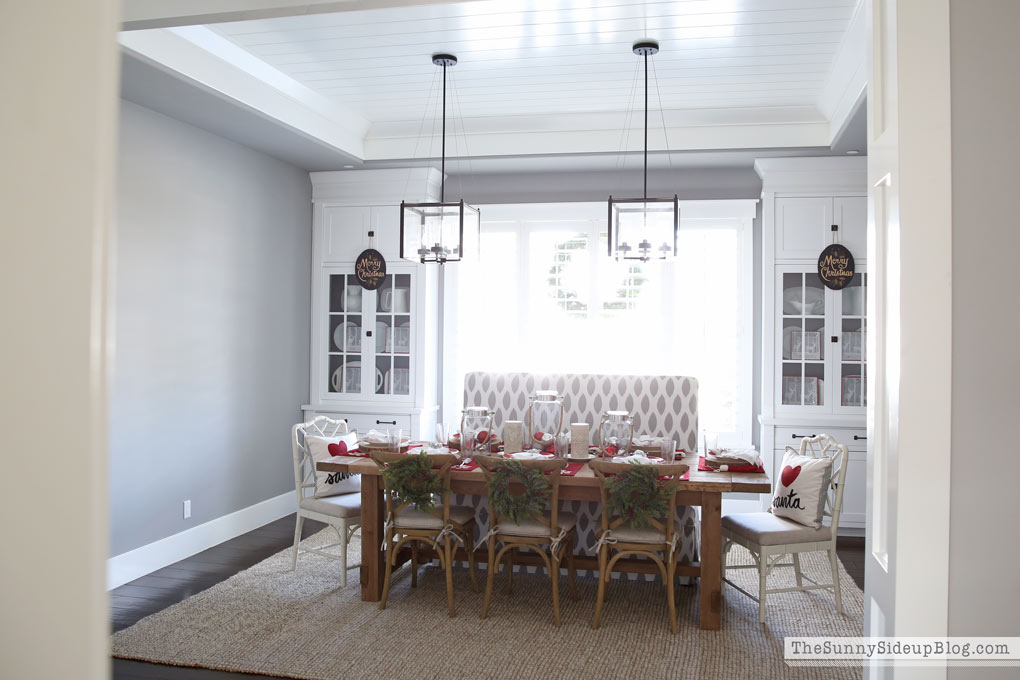 Happy Friday friends!  What a week!  I have been so busy with my kids' activities and trying to wrap up Christmas decorating and get pictures of everything.  I'm more than ready for a weekend!  Before we get this party started I just have to say that it was so fun hearing from so many of you for my planner giveaway (still one last day to enter!).  I loved hearing a little about some of you and seeing where you are all from.  ALL over!  It's just so cool.  We all live so far apart but are connected in our love for decor or organizing or fashion or family.. whatever you come to my blog for!  We're connected and I love that.  It's a small world after all.  (I've been to Disneyland this month.. can you tell?).  :)
Ok.  Let's get this party started shall we!?  To kick off my Christmas decor this season I'm joining 30 talented bloggers to bring you Christmas tablescape galore!  If you are planning on having a dinner party or just want to add some Christmas cheer to your family dinners or to a special Christmas Eve meal, look no further!  Huge thanks to Lory from DesignThusiasm for hosting our tour and rounding up this fun group of bloggers.  And if you came here from Heather's fun blog (Setting for Four) hello and welcome!
(*affiliate links used)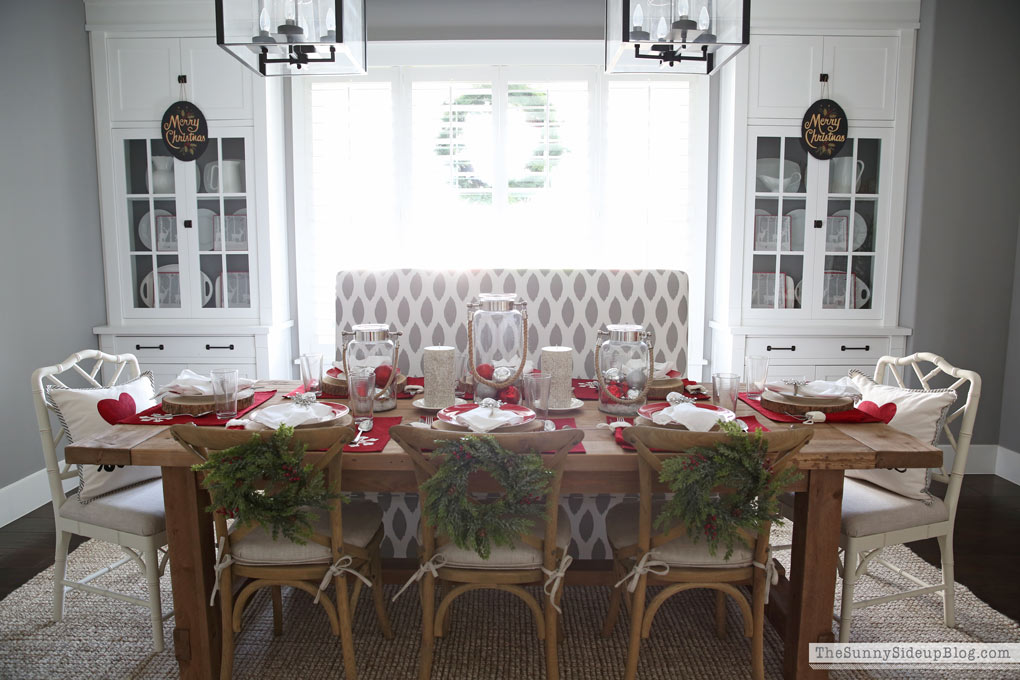 First things first.. I have a new dining room rug!  It's actually our old family room rug.  My all time favorite. :)  But it's new to this room so I'm calling it a new rug!  We ordered a larger size for the family room so I moved this rug into my formal dining room for a while.  You might remember from my Thanksgiving tablescape post that I used to have a yellow rug in this room.  I still love that rug, but this neutral rug works much better with all of my red for Christmas.  I'm loving the change for now!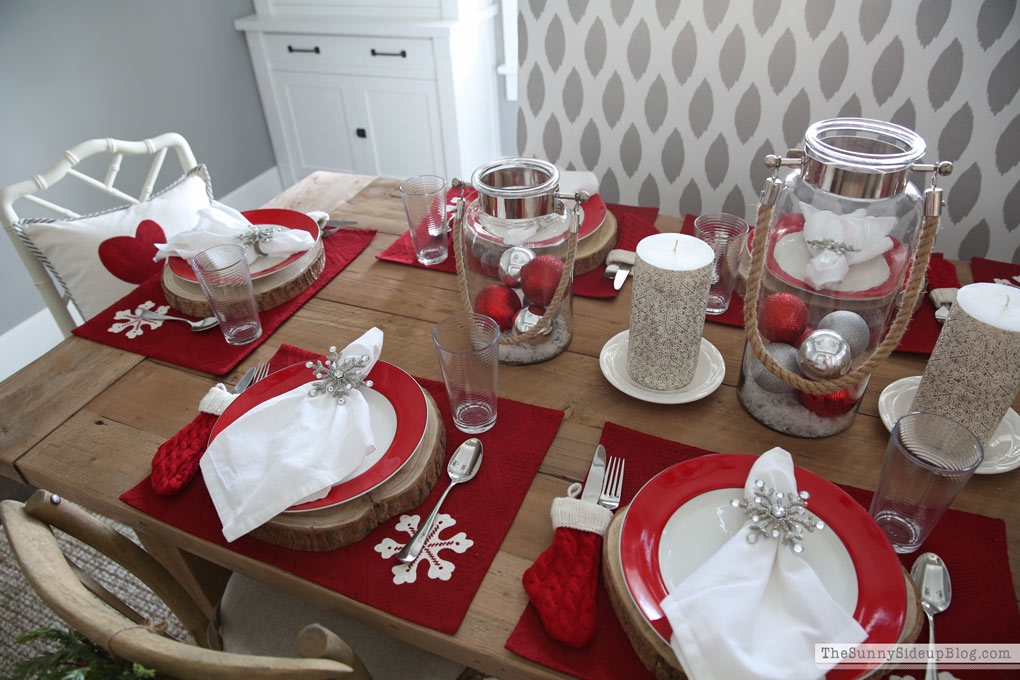 This table was so simple and fun to put together.  I bought the wood chargers for my Thanksgiving table and just added some favorite Kate Spade red plates and these cute stocking flatware holders.  So fun!  And three cheers for the fact that for this tablescape (unlike last month) I have enough flatware for all 8 place settings.  Ha!  ;)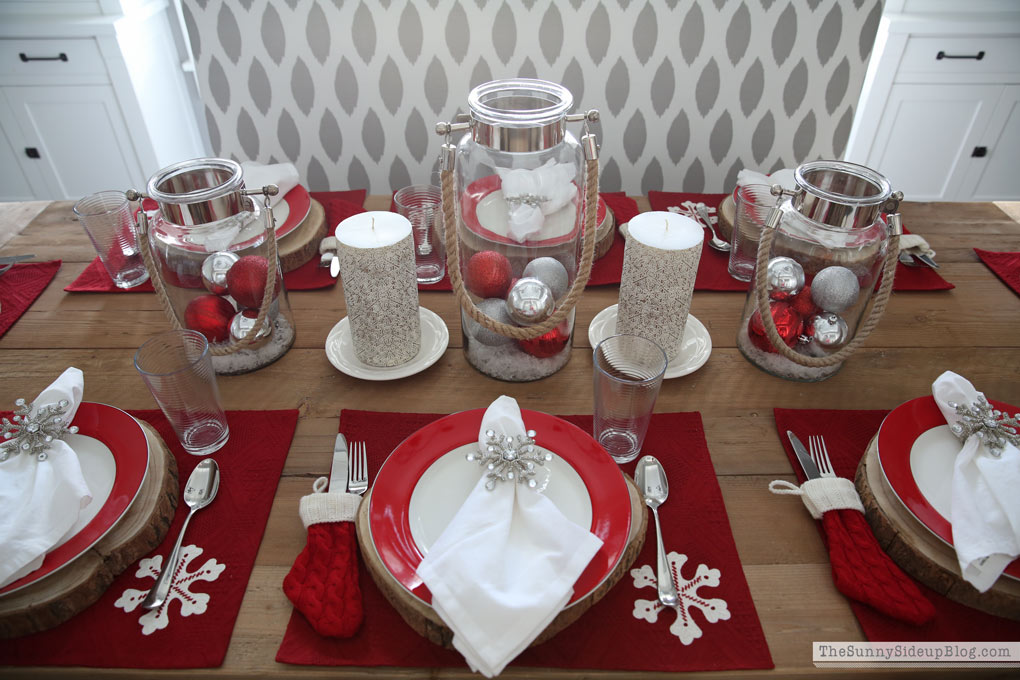 I also already had the snowflake napkin holders so when I saw these cute snowflake placemats at Target I knew they would be perfect!  #targetdoesitagain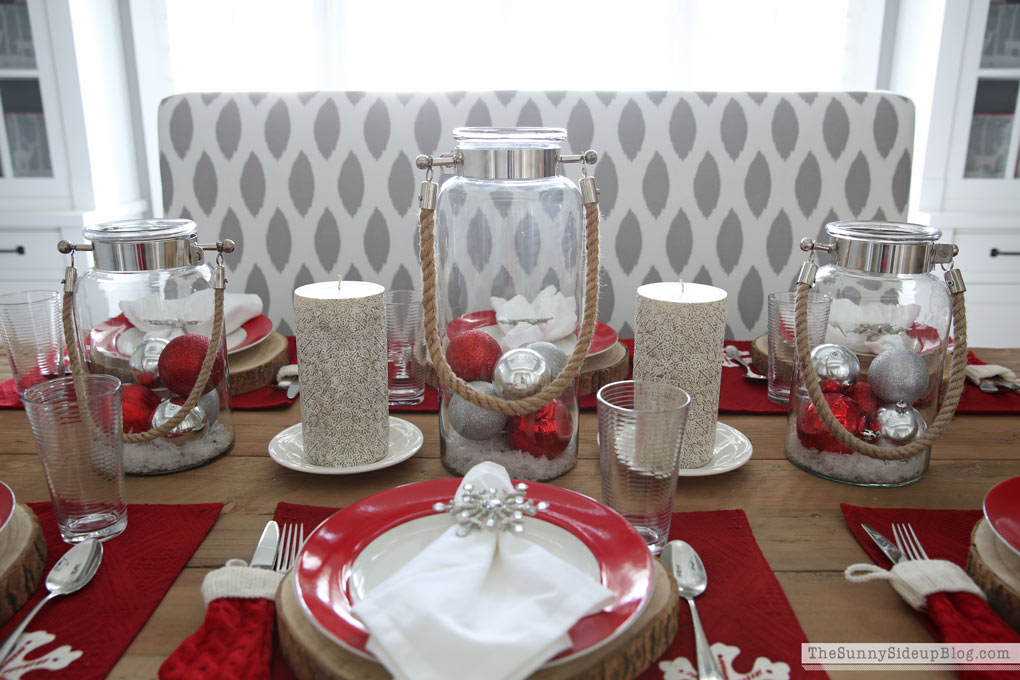 I used my favorite lanterns for a centerpiece and just filled them with some leftover tree ornaments and a little fake snow (closest we'll get to snow around here!).  You can see a variety of ways I style these lanterns here.  They are so versatile and have become favorite decor staples around here!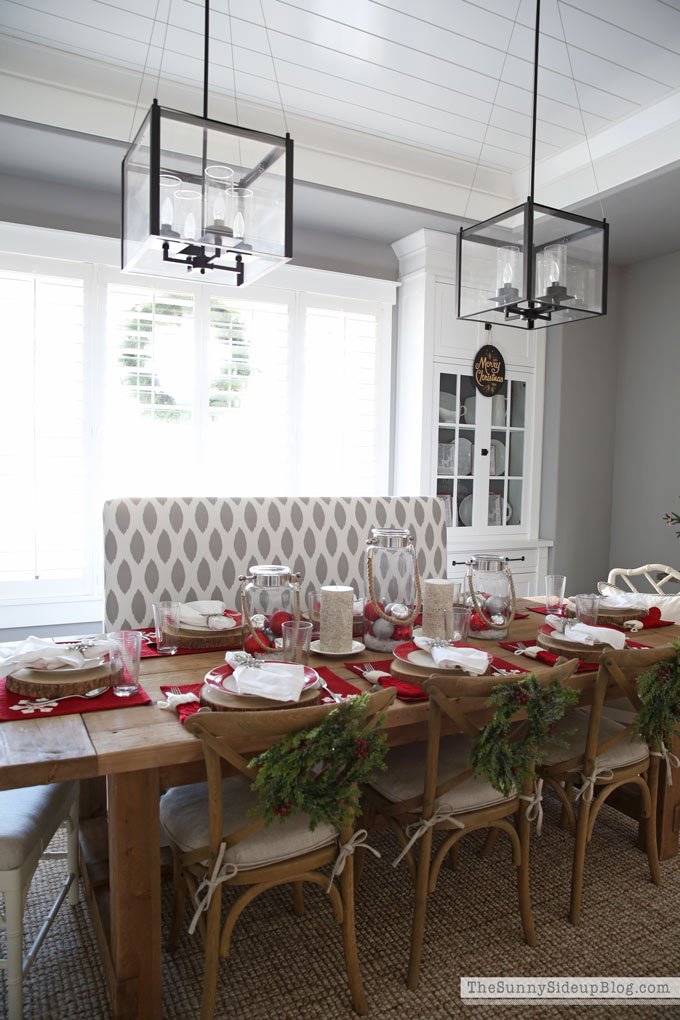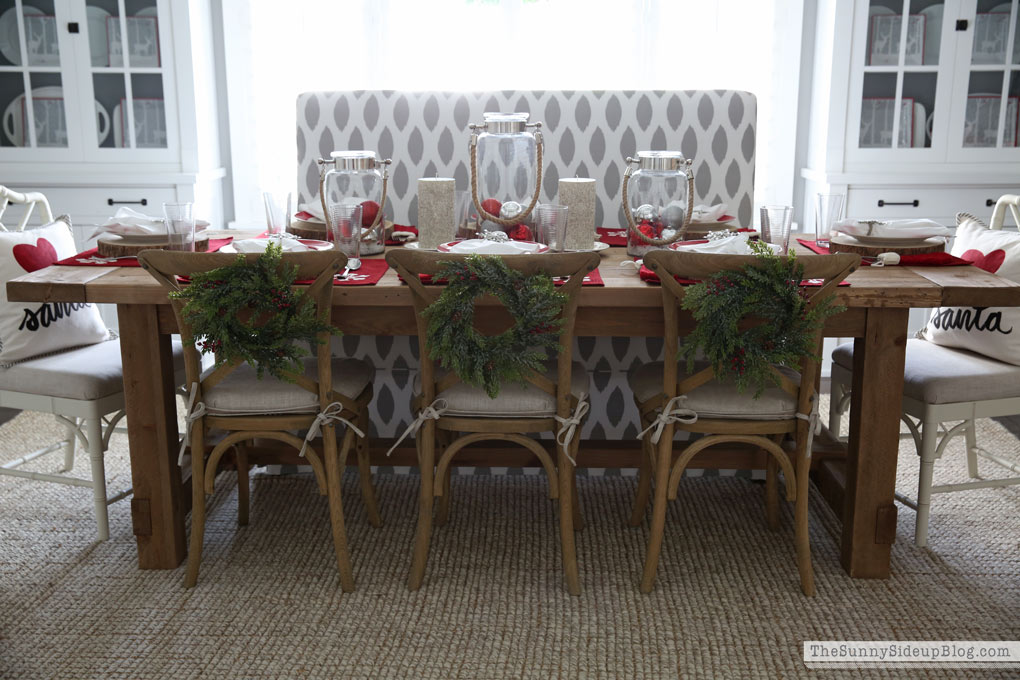 I also added wreaths to my three wooden chairs.  So festive!  Red decor and greenery just makes me so happy.  :)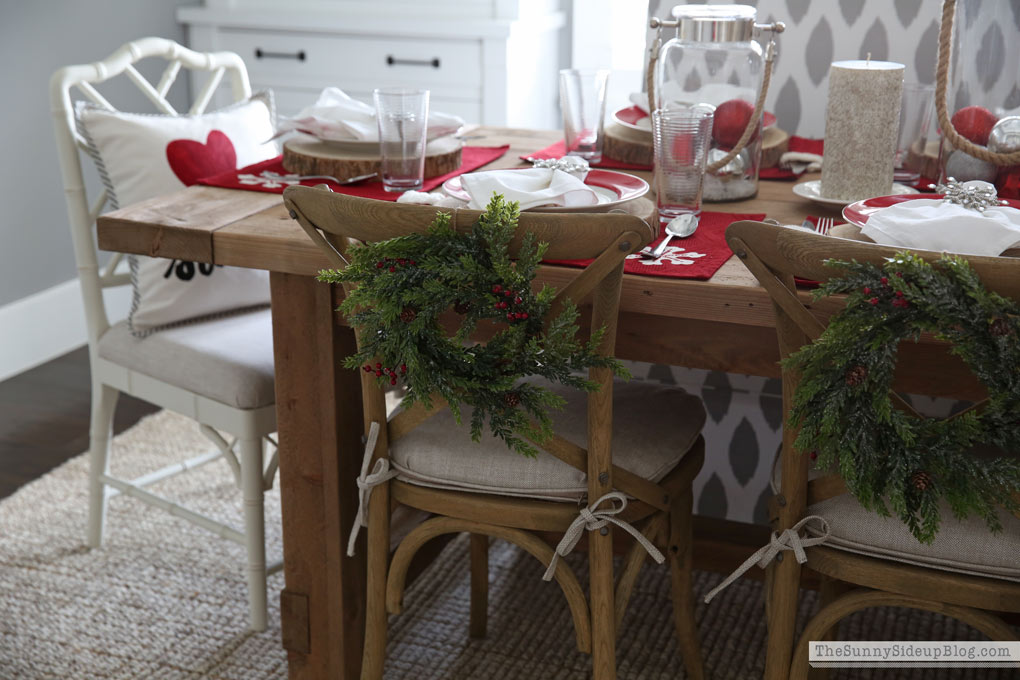 My regular readers know I'm a tad obsessed with Pottery Barn Christmas pillows.  Seriously can't stop buying them.. every year they come out with some that are even more adorable than the year before!  These cute heart Santa pillows were from their collection last year.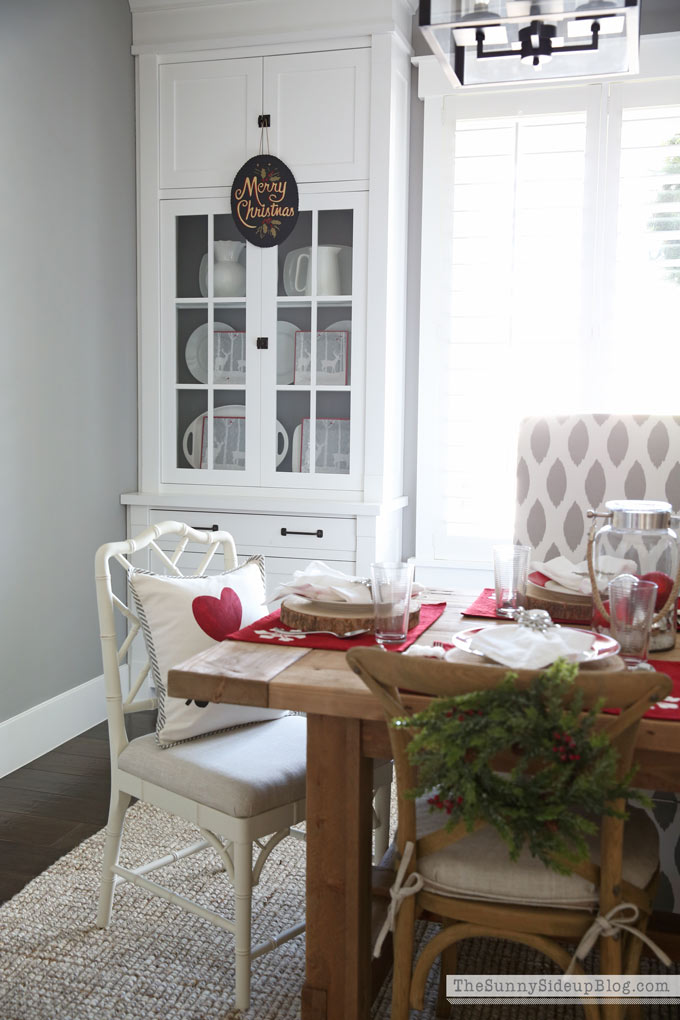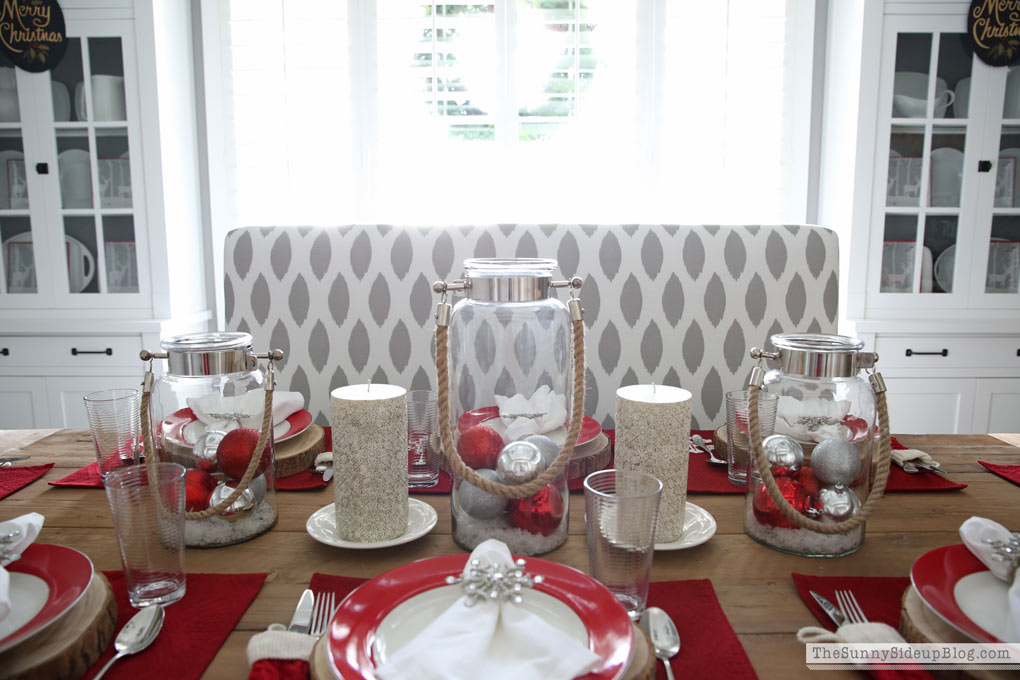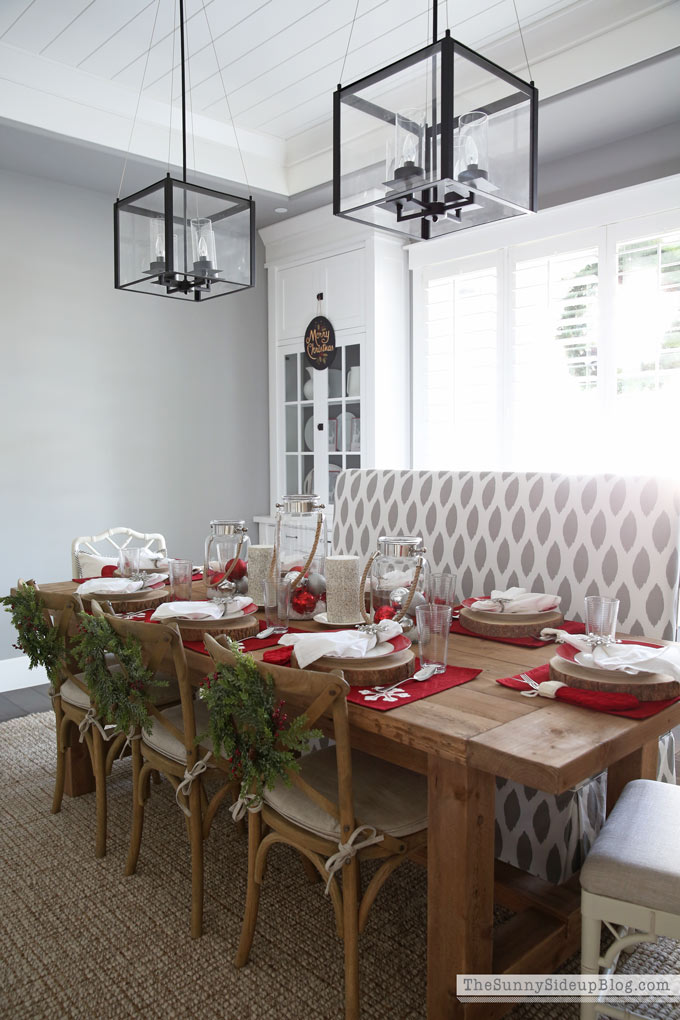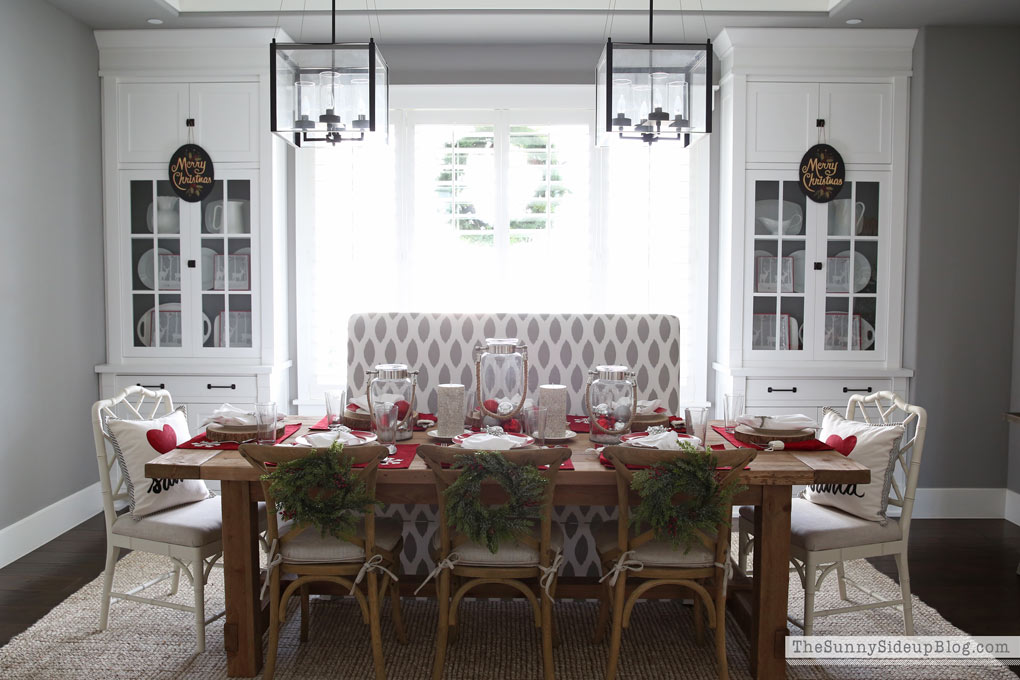 Table is set!  Time to party.  I'm having a few friends over next weekend for a Christmas pajama party and I can't wait to eat at this festive table.  As soon as I invited my friends one of them quickly volunteered to bring the food.  It made us all laugh.  They know me so well (and knew that if one of them didn't volunteer to cook I would have picked up salads and pizza).  I don't like the food part of entertaining!  I love to decorate and clean my house and have people over.. but the cooking?  Not my territory as most of you know.  Lucky for me I have friends who are amazing chefs.  I'll supply the cute Christmas table, the movie treats and the pajamas.  Of course. ;)
If you are stopping by for the first time make sure you sign up to be on my e-mail list!  I have an explosion of Christmas decor coming over the next two weeks and that way you won't miss a post!  I actually have more Christmas fun going on in this room that I'm excited to share soon. :)  Also if you are still looking for gift ideas I recently shared my annual favorite things post full of ideas for the whole family.  I hope it's helpful!  I thought I was done with my Christmas shopping but realized yesterday I still need a few more things.  I also realized yesterday that starting my Christmas shopping earlier doesn't necessarily mean I'll finish earlier.. it just means I'll buy more stuff.  ;)
Next stop is Shannon at The Wood Grain Cottage!  Then make sure to check out the rest of the bloggers sharing their Christmas tables!  Inspiration galore.  I always say that don't I?  Inspiration galore.
But it's true. :)
Enjoy friends and happy Friday!


If you missed Monday's posts:
Designthusiasm | Decor Gold Designs | My Soulful Home
Kelley Nan | Driven by Decor | The Enchanted Home
If you missed Tuesday's posts:
Shabbyfufu | CitrineLiving | French Country Cottage
Maison Decor | Sand and Sisal | Town and Country Living
If you missed Wednesday's posts:
Bless'er House | Cedar Hill Farmhouse | Design, Dining and Diapers
Maison de Pax | So Much Better With Age | Zevy Joy
If you missed Thursday's posts:
Ella Claire | Buckets of Burlap | Randi Garrett Design
Savvy Southern Style | Stone Gable | ZDesign at Home
Friday's Posts:
On Sutton Place | Finding Home Farms | Life On Virginia Street
Setting for Four | Sunny Side Up | The Wood Grain Cottage
xoxo, Erin