It's about that time friends.  Time for FUN mail.  Isn't getting the mail in December the best!? Whether it's Christmas decor I've ordered for our home, gifts being delivered that I've ordered for others on-line, or Christmas cards from loved ones, I can hardly wait for the mail to arrive this time of year.  Want to see some fun mail I just got this weekend!?
(*affiliate links used)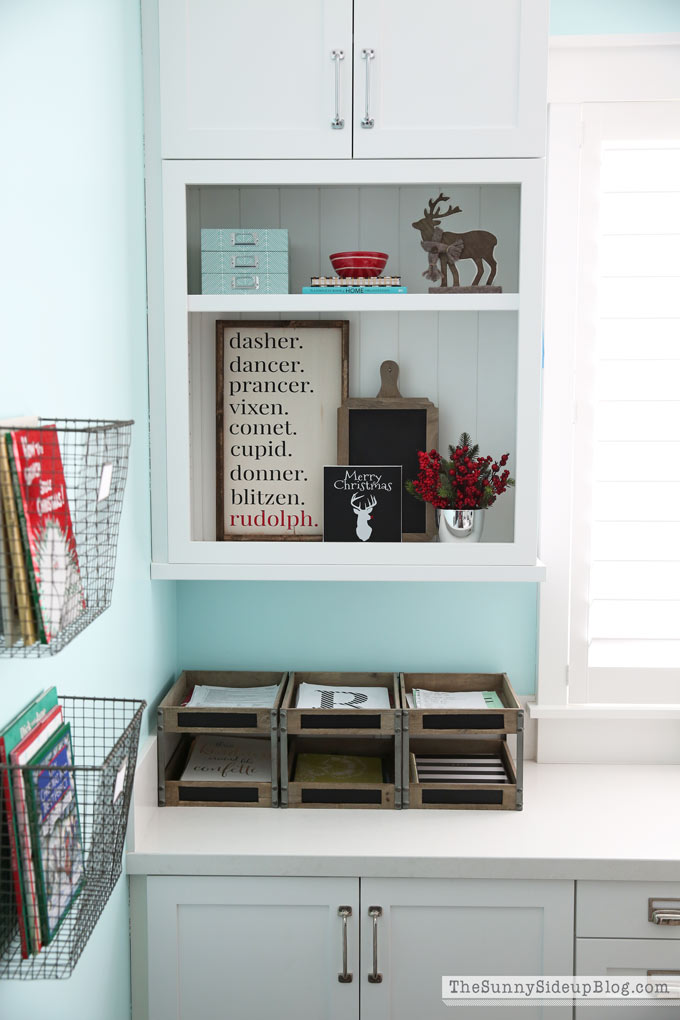 You all know how I feel about wooden signs.  Aside from loving the look/style of them, I think they are such a fun way to personalize your home.  Plus I love supporting small businesses!  Here is a peak at my office decor (oh yes.. we are decking ALL the halls around here this year). :)  My Rudolph sign came in the mail and I'm so excited about it!  I fell in love with this sign the second I found it on etsy.  It's from a shop called This Hand Painted Home.  I reached out to Taylor about this sign and she is an absolute sweetheart.  She has so many fun Christmas signs in her shop!  I wasn't sure where this would go when I ordered it, I just knew I had to find a spot for it somewhere.  It looked so cute and festive everywhere I put it, but this spot in my office won.  It just makes me smile every time I walk in this room!  Plus it was a big hit with my kids.  Huge Rudolph fans around here. :)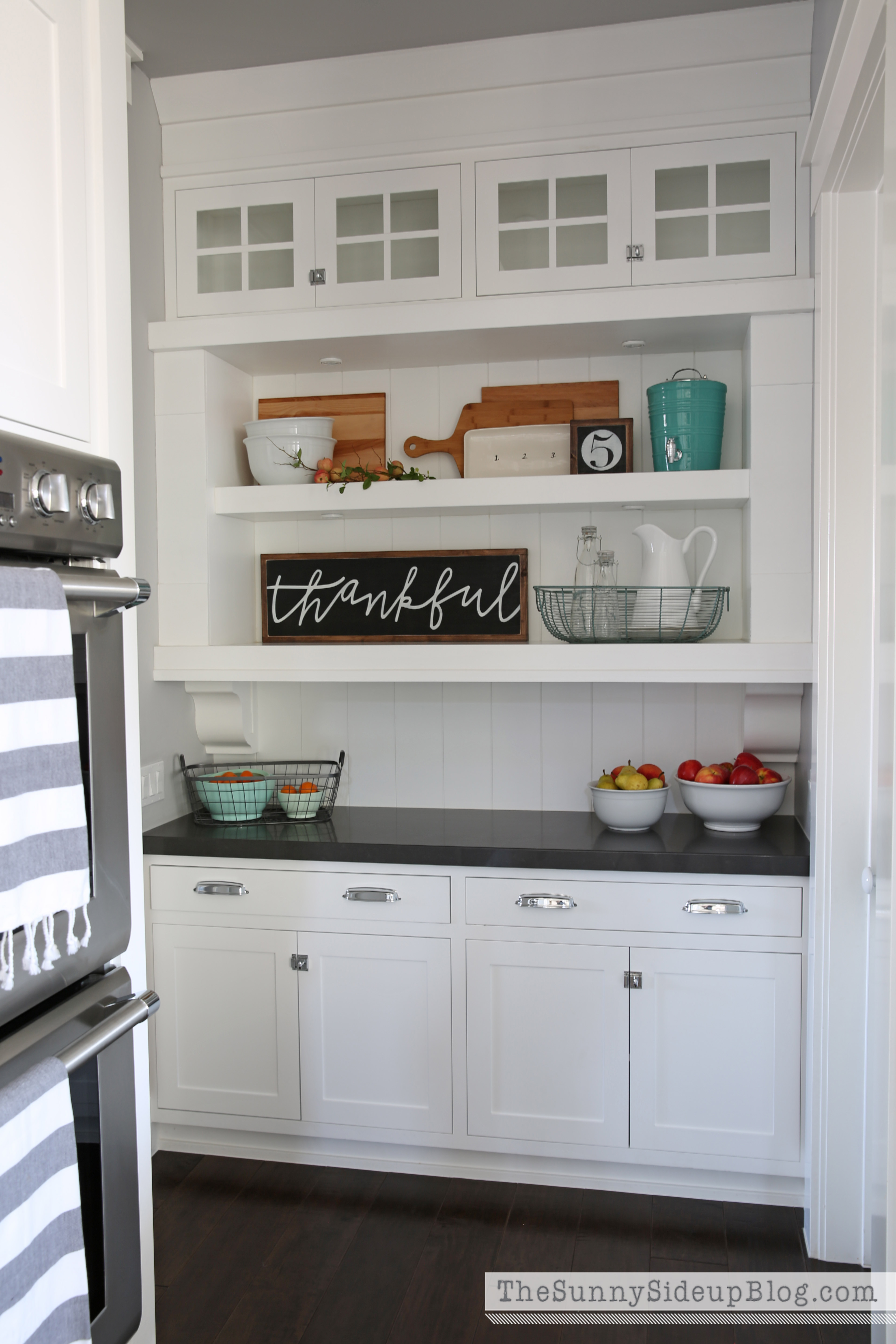 Remember my Thankful sign?  One of my all time favorites.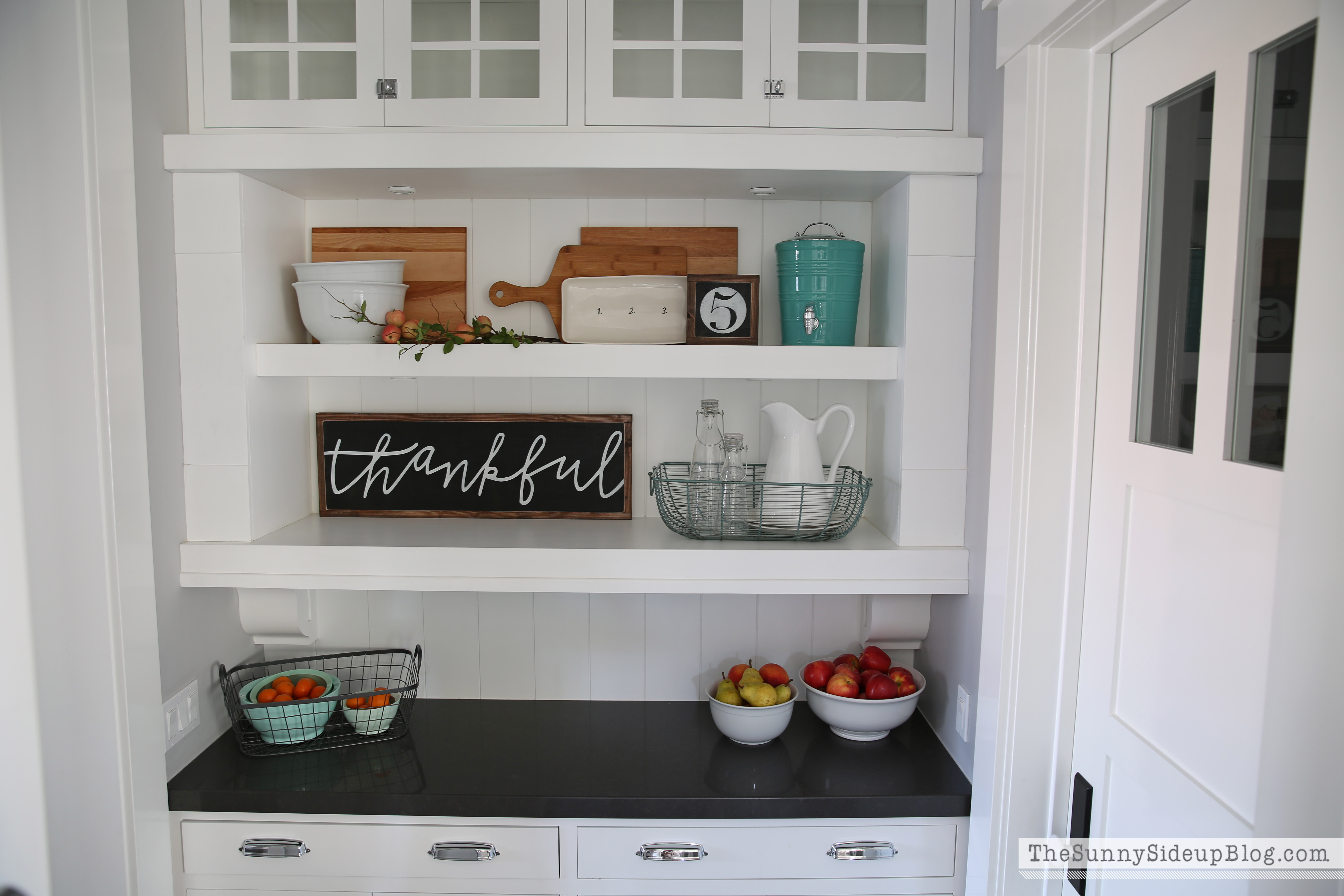 When I was switching from Fall to Christmas decor in my butler's pantry I thought it might be fun to mix things up with a sign that was a little more well.. Christmas.  Not that we aren't thankful at Christmas, but you know what I mean. :)


I reached out to the incredibly talented Caroline at Vine and Branches and before long had this beauty on my doorstep!  Isn't it perfect!?  Here's a closer look..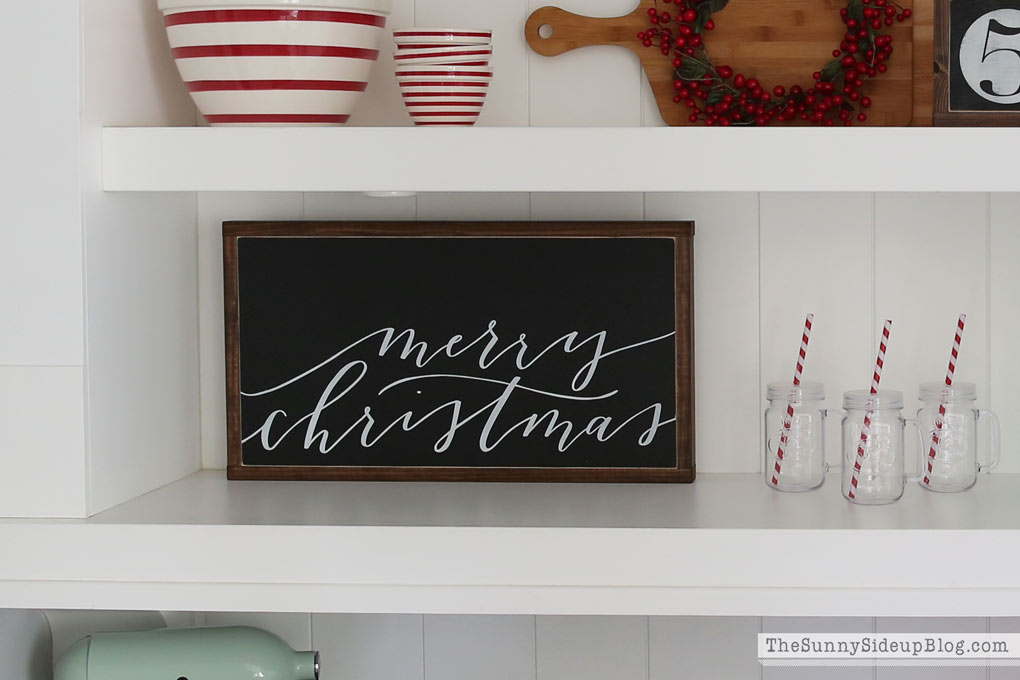 (You can find my red striped bowls here and here)
This sign also comes with a red background, or white with black words.  I'm partial to the black with white words and couldn't love it more!  Caroline will be re-stocking her signs at some point soon so check in with her shop!  Everything she sells is beautiful and amazing quality.  Love Vine and Branches!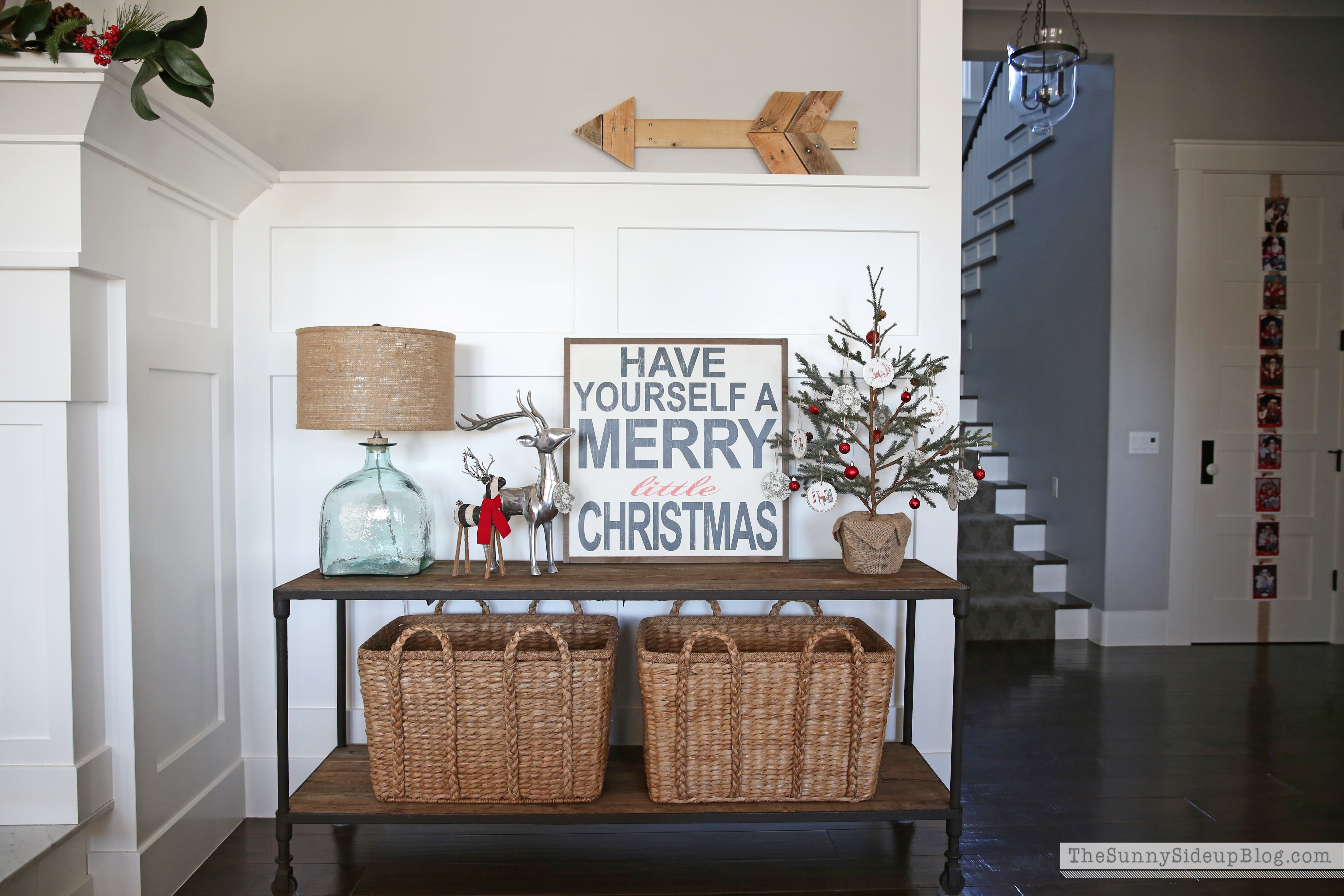 K – one more!  Do you all remember my beloved Have Yourself a Merry Little Christmas sign from last year?  One of my all time favorites and I was so excited to pull it out again this year.  Tara, who owns the shop Between You and Me Signs, is another favorite who I love to work.  When I needed a new custom Christmas sign for the spot over my TV in my family room entertainment center I knew just who to call.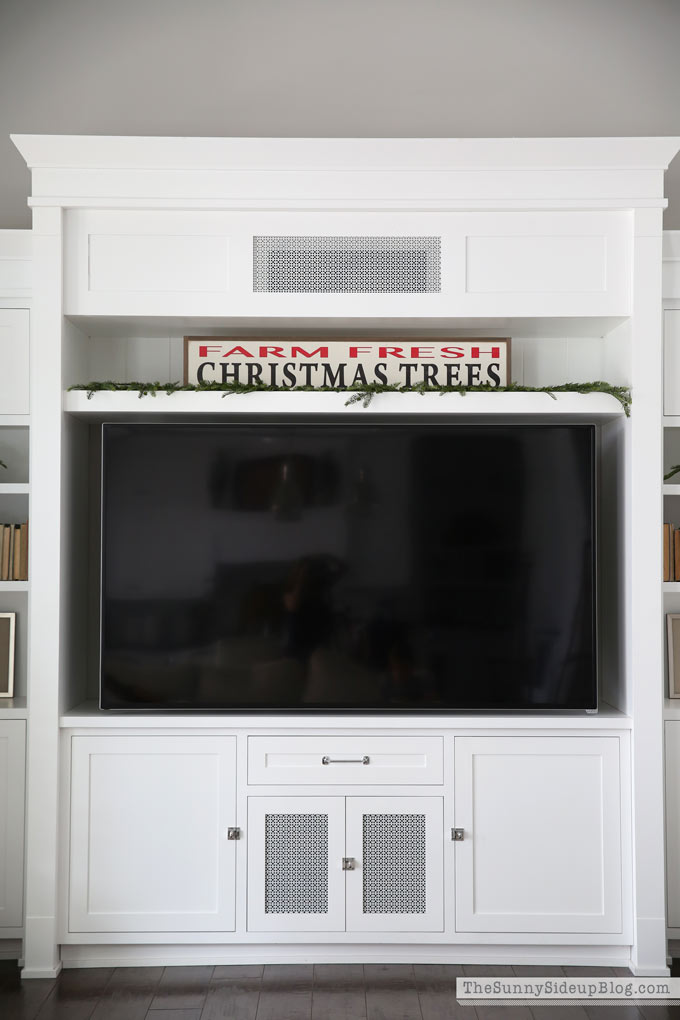 And the two of us came up with this!  I had a sign that said Farmers Market there before, so I decided to go with Farm Fresh Christmas Trees.  I knew I wanted a pop of red in this spot and I love the way my sign turned out!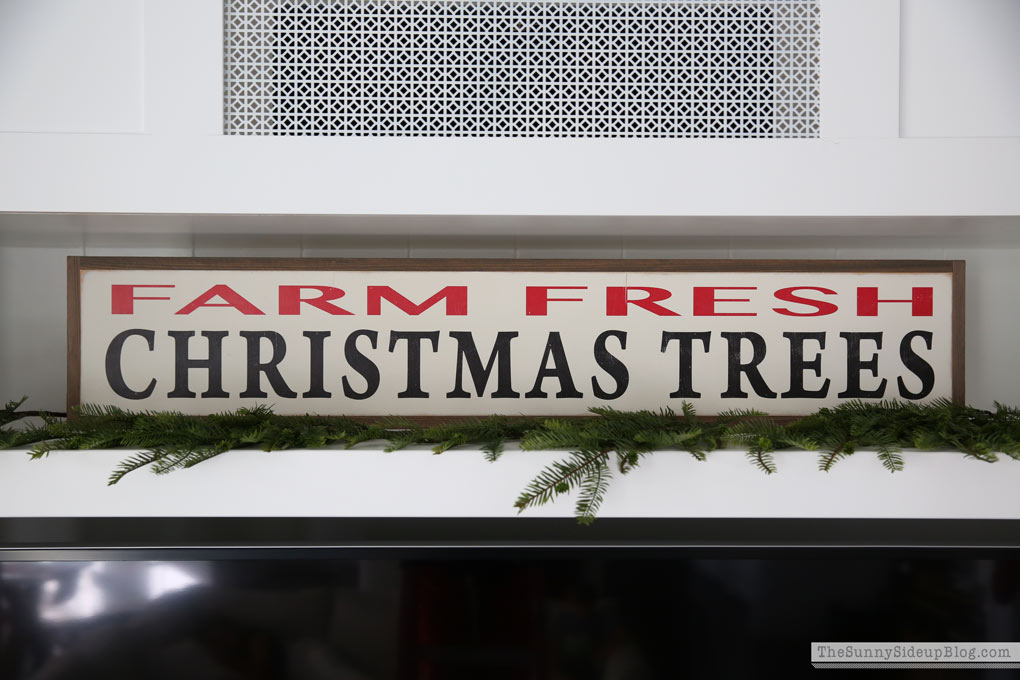 Here's a closer look (the rest of the room is coming soon!). :)  So much fun for Christmas!  Tara now has my custom sign in her shop!  Honestly everything in her shop is amazing.  I could seriously buy one of everything she makes.   Ready for some good news?  Tara is giving my readers 20% off!  Anything in her shop!  Use the code CHRISTMAS20 when you check out.  Just remember you have to order by 12/3 to receive it before Christmas so if you want to pick up a sign for your decor this year or for a loved one for Christmas, don't wait!  You can see all of her signs and order here.  Thank you Tara!  Love my new sign.  And my old sign. :)
So yeah.. like I said.  Fun mail lately!  I'm excited to start getting some of the gifts I ordered for my family this past weekend in the mail.  SO many crazy good deals.  I haven't stepped one foot in the mall this weekend and haven't missed the crowds at all. What did we do before on-line shopping!?  Thank you for your kind e-mails/comments about my annual Favorite Things post btw!  I'm so happy that helped some of you with gift ideas this year!  Don't miss the sales today for Cyber Monday.  Some of the best I've seen!  I'm up way too late finishing up my Christmas shopping tonight but I know things are going to go so fast.  Here are a few things I love on sale and a few things I just snagged before they sell out!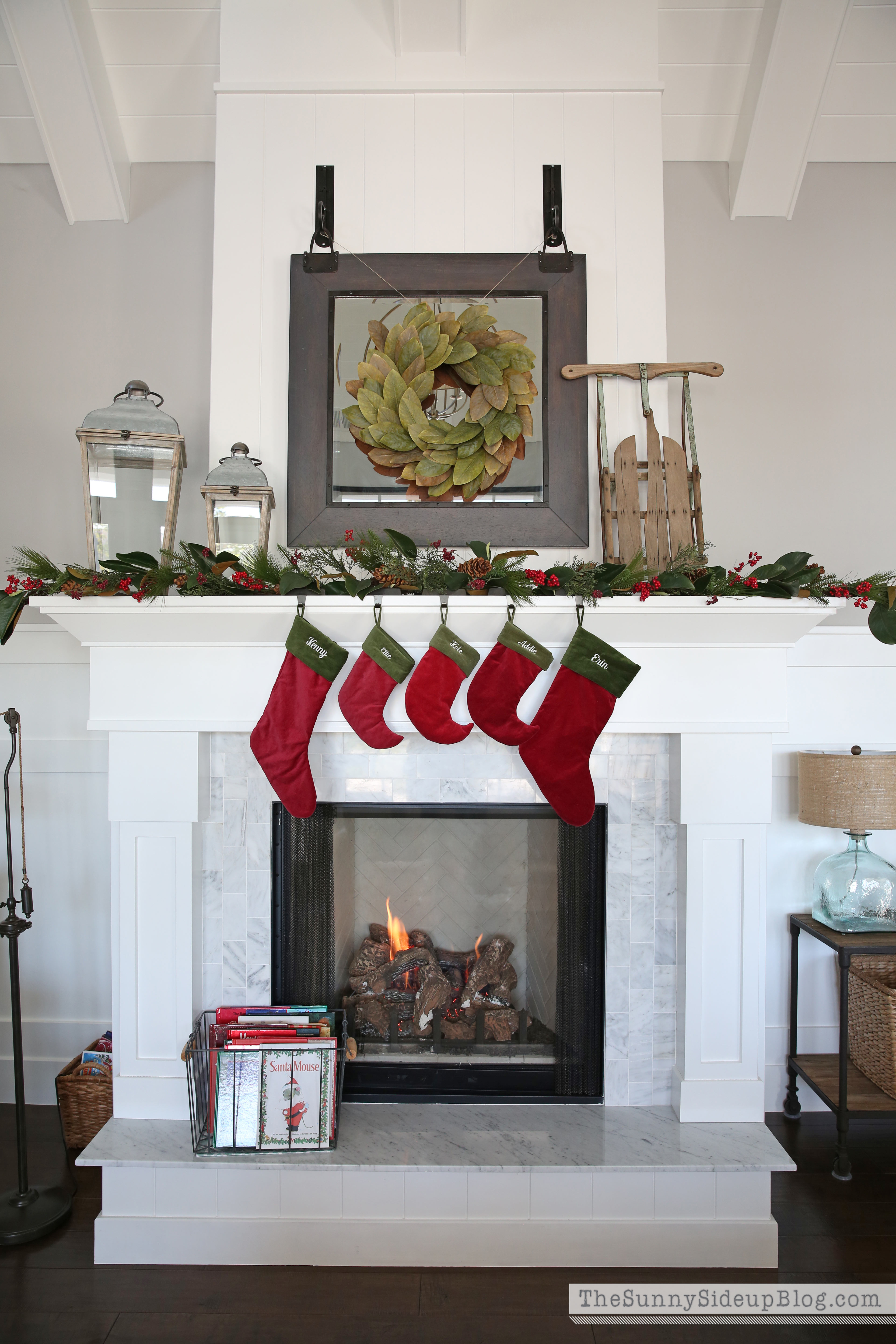 My husband started checking out Amazon and Best Buy while my first stop tonight was Pottery Barn.  Of course it was.  ;)   Our stockings are on sale for only $12.99!  That is the cheapest I've ever seen them.  All of PB's stockings are marked down so low.  Our matching tree skirt is also on sale.  Long time favorites.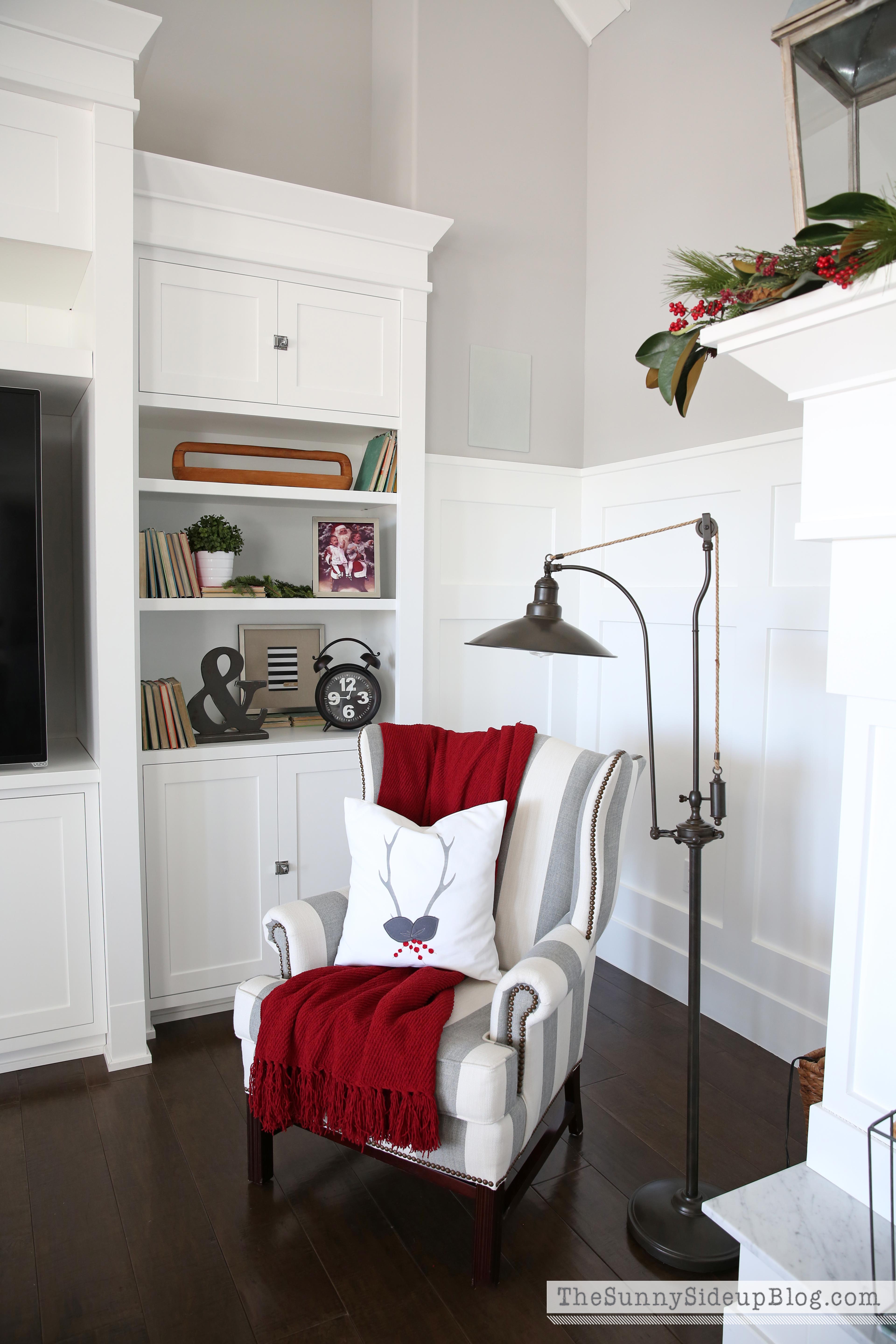 My Thatcher chair is also on sale!  I get a lot of questions about this chair.  I don't think the striped fabric is available anymore but you can get it in a variety of solid colors.

Also if you scroll through their pillow section some of their Christmas pillows are marked down too!  I really wanted to pick up this one (so cute and only $20!) but I held back.  I've got more PB Christmas pillows than couches and chairs to put them on!  The struggle is real.  ;)  Here are a few other small things I picked up tonight for gifts for my husband and a few other people on my list..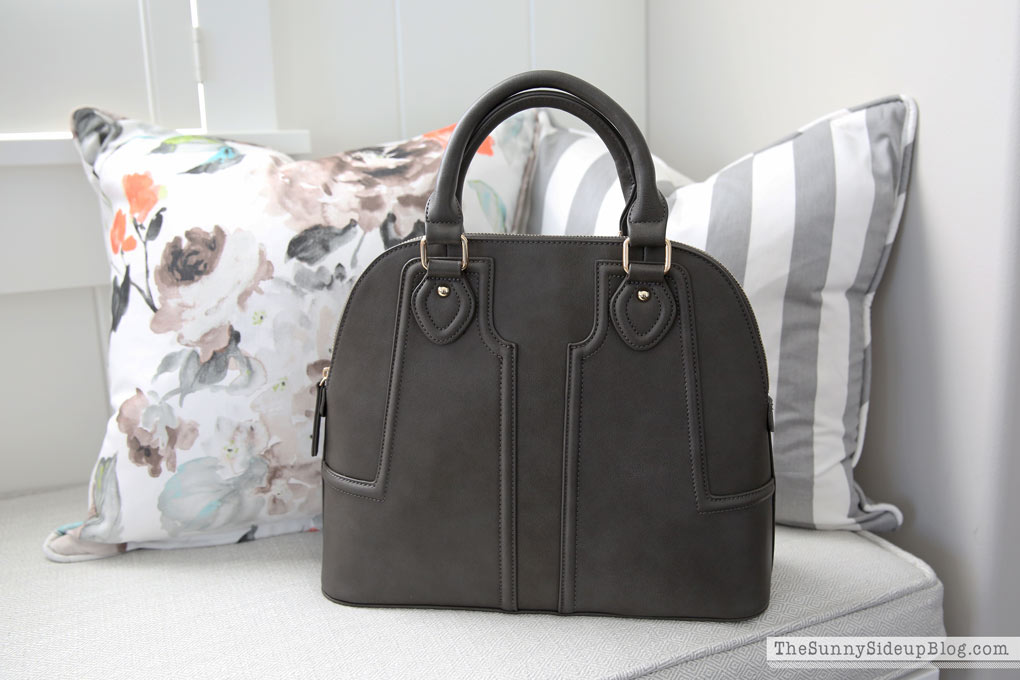 Everything at Sole Society is 30% off including two of my favorite purses.  This Marlow purse and my Johnson purse from last year.  Really cute bags.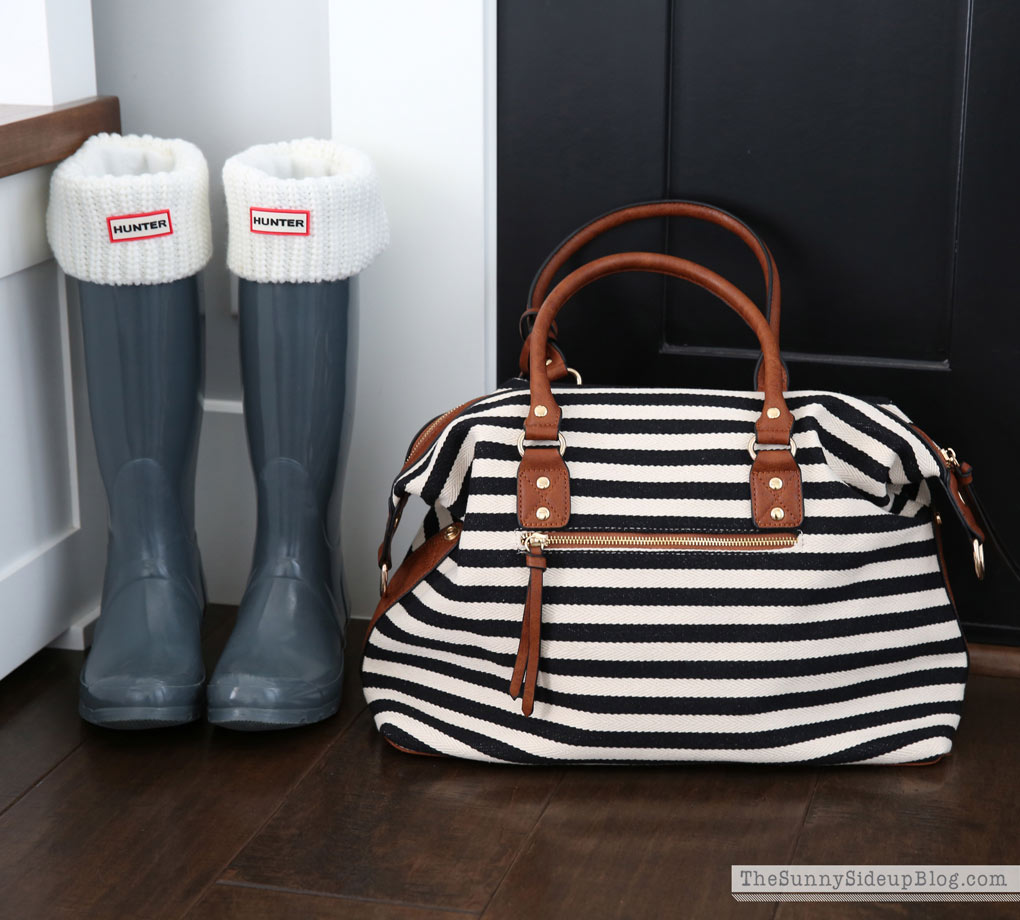 Nordstrom has marked their sale items down even more for today!  Such a crazy good deal on Hunter boots and Hunter socks!  I actually got to wear mine this weekend.  We drove home from Thanksgiving in Utah in so much rain and it hasn't let up since.  We are loving it!  We really need the rain around here.  I also picked up a couple of cute tops, etc. that are marked down so low I can't believe it..

Banana Republic and Gap both have 50% off of everything in their store today!  I just ordered this cute Cable Crew Sweater and a few things for my girls.
And last but certainly not least.. I had to pick up one of our all time favorite holiday treats while it's on sale!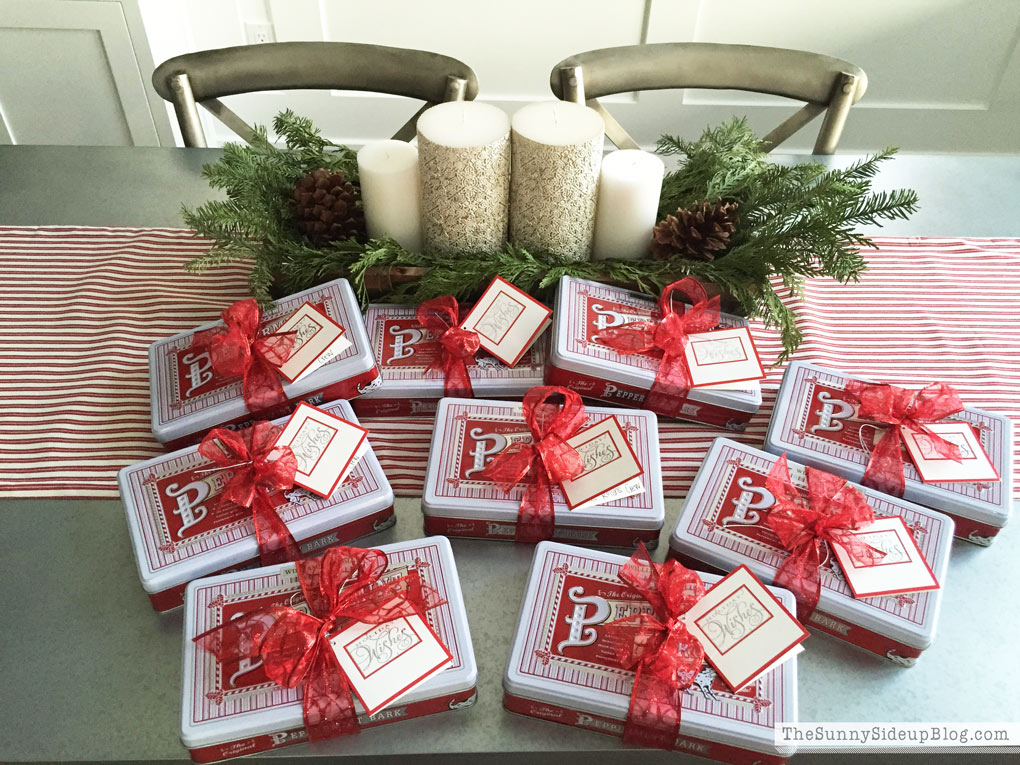 Williams Sonoma Peppermint Bark.  A bit of heaven on earth!  One year I waited for this Black Friday/Cyber Monday weekend for it to go on sale and bought a bunch to give to friends/neighbors.  Ever since then my kids request a box for us to eat every year.  It really is so delicious!
Talk about happy mail.  :)
All right friends!  Happy on-line shopping today!  I have a couple more posts with favorite things this week and then this blog is going to be all about decor for a while.  Halls are decked and I can't wait to show you.
:)
xoxo, Erin