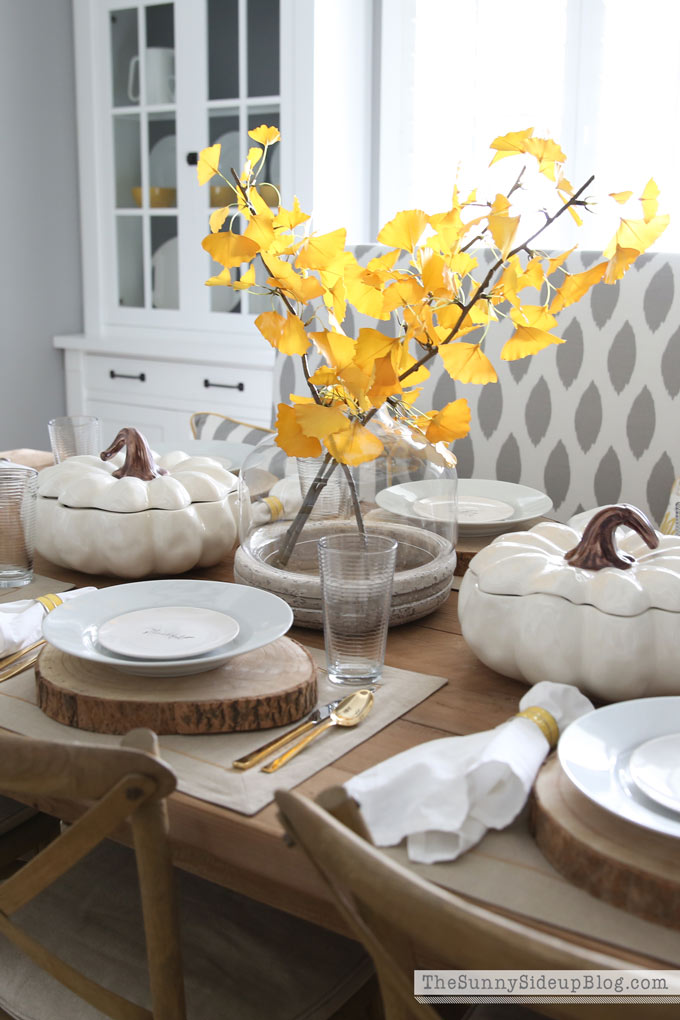 Thanksgiving friends.  Let's do this!  I'm so excited to be joining a group of 29 talented bloggers who are all sharing unique and beautiful ideas for Entertaining this Thanksgiving.  This tour has been going on all week and I have loved seeing all of the stunning table decor!  So many different styles – you're sure to find something that speaks to you.  Huge thank you to Lory from Designthusiasm for rounding us all up and organizing this tour!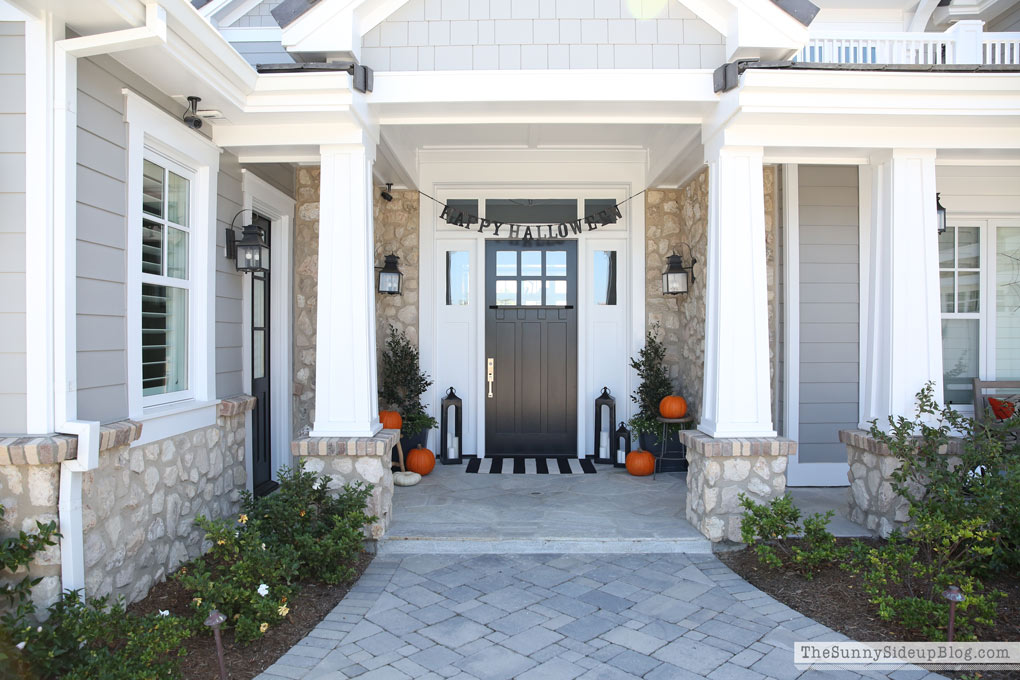 If you happen to be stopping by my blog for the first time hello, welcome and come on in!  Sunny Side Up is my happy place where I share my obsession with decorating, organizing, fashion, favorite things, family.. and anything in-between. :)  We have been in our new custom home that we built for three years this month.  In some ways I still feel like we're just moving in!  In other ways this house has always been home.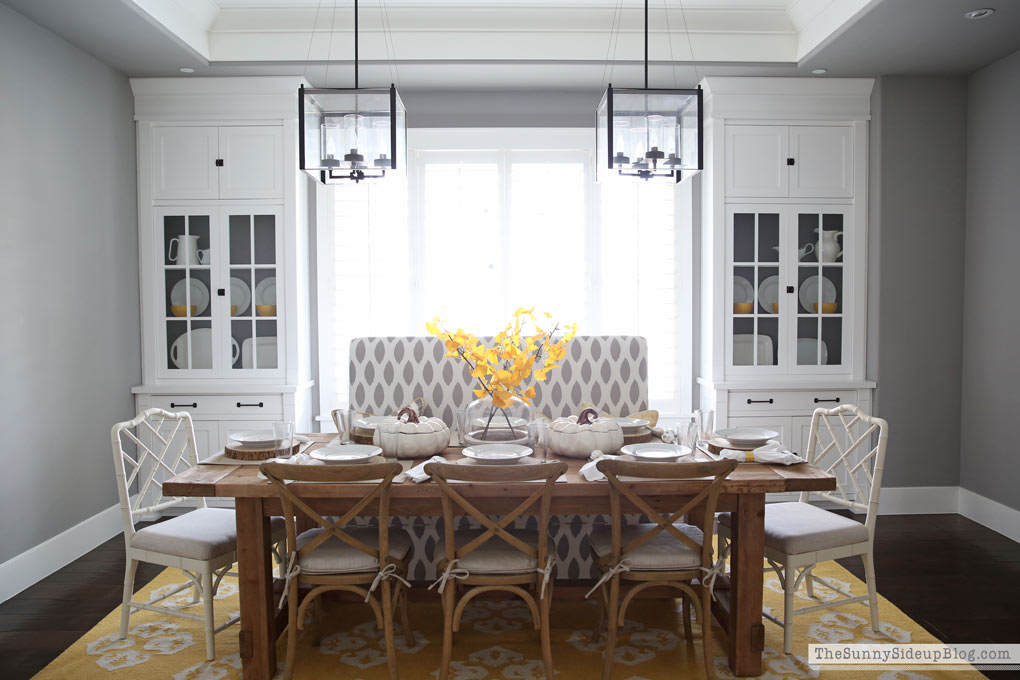 Our formal dining room is still a work in progress.  I'm hoping to finish this space in the new year.  It needs a buffet table, wall decor and at some point I'm going to get serious about those built-ins and actually style them.  They are just holding left over dishes at this point.  But we have a table.  And chairs!  Which I mixed up a bit for now by pulling the two end chairs from my master bedroom for fun.  I kind of like it!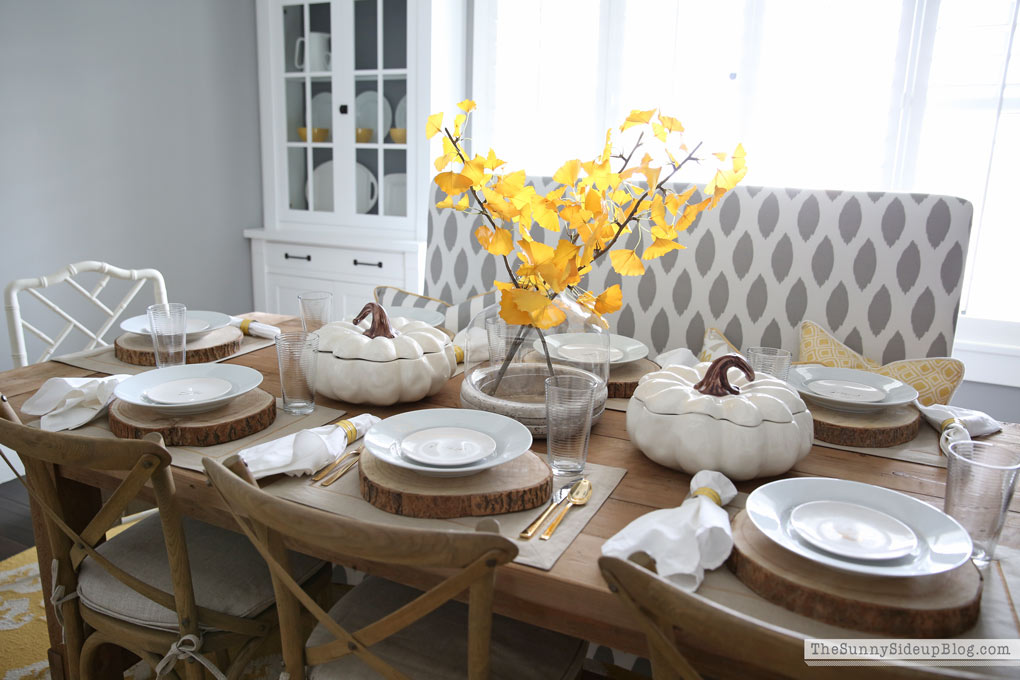 To be honest we didn't do a lot of entertaining in our previous house (other than BBQ's and pizza night) because we didn't have the space for it.  Now that we are entertaining more in our new home I'm slowly adding to my dishes and entertaining accessories.  Each year I buy a few new things.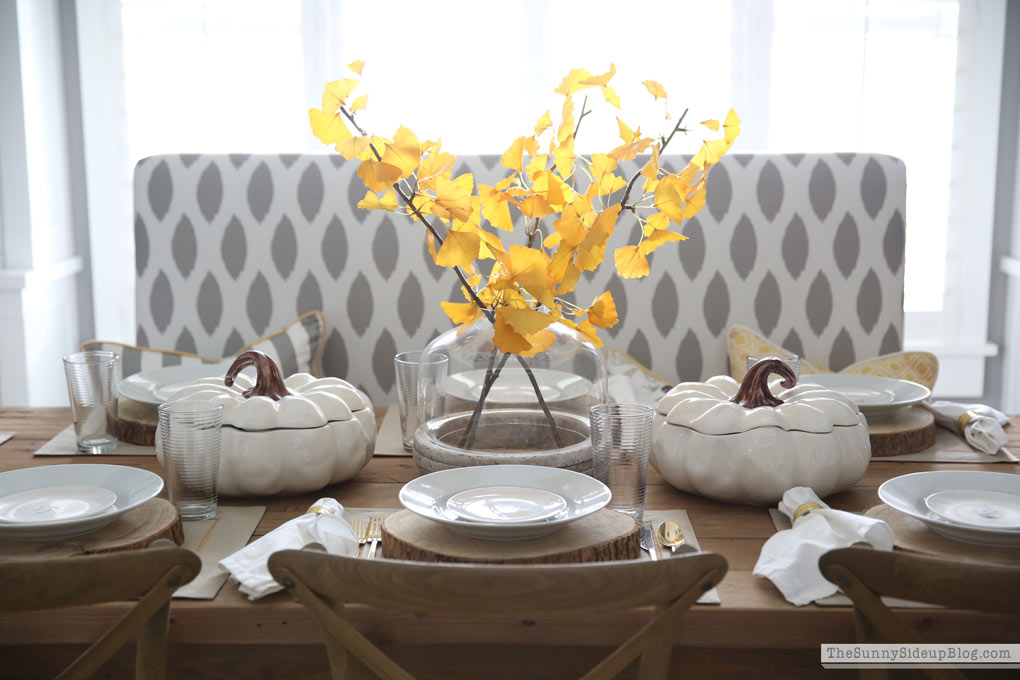 Last year I found these fun pumpkins (similar here) and this vase and yellow flowers for a Fall centerpiece.  I don't love to cook (old news to those of you who know me!) so my tablescapes tend to be like the food I serve.  Very simple. :)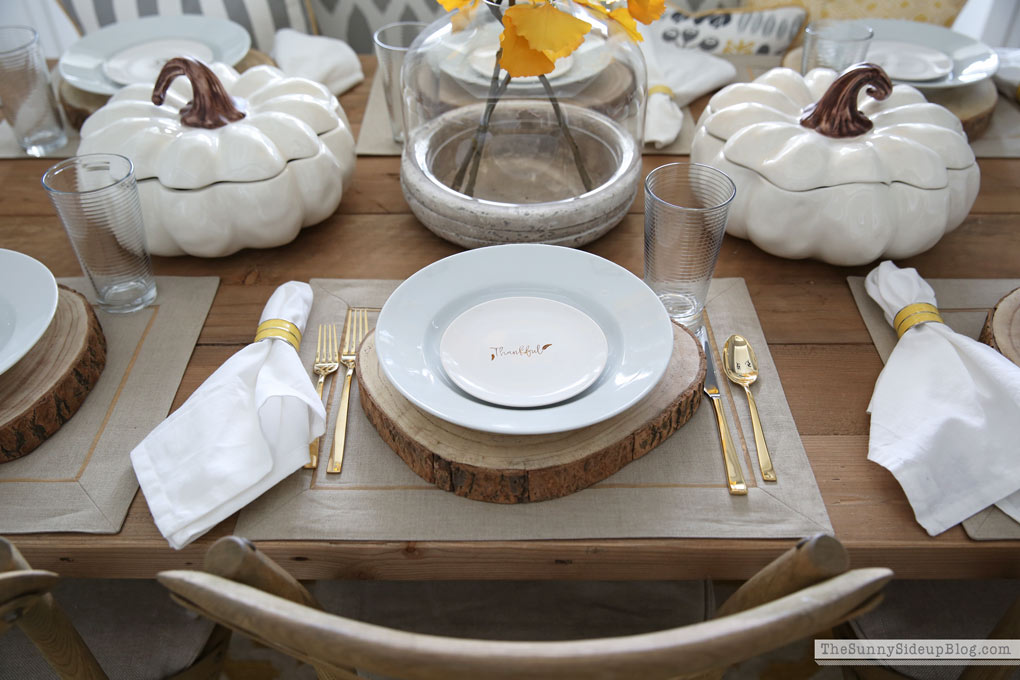 The placemats are new from Crate and Barrel and I also bought these beautiful round wood slices to put under my plates.  I love them!  They add so much texture and warmth and will work year round with different table settings.  The cute little appetizer plates are also a new fun addition I recently shared in my Nordstrom favorites post.  They say Thankful..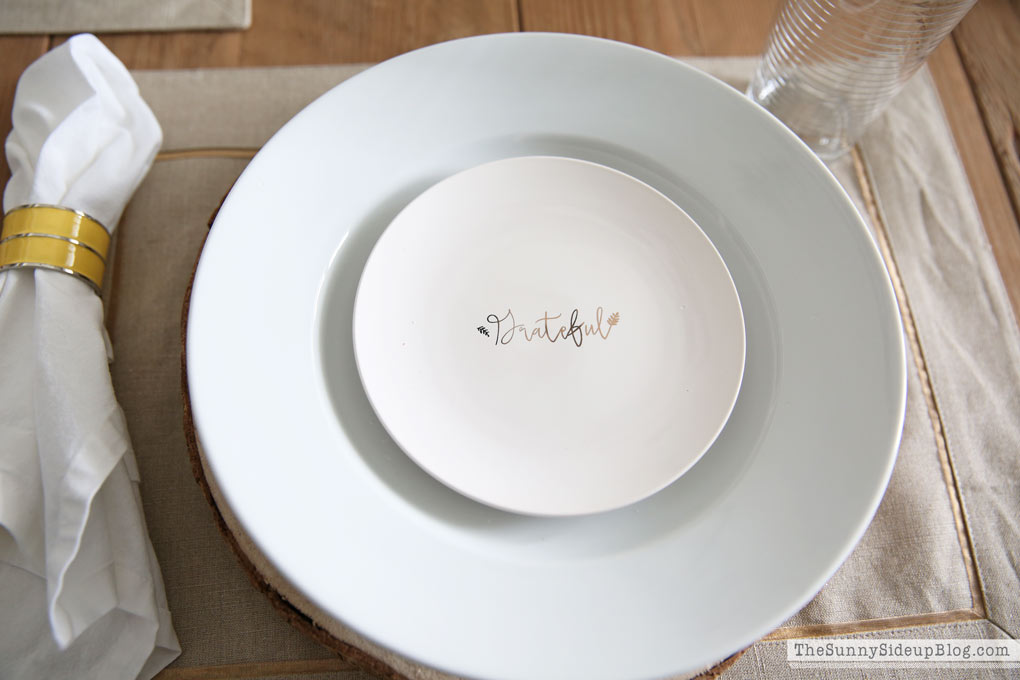 Grateful..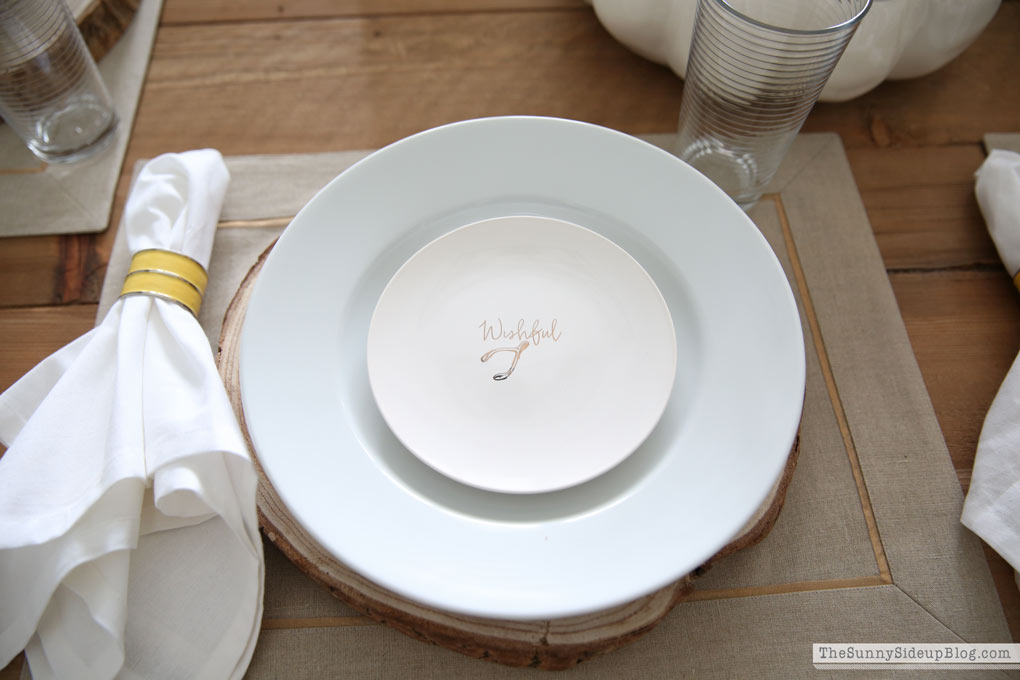 Wishful..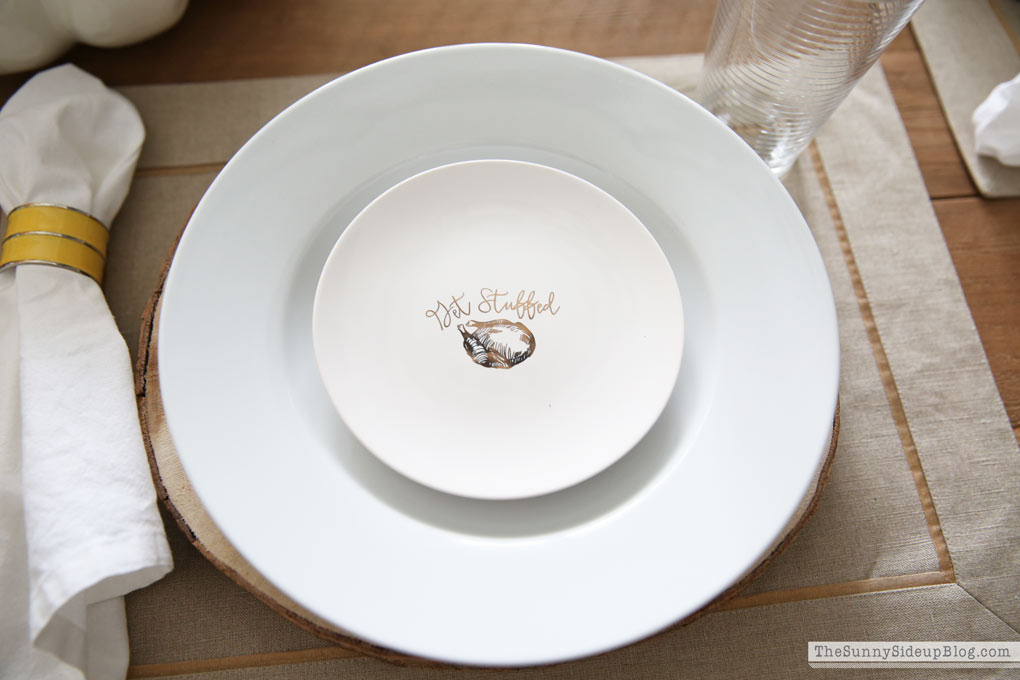 and my personal favorite.. Get Stuffed.  :)  You might be wondering why you can only see one set of flatware at my table.  Well.  I'll tell you.  So I walk into Crate and Barrel the other day to look for placemats and while I'm there I see this gorgeous gold flatware.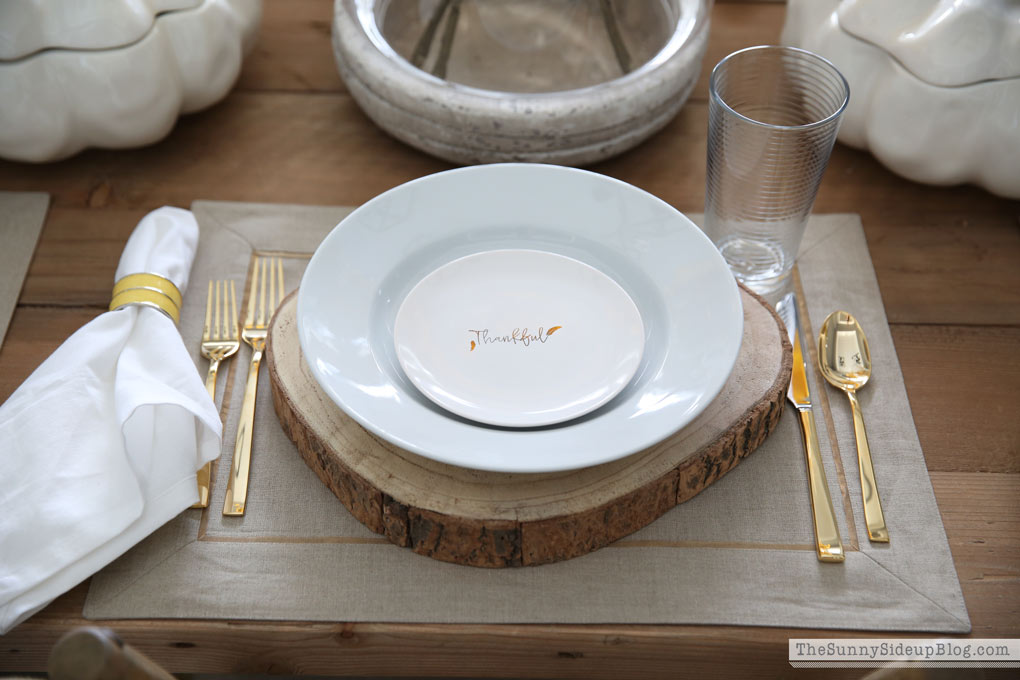 Our silverware is pretty hammered (my husband and I have had it for the almost 20 years we've been married) so I decide it's time to get some new flatware.  I'm thinking.. Isn't this gold beautiful!?  It will be perfect for any dinners we host.  Just for special occasions!  I get all excited, talk to the sales lady and she tells me they come in sets of 5 so I think ok.. I've got 8-10 place settings at my table so I'll take 2 (for a total of 10).  I'm rushing because I have my kids with me and they need to be somewhere so she gets them and puts them in a bag with my placemats and I'm out the door.  La la la.. so excited about my new flatware.  (Which btw cost MUCH less than I thought it would.. but she had mentioned it was on sale so I'm thinking what a great sale!  Score.)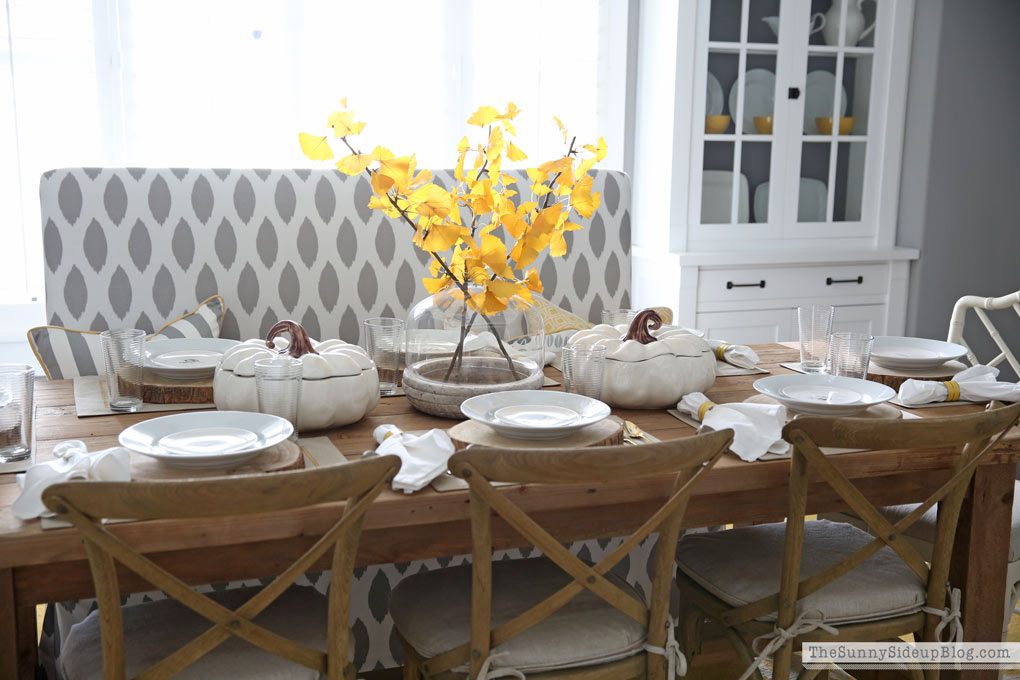 Today I'm finishing up the table so I can take pictures for this post and I get out my Crate and Barrel sack and inside are two small boxes.  Hmm.. there should be more in here…  I pull out the flatware and there are 2 sets of 5.. and by 5 she meant 1 knife, 2 spoons, 2 forks.. a set of 5.  Ahhhh.  I had to laugh at my air head mistake!  Seriously can't believe I did that.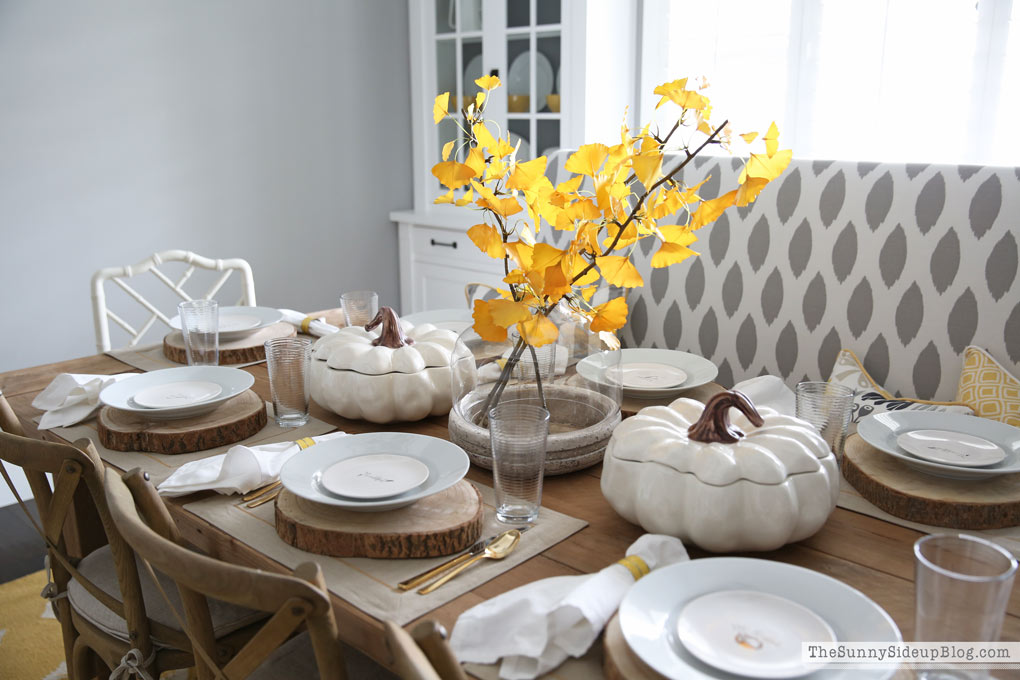 Actually I can.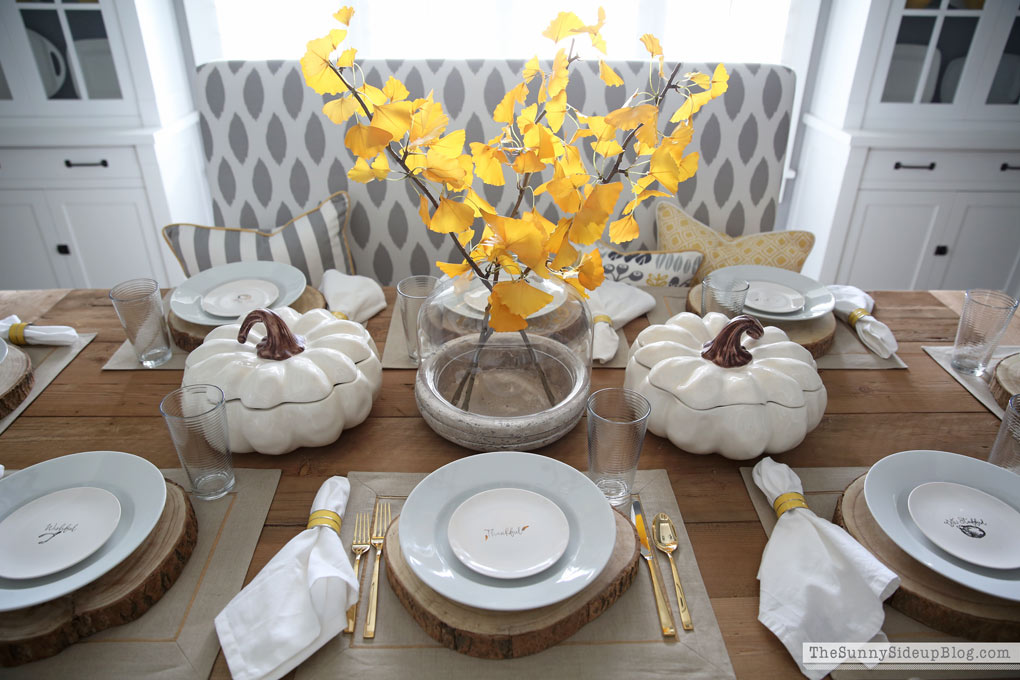 I didn't have time to go back for the rest before this post needed to be done so that's why you see only one set of beautiful gold flatware.  The other set is on my kitchen counter waiting for the rest of his friends.  You'll see them all at Christmas. ;)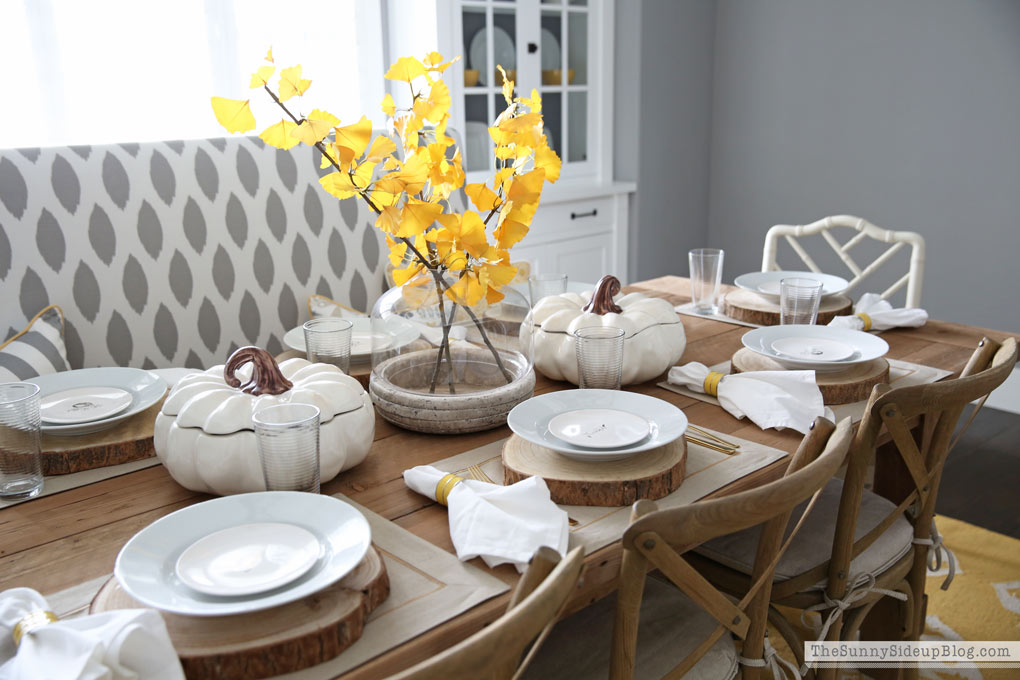 I only have two Entertaining tips to share with you today:
1 – It really doesn't matter what your table looks like as long as your guests feel loved and welcome.
2 – Buy enough flatware so everyone gets their own set.  Their own set of 5 to be precise.  In case anyone missed that.. ha!  ;)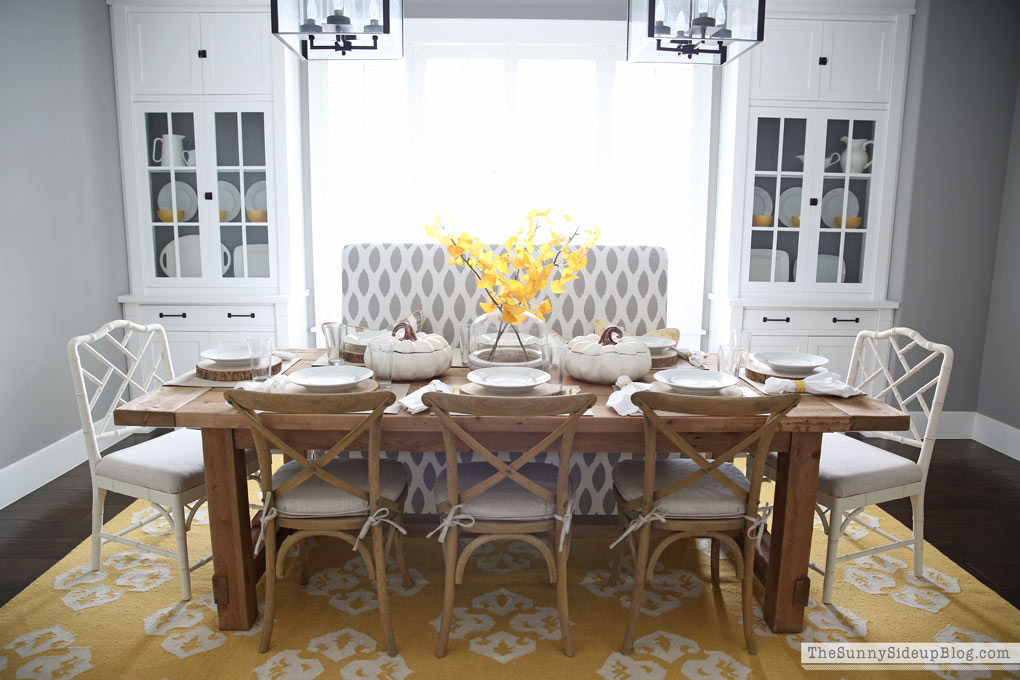 Thanks for stopping by today!  This room and the rest of my house will be completely transformed for Christmas (can't wait!) so come back and say hi.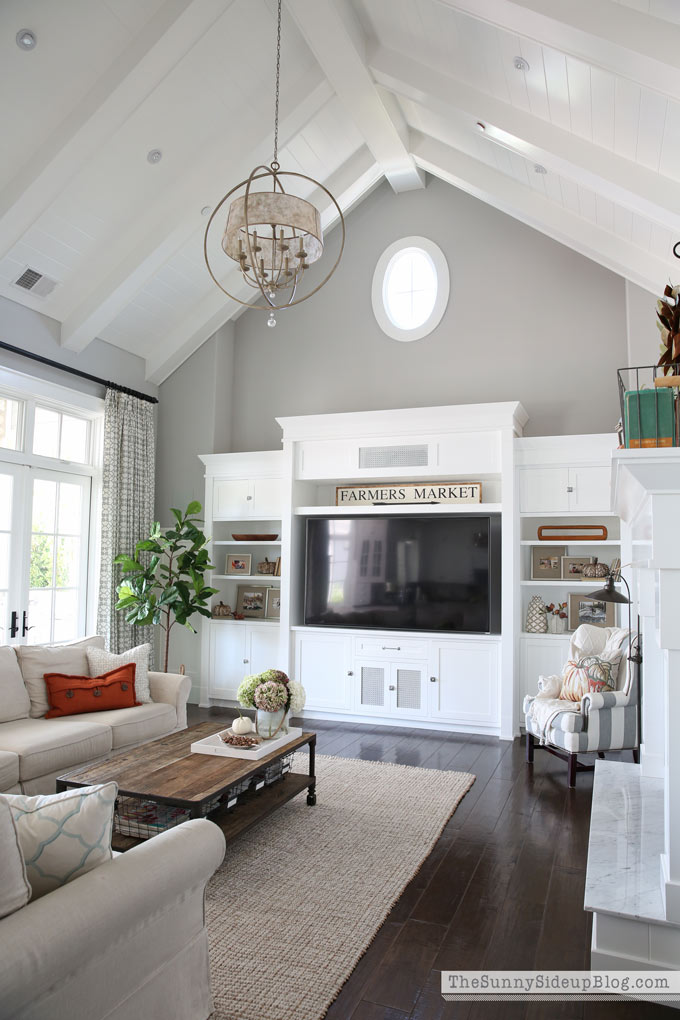 For a few more Fall decorating tips (real tips that don't involve flatware!) you can check out this post  on my family room.  You can also see some of my favorite Fall recipes and traditions in this post .  AND if you're already thinking ahead to Christmas you can read this post on 10 things to do now to ensure a less stressful December.  The organizer in me just loves that one. :)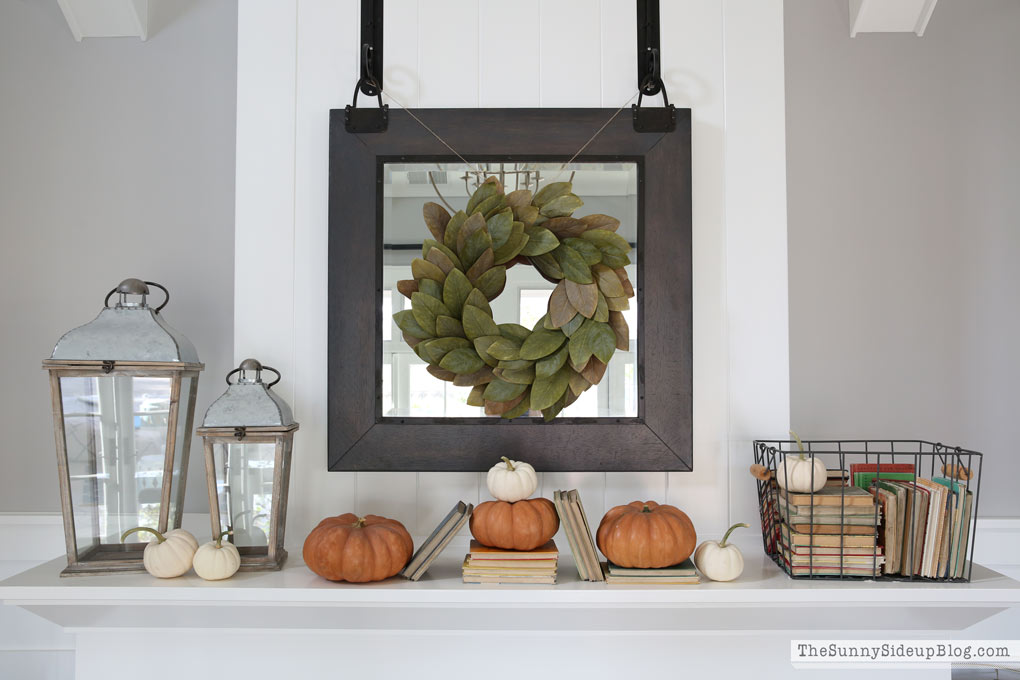 But for now.. continue to bring on the pumpkins!  :) Happy holiday Entertaining everyone!
Table Sources:  (affiliate links used)



 If you missed Monday's posts:

Monday's posts:
Designthusiasm | French Country Cottage | Cedar Hill Farmhouse
Kelley Nan | Bless'er House | Maison de Pax
Tuesday's posts:
Town and Country Living | CitrineLiving | Sand and Sisal
Zevy Joy | Life on Virginia Street | Design, Dining and Diapers
Wednesday's posts:
Decor Gold Designs | ZDesign At Home | Randi Garrett Design
Ella Claire | So Much Better With Age | My Soulful Home
Thursday's posts:
Shabbyfufu | StoneGable | Savvy Southern Style
Maison Decor | On Sutton Place | The Enchanted Home
Friday's Posts:
Sunny Side Up | Finding Home Farms | The Wood Grain Cottage
Setting for Four | Becky Cunningham
xoxo, Erin