Happy weekend friends!  And happy December!  It's finally here. :)  Love this month!  It's crazy and busy, but full of so many good things.  The next two weeks my blog will be full of Christmas decor so my Fashion Friday posts are going to be popping up over the weekend.  I'm thinking next year my "Fashion Friday" posts need to change to "Fashion whenever I get to it" posts.  It's rare they go live on Fridays!  But that's talk for another day.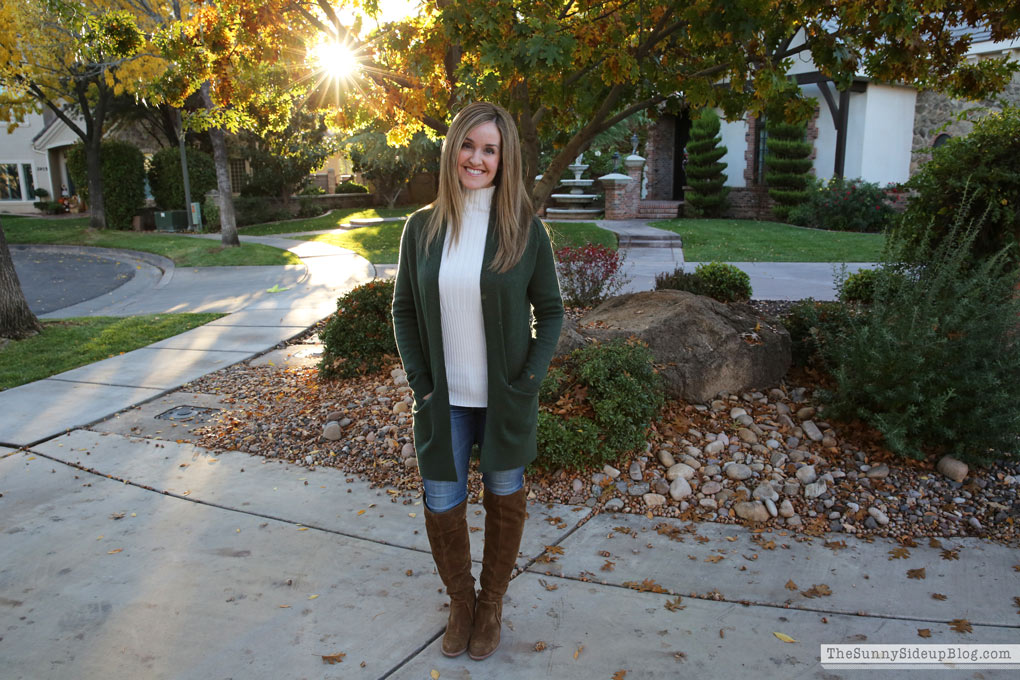 (*affiliate links used)
Today I'm sharing a few recent favorites from Nordstrom!  My mom took this picture while we were at her house in Utah over Thanksgiving.  The trees with the sun shining through are just beautiful!  Her whole street looked like it was straight out of a story book.  I love going to Utah in the Fall.  It's the only time of year I don't want to live in San Diego!  I want to be one with the cool, crisp air and the changing leaves.  Then when the cool, crisp air turns to frost and just plain cold air, I want to go back home to San Diego. :)  K.. for the love of cardigans!  I have an obsession with them at the moment.  You all know how much I have loved this open front cardigan.  (Almost identical styles/color options are here and here.)  I've been wearing it at least once a week since I bought it.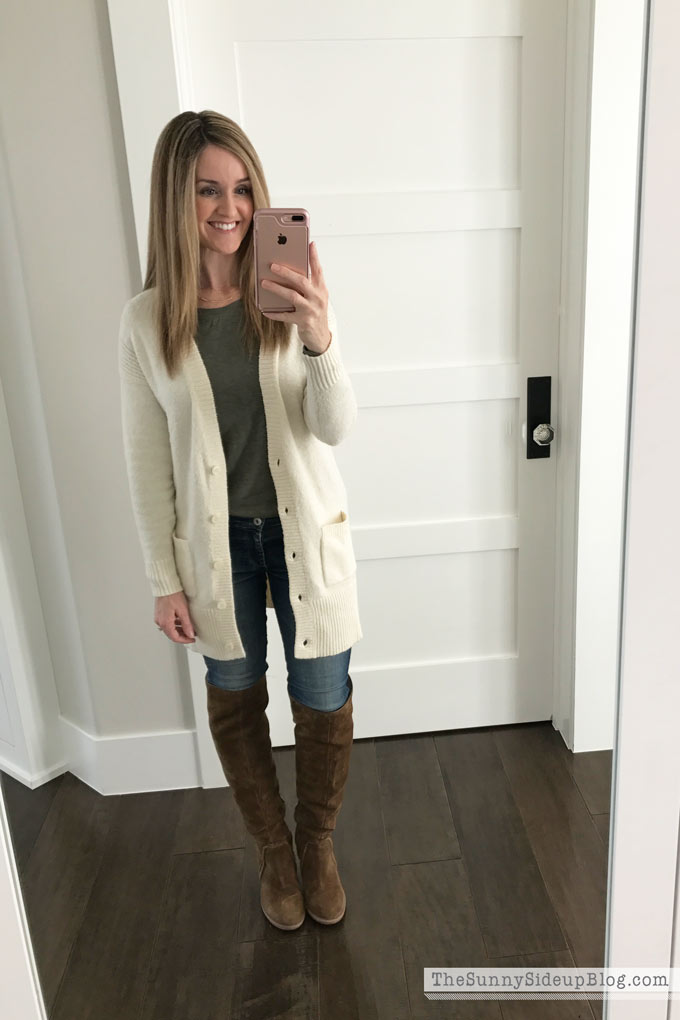 So I decided I needed another one.  :)  I almost bought the same cardigan in a different color, but then decided to mix it up a little more.  Might be nice since I'm wearing mine so often!  This new knit cardigan comes in several colors and is so comfy!  (It runs big so order down.. mine is xxs.)  I'm wearing it with a Caslon tee under it and my favorite boots.  Cardigans are such a great way to look put together and stay warm and comfortable all at the same time.  Nordstrom has so many fun options right now!  This relaxed fit cardigan just went on sale and it looks as comfortable as being wrapped up in a blanket!  I also have my eye on this new barefoot dreams circle cardigan.  I'm waiting for it to go on sale and hoping Santa snatches it up for me if it does. :)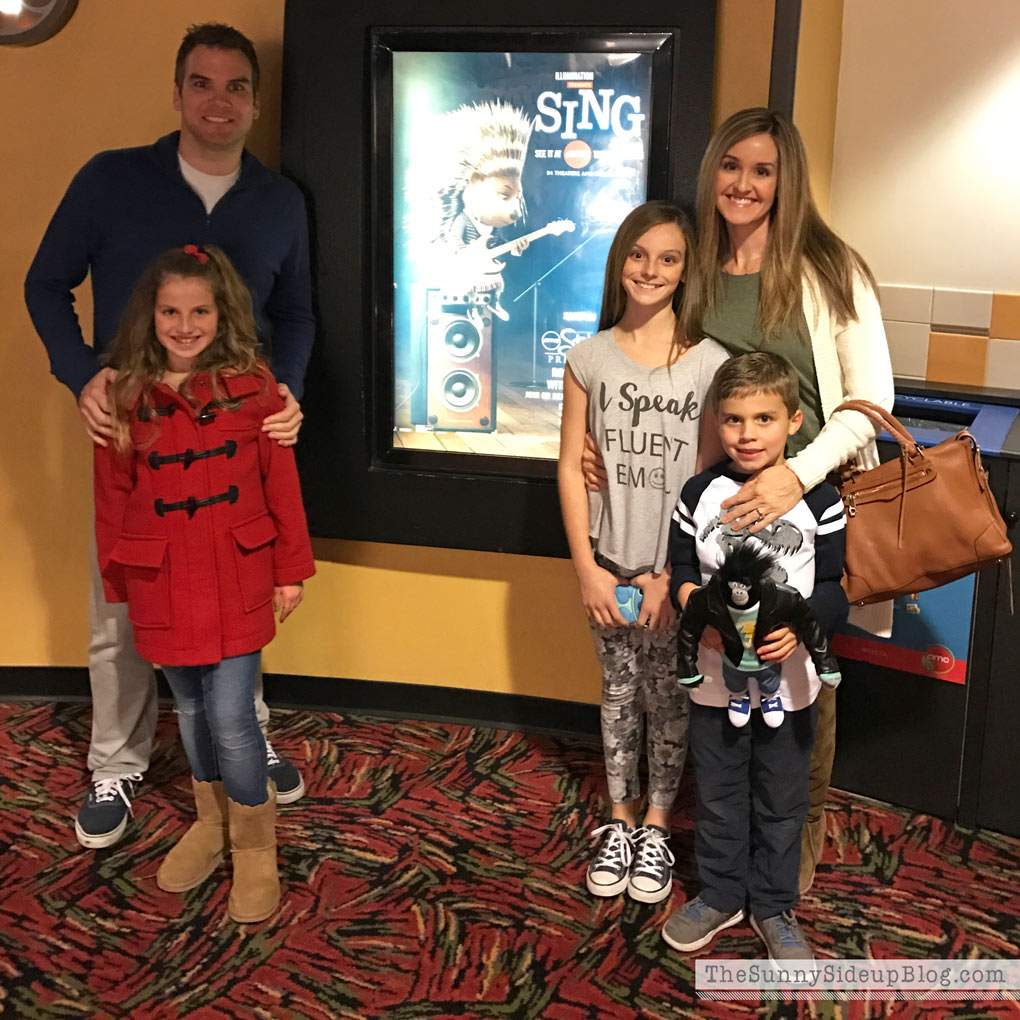 I've worn this new cardigan several times already and love it.  It was perfect to wear on a cold evening out with my family this week!  We had the opportunity to see an early screening of the new movie SING that's coming out right before Christmas.  Such a fun movie!  Darling plot and characters.  We all loved it so much.  Kole told me about 15 minutes in that it was "the best movie of his life".. so you can't beat that review. ;)


Ok.. next new favorite!  I'm smitten with this double layer gingham shirt!  So cute with my black peep toe booties!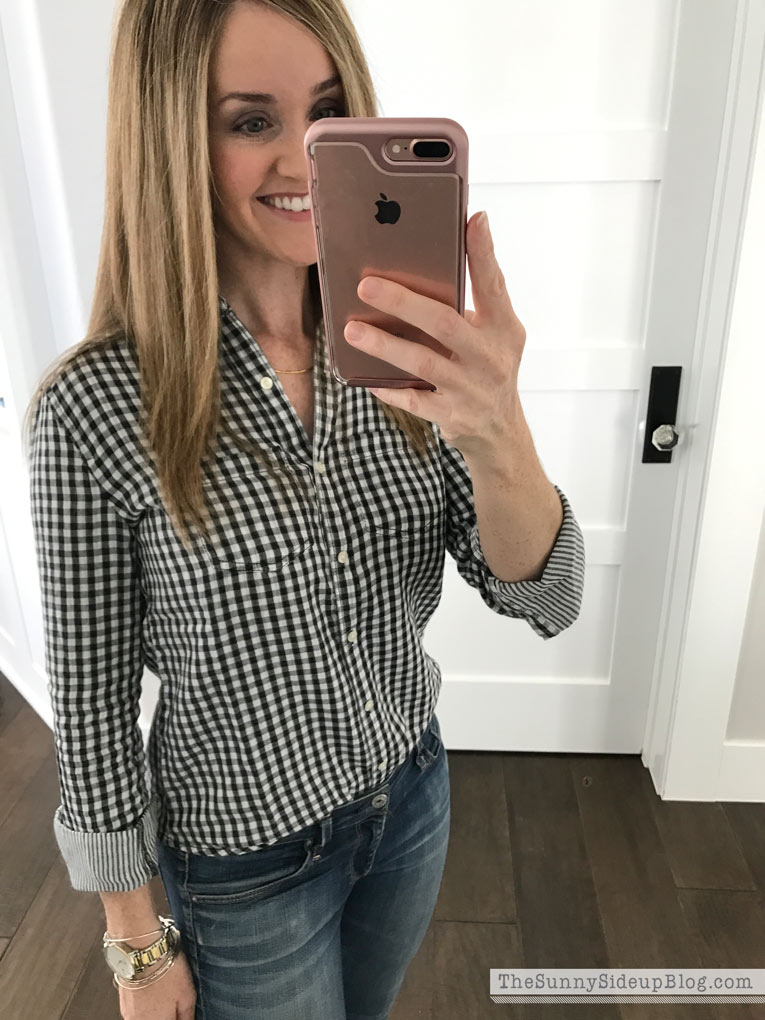 Here is a closer look.  You can see on the sleeves I have rolled up that it's stripes on the other side.  Seriously!  Can you get any cuter than black and white gingham and stripes!?  Together!  I think not. :)  I love my tanner bar necklace with button up shirts like this so much.  I just gives it that little something extra.  It just went on sale 25% off!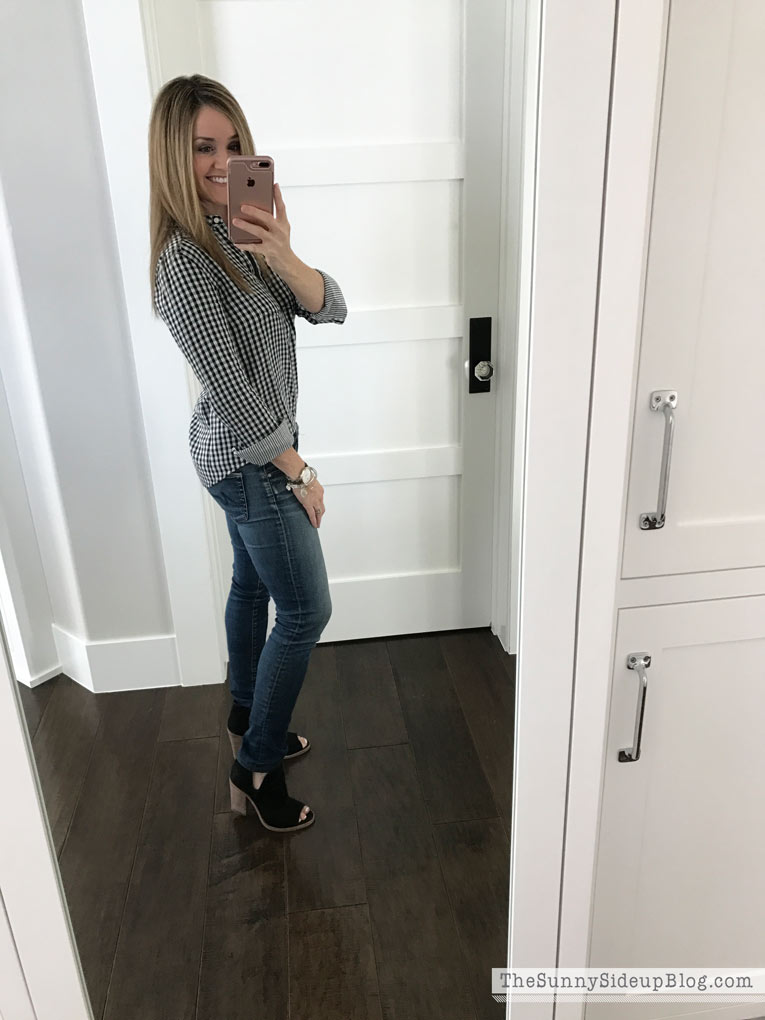 The shirt is medium length.  I like to wear shirts like this long in the back and tucked in in the front.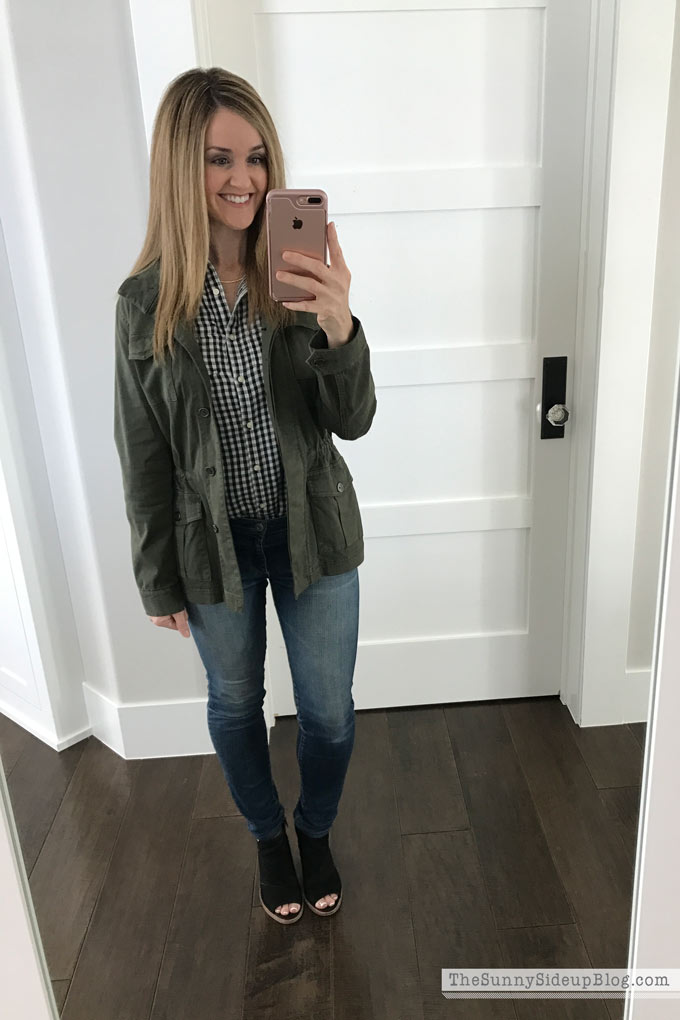 It also looks really cute with my cargo jacket.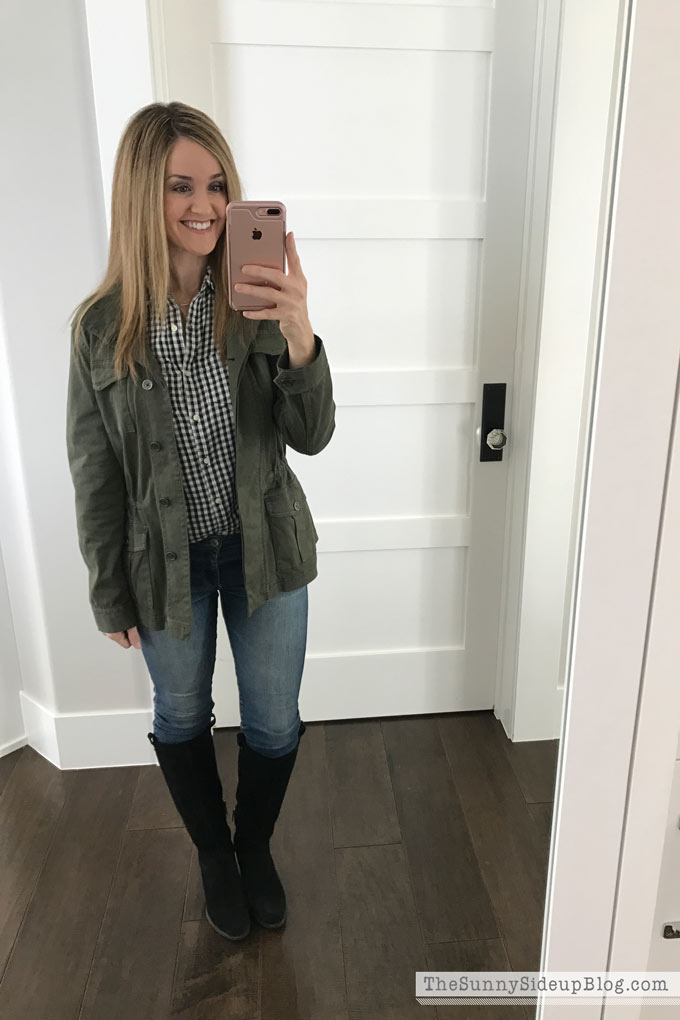 I just wore this outfit tonight!  I snapped a picture of it for this post on my way out the door and then decided to change into my black Ugg boots before I left.  It has been cold here this week!  In the 60's so legit coat/scarf/fireplace weather.  I know.. we are wimps. :)  It's cold to us!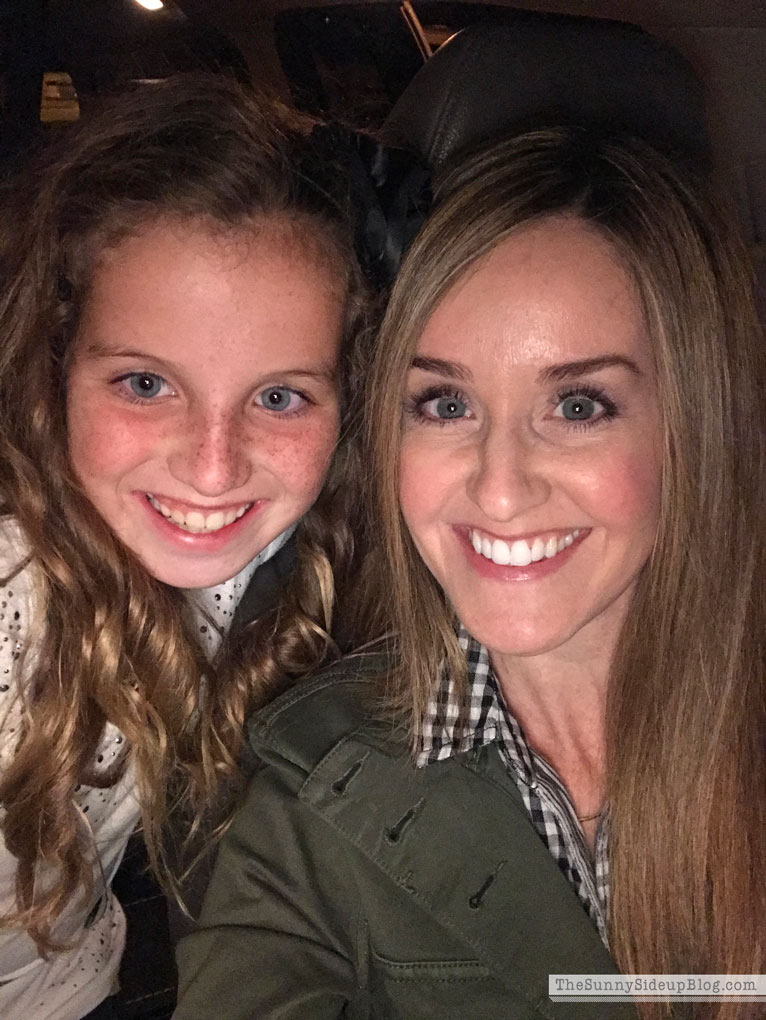 Fun night at this girls first band concert!  Proud of her.  She blasted Jingle Bells on her saxophone like no ones business.  ;)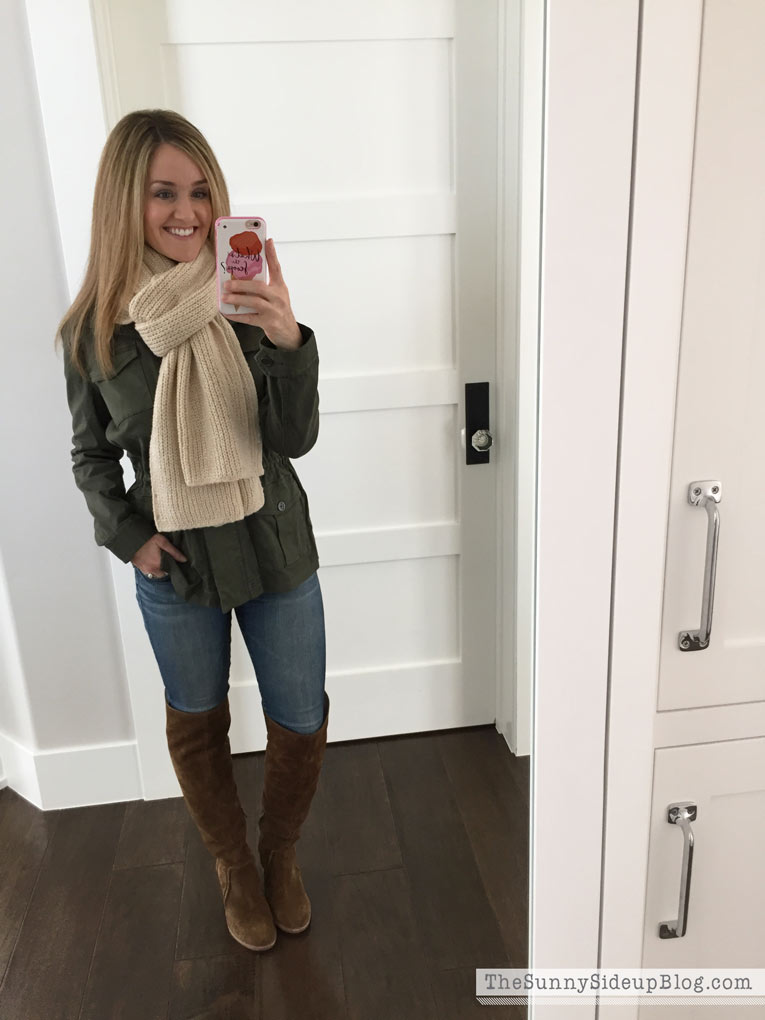 Speaking of scarf/coat weather, I loved wearing this combo while we were in Utah!  This rib knit scarf comes in lots of colors and would make a great gift for someone who lives in the cold!  Or for someone who likes to pretend they do.  ;)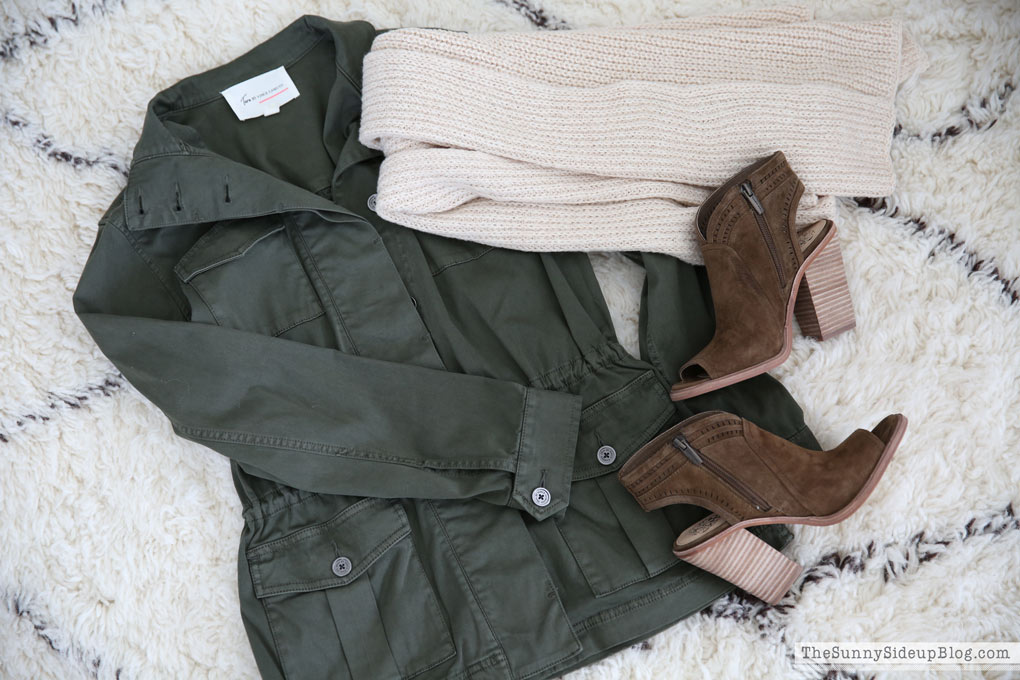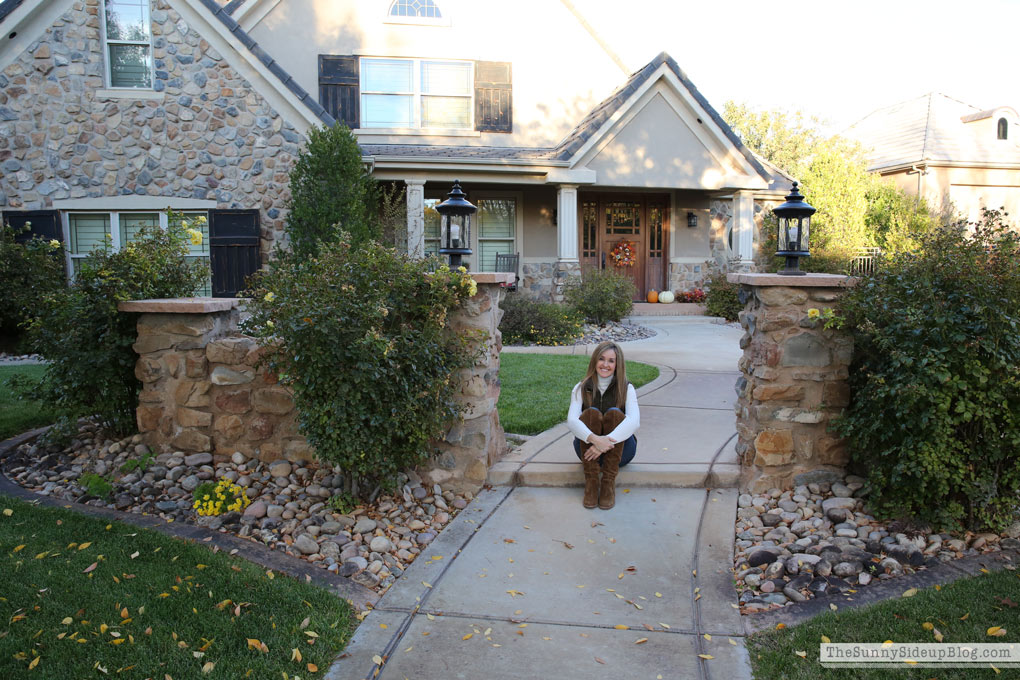 Another picture my mom snapped.  I love her house.  It's the perfect cottage getaway for me and my family.  My dad teased me the whole time I was there about my boots.  Said they looked like waders and clearly it was time for me to stop blogging and start fly fishing with him.  Dad!  I just shake my head.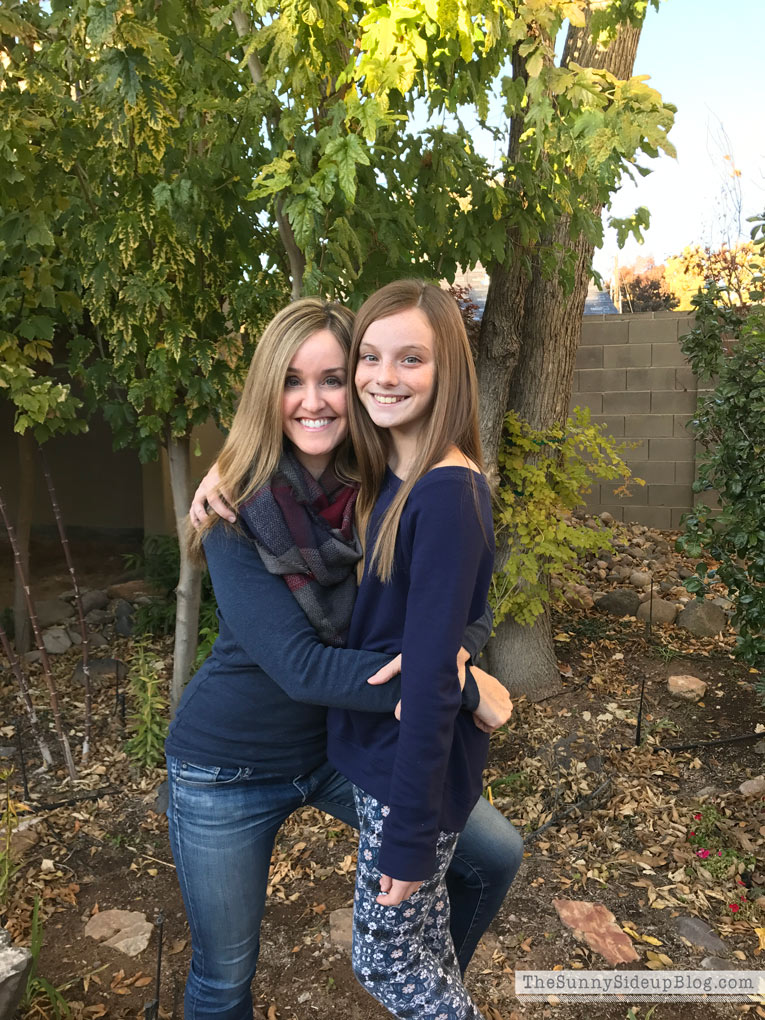 Quick pic with my other daughter!  So proud of her too.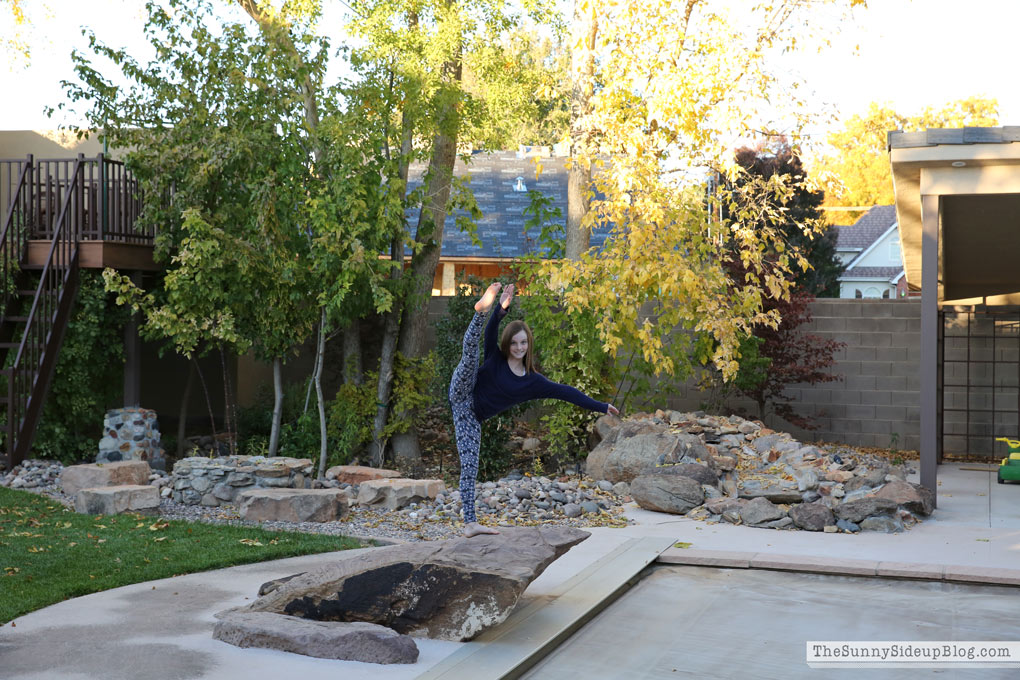 She was practicing her leg lifts/balancing in my mom's backyard…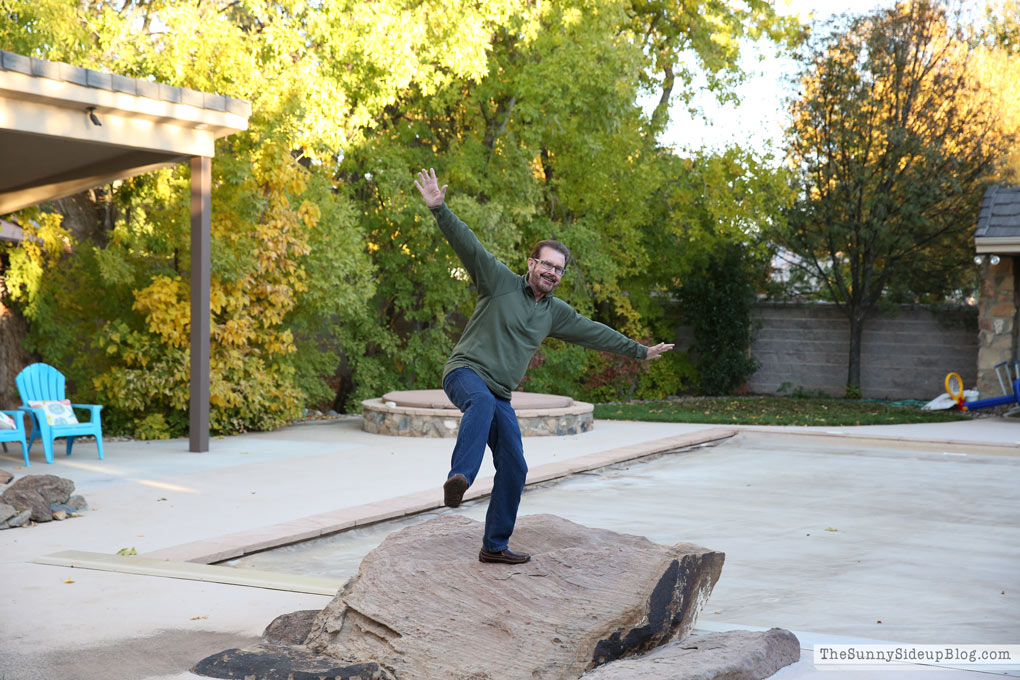 so grandpa decided he'd practice his too.  Dad!  I just shake my head.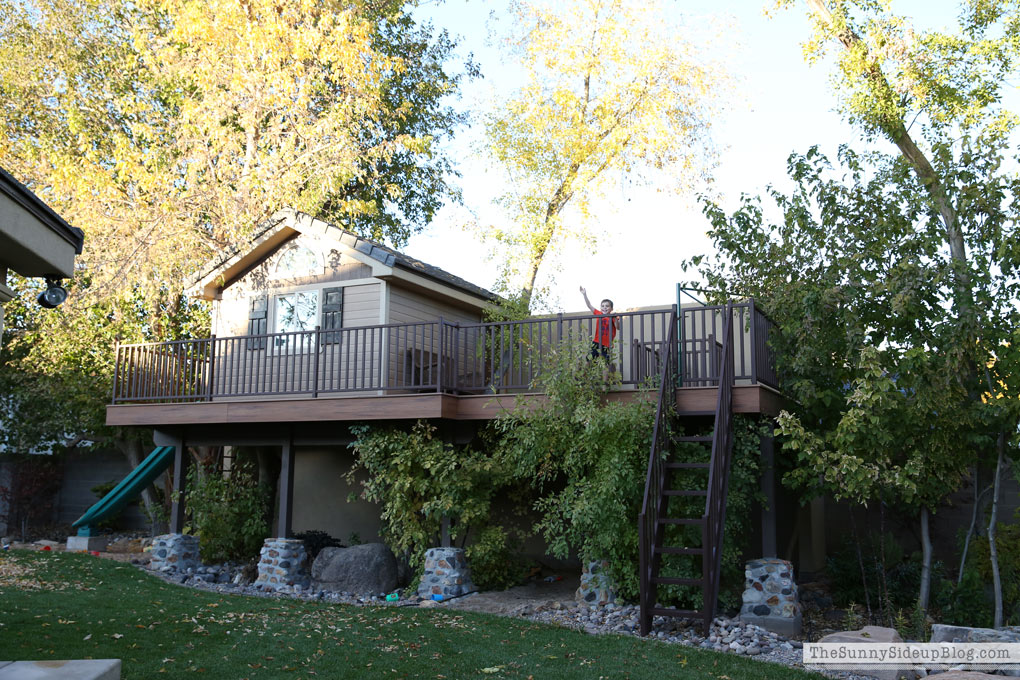 While Ellie and grandpa practiced their slick dance moves, my little buddy was pretty entertained in my parent's treehouse. Ad and I were inside during most of this activity watching Christmas Hallmark movies.  A little something for everyone at grandmas. :)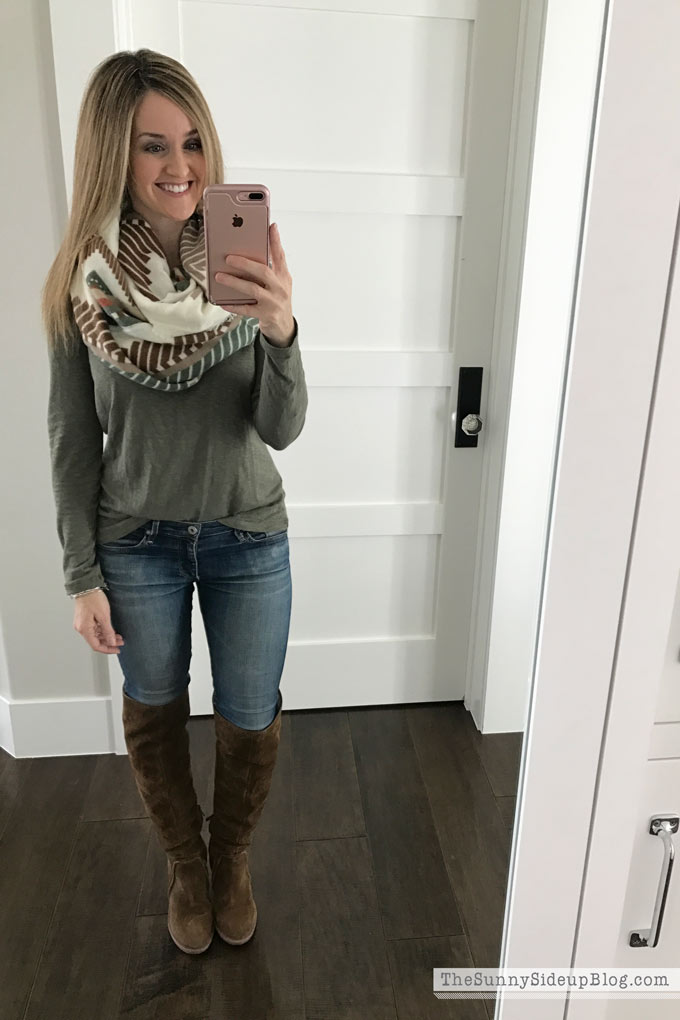 I bought this fun new chevron square scarf a few weeks ago and I've had so much fun with it.   The cool thing about this scarf is there are so many ways to wear it!  Every time I put it on it looks different.  I snapped a few pictures of styles I've tried but I'm sure there are about 10 more!  I'm wearing it like a regular infinity scarf here.  (Caslon tee underneath.)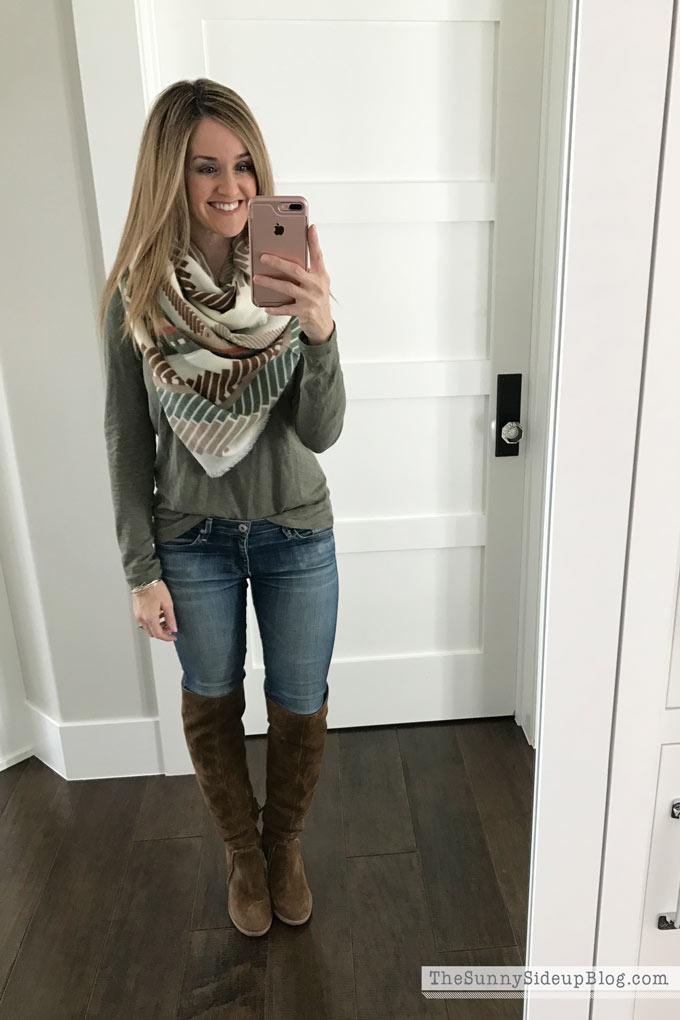 I left the front longer here.  A bit western looking.. I'm digging this look.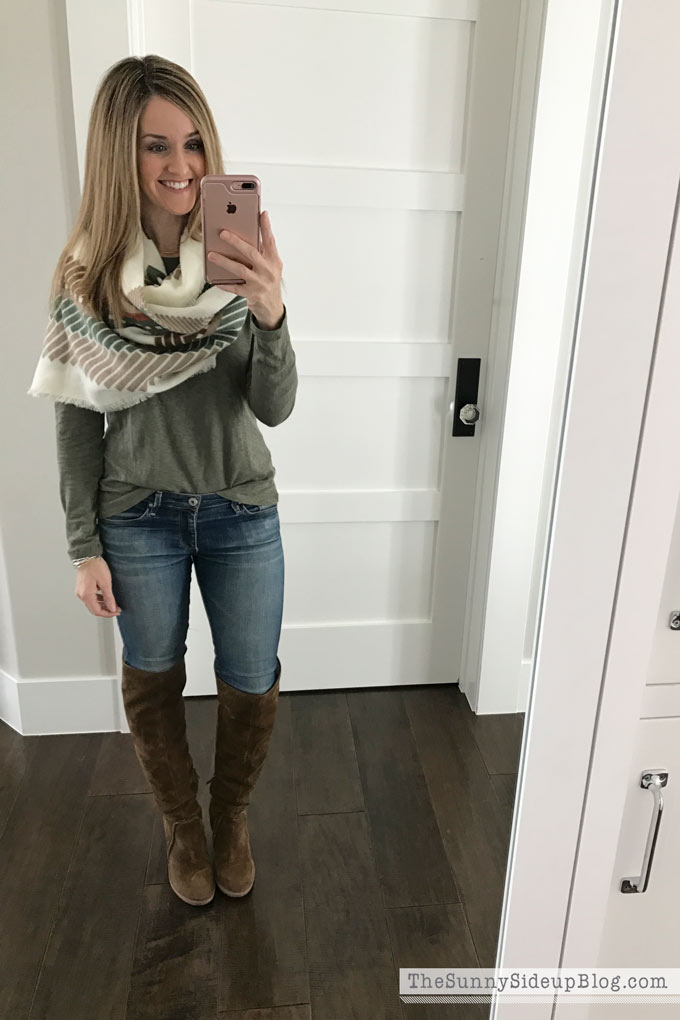 And with some draped over my shoulder.  I'm not a scarf expert and have no clue if I'm even wearing it right!  But I don't care.  It's a fun scarf to mix up and play with.  I love the colors too.  Goes really well with several long sleeved tees I already had.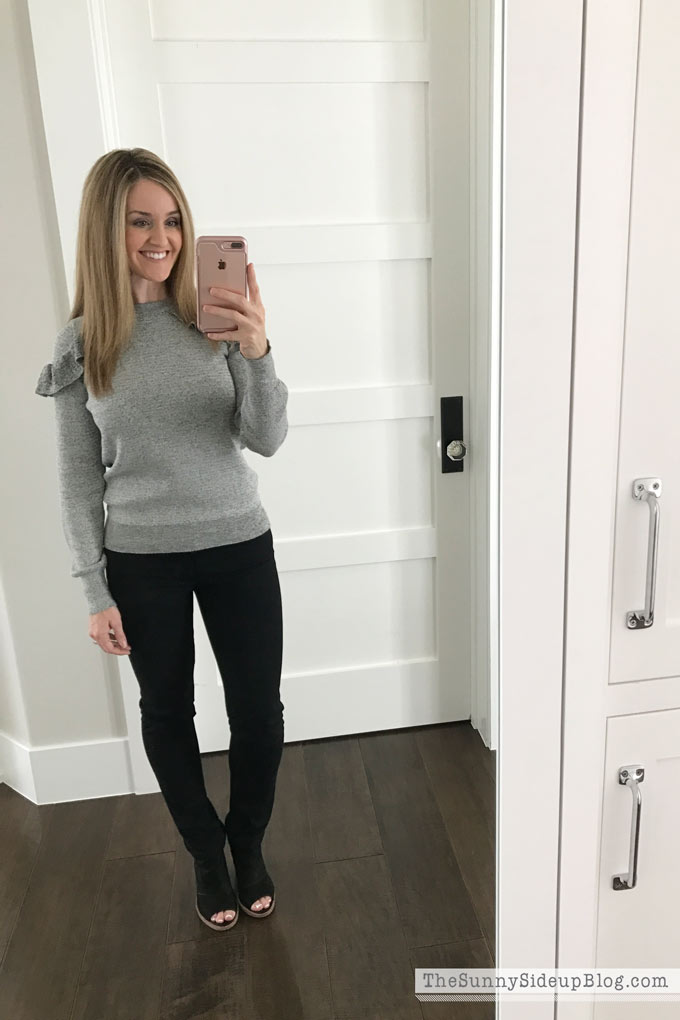 In other fashion news.. my ruffle sweater was just restocked in all sizes!  It sold out in most sizes but is back now!  SO cute.  I love this sweater.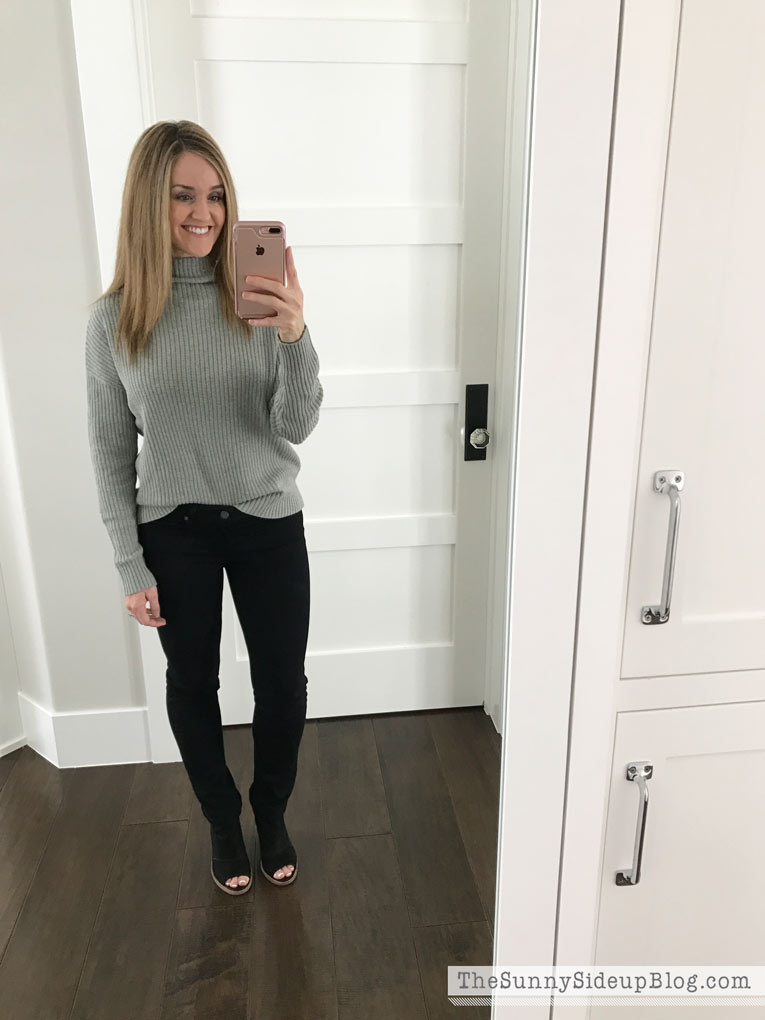 I'm still loving this in gray too.  Have any of you bought this mock neck sweater?  Just like my cardigans, it's like wearing a warm blanket all day!  I've been living in the green, but ordered one size smaller to try in the gray because this one is a bit baggy on me.  Nordstrom is so great about returns.. I order multiple sizes to try all the time and just send back whatever doesn't work!  My mom showed me a Consumer Report while I was at her house that had Nordstrom ranked #1 when it comes to easy returns.  No surprise there!  Love that about them.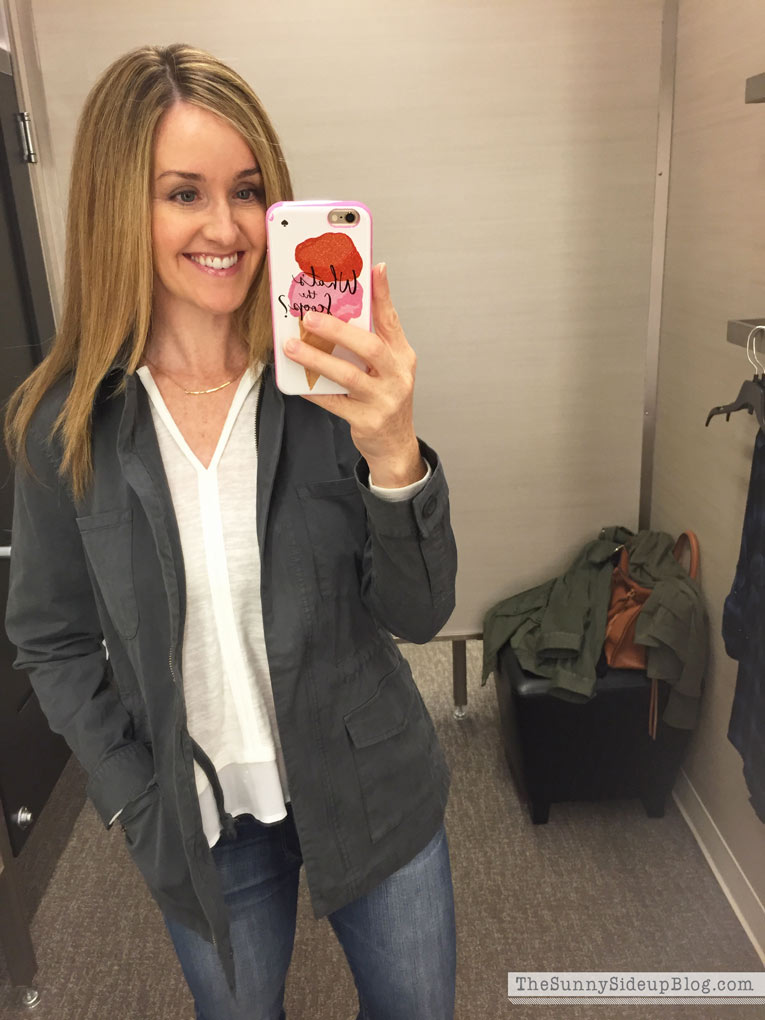 My utility jacket is still on sale!  So cute.


So is my asymmetrical ribbed sweater.  50% off and just a few sizes left!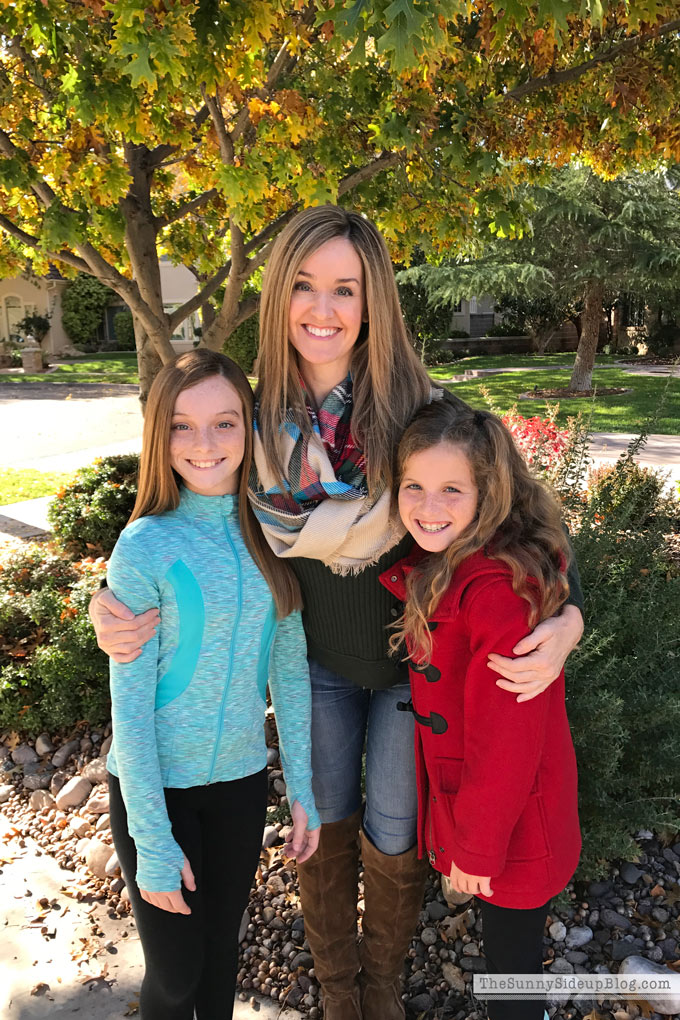 Wearing it here with my girls under my plaid infinity scarf.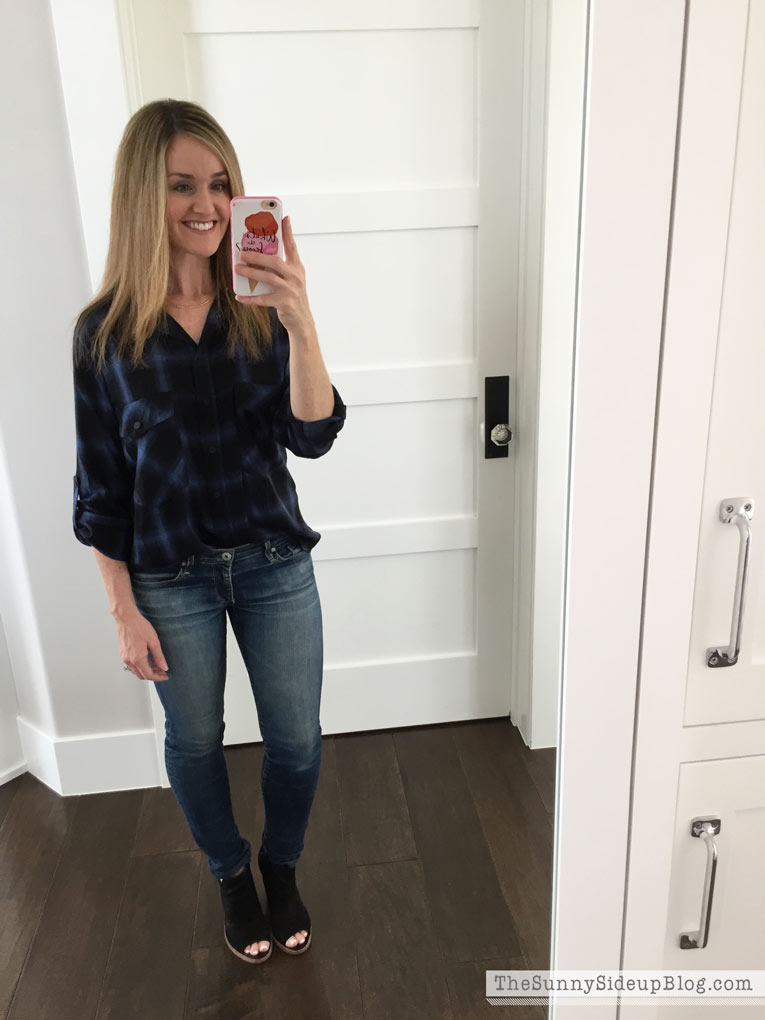 A lot of the their plaid flannel shirts are also marked down!  Nordstrom has some great sales this weekend.  They also have a fun section on their website called HOLIDAY GIFTS and GIFT IDEAS if you need a few more fun things for people on your list.  I shopped that list for a lot of my gifts this year!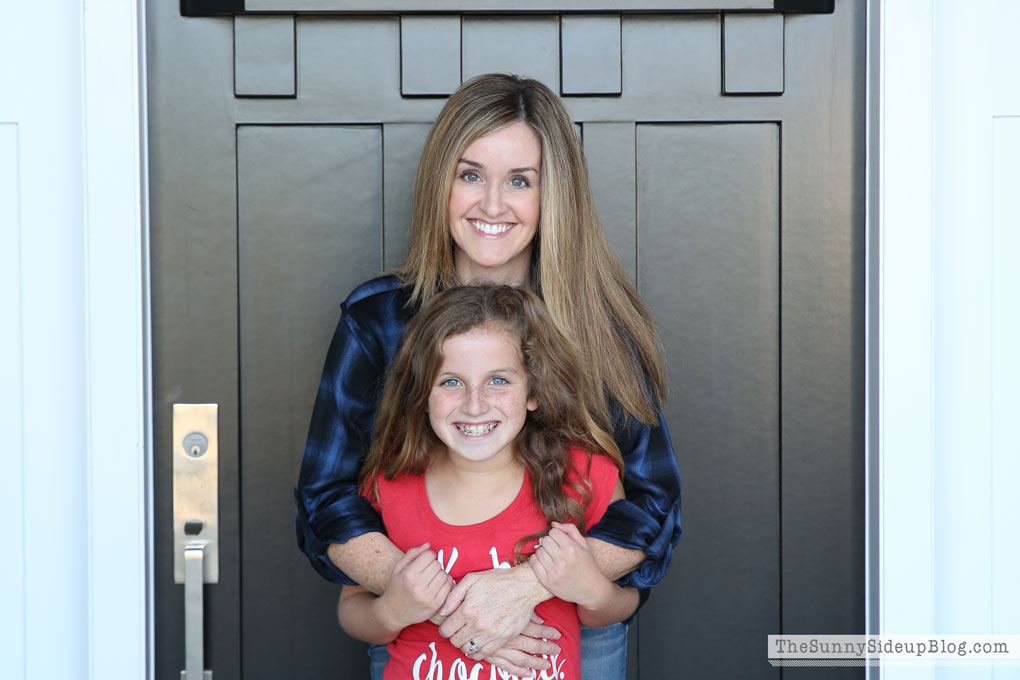 Alright friends!  Enjoy your weekend!  I'll be back soon with some decked halls to share. :)




*Honored to have partnered with Nordstrom on this post!  Love love love them.  As you all already know. ;)
xoxo, Erin