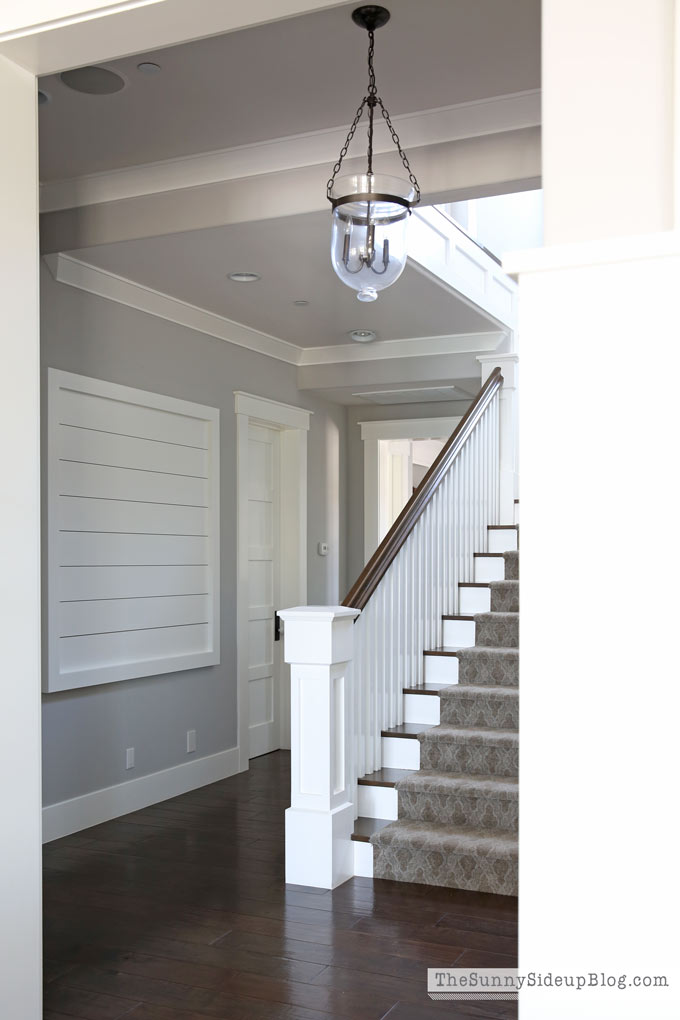 Sharing a fun new update at my house with you all today!  It's a shiplap display wall and I'm so excited about it!  Remember when I had my carpenter put up shiplap in Kole's new room?  I loved it so much that I decided we needed a little more of it.  I don't think I'll ever be able to get enough white molding/planks in my life. :)

I have something similar in our formal living room.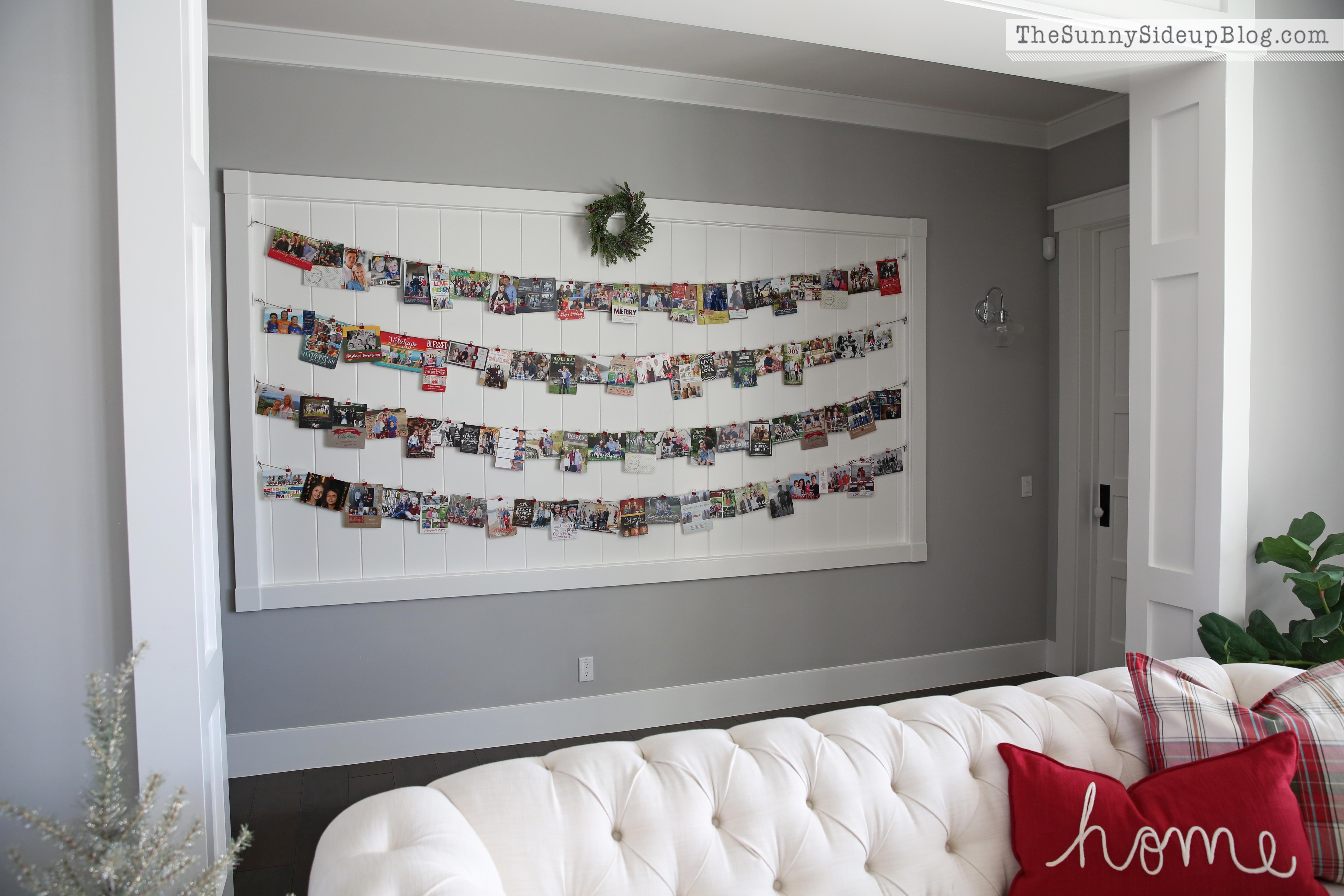 I designed this framed planked wall when we built the house to display a gallery wall of pictures.  Since the gallery wall hadn't happened yet (because I'm a S-L-O-W decorator) I used it to display our Christmas cards last December.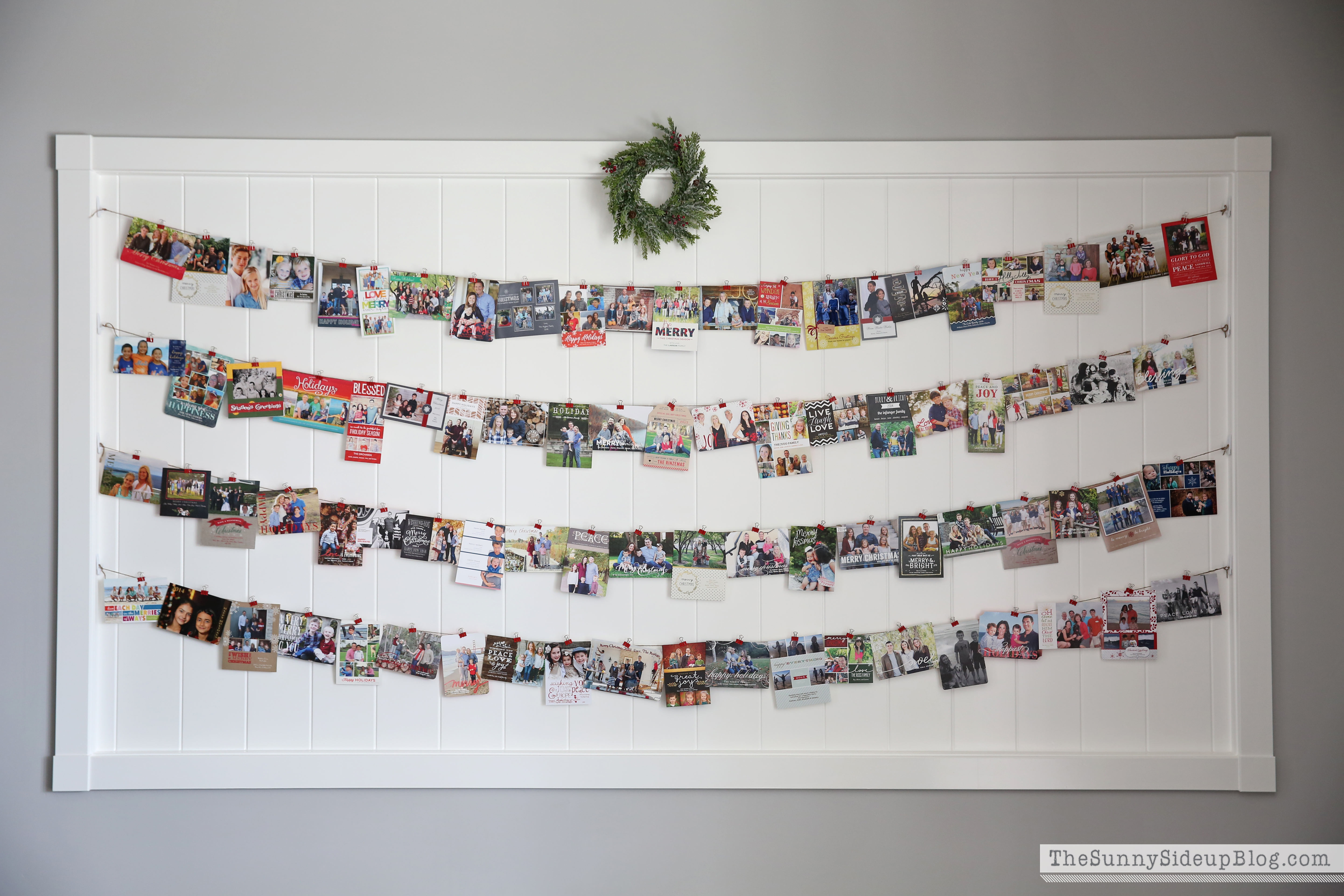 I loved that display so much!  I wanted to put up my gallery wall in this space, but I wanted something similar to this to display Christmas cards and other fun things.  So I decided to create another display wall.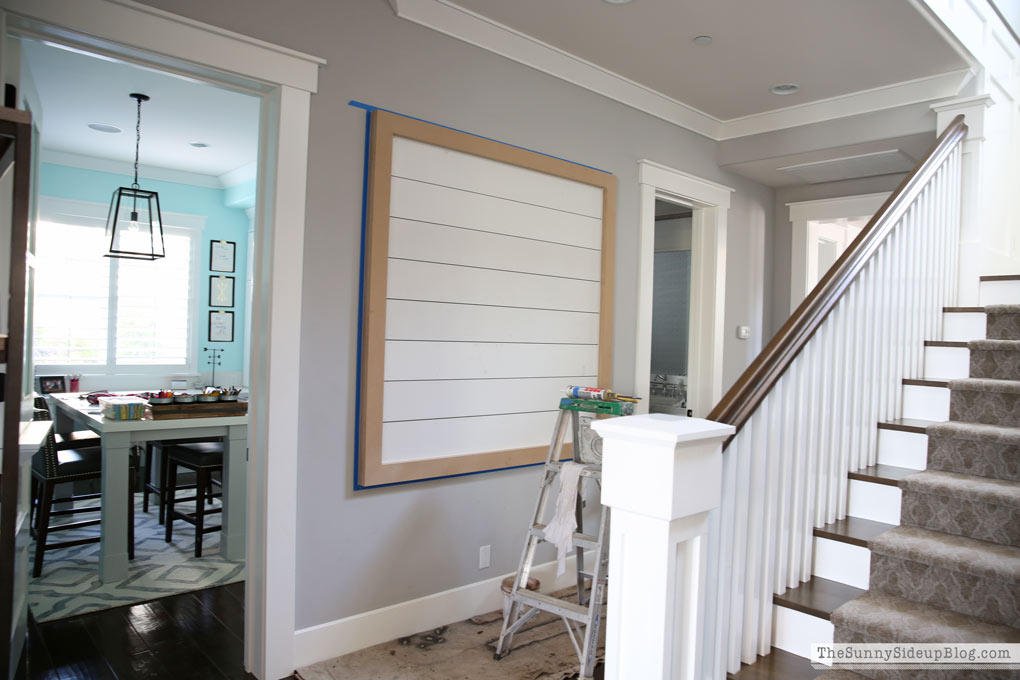 I had been going back and forth on what to put on the wall in this spot between my office and powder bathroom and then it hit me!  That would be the perfect spot for some shiplap.  I drew my carpenter a quick sketch and he got to work.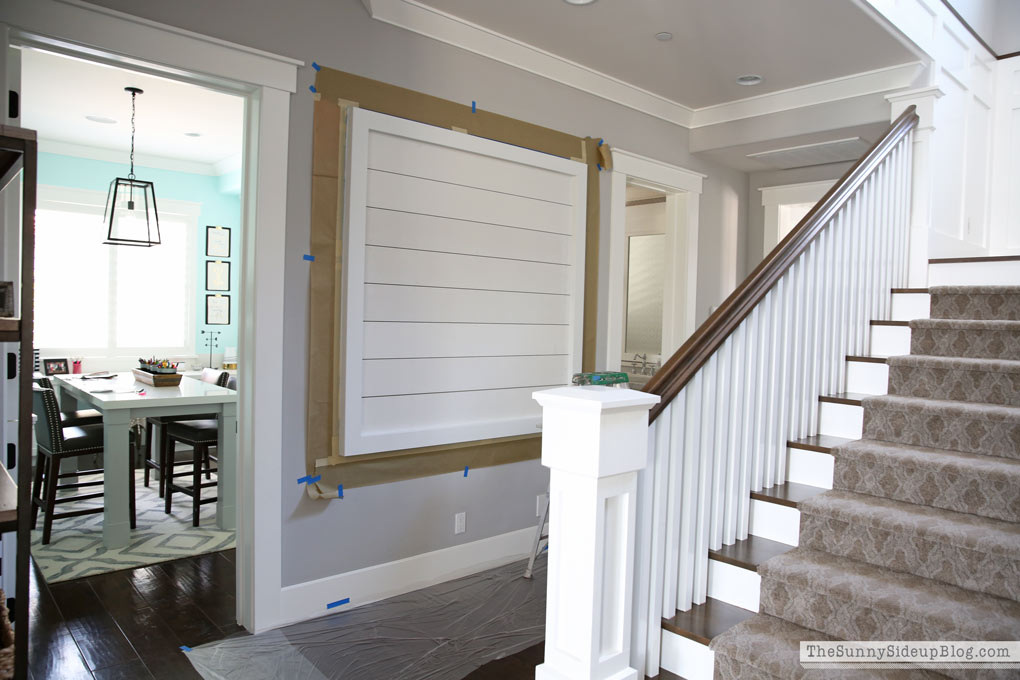 Then I had my painters paint it quick when they came to paint Kole's room.  Quick and easy!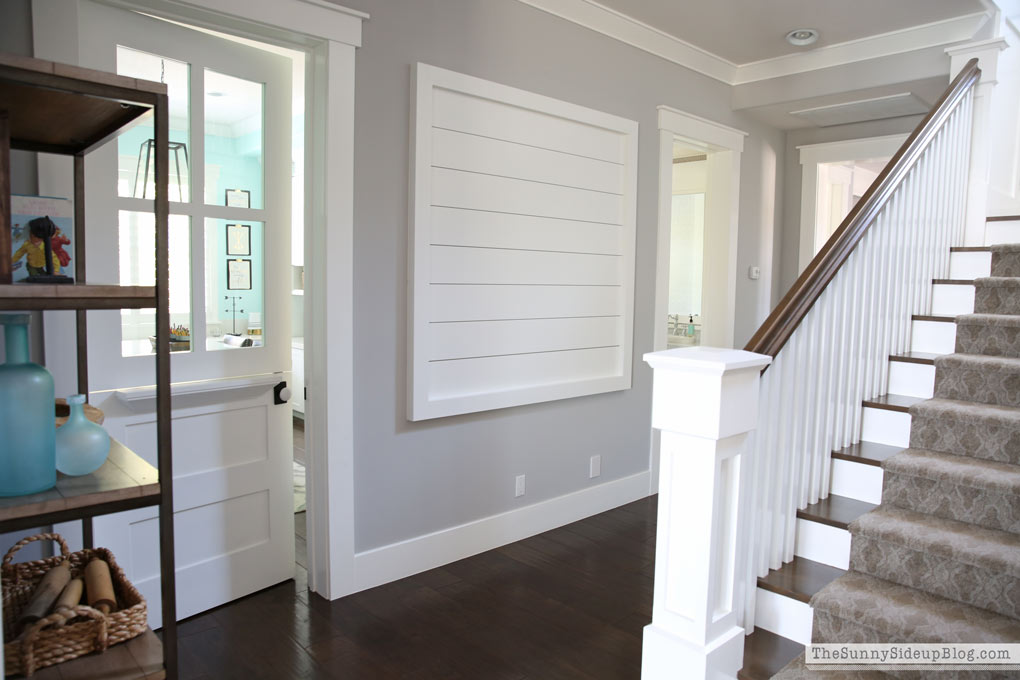 And here it is all finished!  I decided to go with wide horizontal shiplap to mix things up from the one in our formal living room.  This spot is a more casual area and I think the shiplap fits better in this space.  The display wall in the formal living room has vertical planks with no space in-between.  That wall looks a bit more.. well.. formal.  :)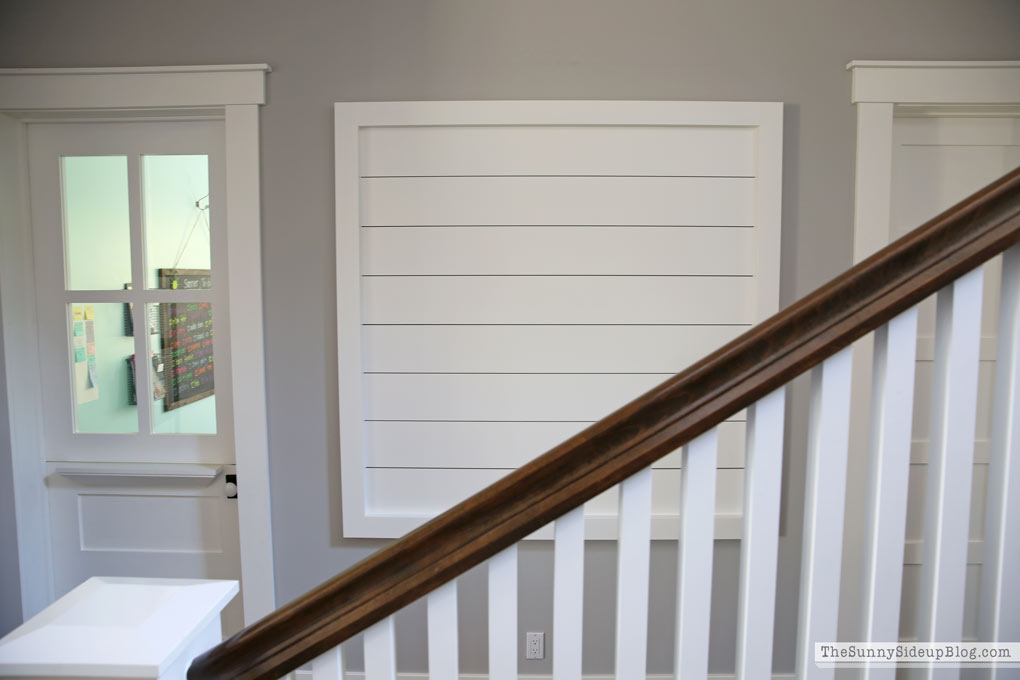 I'm really excited about all of the possibilities this little shiplap display wall holds.  Of course I'll use it for Christmas cards each year.  And the kids' school work.  And I'm thinking holiday displays!  The possibilities are endless.


I'm also excited to spotlight my kids on their birthday months.  Do some of you remember this aqua frame from the archives?  :)  I painted a frame in my previous house and used it to display all sorts of things.  This was El's birthday spotlight.


And Ad's.


And Kole's. :)  You can see other fun ways I used my happy little frame in this post.  Just remember that post is an oldie when you look at my fabulous decor. ;)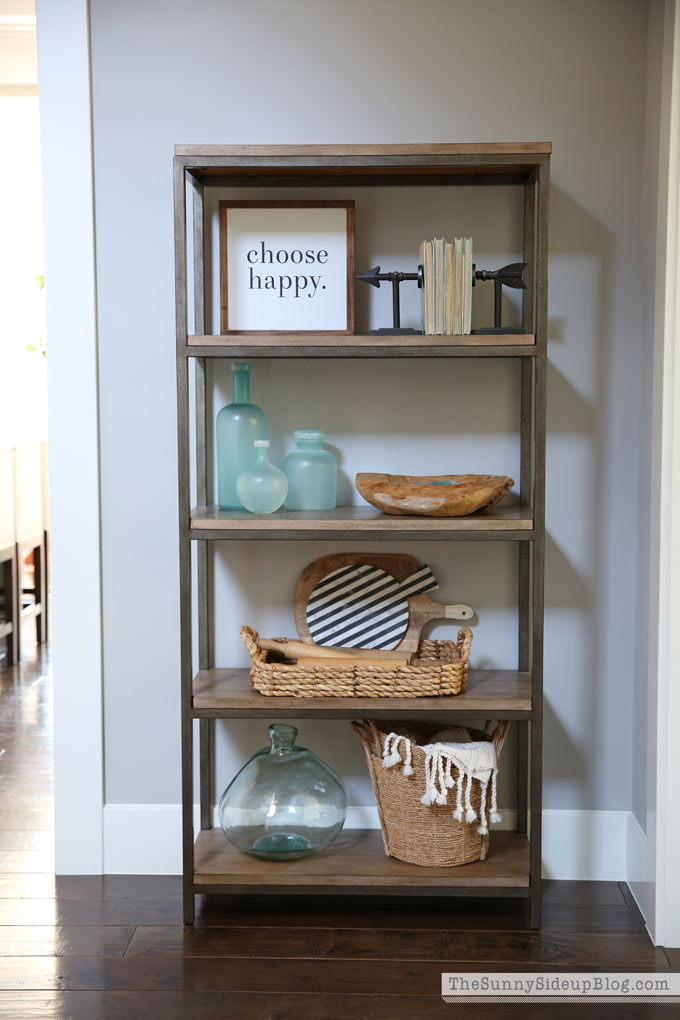 This shiplap display wall sits right by the new shelf I just styled (sources here).  I love that this corner of my house is finally coming to life!


I get lots of questions about my floor plan which we aren't sharing for privacy/personal reasons (thank you for understanding!).  But for those of you who are wondering about layout, here is a look at how this part of my house comes together.  I took this picture from my mudroom.  Our downstairs laundry room is on the right.  Then a few steps into the hallway is our powder bathroom on the right.  Then a little further down is my office… also on the right. :)  Stairs are on the left and that opens into our main family room/nook/kitchen.


I've also had a few questions about the fixtures in our hallway.  They are the Hundi Lanterns from Pottery Barn.  Yes they collect a little dust and you have to clean them every few months.  No that doesn't bother me.  Yes I think they're worth it. ;)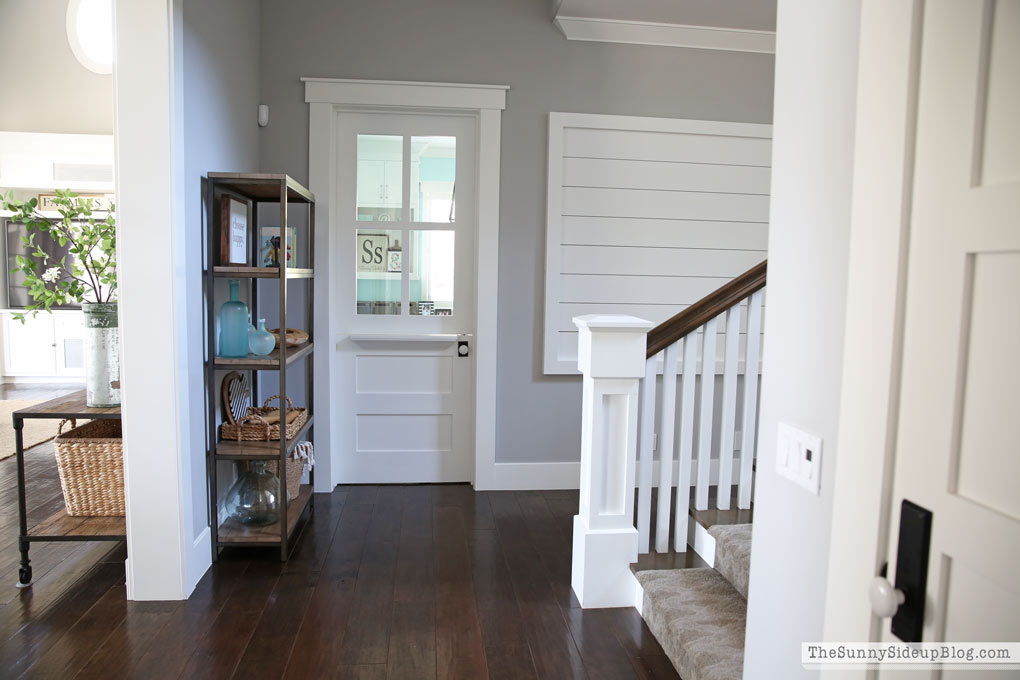 You can see from this picture how that hallway from the mudroom opens into our family room.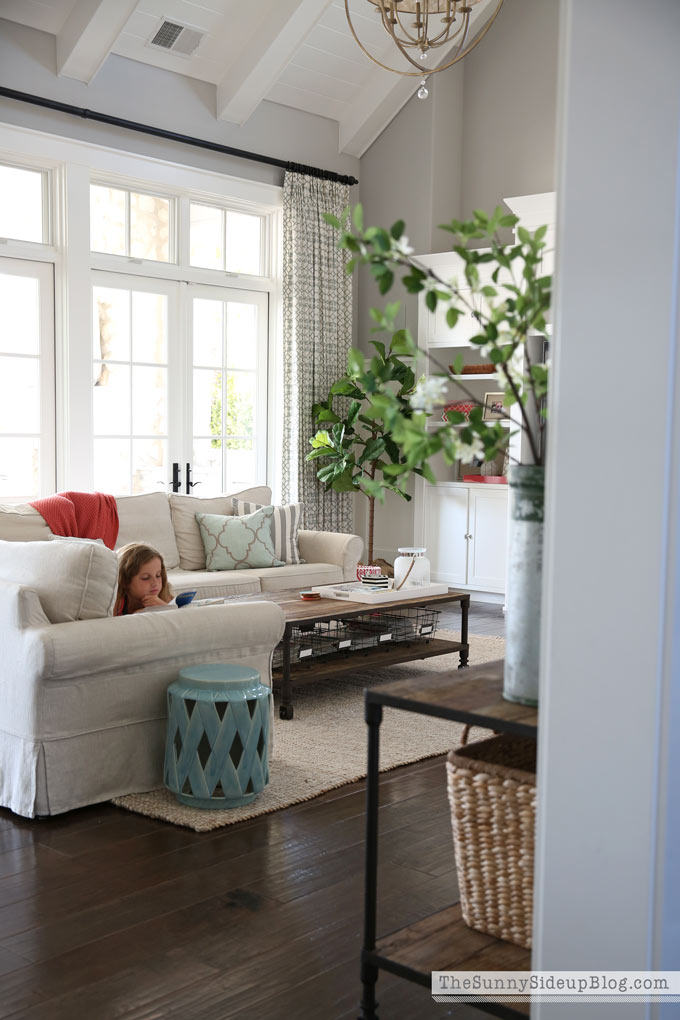 Kids were spread out having "reading time" when I was taking these pictures.  The only 30 minutes of calm during our summer days.


And I'll throw this picture in because I took it that same day and why not?  :)


My shiplap display wall is a bit bare at the moment but that will change soon!  I have so many family pictures I've taken over the years.  Eventually I'll have more of them framed and hanging on the walls of our home, but for now this display wall will be a perfect spot for a few of them to shine each month.
:)
xoxo, Erin