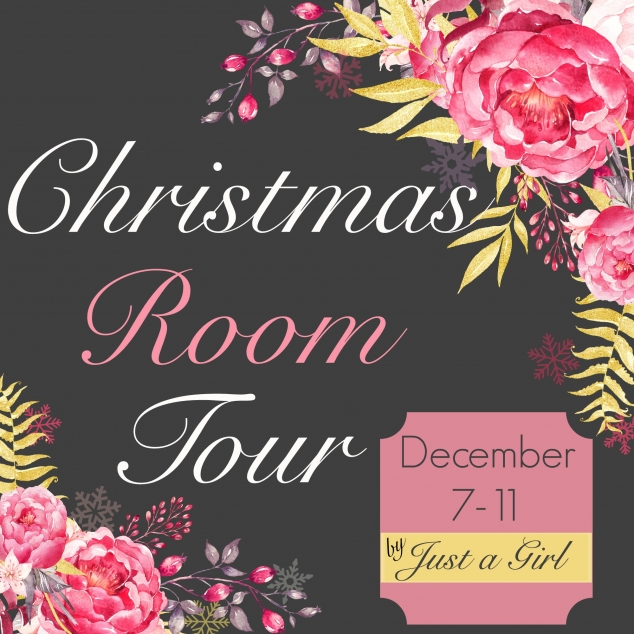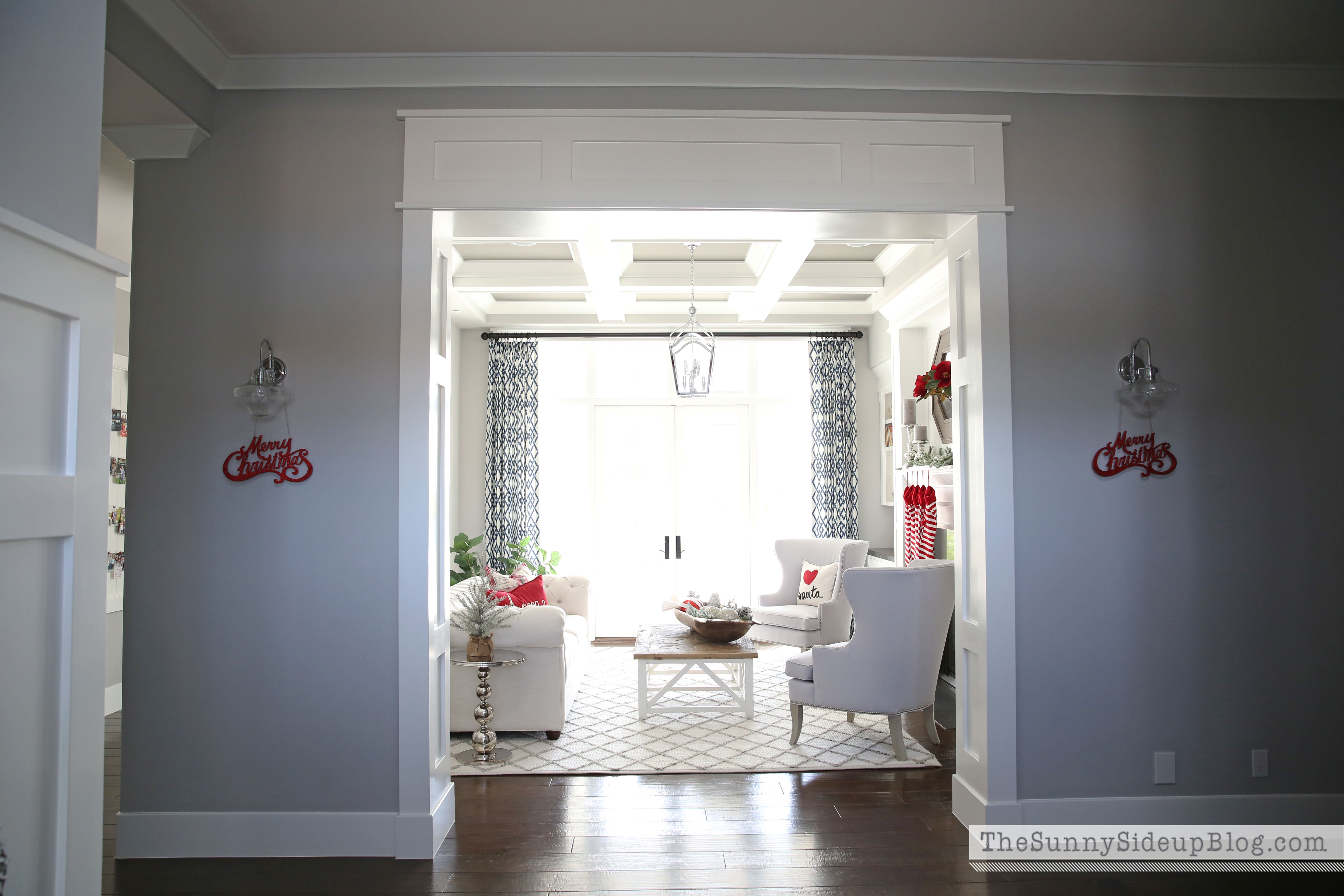 Hello hello friends!  So happy you are here!  If you are stopping by from Sarah's beautiful home at Thrifty Decor Chick welcome!  I'm joining sweet Chris from Just a Girl for her Christmas one room tour.  What a brilliant idea.  One room!  I can so get behind that. :)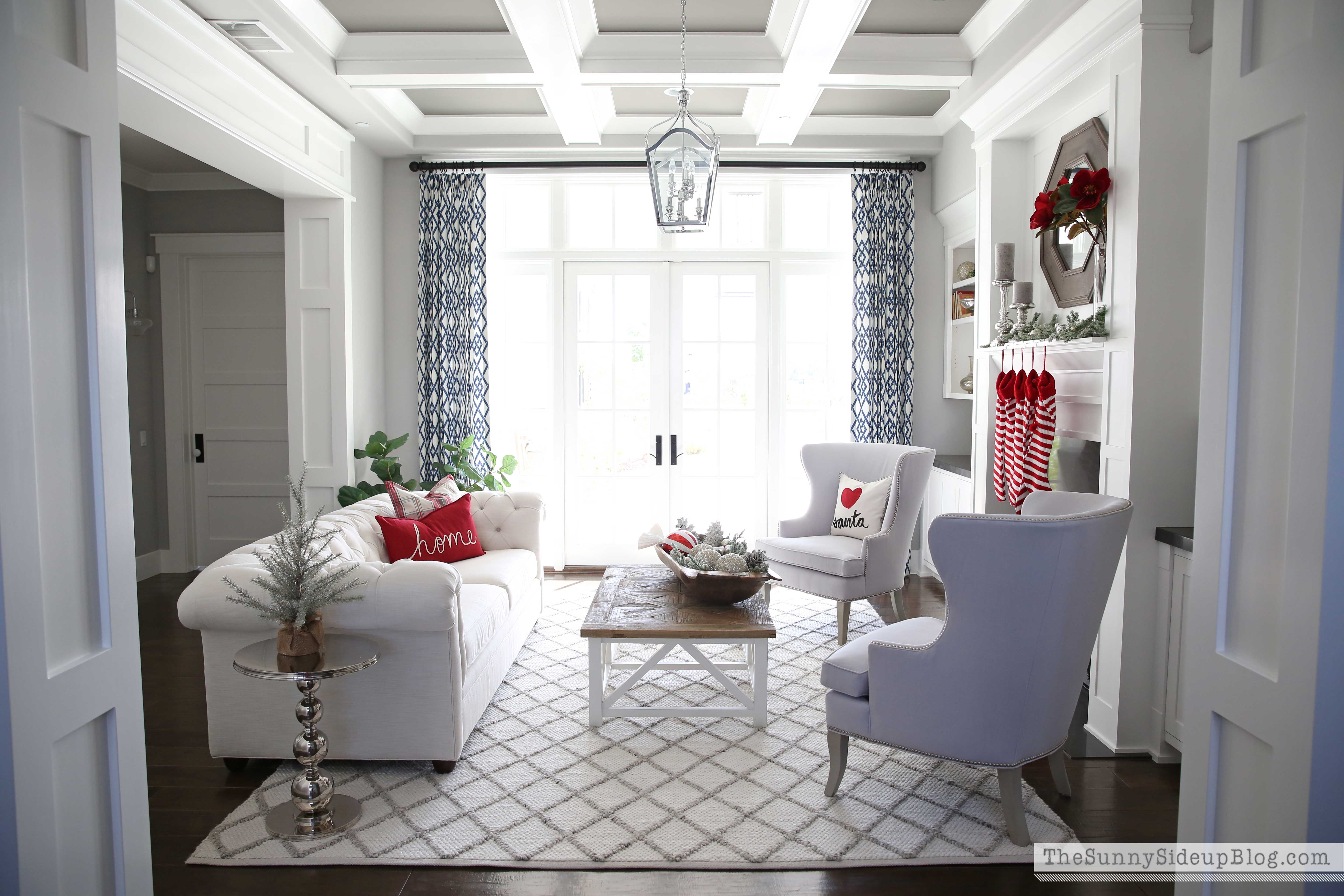 Of course I'm sharing a very special room with you all today.  Why is it special?  Because it's actually decorated!  One year ago this room was completely empty and my goal was to get it furnished by the end of the year.  Ta-da!  It is!  Mostly.  Well.. almost.  Enough to be special at least. :)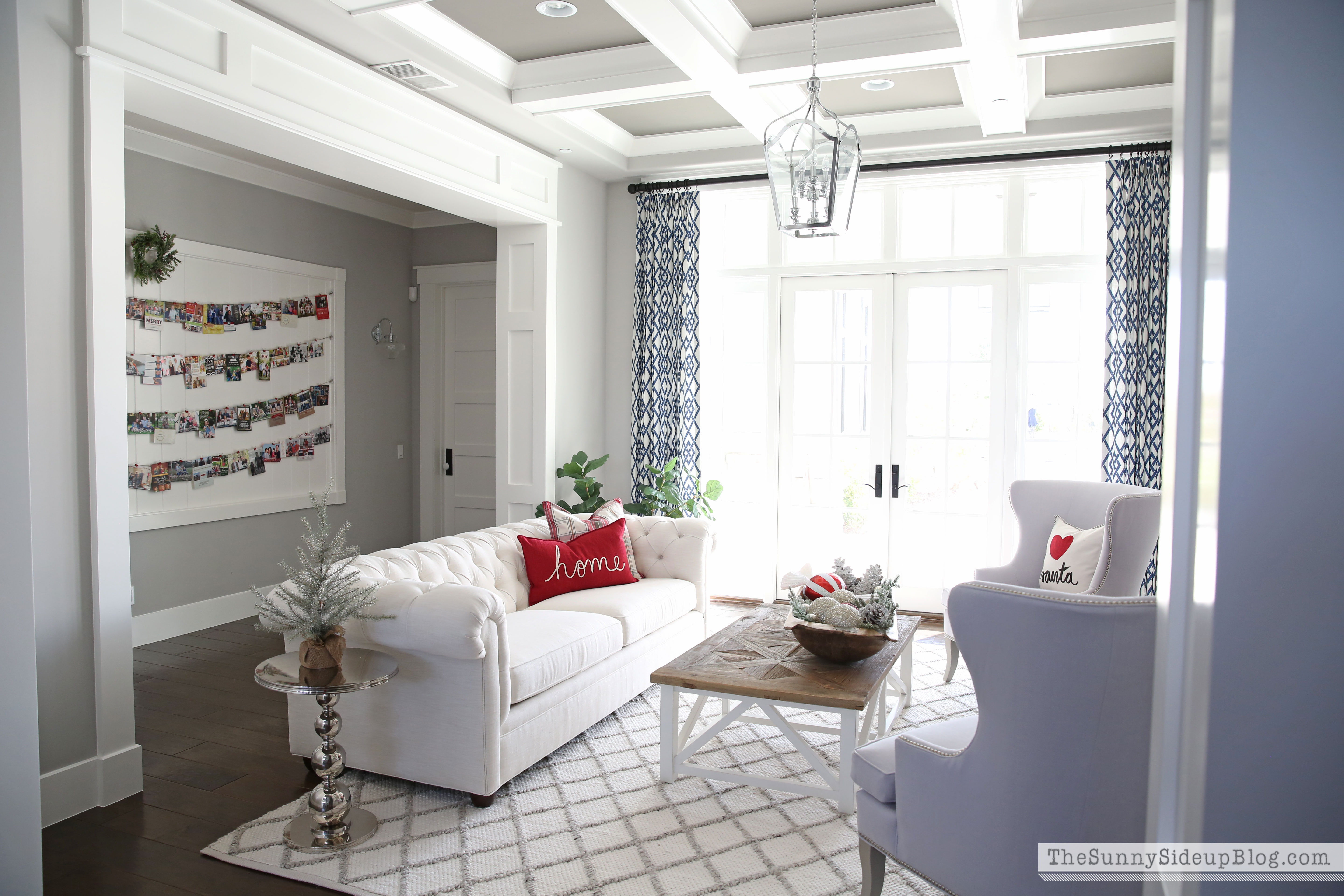 Before we dive into the Christmas decor I have to show you my favorite part of the room!  Remember my planked wall that I designed for a gallery wall when we built the house but is still sitting empty because I'm too afraid to hammer nails into it?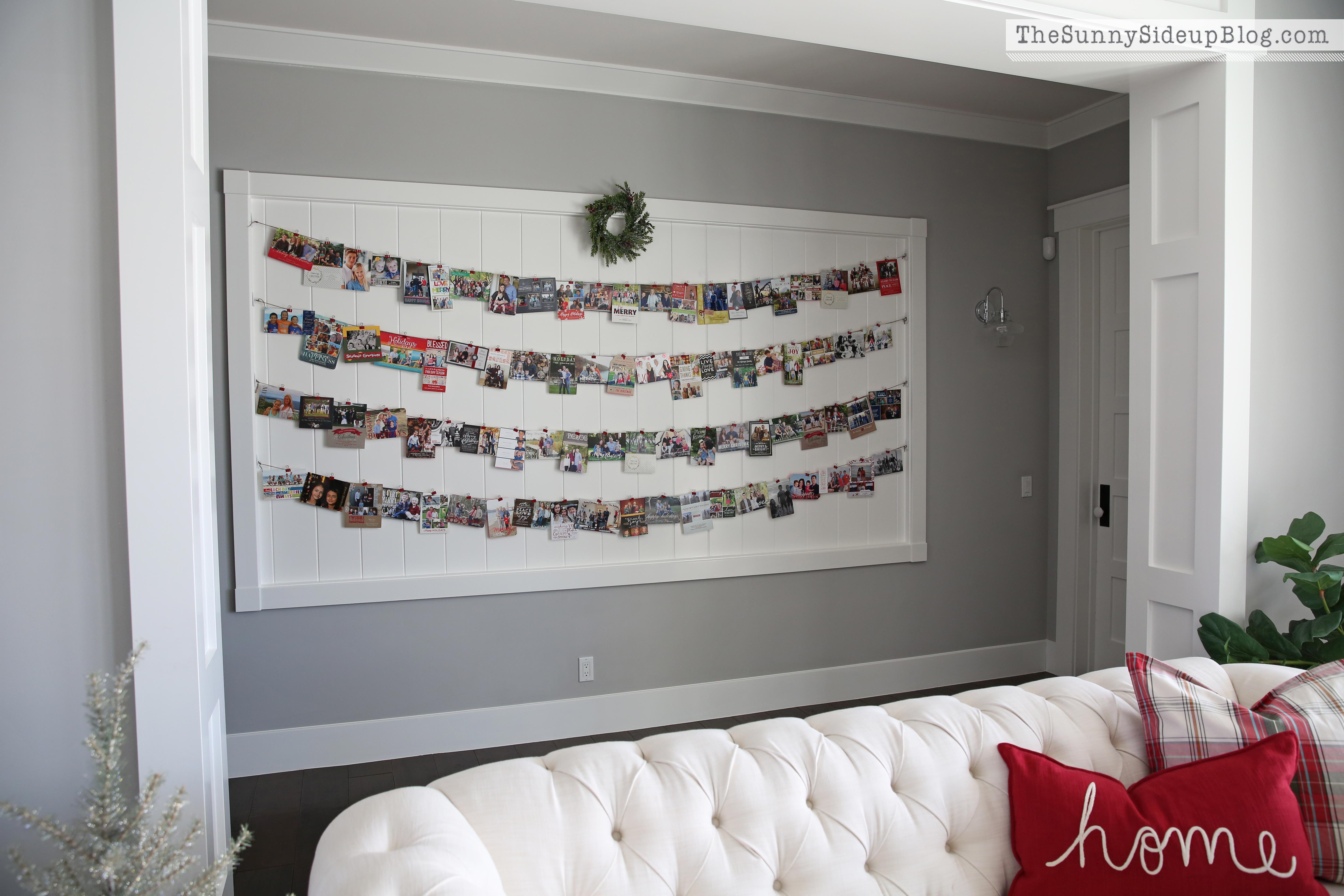 Turns out it's the perfect place to display Christmas cards!  I had this lightbulb idea last year when I was taping cards all over my pantry door running out of room.  I put up last year's cards just to see if it would work and how it would look.  I had about 15 cards left over so next year if I do this again I might attempt to add one more row.  Unless of course an amazing gallery wall is there instead.
But I'm not holding my breath.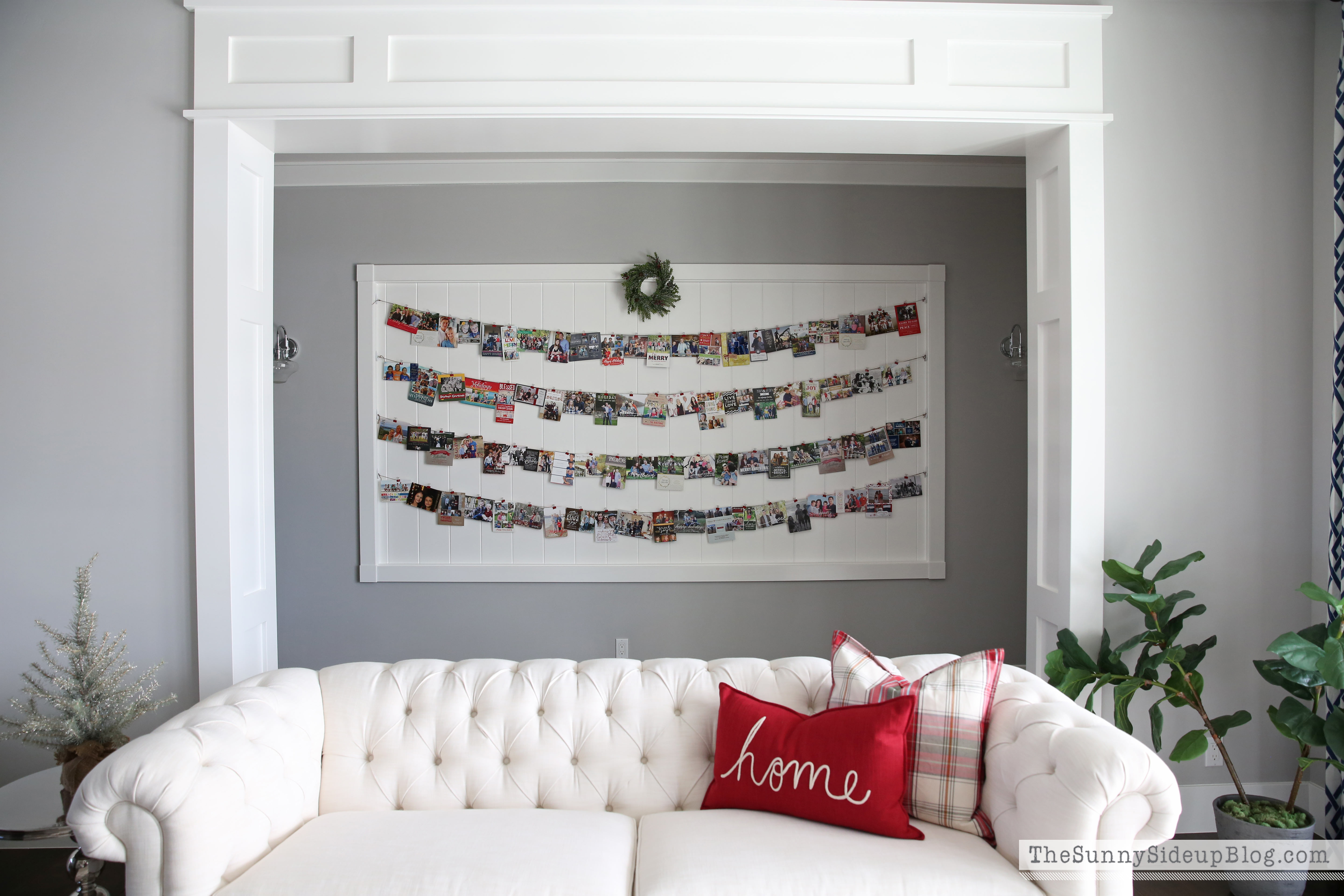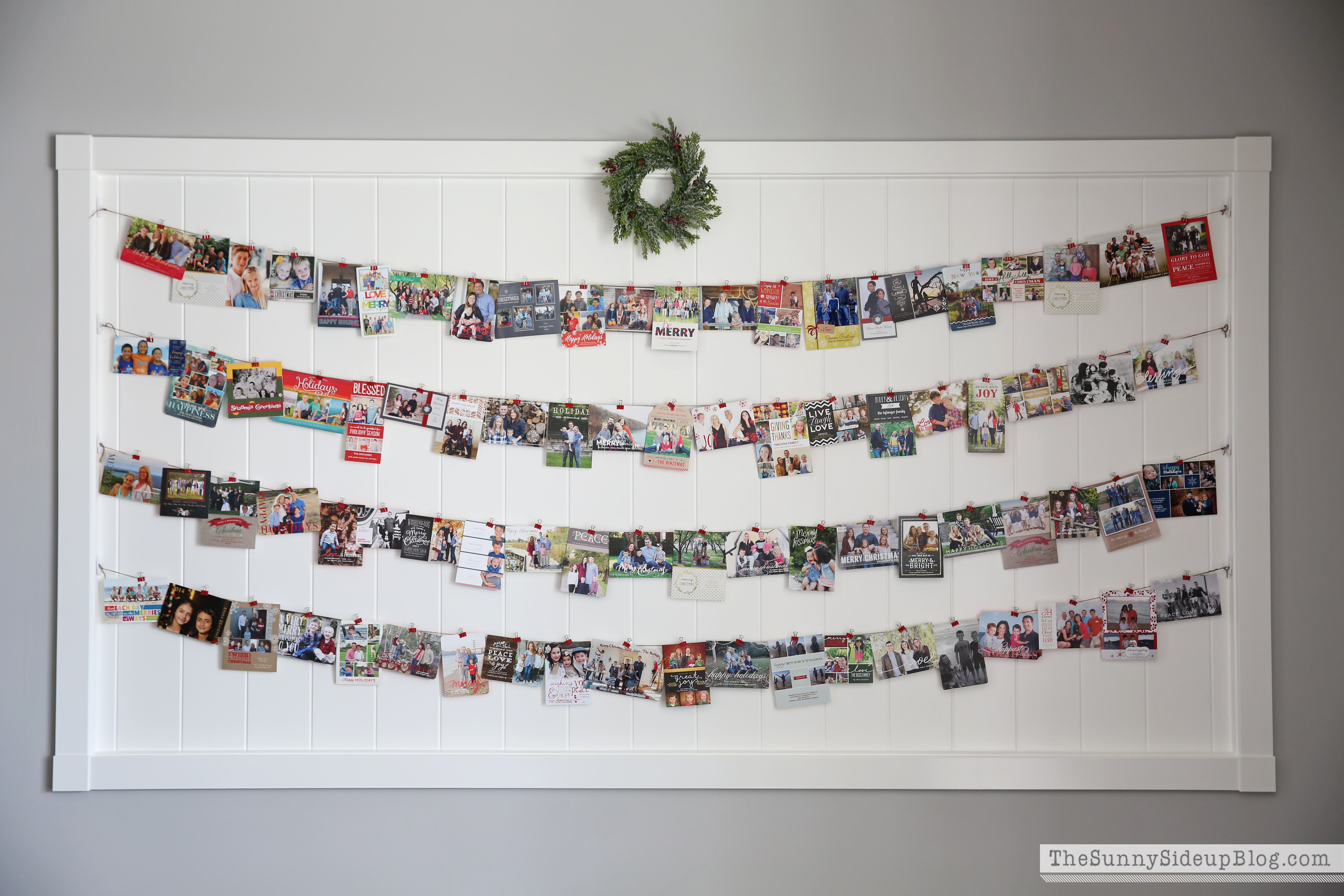 You all know my DIY skills are about as good as my cooking skills so I was pretty excited about pulling off my little Christmas card display.  (I may or may not have skipped around the room a bit and made my family all come and ohhh and ahhh.)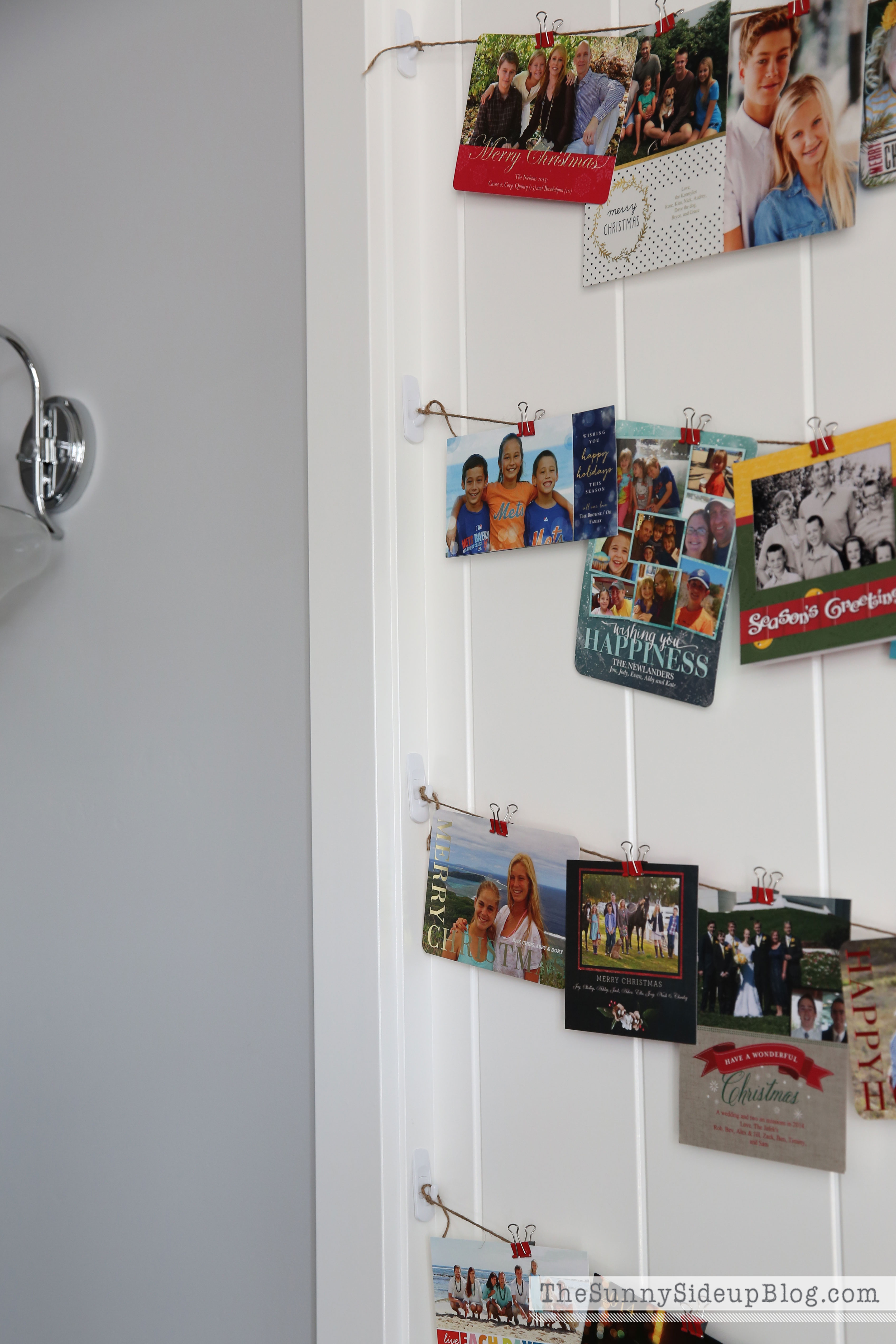 I just used command hooks, twine and some fun little red clips from the craft store.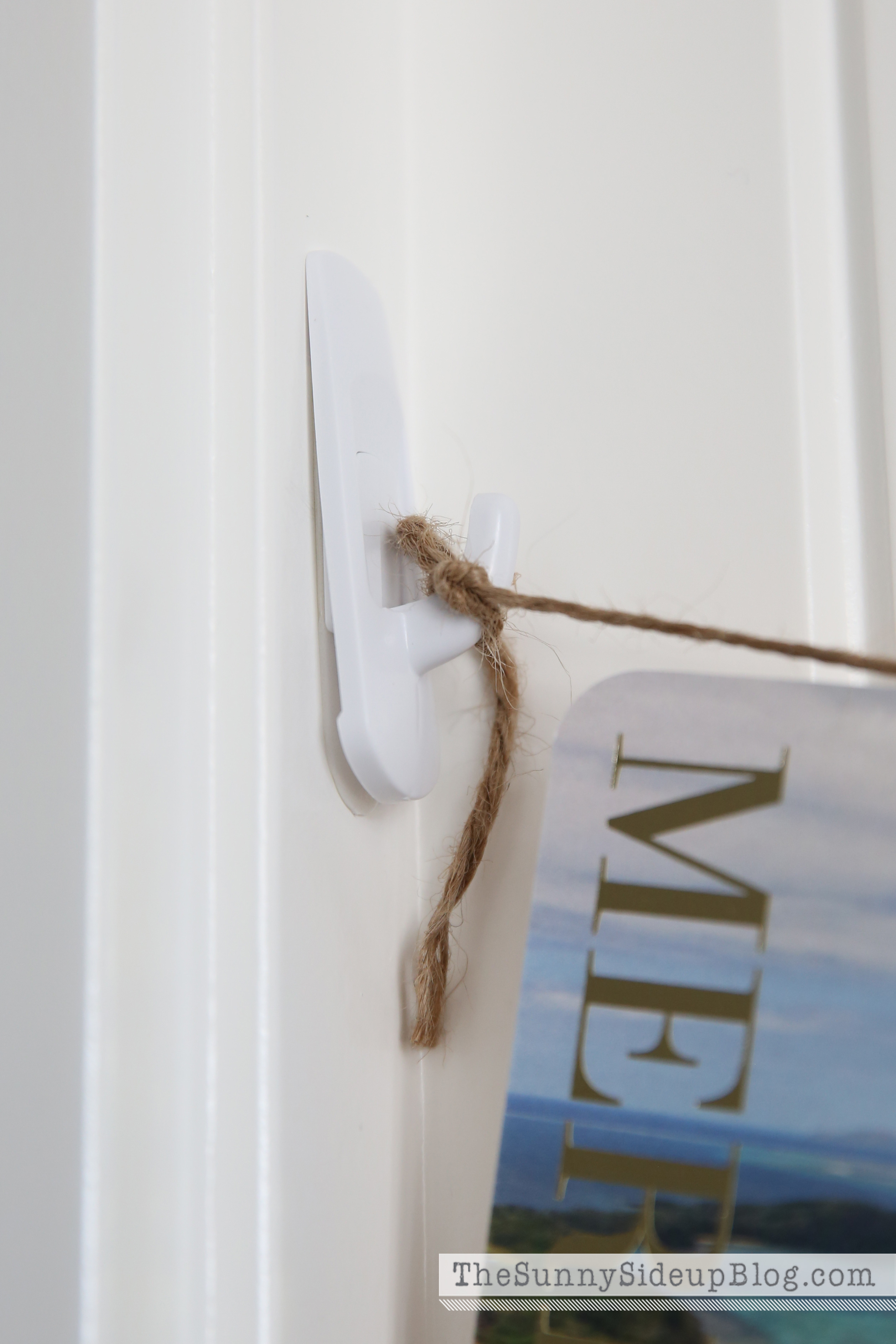 So simple!  Now I'm not as afraid to tackle that gallery wall.  Kidding.  Still totally afraid.  But at least I'm now savvy in command hook know how so that's a start!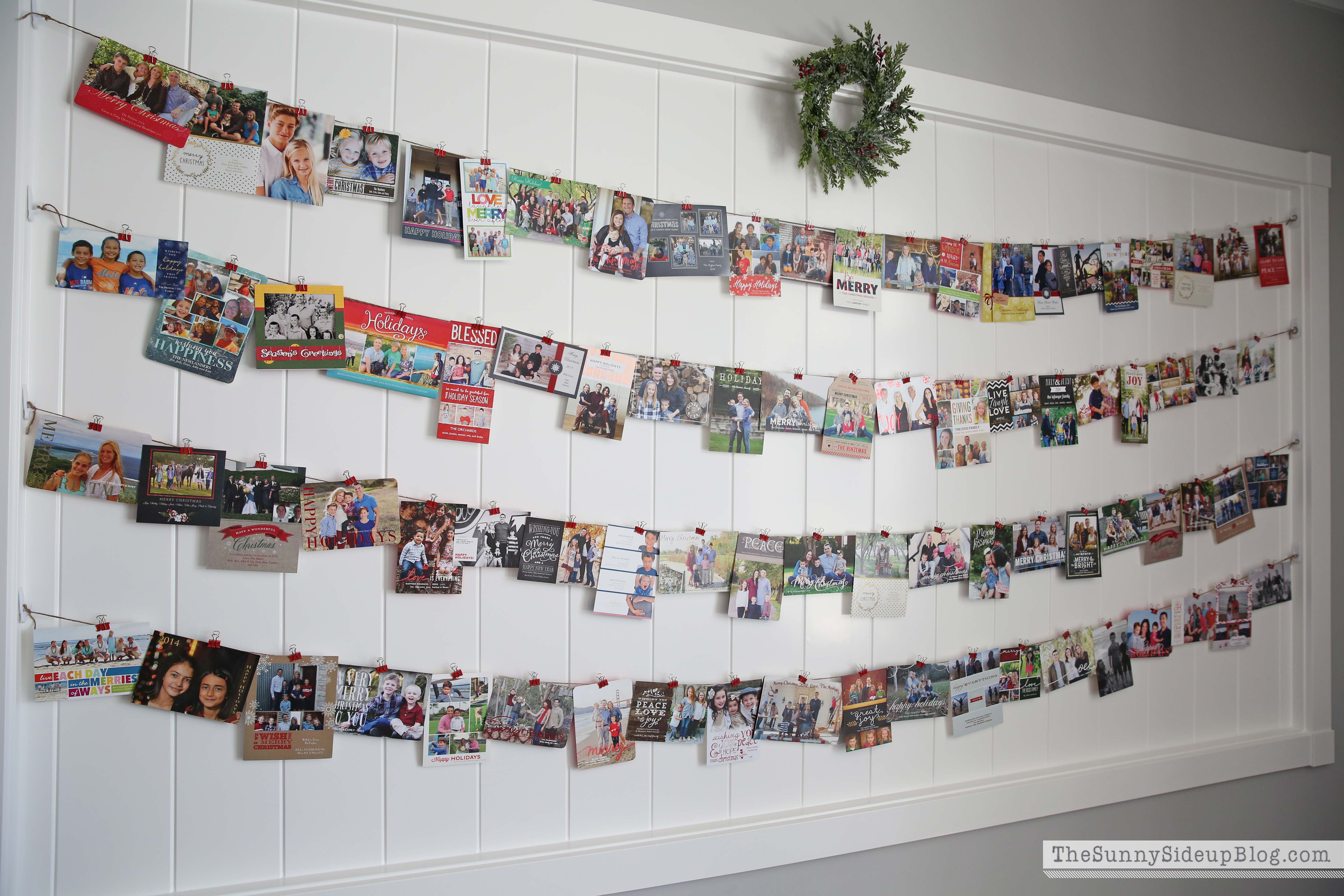 The gallery wall is going to have to wait though because I'm leaving this baby up for a while.  Cards are arriving every day so I'm constantly replacing old cards with new cards.  Getting Christmas cards from family and friends is one of my favorite parts of December.  Happy mail!  It's the only time I visit the mailbox instead of waiting for my husband to do it.  In December.. the mail is mine. :)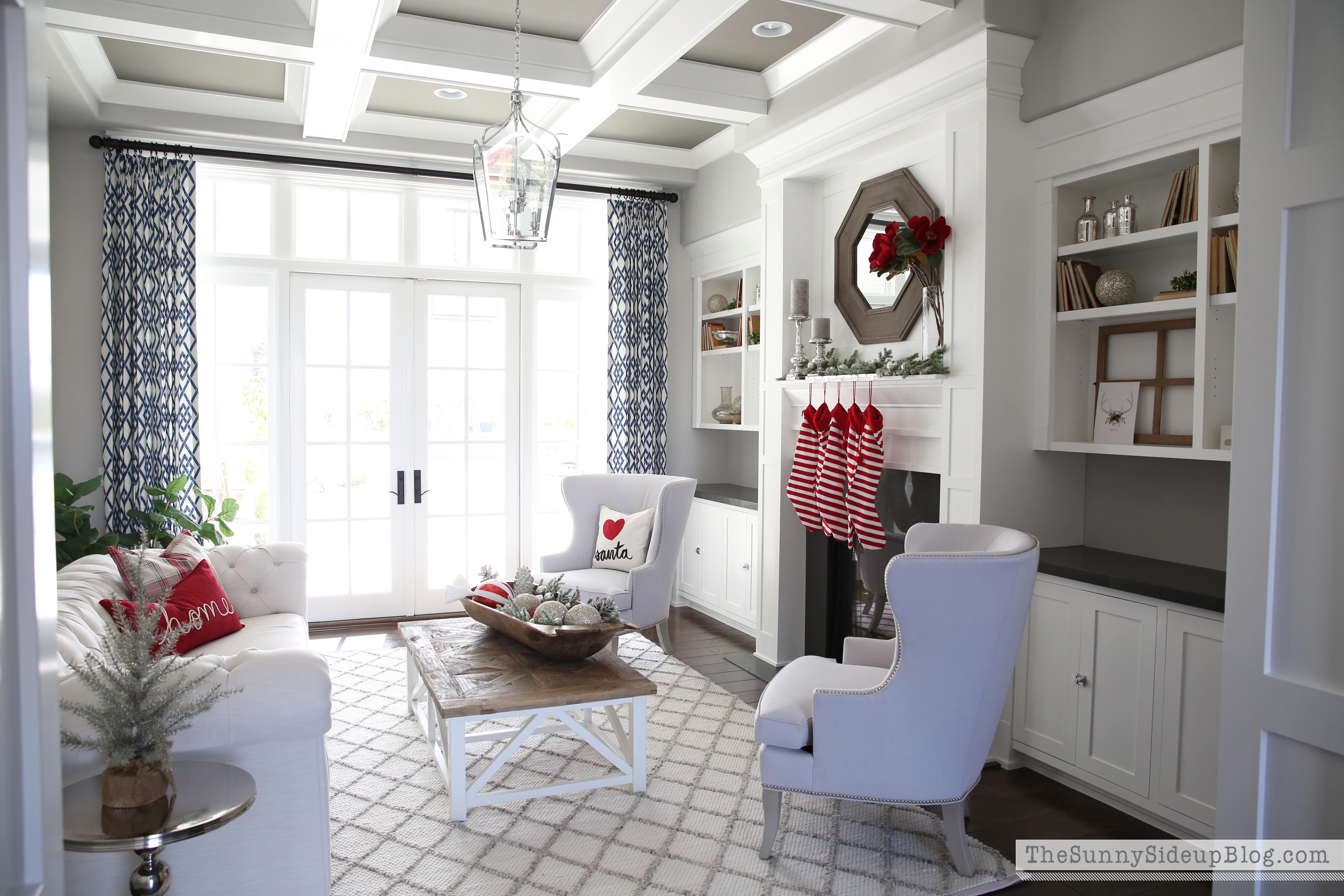 Come in and see the rest of the room!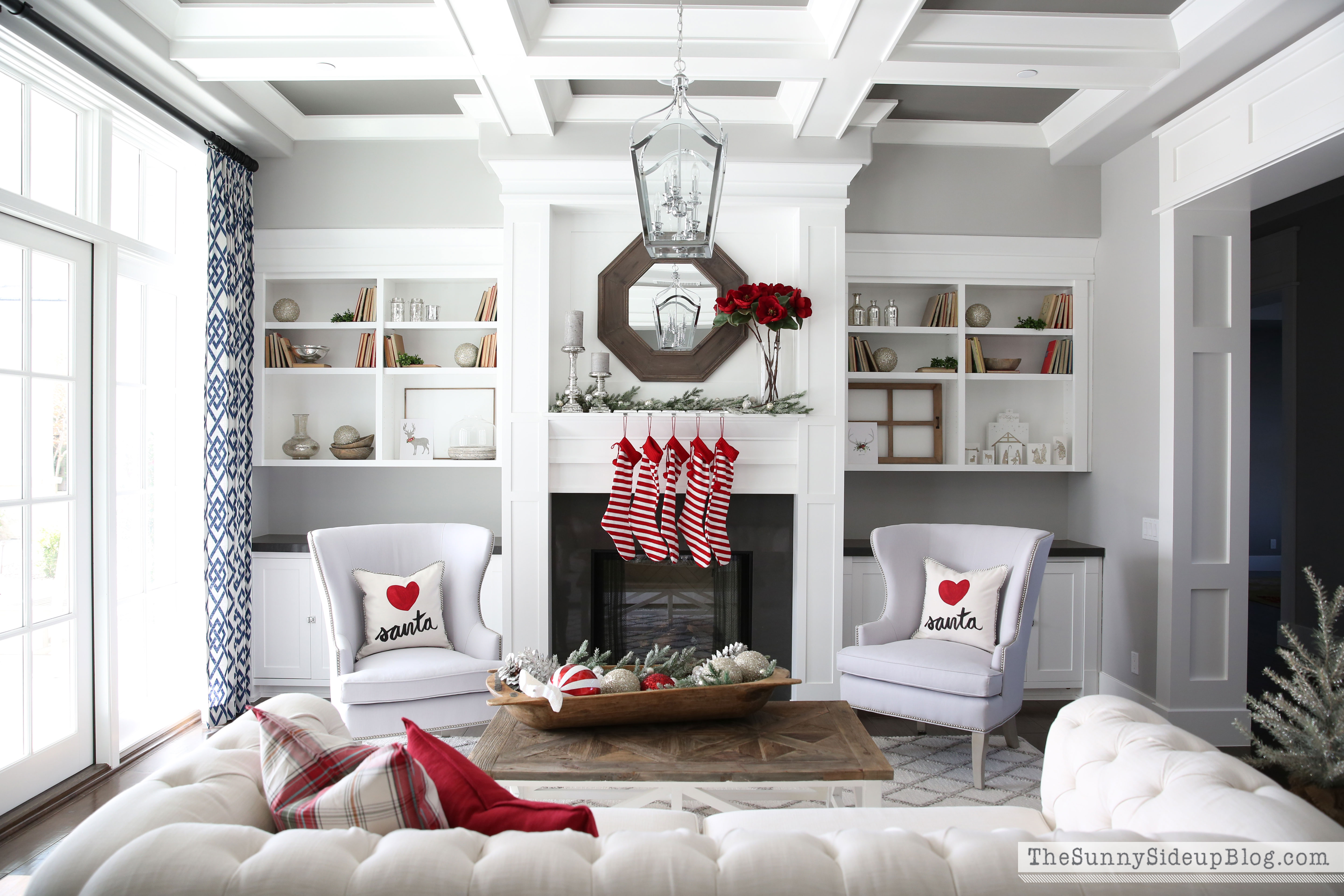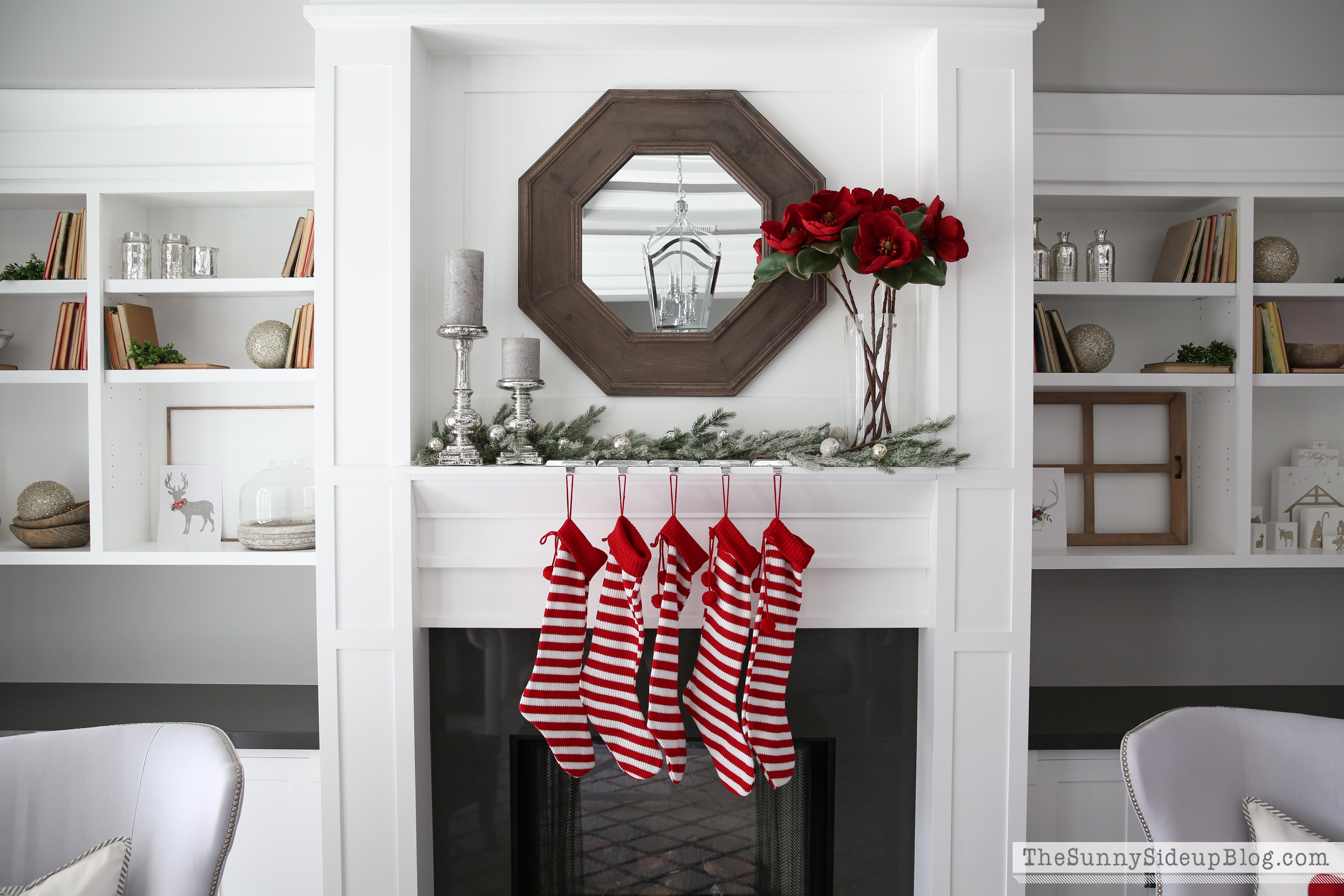 I kept the mantel really simple.  I've had the striped socks for years but because the socks in our family room have such special meaning for us I've never used these.  Fun to finally have another mantel to hang them from!  The candle sticks and candles are from Pottery Barn and the flowers I found in Tai Pan when I was in Utah over Thanksgiving (similar flowers here).  A clear vase and some garland and done!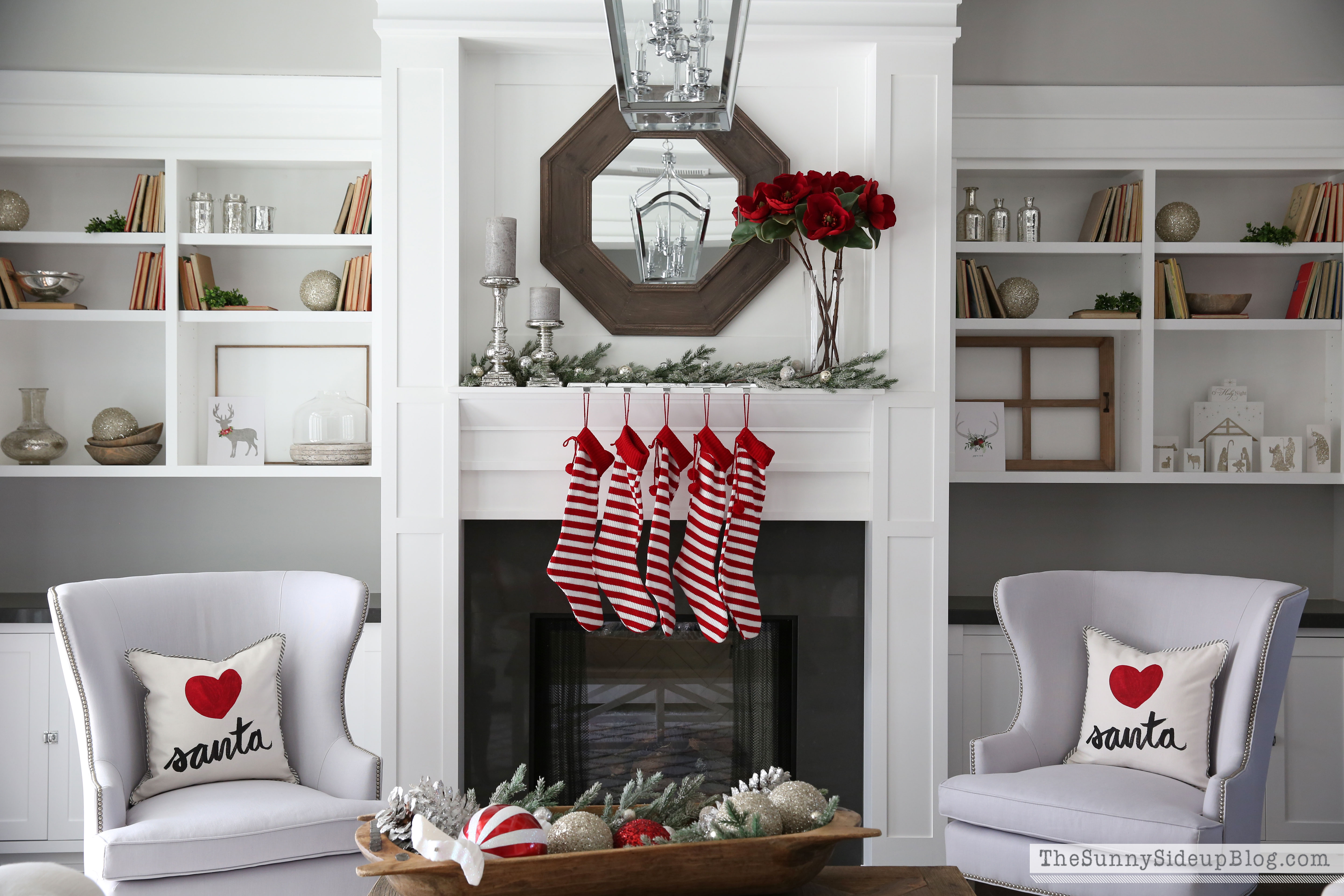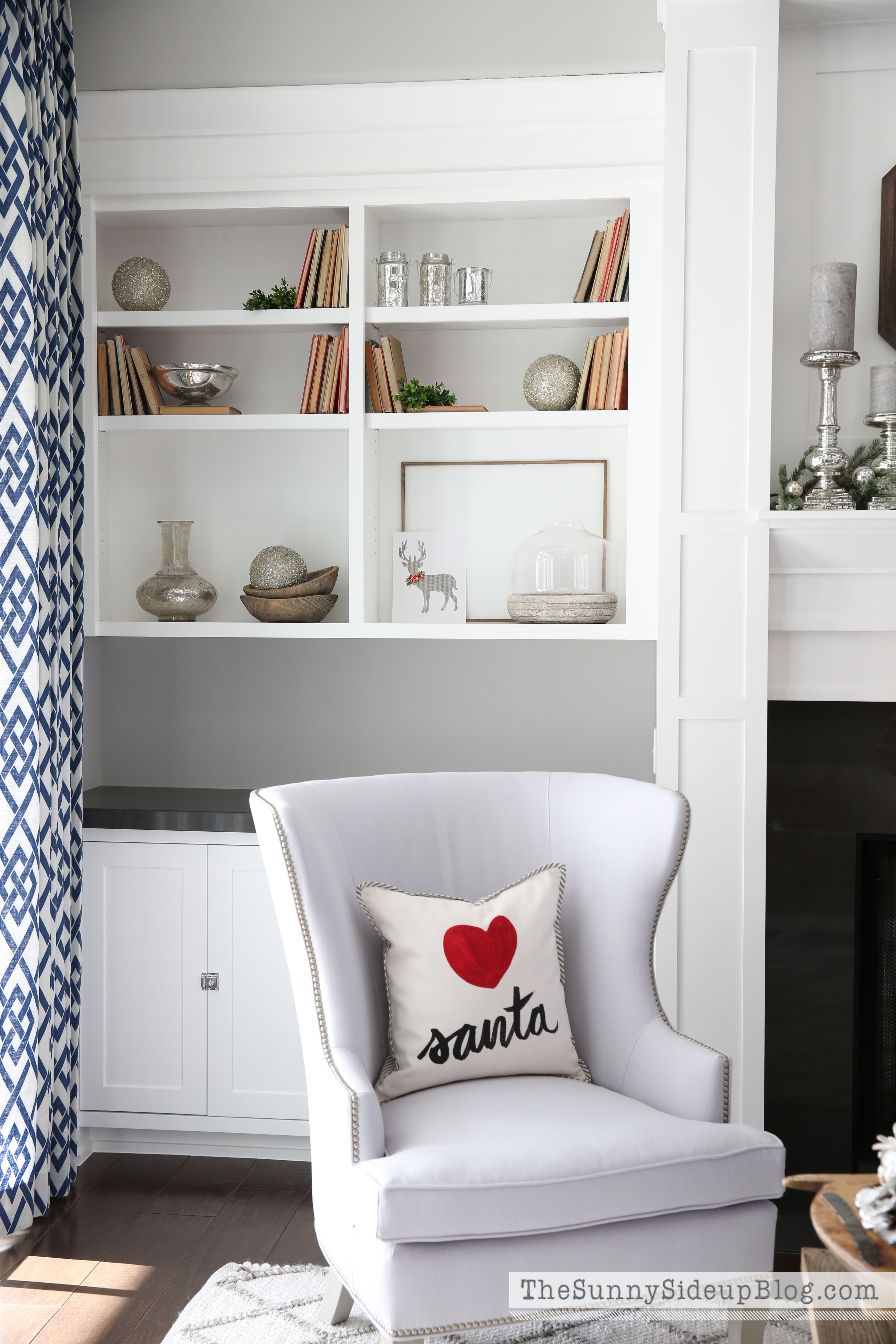 This is the first time I've styled these book shelves and they are far from how I want them to look, but it was fun playing with them with things I already had around the house.  The love Santa pillows are a new addition this year and are my favorite!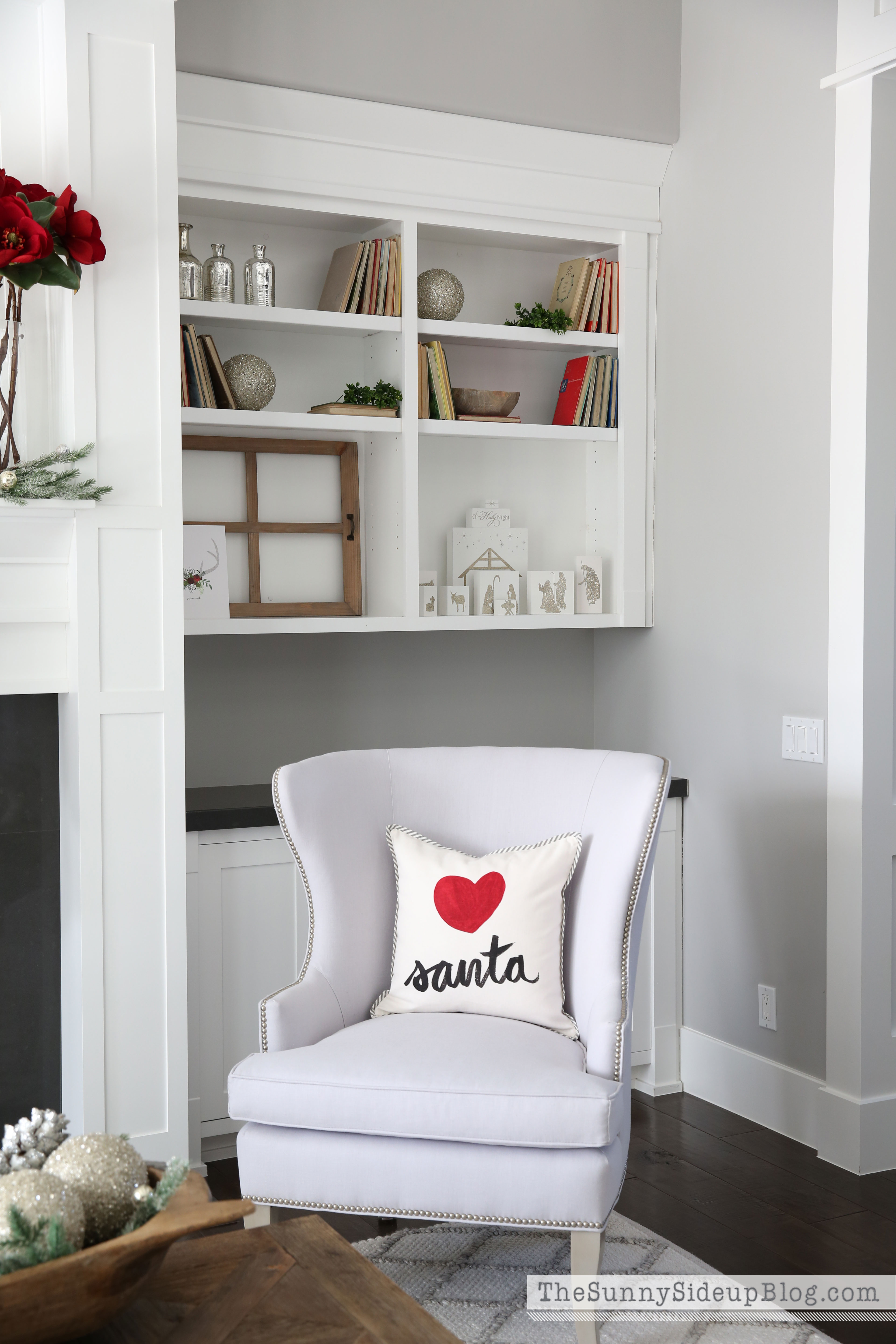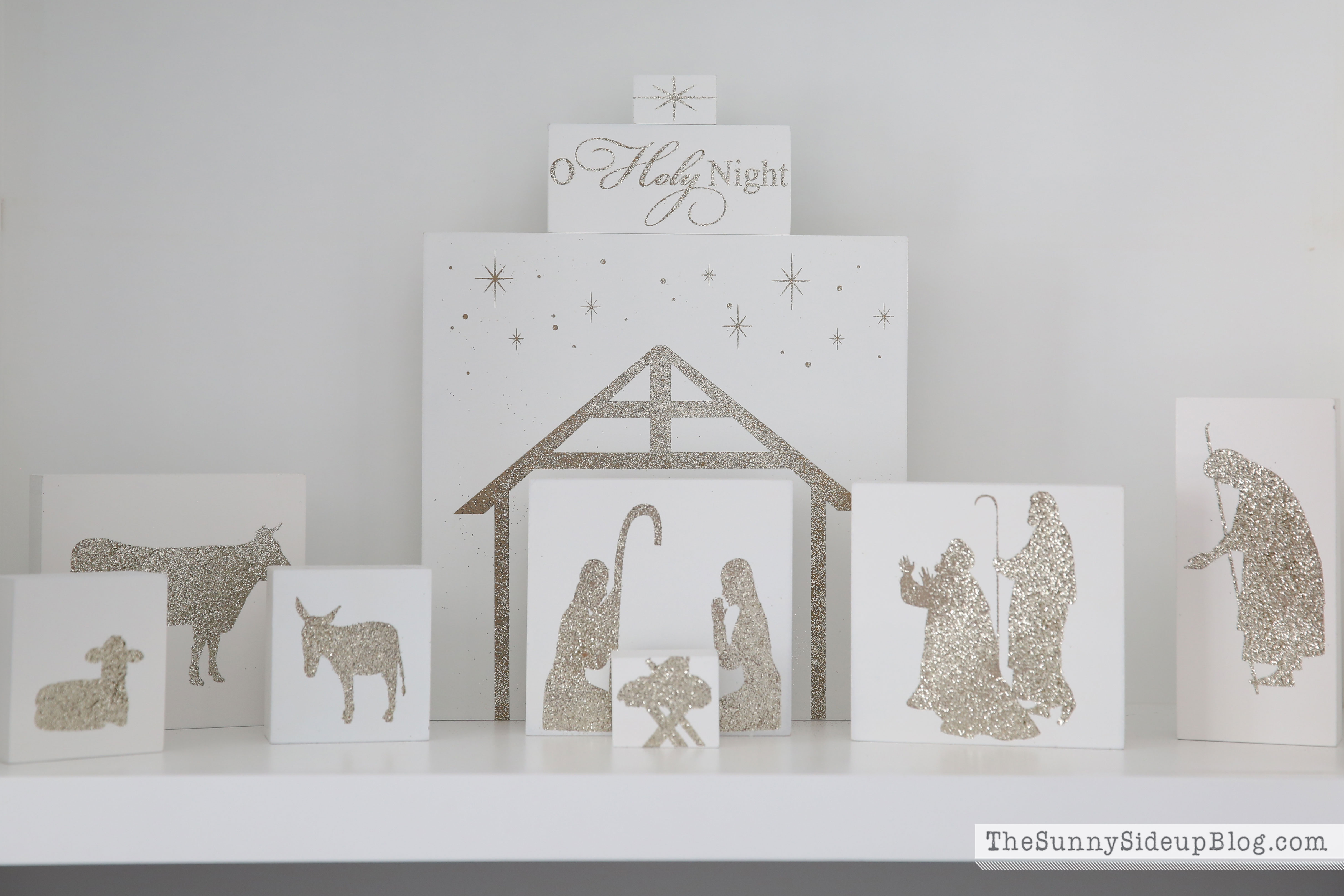 This sweet gold glitter wood nativity set from Krumpets is also new this year.  I've been hunting for a nativity set for years and love this because of its simplicity and the fact that I can't break it!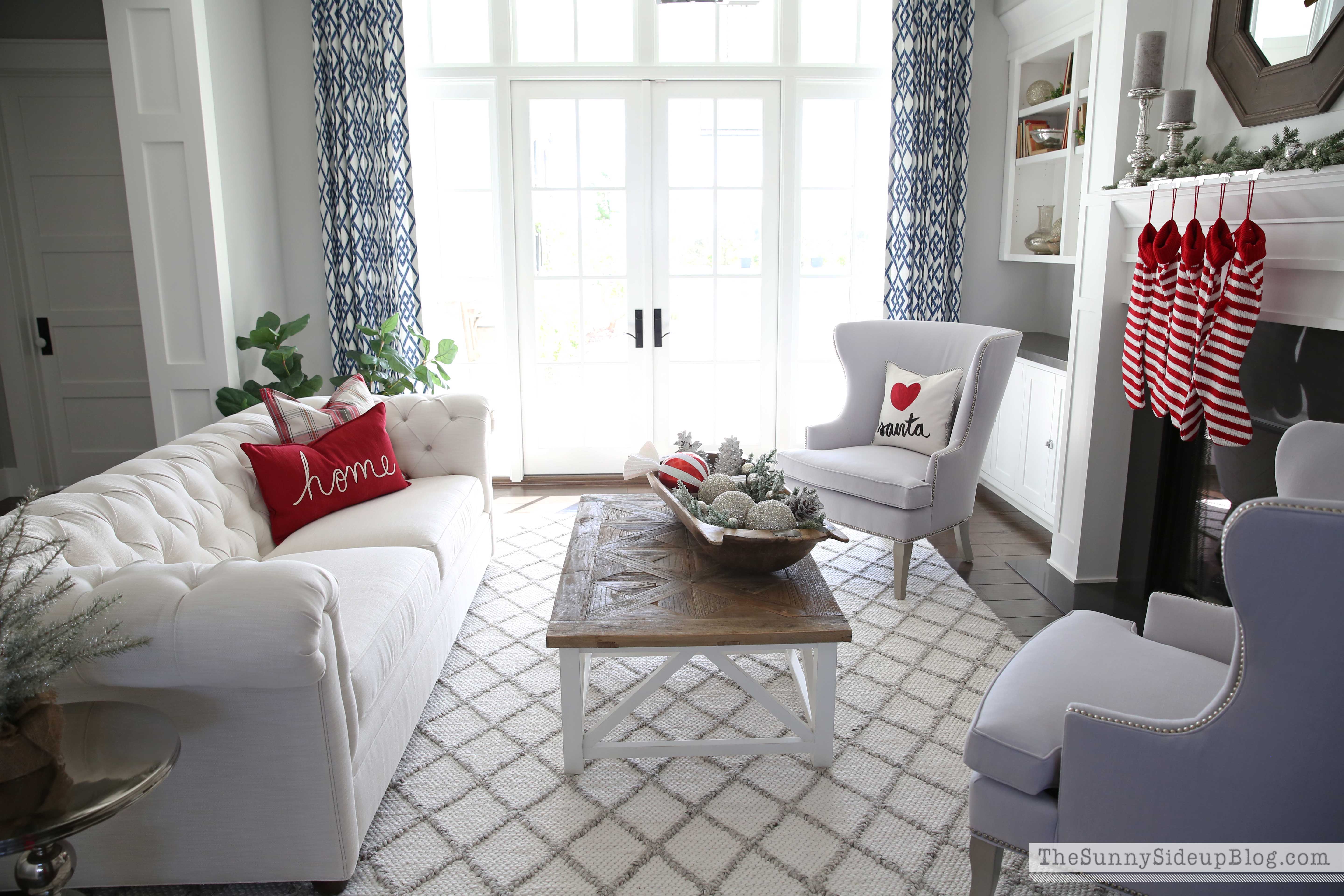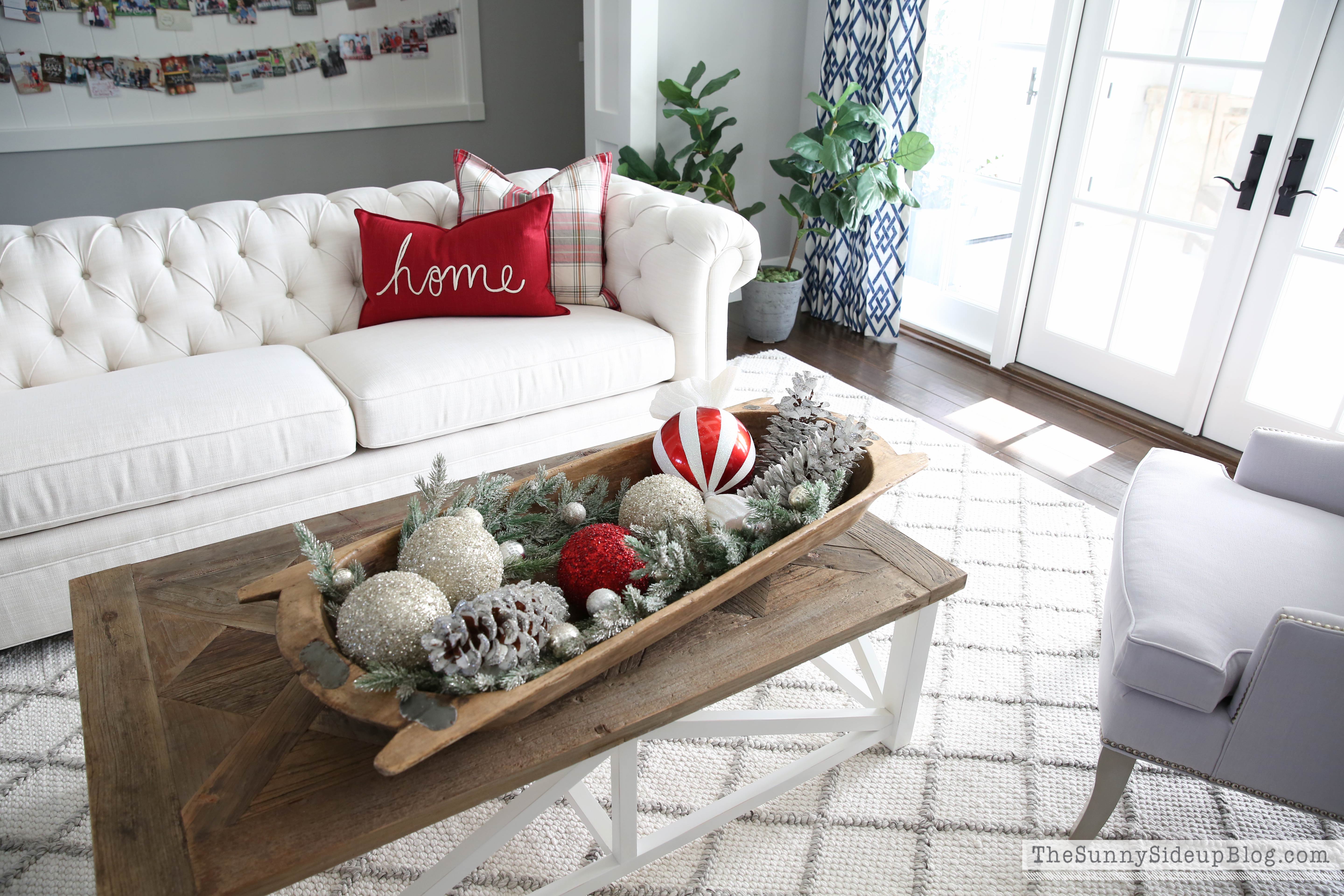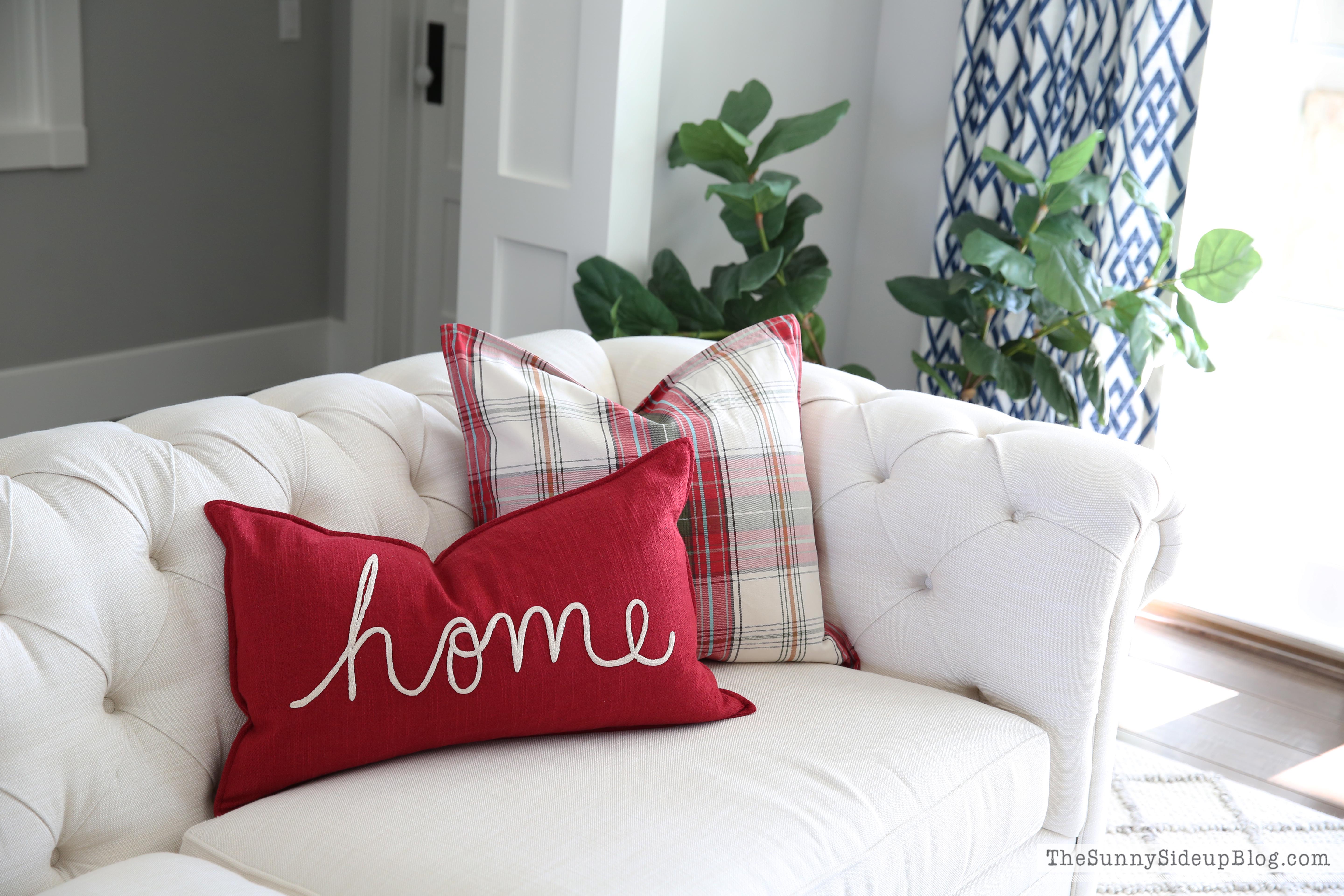 More fun Christmas pillows from Pottery Barn!  A pillow that says home instantly makes any room feel cozy.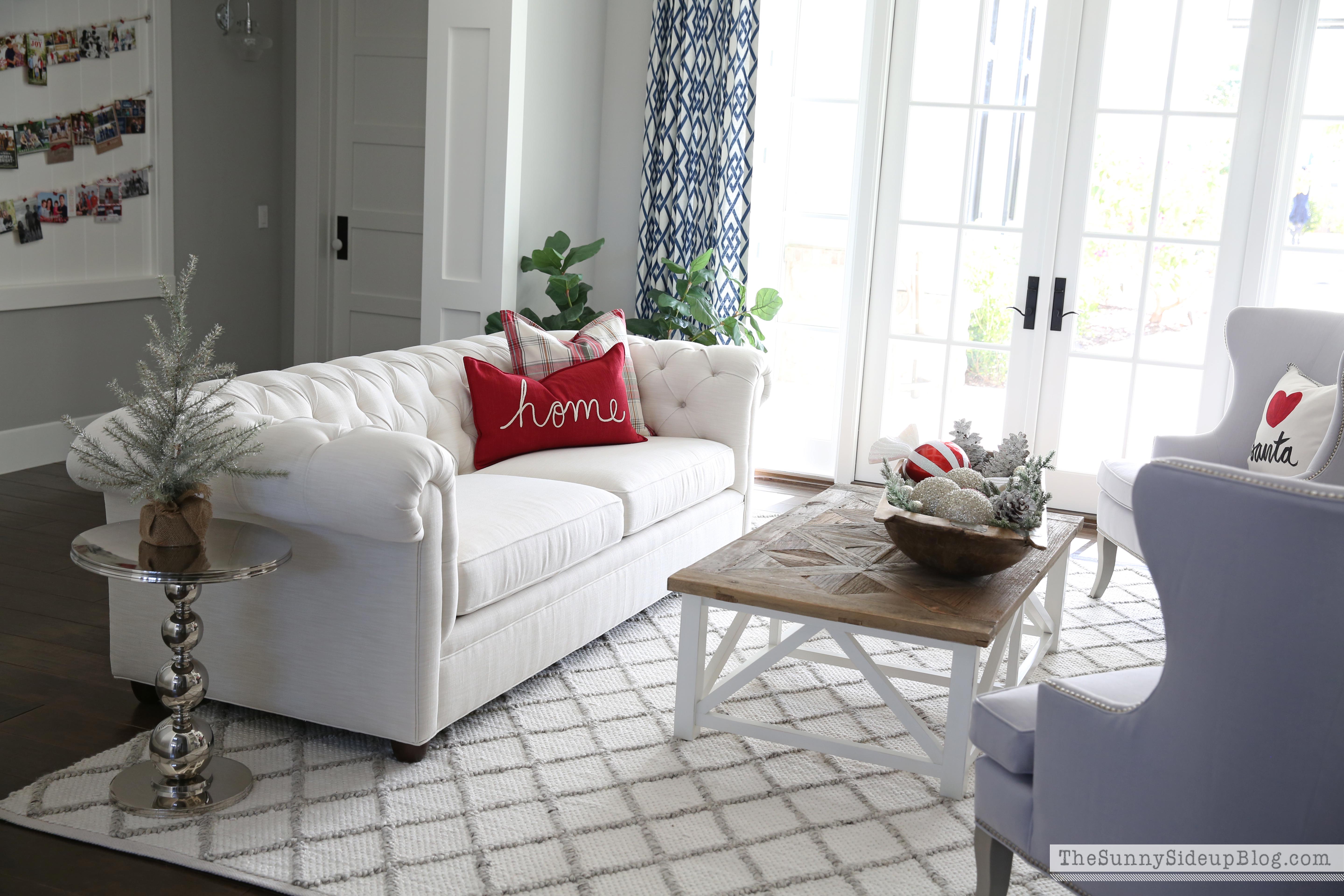 The cute little glitter pine tree on my silver table is from Nordstroms Home department.   They are on sale right now so I'm tempted to pick him up a friend. :)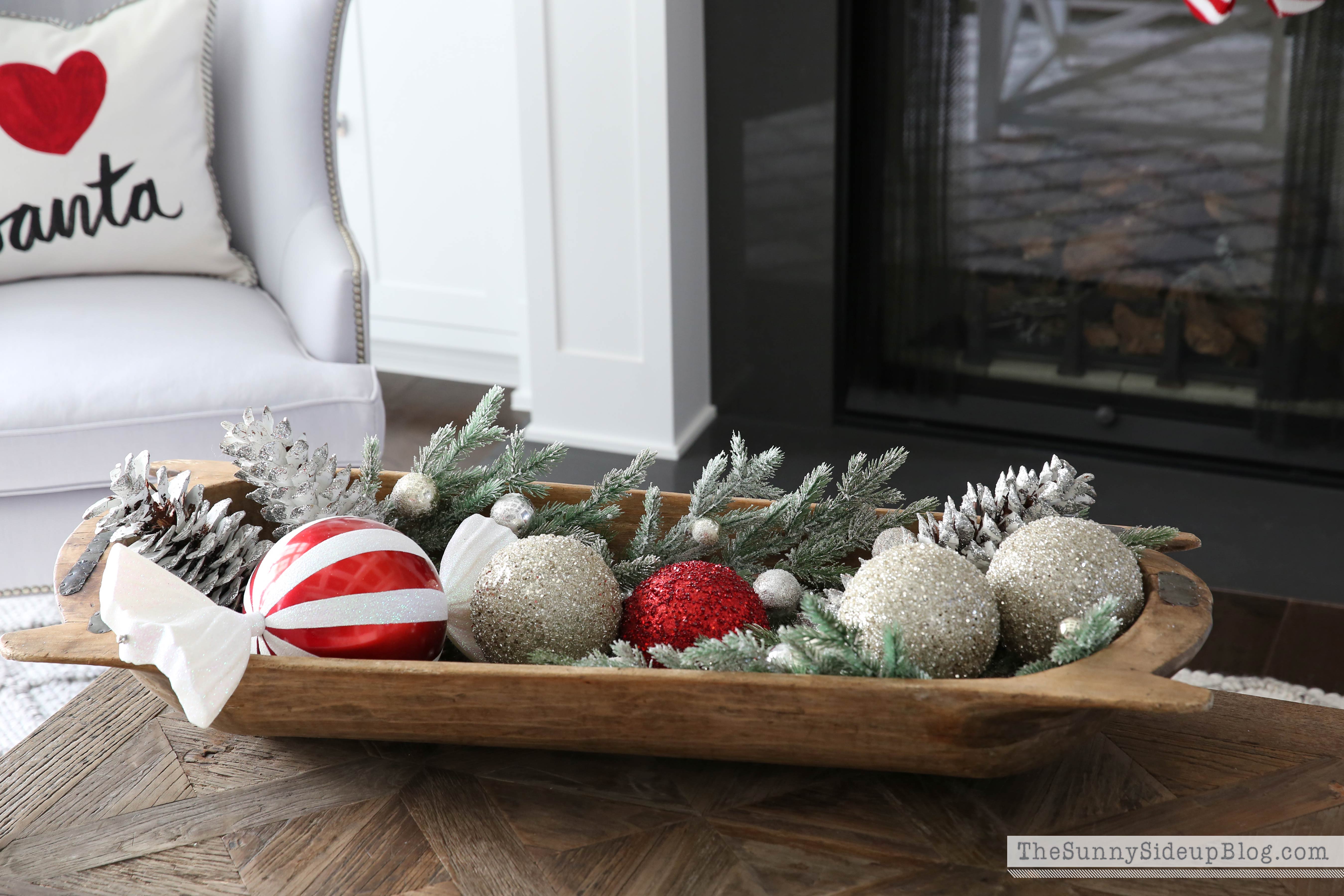 You might remember these large candy and red sparkly ornaments from our Christmas tree this year.  I had a few left over and some gold ornaments I never used on the tree so I tossed them in my dough bowl.  (Ornaments are from Krumpets and you can find a similar dough bowl here.)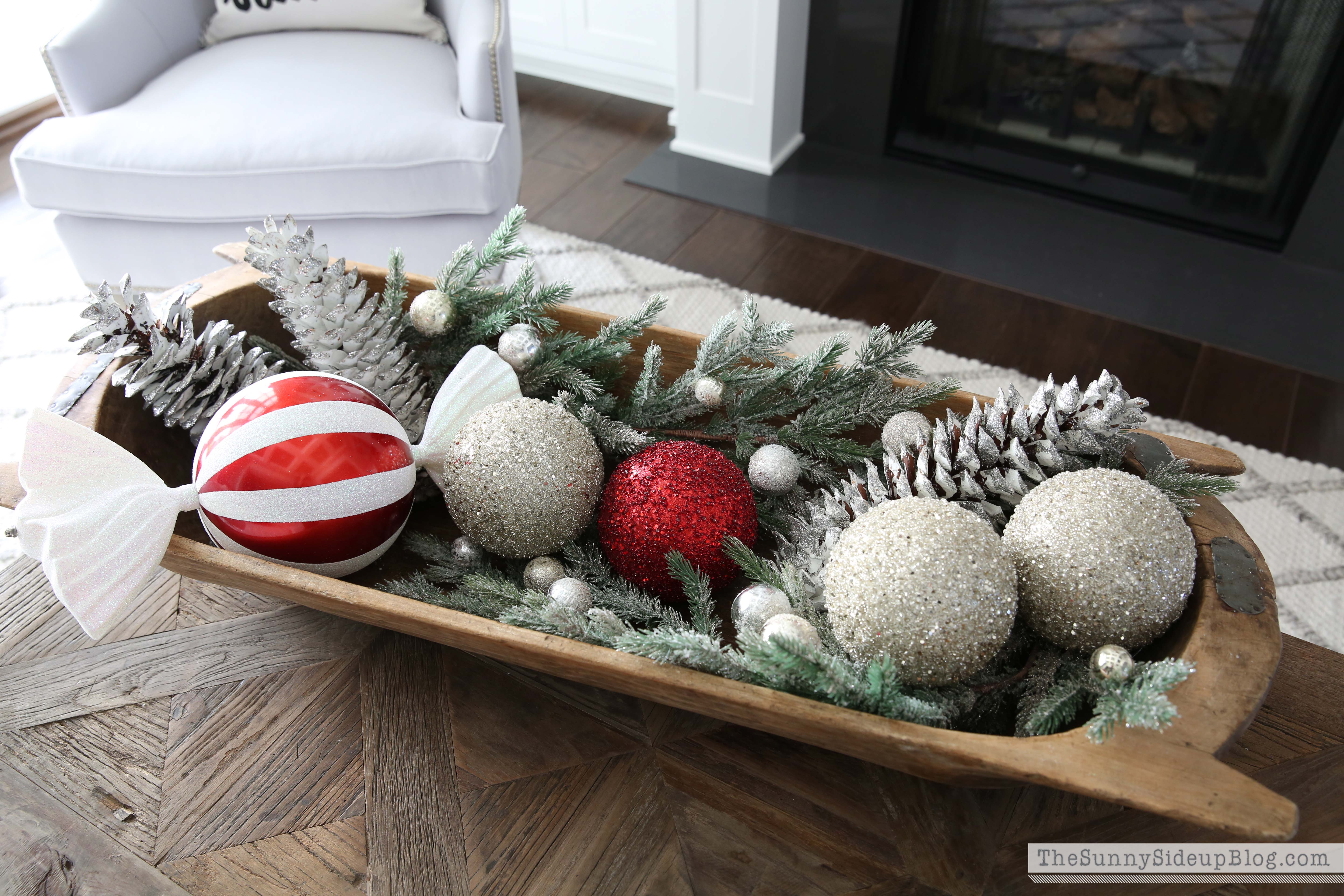 So festive that I had to set it up on the table instead of its regular spot on the fireplace floor so I could see it better.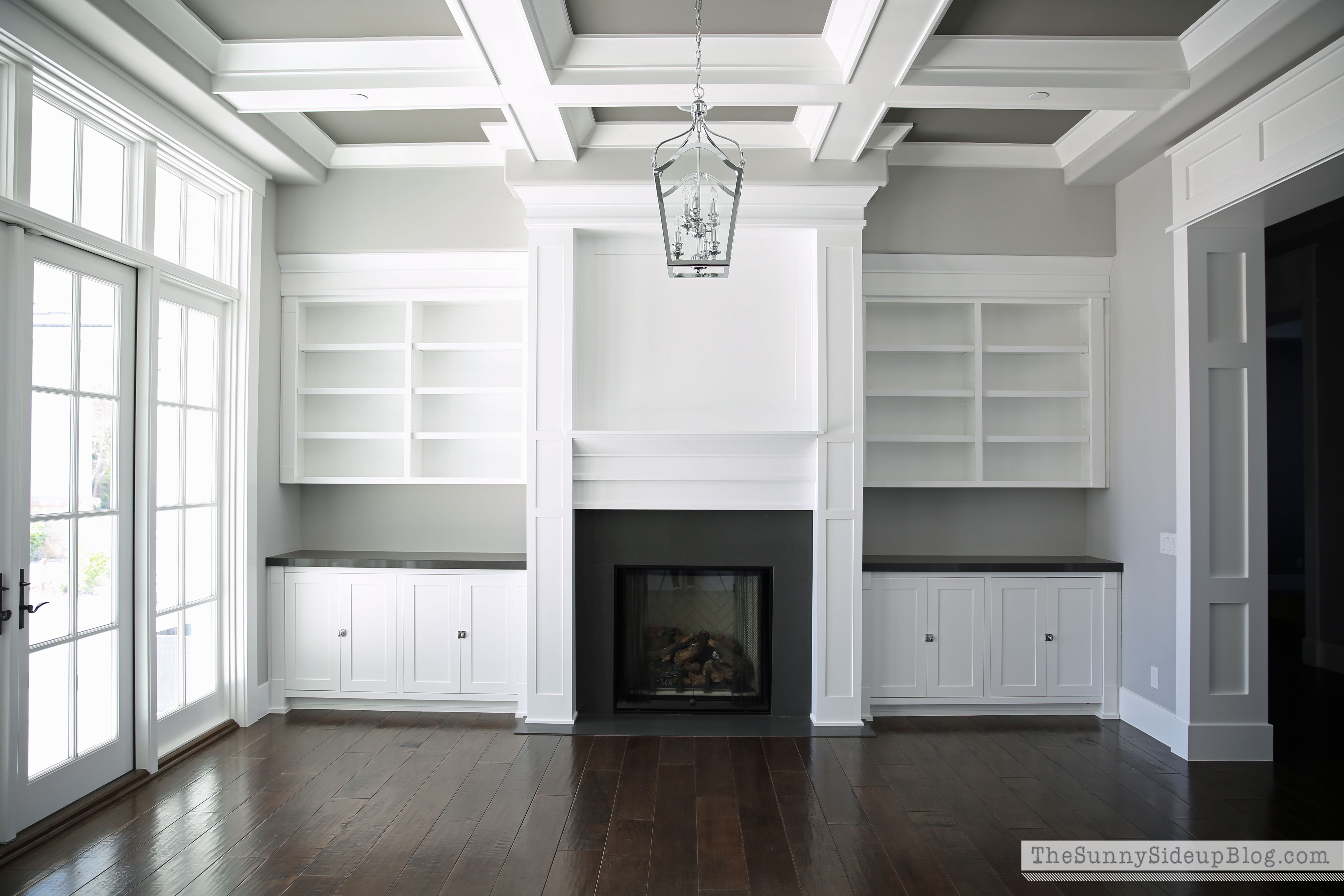 Time for a quick progress shot.  One year ago today!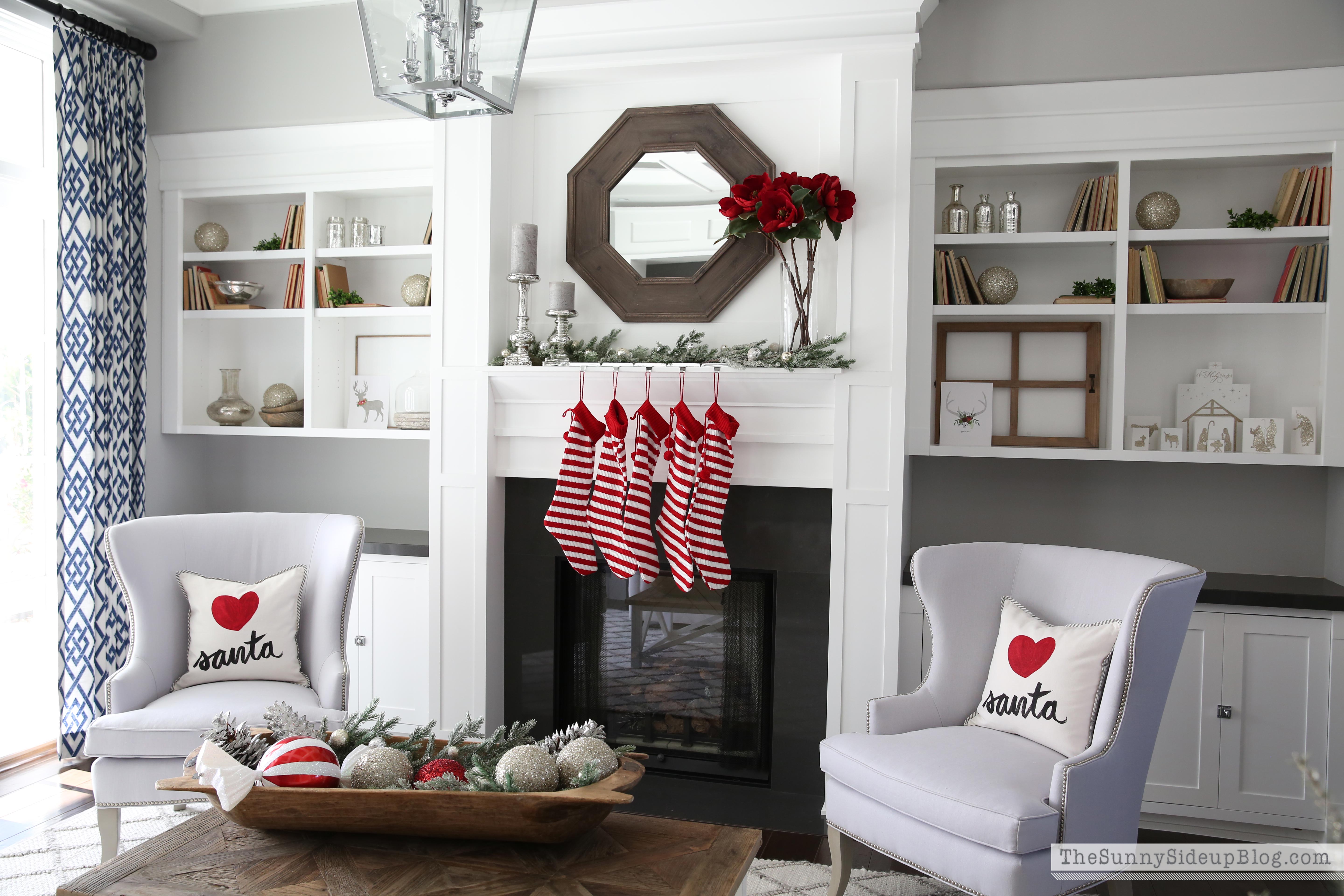 And now.  The stockings were hung by the chimney with care..  :)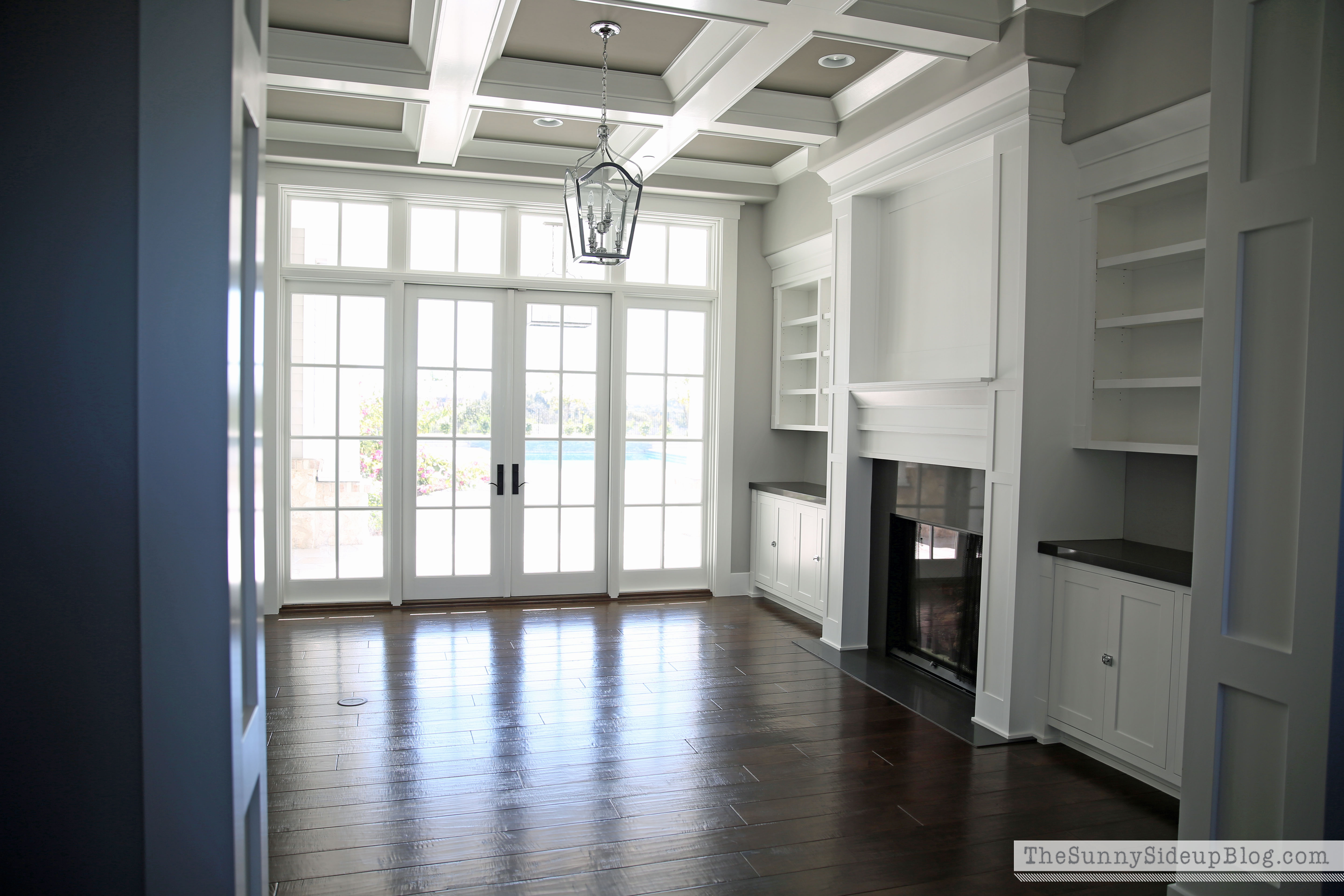 There is still a lot I want to add in this room and eventually I'd love another Christmas tree for this space (I already have it decorated in my head!) but for now I'm just happy to see that our old hula hoop, gymnastics, ice skate in your socks room…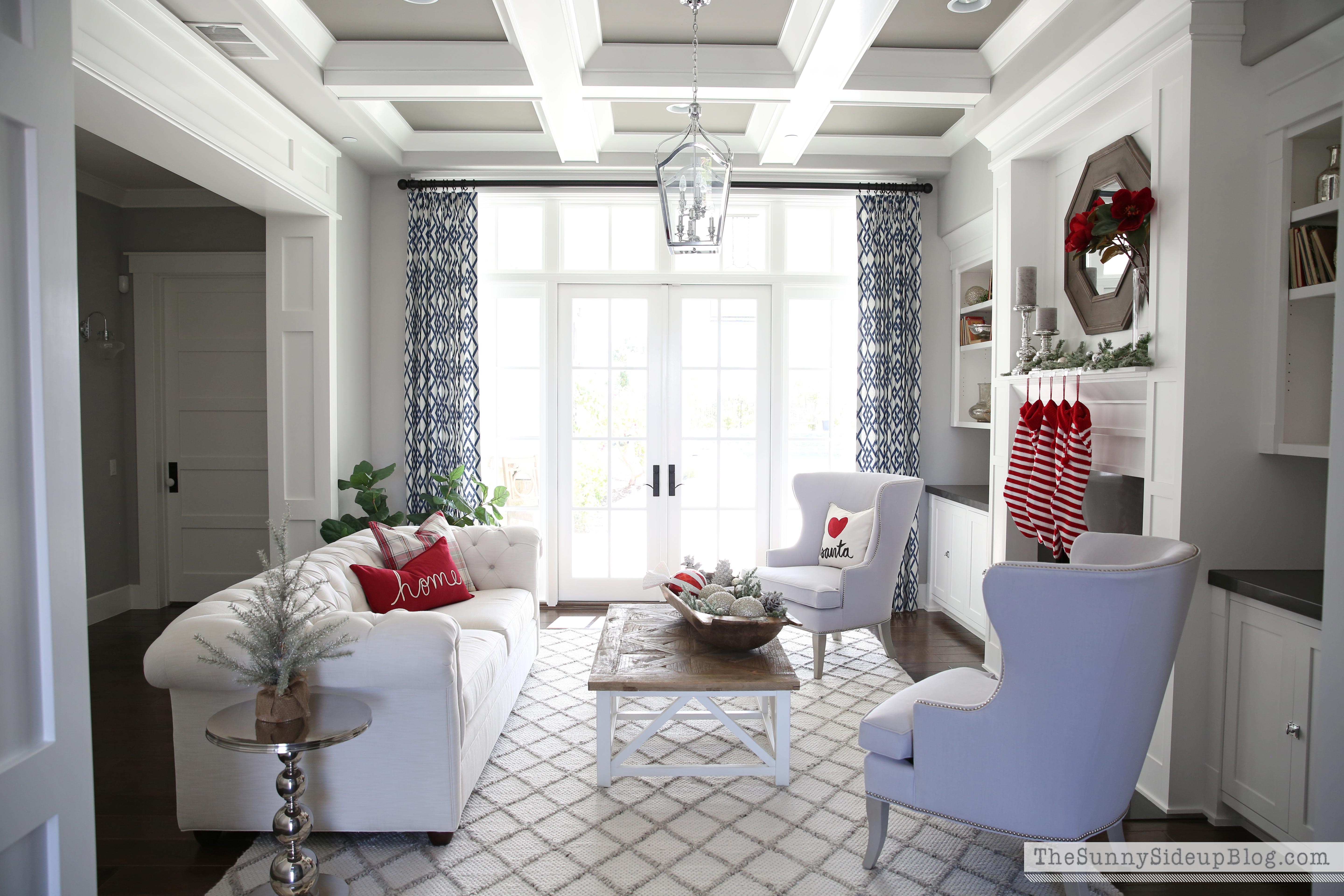 is all grown up.  :)
Thanks for visiting my living room Christmas tour!  Excited to share my kitchen tomorrow.  :) Next stop on the tour is sweet Melissa at 320 Sycamore!  If you are new you can also stick around for a bit and see how I decorated our porch and family room for Christmas, check out my favorite things for 2015 (fun gift ideas!) or see our house with a lot less red a bit more coral in my every day Home Tour.
Wishing you all the sunniest of holidays.
:)
*affiliate links used
xoxo, Erin