Happy Friday everyone!  I have a new love in my life.  It's right up there with white molding, dutch oven potatoes and cherry ice chapstick. :) It's the website for Sole Society and I am finding so many cute things there lately!  I discovered it months ago when I bought my striped Leighton bag that I shared in my Favorite Things for 2015 post.  When I ordered that bag it didn't show up for a while.  Some kind of mix up with the shipping.  I called their customer service and they were so kind and helpful and had a new bag to me the next day.  I love good customer service!  And you all know how I feel about that bag (apparently everyone else loved it too because it sold out, but you can find a similar navy striped bag here).  Anyway!  I've been wearing a few other fun things from their store and am loving it all!  Really cute stuff, nice quality and great prices.

First is this cute Popcorn Infinity scarf with tassels.  I got it in the Ivory and it's so much fun.  It's big.  And so warm!  I lived in it in Utah while we were visiting for Thanksgiving.  It was so cold and I had a sore throat (of course because it's a vacation – never fails!) and this scarf was perfect.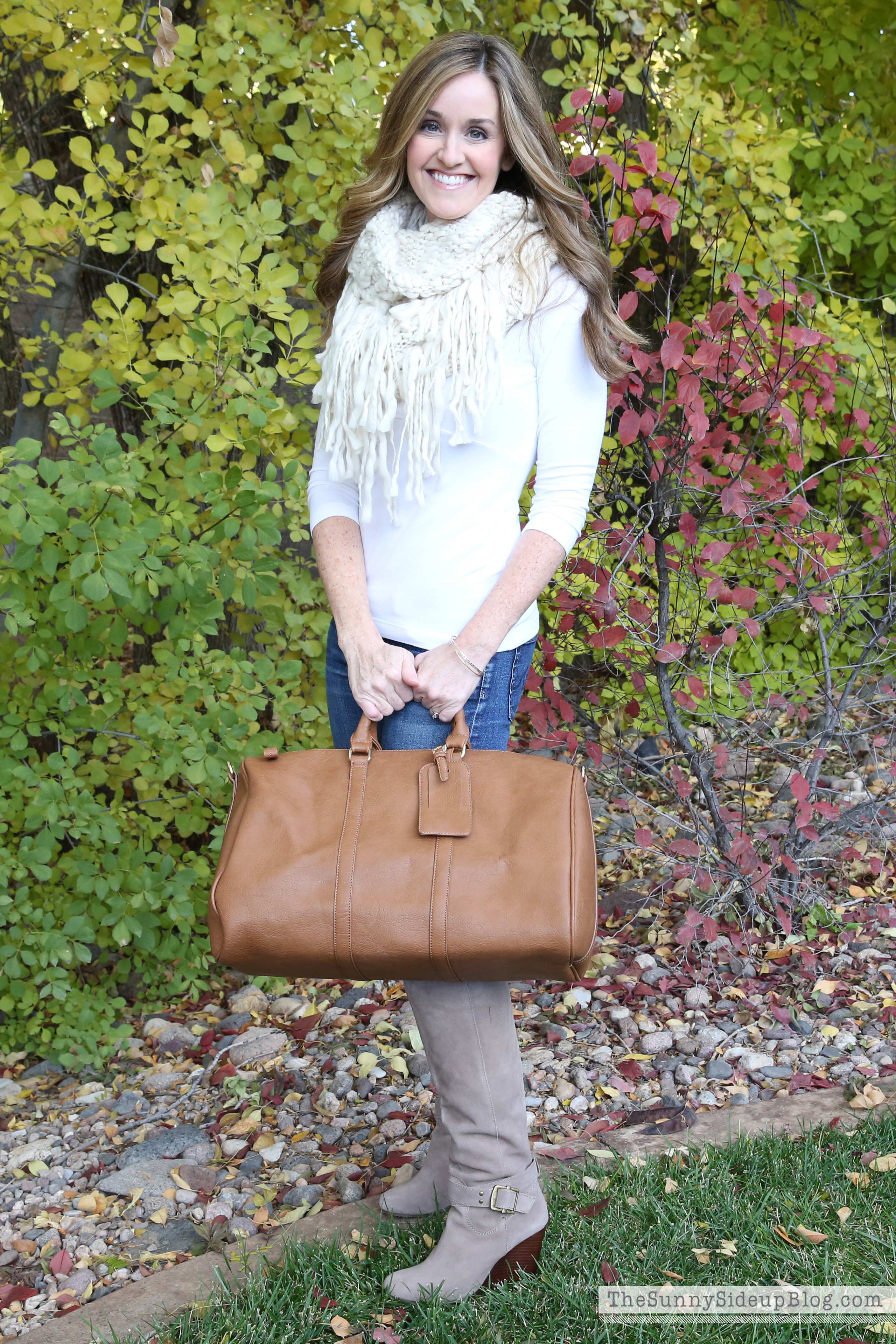 I've always loved scarves with tassels!  Btw – my cute mom took these pictures for me.  I was showing her my fun finds and told her I was going to share them in a Fashion Friday post and she volunteered.  Nice to have a break from the bedroom cellphone selfies. :)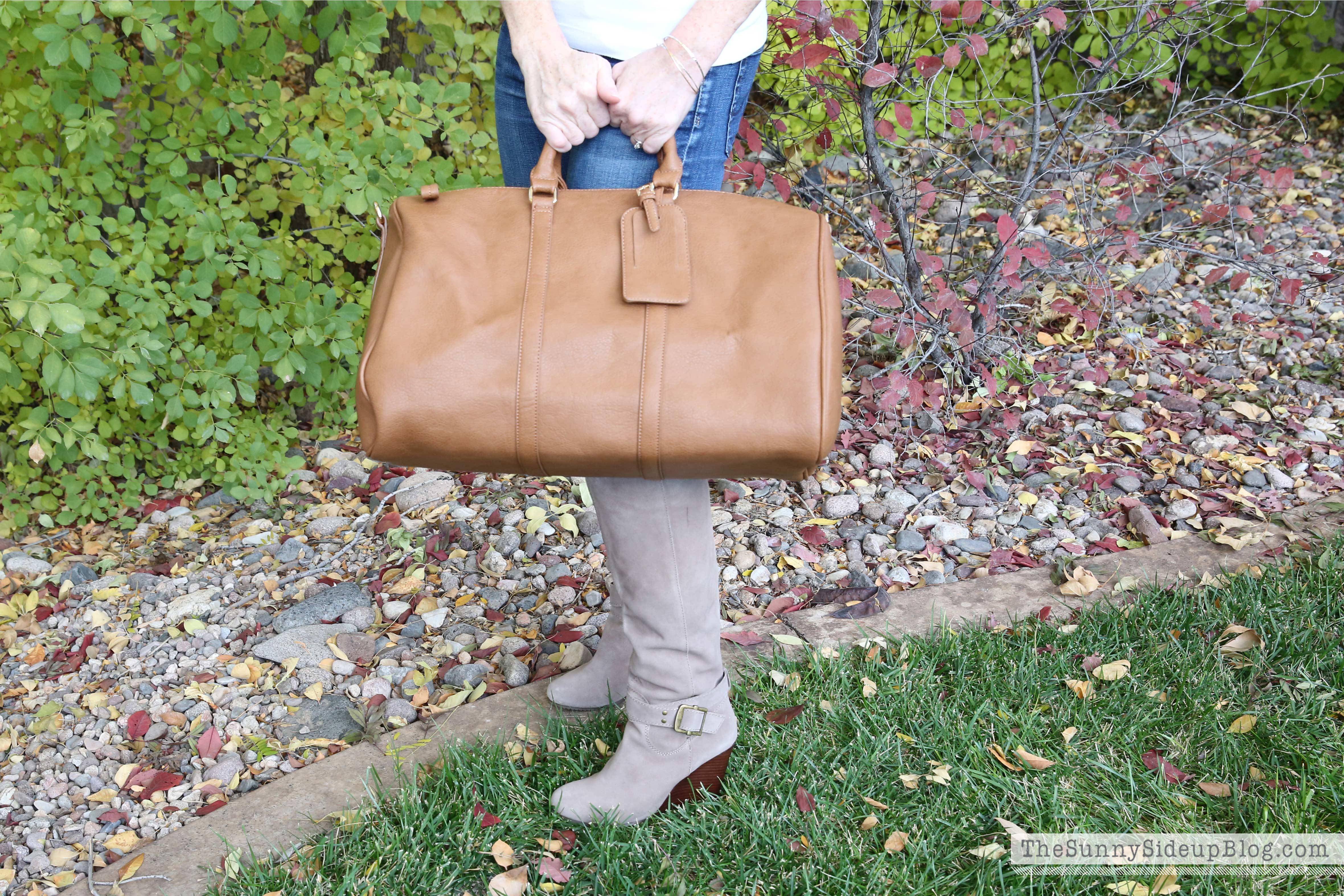 You've probably noticed I'm kind of going through a bag/purse phase.  I might need to join a club or something.  Admitting it is the first step!  I actually went so long not buying bags (just using really old bags I've had for years) that now I can't get enough of them.  Especially when they are so affordable and stylish!  This is the Cassidy Weekender in Cognac (always my go to color).  I used it on my trip to pack all of my scarves and accessories.  Great travel bag.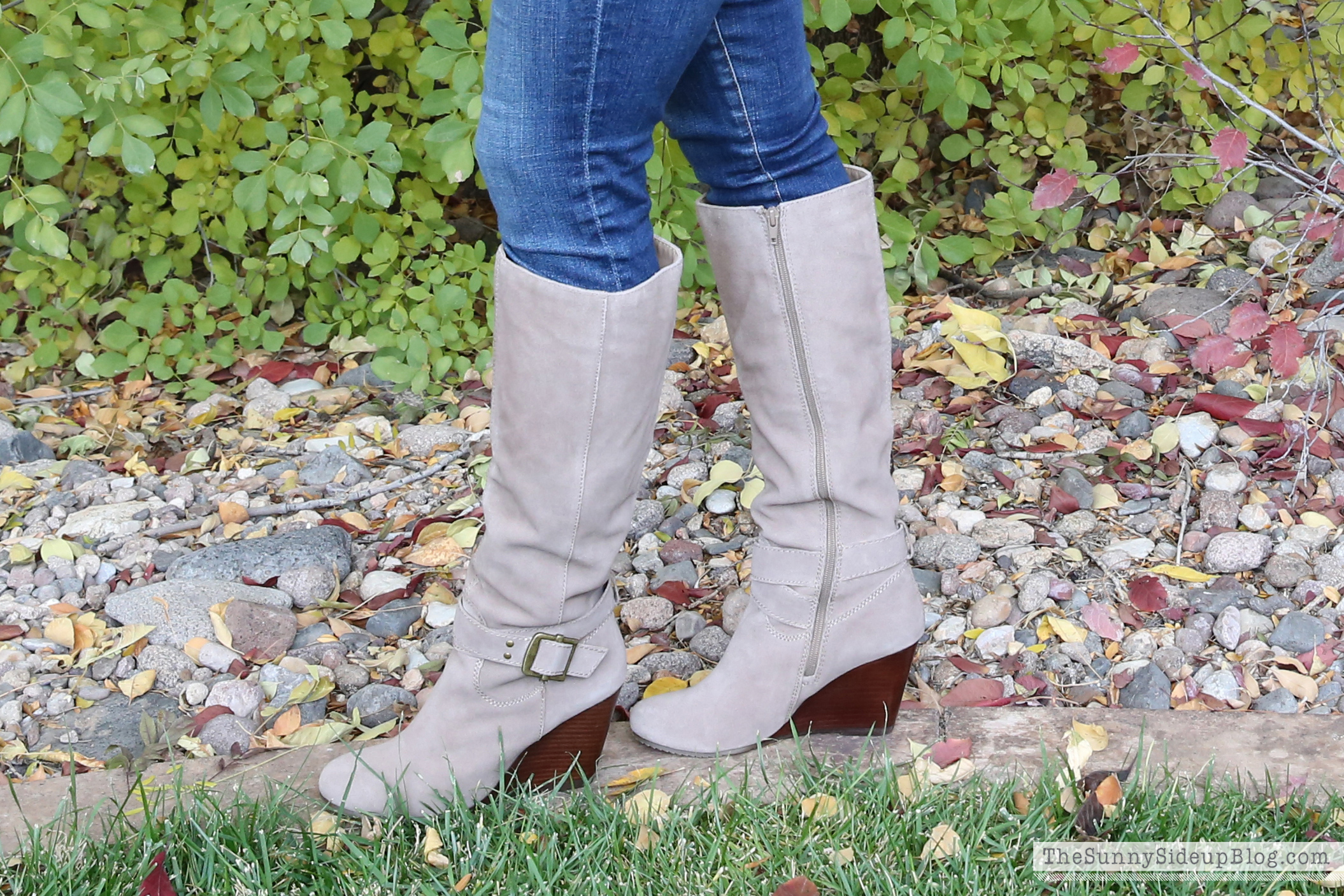 I've also been loving these boots.  I can't say enough about how comfortable these are!  They are the Valentina boot in taupe.  They're suede and fit true to size and I love that the calf is a bit wider than some boots.  Not too wide, but they don't feel tight either.  Plus they are on sale right now!  All of Sole Society's boots are 30% off until Sunday!  You're welcome. :)  (I also have these Alba booties and love them and will share them in a post at some point!)


I just wore the tassel scarf with a cream top on my trip but it also looks cute and really pops with a different color under it.


I've been wearing it a lot with my go-to tops from Banana Republic that I shared in a Fashion Friday post about fall neutrals.  (Jeans in these pics are my favorite AG's from Nordstroms.)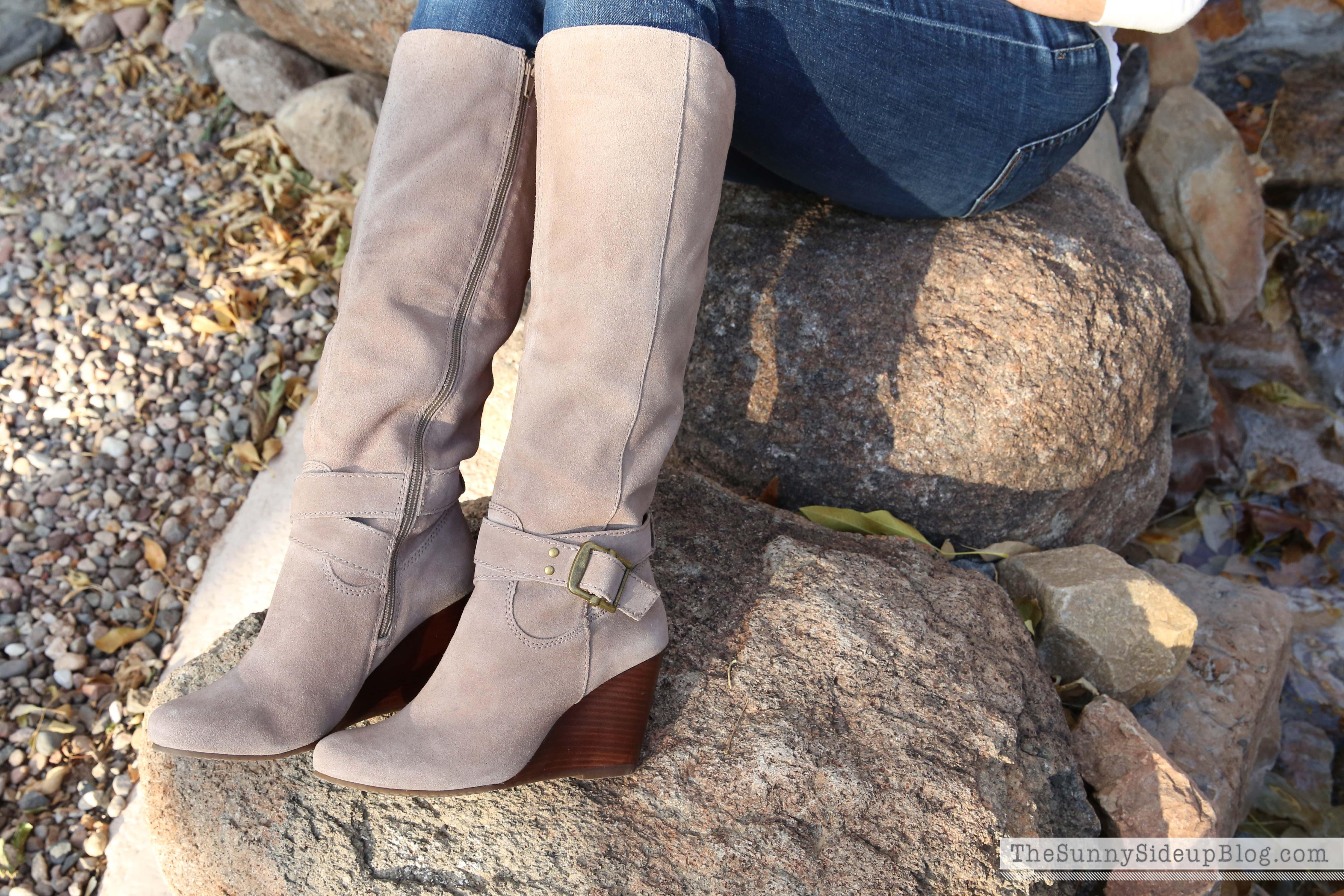 A side shot of my Valentina boots!  Aren't they cute!?  They also come in a black and a mushroom grey color.
Mom did you want to move in and take all of my Fashion Friday pictures?  And while you're at it you could teach Addison long division, take El to her 3,ooo dance and gymnastic classes, do some laundry, cook dinner and practice sight words and reading every night with Kole.  I'll be busy with all the organizing and decorating.  Just say you'll think about it…
:)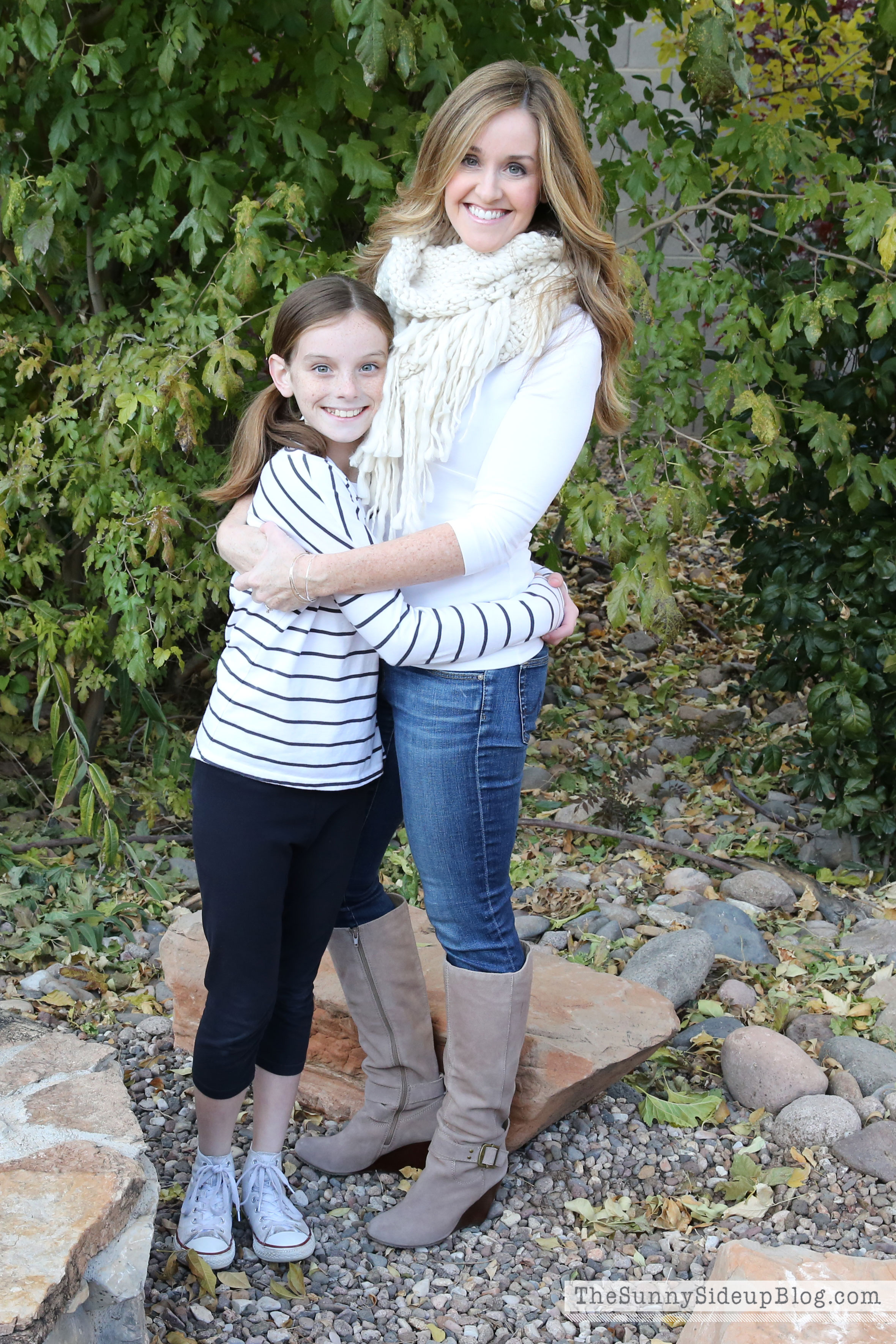 My kids were running around in the yard while we were taking pictures and I'm so happy my mom quickly snapped this pic of me with El.  She has been at 6th grade camp all week and to say I've missed her terribly is an understatement!  I pick her up tomorrow and can't wait!  That was too long for me to have her gone.  When we went to wave good-bye to the kids on the bus I cried (big tears – my sunglasses hid nothing).  A dad next to me said "For a minute I thought you were going to hop on that bus and go with them!"  He had no idea how seriously I contemplated that.  I learned a valuable lesson while she was gone.  My kids can't ever move out.  I miss them too much.  College isn't in the cards for my crew!  That's a relief.  We can stop saving.  Which means more fun Sole Society shoes and accessories are in my future!
;)
Enjoy your weekend everyone!

xoxo, Erin