Hello friends!  I'm so excited to be a part of the Cherished Christmas Home Tours hosted by Cherished Bliss and CountryLiving.com!  For those of you visiting from The Wicker House or any of my other friends in the tour hello and welcome!  My husband and I spent two years designing and building our house and moved in right before Christmas two years ago.  (You can see more pictures of our home in my house tour.)  We are so happy to be settling in and making our new house feel like home.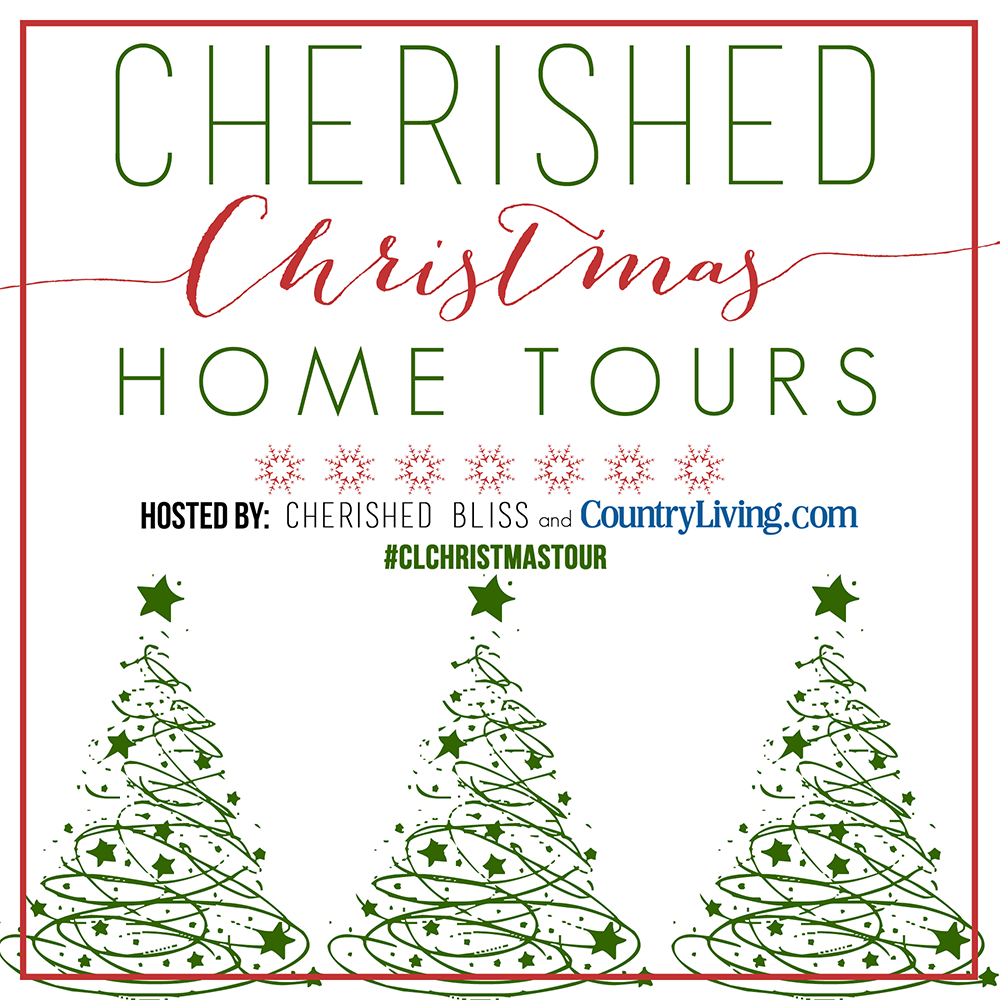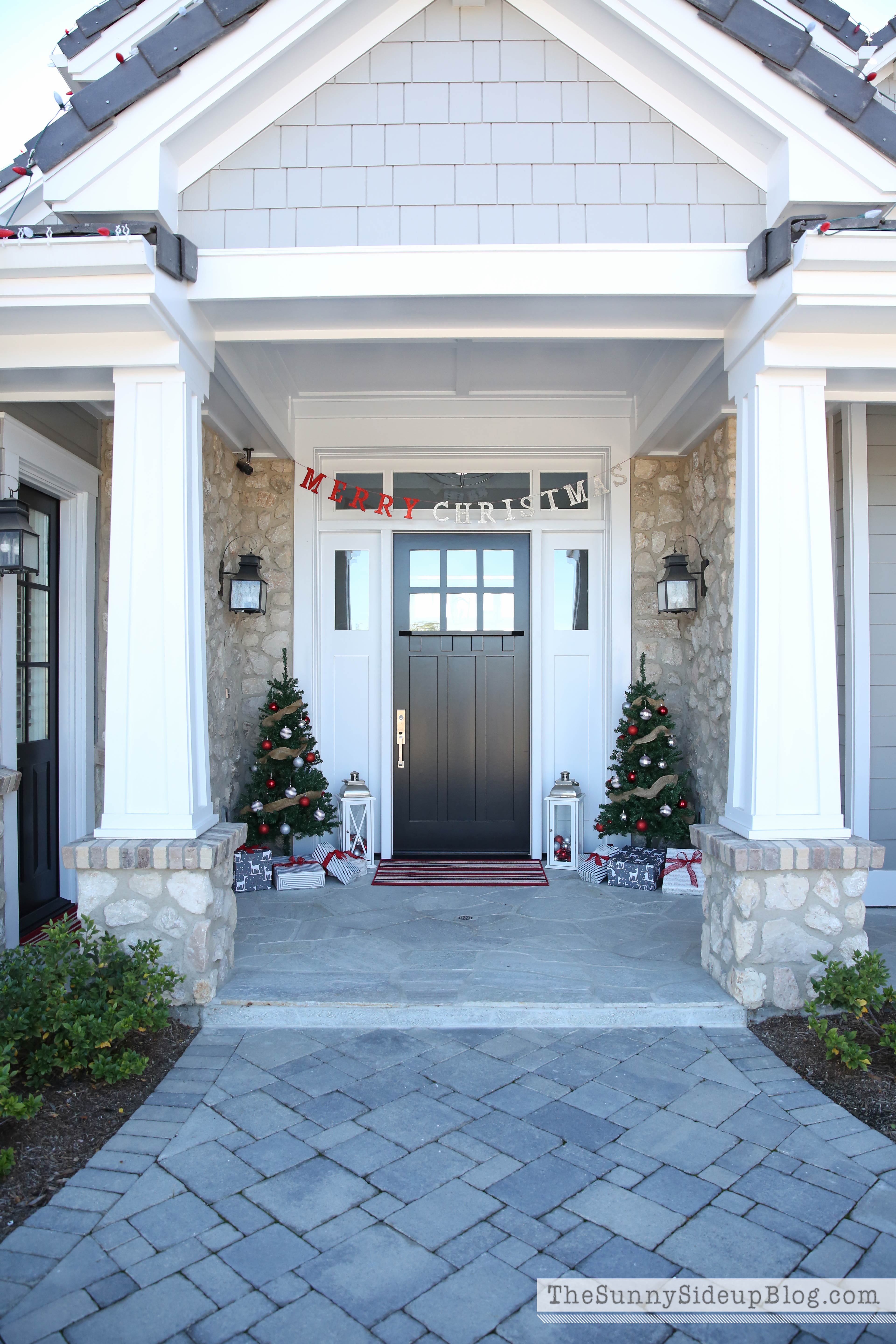 I'm going to share our porch and family room with you today and the rest of the house throughout next week!  My friends/regular readers know I take way too many pictures to squeeze this all into one tour. ;)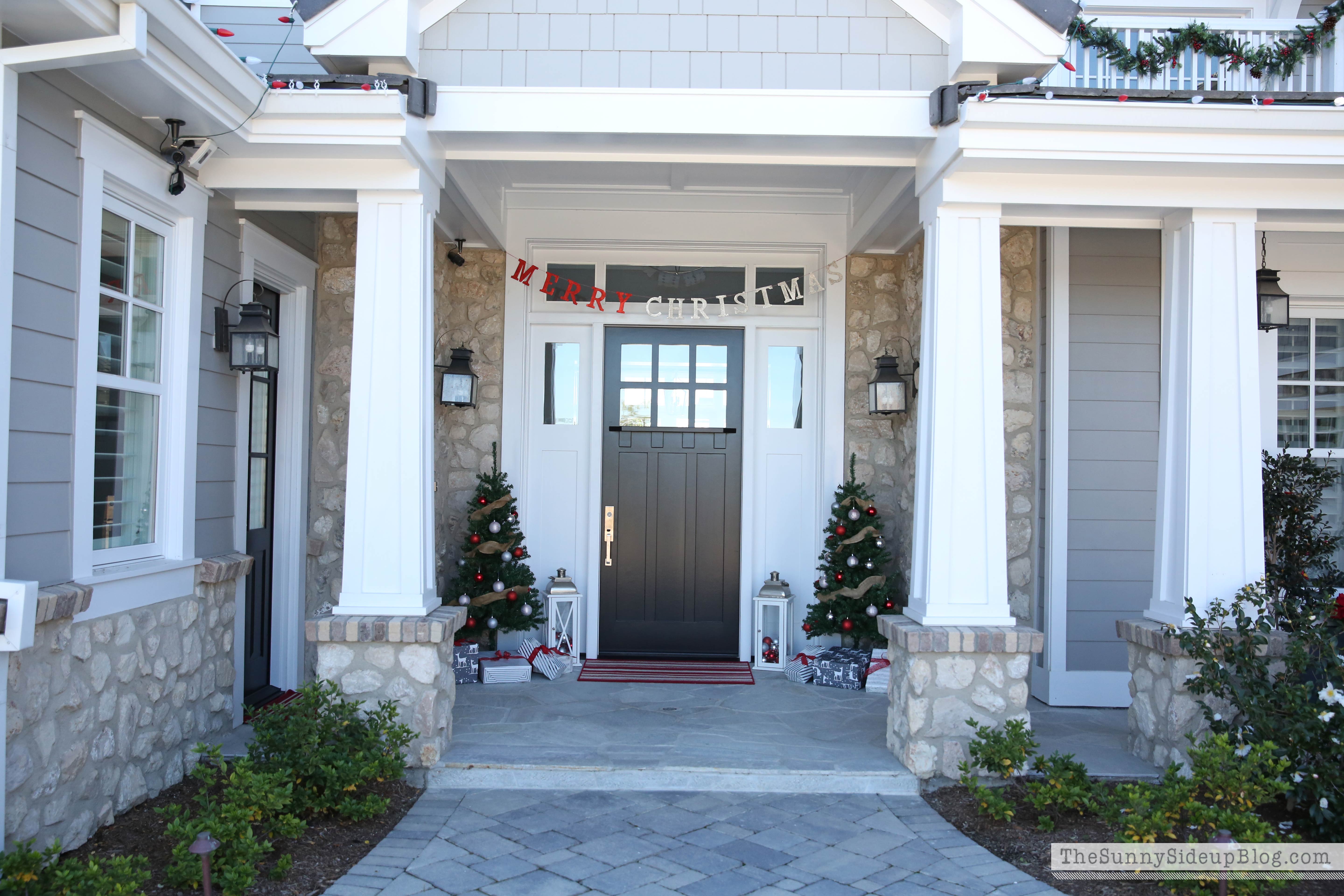 Welcome to our home!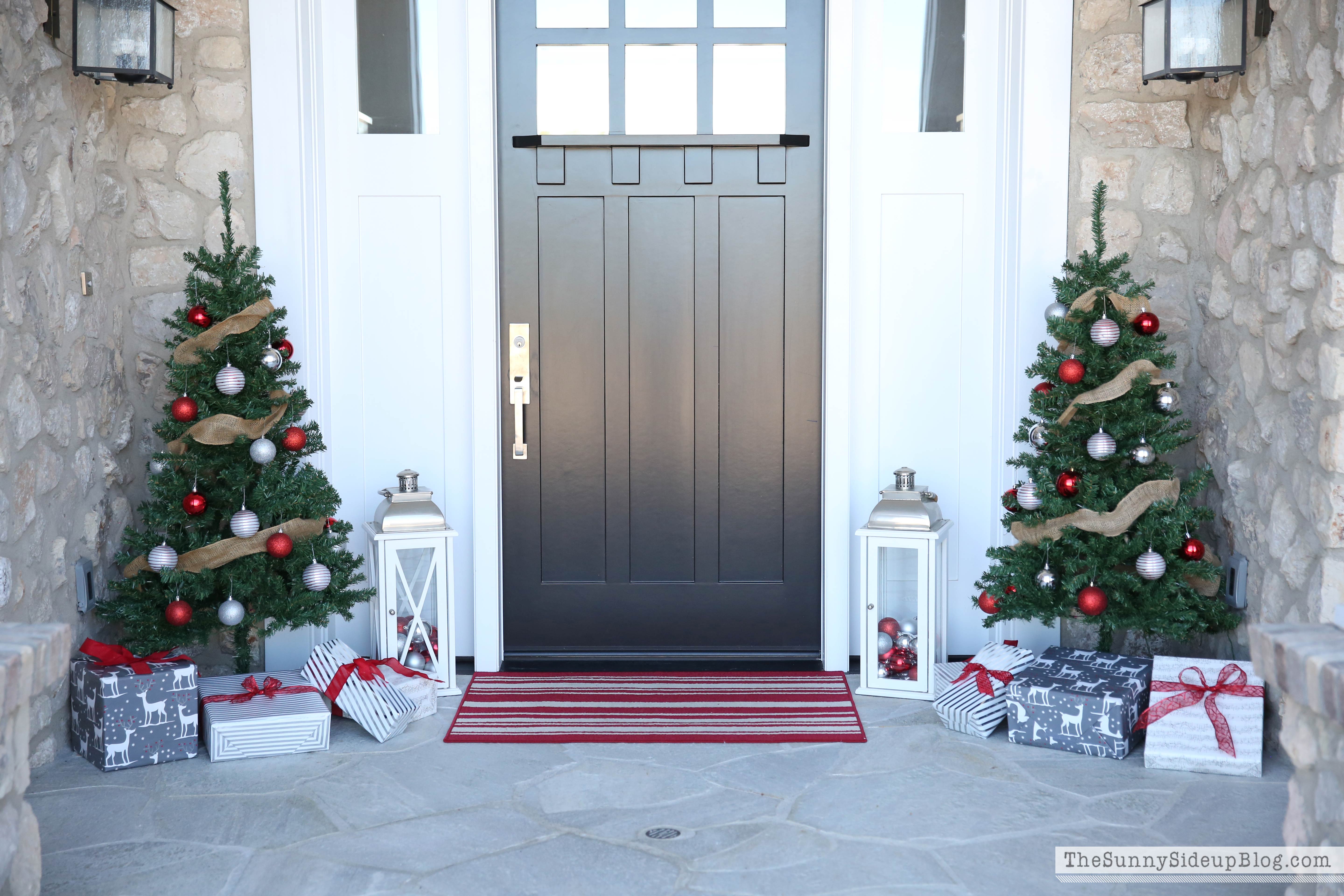 I bought these cute little trees last year at Home Depot and love them on our front porch!  They are just the right size.  I keep the decor simple – red, white, grey and silver – my favorite Christmas color combo.  The wrapped presents each have a cook book in them to hold them down.  It's the most my cook books have been used in years.  Ha! :)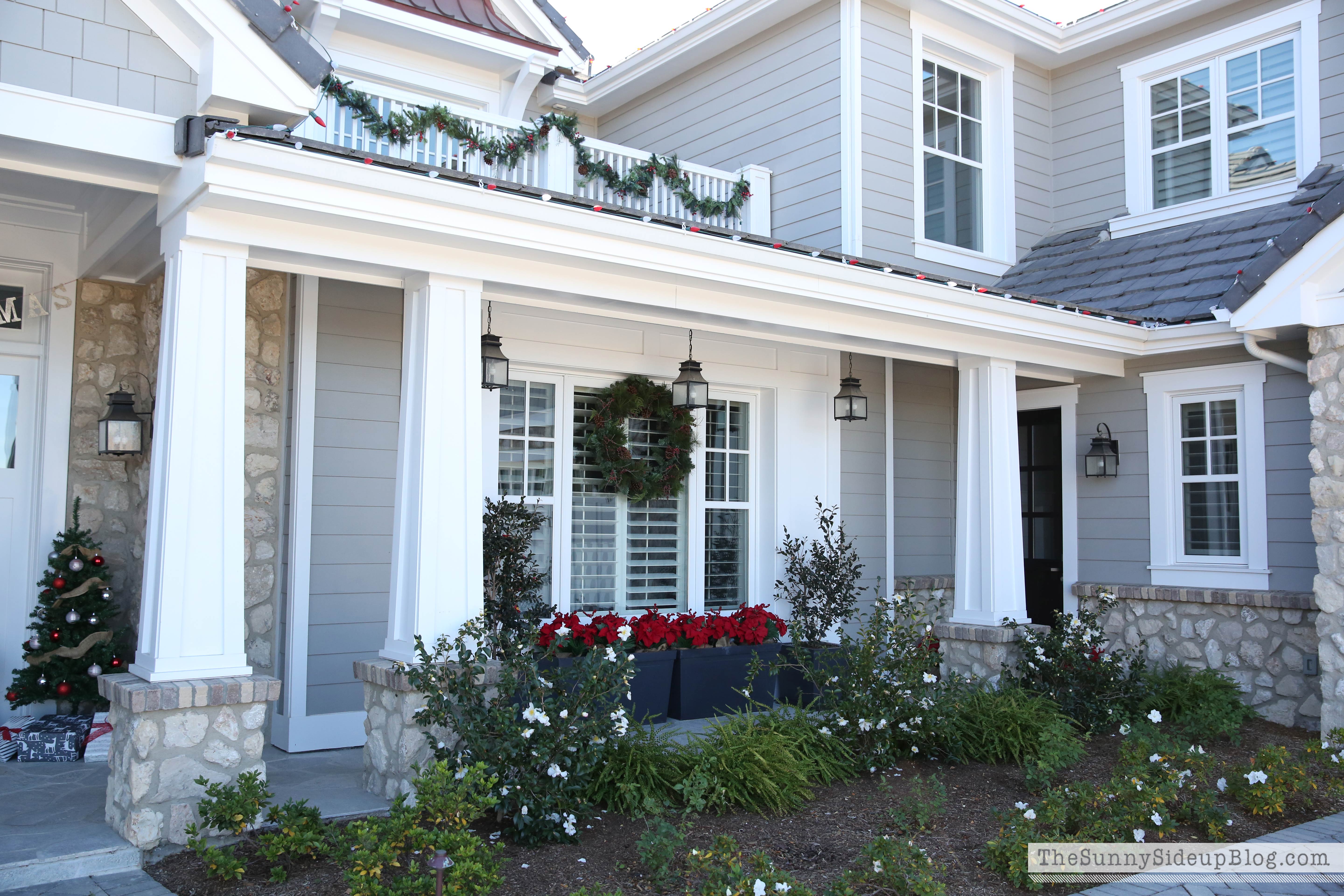 You can probably tell by our plants that we don't have "baby it's cold outside" weather. More like "baby it's another 70 degree day in sunny San Diego but lights are on the palm trees so let's all pretend it's Christmas" kind of weather.  To be honest, it's kind of a bummer this time of year when all I want to do is wear a scarf and drink hot chocolate.  But I know once February rolls around I'll be grateful!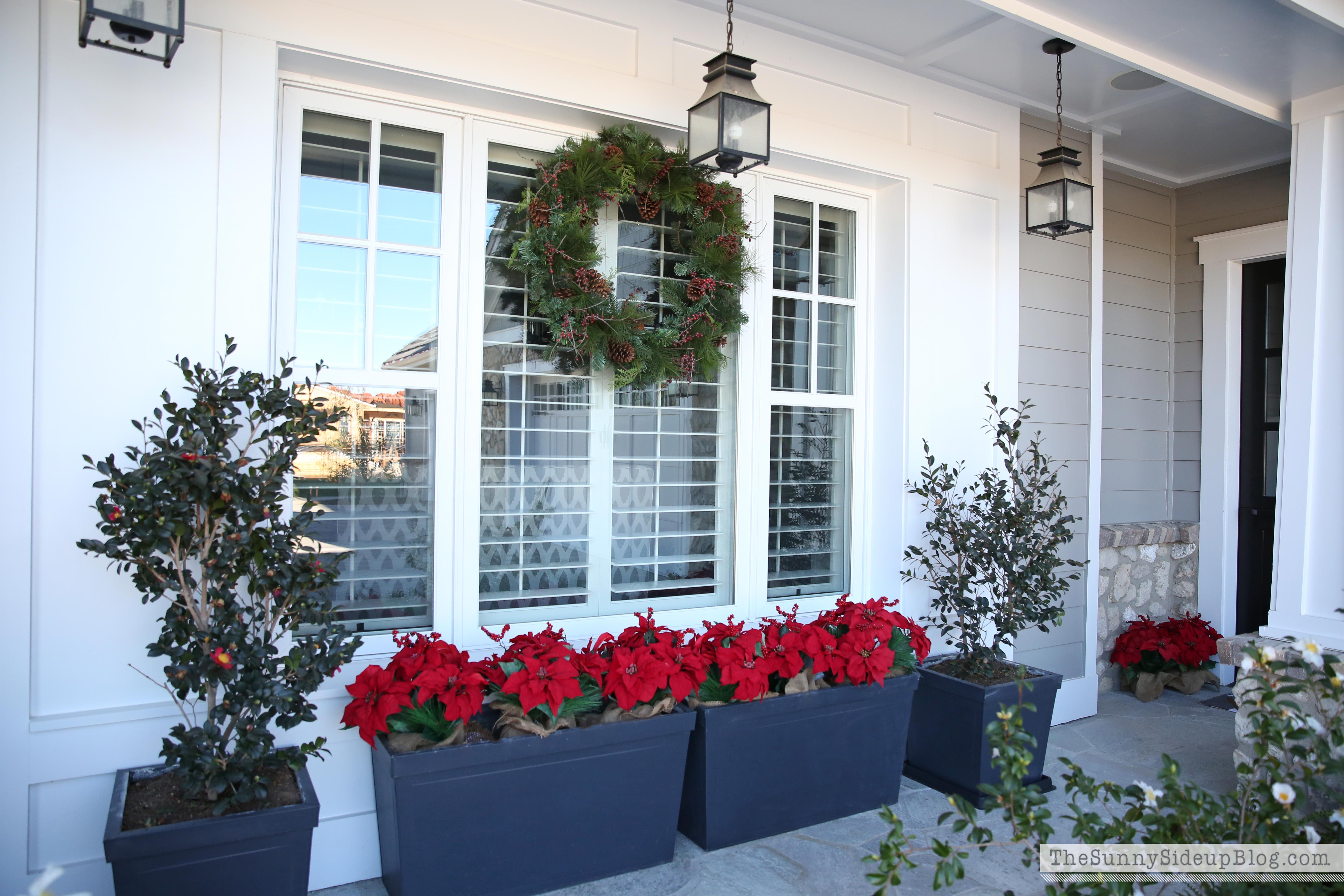 Anyway – the porch!  Some simple poinsettias in my planters and a wreath on our window bring Christmas home regardless of the weather.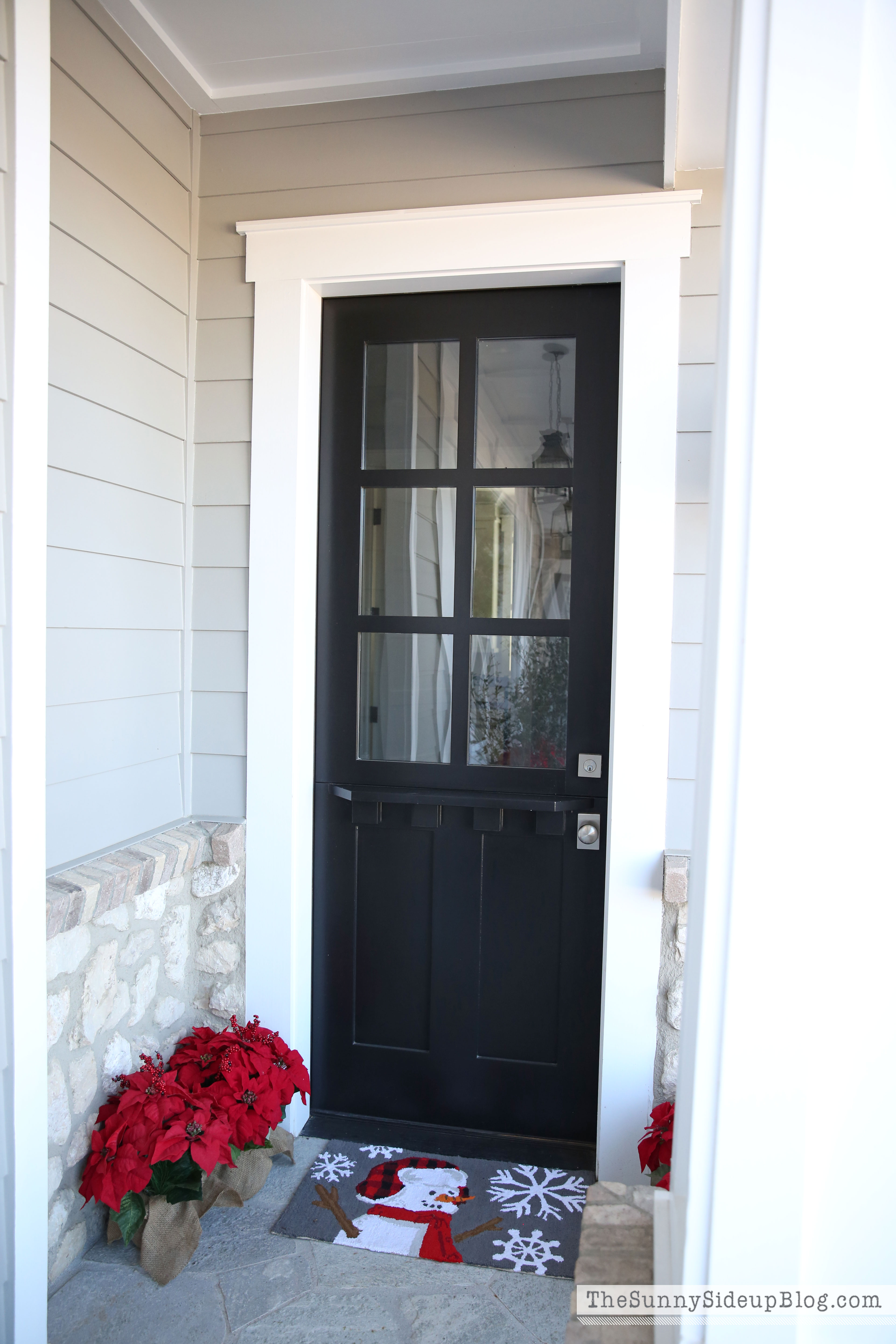 Along with Frosty in front of the side dutch door.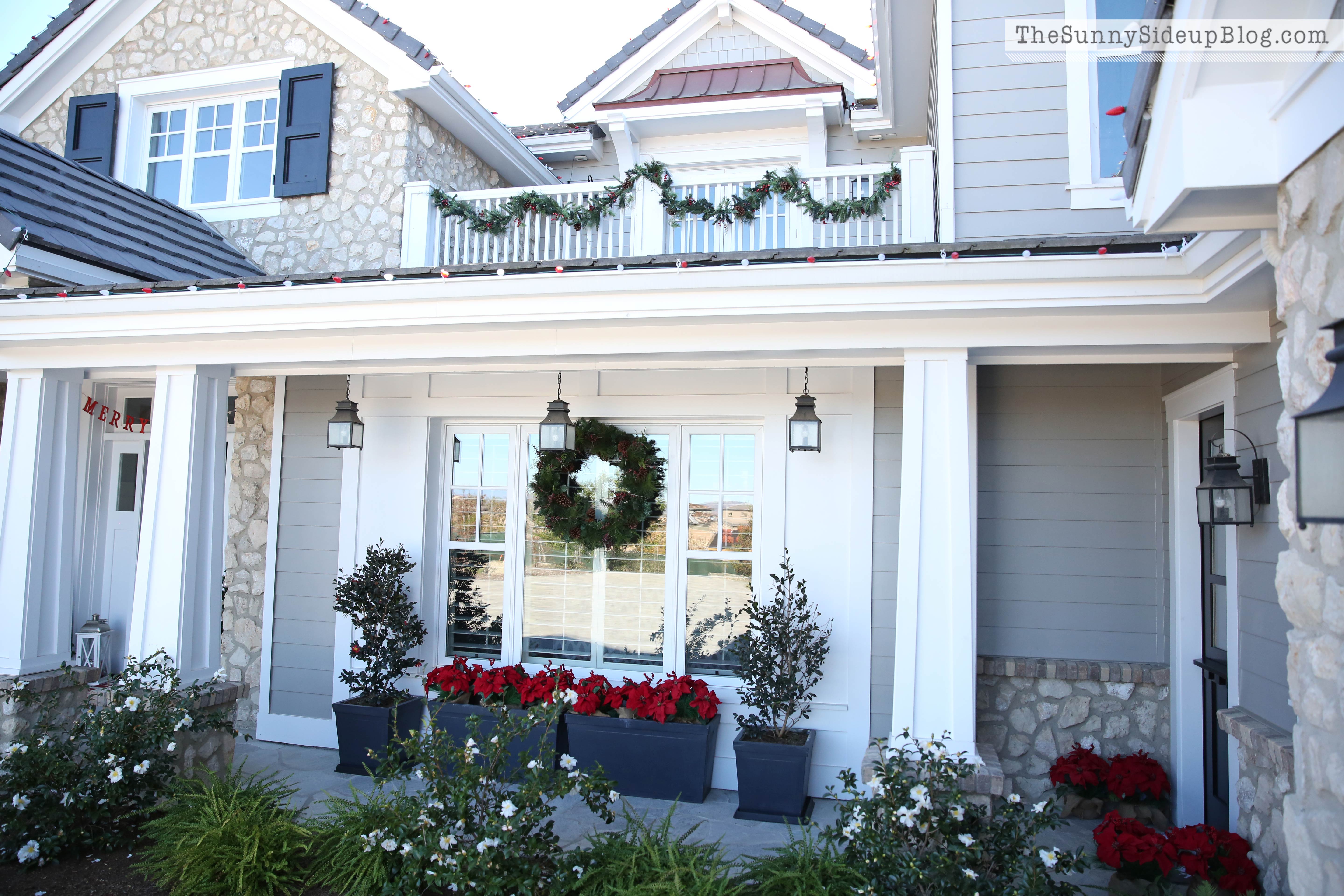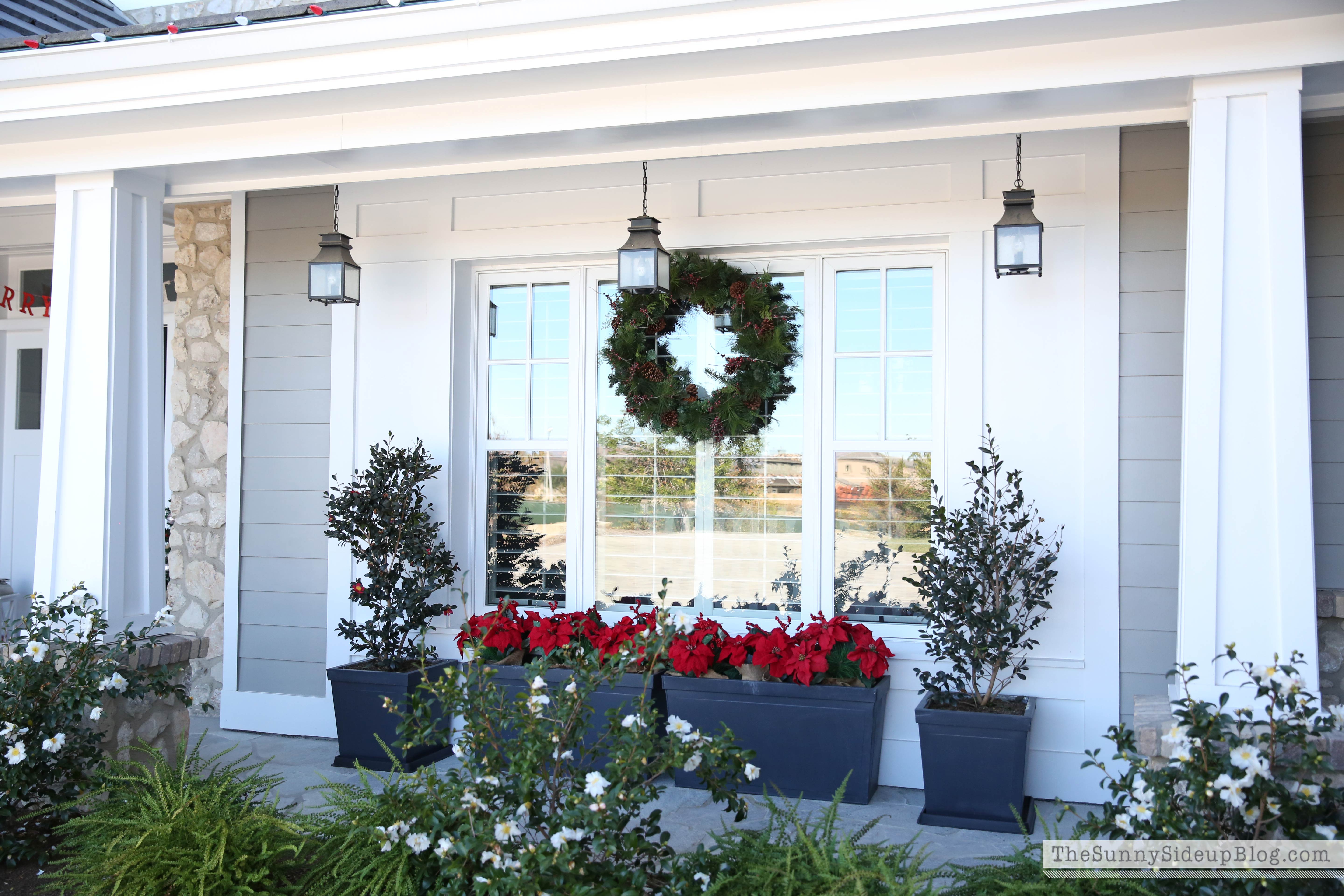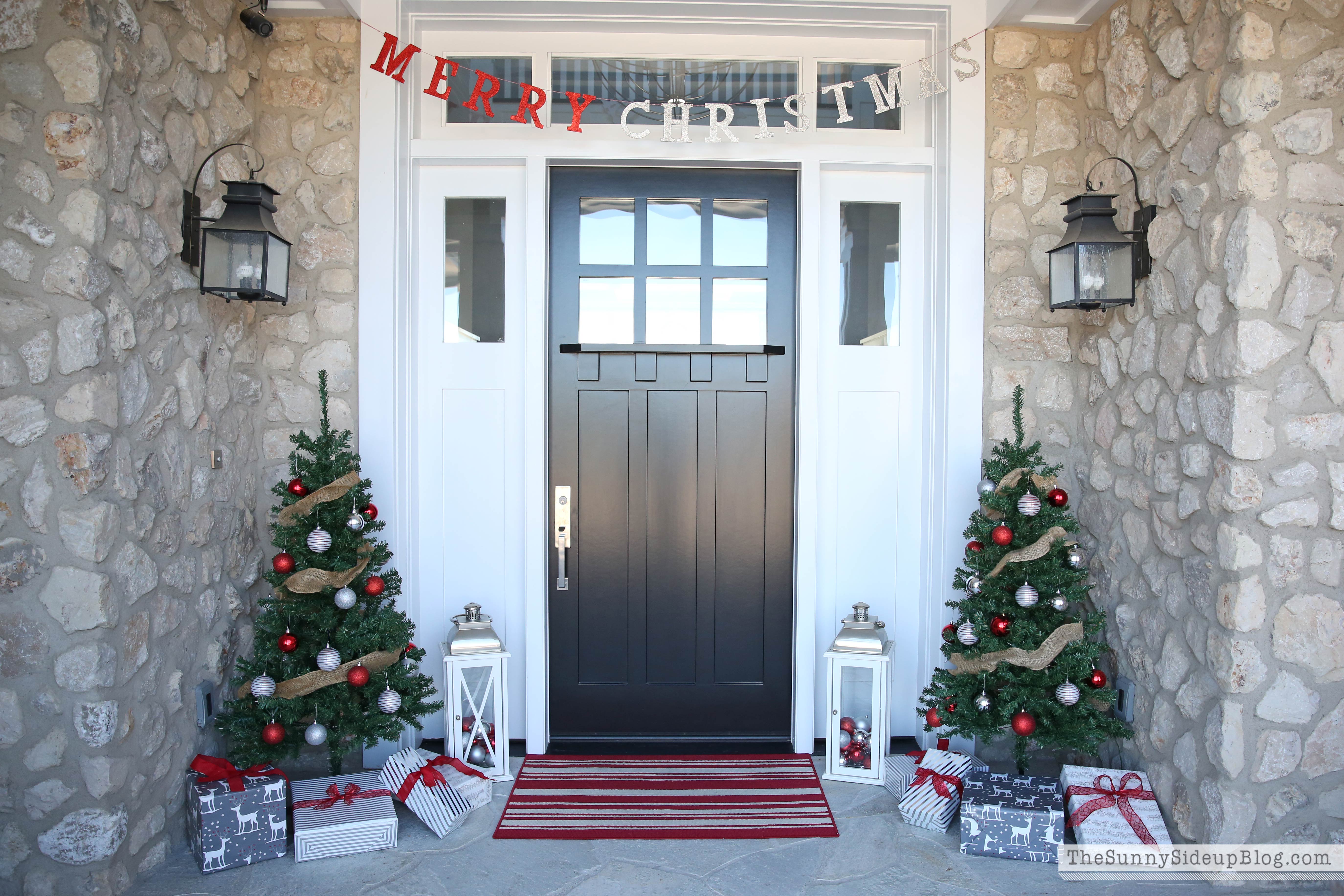 As much as I enjoy our decorated porch during the day, I love it most at night when it's all lit up!  Trees during the day..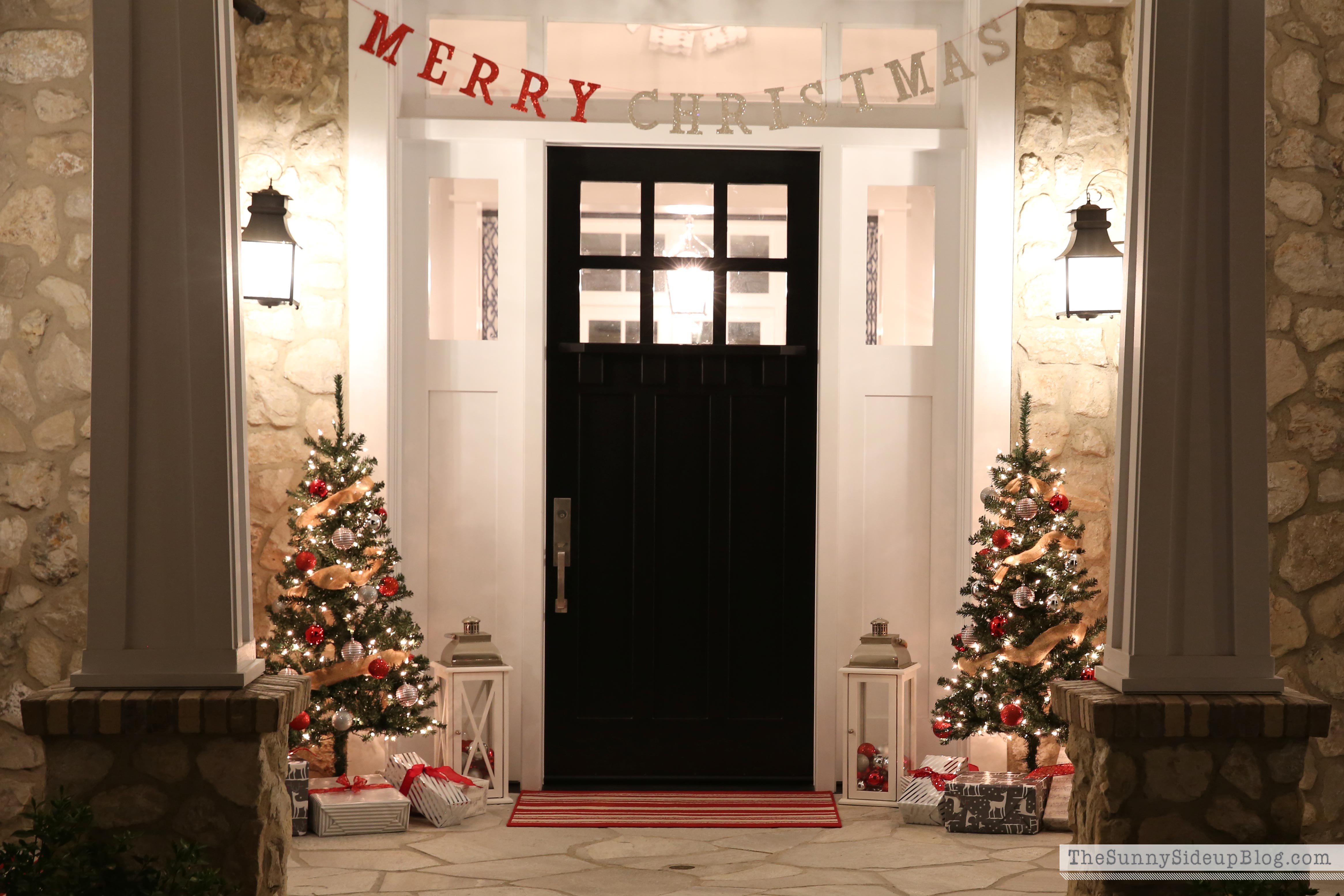 Trees at night!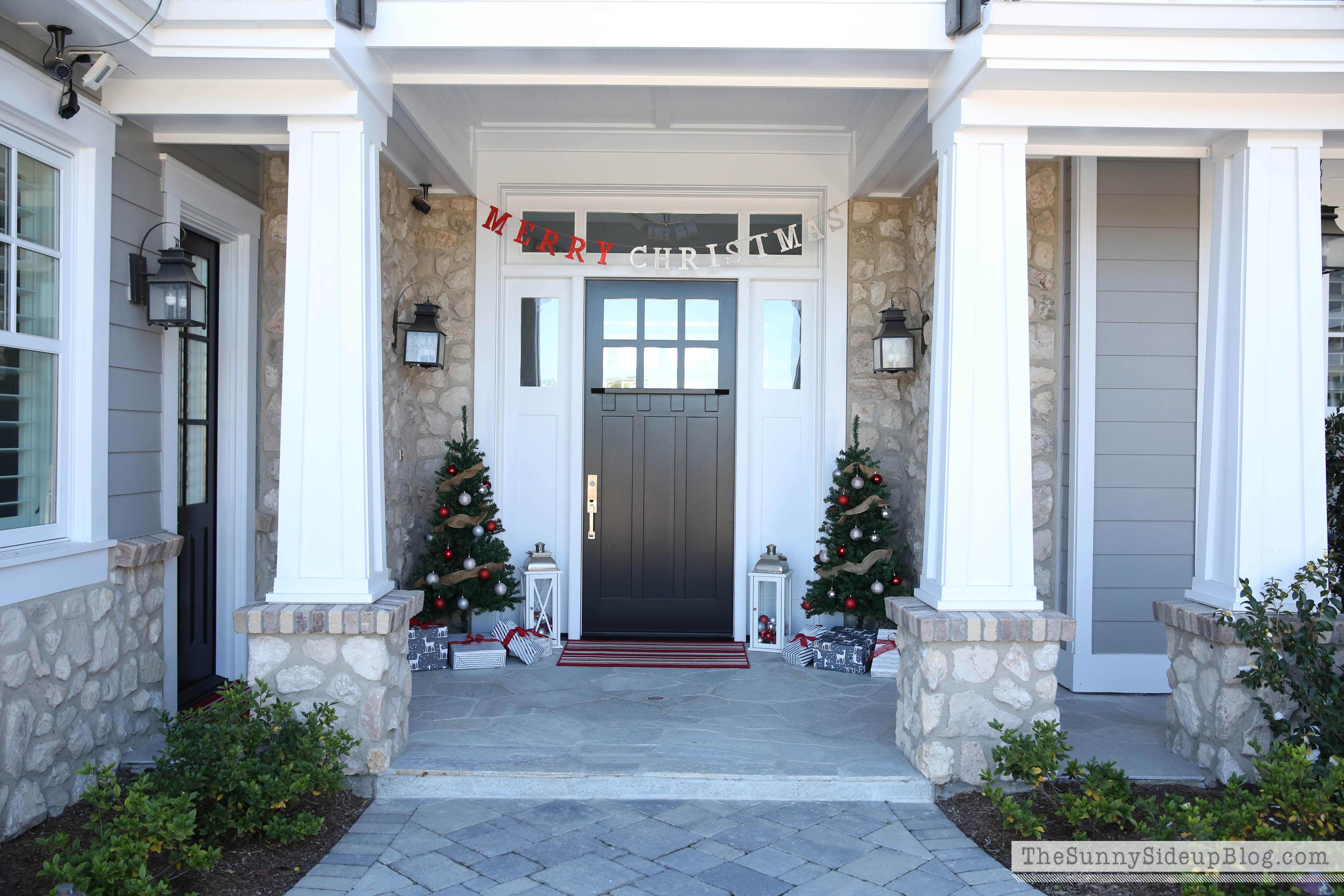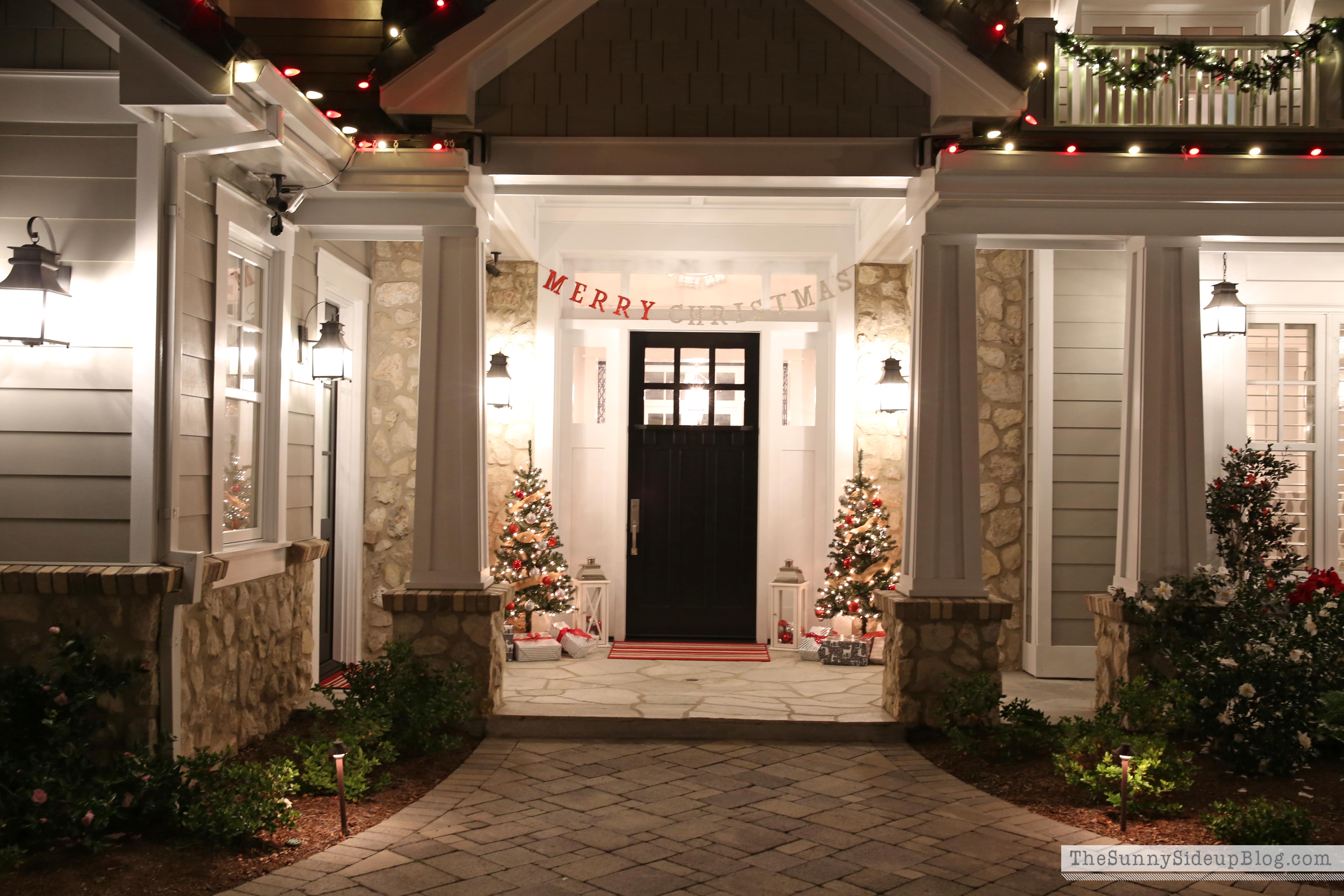 My outside light pics are still a work in progress so I'll share more at some point when I finish teaching myself how to take them!  Twinkling Christmas lights – there is nothing like them!  I wish I could keep them up all year.  Wonder if my neighbors would mind..
K – I've kept you all outside in our not so wintery weather long enough!  Time to come inside and get warm by the fire.  Or so I like to pretend. :)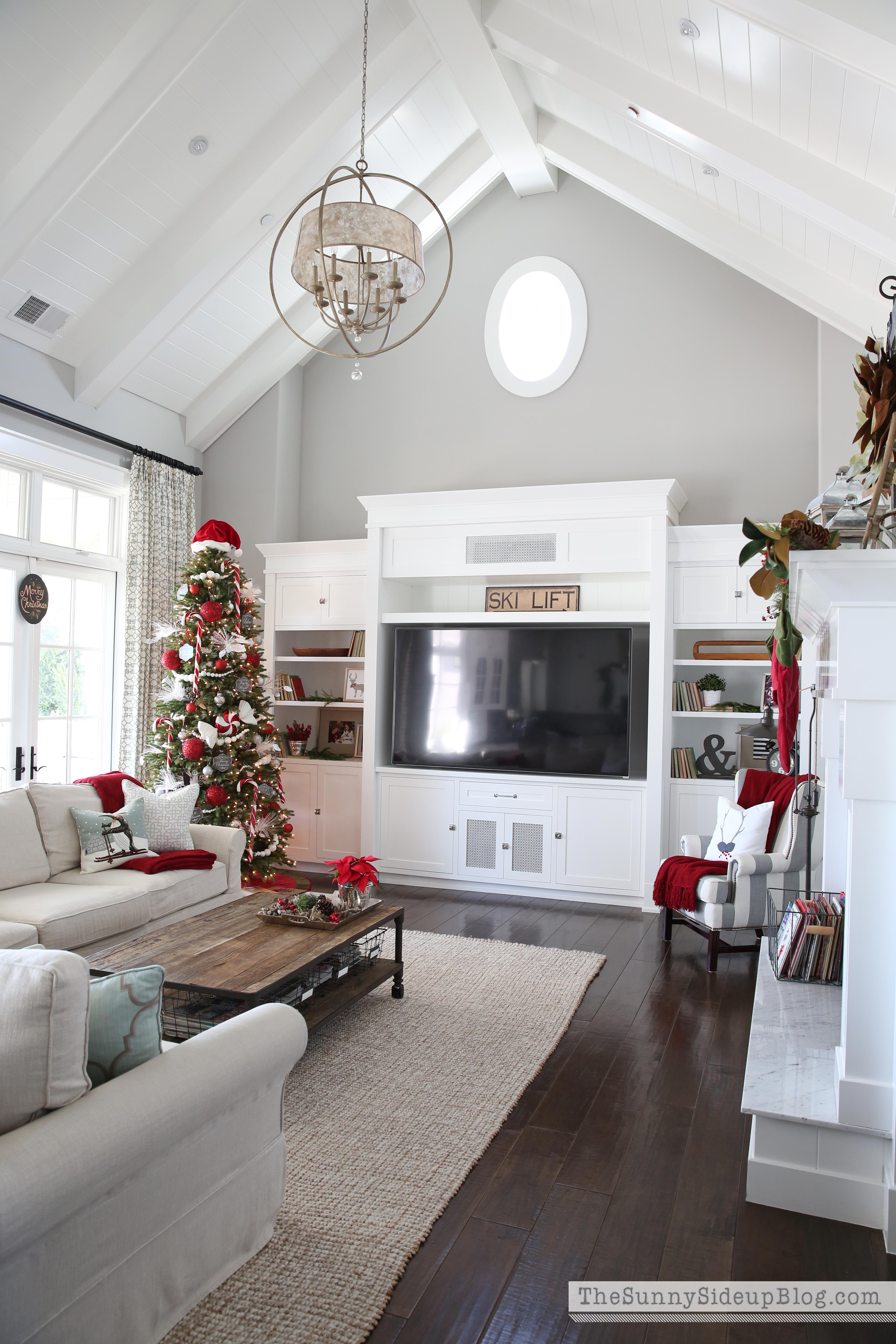 Our family room is where we spend so much of our time.  Having it decked for the holidays makes me happy every single day!  Christmas decor adds so much warmth.  I never want to leave my house once it's decorated for the holidays!  I want to light a candle and put on pj's and watch our favorite Christmas movies by the tree all day long.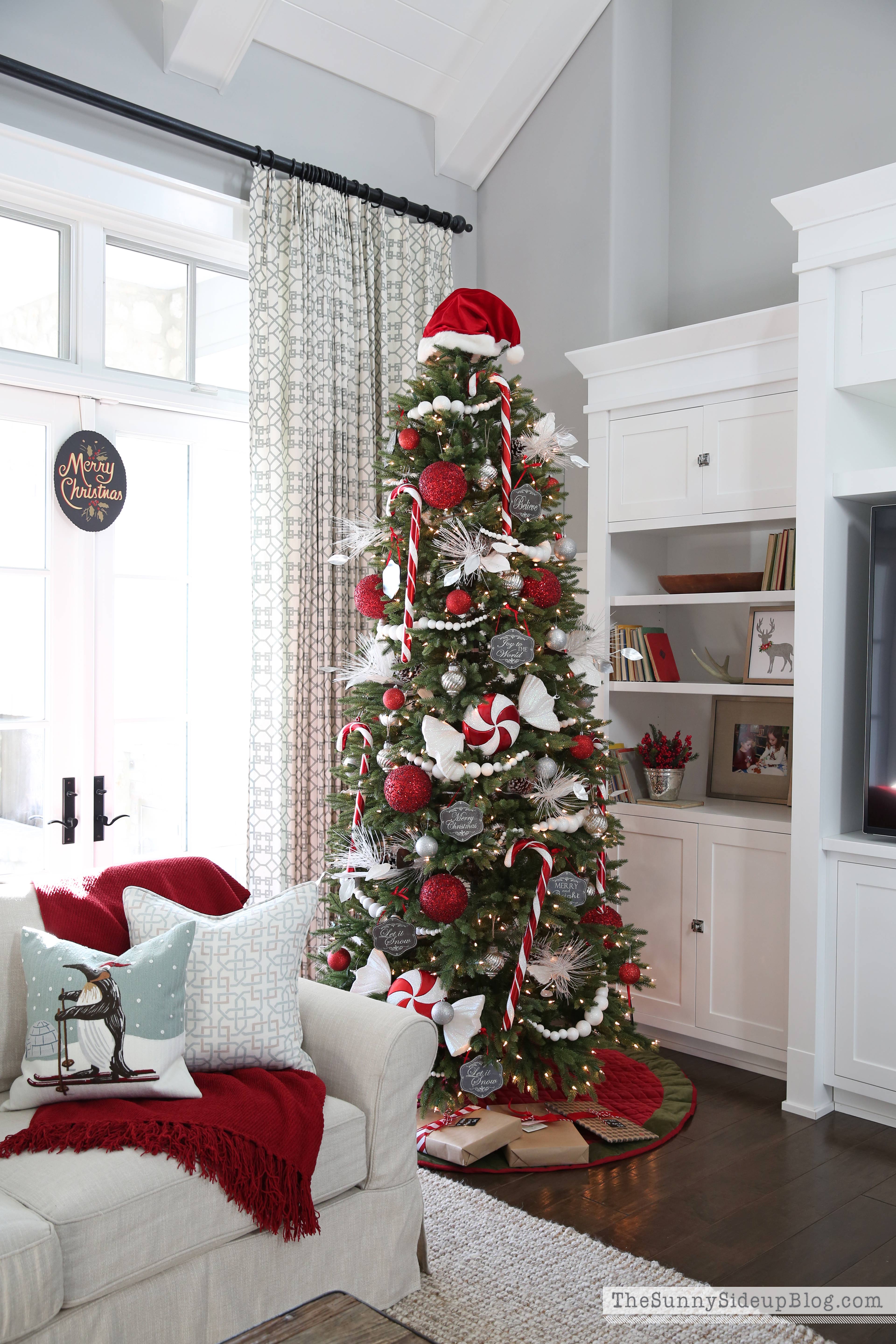 Some of our tree ornaments are new this year (all in my favorite Christmas colors of course).  If you missed it, I shared all of the details and sources for my tree in this post. The pillow and throw (and the couch they are sitting on!) are all from Pottery Barn.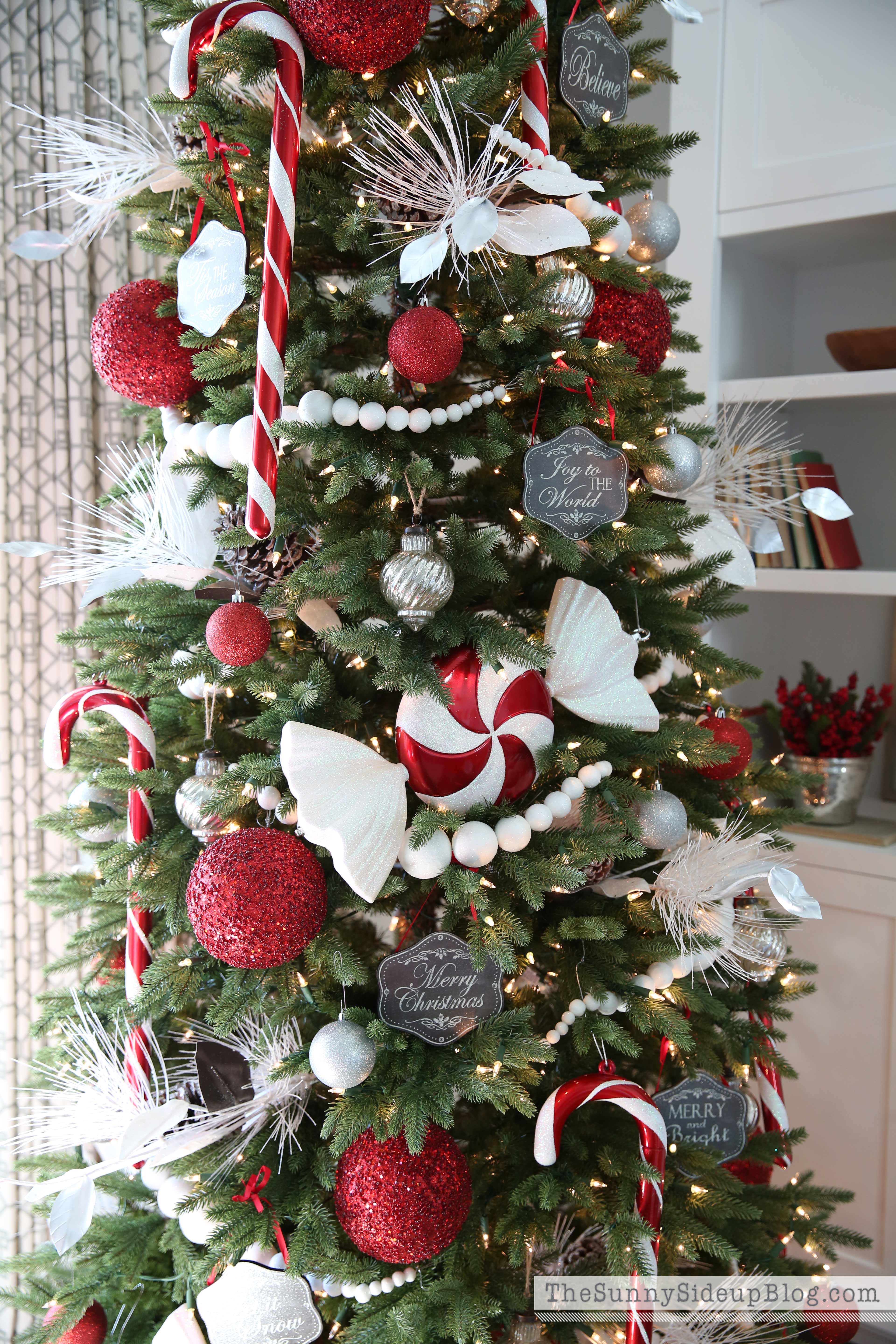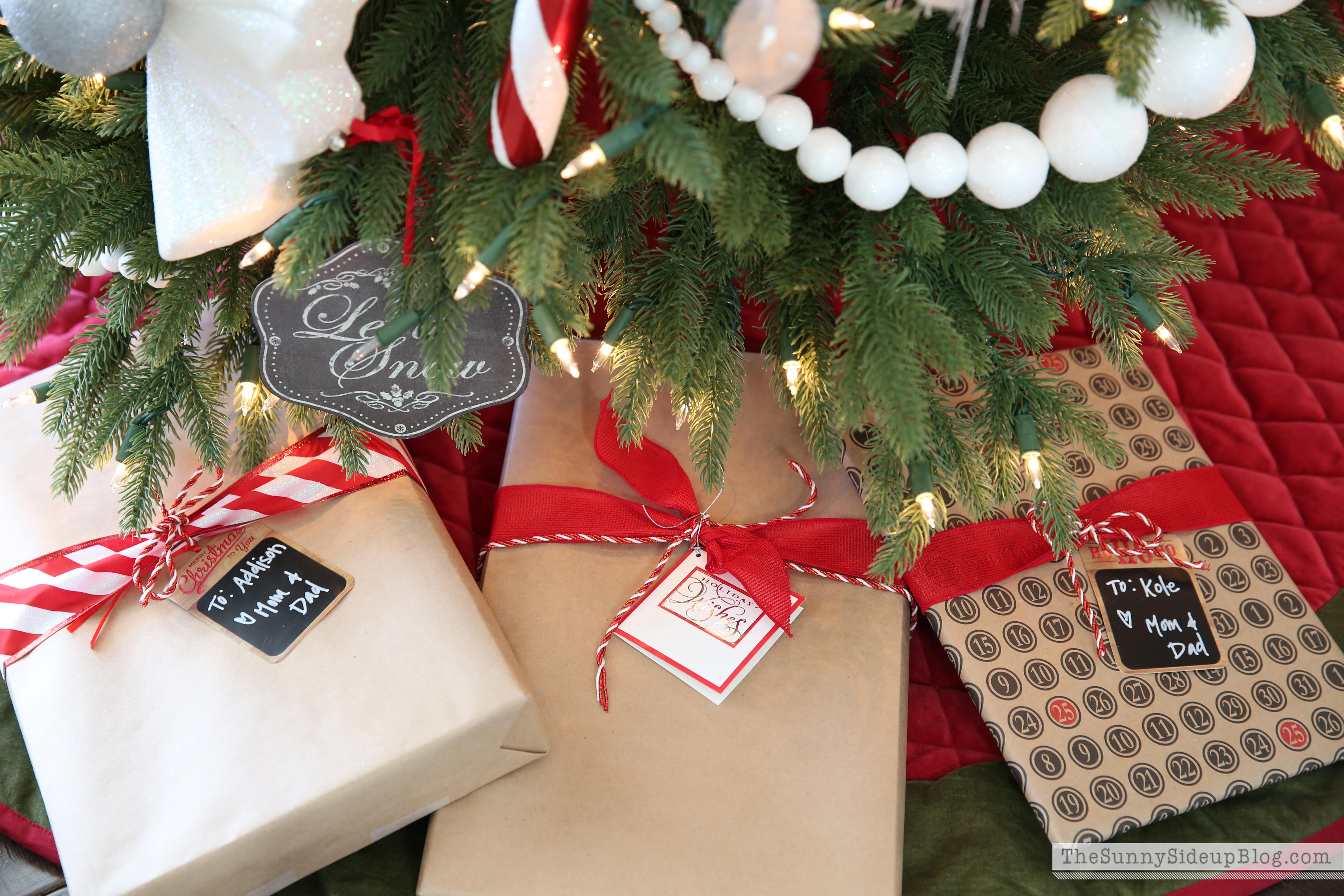 I'm hoping to get a lot more presents wrapped and under the tree this weekend.  If you still need some gift ideas I shared my Favorite Things for 2015 last week!  You can also look at past favorite things/toys here.  I'm still shopping for my girls.  They are tricky this year!  Very pre-teen.  Not into cell phones and make-up yet (thank goodness!), but not playing with dolls/toys as much either.  At least their 5 year old little brother is easy.  One trip down an aisle in Target and he's good to go. :)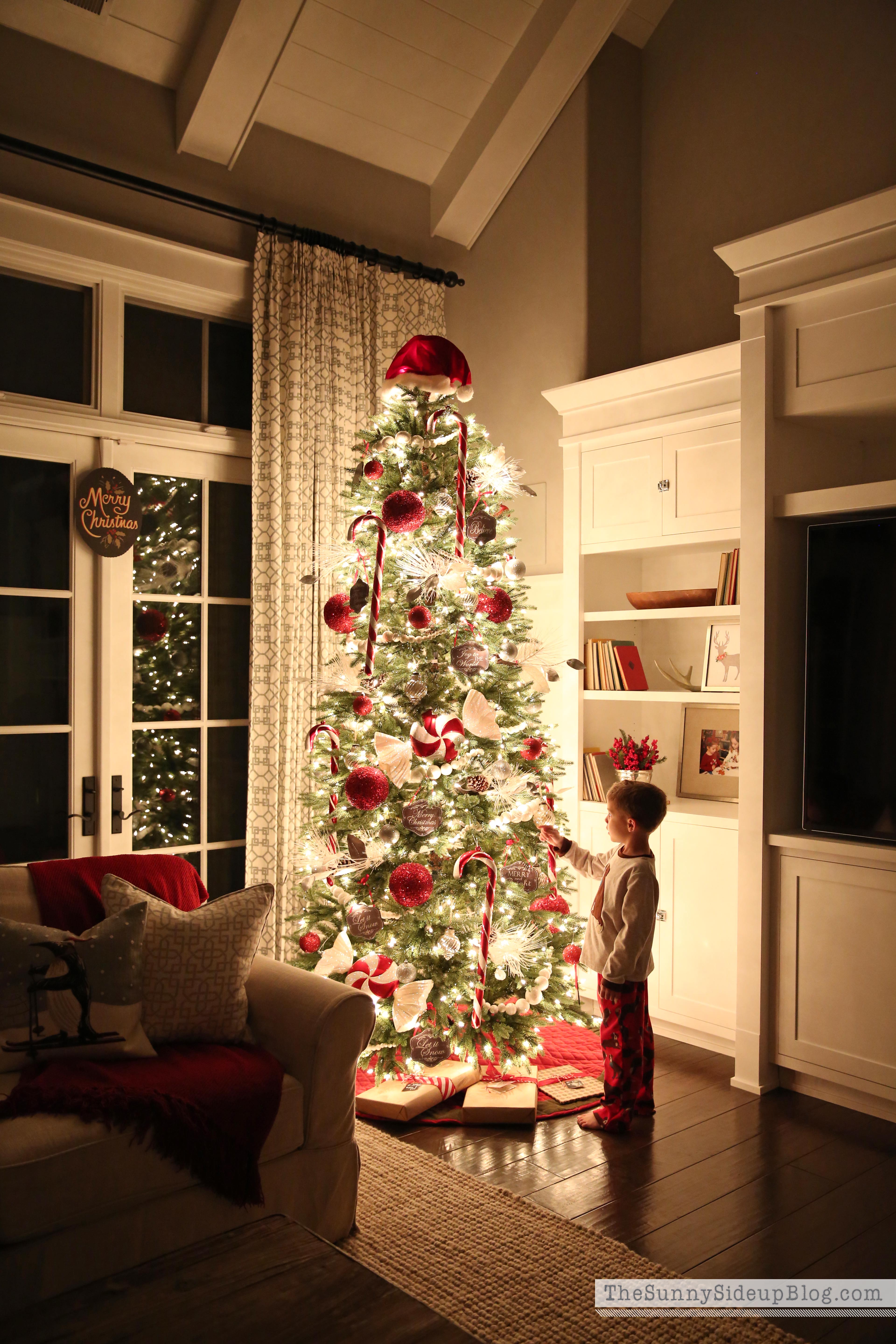 Can he please just stay in Kindergarten forever?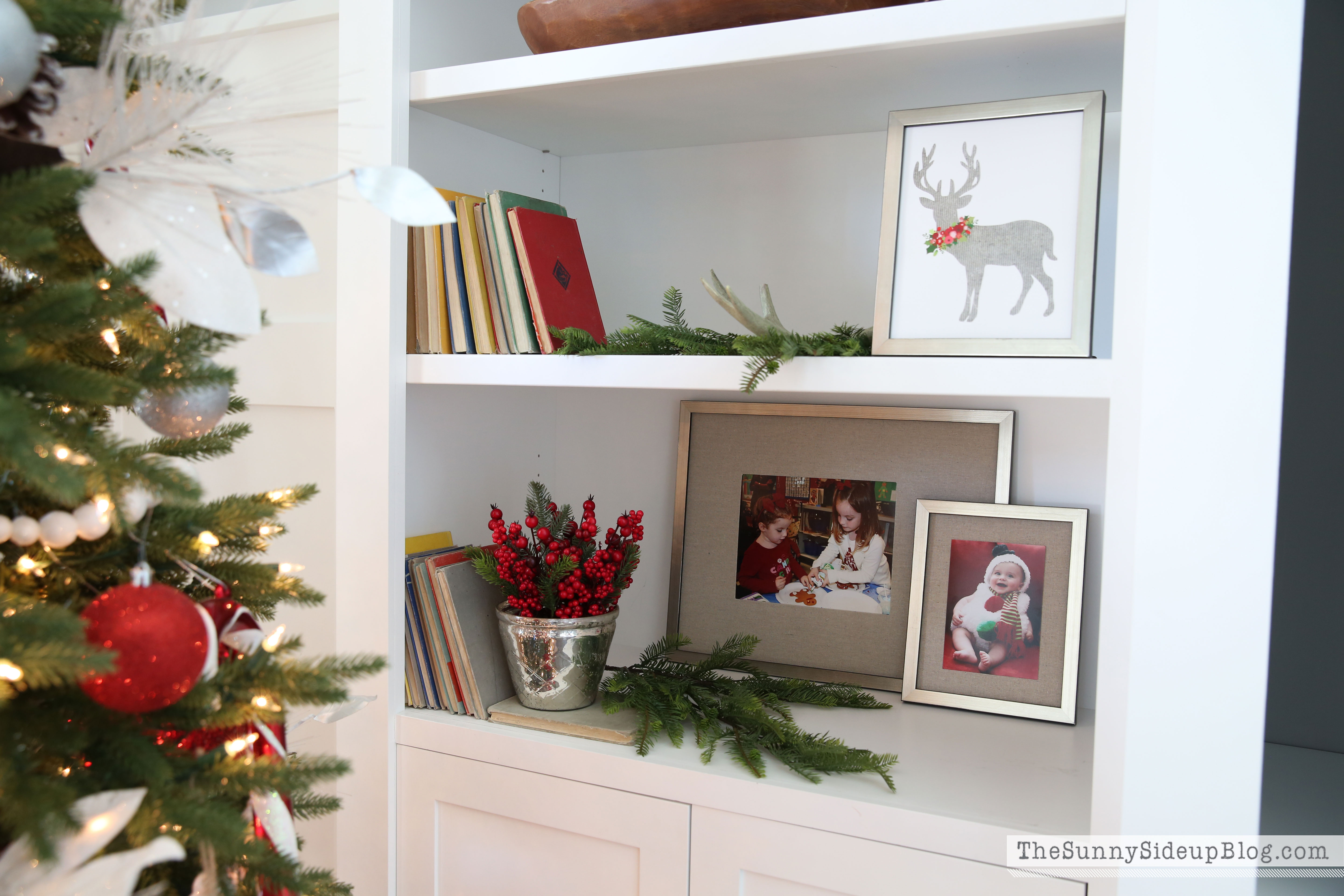 I added a bit of greenery to the shelves since I shared them last.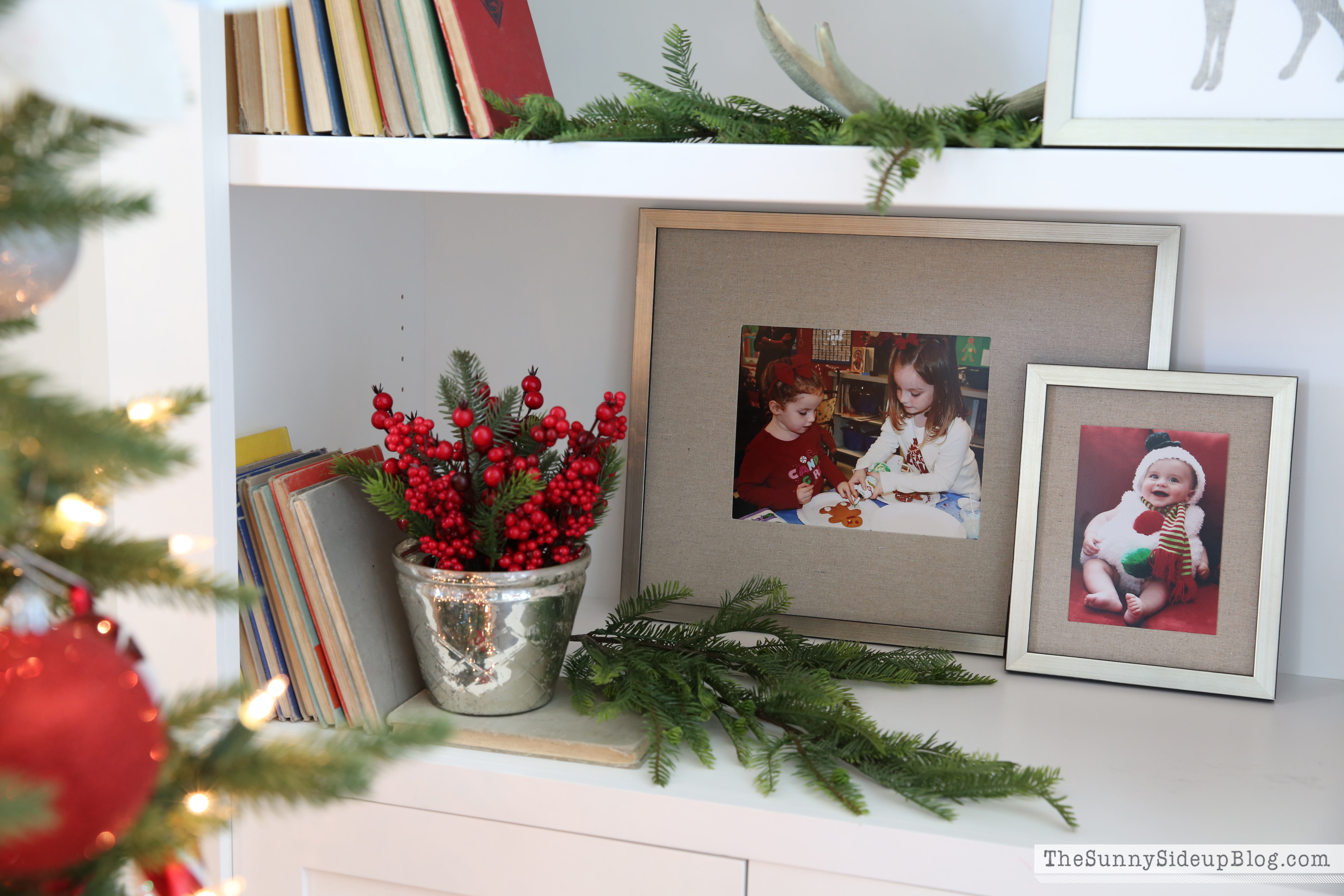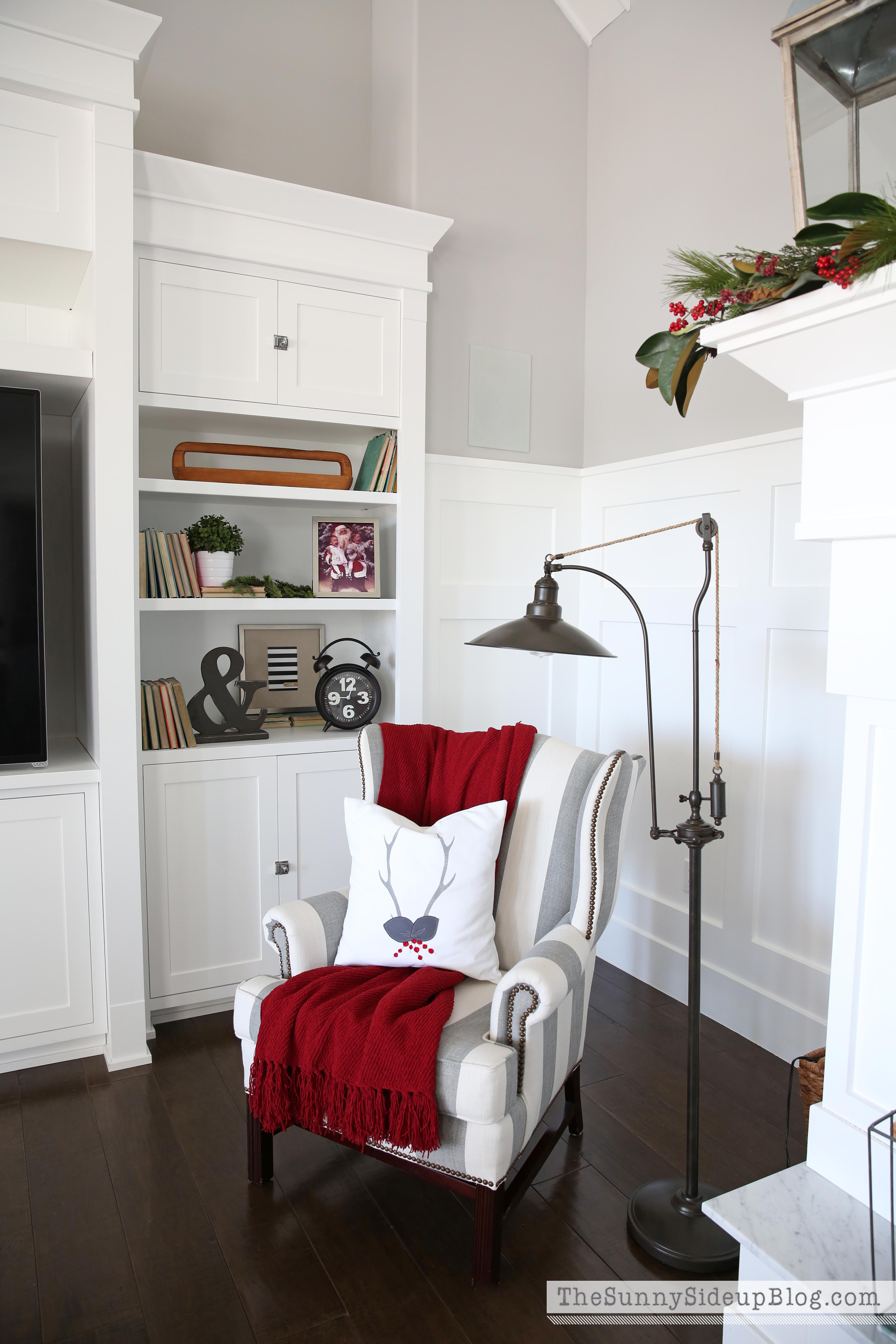 We always set our Christmas books out by the fire so this reading chair is a popular spot in December!  Reading to my kids' will always be one of my favorite things.  You can see all of our favorite Christmas books here.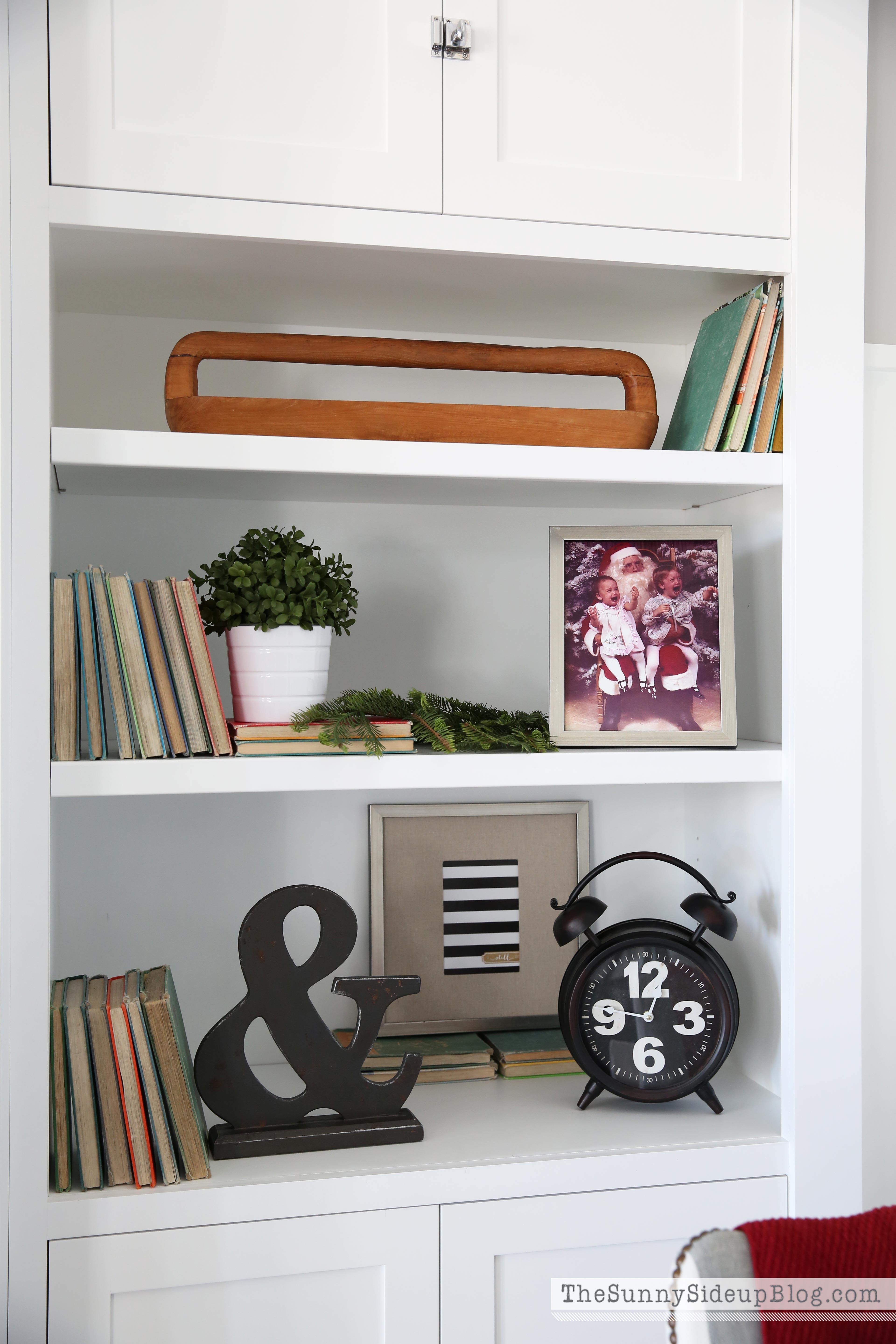 When I moved all of the coral out of our family room to bring in the red my husband wasn't happy that I moved our coral clock.  Apparently he looks at it quite often!  Luckily I stumbled on this cute black clock for a steal in the Nordstroms Home Department (it's 40% off!).  He gets his clock, I get my red for Christmas and all is right in the world again. :)  Above it is one of my all time favorite Christmas pictures of me and my sister when we were little.  Tis the season for toddler meltdowns!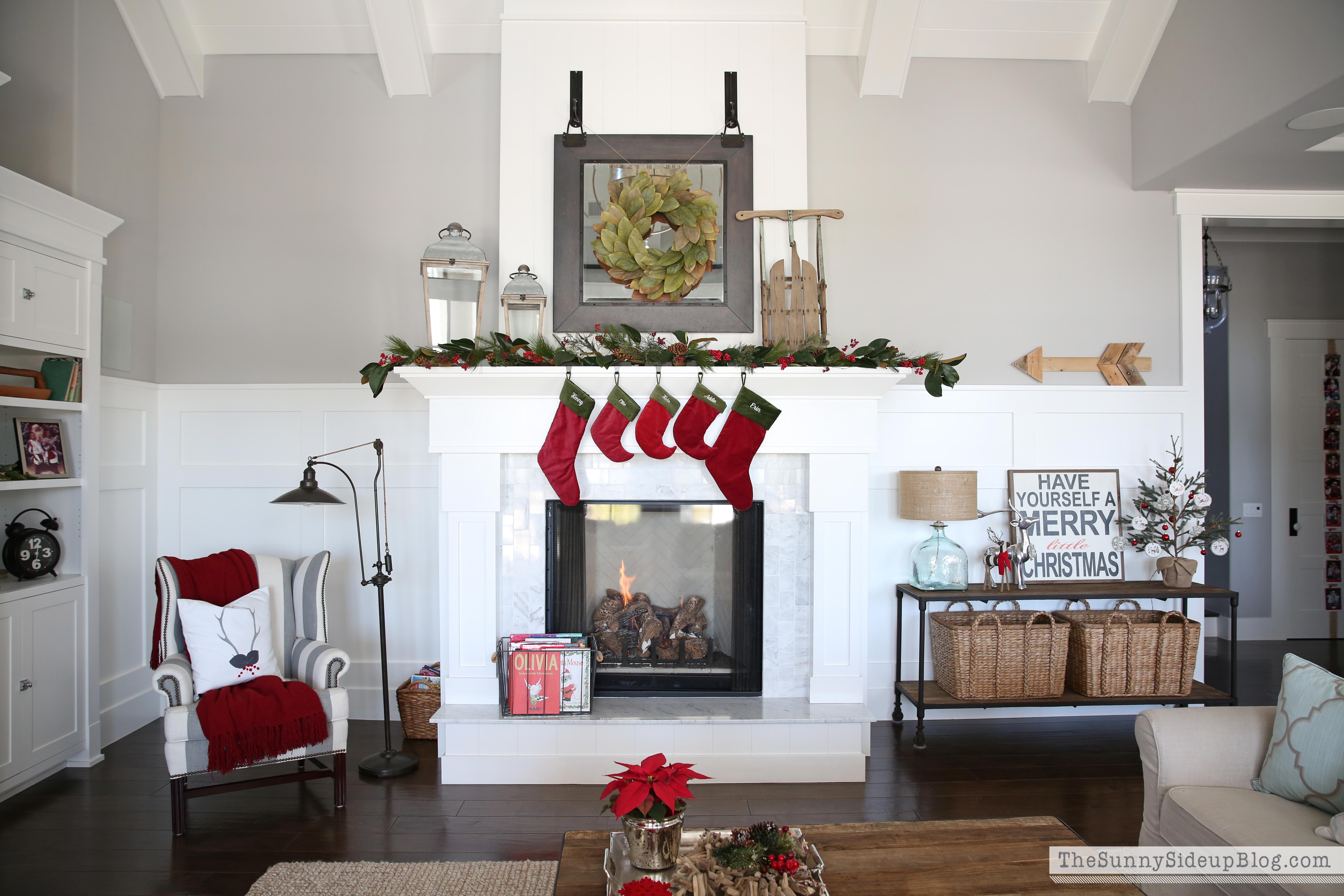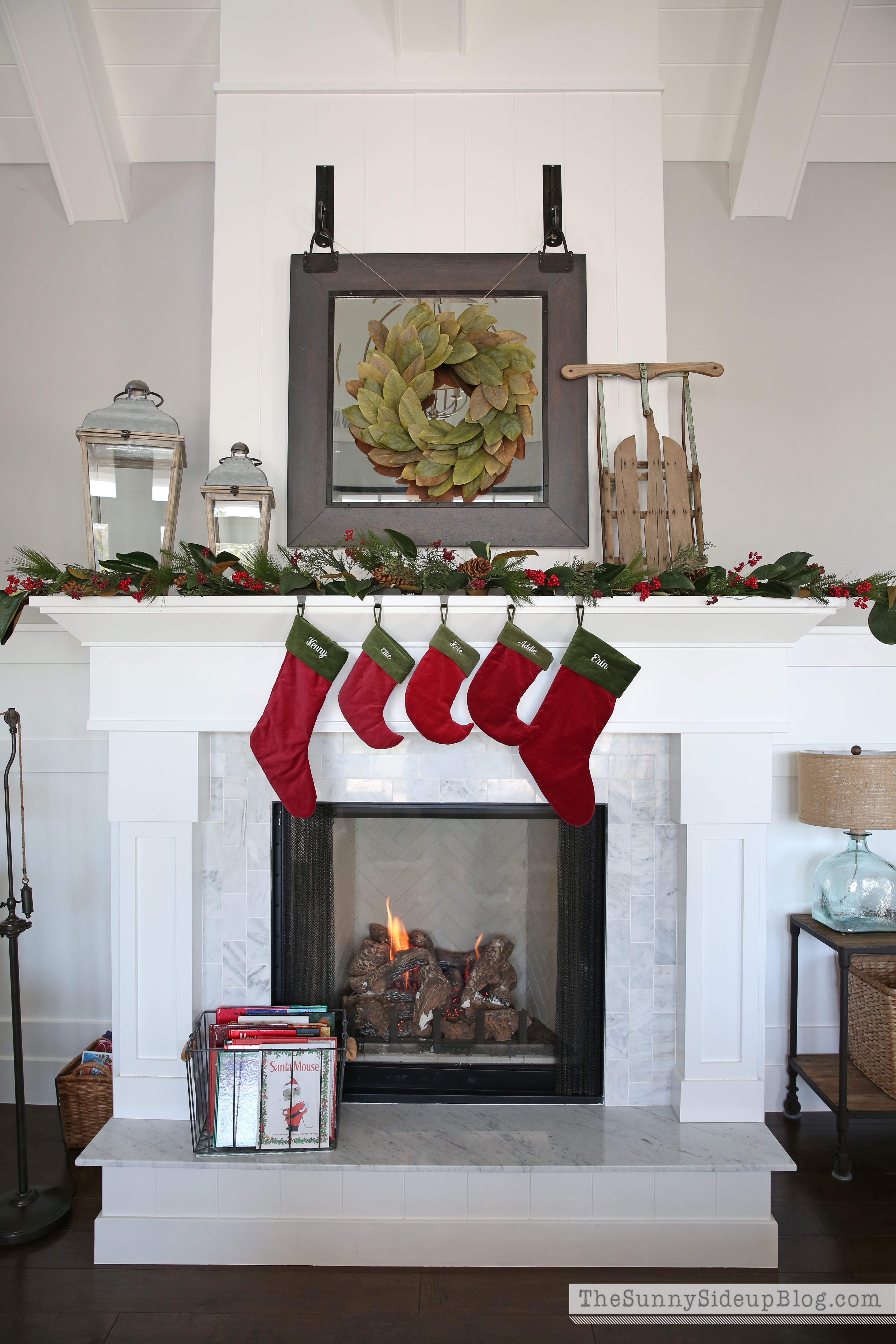 The stocking were hung!  I had Christmas music blasting and the fireplace on while I was taking these pictures.  About 20 minutes before I was sweating to death!  But I got a few good pics with the fire so it was worth it. ;)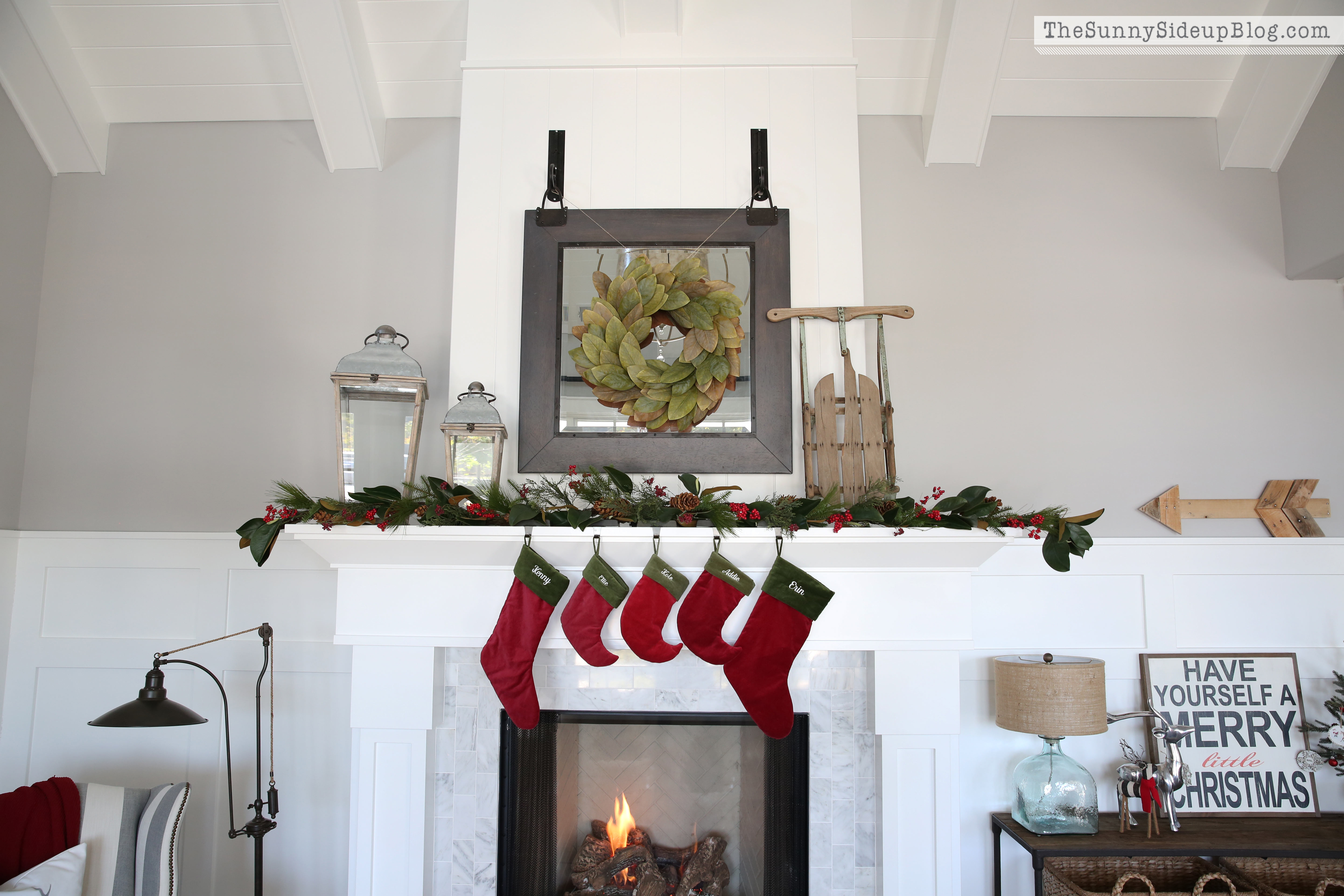 My favorite new addition to my fireplace decor is this old sled.  It was my mom's when she was a little girl.  I found it shopping in her garage (one of my favorite past times) months ago.  It makes me so happy having it displayed!


I'm so excited about my Have Yourself a Merry Little Christmas sign I got this year from Between You and Me Designs.  I wanted it years ago but we were building the house so I decided to wait to get it.  Tara is such a sweetheart (I've loved her signs for so long!) and she is offering 15% off anything in her shop with the code SUNNYSIDEUP15!  Fun Christmas gift idea!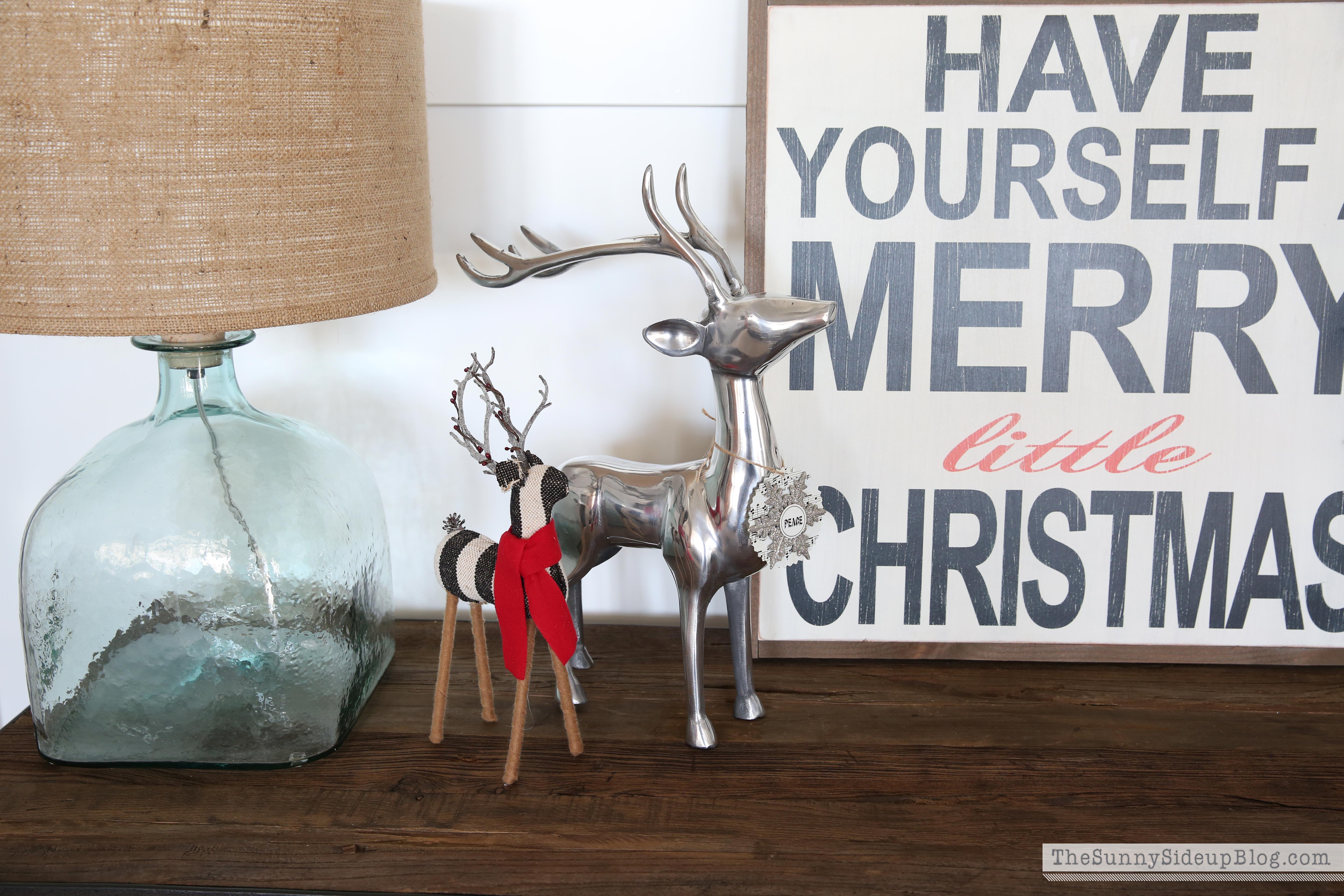 I also have a crush on my black and white striped reindeer.  Isn't he cute!?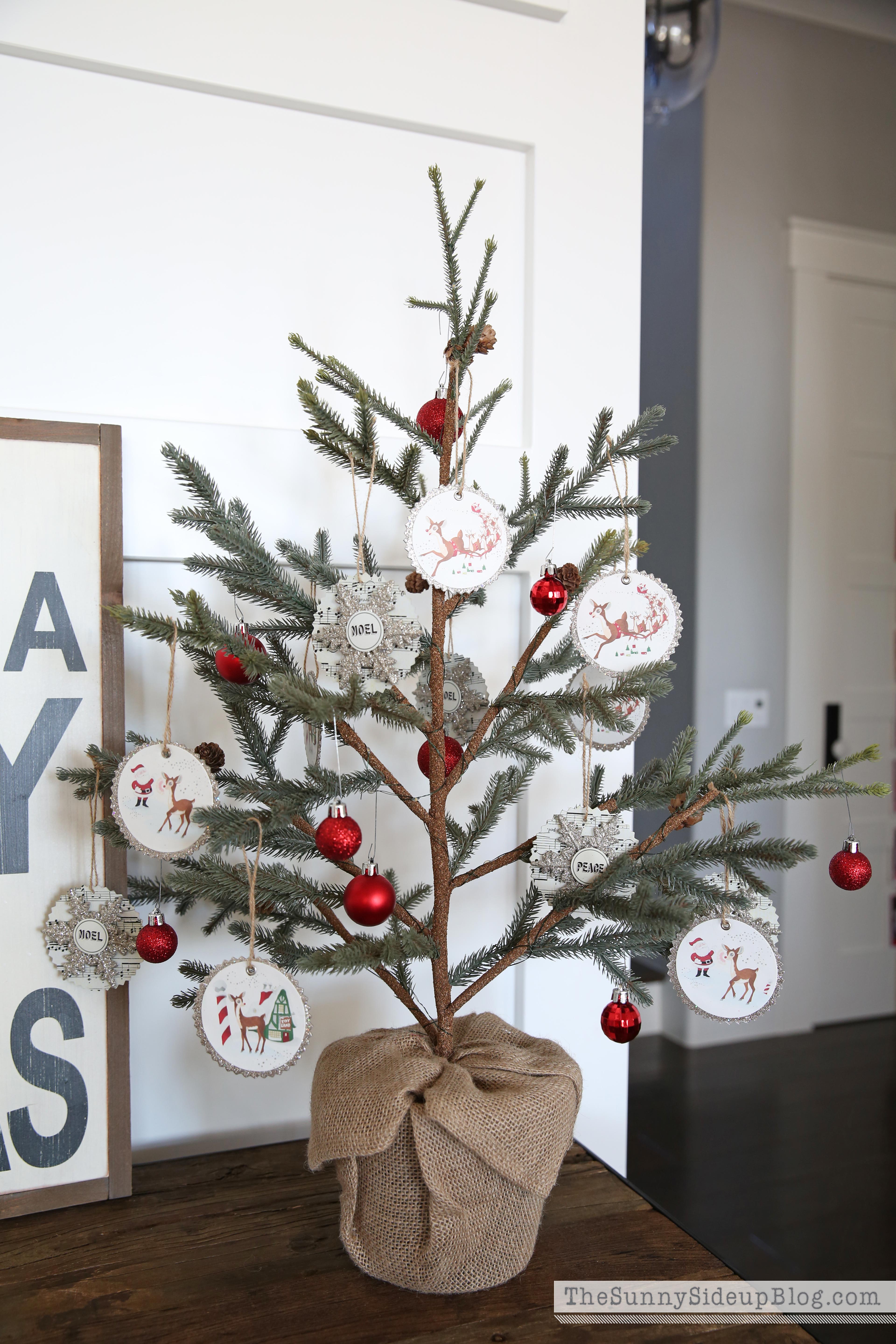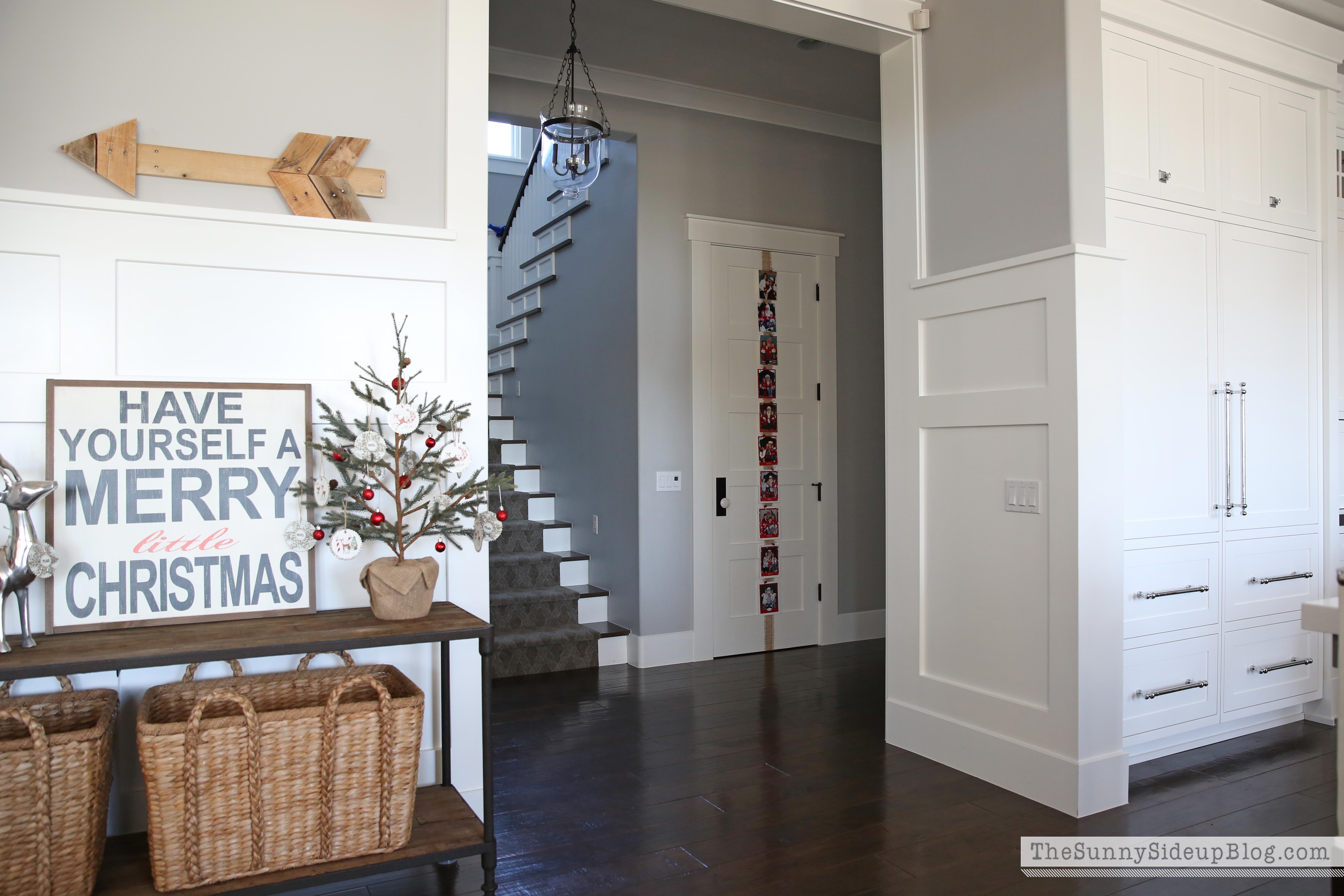 You can see our Santa pictures displayed on the door in our hallway.  We are about to run out of room!  But I'm going to keep taking my kids to sit on Santa's lap until they are too big to fit!
A few more pics of this space…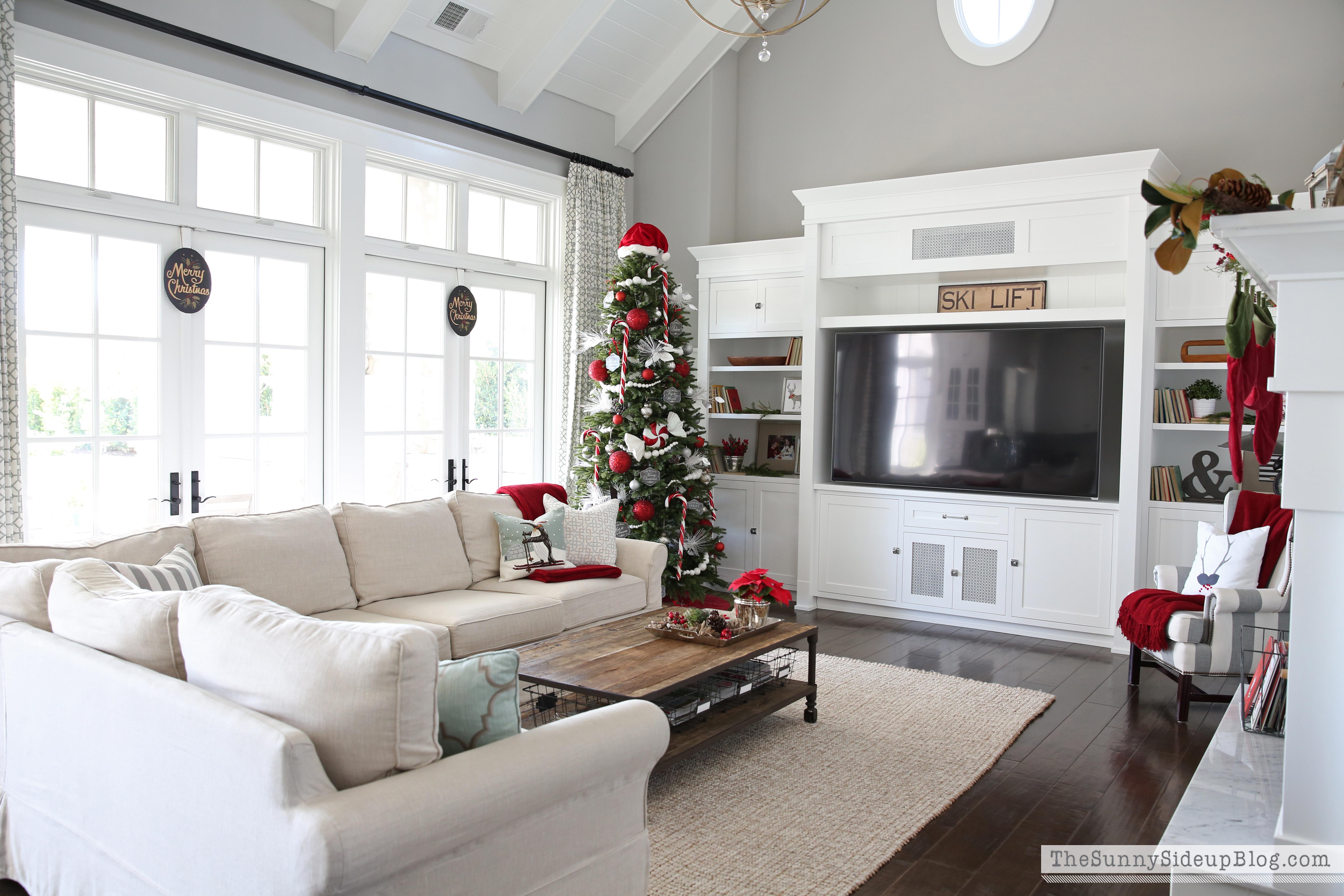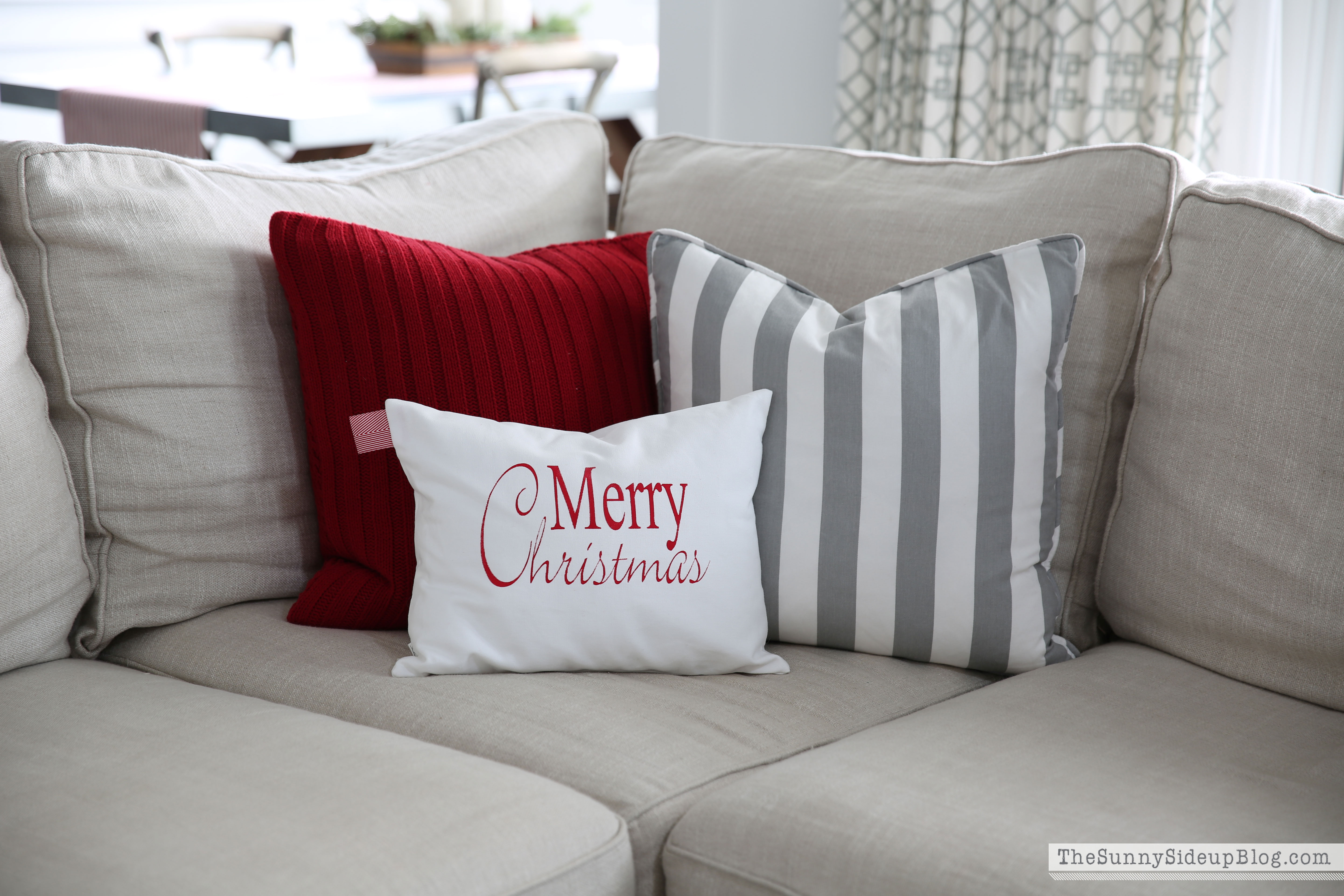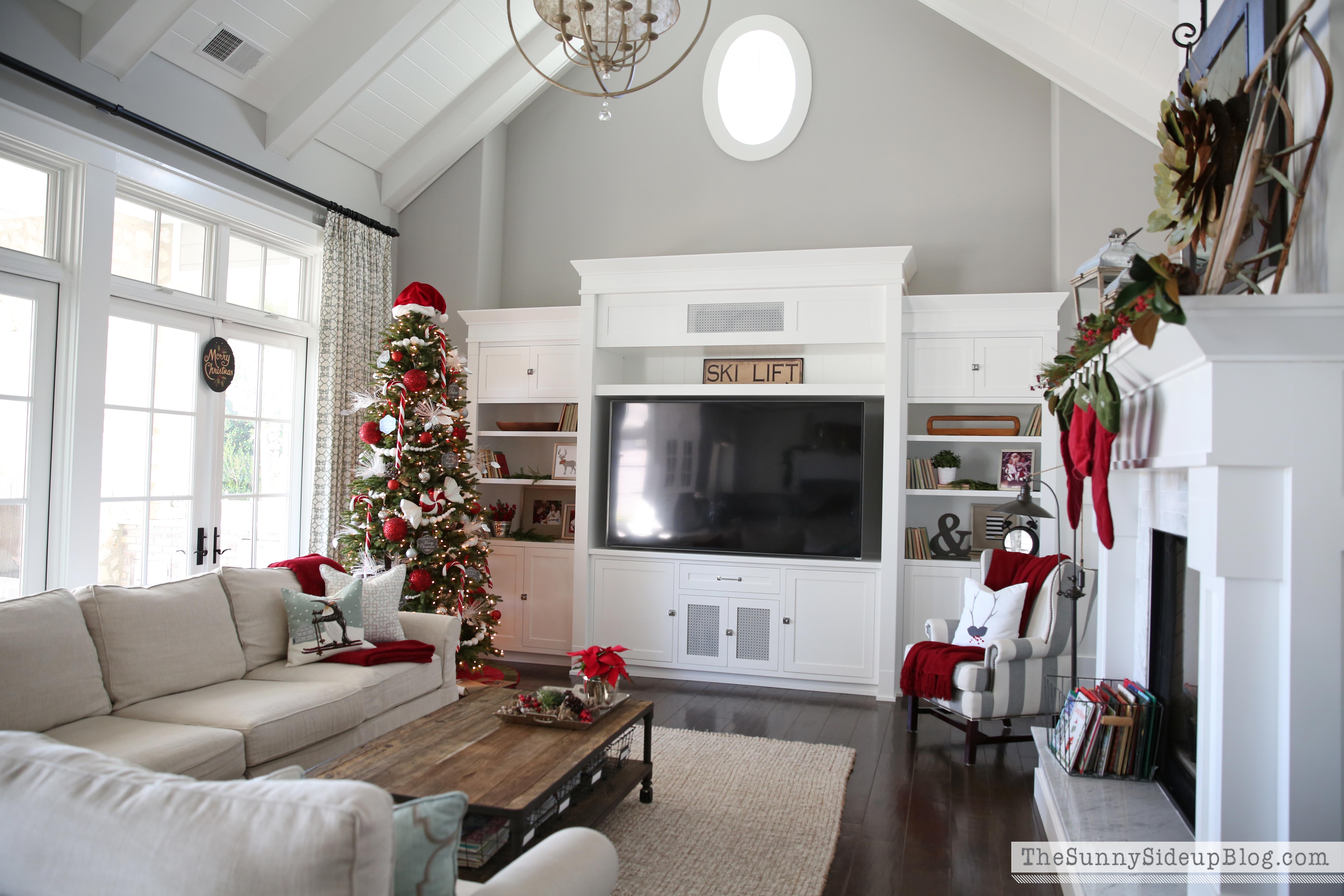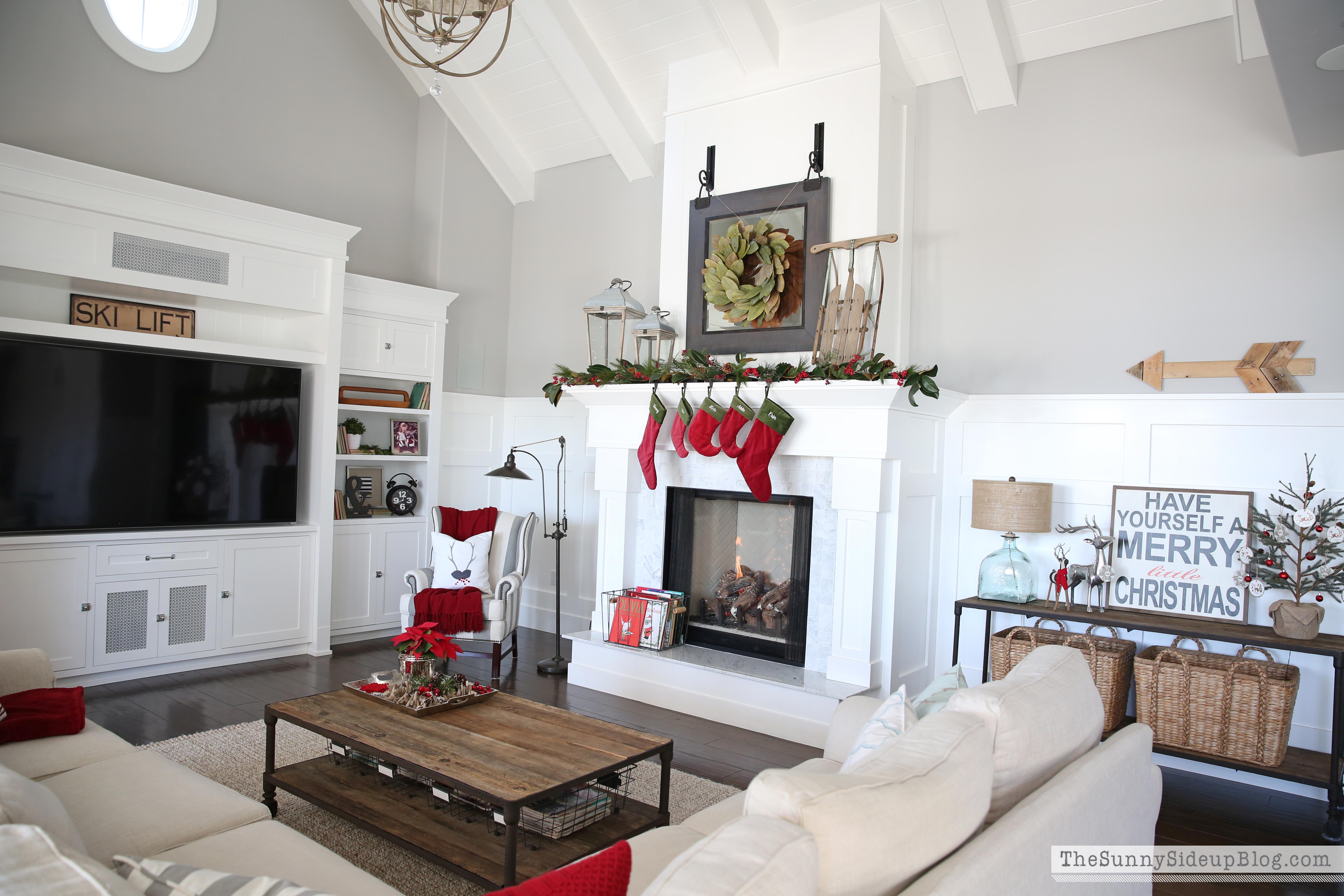 Thank you so much for visiting my home today!  I'm excited to share the rest with you soon.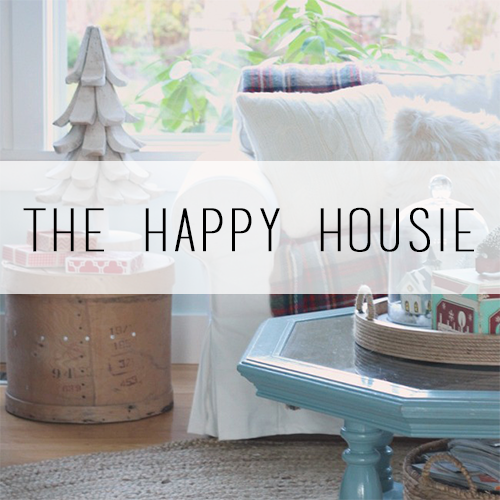 Next up is Krista at the Happy Housie!  You can also stop by Cherished Bliss to start at the beginning of the tour.  SO much inspiration!  I can't wait to see everyone's homes decked for the holidays!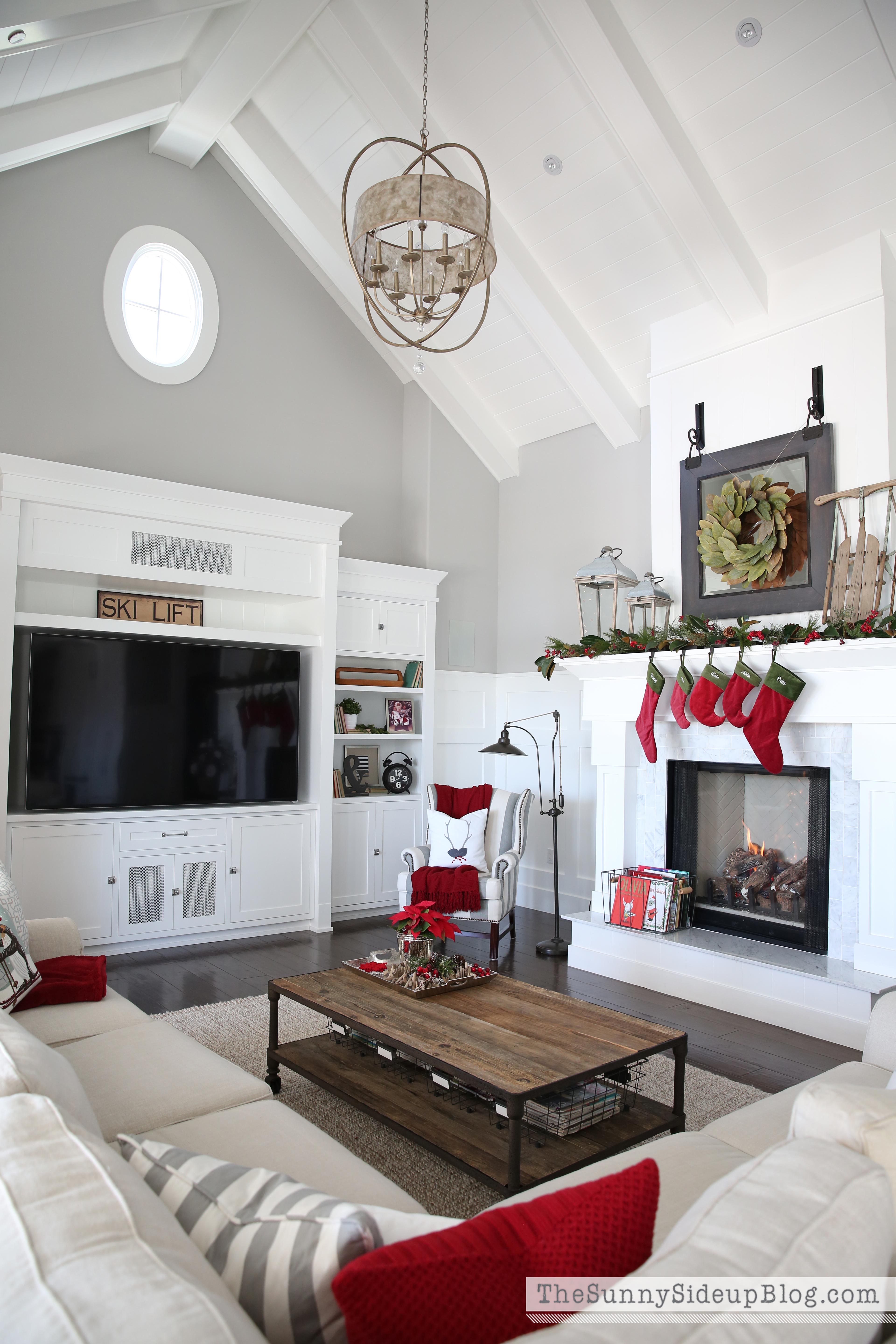 Happy December friends!  :)
xoxo, Erin