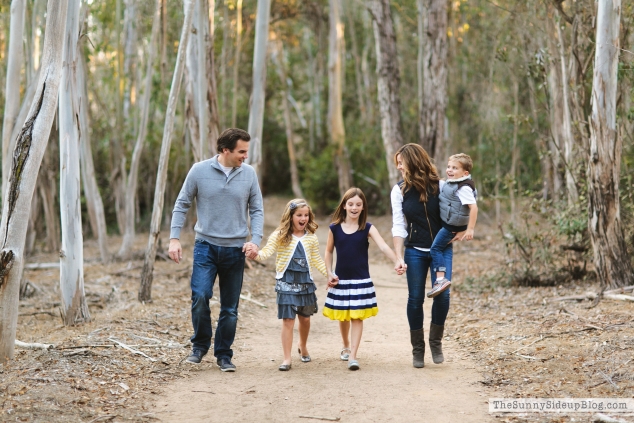 If you are new to my blog hello and welcome!  I'm Erin.  I live in sunny San Diego with my husband (just celebrated 18 years of marriage!) and our three vibrant kids.  Aside from being a mom and wife, I am passionate about organizing, home design and decor.  I'm also passionate about dutch oven potatoes and cherry ice chapstick but that's beside the point.  :)  When a lot in our area opened up a few years ago my husband and I jumped at the chance to build.  For 15 years we had been working hard and saving and planning and dreaming (and saving some more!) for a home like this with a nice yard to raise our kids (and hopefully someday our grandkids!).  We finished building our custom home two years ago this October and since then I have been putting my stamp on the place one room at a time.  Here is a tour of the spaces I have shared on my blog so far!   Some of them are ready for company, some of them are just ready for a chair.. or rug.. or anything.  Ha!  All in good time.  We are definitely a work in progress around here!
*Click the link below for full posts on each space.  Soon I will be updating this tour with a complete source list for each room (paint, fixtures, furniture, etc.) and I'll also update this tour with more recent pics as the rooms progress!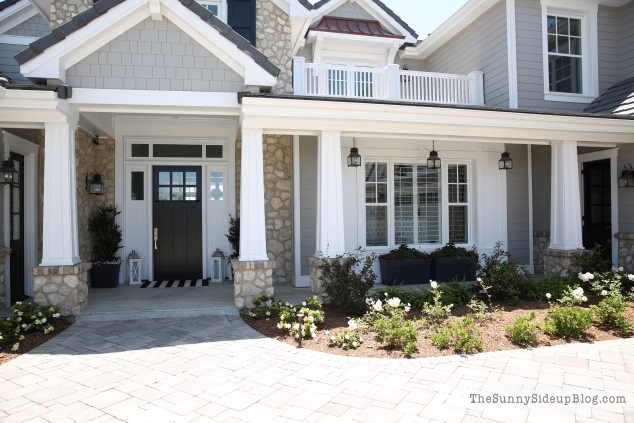 A peek at part of the front of our house!  My style is craftsman/coastal (according to my architect!) and this home is a combination of everything I truly love.  It felt wonderful to see all of the ideas I've had for years in my head finally come to life in this home.  I hope you enjoy the tour!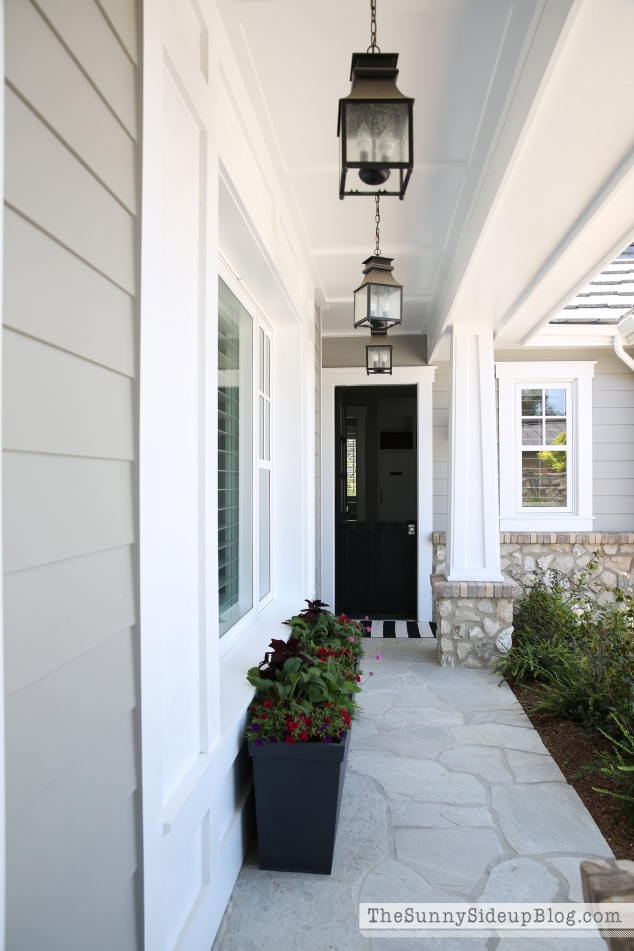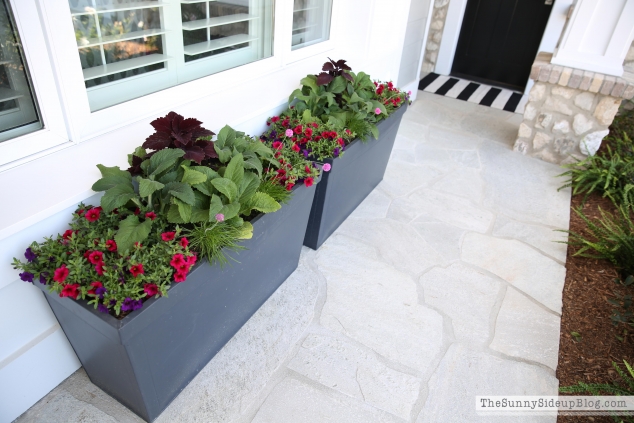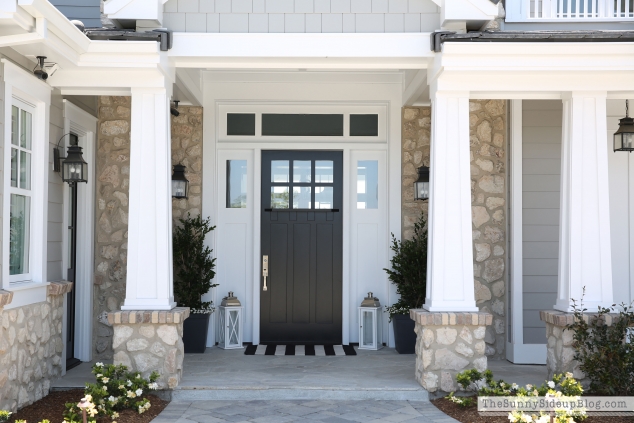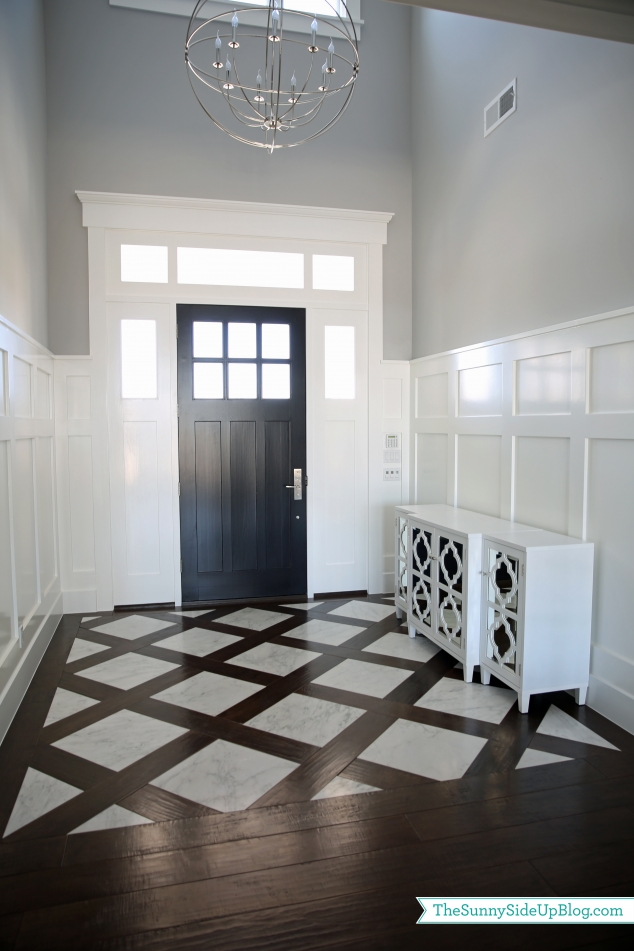 Come on in!  This table is finally getting some attention (it's ready for fall!) and I will be sharing it on the blog soon.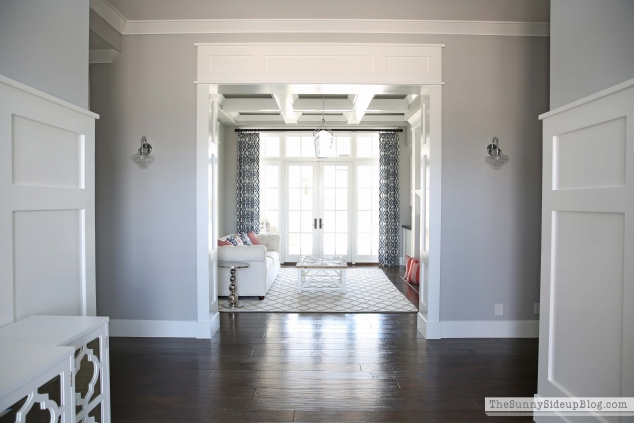 This is the view you see when you walk in the front door.  Our formal living room is half way done and I will be updating with new pictures soon!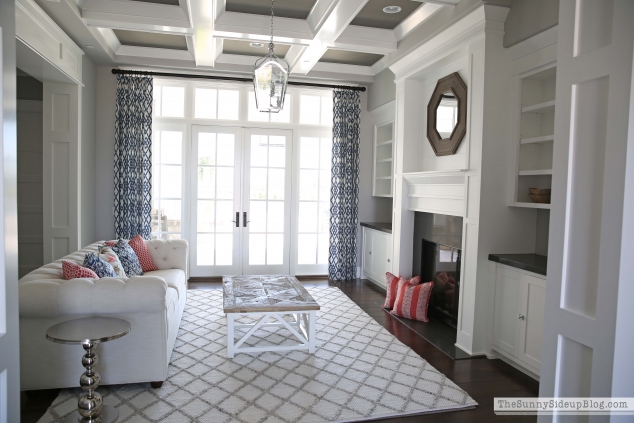 Ceiling treatments, built-ins and white molding?  I'm a fan.  :)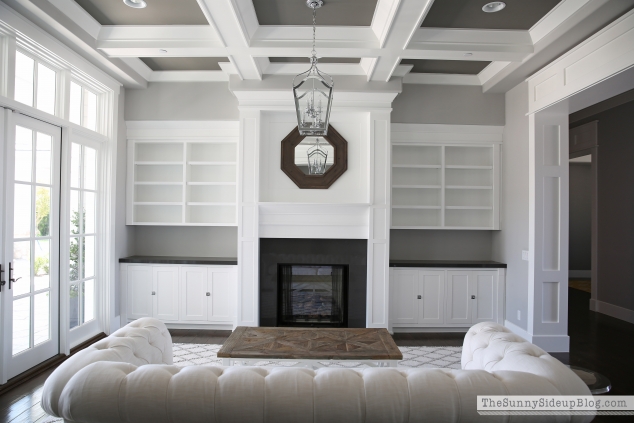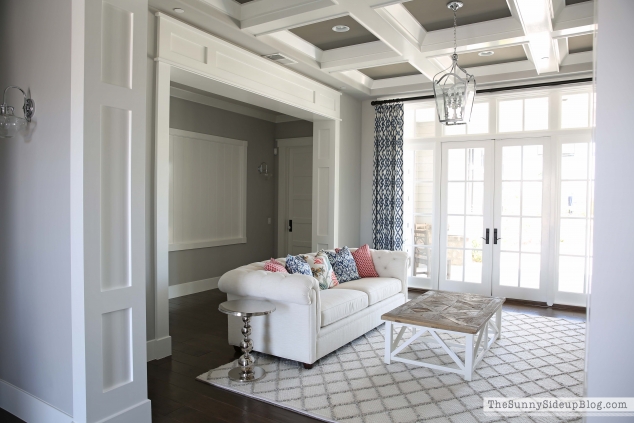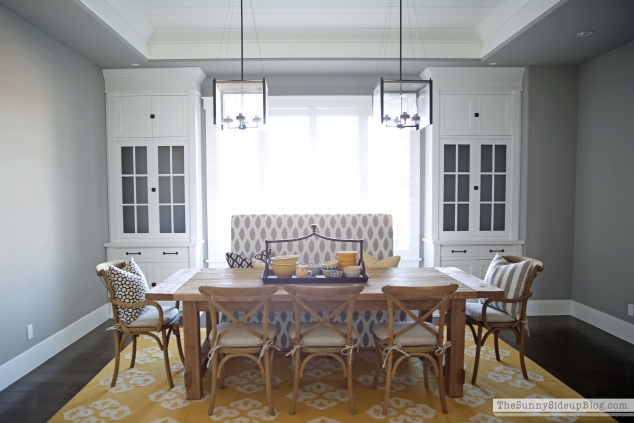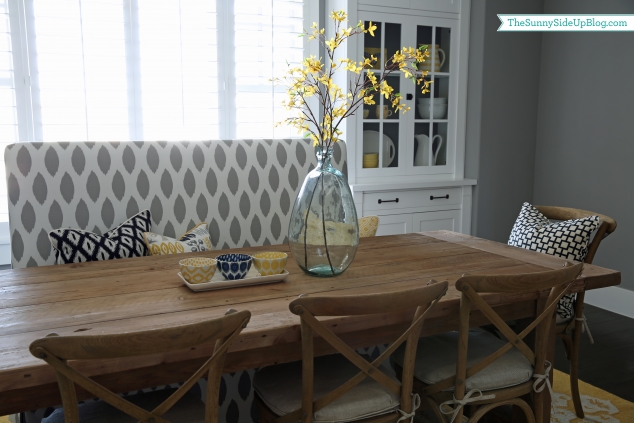 This is our formal dining room.  I didn't want a formal dining room in the house because there isn't much formal about our dining. ;)  But my husband wanted one to accommodate large groups when we have friends or family over so I agreed to putting in a formal dining room if he was ok with me making it a casual space with a big farmhouse table.  A great compromise don't you think? ;)  Table decor rotates often around here.  Still a lot planned to finish this space next year!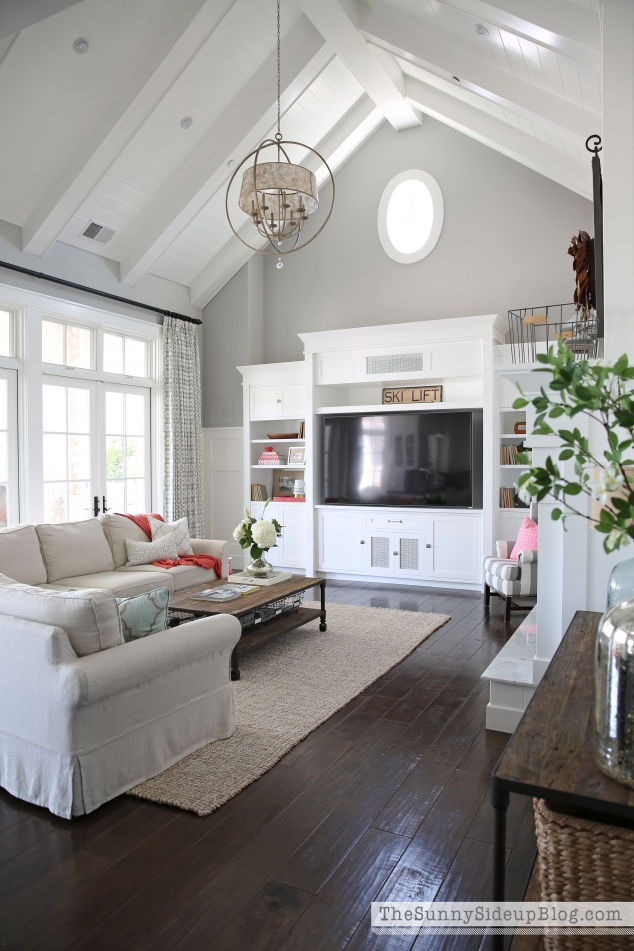 This is our family room and truly the heart of our home!  I wanted it to be large enough for entertaining, but also to feel cozy when it's just the five of us.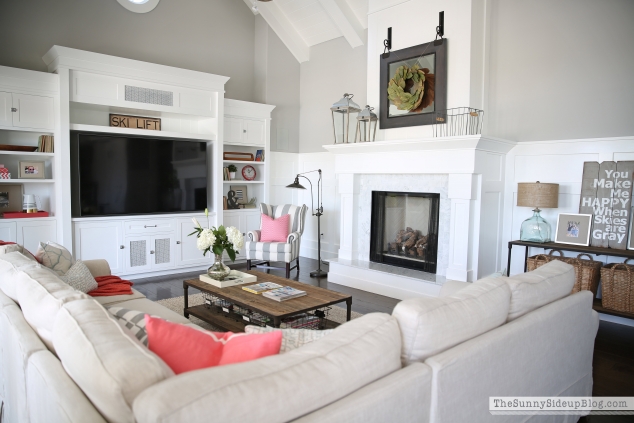 Still always adding and tweaking things in this room but it's probably the most complete room in the house as far as decor goes.  :)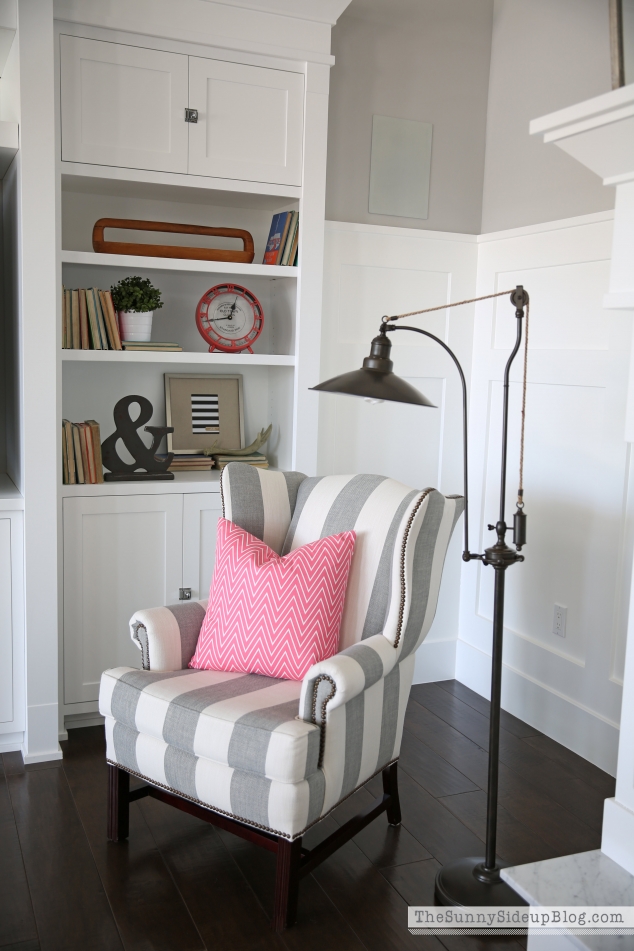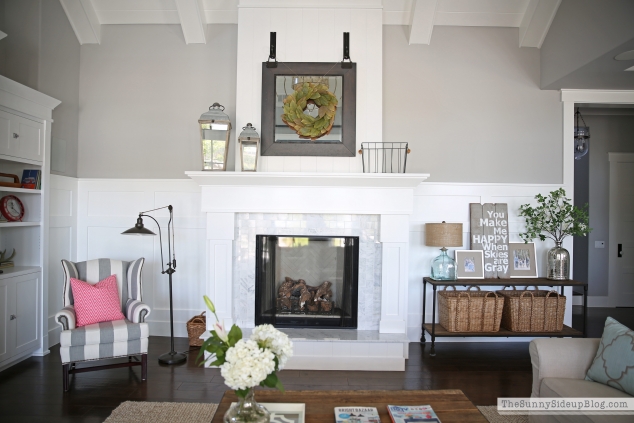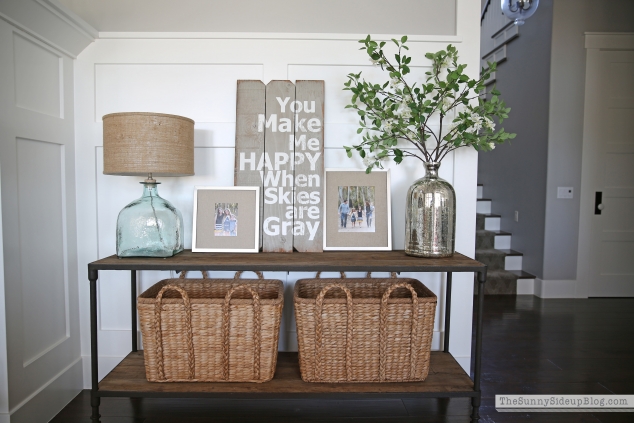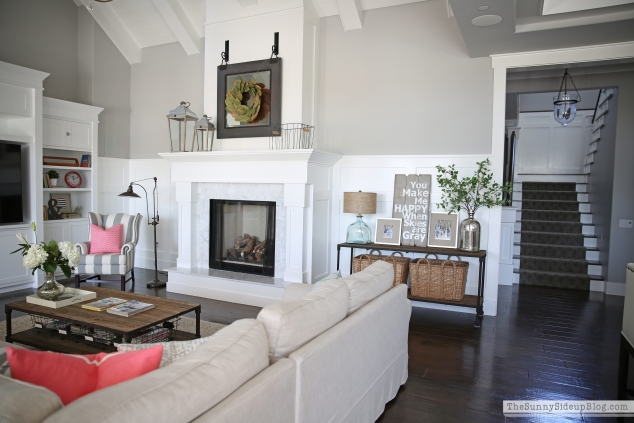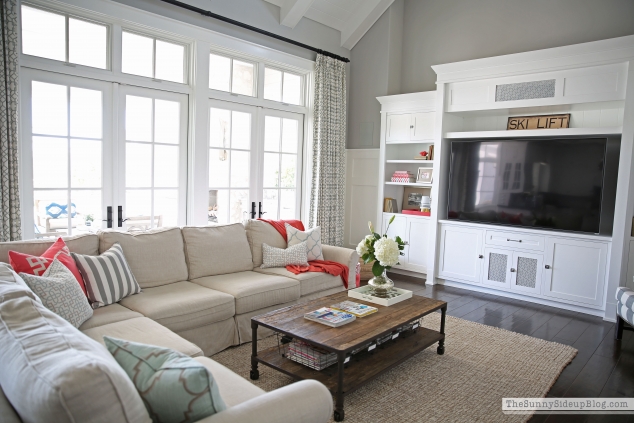 Most evenings the five of us are piled on this couch and the pillows are piled on the floor.  I tidied things up just for all of you. ;)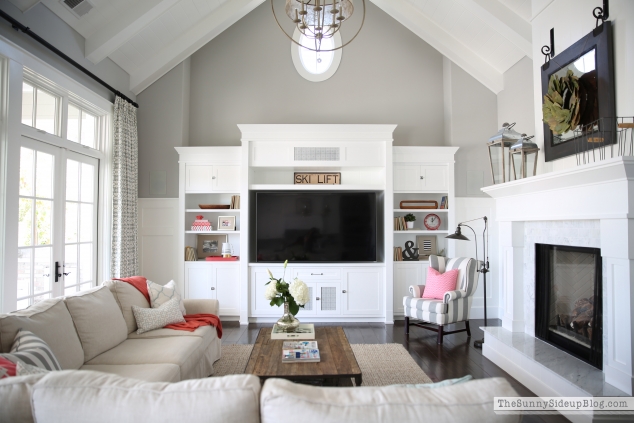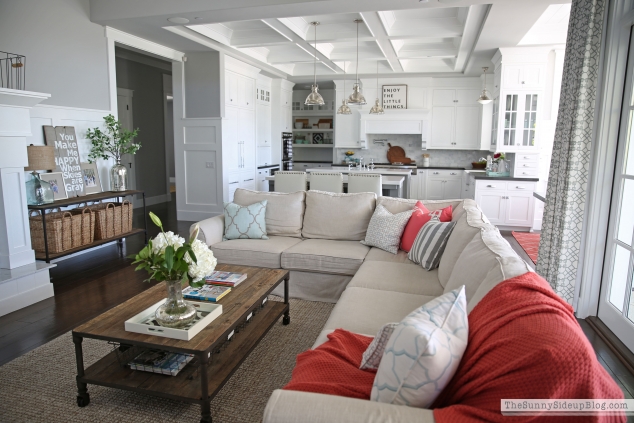 A view from the family room into our kitchen.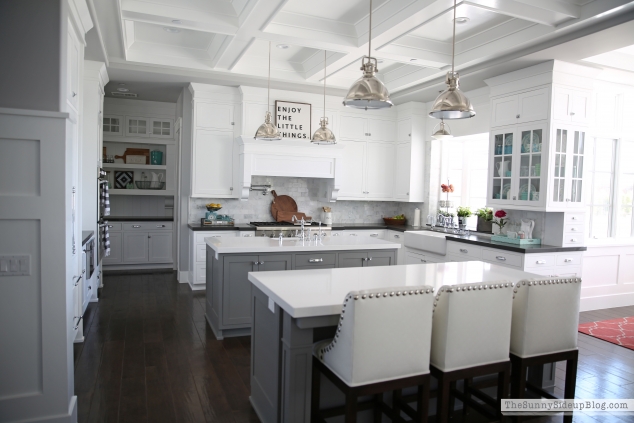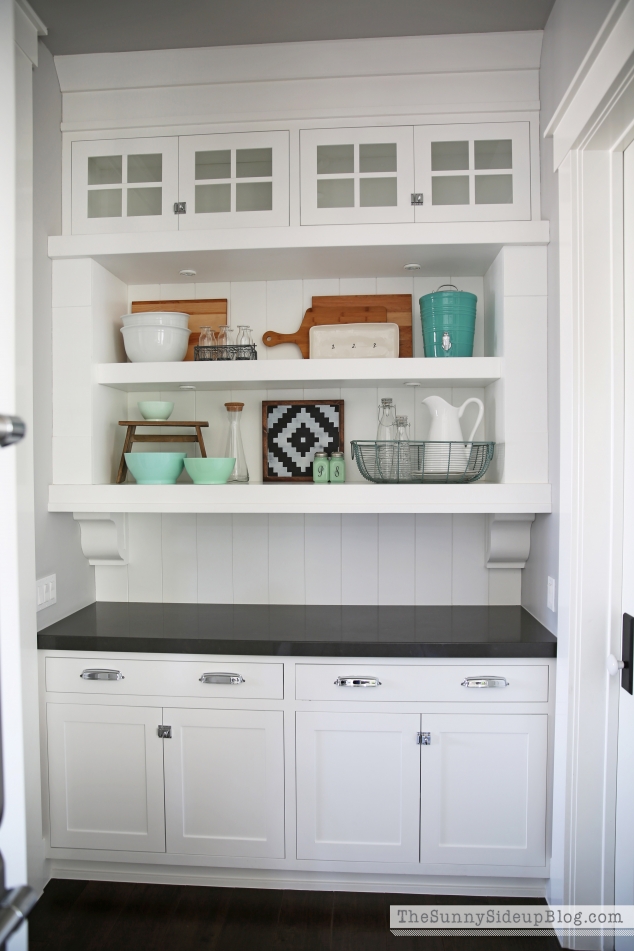 This is our butler's pantry and to the right is our organized pantry.  Which I still need to photograph and share!  Also coming at some point!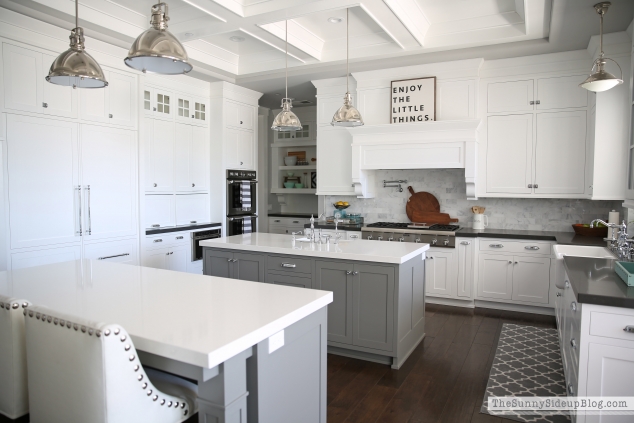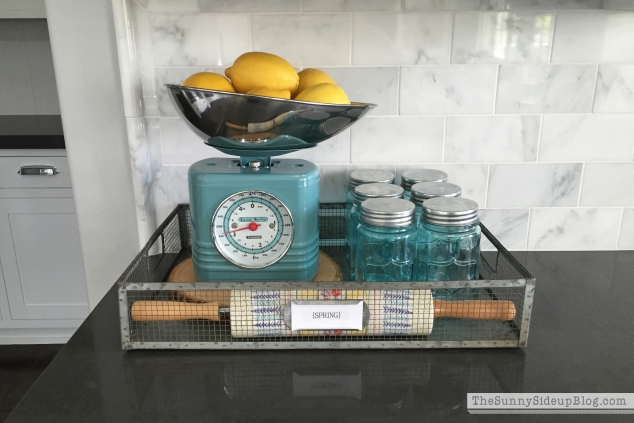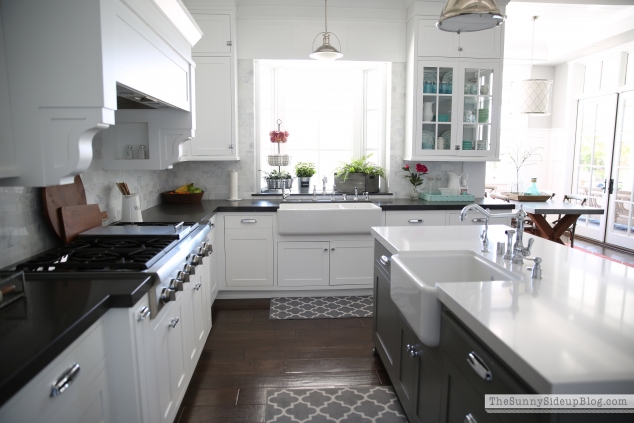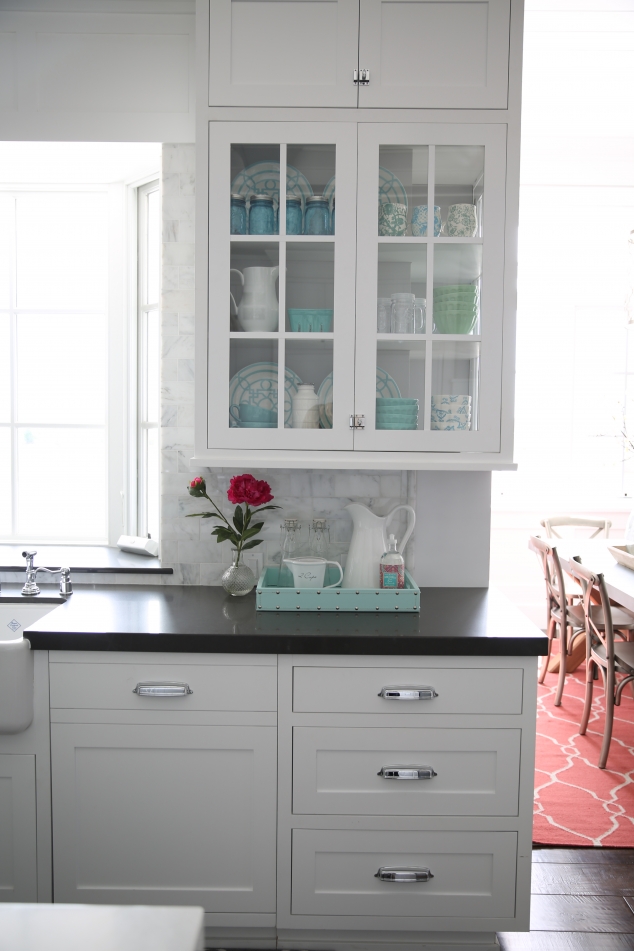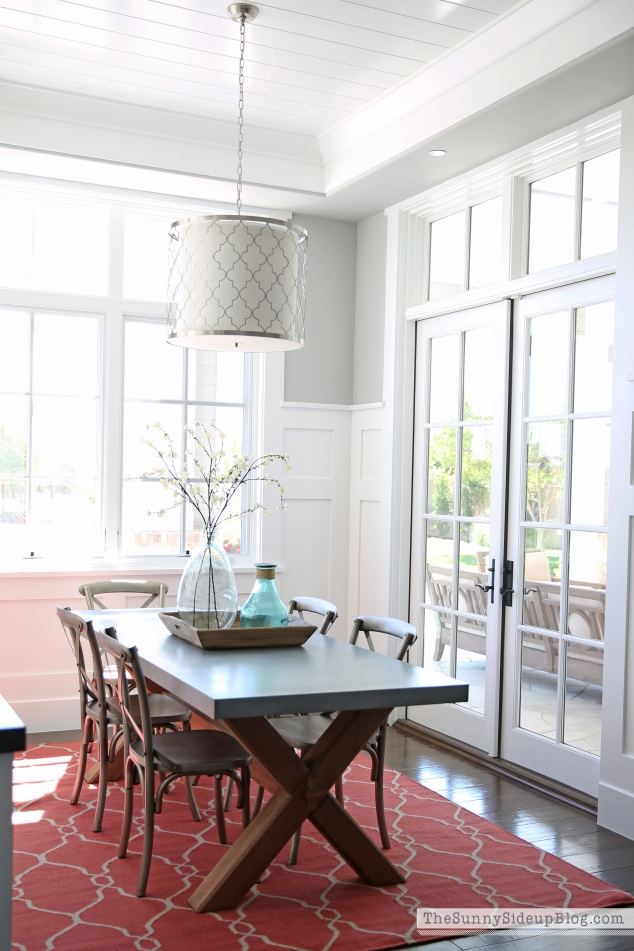 Our last house was much smaller and the dining table sat right in-between our kitchen and living.  Because we were so short on space we all bumped into that table daily!  When we built this home I told my architect I wanted a dining nook off to the side so the table was out of the way.  I also told him that while he was at it he should add some pretty windows with a view of the backyard.  ;)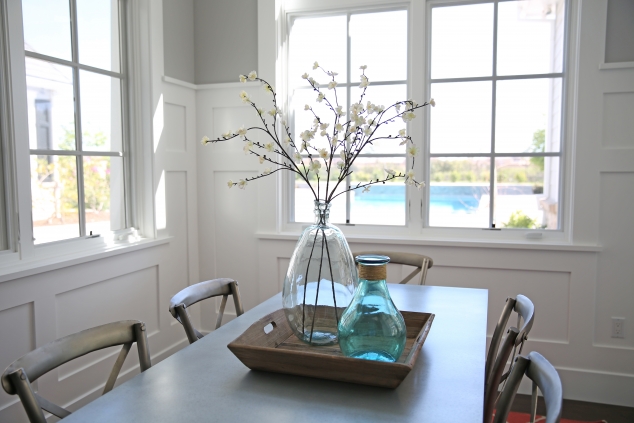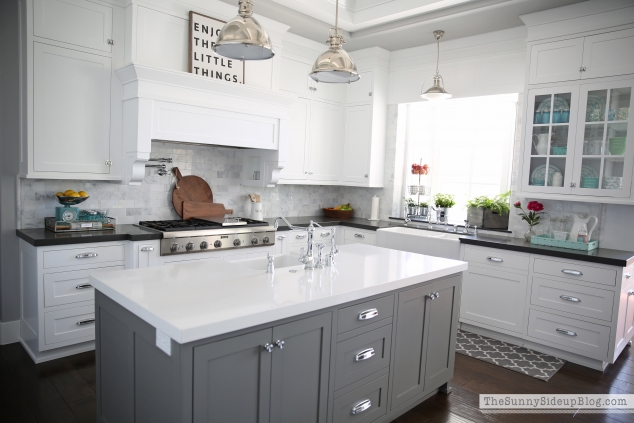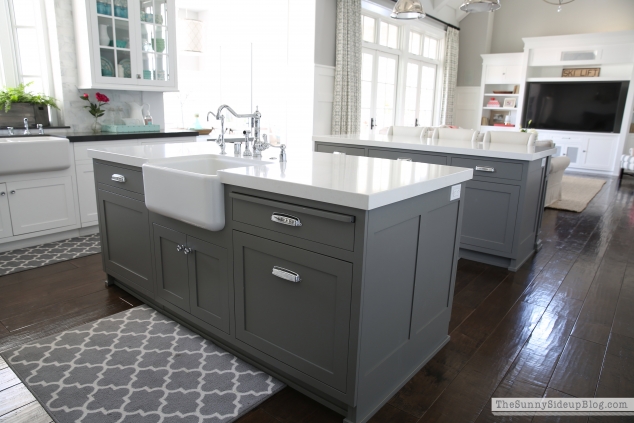 I love organization and I added so many fun features in this kitchen to keep things organized!  All coming soon to a blog near you.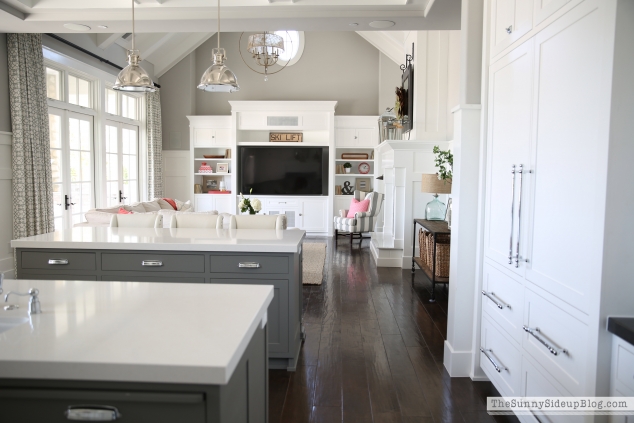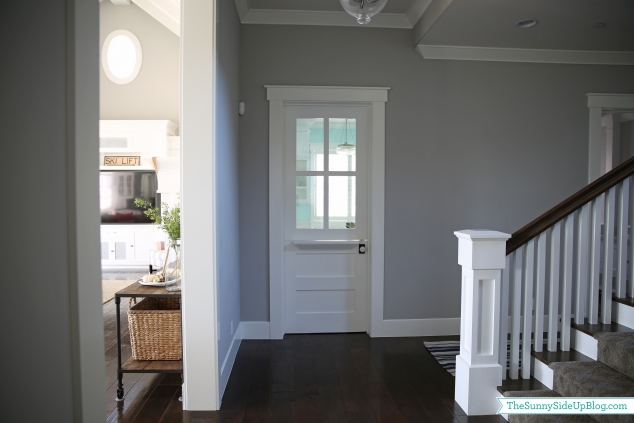 This white dutch door at the end of our hallway leads into one of my favorite spaces in the house…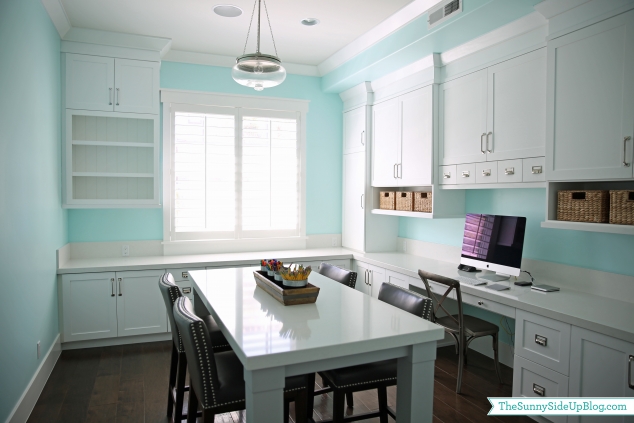 It's my office/craft room/homework room and I dreamed about a space like this for 20 years!  I'm in the process of decorating it now and can't wait to share the progress soon.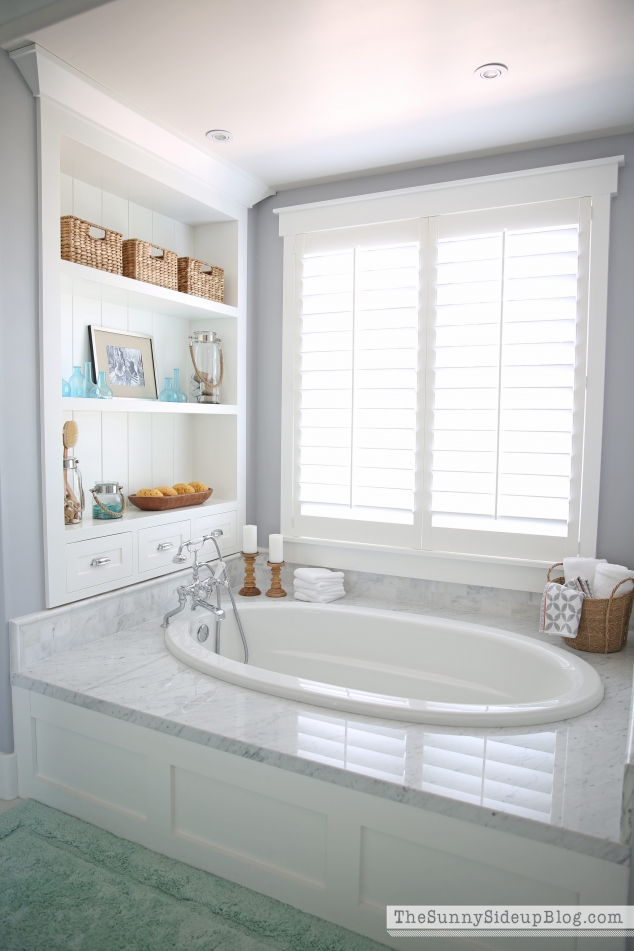 I haven't shared pics of my master bathroom yet.  I'm not sure why.  Maybe because I can't keep it clean long enough to take some.  Ha!  But I did share details on my tub and shelf decor.  More of the bathroom will be coming soon.  At some point.  With everything else I've mentioned.  :)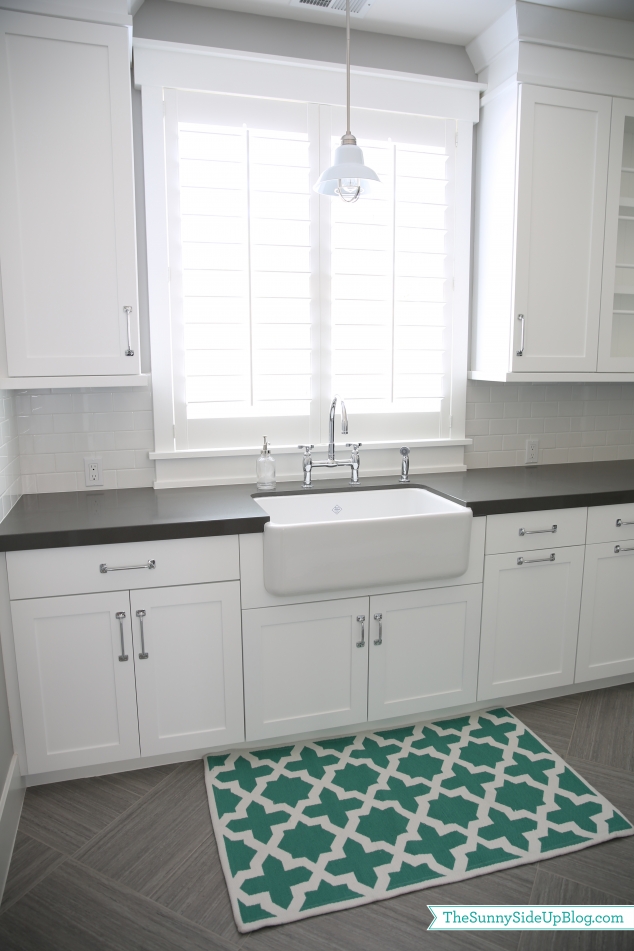 This is the laundry room on the main floor.  It's just off of our mudroom and usually flooded with dirty clothes, pool towels and lots of sand.  Courtesy of my 5 year old little boy.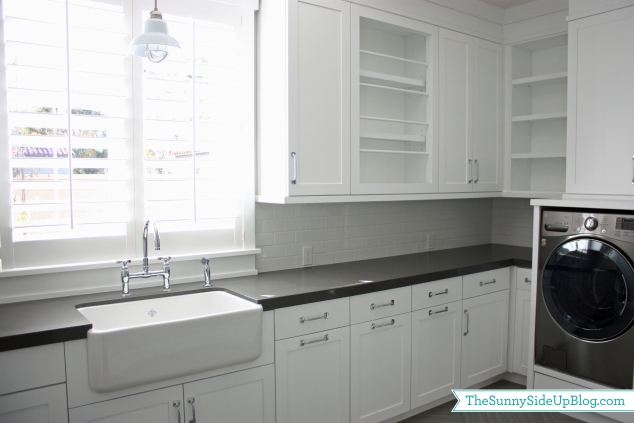 Now that my kids are back in school (my baby started Kindergarten this year!) I'm hoping to spend less time doing laundry and more time decorating the laundry room.  ;)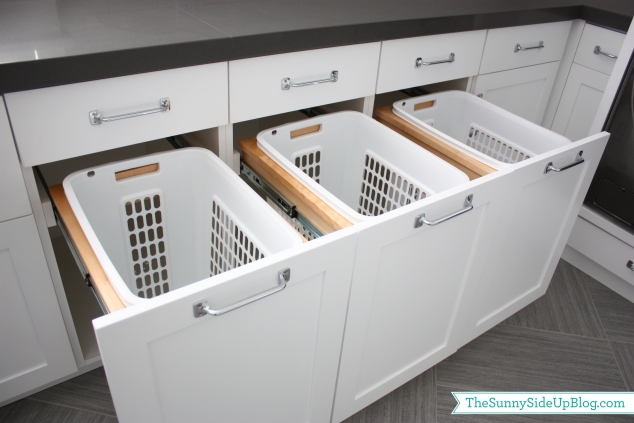 I designed each room in my house with organization in mind and these pull out laundry bins are my all time favorite!  They were one of the first things I sketched to show my architect.  I dreamed about them for years in our old house while I waded through piles of dirty clothes on my hallway floor.  :)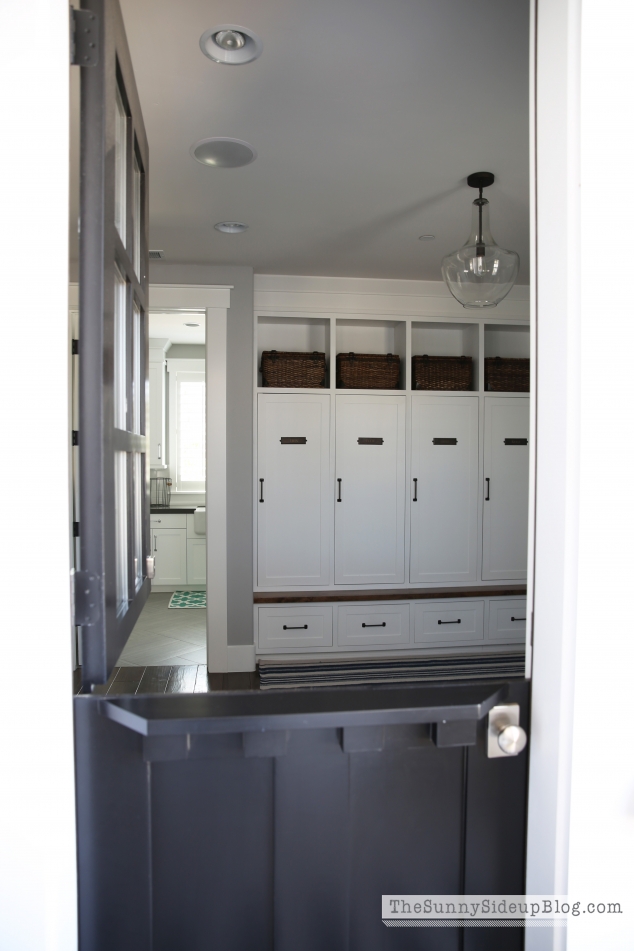 Off to the side of our porch is a black dutch door that leads into the mudroom.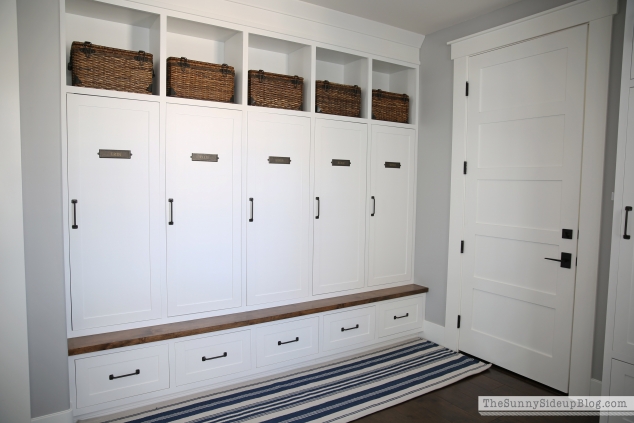 You also come into the mudroom from the garage.  This is our main in and out entrance everyday!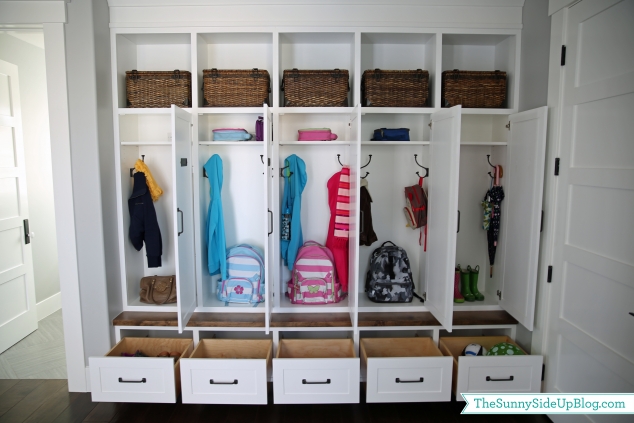 Is it just me or are there angels singing?  ;)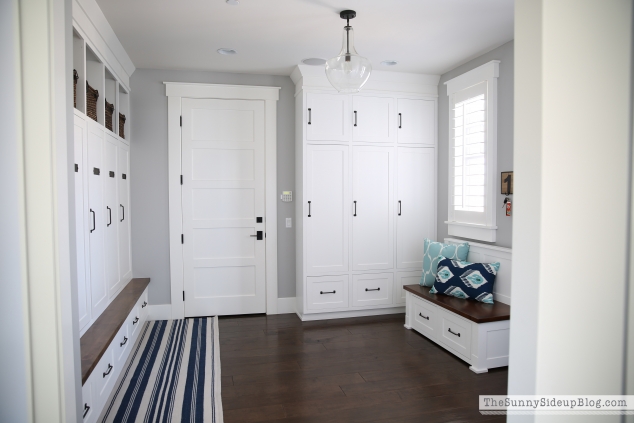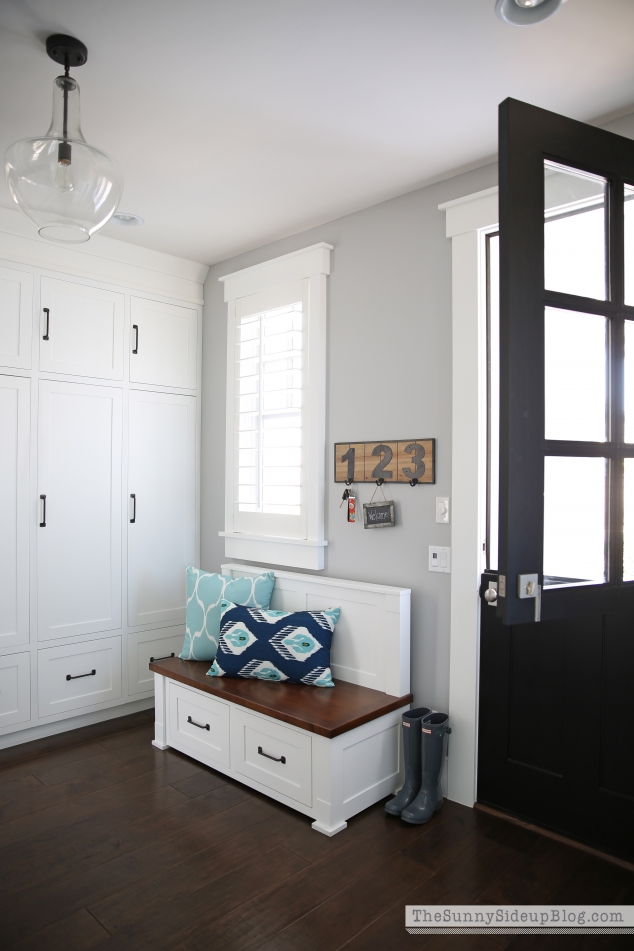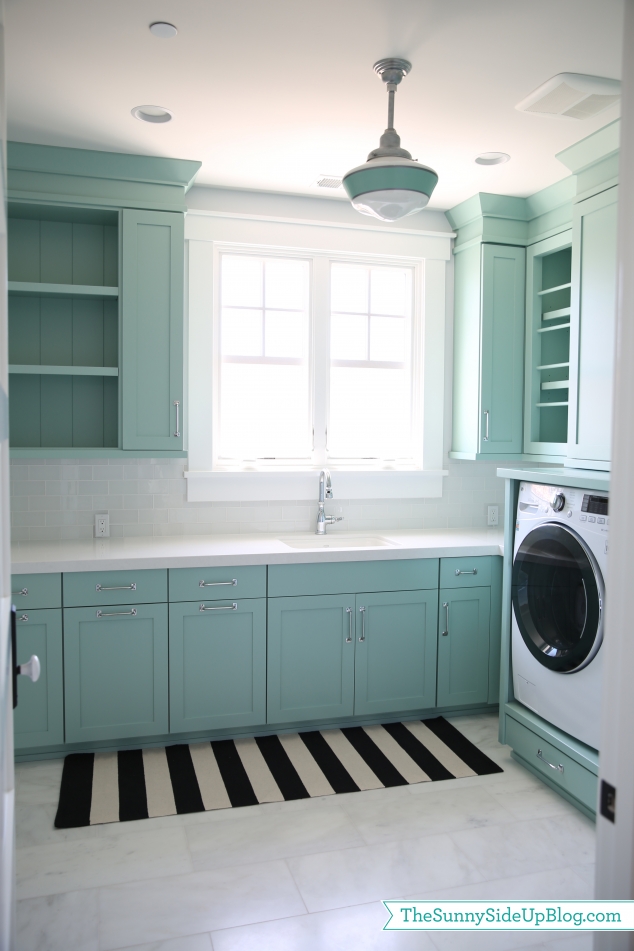 My kids' rooms are upstairs so a laundry room for them to use was another dream of mine.  Now working on an even bigger dream.  Getting them to take over and do all of their own laundry.  Ha!  It's a work in progress!  :)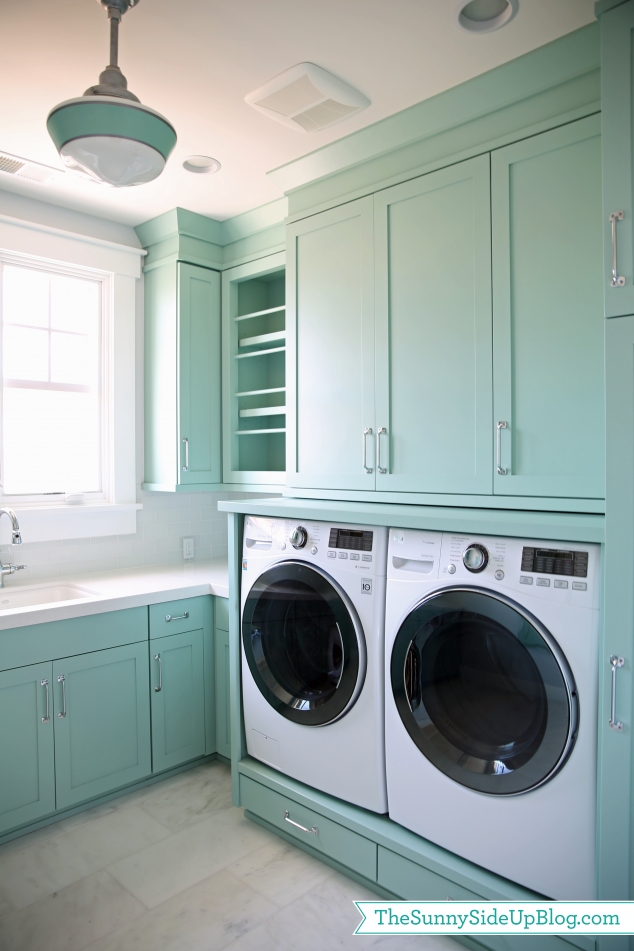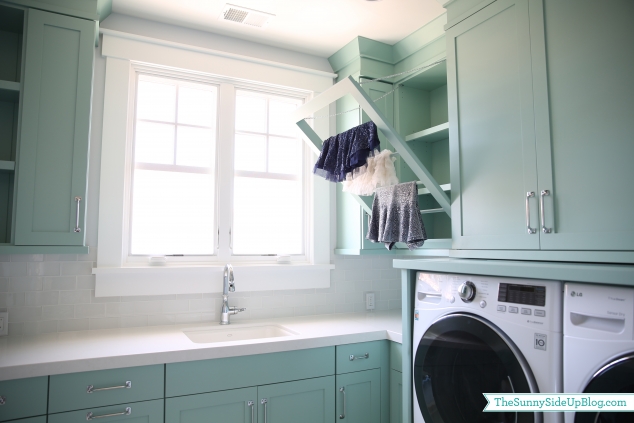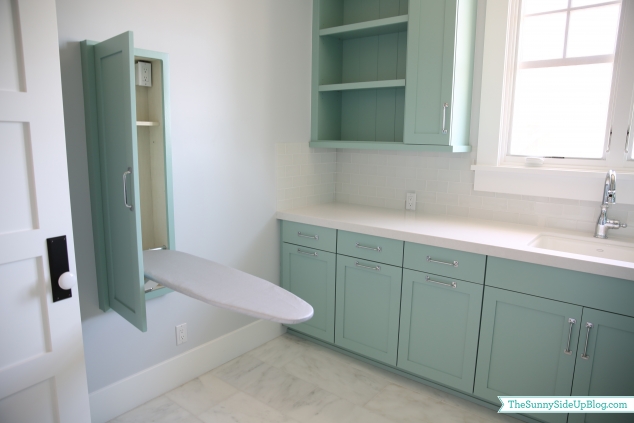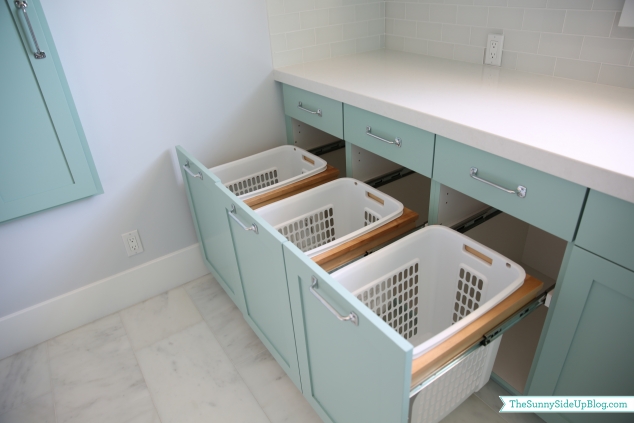 More pics and details in the link below!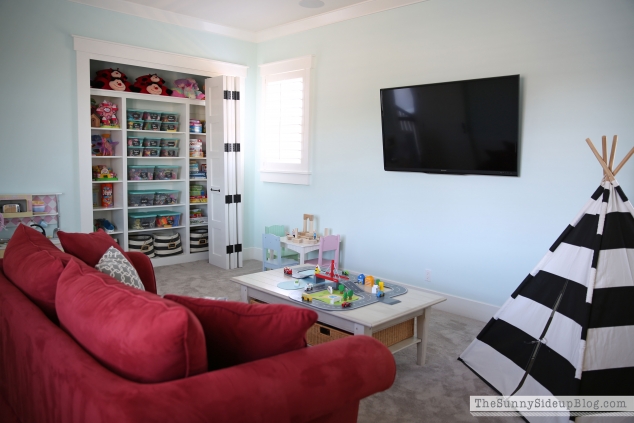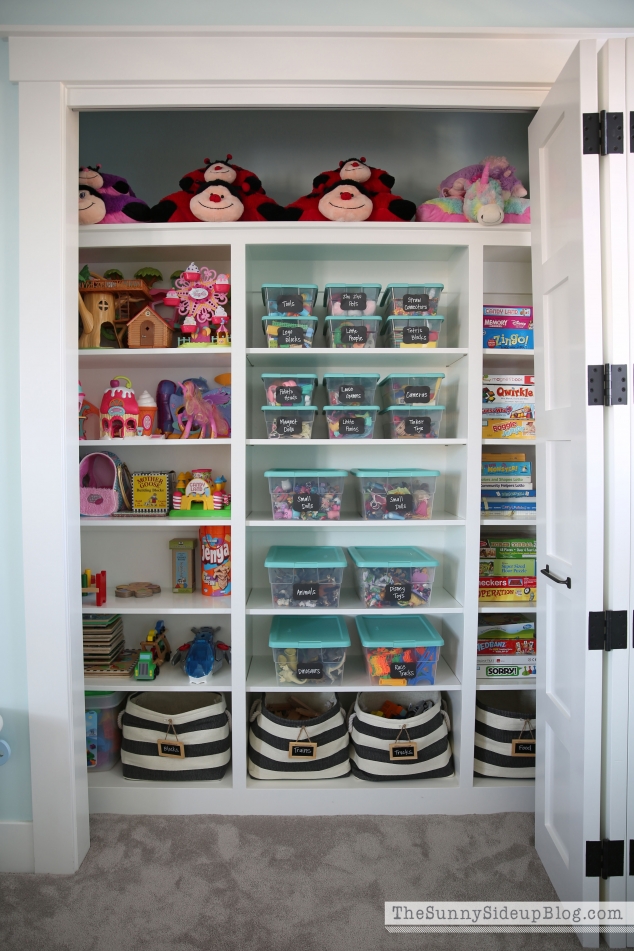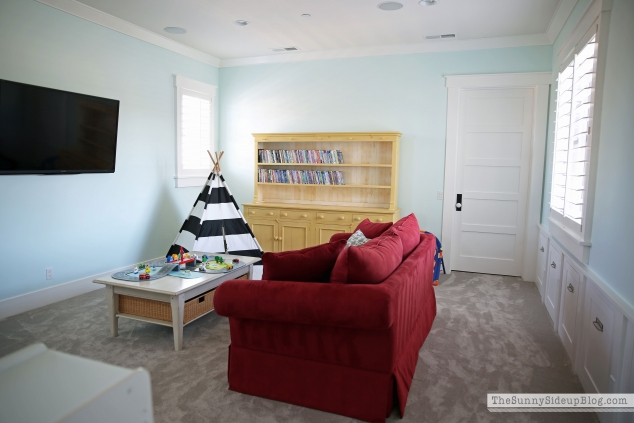 The kids' playroom has been a low priority as far as decor goes, but I have fun plans for it when we finish a few more things on the main floor.  In the meantime, the kids don't seem to mind much.  The room is decorated in colorful toys daily.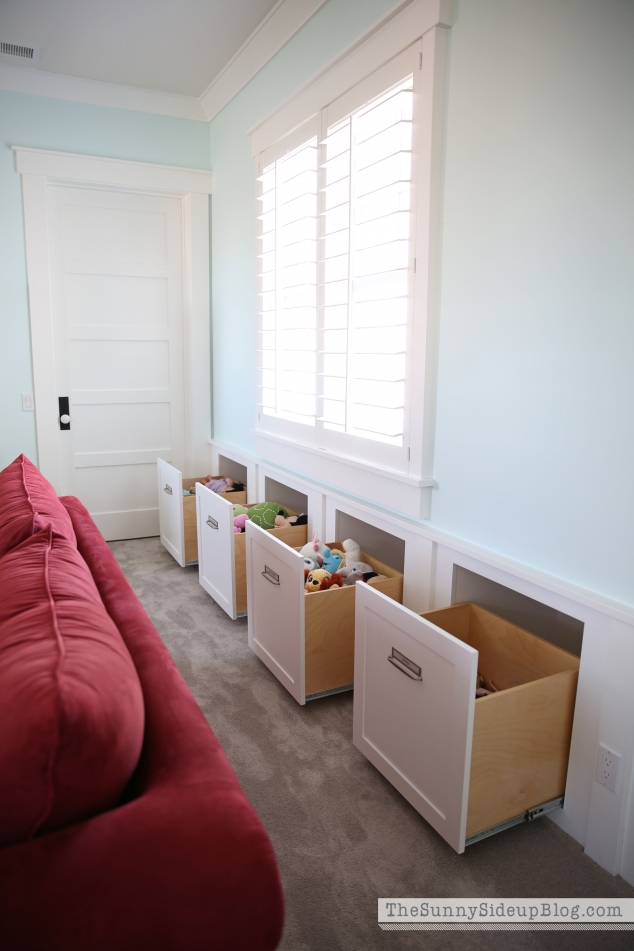 Besides, it may be lacking in decor, but it IS organized!  Like I said.  Priorities.  :)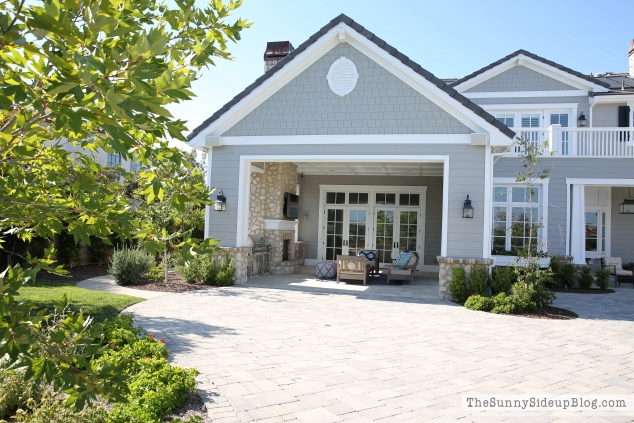 Wrapping up the tour with some pics of our backyard.  It was the reason we decided to build on this lot.  We always dreamed of having room for our kids to run and play in a yard like we did growing up.  A slice of small town in a big city.  :)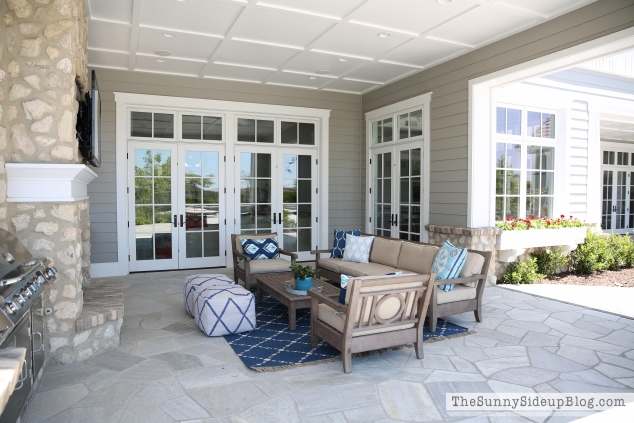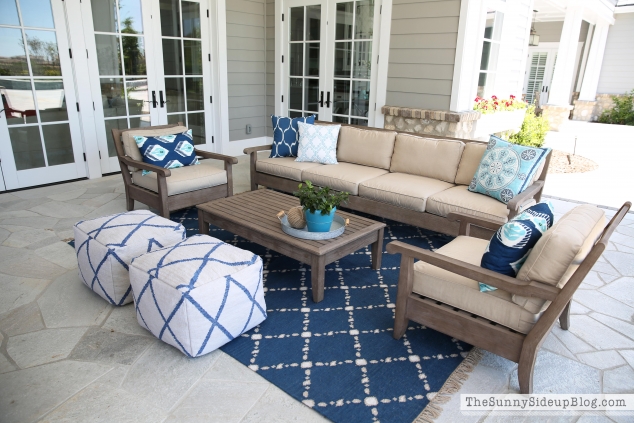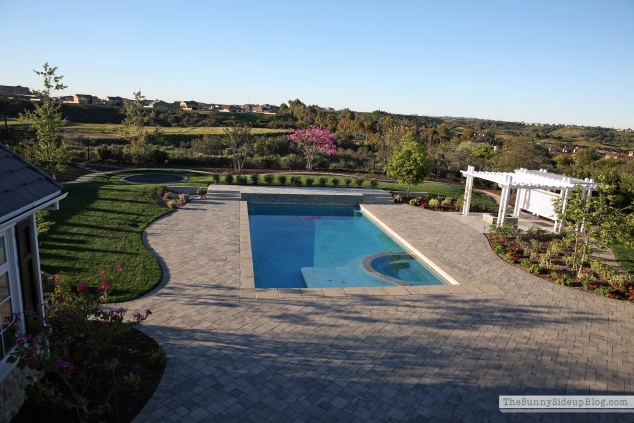 I took this picture from our upstairs balcony soon after we finished the backyard landscaping, but before we furnished it.  The plants look much bigger now and are growing fast!  Our lawn isn't nearly this green at the moment (California drought) but we are hoping for lots of rain this fall.  We also have a few ideas of changes we can make if the drought doesn't go away anytime soon.  Fingers crossed that isn't the case!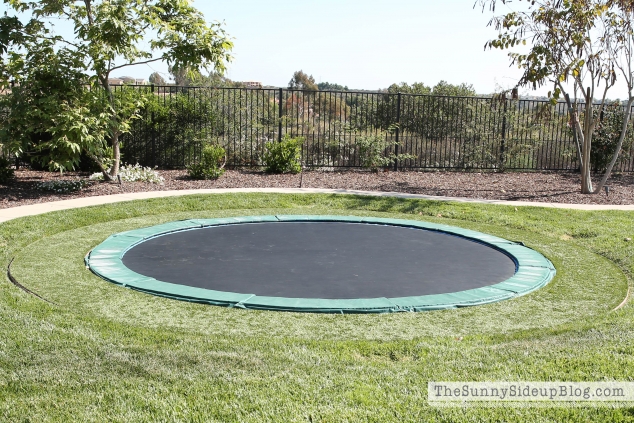 I've had lots of questions on our in ground trampoline and seeing this picture reminded me it's time for a post on that!  Post number 2,485 to add to the list.  I'm not going away anytime soon.  ;)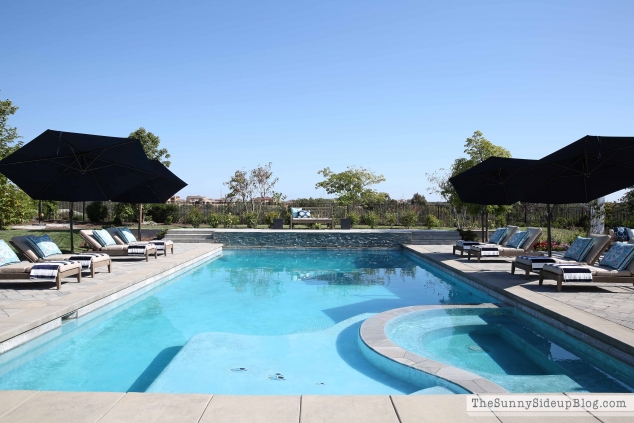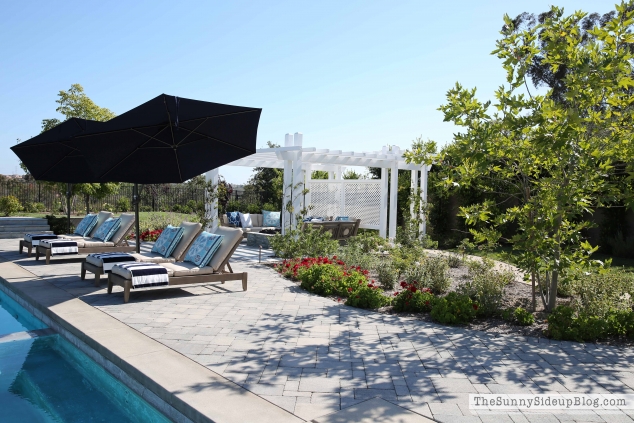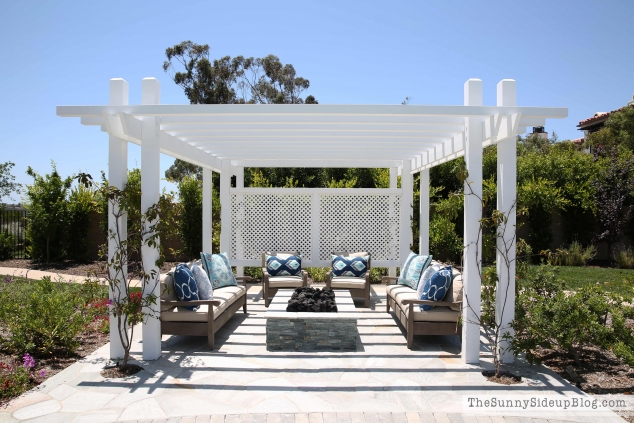 This space was a newish addition soon after we moved in.  You can read the details and see more pics below!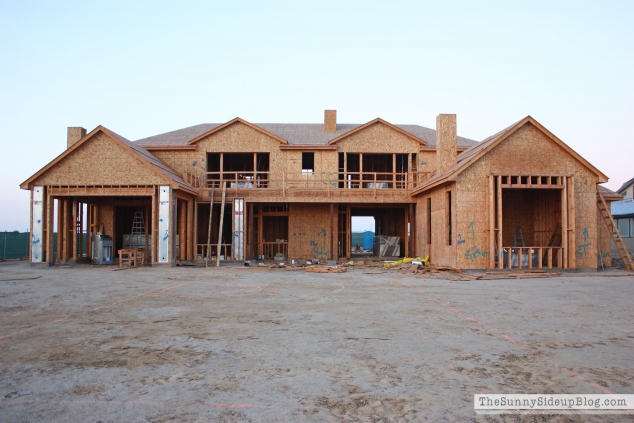 A fun look at where we've come in the past few years.  Here's a picture of the back of the house from the backyard during construction.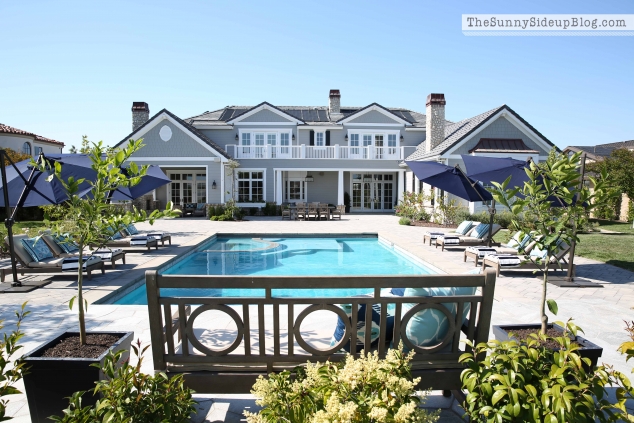 And here's the "AFTER" today.
Definitely a labor of love!  Thank you so much for taking the tour!  Lots to come as we continue to make this custom house our home.  If you want to follow along the journey (and maybe pick up an organizing idea.. or two or ten!) you can subscribe to my blog by signing up on the right sidebar.  That way you won't miss a post!  You can also follow along on Instagram or Facebook.  I'd love to "meet" you!
Some posts during the process: