OH my word.  This week has been nonstop!  I have been rocking a pony tail for weeks now and things just don't seem to be slowing down.  I'm feeling the need to do a time management post in the near future because I have really had to work to figure out a way to manage my schedule so that I can fit everything in.  Like time to shower.  Building a house is so much work!  My mom keeps saying "I tried to warn you…."  :)  But honestly, even though we've reached a new level of crazy around here I am loving the process.  It is so amazing seeing something that was all in my head actually come to life!  Here is a peek of what things are looking like so far…
 The gate into our little neighborhood – I was standing in front of where our driveway will be.
Nothing to do with the house, but I think the view is pretty so I'm sharing it with you.  :)
Things on the outside haven't changed much.  I can't wait for the second floor to go in so I can start to see the personality of the house.
The window that is popping up high on the left of this picture is the window over the stairs.  We have a playroom and a "future" theatre room for Kenny that will go over the garages.  I just changed things up a bit and added a closet in the playroom.  I had to take some space out of the upstairs laundry room to do it, but I'm so excited to have a place to organize all of the kids' toys.  I'm already dreaming of storage options for that closet!  I'm going to have to spend a lot of time at The Container Store after this house is built.  Darn!  :)
This is the formal living room you will see right when you walk in the front door.
This is the right wall of the living room.
Addison dancing around the hallway in her Smurf pajamas.  The kids clearly already feel at home.
This is our main living area – the family room.  I'm putting in a fun oval window in that square up high and then the TV built-ins will be below with a fireplace in the right corner.
To the left side is our outdoor entertaining area.  There will be french doors along that left wall leading outside.  I'm sure the kids will be in and out and in and out 20 times a day and I'll never be able to keep them clean.  But I bet I will be so happy that they have a yard to play in that I won't even care.  Actually I bet I will care.  Because I can't help it.  :)
Next to the outdoor space is our breakfast nook.  I debated over and over if I should put in windows along the wall of the nook leading to the entertaining area or french doors.  Windows are on the other nook walls so it would have looked more symmetrical, plus the doors will be slightly blocked by a table and chairs.  Plus we already have the doors off the family room.  But we finally decided to put in doors anyway.  We figure if we have people over it might be nice to set food up on the table inside and open the doors up outside so people can go in and out to get food.  What do you think?  Did I make a mistake?  Actually don't tell me if I did.  Only comment if you are going to say – good idea.  I would have put in doors.  ;)
Now we are entering the kitchen!  Woot Woot!!  This picture shows my bay window.  We basically turned the whole house the way we did so that I could have my bay window.  And I am still debating how it is going to look because it pops out so far and didn't turn out quite the way I pictured.  I'll share more details once I figure things out myself.  Or I won't because I'll remember that nobody but me really cares about this bay window.  Or I will because Kenny is so sick of hearing about this bay window and I need to talk to someone about it!
Here's the kitchen layout.  Bay window on the right.  Oven and cabinets along that back wall.  Behind that wall you can kind of see the food pantry.  Butler's pantry to the left (the formal dining room is across the hall).  The work bench is close to where my first kitchen island will be.  We decided to go with two smaller islands vs. one big one.  I hope I like it!
Do any of you have a microdrawer?  Love it?  Hate it?  I would love to hear what you think if you've used one before!  Because I never have.  And the microwave will be the most used appliance in our house so it's pretty important.  :)
We have stairs!!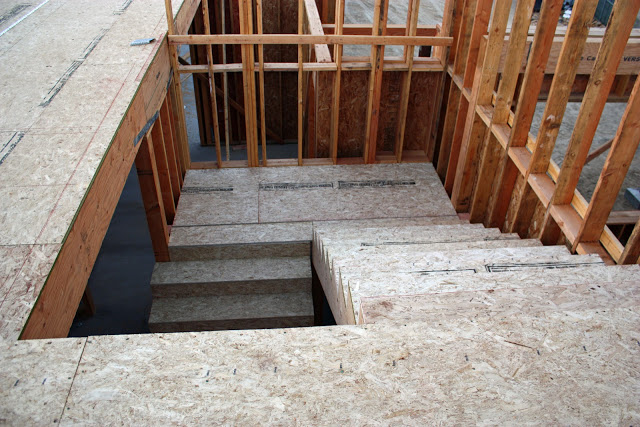 View from the top.
 The girls were so excited to finally be able to walk up the stairs and see where their rooms will be.
The girls' rooms are connected by a bathroom they will share.  Their two rooms have french doors leading out onto a balcony.  They haven't put the floor down, but in this picture you can see how the balcony is framed.  We have such pretty views so we included balconies on the front and back of the house.  Kenny felt like Kole wasn't getting a fair deal since his room is on the side of the house without a balcony with views so we added a fun pop out window that will have a bench seat for Kole (with organized baskets below for me! – ha!).
Hot air balloons are always flying by our house so we thought it would be fun to have balconies to sit on and watch them.  And I could write posts all day long on how I'm planning to decorate the front balcony for Christmas each year!  Building the house is only the beginning!  :)  Now if I can just find time for that shower…
xoxo, Erin