The paint for this room is darker than the paint I used throughout the main body of my house.  The walls of the dining room are painted "Wavelength" by Frazee.  The inside of the cabinets are one shade darker.  Another Frazee color called "Elf."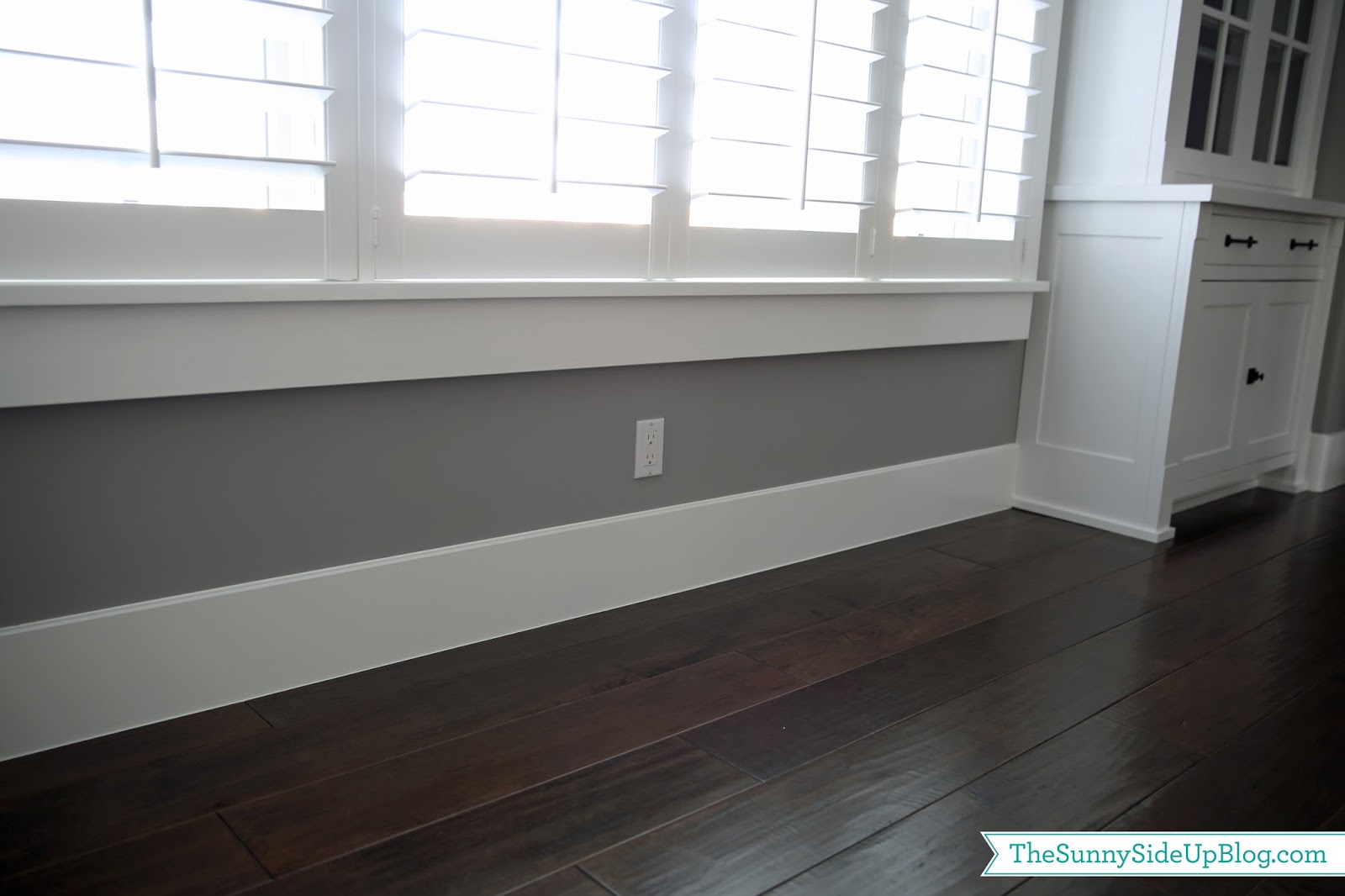 A few of you asked about the size of my baseboards.  I made them 7 inches tall which was as high as I could go without hitting plug outlets.  I think my builder thought I was a little strange to want them so high and so plain, but I love how they turned out.  Some of your other house related questions I'll answer in a Q & A post.  I'm anxious to show you my decorating plans for this room!
First up – our new table!  I took a pic with the lights off…
and one with the lights on.  :)  Oh for the love of all things farmhouse!  I have adored this table for a LONG time.  The second it was decided that we would be putting a formal dining room in the house I knew exactly what style of table I wanted!
These pictures show its true color.  It's light but has subtle grey undertones so I think it works well in this space.  The wide planks are my favorite.  With all of their perfect imperfections.  :)
Here is the Restoration picture of the table and chairs with the pads.  I'm only buying a few of these chairs because I don't want the chairs to all match.  I'm looking for something different to go on the two ends of the table.  And on the side of the table in front of the window I'm having a custom bench made.  Fun!
This is an inspiration pic I have always loved.  See the similar chairs on one side with the grey bench on the other side?  Love that look.
Here is another inspiration pic I love with the three chairs similar to the ones I'm going to order and two different chairs on the sides.
Here is the one I chose (for now anyway!):
I LOVED the octagon rug too (that was my initial first choice) but I was a little worried about how much of it was white for under a table.  Even though it's not an every day table, it only takes one spill.    A lot of you pointed out the same thing.  The rug above seemed a little more spill friendly.  Maybe it was the dog and bone in the picture that gave me that feeling?  :)  I decided to order it and see how it looks and then figured if I don't love it I can return it and get the octagon rug.
But I think I love it!  It's so happy!!
I took these pics right after I laid it down.  What do you think?  It's a little Bohemian looking.  But I think I love that too!  I don't know why, but I always pictured a yellow rug in this room.  Probably because yellow is just so happy!!  Did I already say that?  Is it making you happy too!?  I can't believe how much it lightened the space.
Ok.  Here's what I'm picturing for this space.  Since this room will only be used once in a while I'm excited for it to be a room that actually stays looking nice.  You know – no pillows tossed on the floor, backpacks tossed on the table, train tracks under the chairs.  Well.  There will probably still be train tracks under the chairs, but you get the picture.  So I'm thinking about an upholstered bench with three pillows on it.  My designer/friend is helping me with it.  Here are some of the fabric options I'm considering…
The fabric in the back with the grey ovals is what I'm leaning towards for the bench.  I was originally going to do a plain grey tufted bench like the inspiration picture but I think it will be too much grey with the grey paint in the room.  I don't want to go too crazy with color on the bench so that I can always mix up the pillows.  I think a white/grey pattern will be good for me and my constant need to re-arrange/change things.  The three fabrics in front of my bench fabric are some I'm considering for the pillows.
I also love the grey striped pattern to put on an extra chair (I'm ordering two extra chairs to set in the corners of the room for when we have to extend the table to fit larger groups).  The fabric on the far left is so fun.  I like that it also has black which will tie in with the light fixtures and hardware on the built-ins.  The only thing I'm debating is bringing in one more color for the pillows and swapping it for one of these.  An aqua pillow?  Or navy?  These fabrics are only for a few pillows so I'll also be able to bring in other colors with decor in the built-ins and whatever I end up doing on the walls.  Regardless, I think the room is off to a good start!
Our house is still so empty that any start is a good start.  :)
Here are some other random shots I took of this room before the rug came…
Here you can see where this room is located.  Just down the hall from our stairs and my office.
And here is a shot from the other side of the dining room by the window.  You can see how it is also located across from my butler's pantry/kitchen.
So that's it for dining room decor so far!  I'll post updates as the room progresses.  Fun!  My first decorating post in the new house!  First of many I'm sure.  :)
xoxo, Erin